When shopping for spinach, you have a few choices to make. Should you visit the produce department at the grocery store or hit your local farmers market to pick up some fresh spinach by the bunch? Or, should you forego the fresh vegetables and instead seek your spinach in either frozen or canned form?
To help you weigh your decision, we're covering all of the important differences between these three variations on the same leafy green vegetable! We'll get into everything that sets canned or frozen veggies apart from fresh ones, from processing and tastes to shelf life and how to best use each of them. Whether you are seeking the best leafy greens to use in a salad or you simply want to ensure that you have plenty of long-lasting vegetables on hand for whenever--and however--you need them, we're here to help you figure out exactly what type of spinach you should be reaching for!
Comparing Fresh, Frozen, and Canned Spinach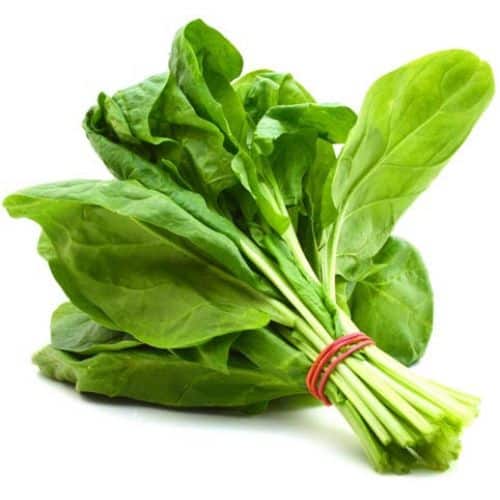 Though these three products all stem from the very same leafy green, Spinacia oleracea, the ways in which they are processed and prepared is what results in their being three completely different products. We'll cover what distinguishes each type of spinach in each of the following six categories: processing & manufacture, taste, texture, & appearance, nutrition content, shelf life, preparation & use, and making substitutions.
1. Fresh vs. Frozen vs. Canned Spinach: Processing & Manufacture
First, let's get into the distinctions between these three spinach products in terms of how they are made. Fresh spinach is fairly straightforward, but frozen and canned spinach are both a bit more complicated, as the intent behind their processing is to take a typically sensitive-to-spoilage seasonal food and make it accessible all year round, no matter where you live!
Fresh Spinach
Fresh spinach is just what it says it is: fresh leaves of bright green spinach! You are most likely to find fresh baby spinach in bags or plastic clamshell packaging in the produce department of the grocery store. Fully grown spinach leaves, on the other hand, are typically either chopped and prepackaged or the leaves may be left whole, bunched, and sold individually.
Prepackaged spinach, whether baby leaves or chopped spinach, is typically marked as triple-washed, meaning these types of spinach are ready to eat! A fresh bunch of spinach will be unwashed however, so you must be sure to clean this before using it.
Frozen Spinach
Commercially produced frozen spinach, on the other hand, goes through quite a process before it ever hits the freezer. The spinach leaves are either left whole or chopped and must be cleaned thoroughly. The spinach is then blanched quickly, as this helps the spinach to retain its green color as well as begins to collapse the structure of the spinach leaves, making it easier to measure and package.
The blanched spinach is then individually quick frozen (IQF) which is a method that the manufacturers of frozen vegetables employ to ensure that their bags of frozen goods stay loose and pliable rather than clumping up. Most frozen spinach is pure spinach, while some other varieties contain additional ingredients such as salt or baking soda, which helps to retain green coloring even further.
Canned Spinach
Canning is a time-tested way of preserving food, therefore it only makes sense for tender little spinach leaves to be available in canned form as well! Just as with fresh or frozen, spinach which is destined for a can may remain whole or be chopped before it goes through the process of cleaning and cooking. While still hot, the cooked spinach is packed into sterile containers before being sealed and heated for a specific period of time to ensure maximum shelf-stability. Canned spinach is most often sold in those widely recognized steel cans, but on occasion you might encounter some spinach which has been canned in glass jars as well.
2. Fresh vs. Frozen vs. Canned Spinach: Taste, Texture, & Appearance
Due to the differences in how these three items are processed, it's no wonder that they each take on some unique taste, texture, and appearance characteristics. You might think spinach is spinach, how different can they be? But think of the difference between fresh peas, frozen peas, and canned peas! They're quite distinct from one another and spinach is no different.
Fresh Spinach
In terms of texture, fresh spinach is unique in the sense that it is the only one to maintain its natural shape. As soon as it is blanched or processed, it immediately loses its shape. In its raw form, spinach is crisp and surprisingly juicy for a little green leaf! This is due to the fact that it is over 90% water, which once removed during cooking leaves behind what seems like a lot less spinach than what you started with.
When it comes to taste, most folks would agree that it's tough to beat fresh vegetables. Fresh spinach has a savory yet sweet taste, with a hint of richness due to the high mineral content. The leaves may be bright or deep green, a feature which is easily affected by any processing as well.
Frozen Spinach
You can immediately tell the difference between fresh spinach and that which has been frozen by the fact that the spinach appears wilted and condensed, thanks to the removal of much of the spinach's inherent water content. Frozen spinach also tends to appear even darker green in coloring, but is saved from browning due to the blanching process that frozen vegetables go through before being frozen. In terms of flavor, the frozen spinach may have a stronger taste due to the concentration of flavor which occurs as the volume of the leaves themselves reduces.
Homemade frozen spinach may not have been blanched beforehand though, meaning it may take on a browner coloring as opposed to store-bought frozen spinach.
Canned Spinach
Out of the three versions of spinach, canned spinach is the one which is cooked the longest, therefore it will have the softest texture as much of the natural fibrousness breaks down under the high heat of the canning process. This cooking process also causes the spinach to lose its green coloring more readily, and along with most canned fruits and veggies, canned spinach can't help but take on a dull greenish-brown appearance.
Canned spinach is nearly always the most heavily salted spinach option as well, however, there are some low-salt spinach options out there. Nevertheless, when fresh spinach is not available or desirable, most folks seem to prefer frozen spinach as it delivers a better flavor and an appearance more like that of the fresh stuff.
3. Fresh vs. Frozen vs. Canned Spinach: Nutrition Content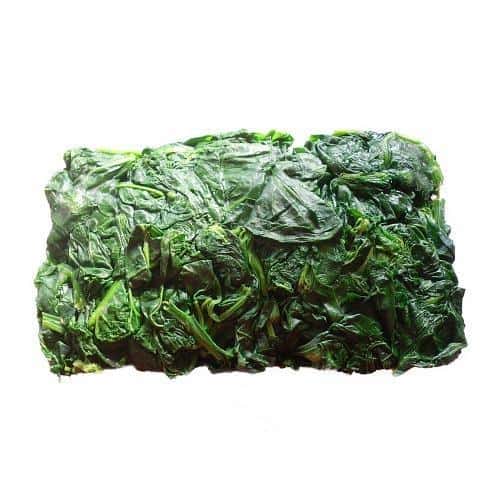 If there's anything we learned from watching those Popeye cartoons (aside from how not to spell olive oil), it's that spinach packs a wallop when it comes to health benefits! Spinach is so good for you in so many ways, and this nutrition can be enhanced by how the spinach is prepared as well. Combining spinach, whether fresh, frozen, or canned, with vitamin C rich acidic foods such as fresh lemon juice can actually help the body to absorb iron more readily! So, just how does the nutritive benefits of fresh vs. frozen vs. canned spinach compare to one another? Let's find out!
Fresh Spinach
As we covered above, fresh spinach contains a ton of water, over 90%! Therefore, fresh spinach contains the least number of calories by volume, at just 7 calories per cup. In addition, fresh spinach, and all fresh foods in general, contain more antioxidants and other important plant compounds than their fresh or frozen counterparts.
In terms of vitamins and minerals, spinach is well-known for its content of iron, potassium, calcium, and magnesium. Suffice to say, when it comes to nutrition content, nothing quite beats fresh produce.
Frozen Spinach
Due to being blanched before freezing, frozen spinach has lost a great deal of its water mass, making it more concentrated. This means that it is much more concentrated and the number of frozen spinach calories per cup is nearly six times that of fresh spinach, providing about 45 calories per cup! Frozen spinach also provides a great deal of antioxidants and vitamins, although their numbers may be reduced slightly due to the blanching and freezing process. In addition, some frozen spinach varieties do contain added salt and sometimes even baking soda, which is thought to reduce the bioavailability of some vitamins as well.
Bottom line, in the battle of frozen spinach vs. fresh spinach nutrition, fresh still wins, but not by much!
Canned Spinach
And finally, the question on everyone's minds: is canned spinach good for you? Truth be told, out of the three spinach preparations available, canned spinach nutrition is the least impressive. Nevertheless, it is still a green vegetable and still provides plenty of benefits!
Canned spinach has a comparable calorie content to that of frozen spinach, delivering about 50 calories per cup. The slight increase in calorie content is caused by the same principle that results in frozen spinach having a higher calorie content than fresh: a reduction in volume. Since canned spinach is cooked even further than frozen, the nutrition content is even more concentrated. Also, since it is cooked down, it's easier to digest and it gives your system a head start on processing the vitamins and minerals within.
As previously mentioned though, canned spinach almost always contains a great deal of sodium, with some varieties containing over 600 milligrams per cup!
4. Fresh vs. Frozen vs. Canned Spinach: Shelf Life
So, if you're looking for a long and stable shelf life, which type of spinach should you opt for?
Well, it's certainly no secret that canned or frozen fruits and vegetables last far longer than their fresh counterparts--that's the whole reason they are canned or frozen in the first place! Let's compare the shelf life of each.
Fresh Spinach
Sadly, fresh spinach has the shortest shelf life of all. Good quality spinach that is being stored properly can actually last for up to 10 days provided you check on it and ensure it is being kept dry. Even just a slight film of condensation within the packaging can cause your spinach to turn into a watery mess as quickly as can be!
And, like most fresh produce, there are a number of factors which greatly affect the lifespan of the spinach. One of these factors is that spinach is highly sensitive to ethylene, a gas produced by some other fruits and vegetables as they ripen. Exposure to these gasses can be tough to control and therefore you may find the shelf life of your raw spinach to be somewhat unpredictable for this, among other reasons.
Frozen Spinach
So, we know that fresh spinach is likely to be a goner after about a week and a half, but how long does frozen spinach last? The answer to this question is a little hazy. Most of the store-bought frozen spinach varieties we evaluated in our search for the Best Frozen Spinach sported expiration dates which were anywhere between one to three years into the future! However, generally speaking, frozen (almost) anything really only maintains best quality for about a year or so.
The bottom line here is that if your frozen spinach has been safely stored at subzero temperatures, it will remain safe to eat for quite a long time. However, the freezer burn and loss of flavor and desirable texture might get to it long before the official expiration does.
Canned Spinach
In the battle of canned spinach vs fresh or frozen, there's no doubt that canned takes the first place trophy for lifespan. Canned fruits and vegetables always have an exceptionally long shelf life, as they can easily survive at room temperatures so long as they remain sealed. No need for the freezer or refrigeration!
Properly packaged and stored canned spinach (i.e., not punctured or leaking containers which have been stored at a consistent room temperature) can easily maintain quality for up to 5 years. In all likelihood, the spinach will continue to be safe well past this point but may start to suffer in terms of taste.
5. Fresh vs. Frozen vs. Canned Spinach: Preparation & Use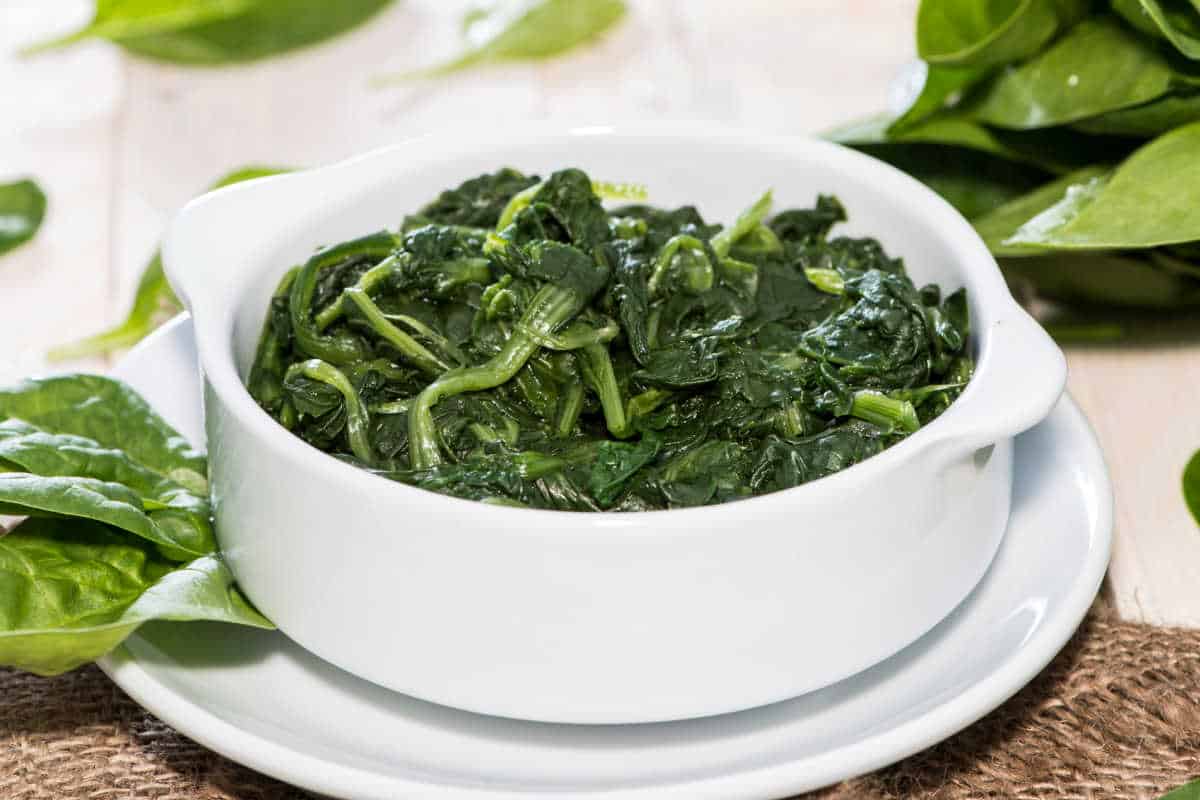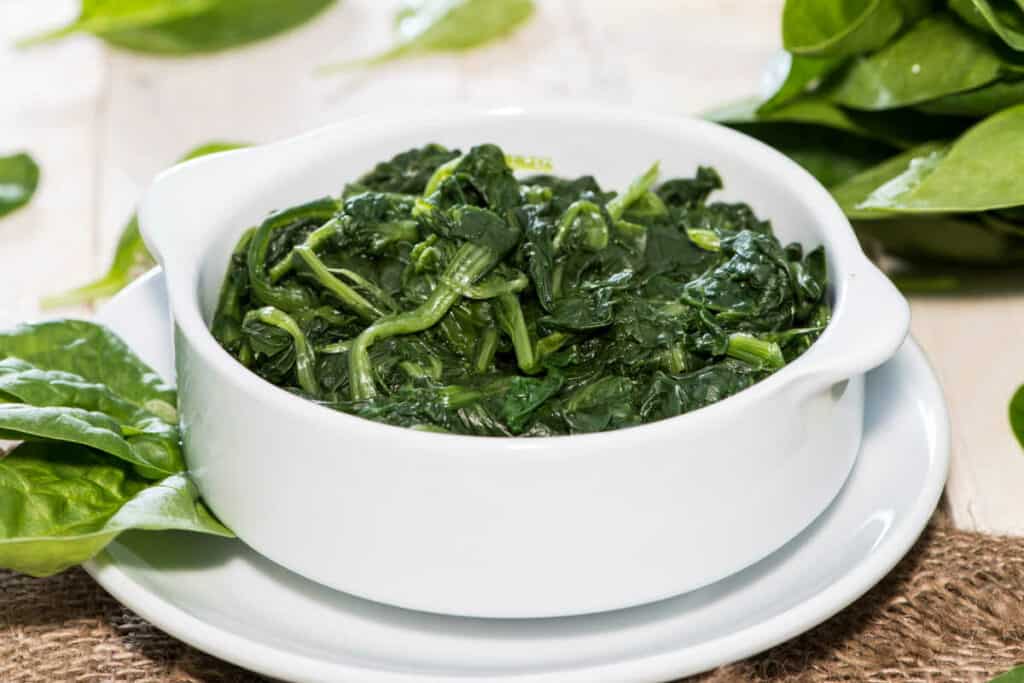 It's no secret that fresh veggies behave differently in a recipe than frozen or canned versions. Not only may their taste and texture be different, but as these products run the gamut from raw to extremely cooked, they each will affect the cooking process of your dish differently as well. Let's examine the different ways in which fresh, frozen, and canned spinach are each best used.
Fresh Spinach
Due to its fresh and crisp texture, raw spinach is of course ideal for raw applications such as a big, beautiful, green salad, although you may want to stick with baby spinach here as regular chopped spinach can be a bit tough when eaten raw. If you're a fan of green juices and smoothies, you'd want to use fresh spinach here as well as it still contains all of its inherent water and juiciness. Fresh spinach is also delicious when lightly cooked, such as in our recipe for simply Steamed Spinach.
Frozen Spinach
It can be a bit confusing deciding how to use frozen spinach. As it has been cooked slightly and gone through some processing, its texture is a far cry from that of fresh, crispy spinach. However, frozen spinach must be cooked even further before you can eat it! Not only would it be completely unpleasant to eat frozen spinach as is, but it would actually be very unsafe to do so. Like all frozen vegetables, frozen spinach is processed and packaged in a factory which unfortunately puts it at risk of picking up harmful bacteria somewhere along its journey between the field and the frozen food aisle.
So, how to cook frozen spinach? Most store-bought frozen spinach packages will provide both microwave and top cooking instructions which are quite easy to execute. You can also put frozen spinach straight into your favorite frozen spinach recipes so long as they will be cooked further, such as stir fries, soups, stews, and casseroles. Just bear in mind that the frozen spinach will leach a lot of water into your dish as it cooks.
You'll notice, however, that there is one frequently asked question which is blatantly missing from the packages: "how to thaw frozen spinach?". This is because commercially produced frozen spinach is best when cooked straight from frozen and not thawed first for food safety reasons. Now, if you have homemade frozen spinach, this can be considered safe to thaw and you can do so quite easily by running it under cold water briefly. The spinach is so thin that the cold water will rapidly defrost the frozen spinach in a matter of seconds!
Canned Spinach
One of the many great things about canned spinach is that it can be eaten straight from the can! While it is perfectly safe to do so, and is a major selling point of canned vegetables across the board, we definitely recommend heating the spinach first when possible as this will undoubtedly make it more tasty and enjoyable.
Although the spinach is fully cooked, you can certainly use it in recipes. Keep in mind it won't provide the same texture or green-ness of fresh or frozen spinach, but it will definitely impart some vegetal flavor. Upon removing the spinach from the can, we recommend draining off the excess liquid and rinsing it under cold water to remove some of the salt content and take the "canned" taste down a notch.
6. Fresh vs. Frozen vs. Canned Spinach: Making Substitutions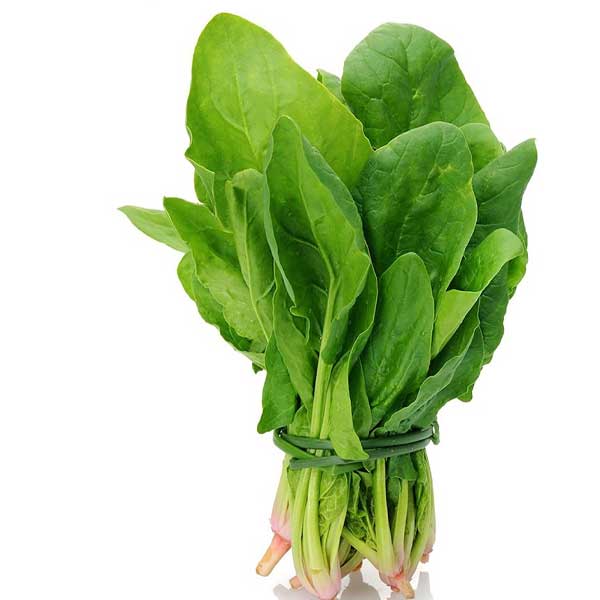 It happens to the best of us. You were shopping for a recipe and accidentally purchased fresh spinach when you were meant to pick up a package of frozen. Or maybe you have some canned spinach on hand and are wondering if you can just go ahead and use that instead of making an extra trip to the store.
Substitutions such as these are a great way to reduce food waste--after all, why buy another type of spinach when you already have one that might do perfectly fine! However, there are a few circumstances in which you may want to avoid making substitutions. Let's go over the ways in which you can substitute these spinach options for one another.
First, here is a list of general equivalents for your substitution purposes:
1 pound of fresh, raw spinach = 1 cup of cooked fresh spinach
1 10-ounce package of frozen spinach = 1 ½ cups of cooked fresh spinach
10 ounces cooked frozen spinach = 10 ounces (drained) canned spinach
Fresh Spinach
Fresh spinach is perhaps the toughest to make a substitute for. If you are seeking that crisp texture of leafy greens, honestly, the fresh stuff is the only way to go. Don't expect to be able to use canned or frozen spinach in place of fresh spinach in a salad--it just won't be the same! That said, if you happen to be mixing the spinach in with other ingredients--think pasta and fresh tomatoes for a summer pasta salad, or the dish itself is to be cooked as a whole, then you can definitely use frozen or canned in its place! If using frozen spinach in a dish which is not to be cooked, just be sure to cook and chill it first.
Frozen Spinach
You can most definitely substitute fresh spinach for frozen in most situations, as the texture of cooked fresh spinach is quite similar, if not better than that of frozen! Just keep an eye on the equivalencies we offered you above and remember that one cup of fresh spinach is not the same as one cup of frozen. If substituting frozen spinach with fresh, you likely will need to use far more spinach than you'd expect.
You could sub canned spinach in place of frozen spinach if you like, but keep in mind that the taste will certainly be different and the texture far softer. The convenient thing about this substitute though is that frozen spinach and canned spinach have a 1:1 equivalency ratio!
Canned Spinach
Canned spinach can be replaced with either fresh or frozen, but the texture will surely be different. Whether using fresh or frozen spinach in place of canned, you will want to cook the replacement for longer than you might think so as to achieve a similarly soft texture.
In general, we find that replacing fresh vegetables with canned vegetables is a tough move as canned spinach will never meet the taste and texture expectations of a recipe that calls for either fresh or frozen spinach. That said, give it a shot if need be and pay attention to the additional salt which may be lurking in your can of spinach, reducing the quantity of other sodium ingredients in the recipe if need be.
Fresh Spinach vs. Frozen Spinach vs. Canned Spinach: The Takeaway
It's clear that there are many distinctions between fresh spinach and its canned or frozen counterparts. We've covered a lot of ground over the course of this article so let's summarize a few key points.
Not only are these three spinach products processed in completely different ways--with raw spinach being hardly processed, frozen spinach being lightly blanched before frozen, and canned spinach being subjected to high heat--they have different tastes, textures, and appearances as well.
Fresh spinach will deliver the crispest, most juicy texture while frozen spinach has a slightly wilted consistency and a more concentrated flavor. Canned spinach has the softest texture of all due to its lengthy cooking process, and the most processed flavor of the three.
Nutritionally speaking, fresh reigns supreme. It has the most water content and therefore the lowest number of calories by volume. Frozen spinach may have lost some of its vitamin and antioxidant content during processing, but it also concentrates these nutrients into less volume, meaning you can eat more of it! Canned spinach has the most calories per cup and also tends to be heavily salted, but the softer texture may make it easier to digest and absorb the nutrients within.
These differentiating factors make each type of spinach best suited to particular applications above others. Fresh spinach is best for salad or recipes in which it will be lightly cooked while frozen spinach is not suitable to be consumed raw and therefore truly shines in dishes which are to be cooked thoroughly! Canned spinach, on the other hand, is amazing for its ability to be eaten as is, no stovetop or microwave necessary! Although, your taste buds may disagree with you here and argue that heating up canned spinach is indeed necessary.
In terms of shelf life, canned spinach will undoubtedly last the longest, while frozen spinach stays good (provided it stays frozen) for up to a year. Fresh spinach, as we know, is sensitive and therefore its lifespan is limited.
Now that you know all about what makes the types of spinach similar and different, you can get to the most important business of selecting one for your recipe and get to cooking! Not sure where to start? Try our Homemade Fresh Spinach Omelette or this Vegan Spinach Pesto Pasta!