Funeral potatoes are a popular and enjoyable side that's both comforting and delicious. It has a creamy, savory flavor that will leave your mouth watering and will be requested time and time again.
Why You'll Love This Funeral Potatoes Recipe
Filling- Filled with potatoes, shredded cheddar cheese, and a flavorful blend of spices, this funeral potatoes recipe is a must-have for any meal.
Easy To Make- Funeral potatoes are simple enough for a weeknight dinner and tasty enough to bring to a potluck gathering. Plus, it gets bonus points for being so easy to make!
Loved By Everyone- This classic casserole dish is the ultimate comfort food! It's loaded with savory flavors, creamy textures, and a crunchy corn flake topping everyone loves.
What Are Funeral Potatoes?
Due to its popularity at post-funeral gatherings, this cheesy potato casserole, also called funeral potatoes, funeral potato casserole, or party potatoes, is delicious and easy to make. However, it is not limited to such occasions. It is a perfect addition to any celebration, such as birthdays or holiday dinners, and is enjoyed by all ages. It's guaranteed to satisfy a crowd! It is typically made with diced or shredded potatoes, cream of chicken soup, sour cream, and cheese. It is then topped with buttery corn flakes or potato chips for a crunchy finish.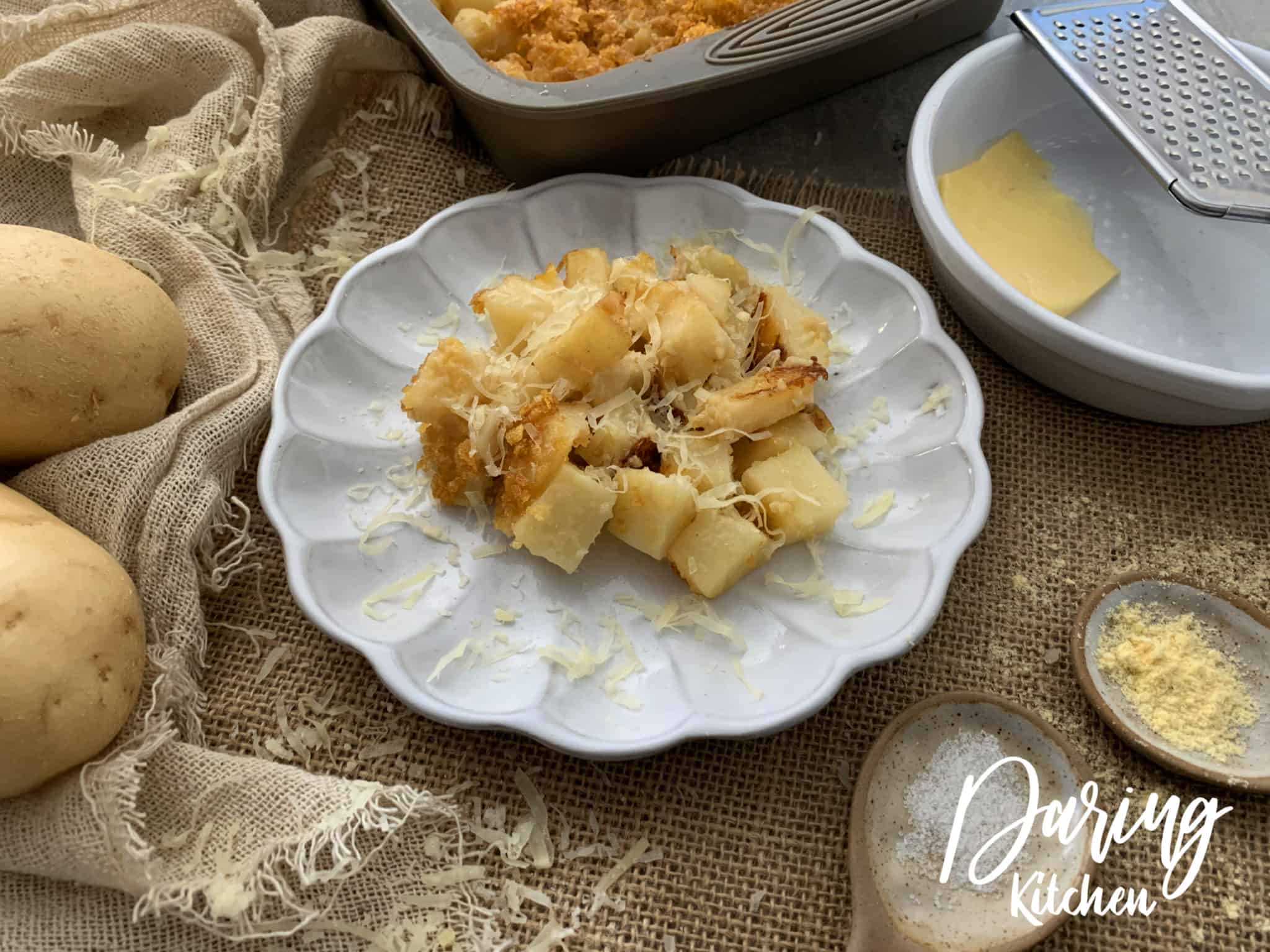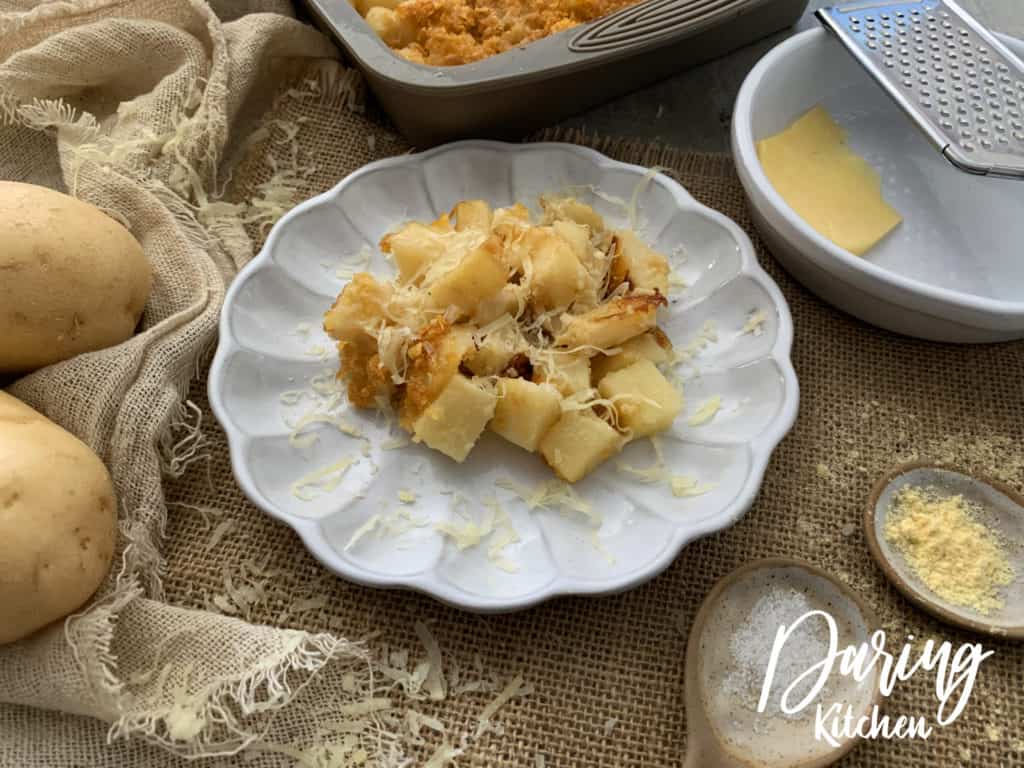 Equipment
Sharp Knife
Cutting Board
Large Bowl
Large Spoon
Baking Dish or Casserole Dish
Measuring Cups and Spoons
Ingredients
Potatoes- Make your cubed potatoes small to fully cook in the oven. You can also use shredded hash browns. Frozen cubed hash browns are very handy and cut down your prep time in this recipe!
Cream of Chicken Soup- Condensed soup helps to cook the funeral potatoes. Also, it lends a velvety creaminess to the dish, along with a little extra chicken flavor.
Sour Cream- I adore sour cream, especially with potatoes. It gives that incredible tangy flavor and adds great texture to these potatoes. Plain Greek yogurt can also be used instead of sour cream.
Shredded Cheddar Cheese- Shredded cheddar cheese is my favorite cheese in this funeral potatoes recipe. Cheddar just tastes fantastic with any potato dish. You can use mild, spicy, or sharp cheddar, whatever you prefer! Try freshly grated cheddar instead of buying pre-grated cheddar, as it's much fresher in flavor.
Garlic Powder- Adds more flavor to the dish. You can also add onion powder, rosemary, or other herbs if you want to get a little fancy.
Cornflakes Cereal- Cornflakes add the perfect crunchy topping to these potatoes. They have just enough sweetness to contract the savoriness of the potatoes. You can use crushed potato chips or Panko bread crumbs instead, but trust me, cornflakes seal the deal on this dish!
Butter- What's a casserole without a little melted butter? Butter is such a treat for me. You can substitute it with oil, but make sure it doesn't have a bold flavor. Olive oil wouldn't work in this recipe.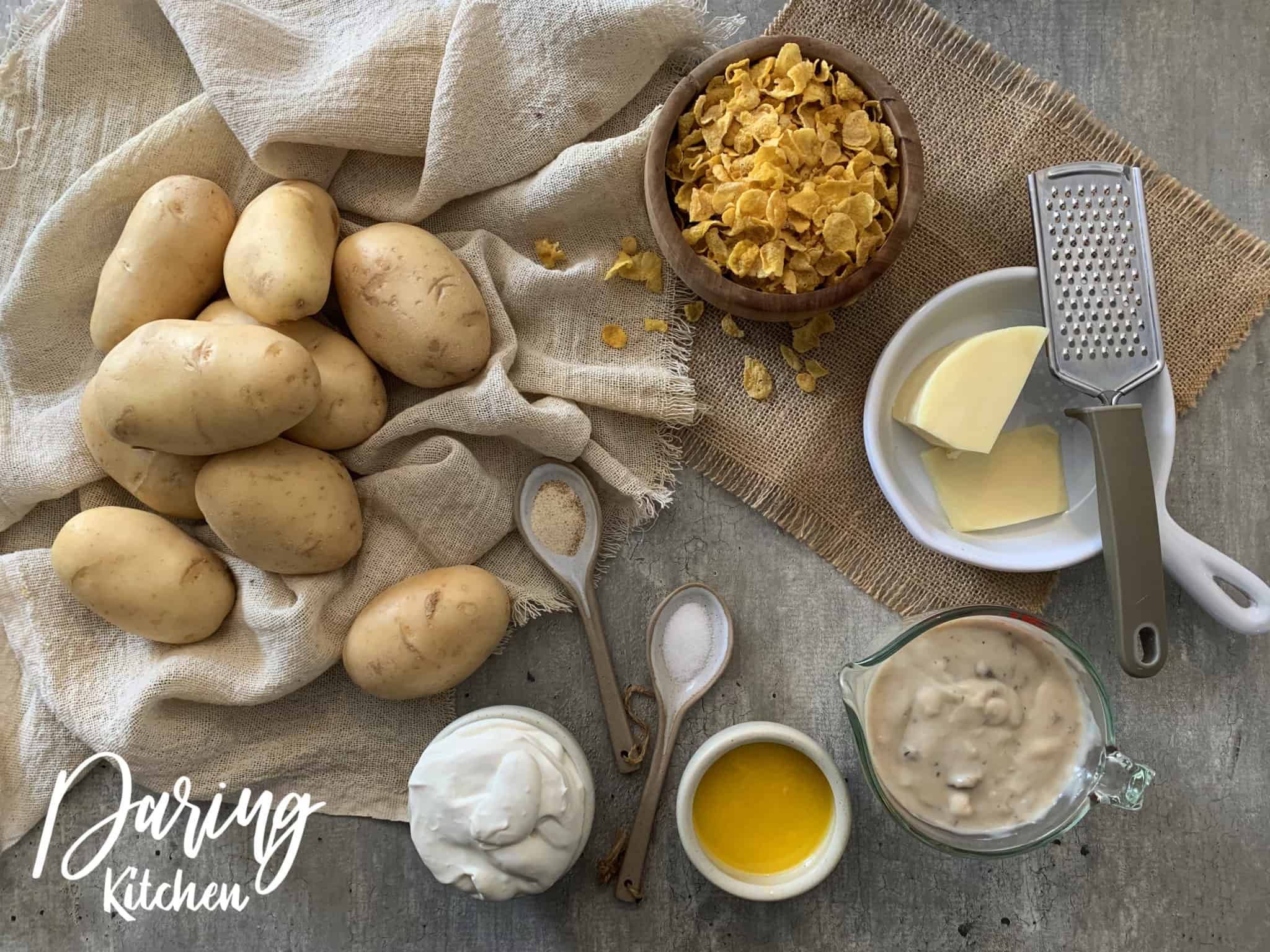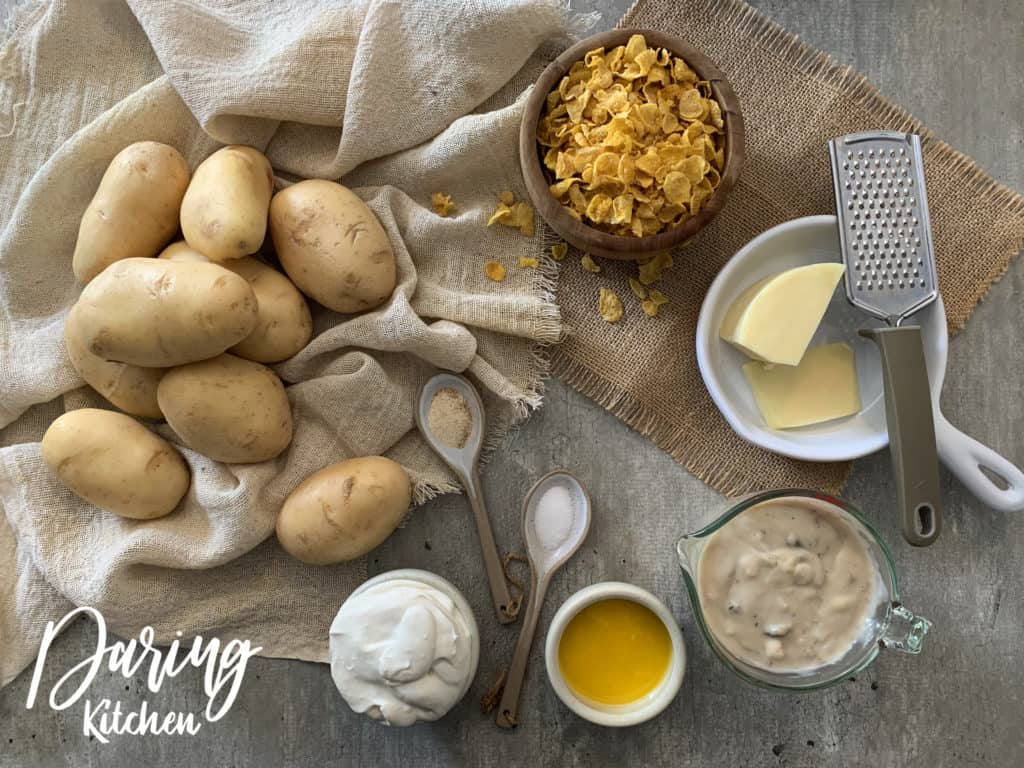 How To Make Funeral Potatoes
To prepare, start by preheating your oven to 350 degrees.
Next, peel and dice your potatoes using a knife.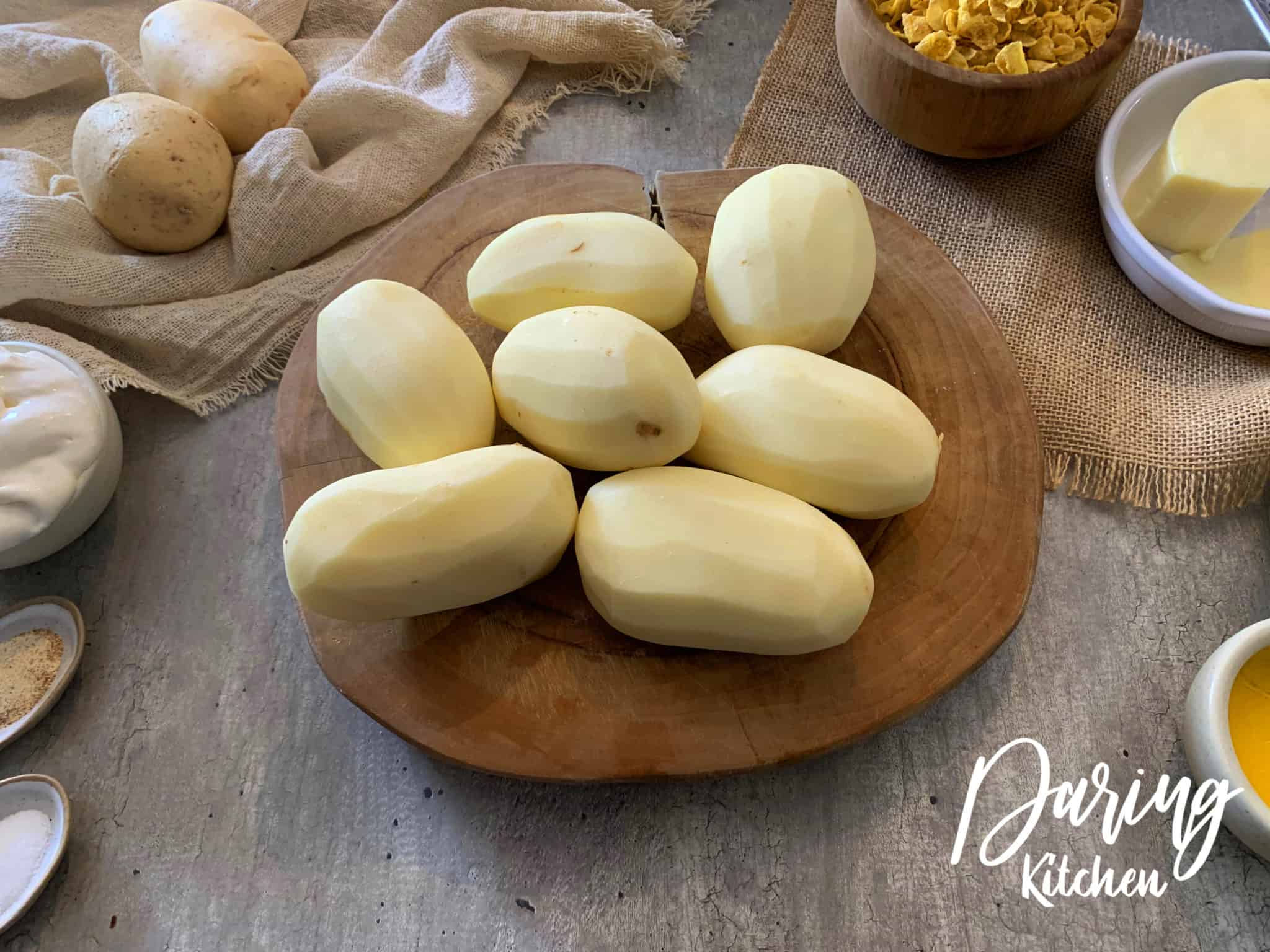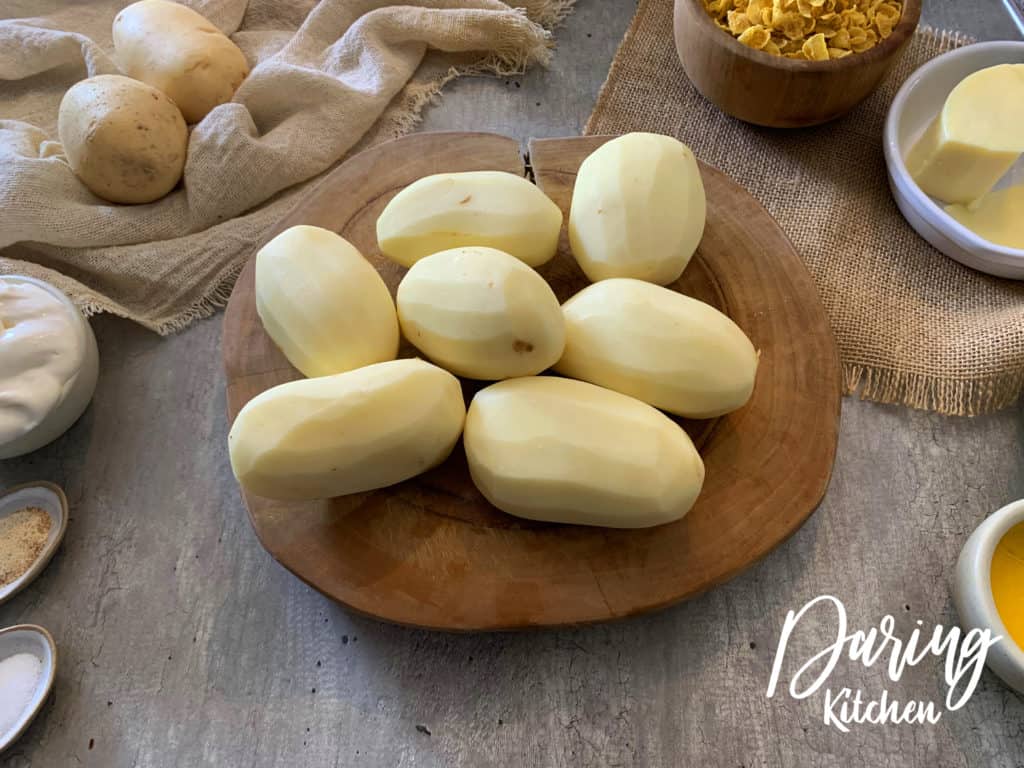 If you have frozen hash browns, skip the peeling and dicing step and begin to grate your cheese.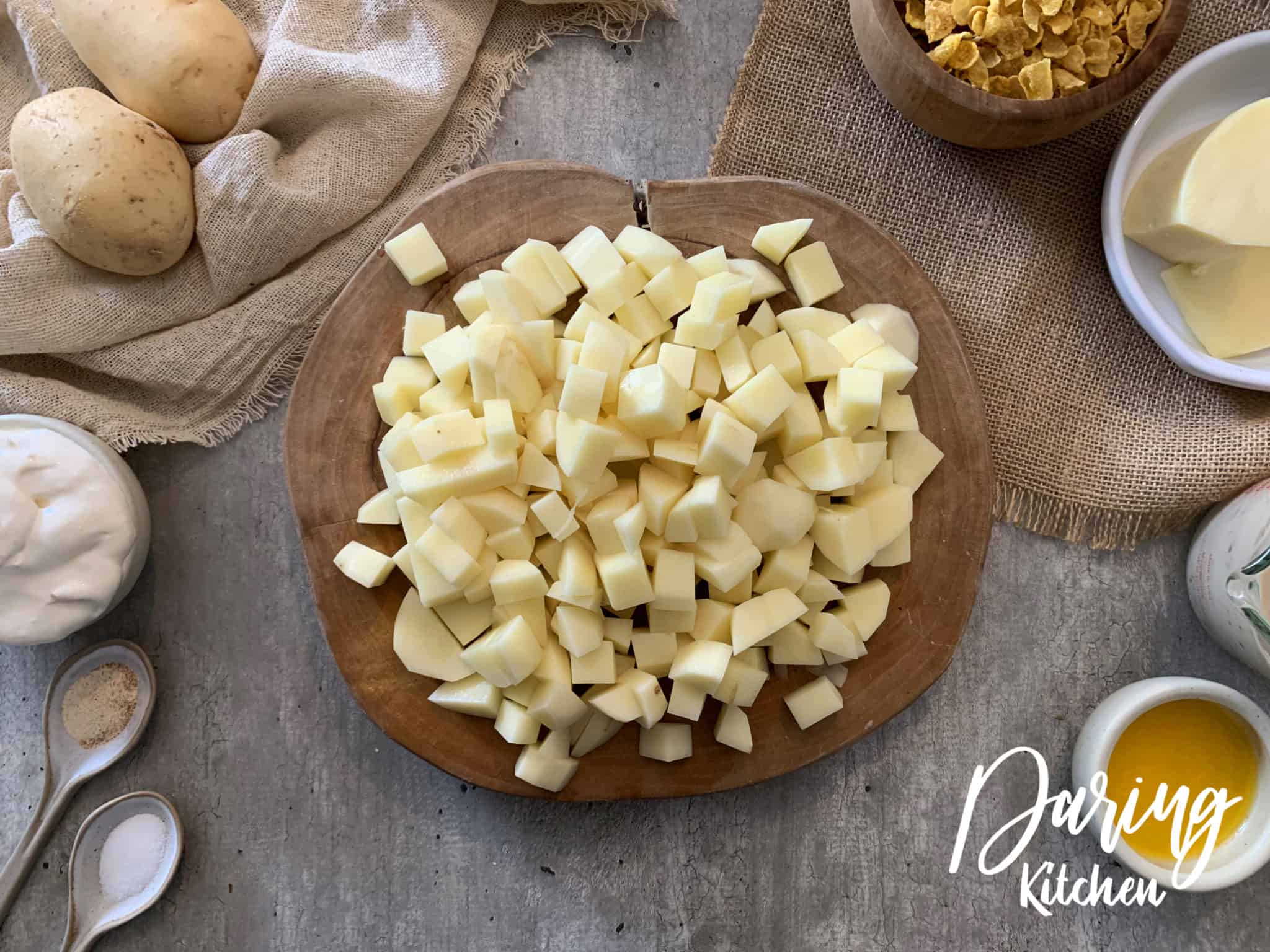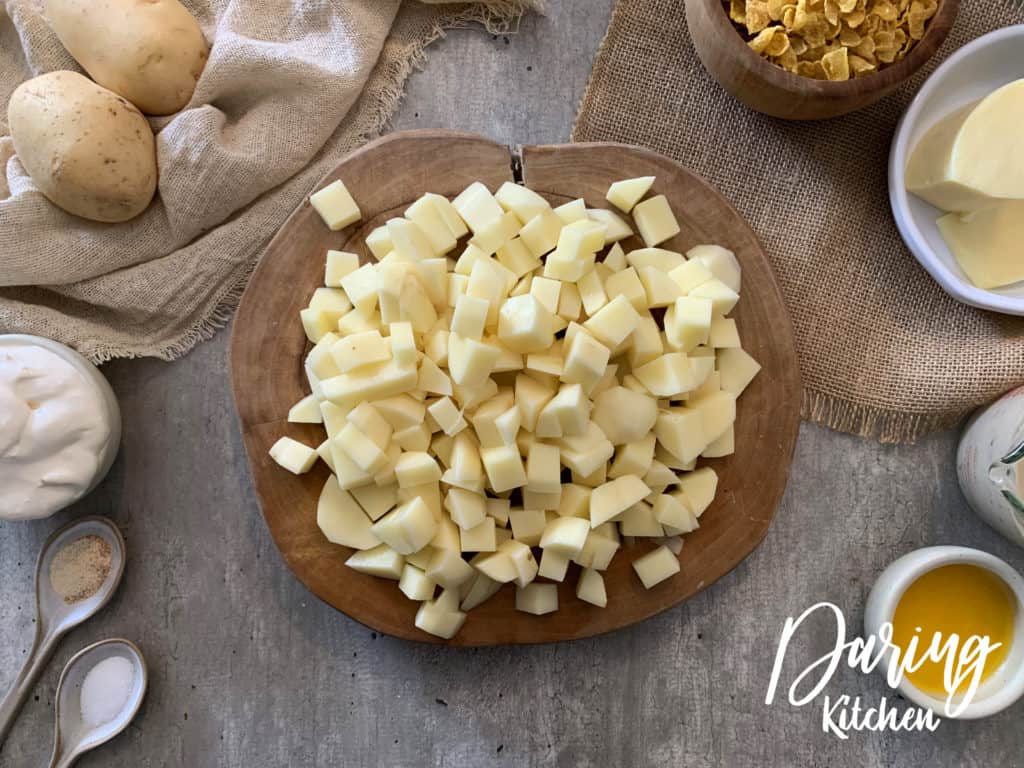 In a large bowl, combine the diced potatoes or hash browns, sour cream, cheddar cheese, melted butter, cream of chicken soup, and seasonings.
Mix everything together until the potato mixture or hash browns are coated evenly.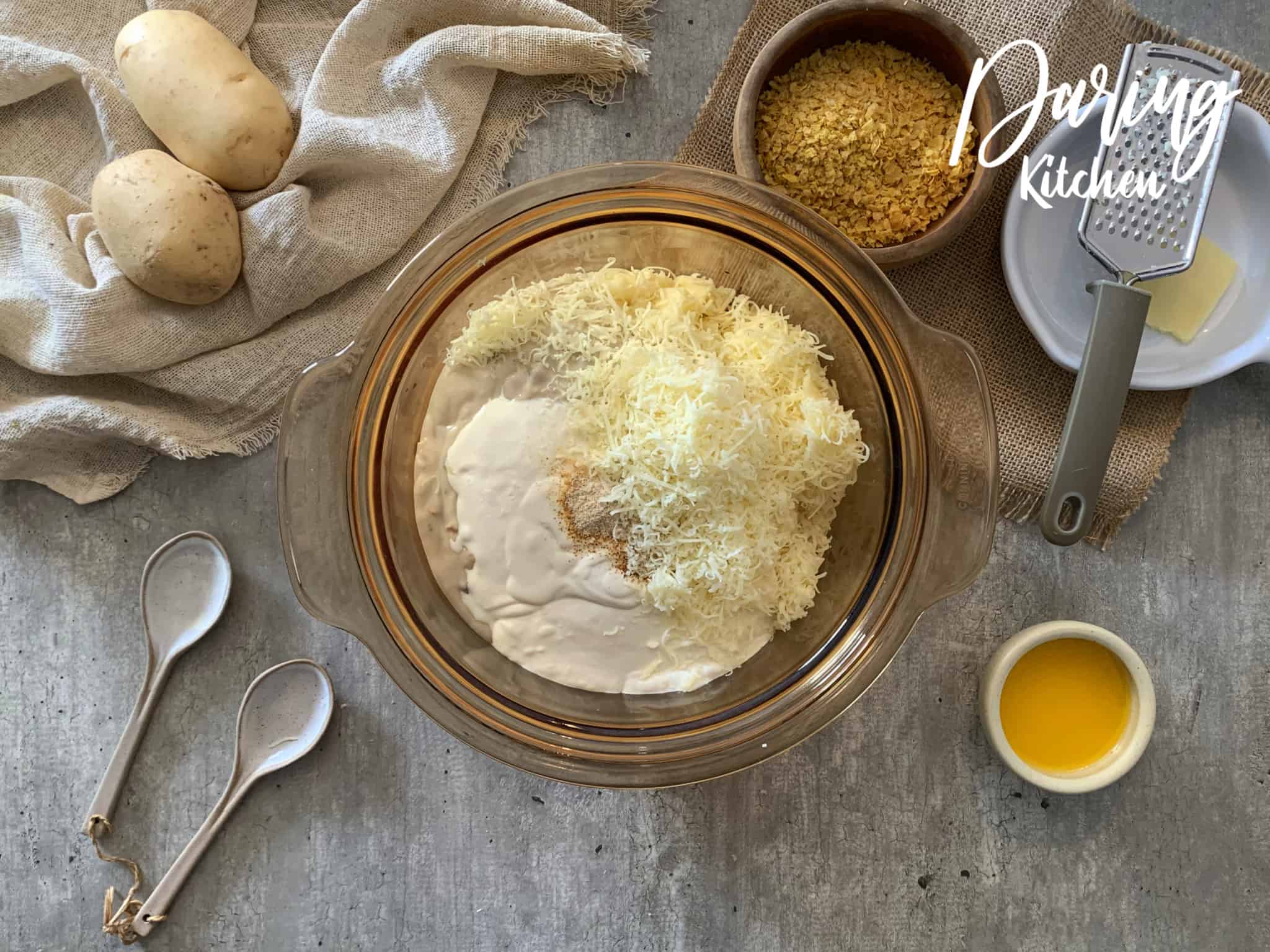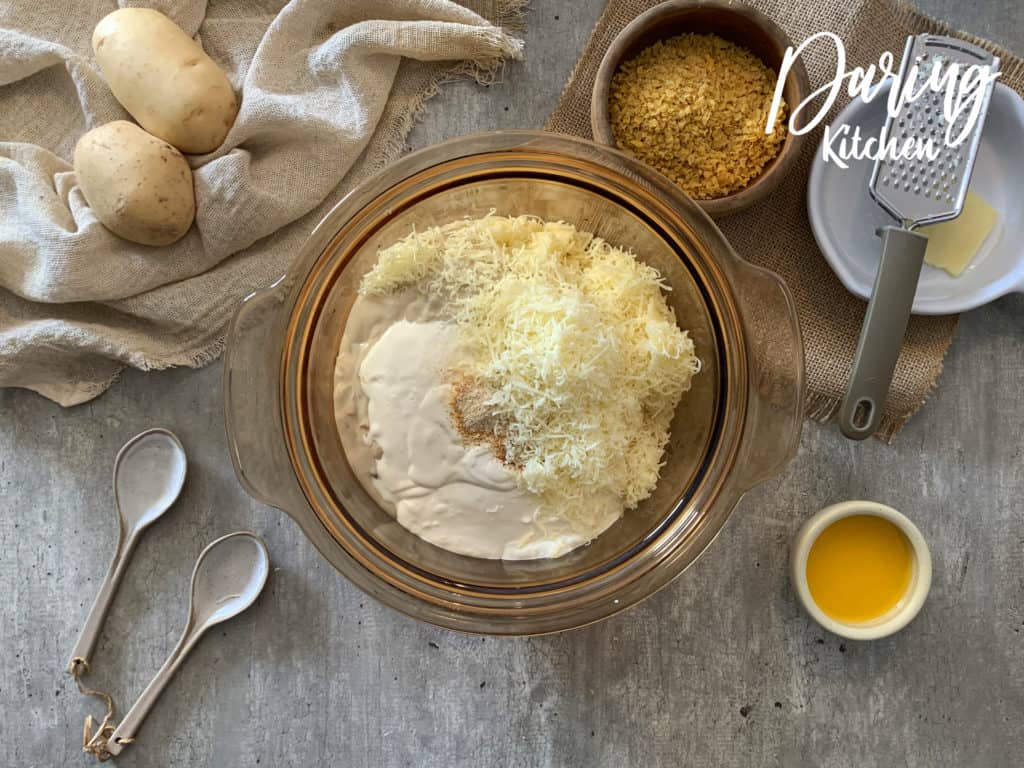 Pour the potato mixture into a baking pan.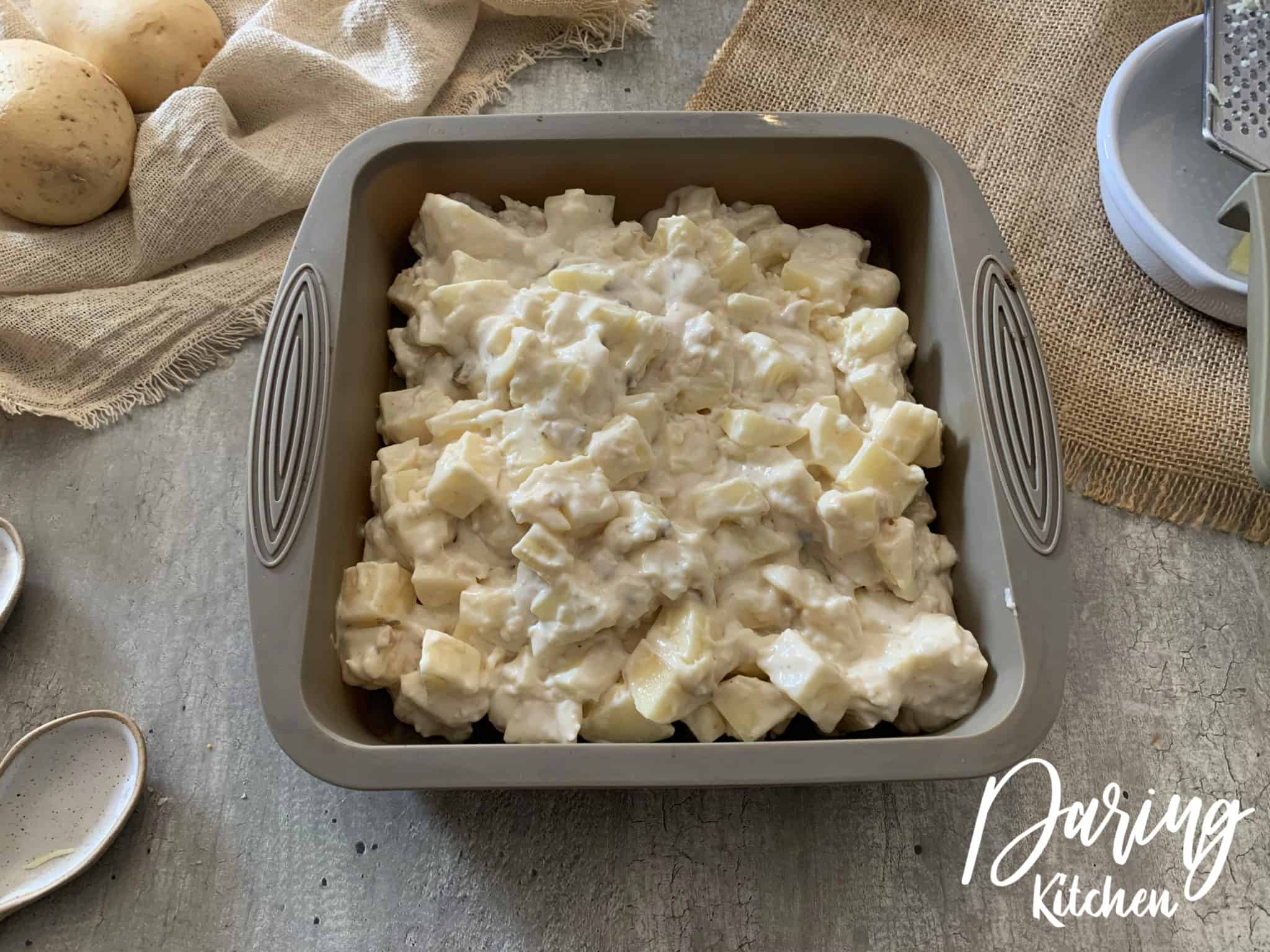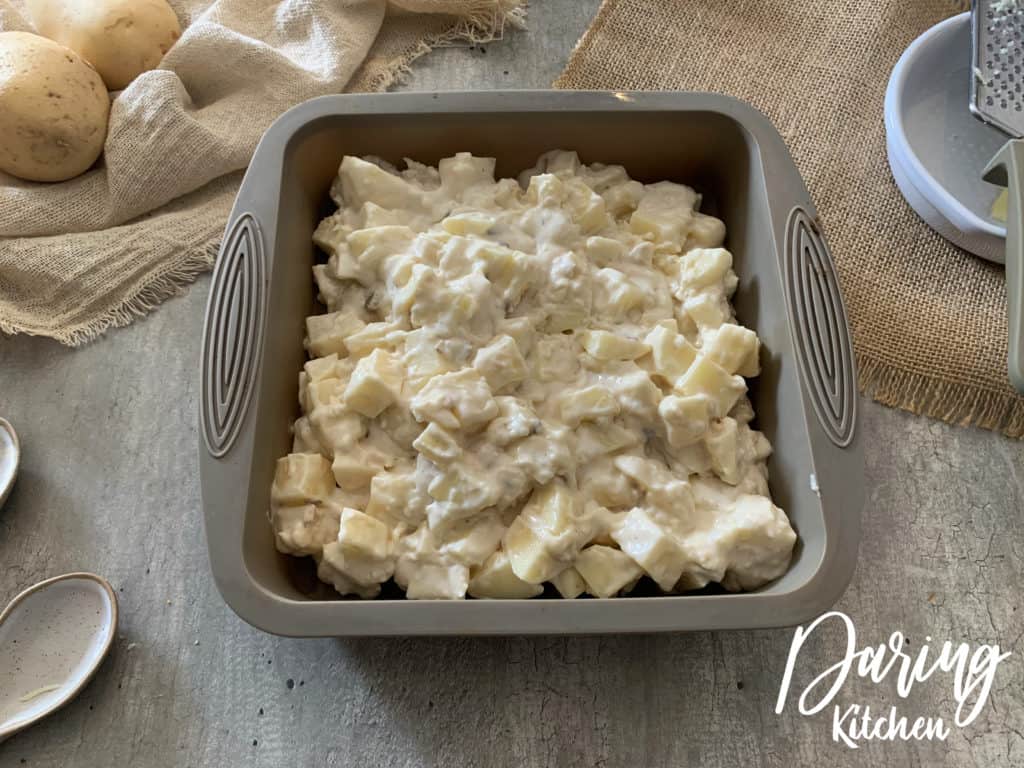 Then, crush your cornflakes in a bowl or bag.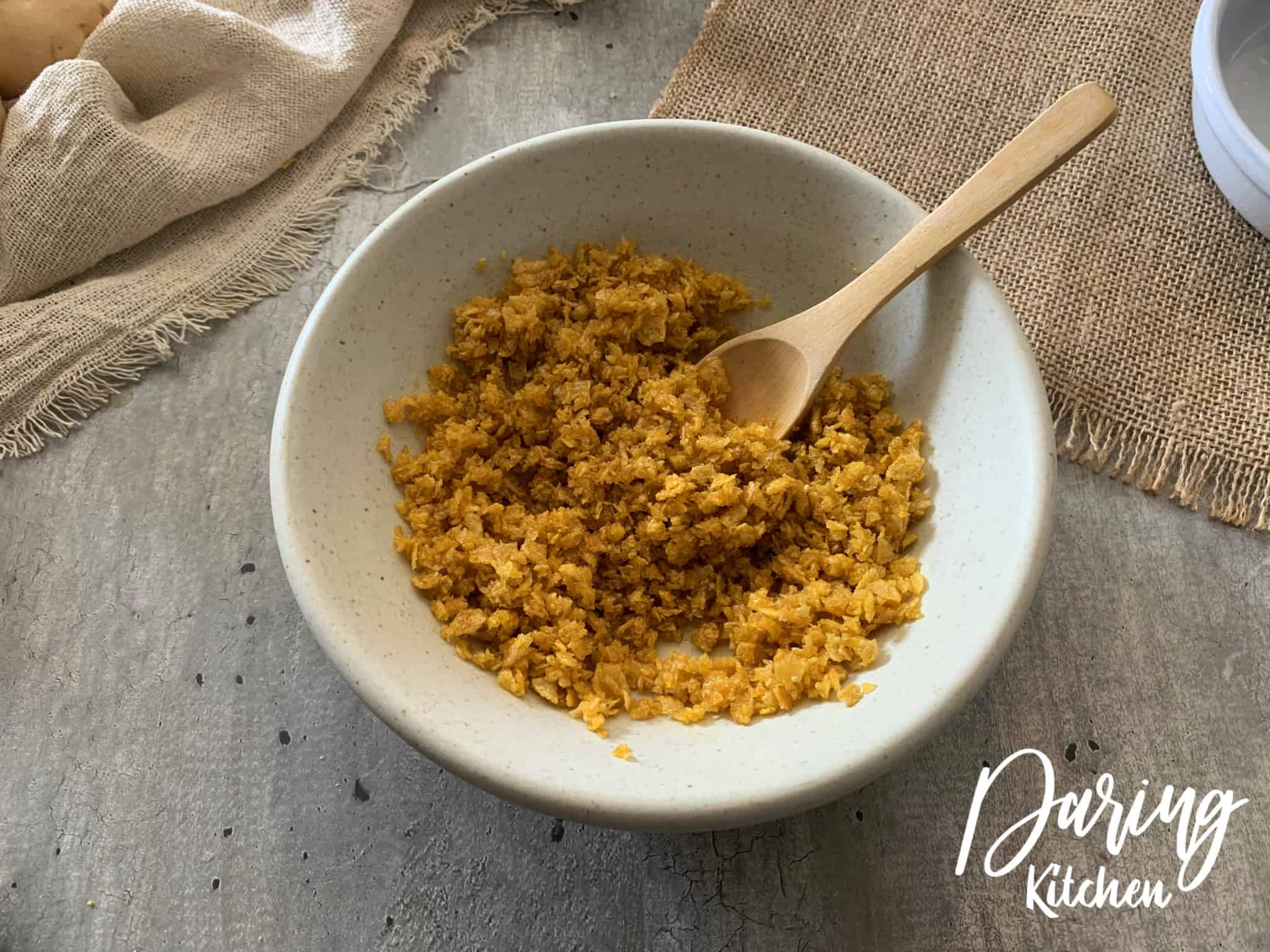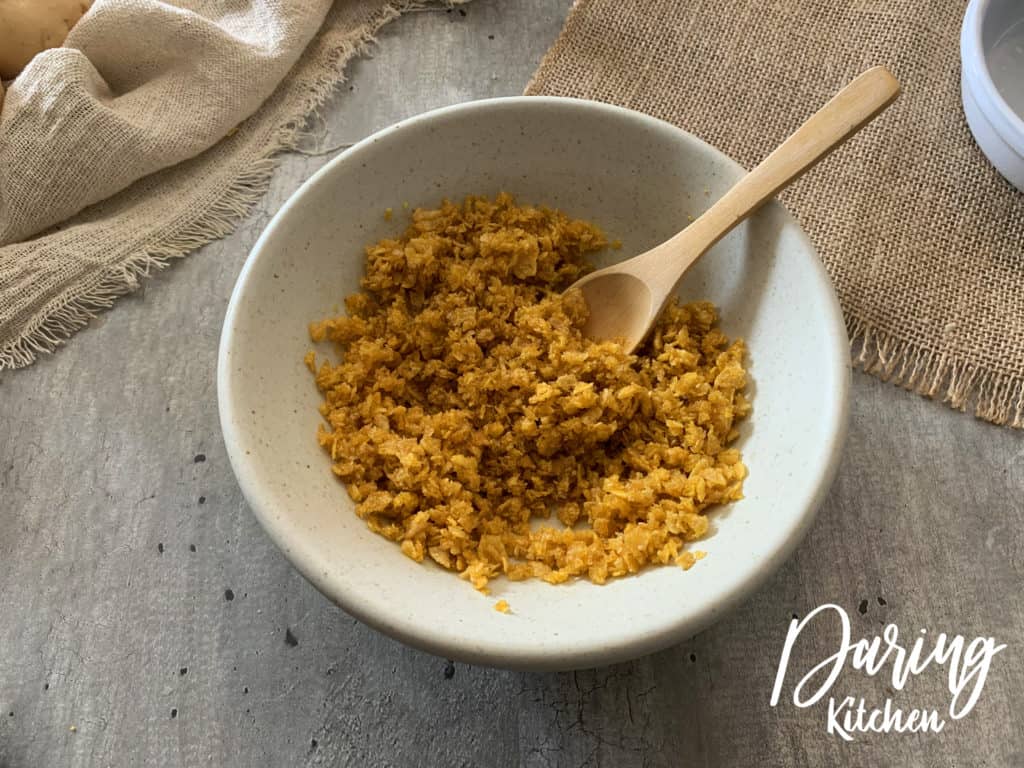 Sprinkle the crushed cornflakes generously over the casserole, coating the entire surface evenly.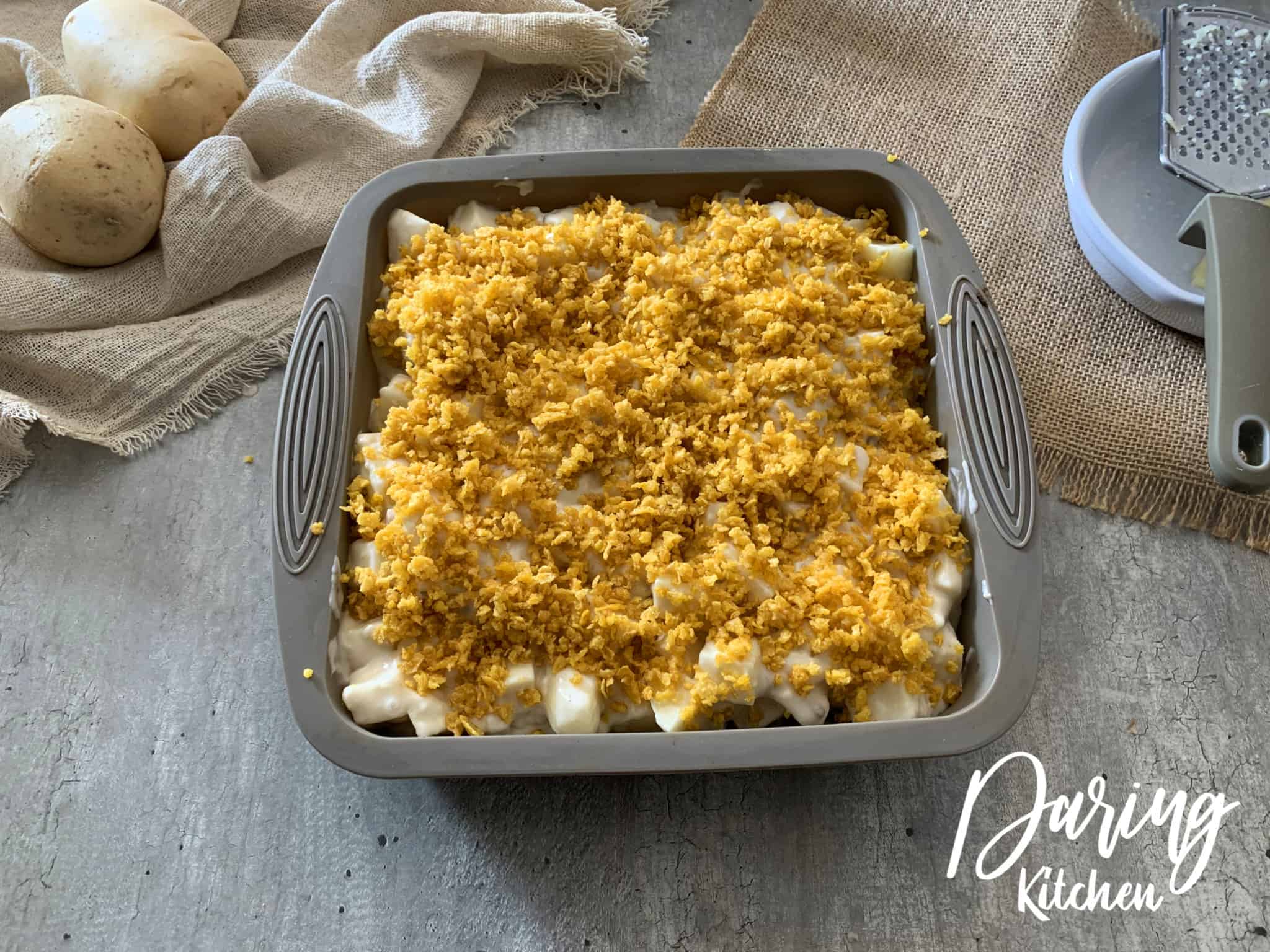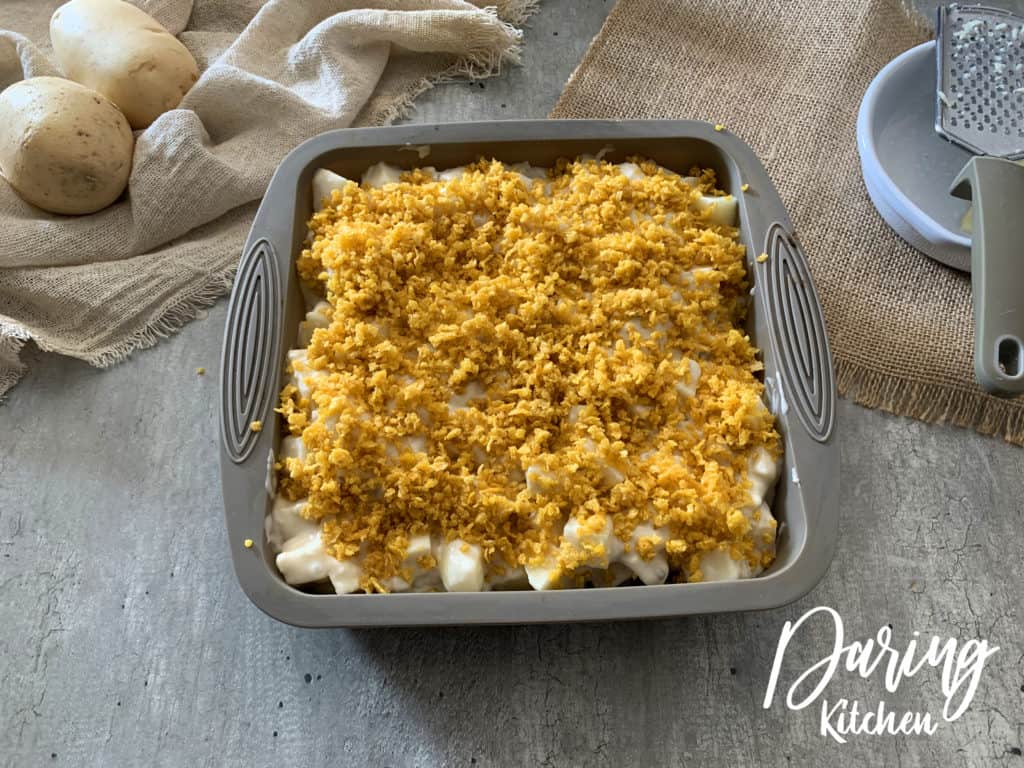 Bake uncovered in the oven for about 35 minutes or until it bubbles and the crushed cornflakes turn golden. Be careful not to burn the corn flakes.
Funeral potatoes are best served hot to fully enjoy the melted cheesy potato goodness.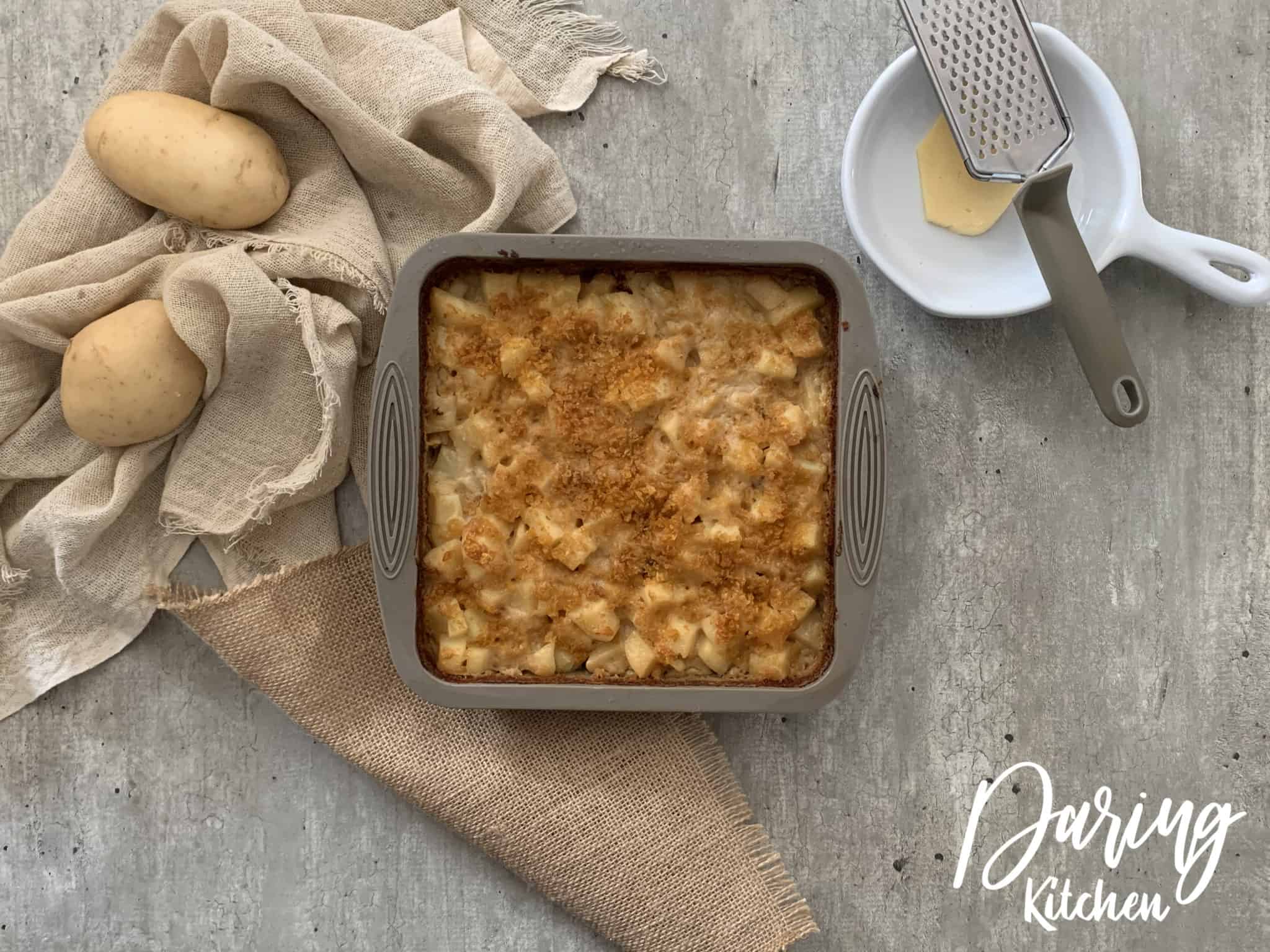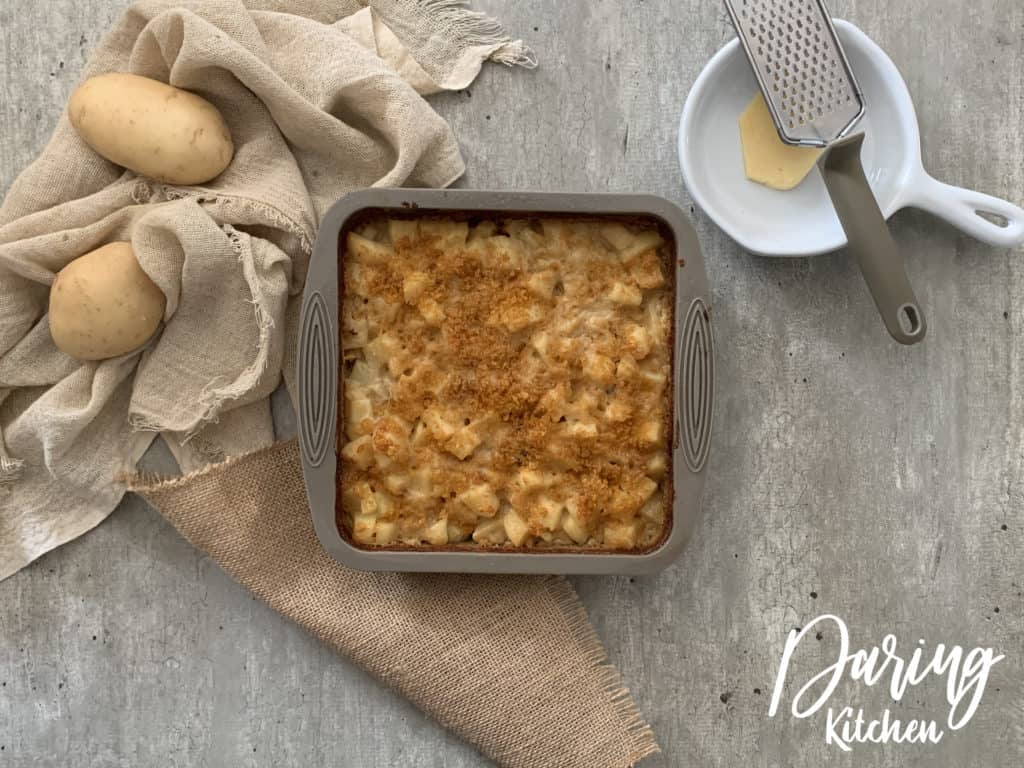 Popular Substitutions And Additions
Potatoes- Funeral potatoes can be made with any type of potato. Yukon gold potatoes, red-skinned potatoes, frozen potatoes, or shredded hash brown potatoes all work great in this dish.
Shredded Cheese- Instead of cheddar, use sharp cheddar cheese, pepper jack, or mozzarella cheese. Or, mix in some other cheese to make a unique cheese mixture.
Cream Of Chicken Soup- You can use cream of celery soup or cream of mushroom soup instead of cream of chicken soup.
Corn Flakes- If you don't have corn flakes, you can use crushed potato chips, pretzels, crushed Ritz crackers, or even breadcrumbs.
Other- Adding veggies, diced onions, green peppers, mushrooms, or even jalapenos would be great. Also, adding bacon or baked ham would add a delicious flavor and extra protein.
Can I Freeze Funeral Potatoes?
Yes! Funeral potatoes are a great dish to freeze and store for later. Simply prepare the dish, but don't bake it. Cover the baking dish with some plastic wrap and then add a layer of aluminum foil on top. Write the date on the top of the foil, and freeze for up to three months. When you're ready to enjoy your funeral potatoes, just let them thaw in the fridge overnight and bake as instructed.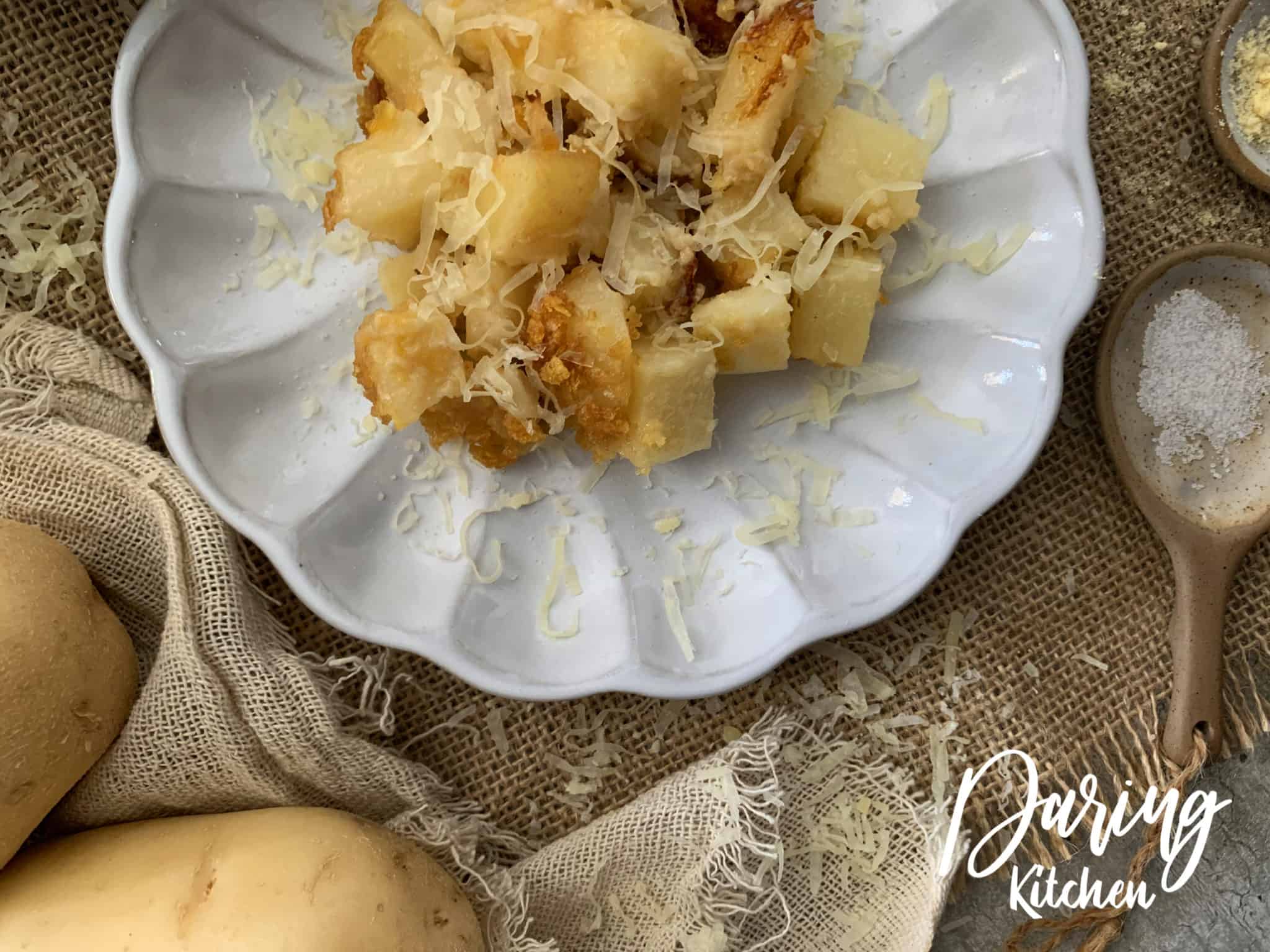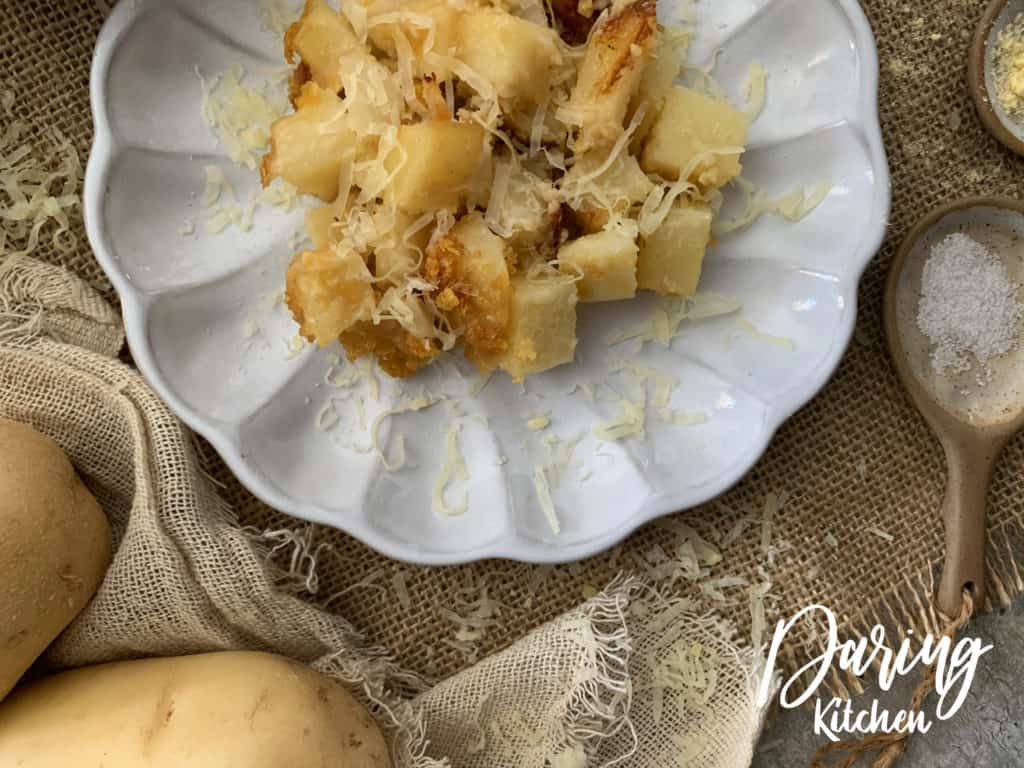 Cheesy Funeral Potatoes FAQs
What is the best way to store leftover funeral potatoes?
Leftover funeral potatoes can be stored in an airtight container in the fridge for up to five days.
How can I reheat funeral potatoes?
Reheat your funeral potatoes in a preheated 350°F oven for 15-20 minutes or until crisp and hot.
Can this funeral potato recipe be made vegan-friendly?
Yes! Just substitute dairy-free cheese and use plant-based milk, vegan sour cream, or cream cheese instead of traditional sour cream.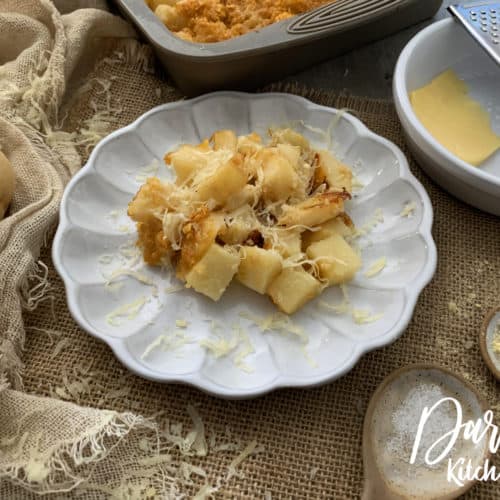 The Best Funeral Potatoes
A savory, cheesy potato casserole that's simple to make and wonderfully delicious! In 45 minutes, you'll have a creamy, comforting dish perfect for any occasion.
Print
Pin
Rate
Equipment
Potato Peeler

Cheese Grater

Oven
Ingredients
3

cups

Diced Potatoes

1

can

Cream of Chicken

1

cup

Sour Cream

1

cup

Shredded Cheddar Cheese

½

tsp

Garlic Powder

2

cups

Cornflakes Cereal

¼

Melted Butter
Instructions
In a bowl add the diced potatoes, the sour cream, the chicken soup, the garlic powder, the grated cheese and salt and pepper to taste.

Tos to cover all the potatoes with the mixture.

Add the crushed cornflakes mixed with butter on top of the potatoes.

Bake 350F for 35 minutes.
Nutrition
Calories:
230
kcal
|
Carbohydrates:
13
g
|
Protein:
7
g
|
Fat:
17
g
|
Saturated Fat:
9
g
|
Polyunsaturated Fat:
1
g
|
Monounsaturated Fat:
5
g
|
Trans Fat:
1
g
|
Cholesterol:
44
mg
|
Sodium:
573
mg
|
Potassium:
116
mg
|
Fiber:
1
g
|
Sugar:
2
g
|
Vitamin A:
688
IU
|
Vitamin C:
2
mg
|
Calcium:
186
mg
|
Iron:
3
mg