Don't be discouraged by the name - funeral potatoes are one of the most awesome casseroles to make! With tons of cheese, cream of chicken soup, and even a cornflake crust, it's hard to resist having a second helping of these potatoes!
The Best Funeral Potatoes Recipe
It's hard not to love a casserole. But, a casserole with cheesy potatoes? Now, that's what I'm talking about.
That's essentially funeral potatoes - the dreamy cheesy side dish that you'd typically only see at holidays or parties. I mean, I get so excited when I see it at Thanksgiving dinner or Christmas. I love funeral potatoes way more than mashed potatoes. To me, they are one of the greatest comfort foods of all time. I'll often pair it with some delicious smashed Brussels sprouts just to make my meal seem a little healthier...
With this funeral potato recipe, you can have it anytime you'd like. Why? Because this dish is super easy to make!
The ingredients are simple and the method requires little arm work. You can prep a lot of this recipe ahead! The result is a filling potato casserole that everyone will be delighted to see on the dinner table.
Plus, this funeral potatoes recipe is filling. And, it is super easy to freeze funeral potatoes too! This means you can have delicious funeral potatoes for days.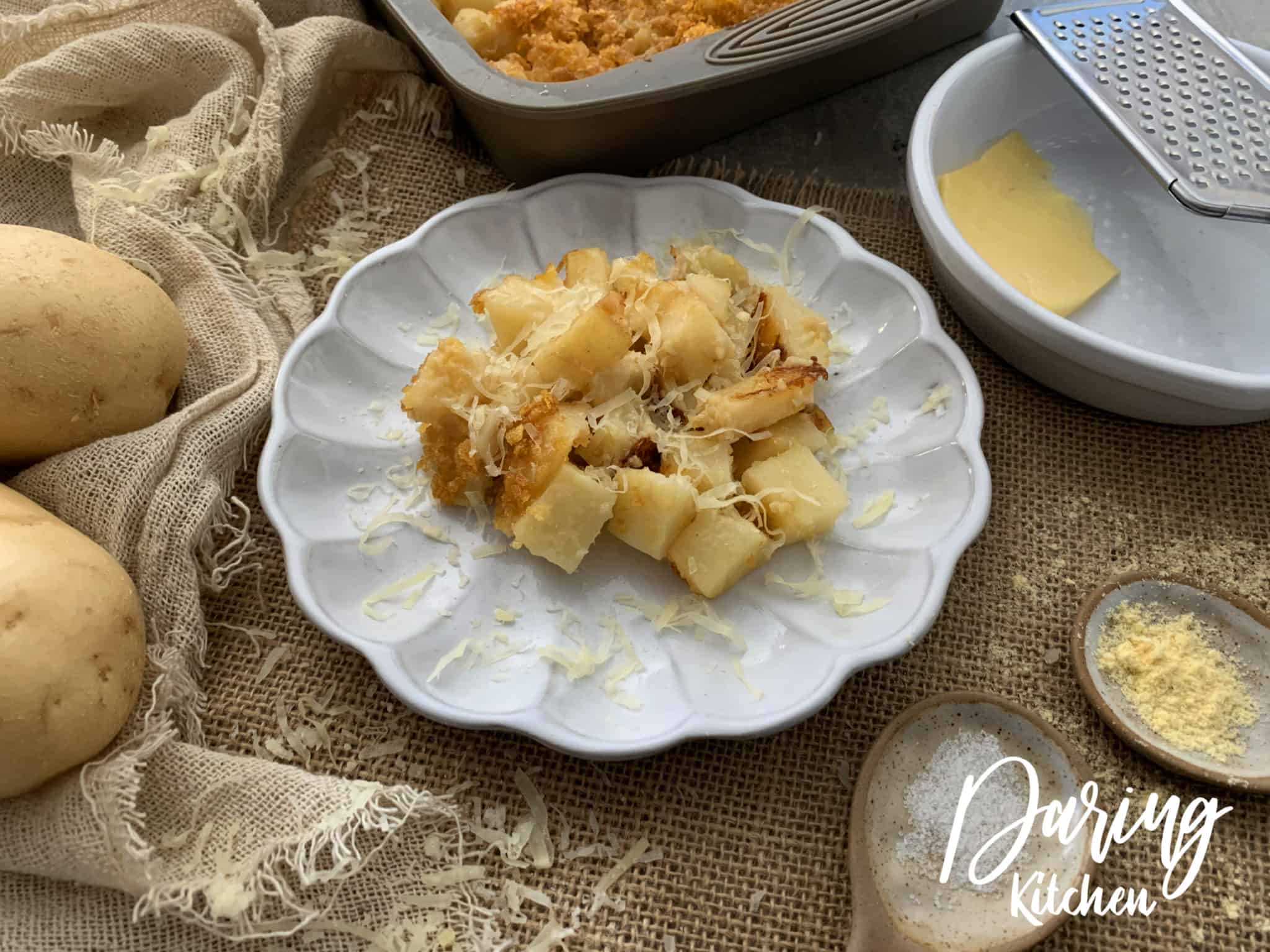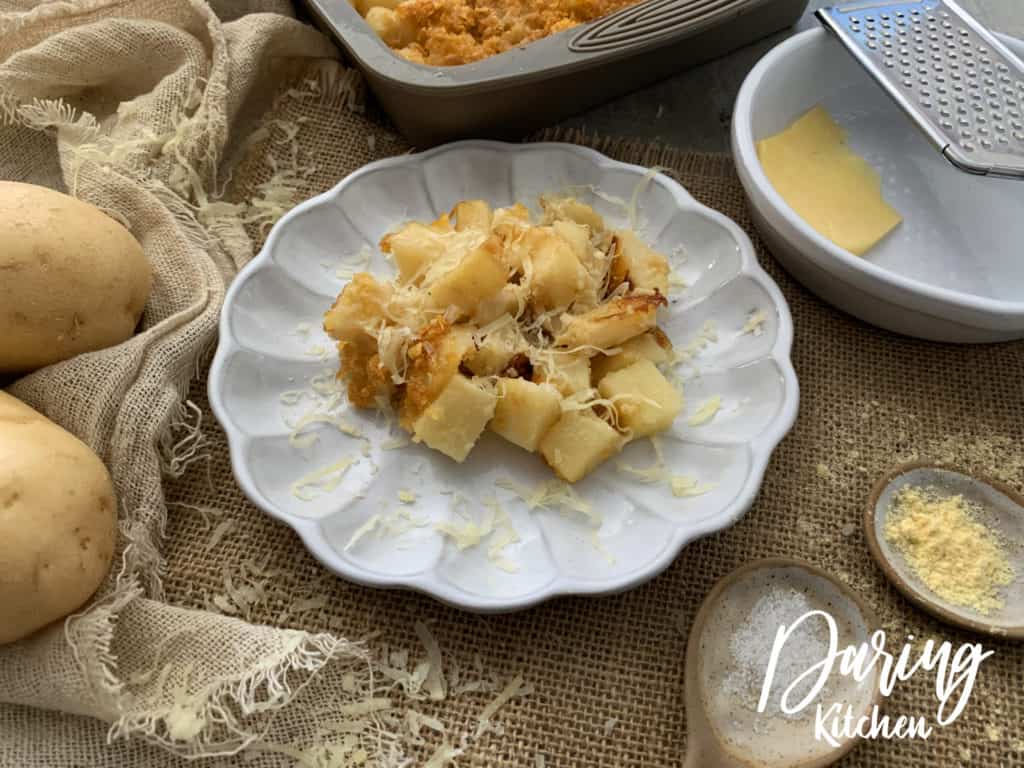 Why Are They Called Funeral Potatoes?
Unless you're already familiar with funeral potatoes, you're probably wondering how this dish got its name. Well, the story explains exactly why these potatoes are the ultimate comfort food.
This cheesy potato casserole became a staple dish served at funeral luncheons as comfort food during a time of sadness. Many say that the Relief Society Organization, part of the Church of the Latter-Day Saints, was the one responsible for putting this dish on the map.
Well, thank goodness they did because these cheesy potatoes are out of this world. Thankfully, we don't have to eat them at funerals to enjoy them anymore...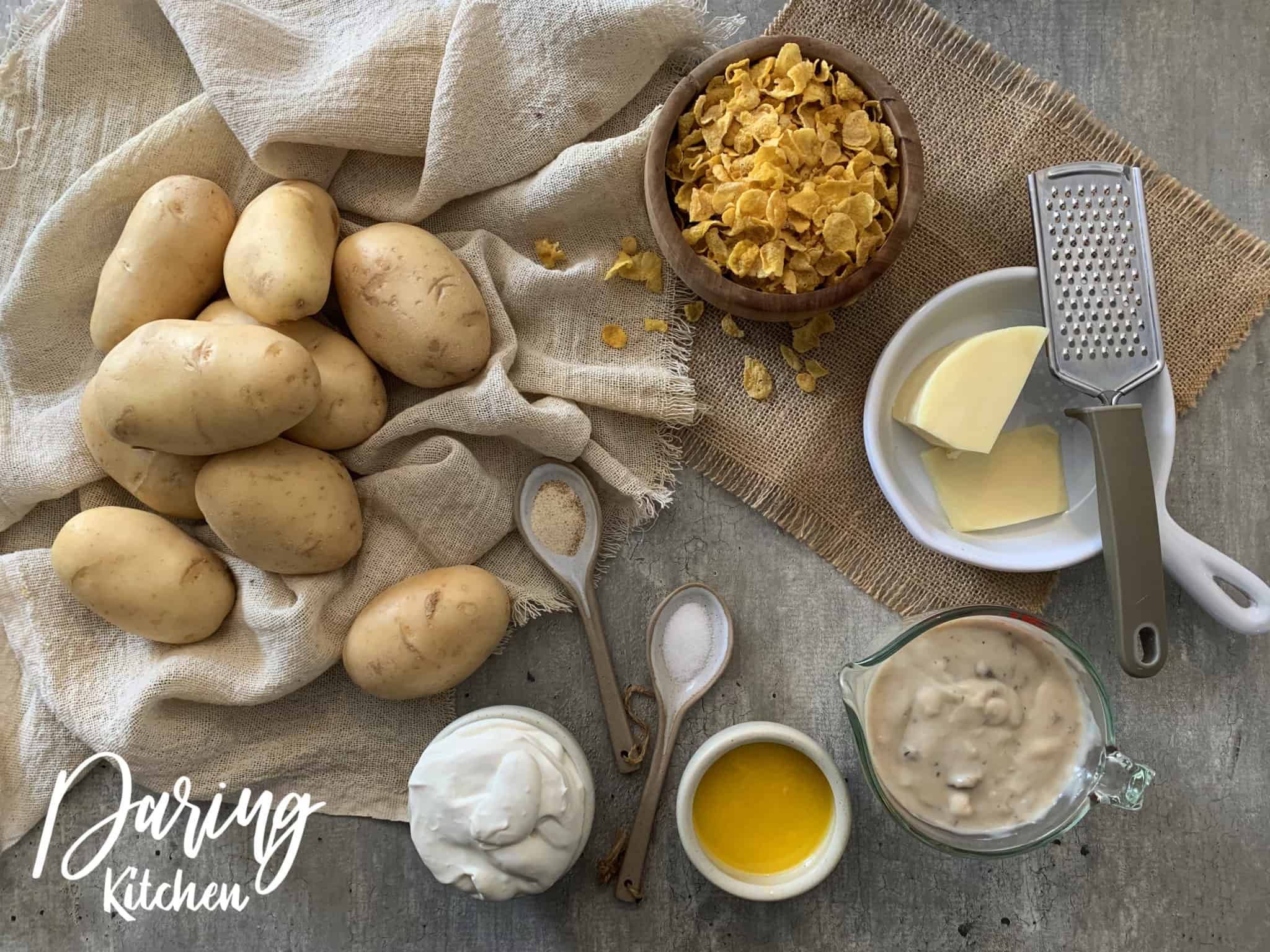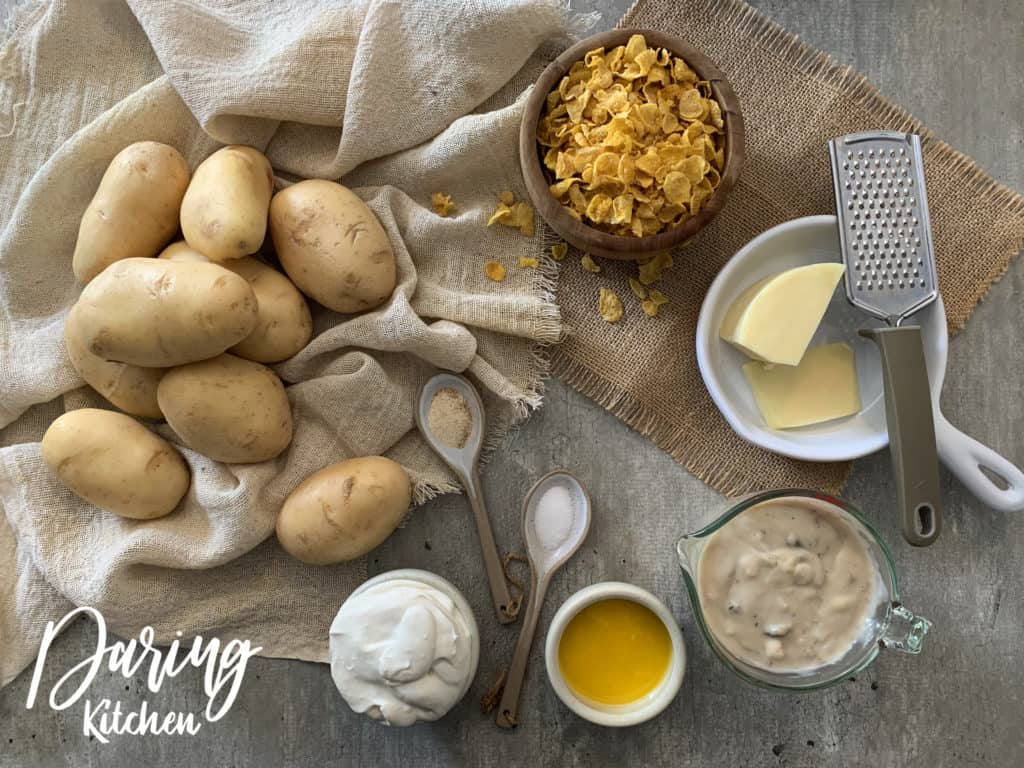 What Ingredients are in Funeral Potatoes?
I bet you're curious as to what is exactly in funeral potatoes. It's a very fascinating and simple list of ingredients.
Diced potatoes - you will want to make your cubed potatoes small so that they fully cook in the oven. You can also use hash browns. Frozen cubed hash browns are very handy and cut down your prep time in this recipe!
Cream of chicken soup - This helps to cook the potatoes and also lends a velvety creaminess to the dish, along with a little extra chicken flavor.
Sour cream - I adore sour cream, especially with potatoes. It gives that awesome tangy flavor and it adds great texture to these potatoes.
Cheddar cheese - Shredded cheddar cheese is my favorite cheese to use in this dish. Cheddar just tastes fantastic with any potato dish. You can use mild or spicy, whatever you prefer! I suggest that you freshly grate cheddar instead of buying pre-grated cheddar, as it's much fresher in flavor.
Garlic powder - This adds more flavor to the dish. You can also add onion powder, rosemary, or other herbs if you want to get a little fancy.
Butter - What's a casserole without a little melted butter? Butter is such a treat for me. You can substitute with oil, bu. make sure it doesn't have a bold flavor. Olive oil wouldn't work in this recipe
Cornflakes Cereal - Now, this is the real grand finale for this dish. Cornflakes add the perfect crunch to these potatoes. They have just enough sweetness to contract the savoriness of these potatoes. You can use crushed potato chips or breadcrumbs instead, but, trust me, cornflakes seal the deal on this dish!
I hope you are already getting your grocery list ready because this is a dish you have to make at least once!
Can I Make Funeral Potatoes Ahead of Time?
100 percent YES! Funeral potatoes are one of the easiest things to make ahead of time. You can also prep most of the ingredients ahead of time too. Most of the ingredients do last quite some time in the fridge too.
This is why this recipe is my go-to party potatoes recipe. It doesn't demand much time, thought, or crazy preparation. Just throw all the delicious ingredients together, top it with crushed corn flakes, and send it off into the oven. In just 35 minutes, you'll have perfectly cheesy potatoes.
How to Make Funeral Potatoes
Let's dive into the steps of one of my favorite potato recipes!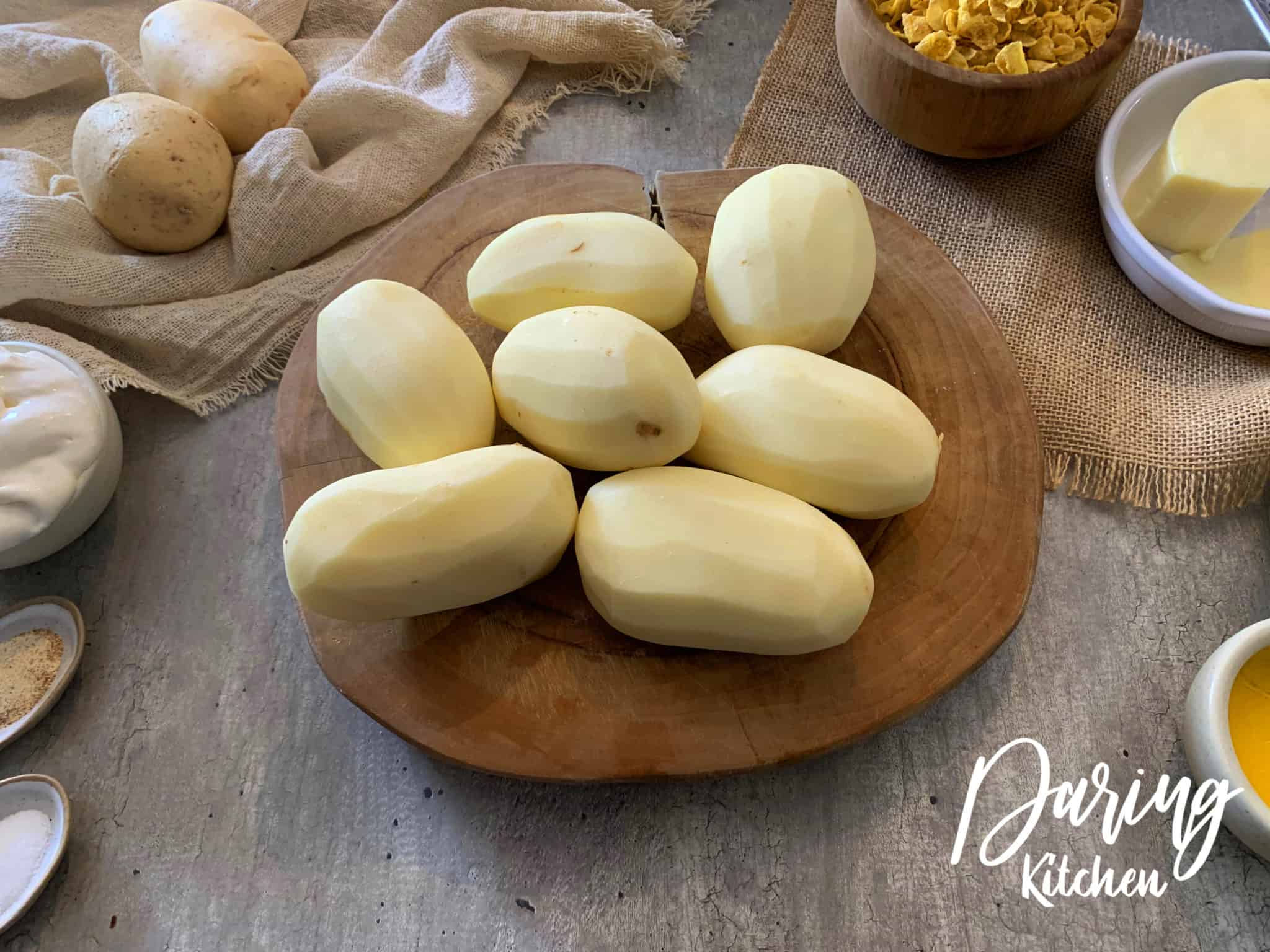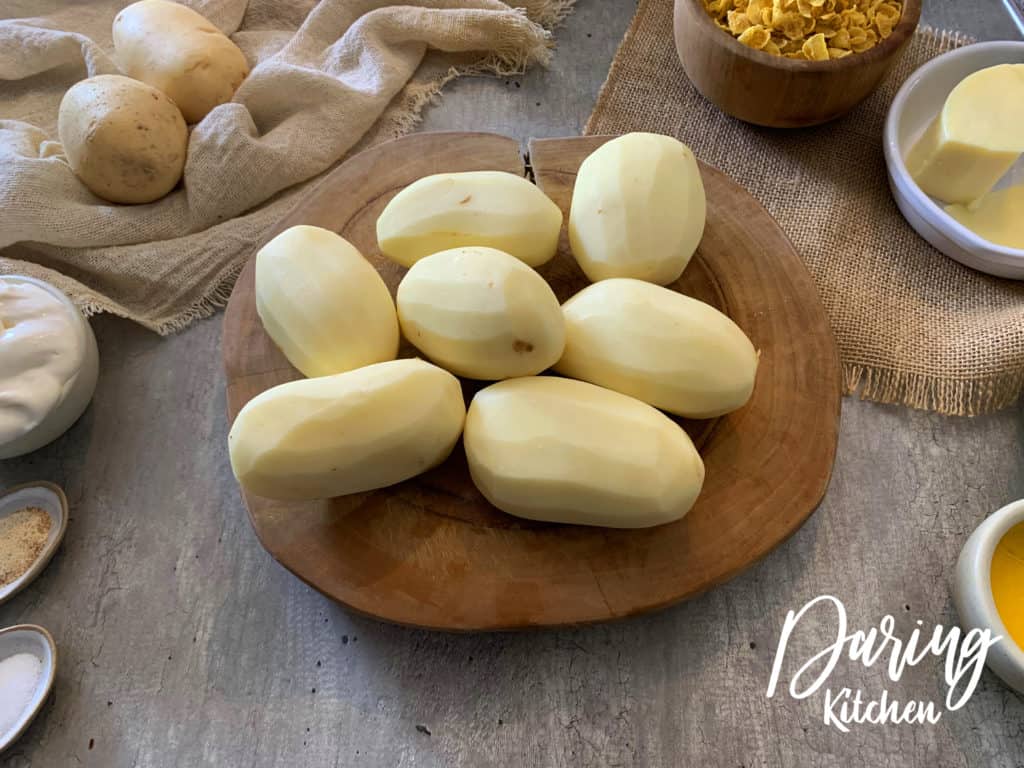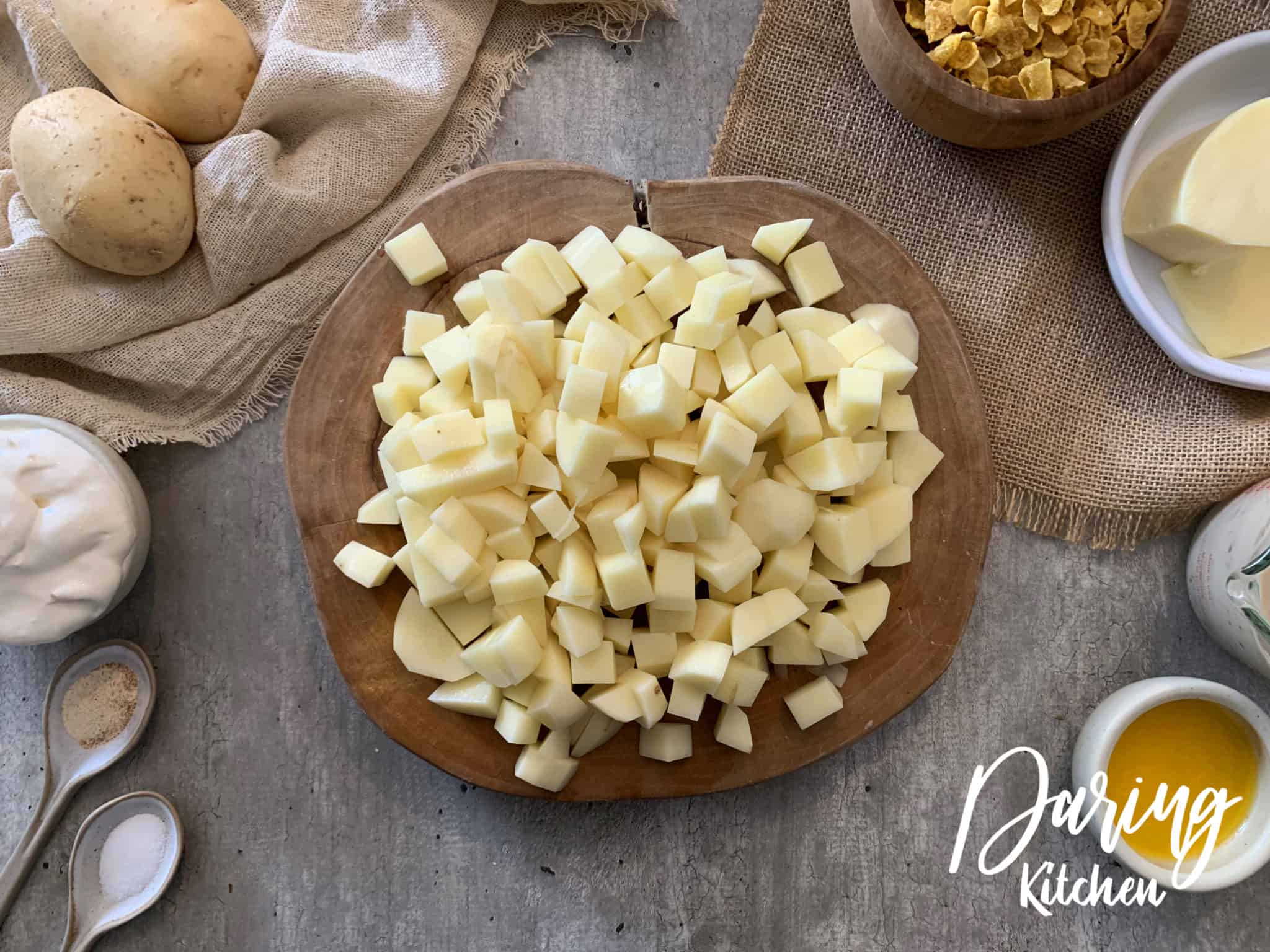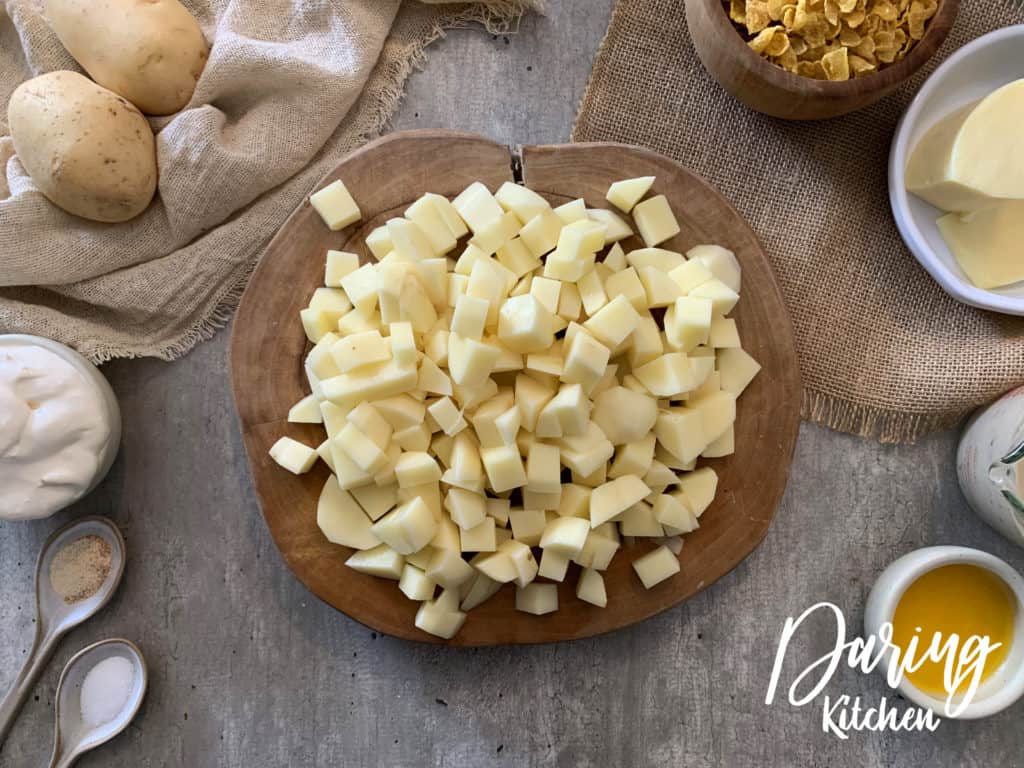 First, preheat your oven to 350 degrees. While your oven preheats, peel and dice your potatoes with a knife. (If you're using frozen hash browns, you can skip this step!) Grate your cheese.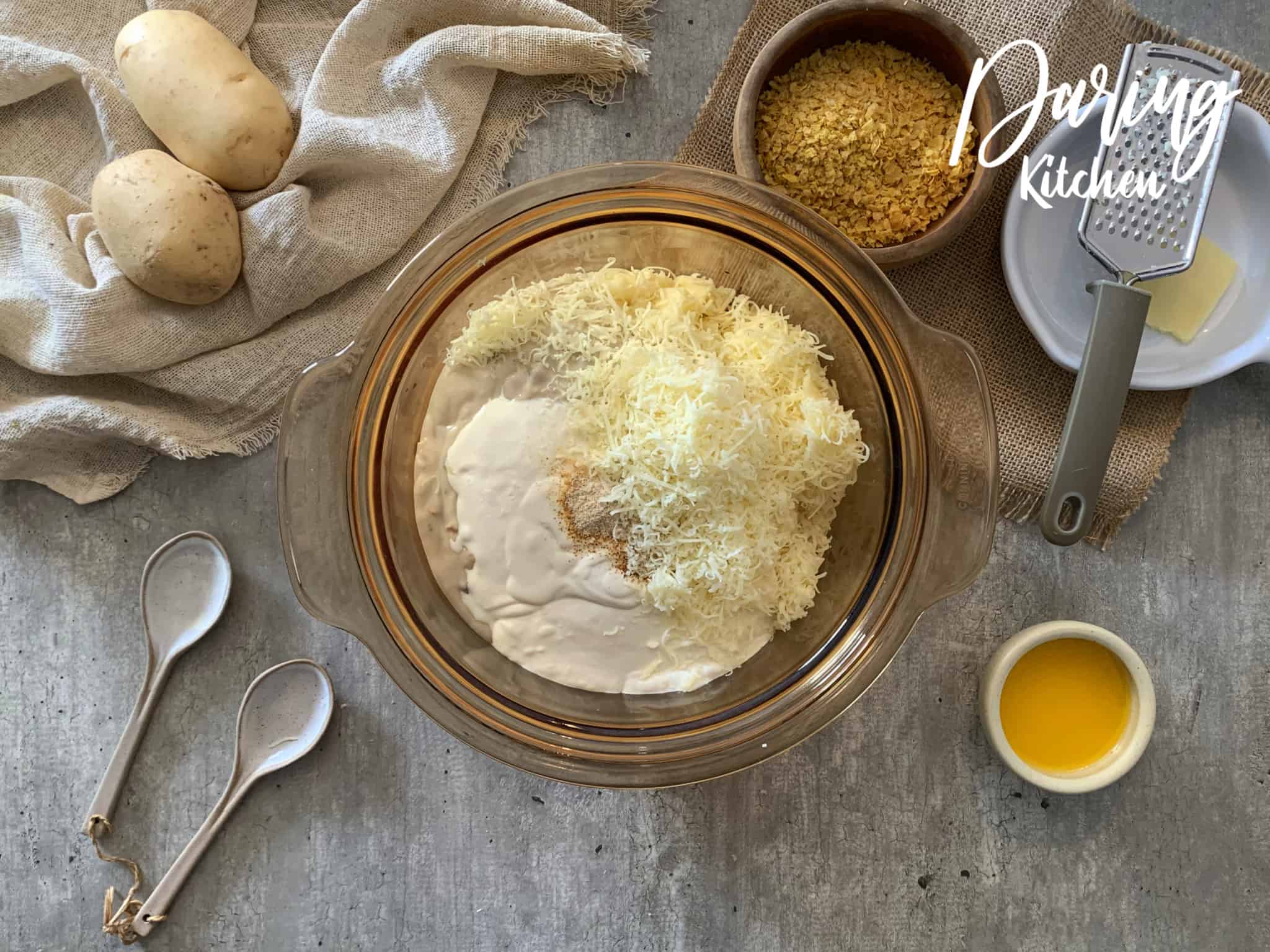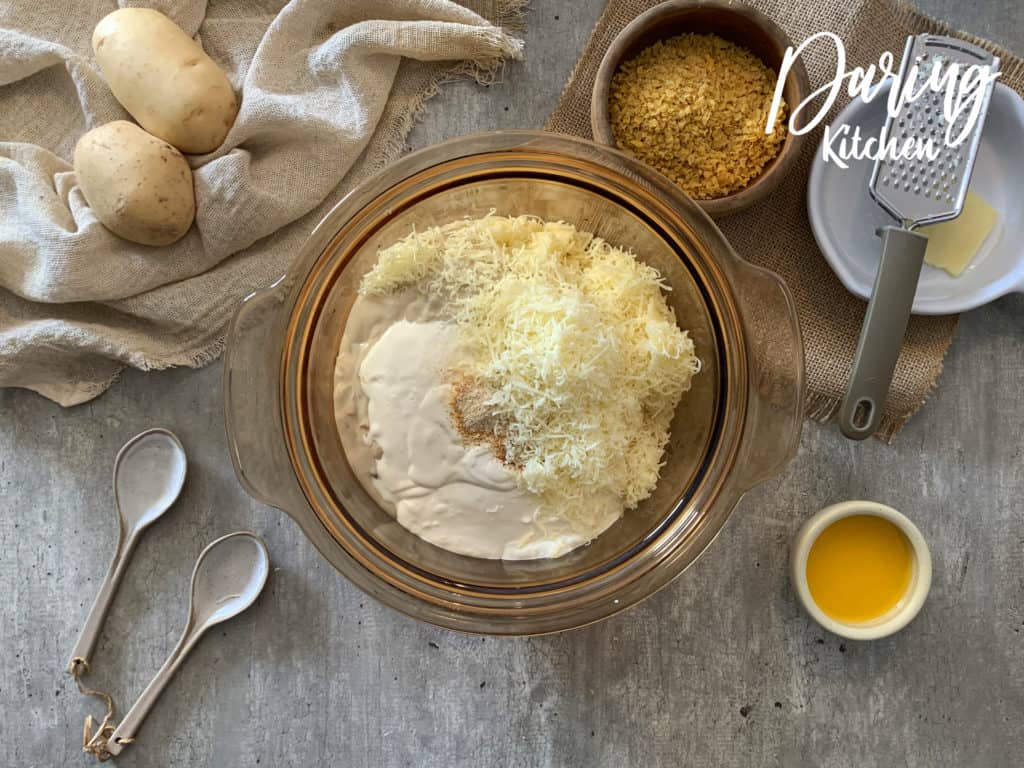 In a large mixing bowl, add your potatoes, sour cream, cheddar cheese, melted butter, cream of chicken soup, and seasonings. Mix everything together, making sure the potatoes are evenly coated in your cheesy mixture.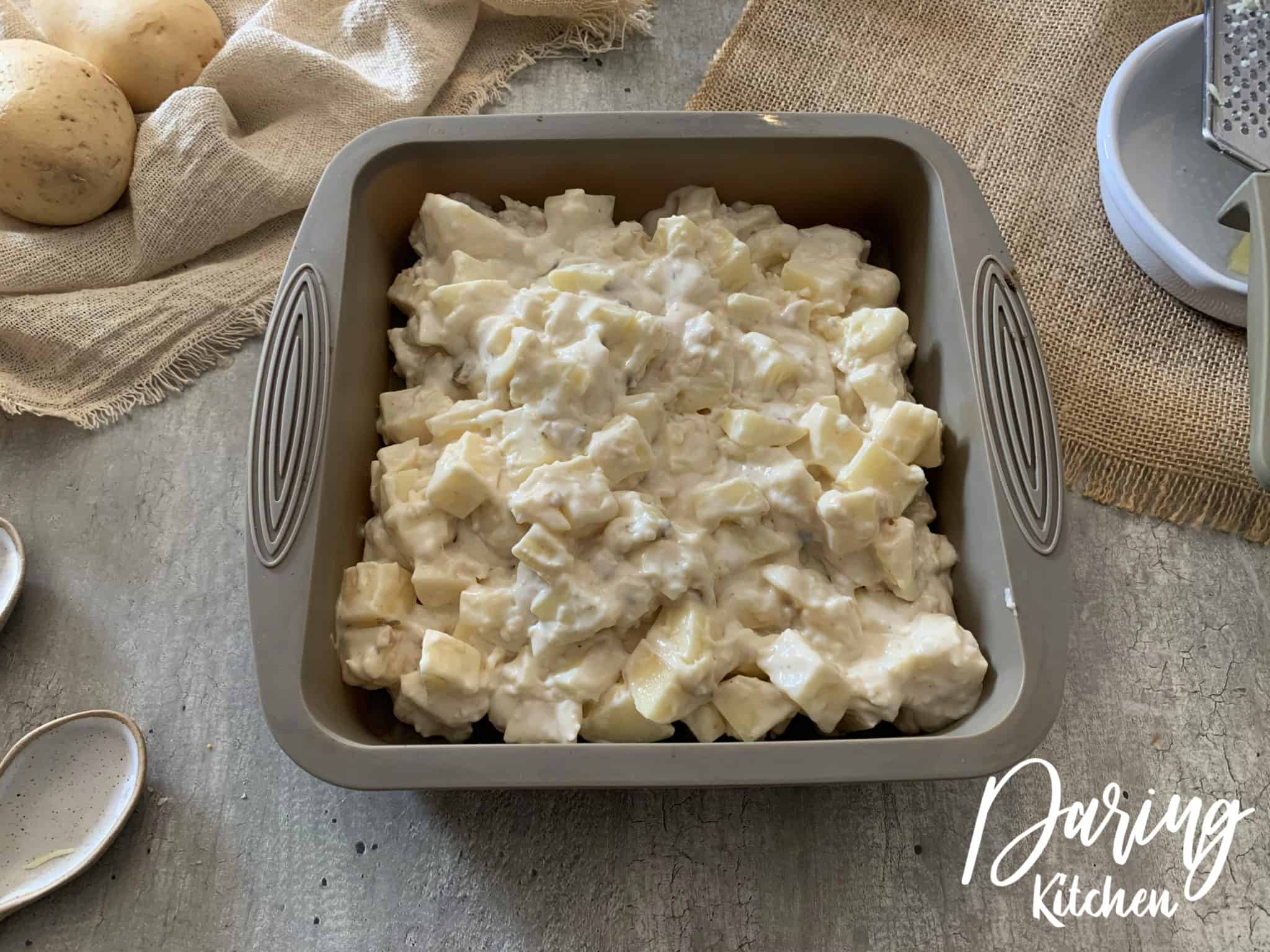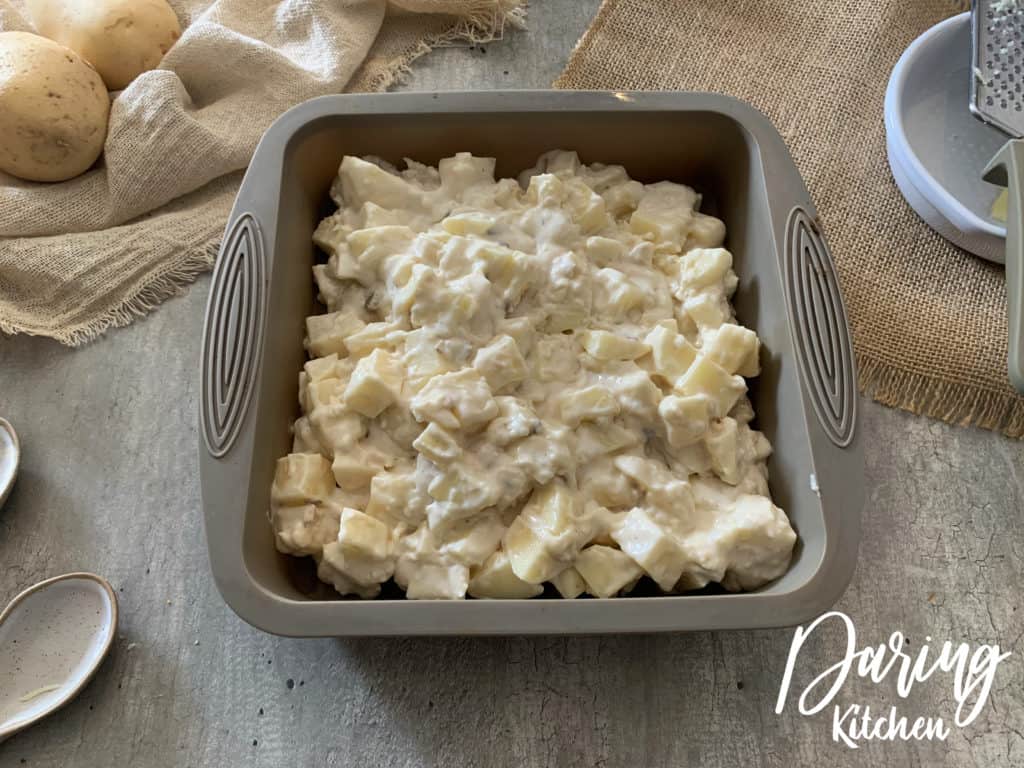 Pour the potato mixture into a baking pan, making sure it's even.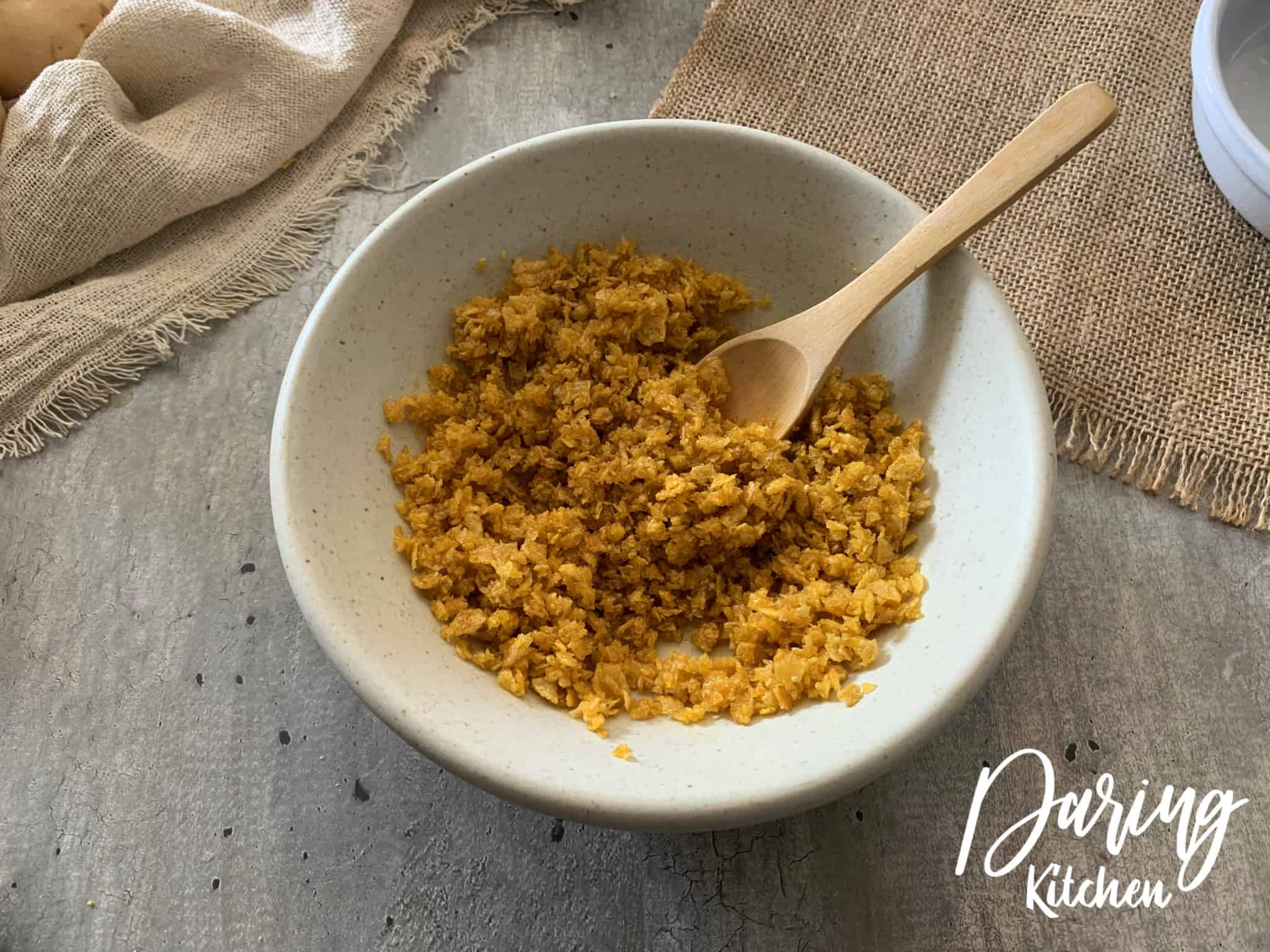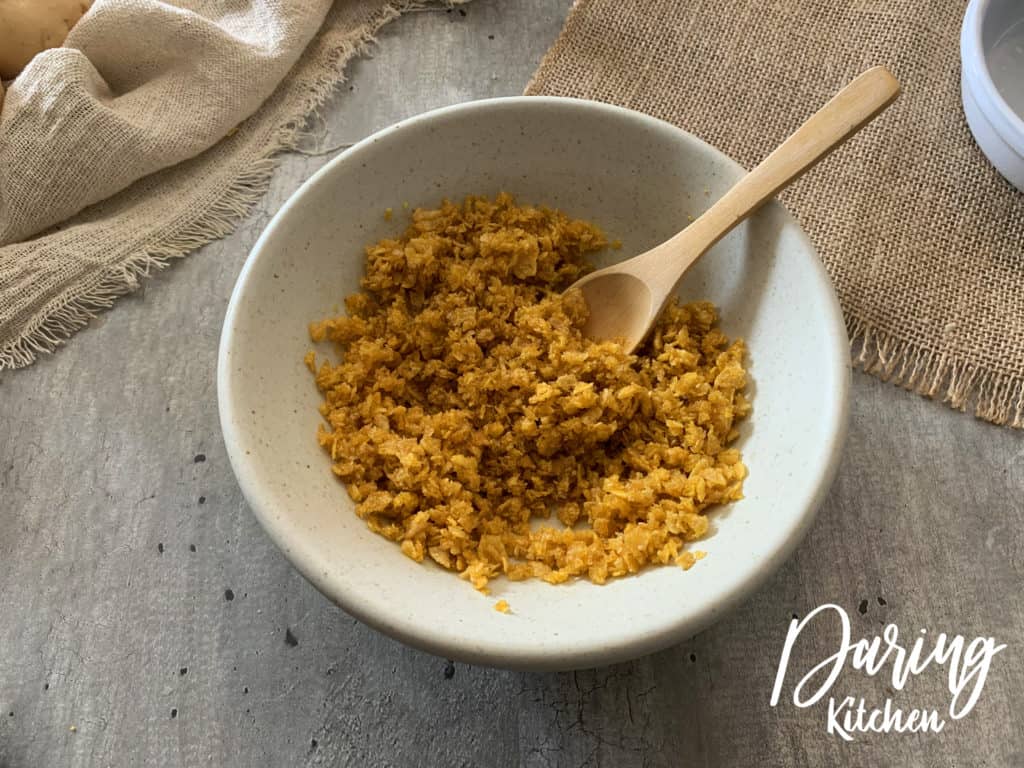 Now, crush your corn flakes. You can do this in the bag or in a bowl.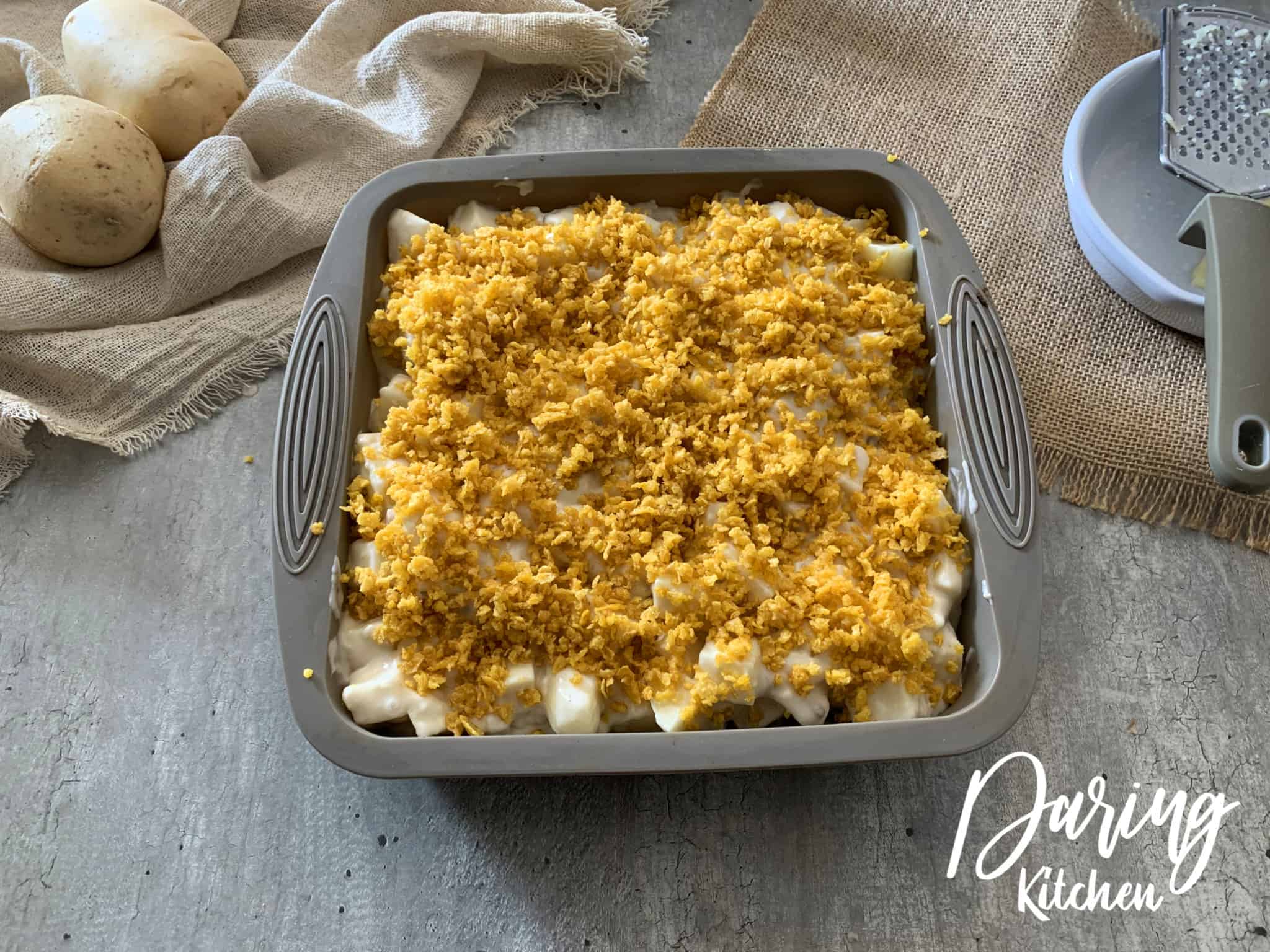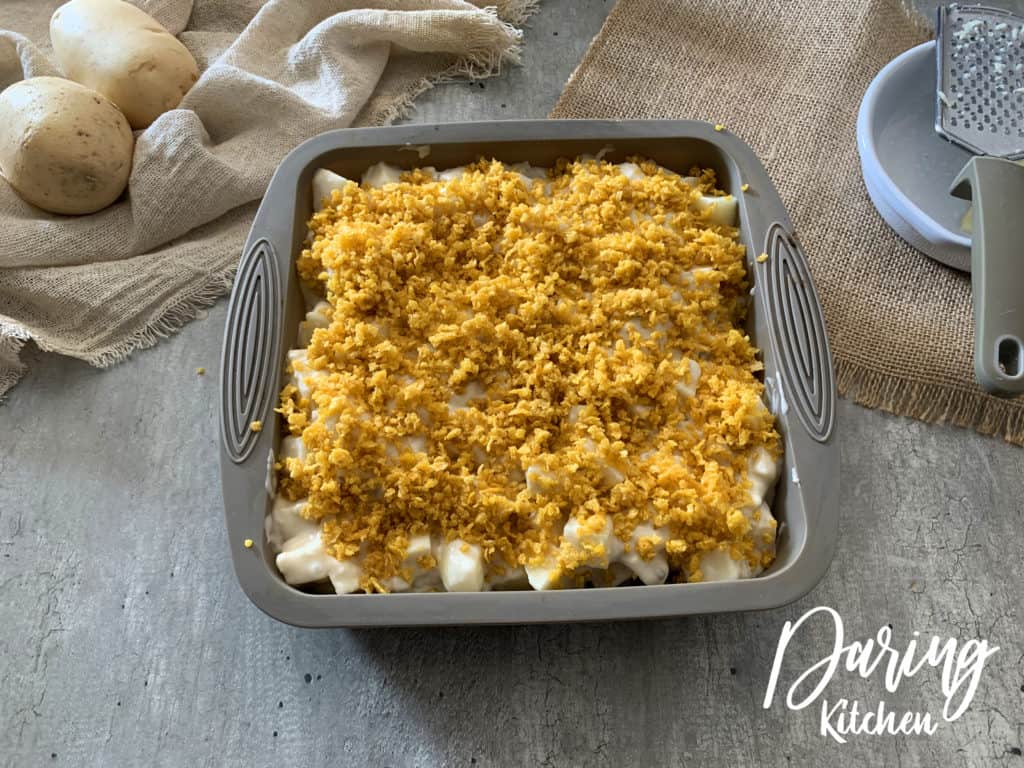 Generously sprinkle your crushed corn flakes on top, making sure the entire surface of the casserole is coated evenly with the corn flakes.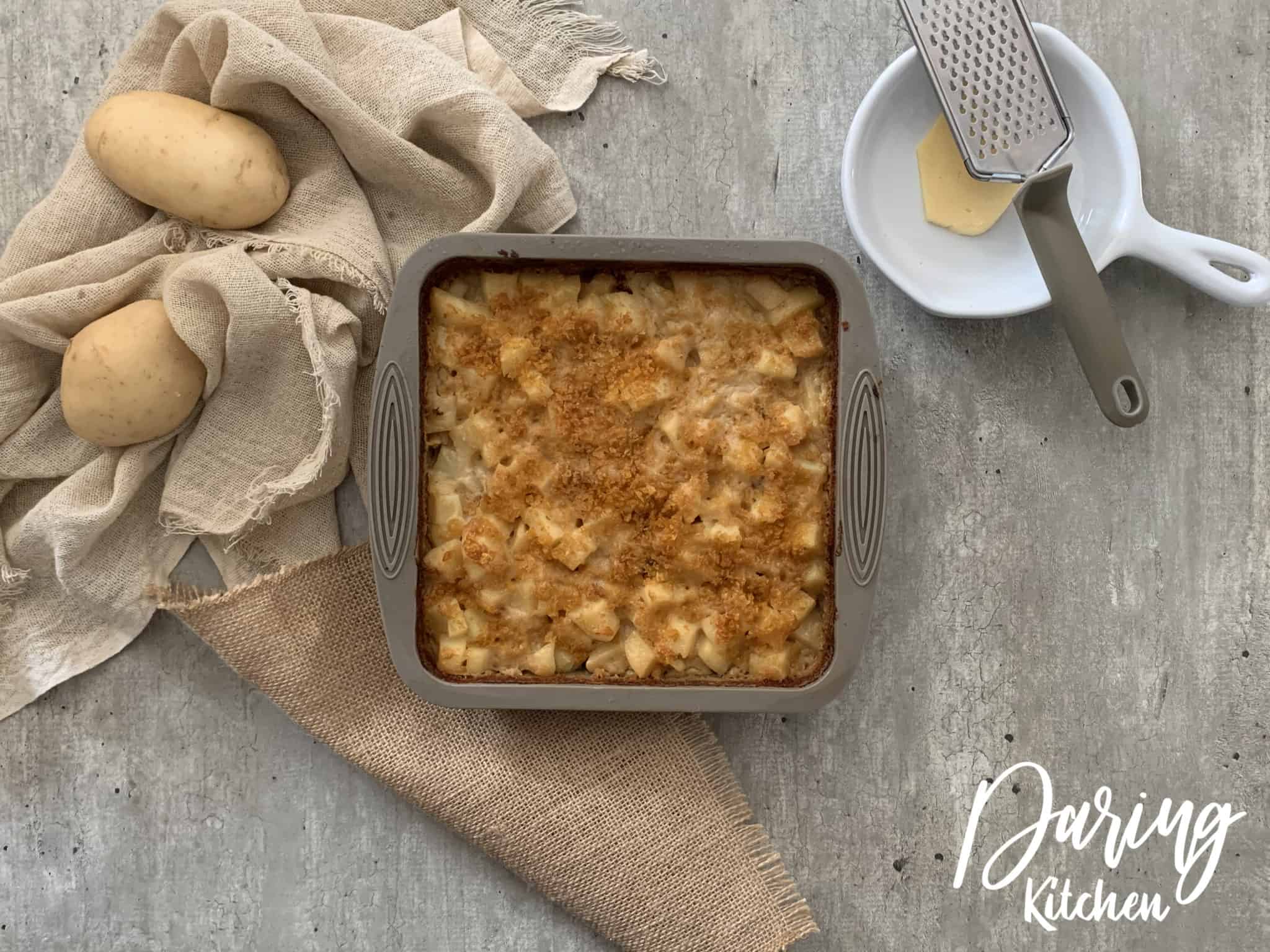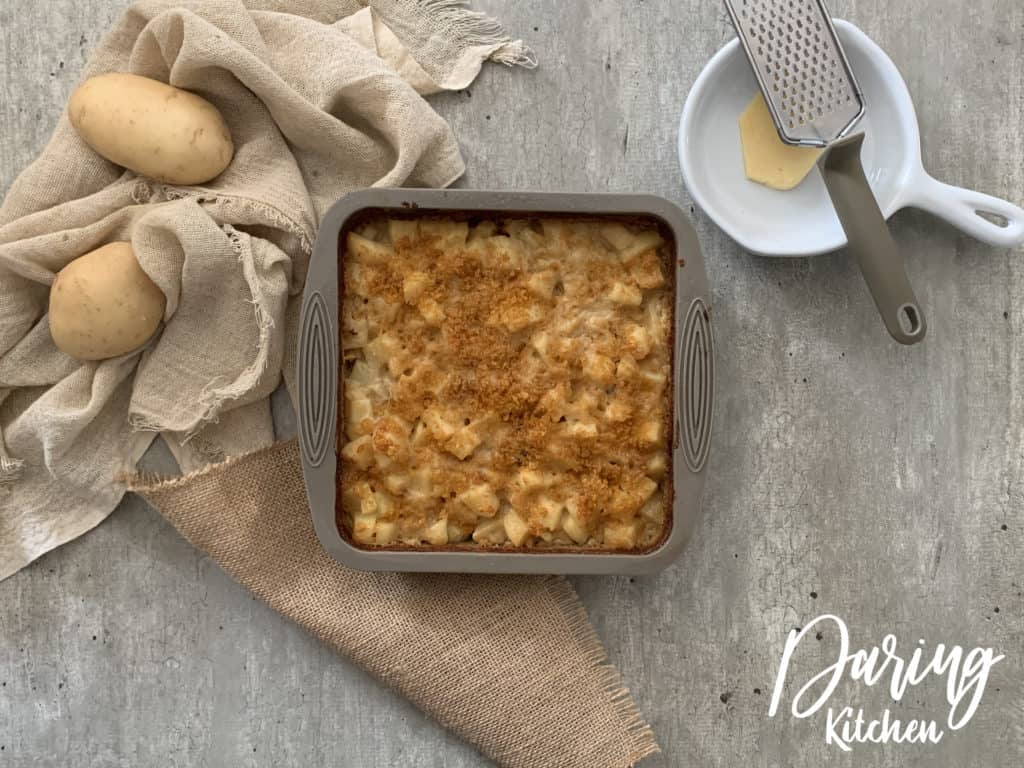 Place your casserole in the oven for 35 minutes, or until the casserole is bubbling and the corn flakes are extra golden. You don't want to burn your corn flakes!
Serve this dish hot so that you can enjoy all the melted cheesy potato goodness!
Did you adore this recipe? I sure hope so. It will always be one of my favorites. Please drop a comment or rating - I'd love to know how you felt about this funeral potatoes recipe!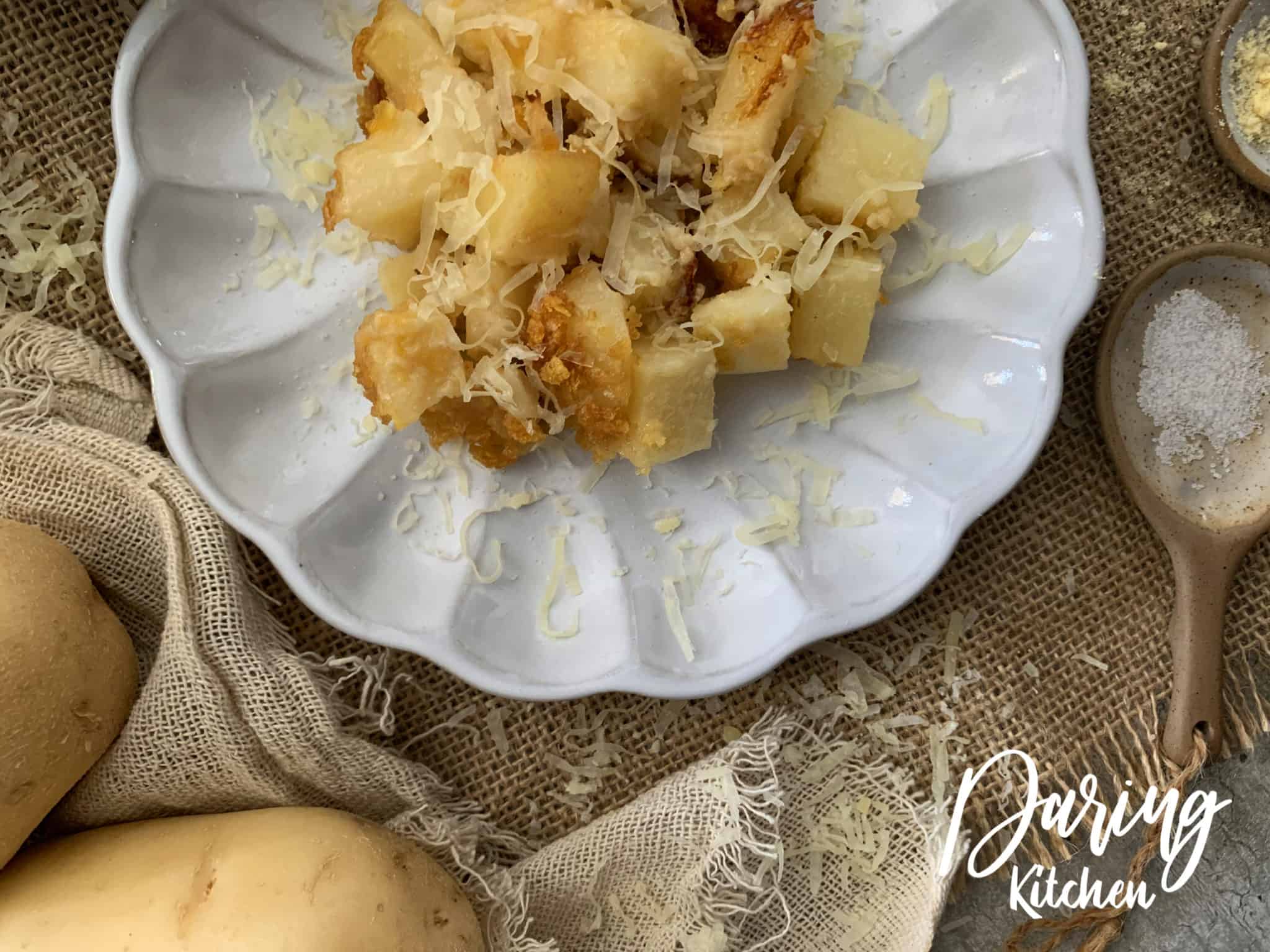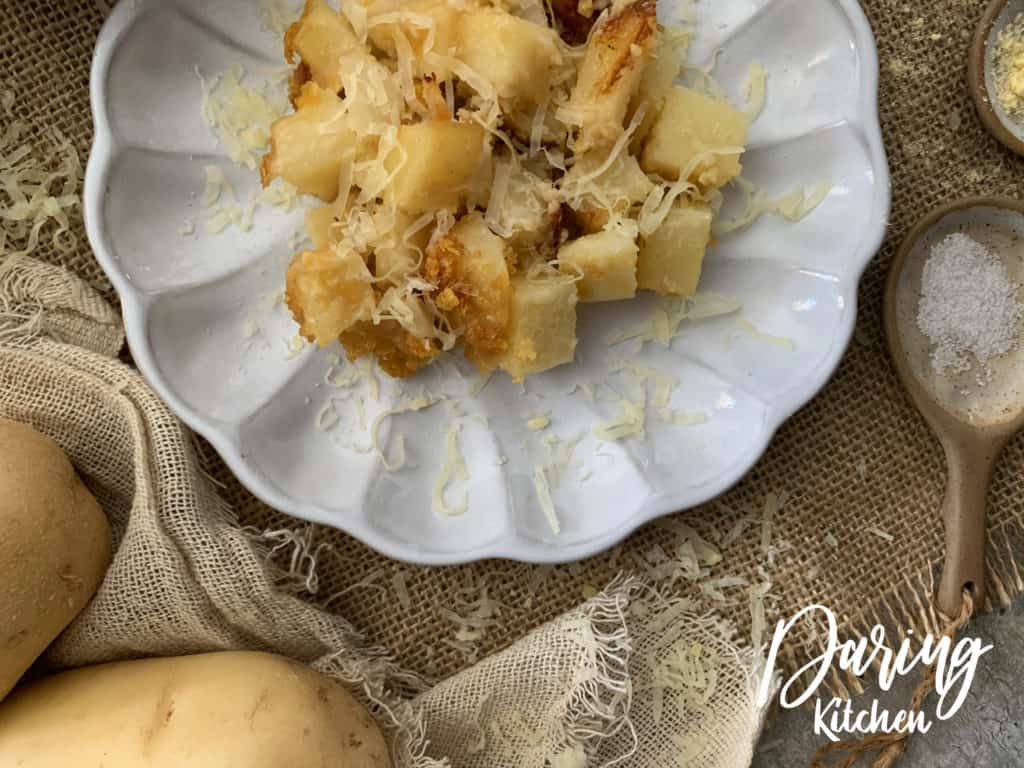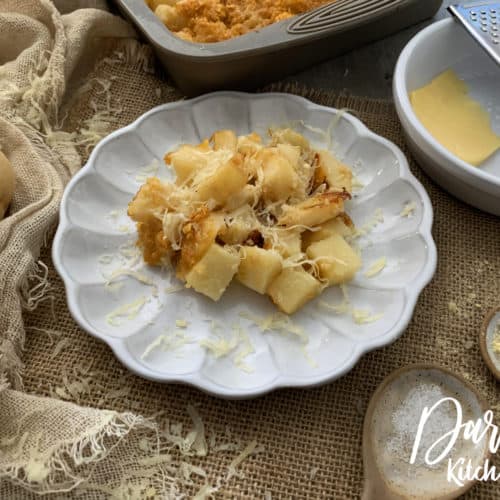 Funeral Potatoes
A cheesy delicious casserole that will please everyone at the dinner table!
Print
Pin
Rate
Equipment
Potato Peeler

Cheese Grater

Oven
Ingredients
3

cups

Diced Potatoes

1

can

Cream of Chicken

1

cup

Sour Cream

1

cup

Shredded Cheddar Cheese

½

tsp

Garlic Powder

2

cups

Cornflakes Cereal

¼

Melted Butter
Instructions
In a bowl add the diced potatoes, the sour cream, the chicken soup, the garlic powder, the grated cheese and salt and pepper to taste.

Tos to cover all the potatoes with the mixture.

Add the crushed cornflakes mixed with butter on top of the potatoes.

Bake 350F for 35 minutes.
Nutrition
Calories:
230
kcal
|
Carbohydrates:
13
g
|
Protein:
7
g
|
Fat:
17
g
|
Saturated Fat:
9
g
|
Polyunsaturated Fat:
1
g
|
Monounsaturated Fat:
5
g
|
Trans Fat:
1
g
|
Cholesterol:
44
mg
|
Sodium:
573
mg
|
Potassium:
116
mg
|
Fiber:
1
g
|
Sugar:
2
g
|
Vitamin A:
688
IU
|
Vitamin C:
2
mg
|
Calcium:
186
mg
|
Iron:
3
mg