It seems like too much fuss over nothing at first. The concept is very simple; a gas grill uses gas to provide energy to power a grill. Then you use this grill to produce those succulent juicy, crunchy on the outside, mouthwatering steaks. So, what's stopping us from grabbing the first grill we bump into that we can afford and getting on with it?
There is an element of truth in this; gas grills rely on liquefied petroleum (LPG) gas or natural gas to fire up those grills. Once they fire up (and they often will), we may proceed with our cookout. Unfortunately, that is not the entire story; there is a huge difference between the first gas grill you can afford and the best gas grill you can afford.
Call it return on investment, value for money, cost of purchase, or whichever term startles you enough to reconsider. The decision to buy a gas grill will have far-reaching consequences that you have to live with for a long time. So it is important to weigh the options, if only for a bit.
Let's now take a tour of some of the best gas grills we bumped into that captured the traits we have been poring over.
1. Char-Broil's Commercial Double Header Tru-Infrared Gas Grill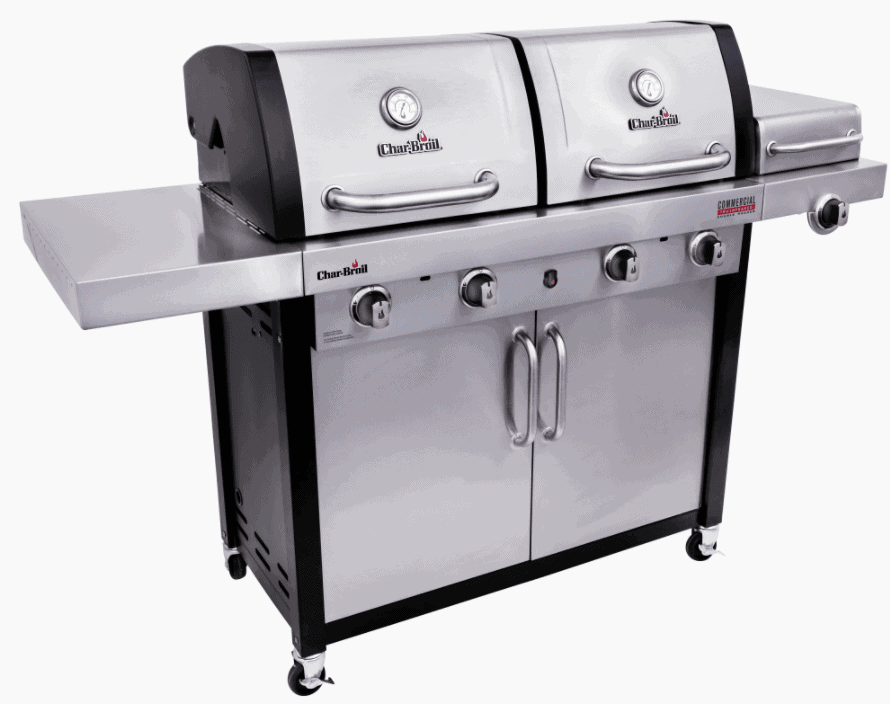 It has a 10 Year warranty on the burner, 3 Years on the grill grate and fire boxes, and 1 Year for all other parts. This is very reasonable and shows they have confidence in the gas grill. It is constructed with premium stainless steel for durability.
Its 48" by 66.3" by 24" frame makes the stainless steel finish stand out in your backyard for a reason. There are two separate fire boxes, each with its own lid, warming rack, and temperature gauge.
It has four burners divided between the two fire boxes. There is also an additional side burner for increased versatility. It weighs about 205 pounds. It has durable porcelain coated cast iron gates and stainless steel head tent material.
It gives you countless cooking options; you can use both fire boxes if you are going for full capacity, or you can use them separately for different cooking styles or different foods. The side burner is rated at 13000 BTU and is ideal for veggies, while the main burners are at 32000 BTU rating for better fuel efficiency.
The cooking system employed is Char-Broil's Tru-Infrared Technology, which they claim is the most forgiving technology in grilling. The flame tamer is an emitter grill located above the burner and below the cooking grates. It forms a barrier between the food and the flames, taming any flare-ups and averting cooking disasters.
It absorbs the natural infrared heat of the flames and radiates it to the food. The absorbed heat is distributed evenly across the grill's surface, eliminating hot and cold spots and creating a consistent grilling temperature. This is what heats the food at the grids surface gently at a low and slow heat level, retaining all the flavors.
The doubleheader is dual fuel enabled so you can use propane and convert it to natural gas when you want to.
Pros
Versatile- Multiple cooking methods can be applied at the same time
Dual fuel enabled
Tru-Infrared Technology for efficient cooking
Eliminates flare-ups
10-Year warranty
Cons
Long cooking cycle- 32000 BTU gets lost in the huge cooking area with the Tru-Infrared emitter plate
Expensive
2. Weber's Genesis II E330 Gas Grill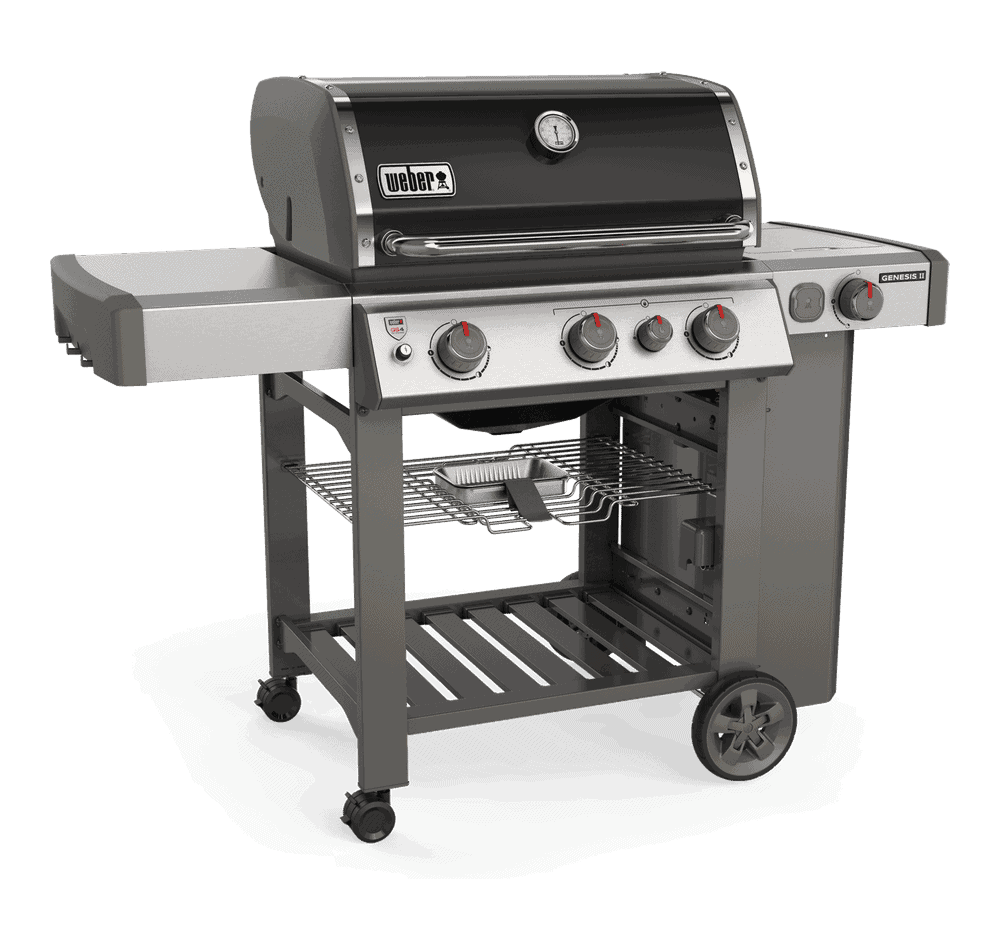 It comes with a 10 –Year warranty on all parts of the grill and lifetime customer support. The open cart design with two rack levels enables the placement of serving trays and any other paraphernalia. The gas tank is even mounted on the side to create more room.
It has a fuel gauge that helps you monitor your LP gas levels so you are not caught by surprise mid-grill. The Genesis gas grill comes with two Stainless steel side tables that can be used for seasoning and other preparation. These have six under the table hooks to hang your grilling tools, three on each side.
The 513 square inches cooking area is a porcelain enamel cast iron cooking grate built to withstand the extreme temperatures and conduct heat evenly, ensuring your food gets the perfect searing. It is non-stick.
You get infinite control burner valves that help regulate the heat. It has stainless steel tent-shaped flavorizer bars below the cooking grates, which serve as heat deflectors, ensuring it is evenly distributed in the cooking area. A grease management system ensures the drippings don't fall back directly into the flames at the burners.
A porcelain enameled lid covers the cooking area and is fitted with a tuck-away warming rack that contributes another 156 square inches of cooking area.
The lid has a built-in thermometer that is iGrill 3 compatible- This is a Weber technology that connects your thermometer to your external device, enabling you monitor the cooking temperature remotely.
It sends an alert when the time and temperatures have been optimized based on your settings, letting you know the food is ready. It is compatible with most android phones and iPhones.
The BTU ratings for these compartments are 39000 BTUs per working hour for the main burner, 9000 for the sear station, and 12000 for the side burner. There is high-performance fuel efficiency if you factor in the design and material of the cooking area.
For mobility, it has two locking swivel casters and two heavy-duty all weather wheels that allow you to move it around.
Pros
iGrill 3 compatible thermometer- enabling remote monitoring of grill
10-Year warranty on all parts
Grease management system
Fuel efficient
Cons
Fuel gauge only monitors LP gas
3. Master Cook's 3 Burner BBQ Propane Gas Grill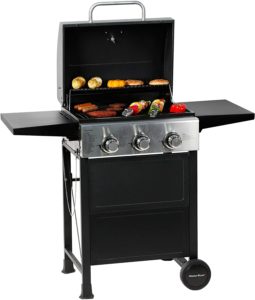 This Master Cook gas grill comes with a stainless steel shroud or body and a stainless steel control panel that features chromium-plated knobs that are aesthetically appealing, easy to clean, and durable.
It has a porcelain coated steel firebox and porcelain coated steel lid on which a stainless steel handle and thermometer are built.
The Porcelain- enamel wire cooking grates give a total cooking area of 473 square inches comprising of a primary cooking area 340 square inches and a warming rack 133 square inches. This is impressive big for a three burner gas grill.
It has foldable side shelves to place your already cooked food or seasoning jars.
Three stainless steel burners power it with a rating of 30000 BTU per hour, which is more than sufficient for its size. They integrated a piezoelectric ignition system- This is where a spark is generated with the turn of a knob that turns on the burners instantly. This combination facilitates a quick start-up process.
It has two-6 inch wheels to allow for movement. Coupled with two stands on the opposite side, they stabilize the gas grill when cooking.
Pros
Large cooking surface for a 3 burner
Made of sturdy, durable material
Affordable
Cons
Short warranty of 1 year
Side shelves not steady
4. Cuisinart 3-in-1 Stainless 5-Burner Gas Grill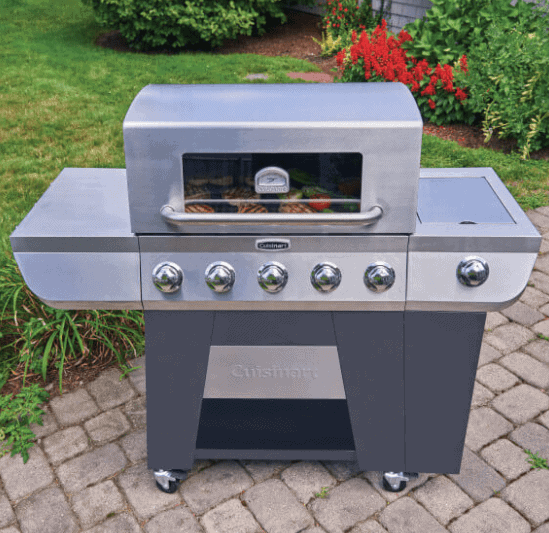 This gas grill comes with a bonus ready to use cast iron griddle. They have provided griddle hooks on the left side panel, where it fits snugly when not in use. The griddle can be used for breakfast foods like cheese sandwiches, eggs, and other foods that can't be cooked on an open grilling grate.
It is called a 3-in-1 because it is capable of griddling, grilling, and smoking, making it one of the best gas grills in terms of versatility. All this is possible because of its unique independent burner ignition feature.
The primary cooking area of an impressive 500 square inches is powered by five long-lasting ceramic coated burners giving 48,000 BTUs. The secondary cooking area of 170 square inches 12000 BTU burner. Each individual burner can be lit on its own, which adjusts to cooking styles easily.
All the burners are covered with a 15-Year warranty, a testament to the manufacturer's confidence in their durability and functionality.
Smoking is done in the primary cooking area by heating the stainless steel smoke tube using a different burner from where the meat is, allowing the smoky aroma to seep into the meat without overcooking it. The stainless steel side burner can be used to prepare side dishes or warm sauces since it emits lower heat.
Griddling is done in the primary cooking area by placing the griddle on top of the cooking grids.
The provision of a flip up warming rack made of stainless steel allows you to preheat your larger meats pre-searing.
Below the cooking grates are stainless steel flame tamers that regulate and spread the heat from the burners evenly to the food. There is a removable grease tray and cup where the excess fatty drippings are directed away from the burners to minimize those flare-ups.
The fully welded insulated lid and firebox lock in all the heat, maintaining the desired temperature, which can be confirmed from the thermal gauge mounted on the lid. This gas grill allows you to keep the firebox closed as you monitor the cooking via an appliance grade window on the lid.
It sits on four heavy-duty locking swivel casters that allow movement around the yard without straining.
The Extras
It is rotisserie enabled- It comes pre-drilled with mounting holes for a rotisserie from the factory
Accessory peg hooks- Where you can hang your spatulas and tongs and still access them easily while grilling
An ignition backup plan- The burners can be lit directly from the top using a match if the igniters are not working.
Pros
Versatility- It has three cooking functionalities in one grill
Efficient fuel management
15-Year warranty
Independent burner ignition
Backup Ignition
Cons
The jury is still out on the cons of this gas grill. We suspect it may have something to do with it behind the best gas grill
There are many more grills out there, and we couldn't possibly claim to have sampled all of them. Having a personal checklist is the first step towards avoiding that impulse purchase that you will have to live with. Become the barbeque master you were born to be.
Below are a few properties of a gas grill you should be mulling over before making that decision:
The Anatomy of a Gas Grill
We tried to break down the options available and their bearing on the best gas grills for you.
The Size of the Grill
Try to determine which fits your cooking needs best by looking at your current cooking trends and incorporating what you plan to be doing after acquiring the gas grill. Review what you cook and how many people you cook for. This will help you determine the amount of cooking space you will need.
A larger grill makes it easier to roll out bigger batches of food at the same time, freeing you up to enjoy the food and company.
It also creates an allowance for cooking versatility by allowing you to create more cooking temperature zones in your grill, successfully combining grilling styles. You can be searing with intense heat on one end while smoking or grilling with indirect heat at the opposite end.
Cooking Style
Reflect on your most preferred cooking methods, and what more you will require your gas grill to facilitate. If searing is a big part of your technique, there are grills with dedicated infrared searing areas.
Think about how many additional burners you want to have in addition to your searing zone. If you want to smoke, consider having enough room to cook with indirect heat as well.
If you are thinking of smoking, there are gas grills with dedicated low-temperature smoker burners that give you the perfect heat to smolder wood chips in the smoker box to churn out that smoky flavor.
The Cooking Grids
This is where you place your food on the gas burner. There are many variables that you want to look into.
Longevity
Quality grids are built of stainless steel as it is durable and resistant to corrosion and rust.
Some grills come with porcelain-coated steel grids, which tend to chip easily after a few days in the extreme temperatures. Apart from defacing their good finish, this exposes the steel underneath to corrosion and is also a potential health hazard if it reacts to food acids.
Porcelainized cast iron is the improvement to porcelain coating as the porcelain doesn't just sit on the surface of the grids but has been integrated within the pores of the metal, making it more durable.
The thickness of the Cooking Grids
Even after getting the best material, you should still examine the thickness of the grill.
It receives a lot of wear, so the thicker the grids, the longer they will last, and the better their heat retention capability. Which makes the give a greater sear and bold grill marks.
The Spacing Between the Grids
The preferred grid design is one with tighter spacing. The more surface of the grid gets in contact with your food, the more the food gets caramelized.
This aids in the searing process, ensuring the juices, flavors, and seasoning are retained in the food. It also gives that dark brown color and sweet, nutty flavor.
Small grid spaces also prevent smaller food items from falling in between the grids on to the burner.
Flame Tamers
This is the component of the grill that sits between the burner and the cooking surface. It performs a number of related roles in your gas grill:
Protecting the burner from direct drippings of grease and debris from your food.
Providing a surface for drippings to vaporize off and, in so doing, prevents flare-ups.
More covered flame tamers will provide a more evenly heated cooking surface because the heat gets diffused as it rises from the burner towards the cooking surface.
The drippings from your marinade and your meat fall on them directly and are either carbonized or vaporized back up into the food, helping to either marinate it or give it some smoky flavor, just like charcoal grilling.
The more coverage you have with the flame tamers design, the smokier flavor you will get from your gas grill.
This is why they are sometimes referred to as flavoring plates or flavoring bars.
The best flame tamers are constructed with heavy gauge stainless steel or quality ceramic pieces. This area of the grill receives a lot of wear, so it is important to make a selection that resists corrosion.
Burner Type
This is the heart of the grill. People find themselves replacing this part much more than others. Burners can vary immensely in the thickness of construction. Keep in mind that all stainless steel construction is not the same.
The British Thermal Unit (BTU) is a measure of energy. People use the BTU rating of the burner to get an idea of how hot their grill will get. In your gas grill, it is a measure of the total fuel output and fuel consumption per hour from all the burners.
High BTU ratings don't always mean a hotter or better grill. Think of it more as a fuel efficiency rating (or the miles per gallon in your car).
It is important to factor in the entire grill design. Small differences like a well-insulated hood with thick construction can make your grill utilize the same BTUs better than some higher-end grills with less efficient designs. Excessive BTU ratings may actually be compensation for poor workmanship, so don't fall for the hype.
In addition to conventional burners, many premium burners offer configurations with one or more infrared searing burners. Most steak houses use this type of burner because of its quick preheat time and high direct heat capability.
It is a great option if you want the highest heat range possible. A rear infrared burner gives you the option to cook rotisserie style in your backyard. The constant turning of the rotisserie makes for a stress-free cookout.
Many hybrid grills have both conventional burners and infrared burners if you feel you want something in between, either so they can cook using both extreme heat and lower heat.
Construction of the Grill
The best gas grill has a fully welded body construction with double-lined commercial grade stainless steel hoods.
Double-lined hoods not only provide more insulation for trapping heat inside your grill, but they also prevent the heat of the grill from wearing out the exterior of the hood, maintaining the shiny new look.
Accessories
Glance at the compatible accessories that are offered along with the gas grill. If they come with the product, they will be designed to fit your gas grill nicely. Some of the common accessories include:
Proper Pizza Stones– Made of clay, ceramic, cast iron, or cordierite, so you don't have to purchase or convert your baking tins and pans.
Smoker Boxes- You can place this under your grill grate to give that smoky flavor to your grilled or indirectly cooked foods.
Griddles- You can use this to smash your burgers and give them that crispy crust
Charcoal Fuel Baskets- This is a very snug solution for holding charcoal if your gas grill has a dual fuel combination with charcoal.
Warranty
Always make sure to glance at the warranty it comes with. This will save you from spending money on parts that shouldn't have broken in the first place.
The best gas grill brands come with a burner warranty of around 10 years or more.
There are brands with lifetime warranties. Some warranties even come with labor for replacements.
Extras
There are other convenience features that you require to know about before you are ready to make that decision. They are not standard features in grills. Some of the best gas grills have them:
Integrated lighting: Some grills come with interior lights, which make it a lot easier to see what you are grilling at night. A lot of grills even have control panel accent lights, helping illuminate the control panels of the hood for nighttime use.
Fuel Type Conversion: An important option that is sometimes overlooked is whether or not the fuel type of your gas grill can be converted down the road. The fuel type in a new location might be different. For example, if you have to use the running natural gas in the house and you have been using a stand-alone propane gas cylinder. Consider leaving your options open to avoid restrictions in the future. Make sure it either ships with a conversion kit or has a fuel type conversion kit available for purchase in the future. If you are looking at freestanding gas grills, check to see if the gas grill can be removed from the cart should you want to build it in later.
Backup Ignition: Watch out for that solid plan for backup ignition, should your primary ignition method fail. For example, flash tube backup ignition makes it easy to light up your burner with a lighter from the cooking grid surface directly.
The thing with these qualities is you seldom get a grill that possesses every single one you like; you'll probably have to manufacture this one yourself in your imaginary factory. The best practice is to create a personal checklist based on what you prioritize and get as close as possible to your best gas grill.