A gas range is a cooking appliance consisting of a stovetop and an oven that operates with gas. It is the core and heart of every kitchen. You can give up pretty much any appliance, except for this essential equipment. And often, you should not settle for anything less than the best gas range possible.
There are three types of ranges: electric, gas, or dual fuel. Electric ranges are cheaper, but they are expensive when it comes to operating costs and energy consumption.
Gas ranges may be a bit expensive, but they tend to have lower energy consumption. They are also compatible with most cooktops and ovens. Plus, they are still functional even through a power outage.
We have listed here some of the best gas ranges. We have also included dual-fueled cooking ranges for versatility.
Best Gas Ranges: Freestanding
There are two types of installation for a gas cooktop: built-in or freestanding. Built-in gas ranges are installed to blend with other kitchen appliances. Freestanding is more versatile. They can either stand-alone or be placed side by side with cabinets. In this review, we have included both freestanding and slide-in gas ranges so that you have a lot to choose from.
By the way, BTU or British Thermal Unit is the measure of the heat output of a gas burner. In electric ranges, it is equivalent to the wattage. You may notice a lot of these abbreviations here.
1. GE JGBS30REKSS Gas Range- Freestanding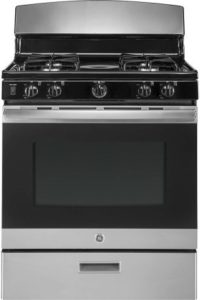 Most mainstream appliances nowadays have a stainless steel finish. It is an important factor when choosing your equipment. Stainless steel appliances are less prone to corrosion. Rusting is a common problem for appliances.
GE is one of those manufacturing giants with well-crafted and innovative equipment. This 30-inch 4.8 Cu. Ft. freestanding gas range will make a sleek addition to any home or galley. It has four surface burners, each with black steel grates. This material makes it easier to clean. Additionally, it has a glossy sealed surface to take the burden off cleaning. It has one low, two medium, and one high-powered surface burner output.
The oven door has a wide window so you can easily check your food as it bakes. It also has a broiler compartment at the bottom of the oven. You will find this setup in most ranges where the oven is located at the top of the broiler. It is a clever placement since baking needs a longer and slower cooking process. Thus, the heat source should come from underneath. Whereas, broiling food needs a higher temperature. That is why it requires a heating element coming from the top.
Key Features:
75 x 30 x 46.25 inches
5000, 9500, 13000 BTU burners
8 Cu. Ft.
4 burners
Stainless Steel
Wide glass oven window
Designer Style Handle
Electronic Ignition
Traditional Cooking Technology
2. Samsung NX58H5600SS 30 In. Freestanding Gas Range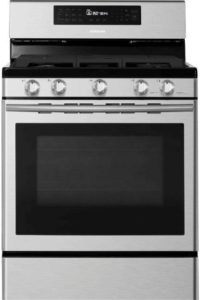 Samsung introduces its large capacity gas range to accommodate multiple cooking at once. It has 5.8 Cu. Ft. capacity and 5-cooktop burners. It includes a removable griddle so you can use your gas range as a grill as well. The gas burners are flexible so that you can use almost any pan on them. The cast-iron grates even have indicator marks. It is to designate the proper placement of your pot for safety cooking. Its oval burner can also accommodate oversized pots. This makes Samsung NX58H5600SS one of the most versatile gas ranges for any kitchen.
On the other hand, its oven uses convection cooking. In traditional or conventional ovens, heat is stationary and comes from the bottom. Whereas, a convection oven uses a fan to circulate heat and distribute it evenly into the food. Thus, it is more reliable and fast. It also reduces the chances of burning your food.
This 30-inch freestanding gas range is also made of stainless steel. Its cooktop is gas porcelain enamel that is also easy to clean. And, if you have children, it has a Child Safety Lock for added security. Overall, this Samsung model is one of the best gas ranges we could recommend even for RV and boat living.
Key Features:
24 x 30 x 46 inches
56,000 BTU total power
8 Cu. Ft.
5 burners
1 griddle
Convection oven and broiling
Stainless Steel Finish
3. LG LRG3061ST 30" Gas Range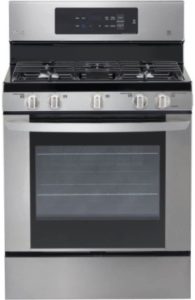 The LG Easy Clean is the best gas range to add a touch of sophistication to any kitchen. It has a porcelain cooktop finish and stainless steel body. You may also opt for the black stainless steel if you want something more elegant. It has front control knobs for the cooktop. Its oven has a keypad control and a green LED display.
You will also notice the Self-Clean and Easy Clean features that most LG ovens have. This confuses some buyers at times. The Self-Clean cycle allows the oven to clean itself with a touch of the button. It is ideal for heavily soiled ovens as it burns all debris down to ashes.
Meanwhile, the Easy Clean feature makes use of water and low heat to clean the inside of your oven. You may need a little elbow grease and do the scraping yourself in this case. Easy Clean is safer as it does not produce much smoke as it does the work. This is the feature that sets the LG LRG3061ST from other LG models.
This gas range also has five burners ranging from 5k to 17k BTU. This sealed burner includes an oval one with 8k BTU. Furthermore, this 30-inch gas range has a 5.4 Cu. Ft. oven that uses traditional baking.
Key Features:
29 15/16 X 47 ⅝  X 27 31/32 inches
4 Cu. Ft.
5,000 to 17,000 BTU
5 burners
1 griddle
Traditional oven
Stainless Steel Finish (also available in Black Stainless Steel)
Easy Clean cycle mode
4. Avanti GR2416CSS 24" Gas Range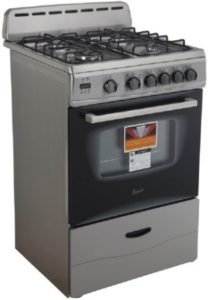 Although smaller than other brands, Avanti's 24-inch gas range is still spacious. This is the best gas range for small kitchens. Its oven capacity is at 2.3 Cu. Ft., which is already good enough for cooking for up to three people. The four sealed-type burner includes a simmer, a rapid, and two semi-rapid stoves.
This freestanding gas range has an automatic ignition. This type of ignition does not require a lighter to start the fire as a manual ignition does. Being an automatic ignition makes it more convenient to use. This is the most common type among most burners today.
Avanti also has a see-through oven window for easy monitoring as you bake. In addition, its waist-high broiler makes it more convenient to use. There's no need to stoop down as you work because it is located right by the oven's ceiling. Avanti is the answer to a tight spaces need for a compact and easy to use gas range.
Key Features:
26 x 25.5 x 40.75 inches
6 Cu. Ft.
24-inch
8,0000 BTU
4 burners
Traditional oven
Stainless Steel Finish
5. Magic Chef MCSRG24S Freestanding Oven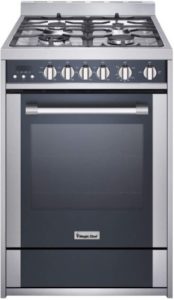 The MCSRG24S from Magic Chef is a compact freestanding oven for a small kitchen. Don't underestimate the 2.7 Cu. Ft. capacity of its convection oven. It has different programmable modes for various cooking choices. It also has two adjustments to fit the pans perfectly.
Its cooktop has four burners with power that ranges from 5,000 to 17,400 BTU. The gas range's broiler has options for either high or low broiling. It also includes a digital clock with a timer for precise cooking time.
To keep the appliance more secure, it has an anti-tilt bracket with adjustable legs. An LP conversion kit is also included in the package. Thus, you can convert the unit to use Liquid Propane gas instead of natural ones.
Key Features:
6 x 23.6 x 35.4 inches
24-inch
7 Cu. Ft.
4 burners
5,000 to 17,400 BTU
Stainless Steel and Mirrored Glass Exterior
Anti-tilt bracket
LP conversion kit
6. Suburban 3241A 22" Gas Range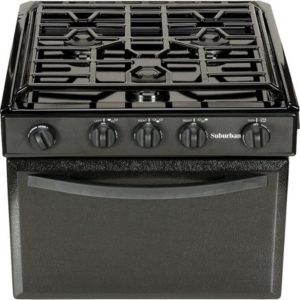 If you are a fan of broiling and grilling, then pick up this gas range from Suburban. This 3241A gas range has a large broiler area. There are three range burners for all your cooking needs. The front burner has 9k BTU, while both of the rear burners have 6,500 BTU of power. It also uses a Piezo ignition. This matchless electronic ignition is more convenient than the manual ignition.
Aside from the broiler, it also has a spacious oven with easy-slide racks. With it comes multiple rack positions so you can fit different pan sizes. Also, at 22-inches, this is the standard size for most RV kitchens. And the best thing is that it is also very easy and straightforward to install.
Key Features:
22 x 21 x 19 inches
22-inch
6,500 and 9,000 BTU
3 burners
Standard size for RV and boats
7. Cosmo GRP304 30" Gas Range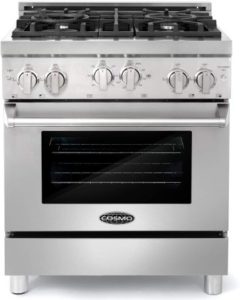 The 4-sealed burners of Cosmo have various burner powers for different cooking needs. It ranges from 4.5k to 18k BTU. You can have a more precise temperature for both simmering and making delicate sauces. It also has a convection oven that you can use for baking and broiling. Furthermore, you can select either the convection baking and broiling or the traditional ones. The oven's capacity is 3.9 Cu. Ft. that is good for cooking for a large family.
Additionally, the oven has a unique cooling feature. It prevents overheating to give you more security. The cool-to-touch handle adds to its safety feature as well. Thus, it prevents burns from happening.
The modern European design will make a nice addition to any kitchen. It has a corrosion-resistant stainless steel finish. It is also smudge and fingerprint-resistant for easy cleaning. The grates are heavy-duty cast iron. Thus, it promotes even distribution and heat retention as you cook.
Key Features:
8 x 29.8 x 35.8 inches
30-inch
9 Cu. Ft.
4 burners
4,500 to 10,000 BTU
Stainless Steel finish
Cast iron grates
The Best Gas Ranges: Slide-in
8. Frigidaire FGGS3065PF 30" Gas Range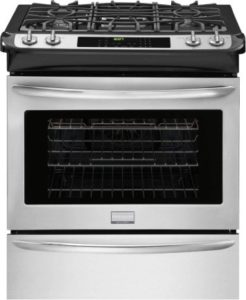 Frigidaire's True convection oven sets the standard for convection cooking. Using a third heating element and a convection fan, it circulates the hot air evenly. This results in faster and more even cooking, even for multi-rack baking. It also employs Convection Conversion technology. It allows the oven to adjust its temperature for more consistent heat distribution.
The cooktop has four sealed burners. The three continuous grates make it easier to move bulky and heavy pots. You can simply slide the cookware instead of lifting it. This makes it safer than other orientations of grates. The burner power starts from 5,000 up to 17,000 BTU.
Frigidaire makes everything quite easy. It has a Quick Preheating option and a Self-Clean Cycle. This Self-Clean mode can also clean your oven in as fast as two hours. Thus, you will spend lesser time doing the elbow grease job with your gas range. Frigidaire is one of the best gas ranges to have if you need a slide-in cooking range for your kitchen.
Key specifications:
29 x 30 x 37 inches
30-inch
5 Cu. Ft.
5,000 to 17,000 BTU
True Convection oven
Auto- shut off
Self-Cleaning
Quick Preheat
Stainless Steel
9. Thor Kitchen 36" Gas Range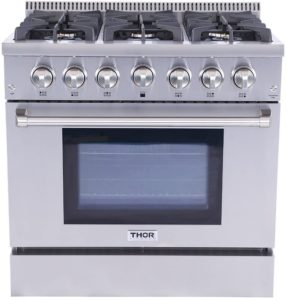 Thor Kitchen offers a variety of pro-style appliances for all of your kitchen needs. They have dual-fueled ranges and gas ranges with LP conversion kits. Quality, style, and energy efficiency come together in their kitchen equipment.
This 36-inch slide-in gas range is one of the Pro models from Thor Kitchen. The cooktop has six premium burners with up to 18,000 BTU. It also has three heavy-duty continuous cooking grates for your cooking convenience. Its black drip inclusive pan makes cleaning a little bit easier and less messy.
Thor Kitchen's oven has a spacious 5.2 Cu. Ft. capacity. Furthermore, it has a blue interior with porcelain enamel. This material allows you to safely use an oven cleaner and a non-scratch pad for cleaning. It also uses an infrared broiler. This is like a traditional broiler, except that it uses ceramic plates with holes for gas and heat to pass through. It heats faster than the standard broiler. You will be able to save energy and time with the infrared type.
Key Features:
36 x 27½ x 39 inches
36-inch
2 Cu. Ft.
6 burners
650 to 18,000 BTU
Blue interior
Infrared broiler
10. GE PGS930SELSS 30" Slide-in Gas Range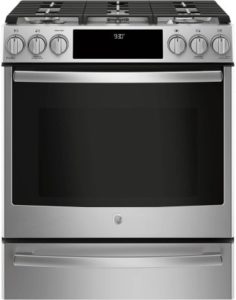 GE's PGS930SELSS is the best gas range for an edge-to-edge cooktop. There is no lip around the surface, making it look seamless and elegant. This is one of the features of slide-in gas ranges. This type is not only easy to clean but is also more flexible in terms of accommodating various sizes of cookware.
This gas range model has five sealed burners. One of which has 21,000 BTU power. It also includes an extra-large reversible cast-iron griddle. The package also includes a grill, a center grate, and an LP conversion kit.
The oven has a Self-Clean feature with an optional Steam Clean for faster and efficient cleaning. On top of that, this unit is wifi-enabled. This is perhaps one of the things people are looking for in the best gas range. It is powered by SmartHQ that can work with Amazon Alexa and Google Assistant. It is also compatible with IFTTT, Drop, DiGiorno, and Innit. Thus, it will be easier to monitor whatever you are cooking from the comfort of your phone.
Key Features:
5 x 32.7 x 44.5 inches
30-inch
6 Cu. Ft.
5,000 to 21,000 BTU
Self-Clean
Stainless Steel (also available in gray)
Wifi connectivity
What Is the Best Gas Range to Buy?
Brands may play a role when buying any appliances. Therefore, there are quality standards, affordability, and durability to consider. Each brand has its product features that are unique to its name. However, it all boils down to your capacity to buy, your lifestyle, and other factors.
Size
In every aspect of appliances, size does matter. It includes the appliances' physical sizes and your household's size. Compact gas ranges are best for tighter spaces, but they also have limited capacity.
They may fit well even in galleys, yet you may struggle with cooking in batches when the need arises.
Larger ones are ideal for long term and all-purpose use. So, if you have space, it is a better investment. And oh, there's one more thing. Don't forget to measure your doorways other than just your available floor area. You wouldn't want your door jamb to adjust with your new appliance, would you?
Consider the Burner/s
The burner's BTU has a lot to do with its heating capability. Most gas ranges have BTU as low as 500 and as high as 20,000 in high-end brands. Lower burners are for heating and simmering. Higher ones are best if you want scalding-hot water quicker for boiling.
However, you should not always look for how high a burner power can go. Lower BTU in burners is also important since you do not want your stove to heat up quicker than you can react to burning food.
Before buying a burner, also consider your range hood- or vice versa. The vent in your range hood can handle only a certain amount of your stove's BTU output. It may help to buy the best gas range with the best range hood that is compatible with each other.
Gas Type
One of the benefits of using a gas range is its energy efficiency. It also gives off flames, which indicates how high or low your setting is. Thus, you can adjust this according to your desired heat and size. You can't call it the best gas range if it doesn't serve its purpose for heating, right?
Most gas stoves use natural gas, which is available to utility lines for households in the city. It is the most readily available fuel. However, natural gas may not be as effective in heating as they tend to have lower BTU. Another alternative to natural gas is liquid propane. This fuel is the most convenient fuel not just for homes, but also a suitable cooking fuel for trailers and boats.
Some of the best gas ranges have an LP conversion kit included in their package. It conveniently converts your plumbing to accommodate a different fuel type. However, converting your gas range fuel is not something you should DIY. A professional technician should do this for you.
Special Features
Everyone wants kitchen appliances that are unique, aside from just being reliable. This is where different gas range brands vary when providing the best gas range. Some features are unique and exclusive to some manufacturers. There are Self-Cleaning or Easy Clean Features. There are digital and electronic controls to choose from, while some other gas ranges use convection ovens or infrared broilers.
Most modern devices even allow you to control your gas range from a mobile device remotely. These features should circle your lifestyle and preferences. However, make sure that all those extra features are also functional. Do not pay extra if you cannot get the best out of the best gas ranges for your kitchen.