Hello. Long-time Daring Baker Kat here with the December challenge. Gateaux Pithiviers, also called Galette des Rois or King's Cakes, are traditionally eaten at Lent. Pithiviers are essentially a cake-sized pastry stuffed with an almond filling. A charm, or feve, is sometimes baked into the dessert, and whoever is served that piece is "King for the Day." The dessert is named for the town of Pithiviers south of Paris. I encourage you to stroll through this beautiful town via Google maps if you need a quick vacation without leaving your desk.
The two elements comprising the Pithiviers both benefit from overnight chilling. Therefore, this dessert is excellent for preparing a day or two before serving, and then assembling and baking the day you want to serve it. The puff pastry recipe I've included makes three pounds (1.35kg), but only one pound (450g) is needed for the Pithiviers. I've always found it just as easy to make three pounds as one pound, it freezes well, and there's nothing like pulling homemade puff pastry out of the freezer for a last minute tart, pastry, or other treat.
Recipe Source: The dessert is ancient, with many recipes floating around. I first came across Gateaux Pithiviers in John Clancy's Christmas Book. I experimented with techniques and filling recipes from David Lebovitz and Le Cordon Bleu at Home. The recipe here is my own creation based on my experiments and ingredients at hand.
Preparation time:
Puff Pastry:
Active prep time is about 30 minutes, followed by three or four five-minute spurts of activity.
Total time is at least several hours, but preferably a full day ahead of baking.
Frangipane:
Active prep time is about 15 minutes.
Total time is several hours, but preferable a full day ahead of baking.
Assembling the Gateaux Pithiviers:
Active prep time is about 15 minutes.
Chilling takes about 30 minutes.
Baking takes about 30 minutes.
Start to finish, including baking and chilling time is 12 hours to 4 days.
Equipment required:
Mixing bowls, both large and small
Measuring cups and spoons
Kitchen scale (optional)
Pastry cutter, fork, fingers, or food processor
Rolling pin
Parchment paper
Baking sheet
Zester
Sharp knife
Pastry brush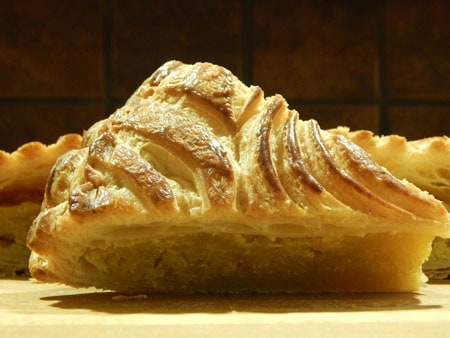 Recipe 1: Gateaux Pithiviers
Ingredients
1 pound / 450g puff pastry (1/3rd of a batch if using the accompanying recipe)
1 batch of frangipane
1 large egg
granulated, superfine, or powdered sugar (optional)
Directions
Beat the egg well to make an egg-wash. Add up to one teaspoon of water, if necessary, to loosen the mixture up. Divide the pound / 450g of puff pastry in half, and return one half to refrigerator. Roll out the remaining half on a lightly floured surface. Using a plate or bowl approximately 8" / 20cm in diameter and a very sharp knife, cut out a circle of puff pastry. Carefully move the pastry to a silicon mat or parchment-lined baking sheet.
Brush a ring of egg-wash around the outside of the pastry, but do not allow the egg-wash to go over the sides, as that will prevent the edges from rising prettily. Center the disk of frangipane on the pastry and place the baking sheet in the fridge to keep cool.
Roll out the second half of the puff pastry and cut a circle the same size as the bottom. Retrieve the Pithiviers from the refrigerator and place the top layer of puff pastry overtop. Quickly use your fingers to mush the two layers of pastry together without warming the pastry or allowing the filling to squeeze out.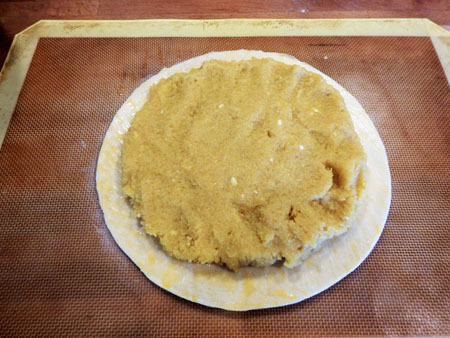 Press two fingers of one hand into the pastry and use the back of a small knife to push an indent in between your fingers. Repeat all the way around the Pithiviers. This will form the scalloped edges Pithiviers are known for.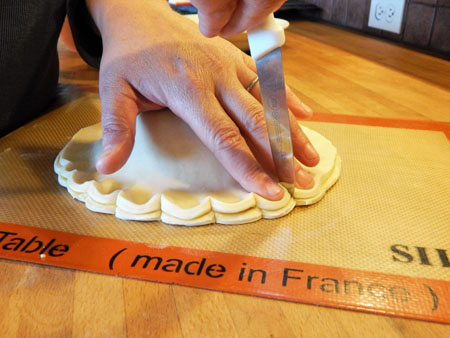 Brush entire top with egg-wash, again trying your best to not let the egg run over the edges. Starting at the middle of the pastry, draw long sweeping s-curves out to the edges. When you're satisfied with your work, return to the refrigerator to chill for at least 30 minutes. Preheat oven to 425°F / 220°C / Gas Mark 7.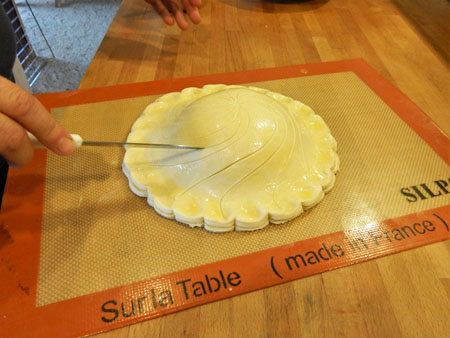 Bake the Pithiviers for 10 minutes at 425°F / 220°C / Gas Mark 7, and then reduce the heat to 350°F / 175°C / Gas Mark 4 and bake for another 20-30 minutes. The top should be a dark bronze color, and the filling (which you won't be able to see) should be set. At this point, you can sprinkle sugar over the top and return to the oven at 500°F / 260°C / Gas Mark 10 for a few minutes to develop a beautiful glaze. I burned it every time, so I just skip this step now.
Allow the Gateaux Pithiviers to cool completely before serving. The taste is a little nicer when it's warm, but the texture is better when it's a room temperature. This can sit on the counter for a day, but longer storage is attainable using your refrigerator.
Recipe 2: Puff Pastry
Makes three pounds / 1.35kg , only one of which will be used
Preparation time: 10 minutes
Ingredients
4 ½ cups / 560g all-purpose flour
1 ¼ pounds / 5 sticks /565g salted butter
1 cup / 240ml ice water
Directions

Put ½ cup / 65g of flour in a medium bowl or in the work bowl of a food processor. Cut one pound / 450g of butter into small cubes and thoroughly combine with the flour without letting the mixture warm up. If it starts to warm up at all, just toss it into the freezer or refrigerator for a few minutes until it's cold again. Dump the mixture onto a piece of parchment paper and shape into a rectangle about 4 x 8" / 10 x 20cm wide. Wrap well and place in refrigerator to chill.

Using the same mixing or processor bowl, combine the remaining four cups / 500g of flour and ¼ pound / 115g of butter until well combined. Again, do not let the mixture warm up. Place your bowl in the fridge anytime the butter starts to feel soft. After combining, add the ice water slowly, and stir until mixed. Dump the mixture onto a clean and lightly floured counter and knead until the dough is smooth, approximately three or four minutes. Wrap well and place in refrigerator to chill for at least 15 minutes.

Remove dough from refrigerator and roll into an approximate 10" / 20cm square. Remove butter mixture from refrigerator and place on top of dough. Fold top third of dough down over the butter, and then fold bottom third of dough up to form a packet.

Roll the rectangle back out to the original dimensions, trying to avoid having any of the butter creep out the edges. If the dough is feeling warm, return to the fridge for a few minutes to firm up. Fold the dough into thirds again, and roll in a perpendicular direction to your first fold. That is, your open ends become your new edges, and your old edges become your new open ends. Fold into thirds once more, wrap well, and chill for at least ½ hour. You've completed your first two turns.
Remove the puff pastry from the fridge, roll out, fold up, roll out, and fold up. Remember, anytime you think things are warming up, you're butter is seeping out, or you're getting otherwise frustrated, just throw the whole thing in the fridge and walk away for ten minutes. You've now completed four turns. Wrap up well and chill again. Indentations in the dough can help you keep track of the number of turns you have made.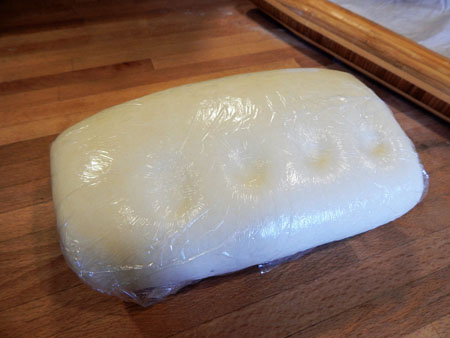 Repeat the previous instructions to complete six turns in total. You now have a gorgeous slab of puff pastry. Wrapped up well, it will store in the refrigerator for up to three days or in the freezer for several months.
Recipe 3: Frangipane
Makes enough for one Gateaux Pithiviers
Preparation time: 10 minutes
Ingredients
1 ½ cups / 100g blanched almonds (or 1 cup / 100g almond meal from a packet)
1/3 – 1/2 cup / 65 – 100g granulated sugar, depending on sweetness level you prefer
4 Tablespoons / 55g butter
2 large eggs
½ teaspoon vanilla extract
¼ teaspoon almond extract
zest from one lemon or ½ an orange or 2 tangerines (tangerine is my favorite)
2 Tablespoons / 30ml Armangac or Rum (rum is traditional, but I like the Armagnac much better)
Directions

Toast almonds on a cookie sheet under a broiler (oven grill). Using a grinder or food processor, process the almonds until finely ground. Combine with all the other ingredients until well mixed. Form into a 6" / 15cm disc, wrap well, and chill for at least 30 minutes.