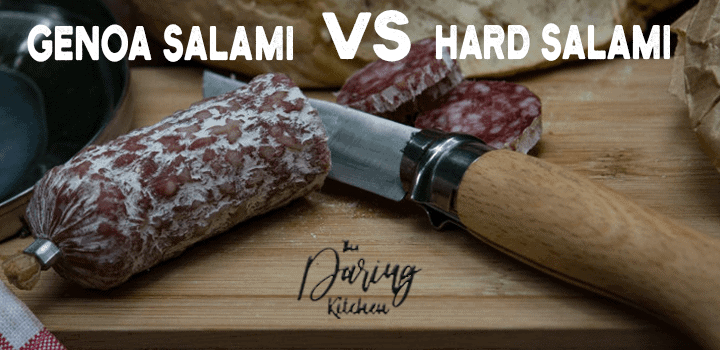 Once considered as supplementary food to a meager meal or a non-consistent fresh meat supply, good authentic salami is praised today as a deli sandwich ingredient and a tasty appetizer. Times change and so is the number of different types of salamis available on the market today.
Finding it difficult to choose among so many? Let's start with two popular choices: Genoa salami vs hard salami. For many people, they look quite similar, so how can we tell the difference?
First, you need to remember that there is a big difference between the taste of salami you buy from an Italian salumeria (authentic salami imported by Italy) and the salami that is mass-produced in the US and sold in stores like Hormel. From the minute you take a step into an Italian charcuterie, you can instantly see, smell, and feel the difference.
In this article, we will compare these two salami types based on their ingredients, texture, production process, flavor, origins, and more. So let's get to it.
A Glimpse To The History Of Salami
Salami or 'Salame' in Italian, is a term used to describe generically any kind of encased mix of salted meats.
Its Italian history dates back to ancient times when people started using salted pork meat and processing it to charcuterie products. Throughout the Roman Times, the Middle Ages and the Renaissance, the breeding of pigs and the consumption of pork products gained more and more importance.
Regional variations of salami were invented and the various preparation techniques resulted in different types of salamis. Today, ancient recipes are rediscovered and innovative products are created by artisans and the food industry all the time.
What Is Genoa Salami?
Genoa salami is a type of dry, salted and spiced salami that is naturally fermented. Its origins are found in the hinterland of Genoa, a hilly area in Italy where pigs are bred on the chestnuts, acorns, and hazelnuts of the local woods. As there are no plains in Genoa where cattle can be bred, pork meat used to feature a popular substitute. Oral sources say that cattle were a subject of a trade by butchers.
Authentic Genoa salami is made of raw pork (40% fatty and 60% lean) as well as lean beef meat (or formerly mule) in equal parts. It has a characteristic aroma and is considered to be a traditional agricultural product.
Since it doesn't have PDO designation, it can be produced anywhere in the world and not only in the native geographical region that it originated from. However, the USDA-FSIS rules define that Genoa salamis produced in the US should have a specific ratio of moisture and protein (less or equal to 2.3 to 1) and should be formulated with pork as the predominant ingredient.
Production Process & Ingredients
The production of Genoa salami is different from other types of Italian salami. First, the meat is cut manually after removing the tendons and cartilage. Then, only the lean parts are passed through the meat, so the fatty parts are visible as large grains of white fat.
At this stage, grainy black pepper is added to the meat - some skip it- powdered garlic, white wine or vinegar, and salt. The mixture is stuffed in a natural cylindrical casing (usually deriving from a clean animal intestine) and manually tied by skillfully experienced staff members.
Now, it's time to undergo the smoking process. The salamis are smoked with oak or chestnut wood in special rooms for a few days. Finally, they are air-dried at a specific temperature and levels of humidity for 2-3 months until they are ready for consumption.
This is the traditional way of producing the authentic Genoa salami and even now, two centuries later, the initial recipe and processing methods have remained unchanged in Genoa, Italy.
Flavor & Texture
The Genoese salami has a distinctive flavor and smoky aroma. Unlike fresh or cooked varieties of salami that are soft, this one is dry-cured and harder. However, when compared to hard salami, it is a little moister and therefore softer.
Depending on the amount of fat and the way it is distributed throughout the meat, the texture of salami is also bound to change.
Ways To Eat Genoa Salami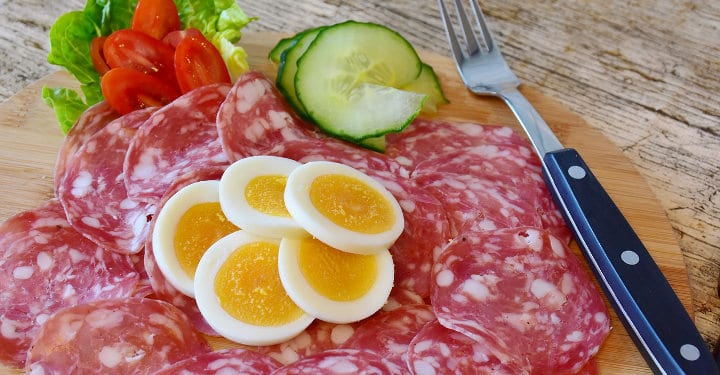 Although tasty and hearty when eaten in a sandwich and bold enough to be served as an appetizer, there are a lot more creative ways to eat this deli salami. First off, it gives a delicious dimension to any tomato pasta sauce (also carbonara pasta sauce) and is great as a stuffing or topping to dishes other than calzones and pizza.
In a frittata, it can be nicely combined with potatoes and some goat cheese for a quick dinner or served for breakfast - scrambled eggs and strips of fried salami on the top. It can also be used in salads, roll-up snacks, and macaroni recipes.
When it comes to serving salami, it's generally thought that slices should be cut thick or at least thick enough so they can stand on their edge. However, have you tried cutting a thin slice? You will savor it slowly and the fermented taste won't overwhelm your palate.
What Is Hard Salami?
As the name suggests, hard salami is a firm type of salami that is cured. It has a marbled appearance very similar to that of Genoa salami but nothing is connecting it to Italy. Its origins are from Germany.
Differences Of Genoa Salami And Hard Salami
According to the FSIS Identity Standards, hard salami's chemical composition must have a moisture and protein ratio of 1.9 to 1. With less moisture and sometimes fat, hard salami is drier and firmer than Genoa salami, which also makes it a little chewy.
Traditionally, it is made of a pork and beef mixture but there are no specific requirements as to the exact meat composition, unlike Genoese salami that the main ingredient is pork. Hard salami is typically less fatty than Genoese as long as there's more beef than pork in it (which usually is the case). It may or may not be smoked but most products have a smoky beefy taste.
Besides, there are no specific spice requirements but typical flavorings of hard salami include black or white pepper as well as garlic. Another important difference is that it doesn't contain any wine or vinegar so it is milder in taste, unlike Genoa salami that the presence of wine makes it taste tangy. Its color is also slightly darker.
When it comes to their shelf life, and according to the USDA, any type of dry or hard sausage can be stored unopened up to six weeks in the pantry or indefinitely in the fridge. Once it's open, you can keep it up to 3 weeks in the refrigerator.
All In All, What's Better: Genoa Salami Or Hard Salami?
It all depends on your personal preference. Some people may find that they prefer the soft texture and tangy taste of Genoa salami while others might enjoy the milder taste and chewy texture of hard salami more. Or you may like both of them the same, nobody is going to blame you. Simply enjoy!