When one is unfortunate enough to find themselves "in a pickle", there is usually some sort of dilemma afoot. Why do pickles get such a bad rap though! Aside from demonstrating an important method of food preservation, pickles are, in no uncertain terms, delicious.
Perhaps this association with complexity is due in part to the confusing designation of certain pickled foods. In a prime example of this difficulty, we have: the case of gherkin vs. pickle. When it comes to distinguishing between these two, the waters are muddy indeed. The specifics of each of these goodies will depend not only on who you ask, but where you are when you ask!
Simply put, a gherkin is a type of pickle but not every type of pickle is a gherkin. Confused? You won't be by the time we're done here!
Let's Talk About the Word "Pickle"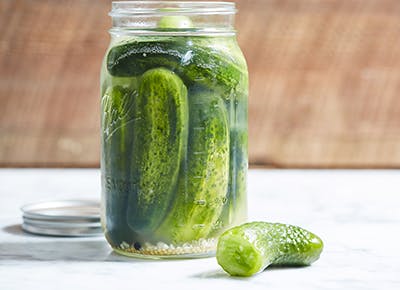 Comparing two foods is extra difficult when one of the items in question is a verb AND a noun! Let's get into the dual meaning of this tricky word.
To Pickle, or Not to Pickle
To pickle a food means to put it through a specific process in which the item is cleaned and prepped, then placed in a brine solution which is most often a combination of the following: water, vinegar, salt, sugar, and aromatics.
What's the purpose of pickling food, aside from making it delicious, of course? Long before the dawn of refrigerators and other temperature control techniques, pickling was a massively important method of food preservation. The specific combination of vinegar, sugar, and salt that soaks into the pickled food makes it nearly impossible for mold or harmful bacteria to grow within. Therefore, fresh produce which has been pickled lasts far longer than if it were to remain unprocessed. Even in today's day and age, pickling remains a vital method of preserving food and making as much use from each crop as possible.
Yet even in developed countries where most every household contains some sort of refrigeration, people still find themselves craving the sweet and tangy flavor of pickled foods. Therefore, the pickling process is unlikely to go anywhere anytime soon!
What is a Pickle?
While any item that has undergone the pickling process may be referred to casually as a pickle, what people mean by this word is entirely dependent on who you ask and where they're from. In most of North America, say the word "pickle" and many folks will assume the pickle in question is of the cucumber species, cucumis sativus. If they were to receive any other pickled food in its place, say a piece of pickled mango, well then, they're most likely to be completely (but hopefully pleasantly!) surprised by that.
In other regions of the world however, in order to receive a pickled cucumber, you must ask for it by name. The common term "pickle" could refer to any number of pickled goodies, or even to a condiment such as piccalilli--a chopped mixture of various pickled vegetables and spices.
Beyond Cucumbers!
As we just learned, pickled cucumbers are not the only way to get that sweet and tangy pickle fix. There is a wide world of pickled foods out there, some of which may sound odd, but don't be afraid to give them a shot!
Pickled vegetables. There are tons of vegetable choices which lend themselves nicely to pickling: onions, green beans, asparagus, carrots, beets, radishes, peppers, and the list goes on.
Pickled fruits. Yes, you heard it, pickled fruit is on the menu. It might sound crazy to soak sweet and decadent fruit in a harsh vinegar solution, but you'd be surprised at the results! Some fruits which take well to the pickling process are watermelon, strawberries, mango, cherries, pineapple, and even blueberries.
Other pickled foods. It is even possible, and traditional in many cuisines, to pickle protein sources such as fish and eggs. Pickled fish works best with oily fish such as herring or mackerel, and pickled eggs may outlast fresh eggs by months!
Let's Talk About Gherkins
Unlike pickles, which do not actually grow from a plant that bears the same name, when it comes to gherkins there indeed are plants which produce fruits called gherkins! What's funny though, is that these varieties are most likely not the pickled gherkins you're familiar with. In addition, it's unlikely that you'll be buying fresh gherkins any time soon as these types of fruit are not widely cultivated.
Burr Gherkins
One type of gherkin, cucumis anguria, is more commonly known as the West Indian gherkin or Burr gherkin. The fruits of these plants are covered in spiky-looking burrs and overall, they don't grow very large at all, topping out around 1-2 inches in length. While burr gherkins are often pickled and eaten in the regions in which these plants grow, they tend to not be distributed very far. Therefore, the jars of gherkins lining the shelves of your local market are highly unlikely to contain any of this particular species.
Mexican Sour Gherkins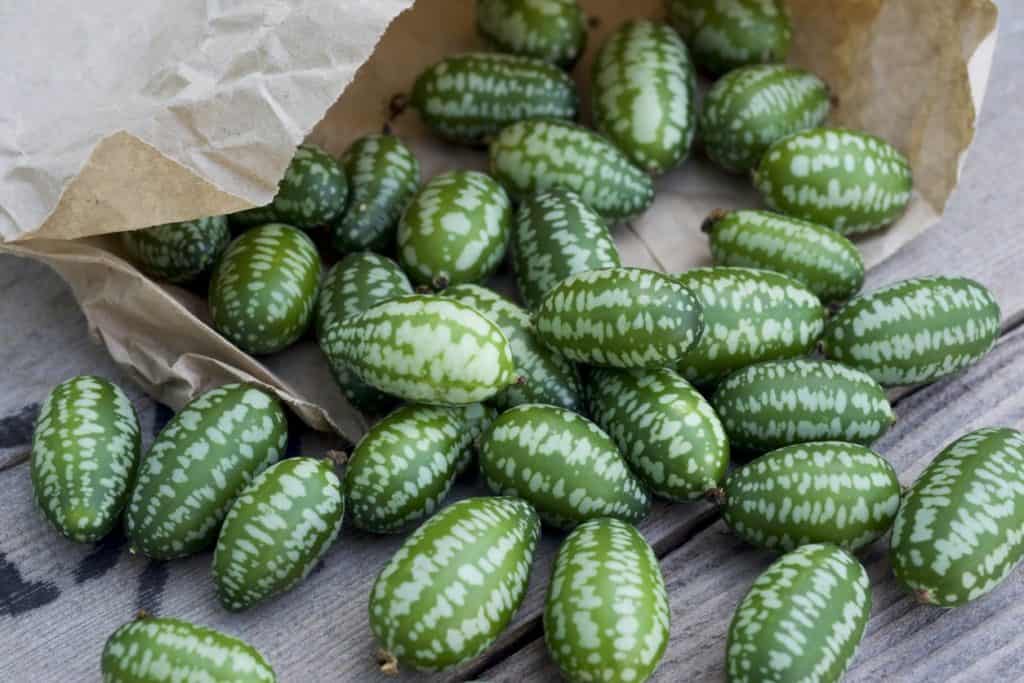 Another type is the Mexican sour gherkin, also known (rather fondly) as the cucamelon, for the fact that these fruits resemble tiny watermelons! The size of these tiny fruits only ever reaches around 1 inch, making them perfectly bite-sized and oh-so-snackable. These tiny gherkins can have a surprisingly bitter taste and may be eaten raw or pickled. Once again though, you will never see a jar of pickled Mexican gherkins and mistake them for the usual pickled gherkins--they're just not the same thing!
What Are Gherkins?
Ok then, so if that jar of gherkins doesn't contain either of the fruits that we actually refer to as gherkins, then what the heck are they? Truthfully, those petite little packages of fancy looking pickled gherkins are most often just made up of miniature cucumbers which are harvested before they grow large and seedy like you'd expect from typical pickling cucumbers.
Once again, regionality comes into play as it pertains to the definition though. In countries such as the United Kingdom, India, and Australia, ALL pickled cucumbers, regardless of size, are known as "gherkins". In the United States and North America, the gherkin designation refers to a specific type of small, pickled cucumber.
Gherkin vs. Pickle
Despite this confusion among naming (we are truly deep in a pickle now, aren't we?), there is a fairly standard set of differences between a gherkin and a pickle. Let's get into a quick rundown of how you can expect these two to compare to each other in terms of size, taste, texture, and uses.
Gherkin vs. Pickle: Size
Gherkins:
Since they are most often made from baby cucumbers, gherkins are always small in size. They range from about 1-3 inches in length, although it would not be out of the ordinary to find an extra tiny or extra large gherkin in your bunch! Gherkins are rarely cut or sliced before pickling; therefore you can always expect a jar of gherkins to contain small, whole pickles.
Pickles:
Cucumber pickles may be made from cukes of any size, from miniature all the way up to those beast size pickles which are often spotted on the deli counter. Just like gherkins, cucumber pickles (regardless of size) may be pickled whole but are also frequently cut into various shapes: spears, slices, rounds, and chips to name a few!
Gherkin vs. Pickle: Taste & Texture
Gherkins:
Gherkins are typically made with a distinct type of pickling brine, giving them a particular flavor that you can come to expect upon cracking the jar. They taste stronger than many other pickles, due to the inclusion of strong flavors such as dill and garlic in the brine. In addition, gherkins usually include a bit of sugar in the pickling liquid, keeping gherkins plenty sweet as well as sour. Due to their small size, the texture of gherkins tends to be extra crunchy, and the thin skin of the cucumbers provides a satisfying snap!
Pickles:
The range of flavor of cucumber pickles is much more varied than that of gherkins. Some varieties of cucumber pickles are much more acidic than gherkins while others are far sweeter. Regular pickles also may include other aromatics like bay leaves, chiles, and black peppercorns. In addition, the size of the cucumbers used has a great deal of impact on the texture of the pickles. When pickled cucumbers are larger in size, they tend to have a softer flesh and tougher skin, producing a very different bite when compared to gherkins.
Gherkin vs. Pickle: How Are They Used?
Gherkins:
Since a gherkin is a pickled baby cucumber, it is entirely pleasant to eat whole and is frequently used in just this way. Pickled gherkins are often included as a component of a cheese platter or charcuterie board, since their crunchy texture and sharp flavor provide an excellent contrast against creamy cheeses and meats. Plus, their petite size makes it all too easy to eat gherkins straight from the jar as a snack!
Pickles:
While eaten whole as well, pickles are more often used in other ways as opposed to gherkins. A sliced pickled cucumber makes an excellent addition to a sandwich or a burger, and chopped pickles are frequently added to mayo-based salads such as potato or egg salad. There are even pickle derived condiments such as sweet pickle relish and tartar sauce.
Types of Gherkins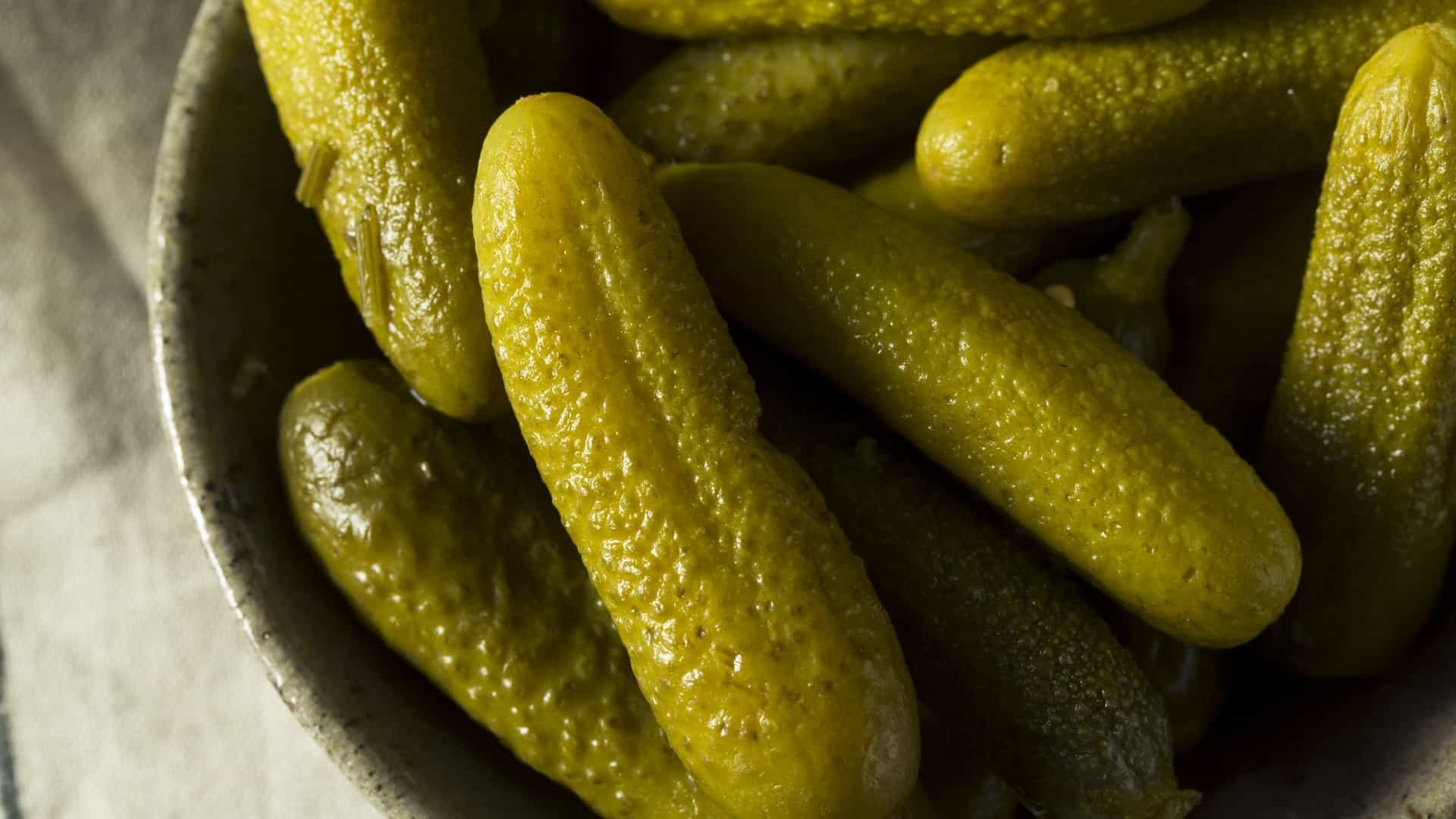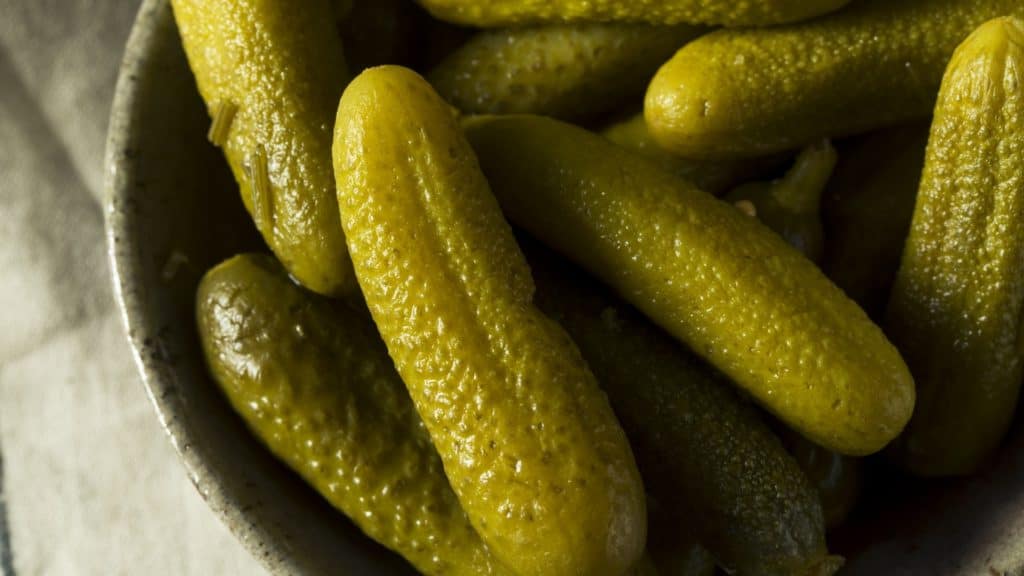 Since the traits that make pickles gherkins are fairly limited to terms of specific size and flavor, there is not a very wide range of gherkin varieties out there. While you can find plenty of gherkin brands and recipes (and even some types made with true gherkins if you look hard enough!) you're most likely to encounter one of these two on your grocery store shelf:
Gherkins
The main type of pickled gherkin has no special designation–it simply is a gherkin! As discussed, a gherkin is essentially a small, pickled cucumber, most often in a lightly sweetened brine that has been flavored by aromatics such as garlic and dill.
Cornichons
Also known as French gherkins, cornichons are a specifically prepared type of gherkin. These are often made with specific species of cucumbers, such as fin de meaux, which produce fruits that are just the right size for the job. Cornichons are traditionally made with tarragon in the brine as opposed to dill, and therefore take on quite a different flavor than regular gherkins.
Types of Pickled Cucumbers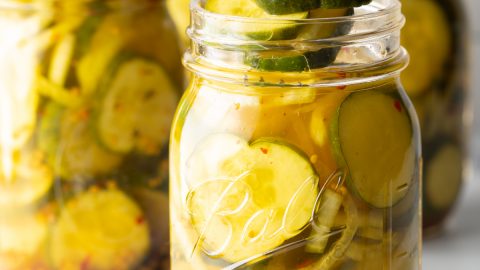 Unlike gherkins, in which you're limited to a choice or two, one walk down the pickle aisle at your local store will leave you with a nearly impossible decision! Sweet pickle, dill pickle, spicy pickle–the options are seemingly endless. We've rounded up a few of the most common selections here:
Kosher Dill Pickles
While not always kosher as it pertains to Jewish dietary law, the terminology "kosher dill" applies generally to pickles that are made in the style of typical Jewish deli pickles. Kosher pickles often have plenty of fresh dill and minced garlic included in their brine, and will have a pleasantly tangy, sour taste as opposed to other, sweeter pickles.
Half Sour Pickles
Half sour pickles are very similar to kosher dill pickles in the sense that they contain the same base ingredients and have the same general flavor. However, they differ in the length of time they spend in the brine. Half sour pickles are pulled from their brine while they still remain light green and crunchy with a bright, fresh flavor. Kosher dills (also sometimes called full sours) on the other hand, are often yellowed due to their long stint in the brine solution and have a much more pronounced flavor than the half sour pickle.
Bread and Butter Pickles
Bread and butter pickles have an interesting name, and an even more interesting flavor thanks to a unique combination of brine ingredients. In addition to the standard solution of vinegar, water, and salt, a typical bread and butter pickle brine will often include: sliced onion, mustard seeds, and coriander seeds. Bread and butter pickles are distinctively more sweet than other cucumber pickles and have plenty of additional sugar for an addictively sweet yet sour crunch.
Recapping the Differences Between Gherkins and Pickles
Simply put, a pickle is any cucumber (or vegetable! or fruit! or anything!) which has been put through the pickling process. A gherkin is a very specific type of pickled cucumber, which relies on certain size, texture, and flavor characteristics to distinguish it from the wide range of other pickles out there.
These interpretations will stand up in regions of North America and the United States, however in other areas of the world, these designations may be flip flopped so do your research and don't be surprised to receive questioning looks if you are to request "a pickle" to accompany your sandwich!
Despite their distinctions, gherkins and pickles are equally tasty and can be used in many of the same ways. Both of these are sure to deliver a vinegary crunch to any recipe and are perhaps best enjoyed whole and straight from the jar.