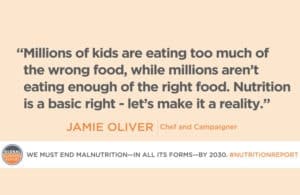 Launching today, the 2016 Global Nutrition Report finds that the world is off track to reach global targets on nutrition, but that we can reverse this trend and end malnutrition by 2030.
What is the Global Nutrition Report?
The Global Nutrition Report, an annual report which is now it's third year, convenes existing processes, highlights progress in combating malnutrition and identifies gaps and proposes ways to fill them. Through this, the Report helps to guide action, build accountability and spark increased commitment for further progress towards reducing malnutrition much faster.
The 2016 Report
As Jamie Oliver announced yesterday at the EAT Food Forum, this year the report show clearly that 57 countries (that's 44% of countries) have a serious problem of both underweight and obesity. This is a truly a global problem that requires a global food revolution.
"The Global Nutrition Report highlights a really important issue; that worldwide, millions of kids are eating too much of the wrong food, while millions more aren't getting enough of the good stuff to let them grow and thrive. As the report shows, access to good, nutritious food is not simply a matter of personal choice – it's a matter of government responsibility. It's time for our world leaders to step up and make bold, brave decisions to tackle all forms of malnutrition. Fresh, healthy food is a basic right for every child – let's make that a reality." – Jamie Oliver
Malnutrition is a global crisis, on the rise in every country in the world.
Malnutrition affects 1 out of 3 people globally, and every year reduces GDP by 11% across Africa and Asia. The problem includes wasting, stunting, micronutrient deficiencies, obesity and nutrition-related non-communicable diseases such as diabetes and heart disease.
Reversing the malnutrition crisis is possible and carries a massive return on investment.
Nutrition is key to achieving sustainable development, including health, education, female empowerment and poverty reduction. But although we have models of success for tackling malnutrition – many are being under utilised.
However, we can make the political choice to end malnutrition – in all its forms – by 2030.
Malnutrition is chronically underfunded and requires a three-fold increase if we're to end the crisis. Countries can make nutrition commitments that are specific, measurable, achievable, relevant and time bound (SMART) – without them, there is no accountability. Read about the event Jamie attended to encourage SMART commitments at the World Health Assembly here.
Check out the report here, and join the conversation online with #FoodRevolution and #NutritionReport.