Hi! I'm Susan from Kiwi Cook. I'm a born and bred New Zealander (as you can guess from my blog name!) and this is my first hosting experience Daring Kitchen (which is being run concurrently with another challenge Daring Cooks'). theme of both challenges this month is 'whole and healthy'!
The recipe I'd like to share is one I've discovered only recently, but which I've made on a weekly basis ever since – Gluten-free Seed & Nut Loaf.
When I first saw an image of the Seed & Nut Loaf on a blog, I inwardly cringed – it looked like something you'd throw out birds! But then I tried it and got hooked big-time! Rather than bird-seed, it tasted like gorgeously dense and nutty whole-wheat – with lots of taste and texture (along with masses of protein and fiber), but without gluten. I slather it with all sorts of delicious toppings, from avocado and tomato, to salmon and cream cheese, to home-made nut butter and mashed banana.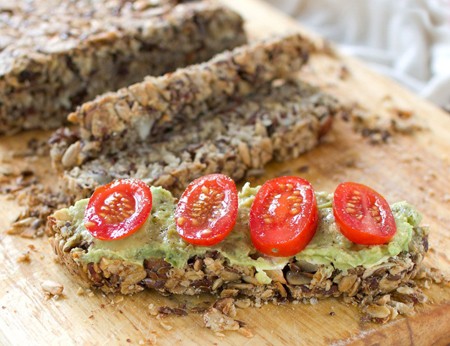 I'm hoping that, even if you don't need to avoid gluten, you try out this very simple, yet super-healthy ''. Use any combo of nuts and seeds you desire and feel free to explore adding other health-giving ingredients and flavorings of your choice. Then go ahead and pile on your favorite healthy toppings – you could even make your own pesto, nut butter or hummus as the base layer – the choices are endless.
Notes:
The psyllium hulls is the ingredient that binds the loaf together in the absence of flour.
If you have a nut allergy, you could make the loaf exclusively seeds.
If you use ground flax seeds instead of whole, you will need to add more water to the mix.
Oats are inherently gluten-free, however they can be cross-contaminated with wheat products. If you are gluten-sensitive, ensure your oats are certified 'gluten-free'. Buckwheat or spelt flakes make a good alternative.
While you can use any nut you prefer, it's best to chop them fairly finely; if the nuts are too big, it's harder loaf to hold together around them and you might end up with a very crumbly loaf. I find sliced almonds work really well.
A silicon loaf pan is ideal this recipe, as you can check whether the loaf is holding together before removing it from the pan. While I have used a non-stick pan successfully, once or twice some of the mixture has stuck in the pan when I've inverted the loaf – as such, if you don't own a silicon pan, I recommend you line the pan with baking paper, then peel the paper off once you extract the loaf from the pan prior to baking it further.
The pan size is not indicated in the original recipe. However, I've cooked the loaf in both a 23 x 12 cm (8-1/2 x 4-1/2 inch) and a 20 x 9.5cm (7-1/2 x 3-1/2 inch) sized pan and it cooked perfectly in the time stated.
While the idea is that you can mix all the ingredients in the loaf pan itself, I found it easier (and less messy) to combine the wet and dry ingredients in a large bowl, before transferring it to the loaf pan.
While you can 'rest' the mixture for a minimum of 2 hours, I recommend resting it overnight as it sets up much more firmly and is easier to extract from the pan during baking. All that soaking also ensures optimal nutrition and digestion.
This '' makes fabulous toast.
You can make this either as a standard loaf or in any preferred form (for instance, as mini-loaves or muffins). Use your own choice of nuts and seeds and feel free to include any other healthy flavorings or ingredients (such as herbs or spices, dried fruits, grated vegetables, raw cacao nibs, etc.) of your choice. I have included a list of alternative seed and nut recipes (many of which have been derived from this recipe) at bottom of post.
Preparation time:
Preparation – about 15 minutes.
Resting time – at least two hours (but preferably overnight) to 'set up'.
Baking – 50-60 minutes in total.
Equipment needed:
Measuring cups and spoons
Scales
Regular loaf pan (doesn't need to be a specific size). Use silicon or non-stick if you have it; otherwise lightly grease and line your pan to ensure the loaf doesn't stick when inverting.
Metal spoon or wooden spoon
Wire cooling rack
Serrated knife
Chopping board
Large bowl
Medium sized bowl
RECIPE ONE: GLUTEN-FREE SEED & NUT LOAF
Makes 1 loaf
Ingredients: (Note: This recipe uses metric measurements)
1 cup (250 ml) (140 gm) ( 5 oz) sunflower seeds
½ cup (125 ml) (90 gm) (3 oz) flax seeds (linseeds)
½ cup (125 ml) (50 gm) (1¾ oz) sliced almonds (or whatever nut you prefer)
1-½ cups (375 ml) (5 gm) (4¾ oz) gluten-free rolled oats (or try buckwheat flakes or rolled spelt flakes)
2 tablespoons (30 ml) (20 gm) (¾ oz) chia seeds
4 tablespoons (60 ml) (25 gm) (1 oz) psyllium seed husks (3 tablespoons if using psyllium husk powder)
1 teaspoon (5 ml) (6 gm) fine grain sea salt (it's fine to reduce this if you prefer)
1 tablespoon (15 ml) pure maple syrup (or liquid honey; sugar-free diets, use a pinch of stevia)
3 tablespoons (45 ml) coconut oil or ghee, melted
1-½ cups (375 ml) water
Method:
In a standard sized silicone, non-stick, or greased and lined loaf pan, combine all dry ingredients (I find it's easier and less messy to combine in a large bowl first).

Whisk maple syrup, oil and water together in a separate bowl.
Add mixture to the dry ingredients and combine until everything is completely soaked and dough becomes very thick (while the mixture will be wet, there should be no excess liquid).

Transfer the mixture to the loaf pan and smooth the top with a spatula.

Cover the pan lightly with plastic wrap and let it sit at room temperature at least 2 hours or overnight. mixture should feel very firm to touch.
Preheat oven to moderate 180°C/350°F/ gas mark 4. Then bake initially 20 minutes.

Take loaf out of oven, place a wire rack over top and invert to remove (if you've lined loaf tin, you should remove lining at this point).

Put the now inverted loaf on its wire rack into the oven again and bake another 30-40 minutes (it should sound hollow when tapped). The loaf should be starting to brown on the outside – this gives a lovely nutty crunch to the finished loaf.
Let the loaf cool completely before slicing – I found using a fine serrated knife for slicing worked better than a typical knife with its more exaggerated serrated edge, which made a very crumbly slice (as evidenced by my photos!).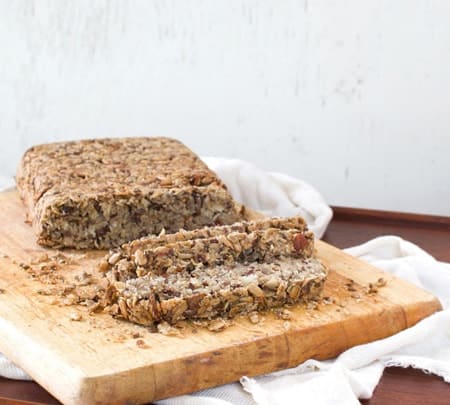 STORAGE & FREEZING INSTRUCTIONS:
You can store the loaf in an airtight container (or wrap it in plastic wrap) for up to 5 days. You can also freeze it for at least 3 months (it helps to slice it first before freezing so you can enjoy that occasional piece of toast!).
Alternative Nut & Seed recipes:
http://nutritionstripped.com/nourishing-nut-seed-/
http://deliciouslyella.com/almond-quinoa-pumpkin-seed-/
http://www.rachelkhoo.com/recipe/recipe-apple-seed-nut–video
http://www.greenkitchenstories.com/paleo–quick-pickled-fennel/
http://nordicfoodliving.com/stone-age-/
http://www.whatsforlunchhoney.net/2015/03/flourless-carrot-multi-seed-and-nut.html
http://www.beingcontent.com/blog/2014/08/maca-fruit-and-nut-seed–recipe/