These days it seems everything we use has a new direct-to-consumer producer that is helping lower the cost of consumer goods while also making incredibly high-quality products that outperform longstanding brands. Now, it seems direct-to-consumer competition has found its way into the cookware segment, and I for one couldn't be happier!
Over the past few weeks, I've had the opportunity to cook with a brand new set of Goldilocks Cookware and I've been incredibly impressed thus far. Goldilocks manages to combine the high-end feel of a brand new, name-brand set of stainless steel pans while keeping things on the budget-friendly side by operating a direct-to-consumer business model.
If you're looking for a fresh set of stainless steel cookware, and you want to save a buck then you'd be hard-pressed to find a more versatile collection of pans than the Goldilocks Cookware 7-Piece Set.
Goldilocks Cookware Review.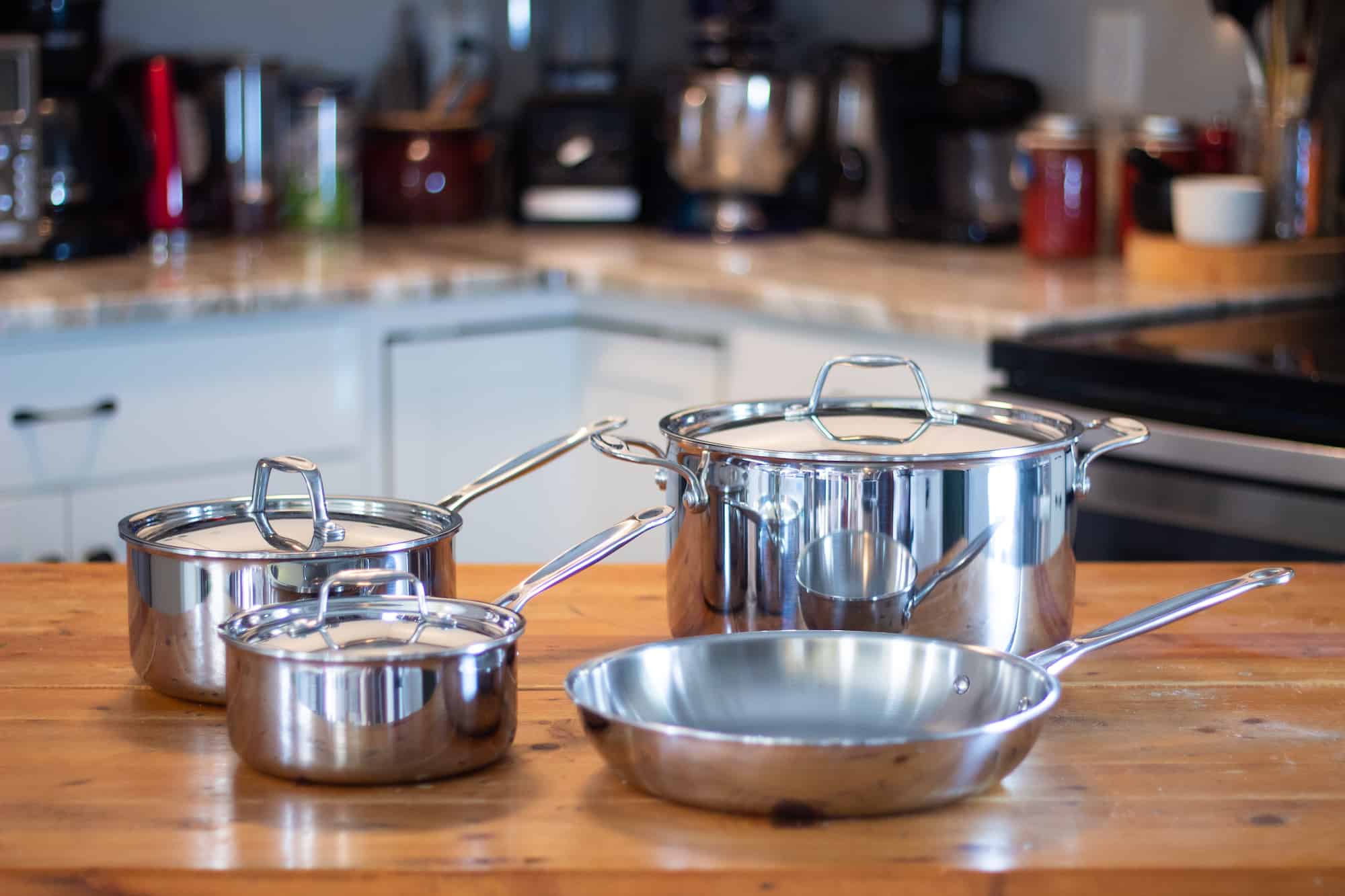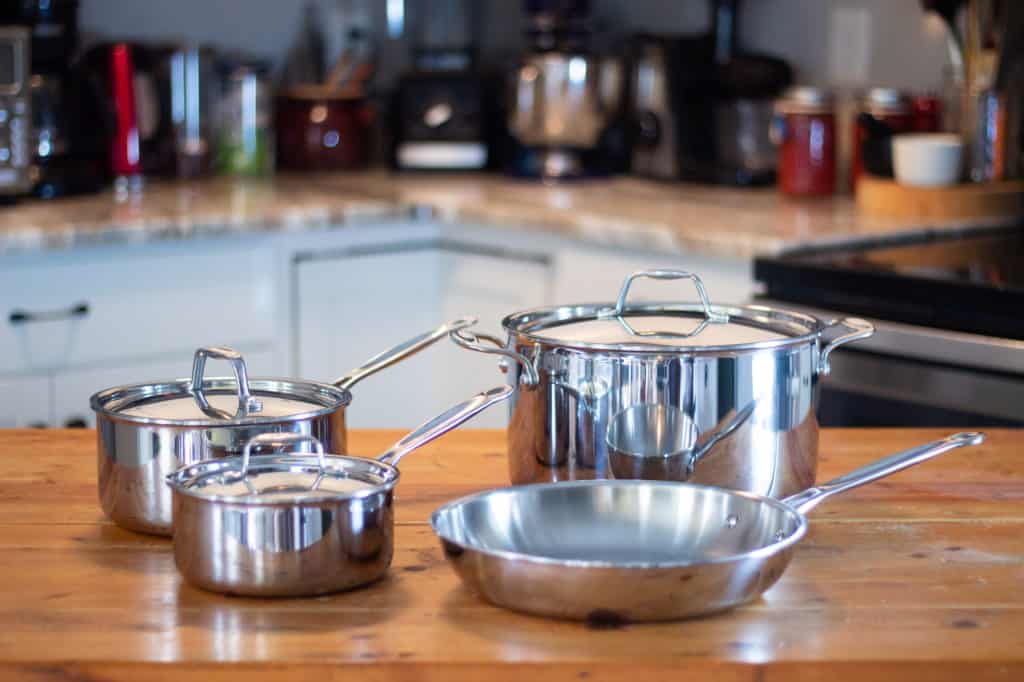 Formerly known as Potluck Cookware, Goldilocks Cookware is a direct-to-consumer provider of high-quality kitchenware. From utensils to knives, and sets of high-quality stainless steel cookware, Goldilocks aims to provide that "Just Right" blend of quality and value.
The power of direct-to-consumer products in the consumer marketplace has only grown over the past decades with brands like Warby Parker, Casper, and Dollar Shave Club showing huge successes by disrupting the norms associated with their products. Goldilocks has taken a similar approach with their kitchenware products, producing high-quality cookware and kitchen tools, then offering them at a value to their consumers by selling direct.
By avoiding a reseller or middle man, Goldilocks can focus on producing the highest quality pans, utensils, and knives, while offering value pricing that is hard to compare. If you're looking for a high-end stainless steel kitchenware set, then Goldilocks should be high on your list.
Pros:
High-quality stainless steel cookware with a three-layer design and aluminum core
Low price
Induction Ready
Oven safe
Dishwasher safe
Cons:
Not quite as robust as more expensive cookware
Stainless steel can be difficult to clean and maintain
What's in the box?
The 7 piece Goldilocks stainless steel cookware set comes with 4 pans and 3 lids and includes.
1.5-quart saucepan with lid
3-quart saucepan with lid
10" skillet
8-quart stockpot with lid (lid also fits on the skillet)
How do the Goldilocks stainless steel pans look and feel?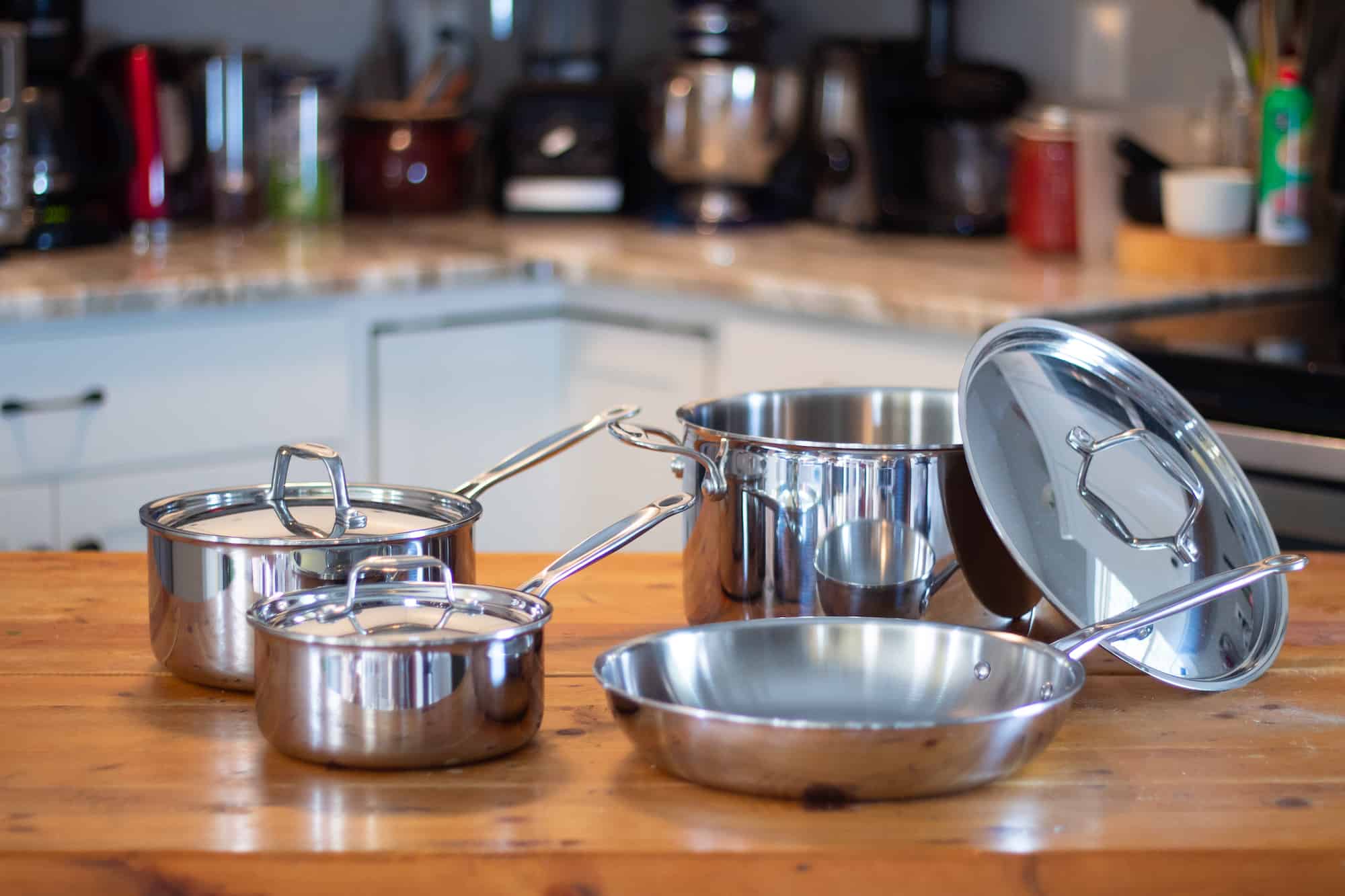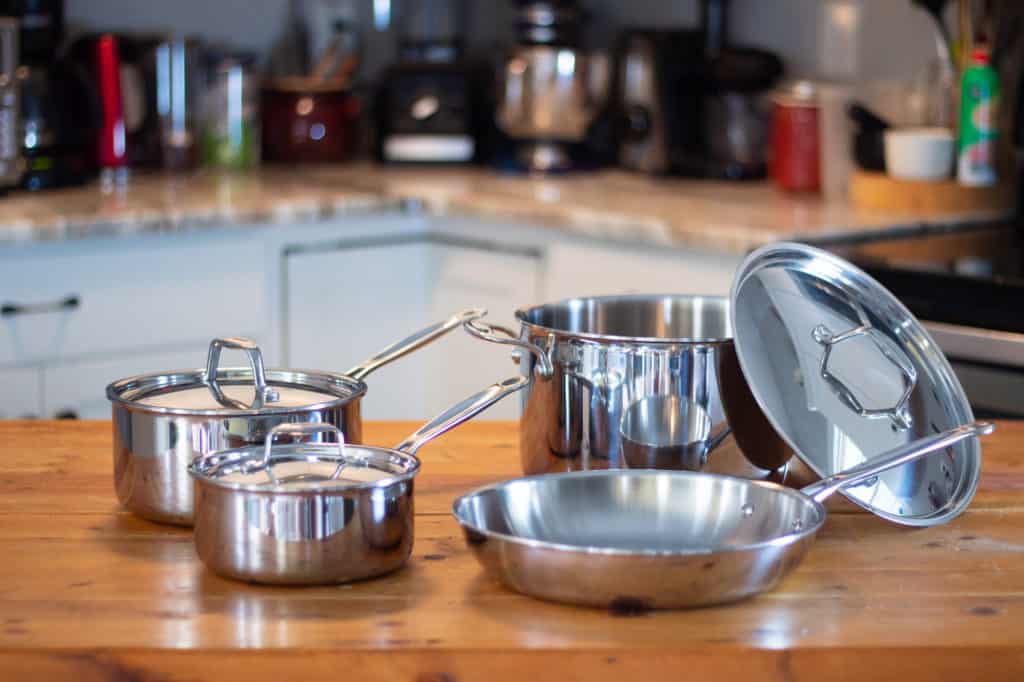 Over the years I've had the privilege to use many different types and brands of stainless steel cookware. While stainless steel pots and pans might not be for everyone, there is something really nice about the feel of a well-made, fully clad, stainless steel cookware.
Overall, the Goldilocks 7-piece pan set is a really well-made, high-quality product. This cookware set feels like it should be more expensive than it is with nice thick walls, sturdy handles, and rivets, snugly fit lids, and a thick bottom to each pan/pot.
One downfall with stainless steel cookware is that while it has a mirror finish, it is going to show blemishes, water spots, and stains. The finish on these Goldilocks pans is quite nice, with a high mirror polish that will hopefully last for years with proper care, but it is going to show if you don't take care of them.
Cooking with Goldilocks Cookware.
When it came to testing the Goldilocks Cookware I was primarily focused on how well these pans performed the actual tasks of cooking. Once you've mastered a recipe or technique it's easy to make delicious food without much effort, however, with the proper tools you can really step your flavor and quality up to the next level.
A high-quality cookware set makes it that much easier to create regularly delicious meals because it takes many of the variables out of the equation. Once you know you can trust our pans to cook evenly and efficiently, you can focus more on flavors and technique.
To test the Goldilocks Cookware set I focused on recipes I was familiar with or simple techniques that would show the overall strengths and weaknesses of this cookware set. While it was tempting to really push the limits of these pans, I was more interested in seeing how well they perform in everyday tasks.
Using the Saute Pan
To begin testing the pans, I wanted to first take the saute pan/griddle for a spin. The 10" saute pan that comes with the Goldilocks 7 piece set is well made and feels like a really high-end piece of cooking equipment. If you've ever used professional all-clad pans, you know the feeling of a well-made piece of stainless steel cookware. Goldilocks pans feel very similar.
The major difference I noticed between these pans and some higher-end brands was the weight. The Goldilocks pans are certainly heavy-duty, but they lacked some of the heft of more expensive cookware.
To test the 10" Saute pan I decided to make pan-roasted rib-eyes smothered in a caramelized onion, red wine cream sauce with just a hint of apple brandy.
To begin I placed the Goldilocks sauté pan on my stovetop and heated it over medium/high heat. I then pulled my steaks out of the fridge and seasoned them liberally.
Once the pan was hot I added some high heat canola oil and allowed it to heat for a few seconds before carefully placing my steaks in the pan.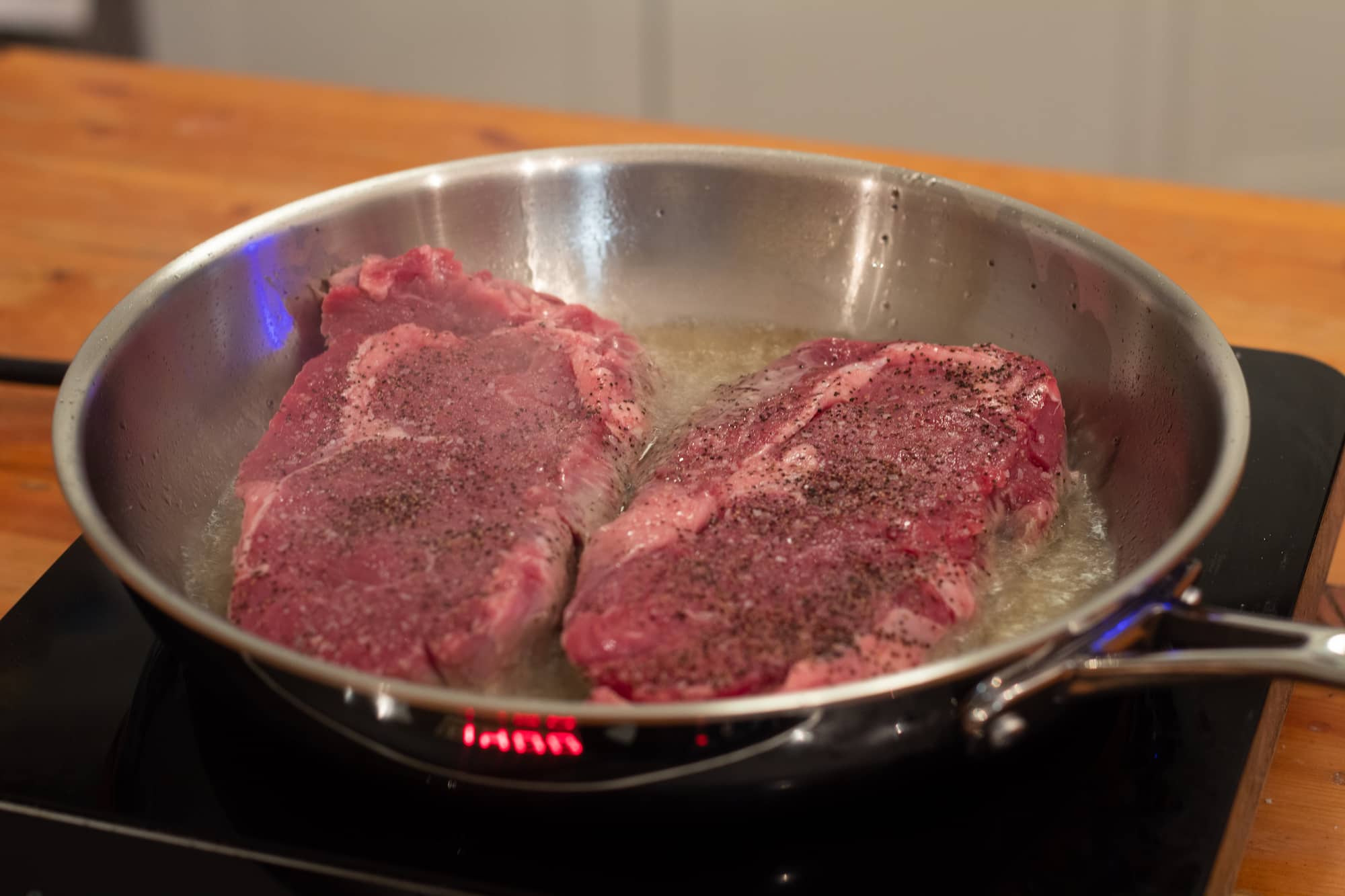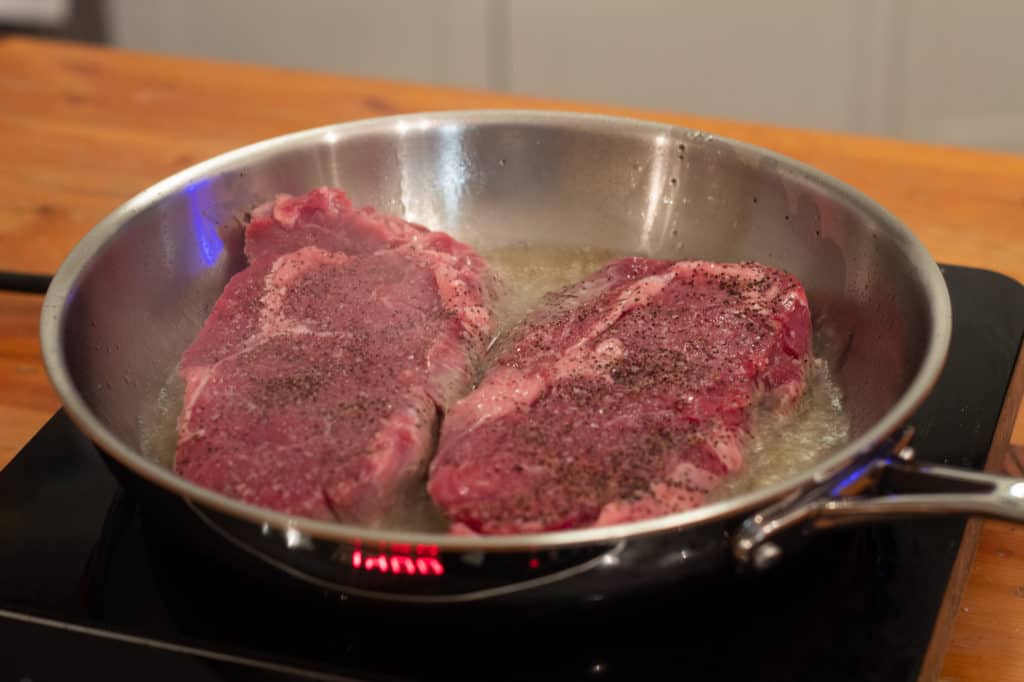 The steaks began to sizzle and sear immediately, and I let them sit for 3 or so minutes before beginning to adjust them. After 3 -5 minutes the steaks were perfectly seared on one side, so I flipped them over and allowed them to cook for another 4 minutes.
At this point, my steaks were almost a perfect medium-rare, so I removed them from the hot saute pan and set them aside to rest. I returned the Goldilocks sauté pan to the burner and allowed it to heat for a minute before adding a handful of diced onions.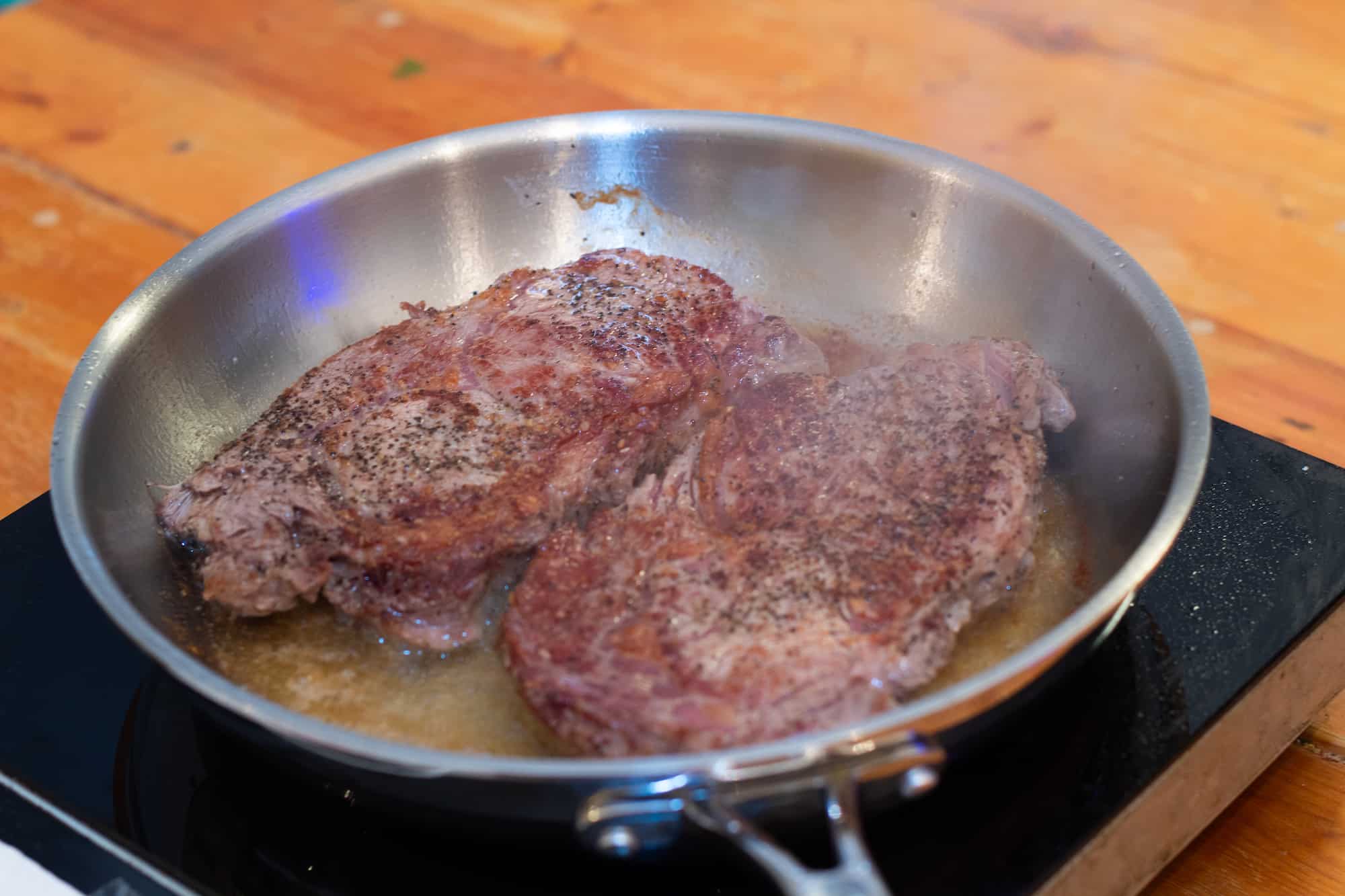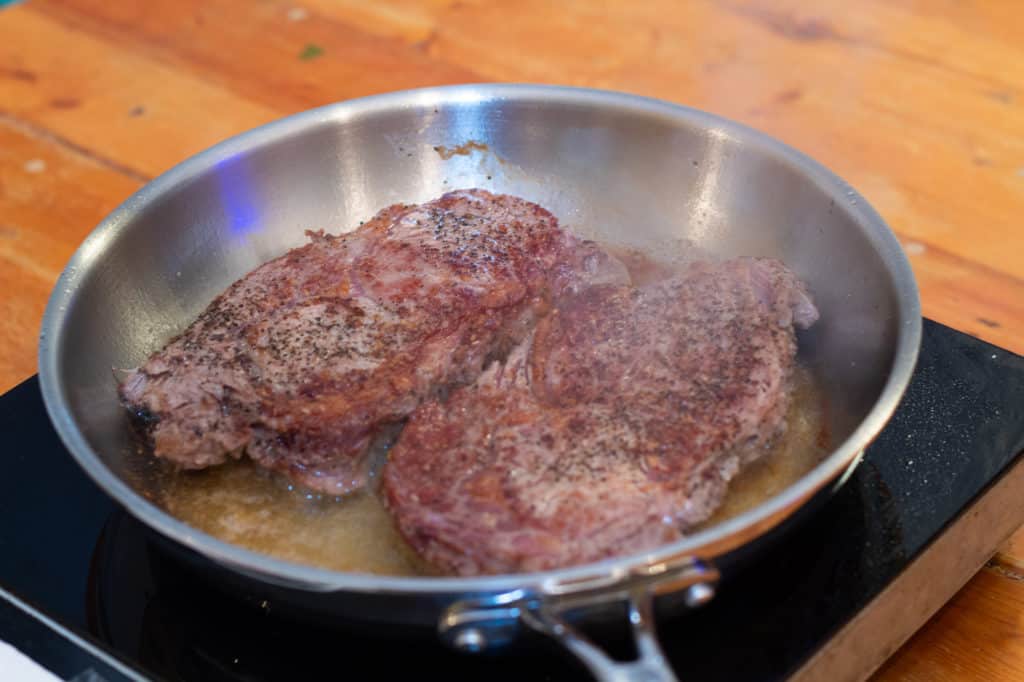 I quickly roasted the onions in the pan and then added a ¼ cup of red wine. After allowing the wine to reduce by ½ I added some heavy cream, salt, pepper, and a few drops of apple brandy.
I returned the steaks to the pan momentarily and allowed them to simmer in the cream sauce until it was properly reduced.
The Results: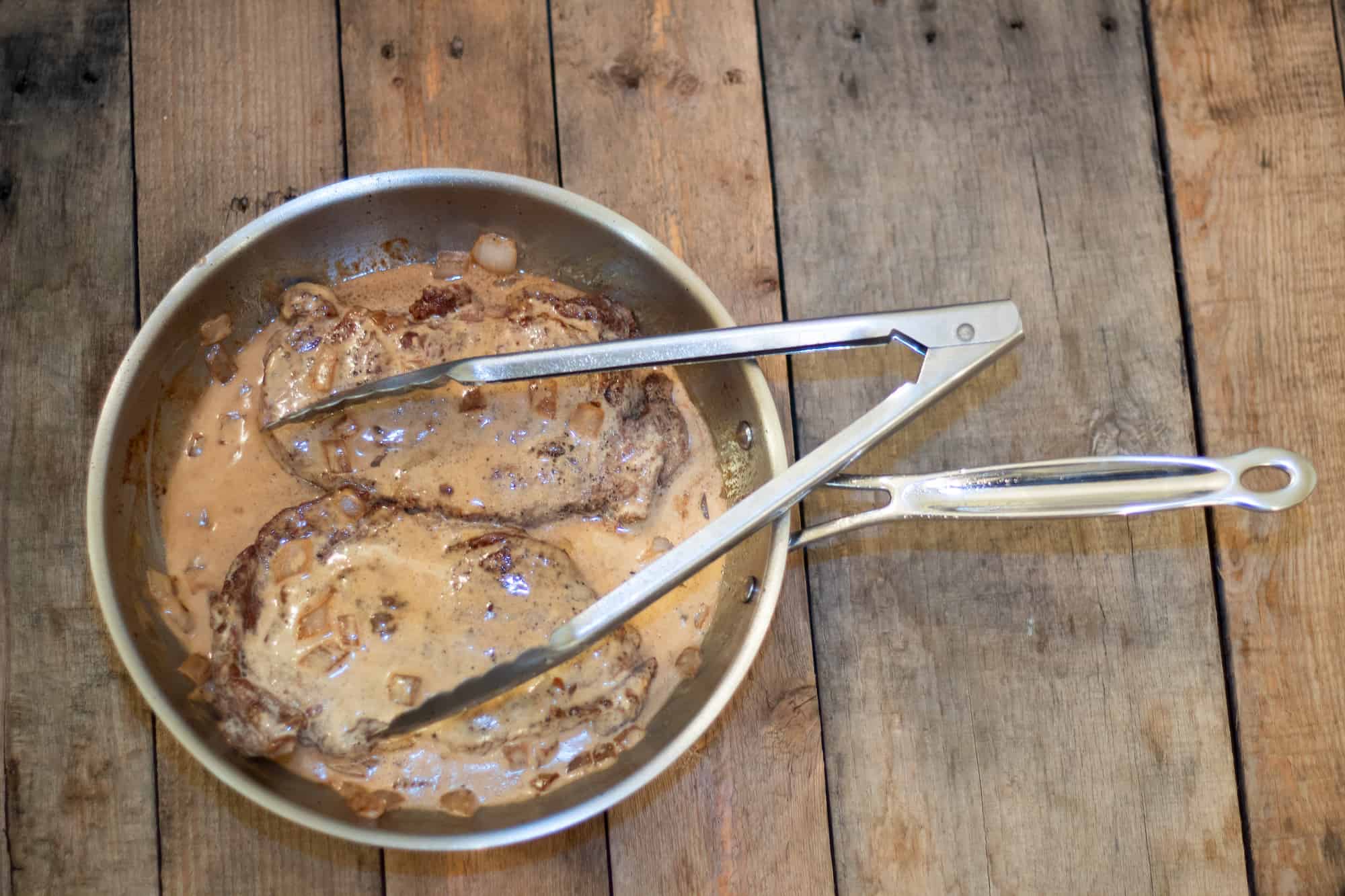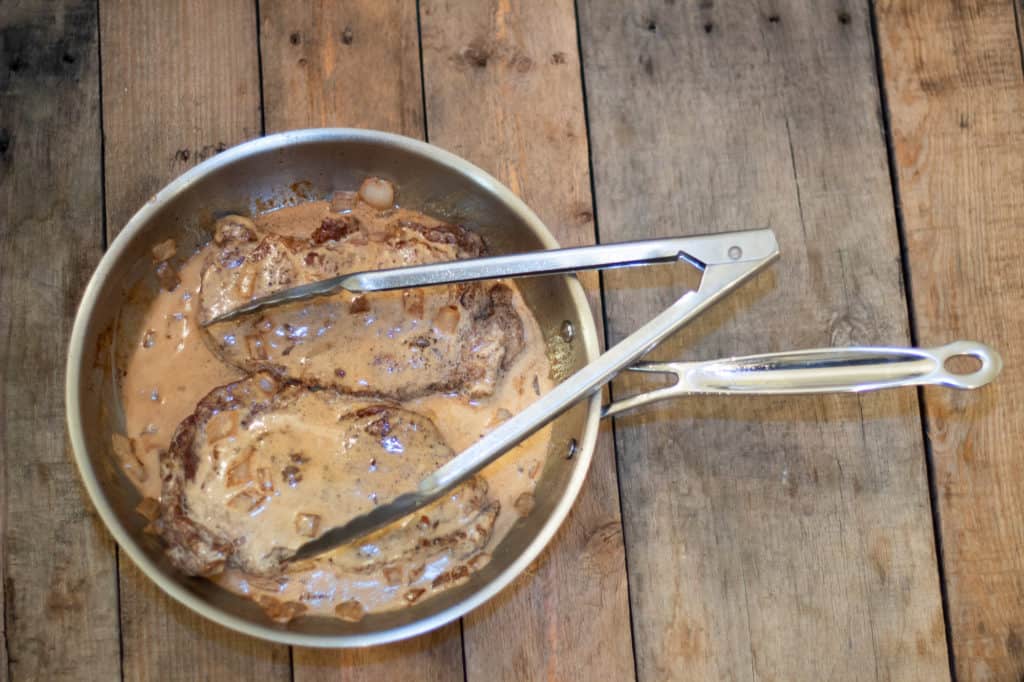 Once the steaks were ready I poured myself and my partner a glass of wine and sat down to a delicious meal.
Overall the steaks were really well prepared. Partly because I know what I'm doing when it comes to cooking steaks in a pan, but also because the Goldilocks stainless steel sautés pan is a very well-made cooking tool.
I was pleasantly surprised by how well this pan performed especially considering the low price of this entire set. While the Goldilocks pans do feel a little lighter compared to other cookware I've used, the aluminum core was more than strong enough to retain a lot of heat and create a very even heating profile across the pan.
When I was searing the steaks it felt like every area of the pan was heating evenly, and the steaks were searing in a much more consistent fashion than some other cookware I've used. Beyond that, the cream sauce was a cinch to prepare, especially with all the residual heat remaining in the pan.
Using the Stock Pot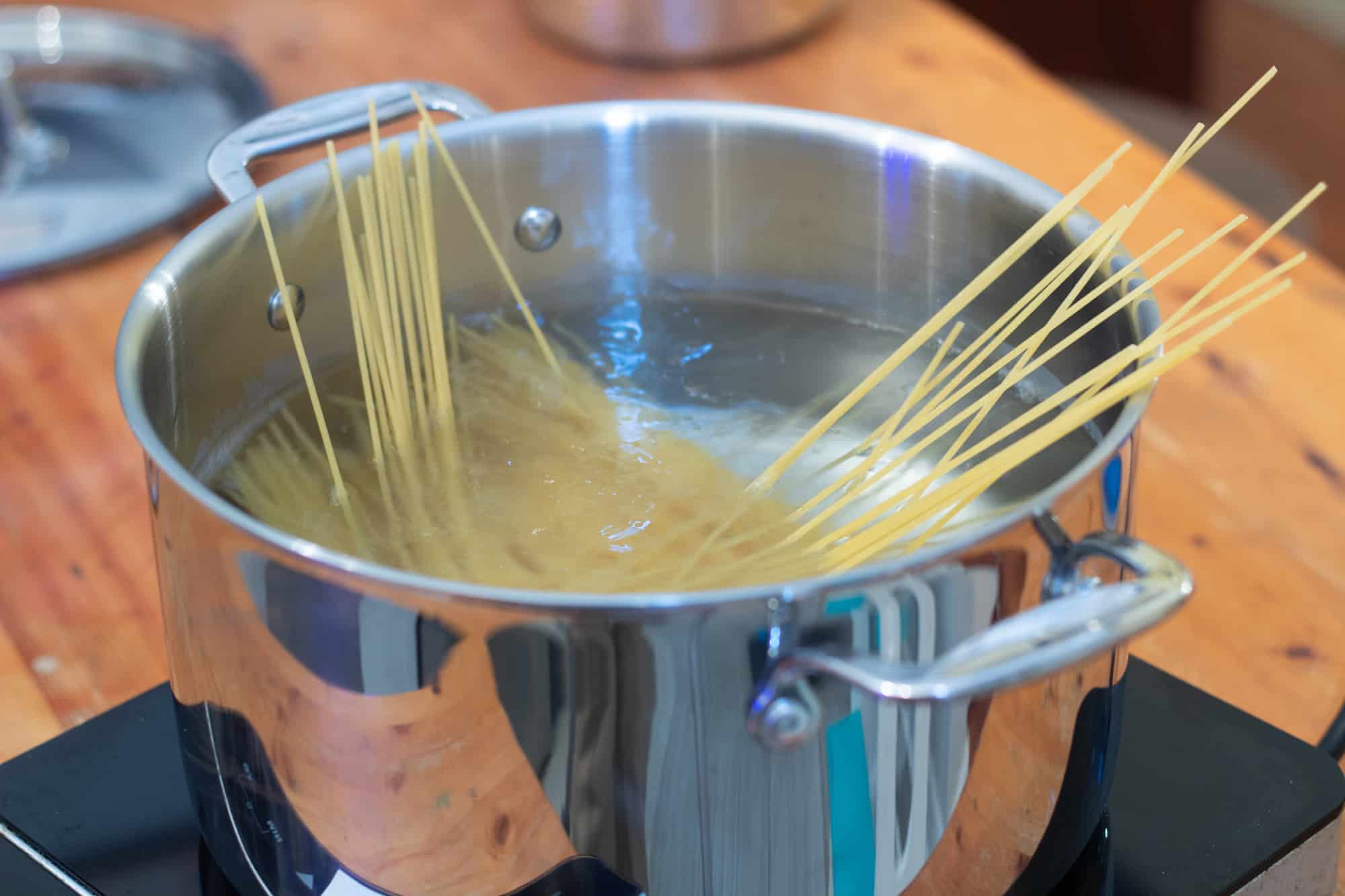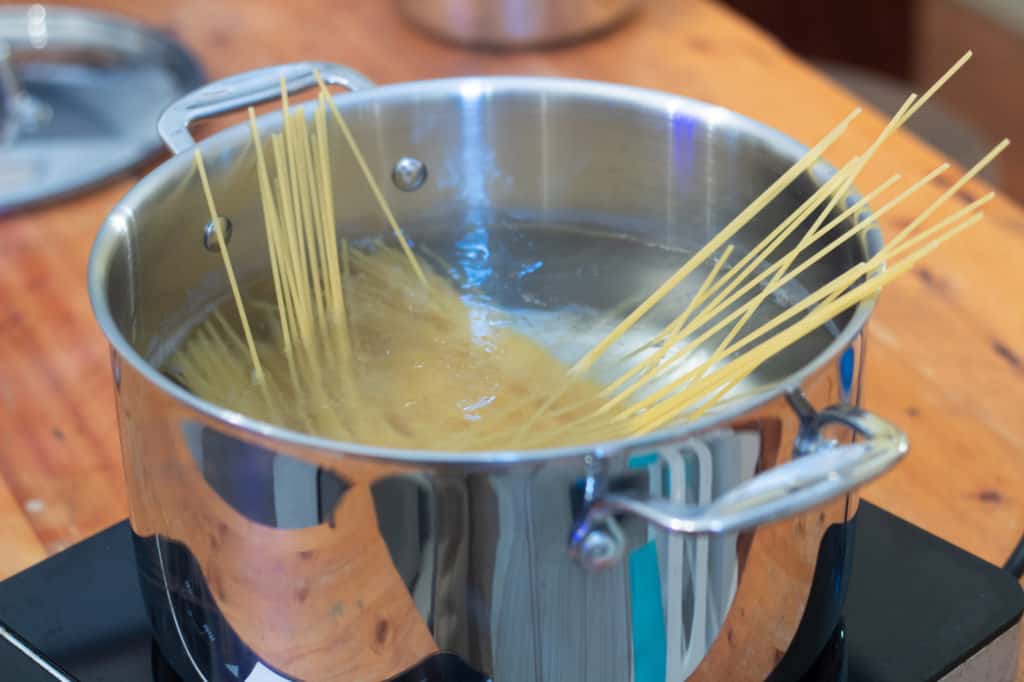 When it came to testing the stock pot I figured that cooking a large batch of pasta was a no-brainer. Pasta night is a ritual around our dinner table, and we like to make enough for lots of leftovers. Having a large stockpot makes it easy to prepare bigger batches of food, especially if you plan on entertaining a large number of guests.
The 8 quart Goldilocks stockpot is great for large prep items, or big batches of stew, sauce, or even braised items like shortribs or oxtails. Thanks to its large size, wide profile, and snugly fit lid, it's a cinch to boil water in this pot, and with a 2-gallon capacity, you can really prepare a lot of food in here.
Boiling water for pasta was a simple premise. I filled the Goldilocks 8-quart stockpot with water up to the handle rivets and proceeded to place it on a burner over high heat. I put the lid on top of the pot to help get the water boiling quickly and sat back to wait.
From start to finish it took ~10 minutes to bring 6 quarts of water to a boil. While not a land speed record for boiling water, 10 minutes is pretty quick, and thanks to the highly conductive aluminum core the water stayed at a boil once I removed the lid.
Cooking the pasta was also a pretty straightforward task, I dumped a box of spaghetti into the boiling water and set a timer for 6 minutes to check on the pasta.
The Results:
Usually, when you dump a box of pasta into boiling water the boil tends to stop because of the cooling effect of room temperature pasta on the water itself. By returning the lid to the pot I was able to return the pasta to a boil quickly helping create more evenly cooked pasta in less time.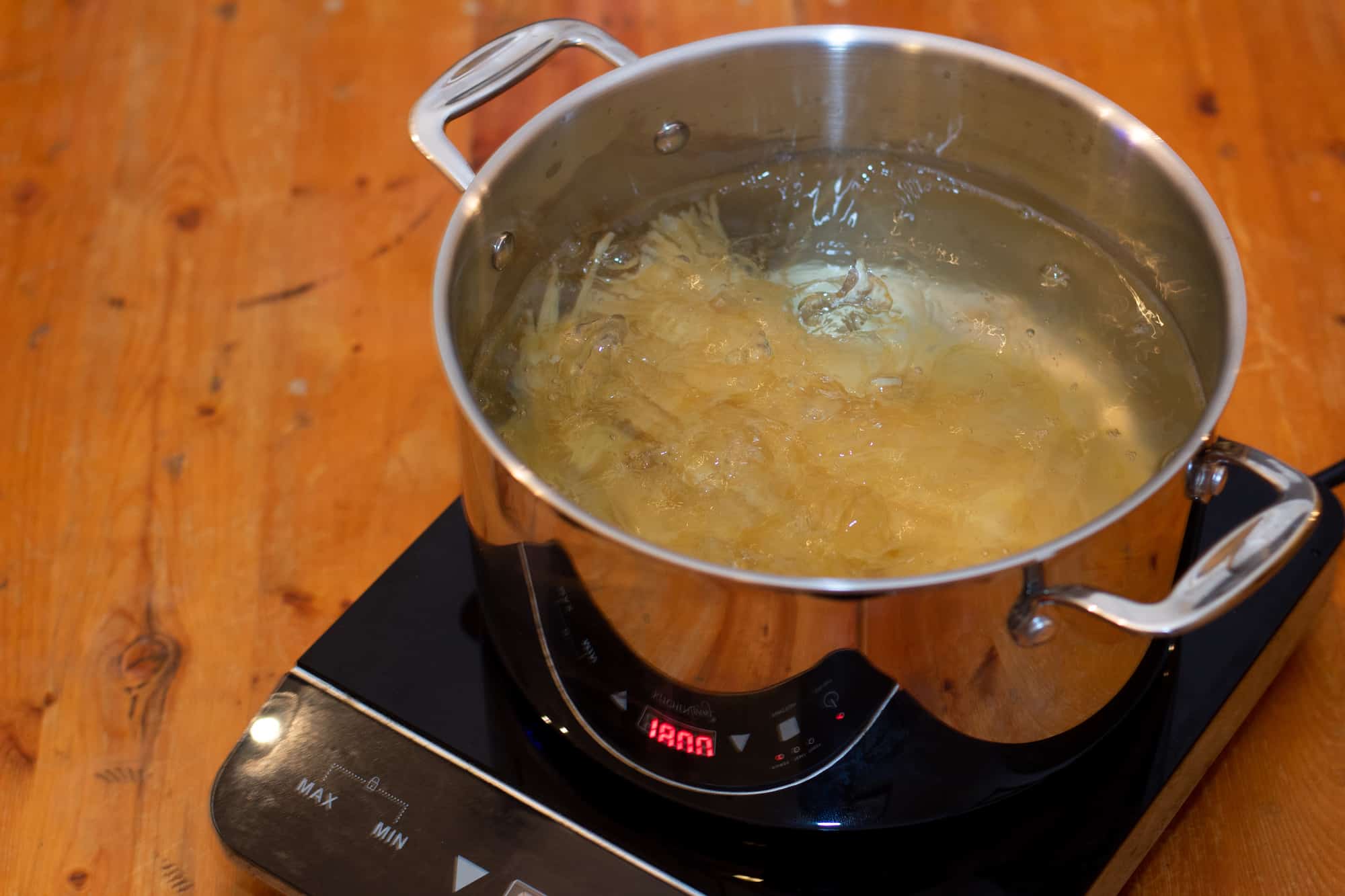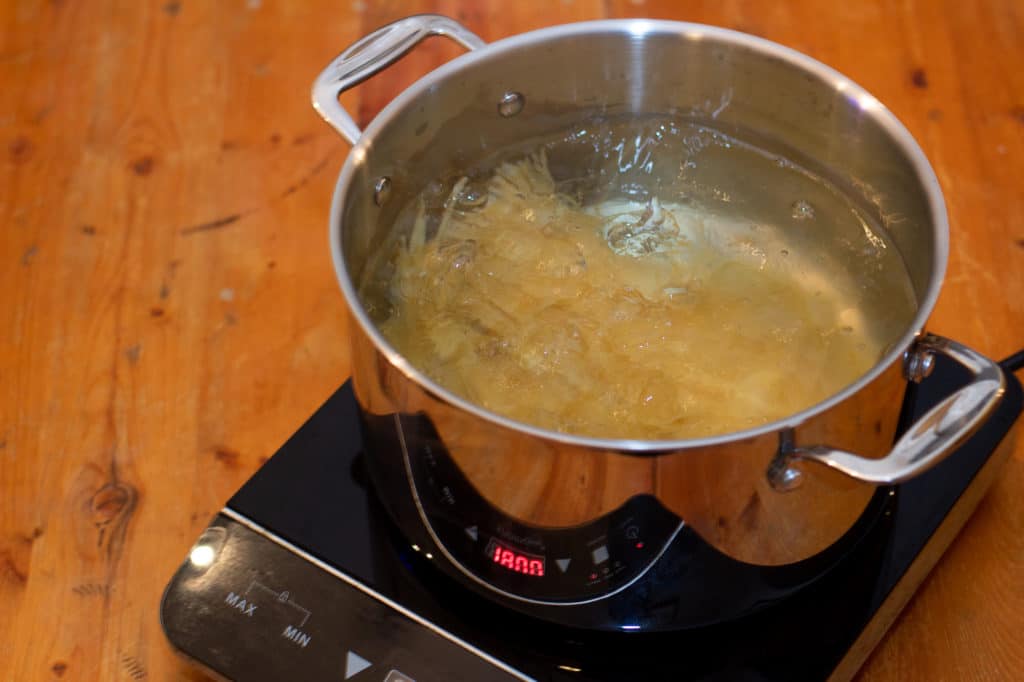 As expected the Goldilocks Stock Pot handled cooking pasta with ease. Thanks to the convenient size and design, you can prepare a lot of pasta in this 8-quart stockpot and still move it around the kitchen with ease.
The rolled lip on the pot made it easy to strain the pasta without spilling boiling water. The three-layer design with an aluminum layer sandwiched between two layers of stainless steel makes these pots super effective. The aluminum core allows them to be lighter than other stainless steel cookware sets, while the high-quality stainless steel combines to give them a very even heat profile and strong heat retention. What that means is that these pans heat up quickly and stay hot for a long time, making it easier to cook with confidence.
Thanks to the oven-safe design of the Goldilocks Cookware set you can use the 8-quart stockpot like a dutch oven to braise or slow roast everything from short ribs to a whole chicken! It is important to note that using your pots and pans in the oven can help bake on grease making them more difficult to clean, but as long as you soak them in soapy water and scrub thoroughly with a non-abrasive cleaner you should be able to get them 100% clean.
Using the Saucepans
I wanted to give the saucepans a try, and I decided to just use the larger of the two, the 3-quart pan as my test subject. Both pans work really well, but the 1.5-quart pan is more for reheating or single-serve recipes.
One set of recipes I continue to come back to in my kitchen are jellies or jams. Keeping fresh jelly on hand is a real treat and a pretty awesome life hack. Thanks to the availability of high-quality frozen fruit, I can make custom jellies on-demand year-round, keeping my morning English muffin or biscuit that much more delicious!
A 3-quart pot like the one included in the 7-pan set by Goldilocks is generally perfect for small batches of jelly, jam, or other fruit toppings. Furthermore, stainless steel pans are ideal for high acid foods like jellies as they are non-reactive, however, they can get very hot and if you don't watch your jam carefully there's always a chance you might burn the product.
To make jelly in my Goldilocks 3-quart saucepan, I combined 1lb of frozen fruit with 12 oz of granulated sugar and some of my favorite spices. I placed the pan on my stovetop and began to heat it over medium heat.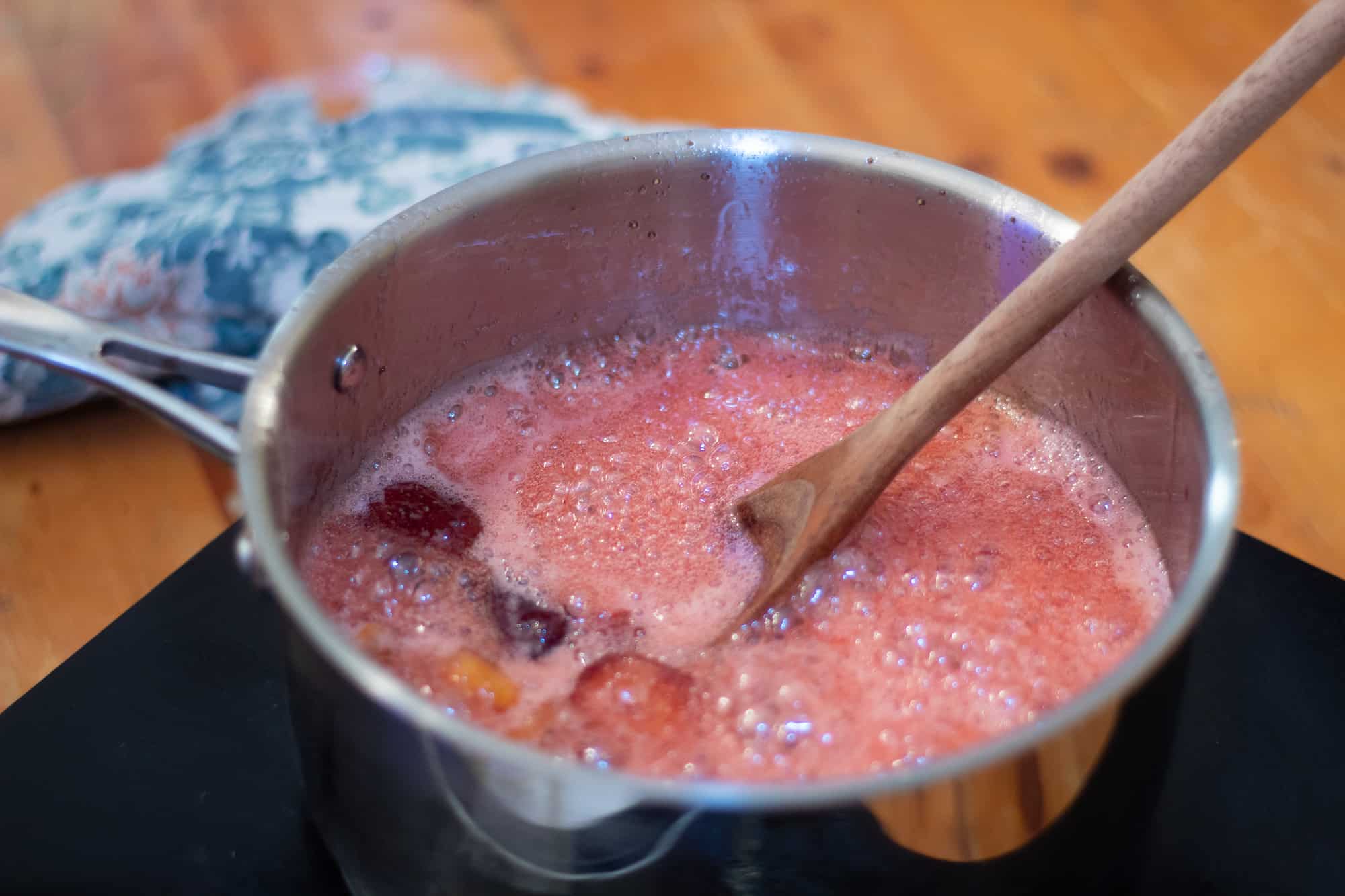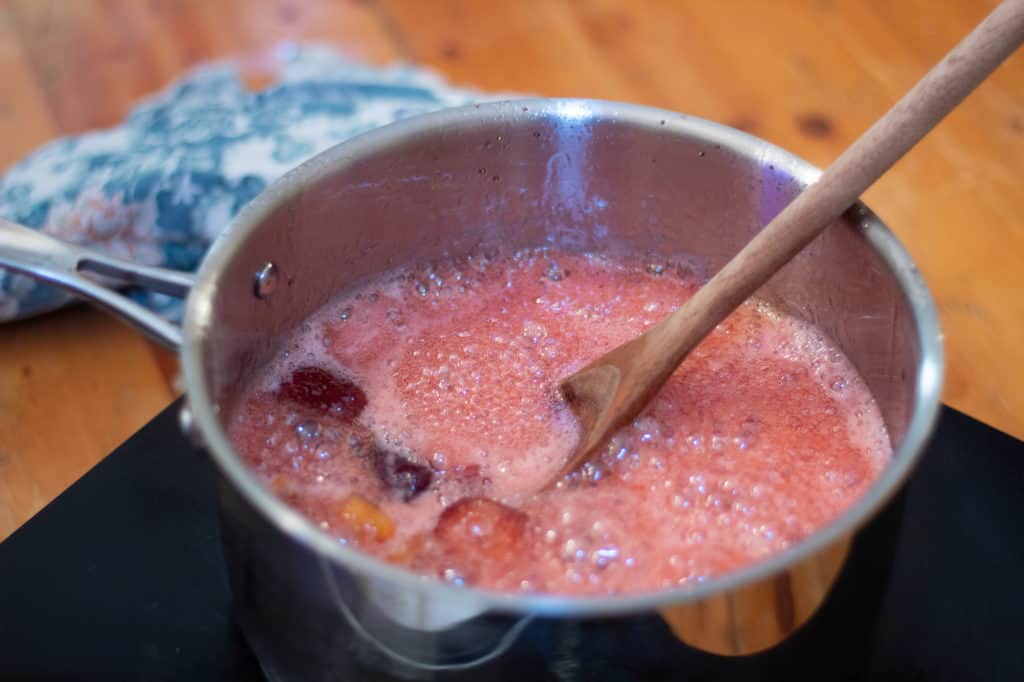 Once the fruit started to break down and liquefy, I turned the heat up slightly and allowed it to cook for 20 minutes. After 20 minutes had elapsed I mixed in ½ an ounce of lime juice and ½ an ounce of apple cider vinegar before blending lightly with an immersion blender. After it was well blended I removed the pan from the heat to cool.
By adding the acid at the end of the cooking process you help set the pectins in the jam and create a firm jelly texture. The gelling of the pectin is aided by the large ratio of sugar to fruit, however, if you want to go with a low sugar recipe you can just add apple pectin to help keep the consistency the same.
The Results:
The key to making good jam is stirring regularly to make sure your fruit isn't burning to the bottom of the pan. Jam tends to get very thick at the end and fruit solids can settle to the bottom making it easier to burn. You could go with a nonstick option, but even in nonstick pans, it's easy to burn a jam if left unattended.
Thanks to the tri-ply fully clad design of the Goldilocks saucepan, the heat profile was incredibly even. One of the benefits of stainless steel cookware is a thick core in the bottom of the pan that helps retain heat and maintain an even heating profile across the pan. The Goldilocks pans definitely have a well-made core, which is evident in the way these pans perform.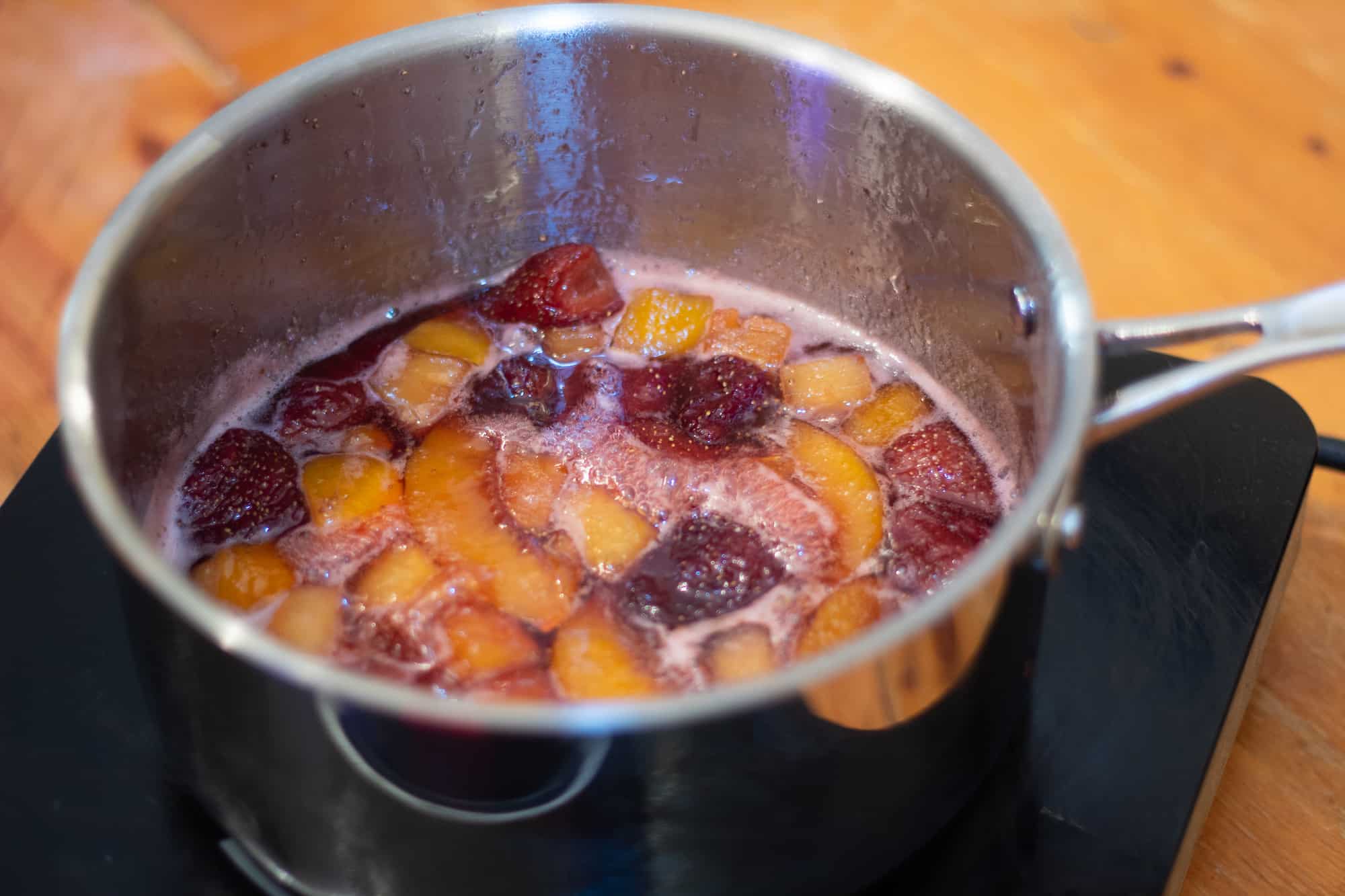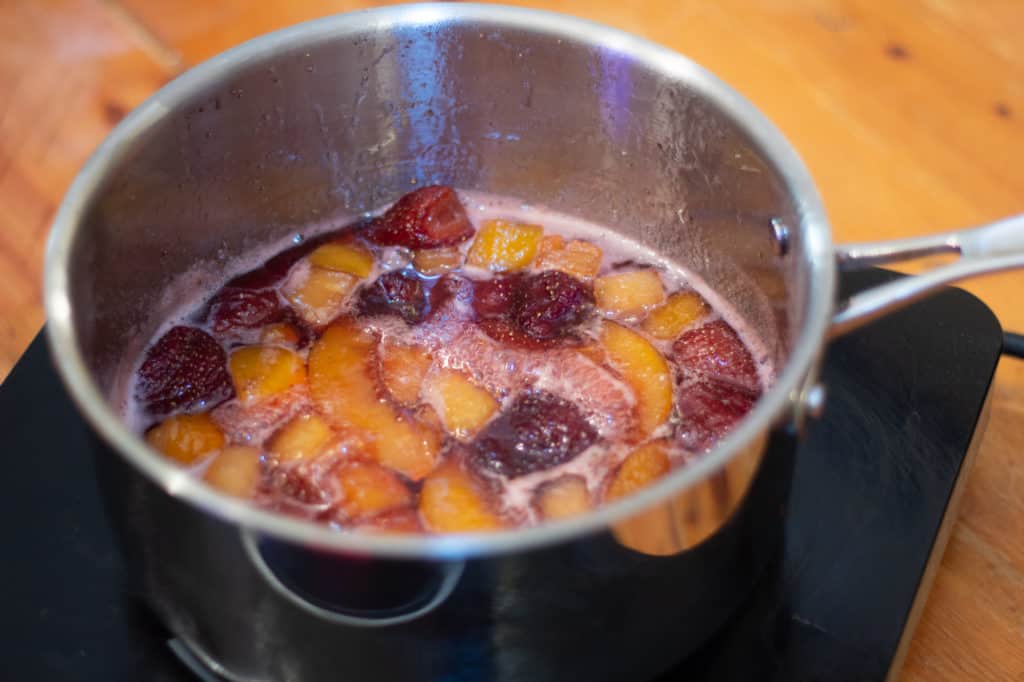 The 3-quart size of this saucepan made it perfect to cook jam. Thanks to the wide, but not too wide design of this pan, the jam was able to cook evenly without evaporating too much as it cooked, helping prevent the jam from over reducing or burning.
This pan really hits the sweet spot in terms of size. It's large enough to make a lot of 1 item, but not so large that it's a burden to carry around the kitchen.
Finally, stainless steel cookware is great for cooking any high acid food like tomato or wine sauces, or jams/jellies. Reactive metal pans like aluminum, cast iron, or copper can affect the flavor and quality of high acid foods, so having a go-to stainless steel cookware set can be a real blessing if you cook a lot of higher acid foods.
Overall, the jam I made in the Goldilocks pans was very, very tasty. This wasn't necessarily a surprise because it's a recipe I make regularly. Instead what impressed me was the consistency in the cooking profile, as well as the overall design of these pans.
Cleaning the Golidloccs stainless steel cookware.
Cleaning stainless steel cookware, especially pans that get frequent use can be a bit of a struggle. Because of the high polish, mirror finish, and the tendency for grease or stains to cook onto the outside of the pans, if you aren't diligent about cleaning them, they can quickly lose their luster.
To clean this set of high-quality cookware, I would soak the pans or pots in warm soapy water before scrubbing them with a non-abrasive sponge or cleaner. I personally like to use scrubbing pads with a tiny bit of texture to help pull off stuck-on stains and I always find that as long as I soak the pans thoroughly, removing stains isn't usually an issue.
One way to thoroughly clean your stainless steel Goldi Locks cookware set without the use of dish soap is to use vinegar, lemon juice, and salt as a cleaning medium. This can take a little longer, but almost always results in perfectly clean, shiny stainless steel pans and cookware.
The Goldilocks cookware set is 100% dishwasher safe, however, I generally don't recommend cleaning your stainless steel cookware in the dishwasher for several different reasons. The first major problem with cleaning stainless steel pans in the dishwasher is the fact that even the most heavy-duty dishwasher cycle won't really touch tough stuck-on stains. Furthermore, the high-pressure water found in your average home dishwasher will weaken welds and rivets over time, shortening the useful life of your cookware sets. While it can be convenient to be able to throw your dirty pans right in the dishwasher and have them clean with the press of a button, if you want the longest lifespan out of your pans, sticking to handwashing is your best bet.
Verdict.
As an avid home cook, I've definitely come to believe in the value of a small collection of high-quality pans in my kitchen. I think that a combination of a large cast-iron pan, a single nonstick skillet for eggs or crepes, and a nice set of stainless steel cookware can add a lot of value to your cooking space.
Goldilocks really does hit that "sweet spot" in terms of quality, performance, and price. These pans really are Just Right. With 2 saucepans for smaller prep items, a large stockpot that can double as a dutch oven, and a 10" sauté pan along with lids for each, this set really does provide a lot of options for your stovetop.
If you've been pining for a new set of high-quality stainless steel pots and pans, the Goldilocks 7-piece Cookware Set absolutely fits the bill. With an even heating profile, high-end feel, and sturdy construction, these pans will make short work of almost any task you throw their way.