My go-to weekend breakfast is definitely an omelet- but I won't settle for just any old egg mixture. Breakfast is my favorite meal, and I take it pretty seriously. You know what they say- it's the most important meal of the day!
So, what omelet could possibly meet my impossibly high breakfast standards? None other than this Greek inspired recipe.
Funnily enough, omelets were thought to have originated in Ancient Iran, but the word "omelet" has French origins. Just to complicate things a little further, we're making the Greek version of this historically rich dish. Stick with me here.
For the record, omelet in Greek is "ομελέτα", pronounced "oh-may-let-ta". If you happen to serve this recipe to a friend, you can now impress with all your worldly knowledge.
This omelet has it all- fluffy eggs, fresh ingredients, and even a couple veggies for good measure, including fresh spinach, cherry tomatoes, and pickled olives… not to mention a healthy dose of feta for some deeply satisfying cheesy goodness.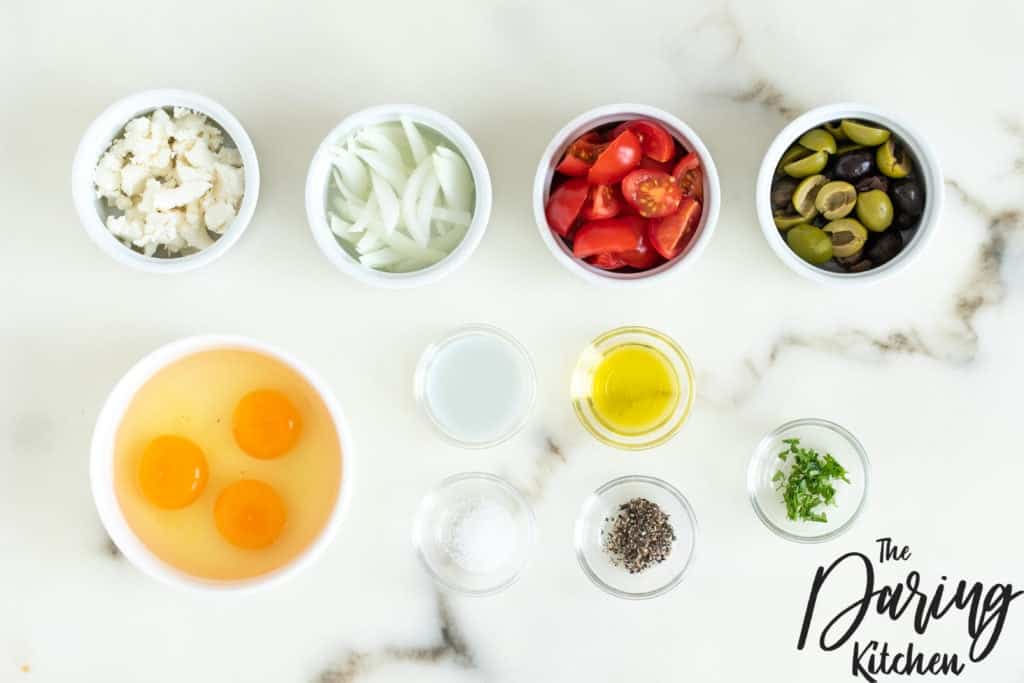 Fresh spinach has calcium, vitamin A, vitamin C, fiber, iron, and other nutrients. Tomatoes are an excellent source of vitamins A, C, and K. Essentially, incorporating both of these ingredients into your daily breakfast is kind of like taking a multivitamin. Go you!
This dish comes in at only 180 calories, 5.5g of carbs, and 12g of protein per serving (for 2 servings total). Yes, this breakfast is even low-carb! If you're following the keto diet, this can definitely fit in your meal plan. Just skip the side of toast.
Even if you're not following a specific diet, you can feel accomplished about kicking off your day with such a healthy and nutritious meal.
While I like to treat myself to this on the weekends, it only takes 20 minutes to prepare and cook, so you definitely can make this your weekday go-to. Actually, if you're the kind of person who has a coffee and granola bar at their desk and calls it breakfast, you need this in your life.
If you're a real go-getter, you can save yourself the 10 minutes of prep time in the morning by chopping and slicing your vegetables the night before. That would be truly impressive and quite honestly, totally worth the extra few minutes of sleep.
You can also choose to meal prep this recipe by making a casserole, just quadruple the recipe. In this case, cook the veggies like normal in a pan, and add them and whisked eggs to a casserole dish. It will take a little longer to cook, but you'll have breakfast prepped for the entire workweek… score!
So how easy is this recipe exactly? You only need one bowl and one pan. That's it. Not to mention that you probably already have these ingredients lying around the kitchen. Finally, a use for that can of olives that's been sitting in your pantry for months!
Now, you can choose to split this recipe in two and share… although I must say that you will probably regret that decision. I happily eat the entire omelet by myself. I also add extra feta on top, a dollop of plain Greek yogurt, and a healthy dose of hot sauce. No shame here!
I promise you that this recipe is absolutely foolproof. You can complete it in only 4 steps: dump a few ingredients in a bowl, throw some veggies in a pan, cook your eggs, and tuck in the veggies. I may be paraphrasing, but there's really not much to it. You don't have to consider yourself a chef- merely "kitchen competent" will do.
In my opinion, the toughest part of an omelet is knowing when to add the fillings and fold it over. Here's my pro-tip that I use every time: wiggle the pan. If the egg jiggles a lot and liquid is moving around easily, it needs more time. If nothing jiggles at all, you may have overcooked it. Ideally, you want a tiny layer of jiggly-ness that will just cook through once you flip it over. Now that's a recipe for a moist and delicious omelet.
Personally, I love the versatility of this dish. I like to switch it up by using egg whites instead of full eggs, throwing in kale instead of spinach, and adding different toppings. My personal favorites are hot sauce and a dollop of plain Greek yogurt. If at any point you think you've screwed up this omelet, fear not- just add more cheese. And maybe a little hot sauce to boot. I swear, feta cures all.
When it comes to feta, I'm pretty particular. For this recipe, you'll want to use authentic Greek feta, which is made with sheep's milk instead of cow's milk. If sheep's milk isn't your thing, cow's milk feta will suffice, but I strongly recommend giving it a try. You also want to buy a block of feta, not the pre-crumbled stuff, as the anti-caking agents in pre-crumbled cheese typically dry it out and make it hard, in addition to reducing its shelf life. Ideally, the block will come in a container with brine to keep it moist and fresh. In sum, you're looking for a block of sheep's milk feta submerged in brine. You won't regret it, I promise.
If you do end up using egg whites, the omelet is going to cook a lot faster. You'll want to keep an eye on it the entire time, as not even extra feta can fix an overcooked egg white. It becomes horribly rubbery and chewy. Using egg whites will also reduce the calories per serving to about 110 (if split into 2 servings). This is a great adjustment for when you're trying to restrict calories to lose weight, but if you're looking for muscle gains, you'll probably want to stick to whole eggs.
If you're looking for more out of this dish, consider serving it with some sides. I suggest home-fries, turkey bacon, a smoothie, toast, or fresh fruit- basically any classic breakfast side would complement this omelet beautifully. It's more of a refreshing dish than an overtly savory one, which means pretty much anything goes with it.
What's breakfast without a cup of fresh, steaming coffee or tea? Put the coffeemaker and/or kettle on while you're prepping so that you can enjoy this meal to the max. To really go above and beyond, try making a deliciously foamy Greek coffee for an authentic experience- although you will need special equipment for this one.
καλή όρεξη (pronounced Kah-lie oh-rex-e)! That's Greek for enjoy your meal.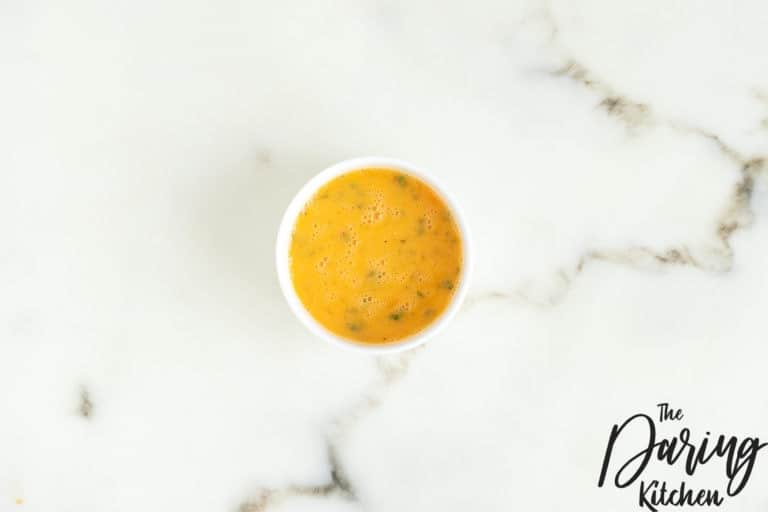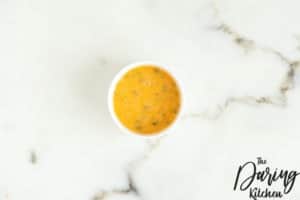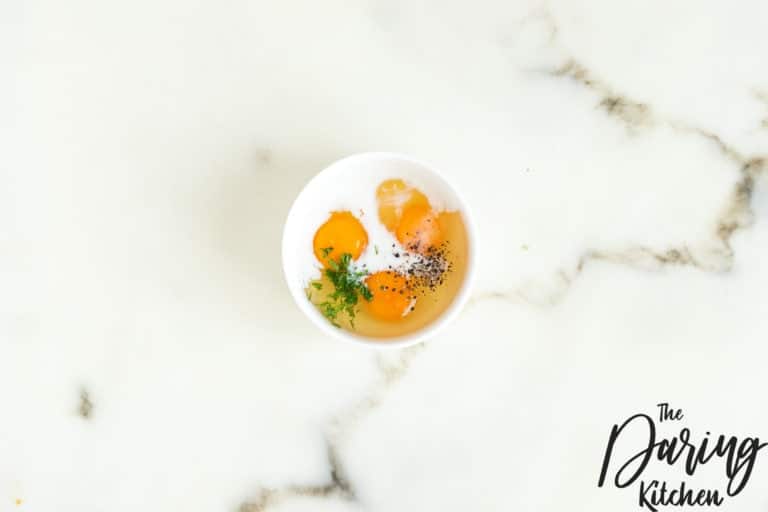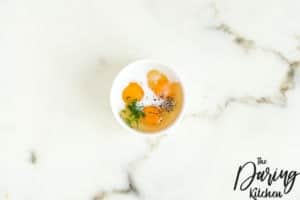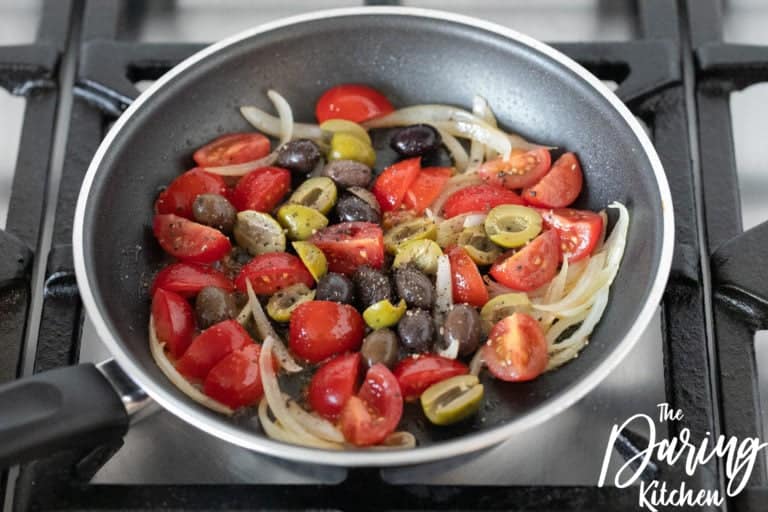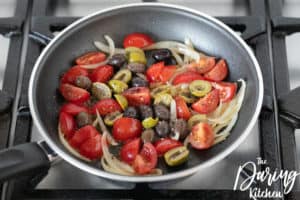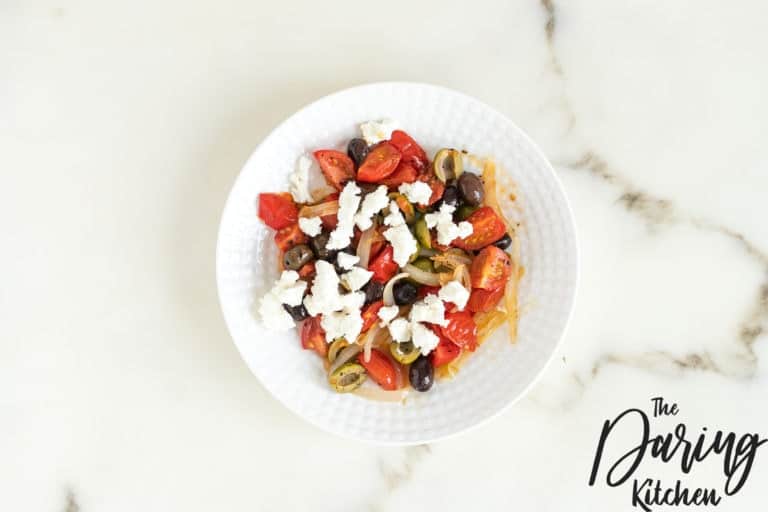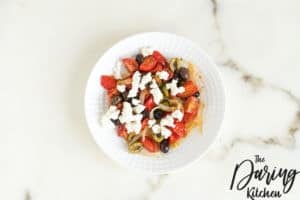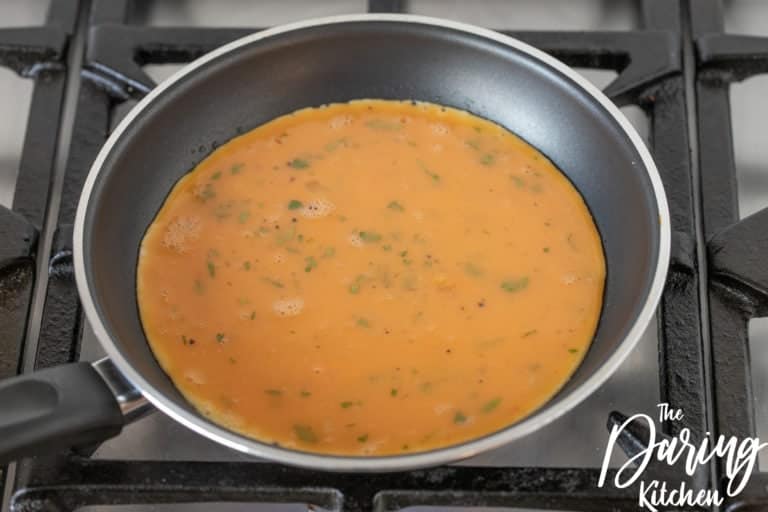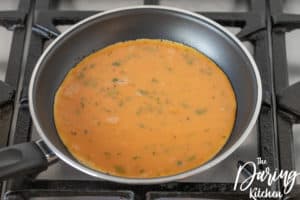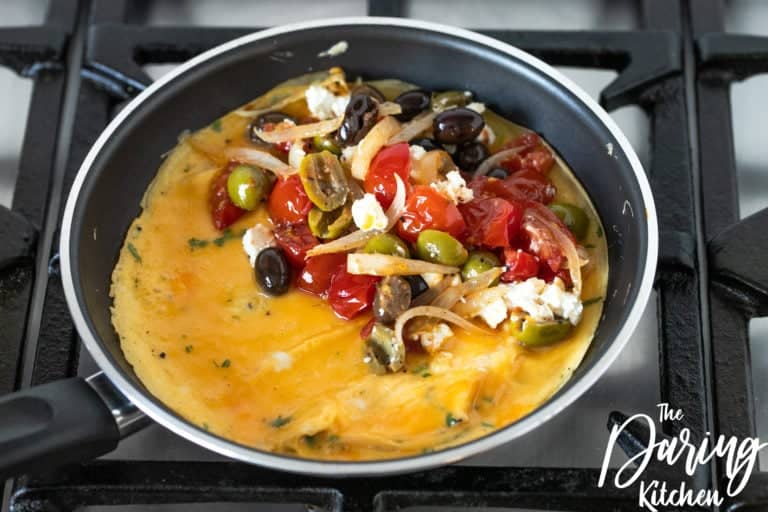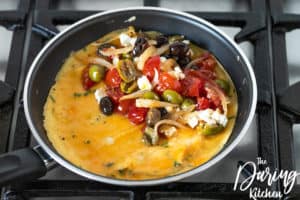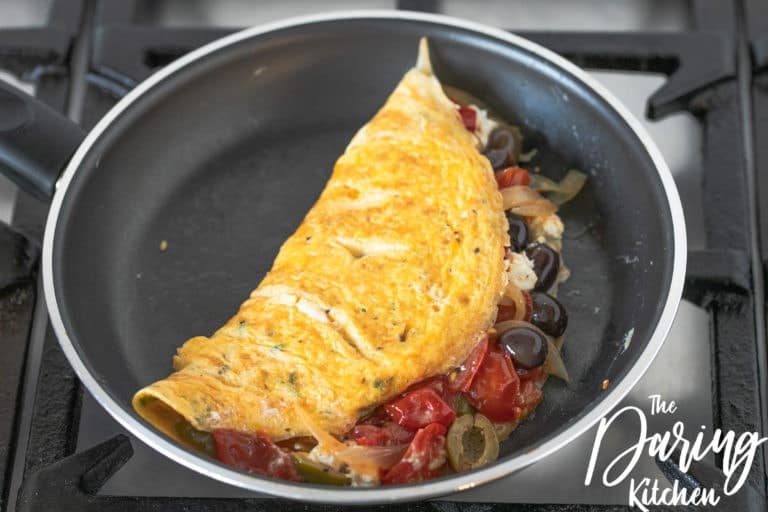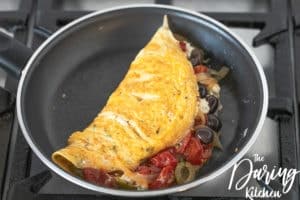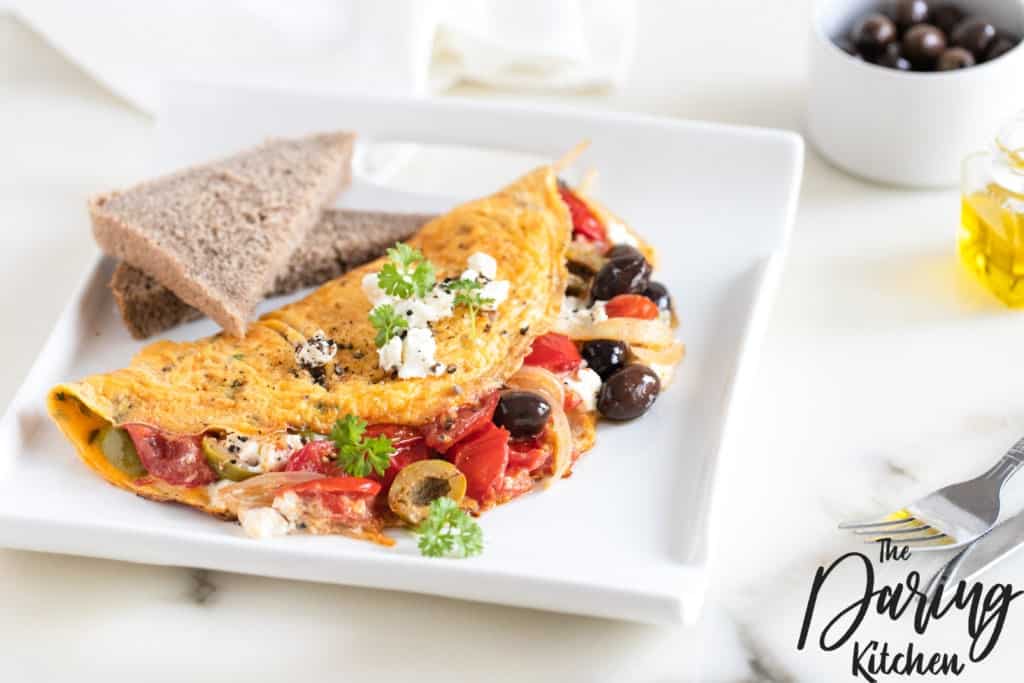 If you try this recipe, be sure to share your results below.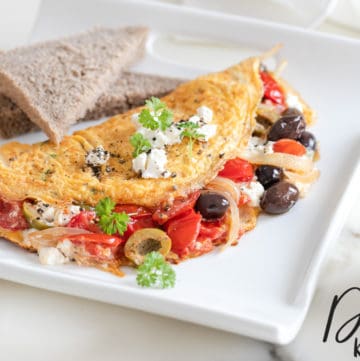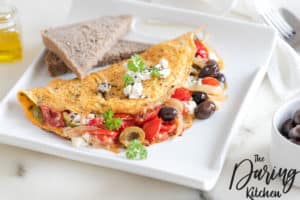 Ingredients
3

Large Eggs

or egg whites

1

tbsp

Heavy Cream

1

tbsp

Fresh Parsley

finely chopped

¼

cup

Onions

sliced thinly

½

cup

Cherry Tomatoes

quartered

¼

cup

Pickled Black Olives

Pitted

¼

cup

Feta Cheese

Crumbled

Salt and Pepper

to taste
Instructions
(stovetop)
Prepare your vegetables- chop parsley, slice onions, quarter tomatoes, and pit olives.

Add the eggs, heavy cream, parsley and salt and pepper to a bowl. Lightly whisk the eggs.

Place a non-stick pan on medium-high and add a spoonful of oil. Add the sliced onions and sauté for about a minute. Next, add the tomatoes and olives for another quick minute. If desired, season with salt and pepper.

Transfer the sautéed vegetables to a bowl, top with crumbled feta cheese, and mix briefly.

Use a paper towel to wipe down the pan you just used- be careful as it will be hot. Place it back on the burner and add more oil. Then, add the beaten eggs, swirling them around to cover the base of the pan.

Turn the heat to low and let the omelet set. Use a spatula to gently lift the edges of the omelet so that the uncooked mixture can flow underneath the cooked portions.

Once the egg is just about set, place the cooked vegetables on half of the omelet.

Carefully fold the plain egg side over the vegetables. Let it set for another minute, and then transfer it to a serving plate.

Serve warm with your favorite sides!
casserole
Quadruple your ingredients. Then, chop parsley, slice onions, quarter tomatoes, and pit olives.

Preheat the oven to 400F.

Place a large non-stick pan on medium-high and add a spoonful of oil. Add the sliced onions and sauté for about a minute. Next, add the tomatoes and olives for another quick minutes. If desired, season with salt and pepper.

Transfer the sautéed vegetables to the casserole dish and sprinkle crumbled feta on top. Mix well.

Pour the whisked egg mixture on top of vegetables. Mix them together and smooth out evenly with a spatula. Top with more crumbled feta.

Transfer the casserole dish to the oven and bake for 20-25 minutes until eggs are set in the middle.

Cut into portions and serve warm with your favorite sides! This dish can be kept in the fridge for 4-5 days.
Notes
To substitute dried parsley, use 1 tsp.
Nutrition
Calories:
419
kcal
|
Carbohydrates:
11
g
|
Protein:
24
g
|
Fat:
31
g
|
Saturated Fat:
14
g
|
Cholesterol:
545
mg
|
Sodium:
1149
mg
|
Potassium:
403
mg
|
Fiber:
2
g
|
Sugar:
6
g
|
Vitamin A:
1925
IU
|
Vitamin C:
25
mg
|
Calcium:
276
mg
|
Iron:
3
mg