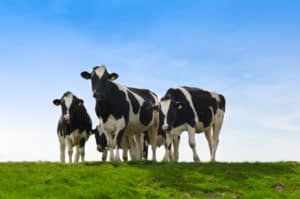 In our nation of tea-lovers, milk is a staple ingredient; we reach for it off the supermarket shelves without thinking more than 'how many pints do I need?' But do we ever give a thought to how the cows who provide this milk live? Most people probably think that cows are raised on lush green pastures. Unfortunately, the reality is quite different.
There is a growing trend around the world towards intensive systems for farm animals in recent years – in particular, vast sheds packed with dairy cows who are fed protein-heavy diets in order to boost production.
In the UK, many dairy farms allow cows some access to pasture for part of the day in the summer months. However, an increasing number operate all year round, meaning that the animals inside may never have seen, nor tasted, a blade of grass. This system, known as "zero grazing", now accounts for around 20% of dairy farms in the UK.
Cows farmed intensively like this are bred to produce unnaturally large amounts of milk which can make them more susceptible to health problems such as lameness, mastitis, poor body condition and infertility. To maintain these excessive yields of milk they have to be fed a concentrated diet and are often dosed with antibiotics.
In a quest to produce ever-more, whatever the cost, the end product has become virtually worthless. Since large milk processors pool milk from farms all over the country and are reluctant to segregate milk from grazing herds, they prefer to work with larger herds. Smaller, local dairies are going out of business at an alarming rate.
Industrial farming is not the solution to the dairy industry's problems. Traditional dairy farming, where cows are allowed outside to graze on pasture, is economically feasible, sustainable, and restores value to the end product. There is ample evidence that a cow's welfare is better served by being pasture-fed in the field, where they are naturally intended to be. Grazing herds are not inefficient: they're turning something we can't eat – grass – into something we can.
In 2010, Compassion in World Farming campaigned against what would have been the UK's first ever mega-dairy in Nocton, Lincolnshire. The proposed dairy would have housed 3,700 cows indoors in cubicles with only very limited time to graze outdoors, with plans to increase the number of cows if successful. Neil Darwent, a dairy farmer, was one of the leading voices alongside us speaking out against the plans. Neil launched the Free Range Dairy Network Community Interest Company in 2014 to 'promote the value of pasture based milk production on British dairy farms for the benefit of farmers, cows and consumers'.
Its vision is to offer farmers an alternative to the current 'volume rather than value' intensive dairy farming by promoting a fair price for farmers, giving cows the freedom to graze for six months (days and nights), and delivering healthy, affordable milk for consumers. In essence, Neil helps farmers doing the right thing for cows, to get their product on the shelves – and helps consumers tell the difference between free-range and 'standard' milk, simply by putting it on the label.
When animals are raised on pasture, amazing things can happen. Landscapes start coming back to life. There can be a cascade of positive benefit for farmers, consumers, the local environment and animal welfare. In Britain, nearly two-thirds of all farmland is pasture. With so much grass, don't we have the potential to become a champion of free-range, pasture-based farming?
Free-range eggs are now a well-established market. But consumers are being kept in the dark about dairy farming. Why is welfare an important distinction to make for hens, but less so for cows? It's time to put free-range dairy on the map, and embrace the power of pasture. For you and me, that means buying organic or 'pasture promise' milk where possible. And if they aren't available, make sure you tell your supermarkets that you want the choice!