Are you looking for a safe and durable ceramic nonstick pan for your cooking needs? The GreenPan line of pans is a great option to consider.
This brand positions itself as a safer option to the traditional nonstick pans that are made of PFOA plastic, which releases toxins when overheated.
Instead of the PFTE plastic nonstick coating, GreenPan uses Thermolon, a BPA-free, PFAS-free ceramic nonstick coating. They are also keen to employ environmentally safe manufacturing products and processes.
In this article, we take a detailed look at GreenPan Company, answer the top GreenPan FAQs, and review some of the best GreenPan pans.
Review of the Best 3 GreenPan Pans
1. Best Overall: GreenPan Lima Healthy 10" Ceramic Nonstick
The 10" GreenPan Lima Healthy Ceramic Nonstick pan stands out for its durable design and affordable price range. It is made of hard-anodized aluminum, which is light and distributes heat efficiently.
The pan is coated with the GreenPan Thermolon ceramic nonstick coating. It is oven and broiler safe and can withstand up to 650ºF.
Its steel slightly angled handle is riveted on the pan. The handle is contoured for a relaxed and comfortable grip. This pan can be used in all stoves except for induction cooktops. It should be hand-washed only. Comes with a wooden cooking stick.
Pros
Made of hard-anodized aluminum
Oven and broiler safe – can withstand high oven temperatures
Easy to clean
Scratch-resistant
Highly durable
Comfortable to hold the handle
Lightweight
Offers excellent heat distribution
Lifetime warranty
Cons
Not dishwasher safe
Not suitable for induction tops
Nonstick coatings scraps of easily
2. Best GreenPan Set: GreenPan Chatham Ceramic Nonstick 10PC Cookware Set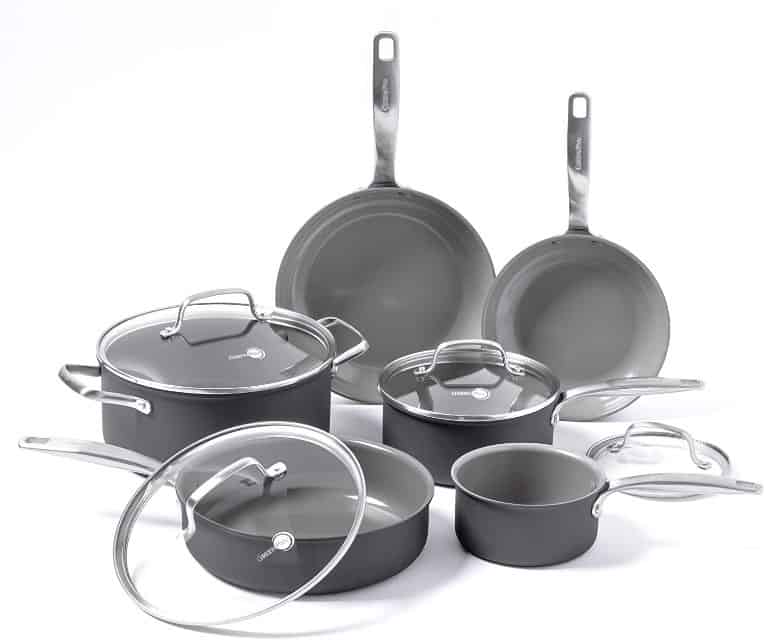 This 10-piece set constitutes the following:
Two saucepans with lids (1QT and 2QT)
A 5QT casserole with lid
Two frying pans (8" and 9")
3QT skillet with a lid
All the GreenPan Chatham Ceramic Nonstick Cookware Set pans have the 5th generation Thermolon coating that is diamond reinforced to make it absolutely scratch-resistant. As such, you can safely use metal utensils with this set as the pans won't get scratched.
The metallic parts are made with hard-anodized aluminum for durability, while the handles are made of matte stainless steel and are riveted to the pans. The handles are ergonomically designed for a comfortable and firm grip.
This set is oven, broiler, dishwasher safe. It can withstand very high temperatures up to 650ºF. The transparent glass lids are durable and offer a clear view of the food for easy monitoring as it cooks. The pans can be used on all stovetops except for induction tops.
Pros
5th generation Diamond reinforced nonstick Thermolon coating
Scratch-resistant
Metal utensils safe
Oven safe (up to 450ºF)
Broiler safe (up to 600ºF)
Dishwasher safe
Durable clear lids
Ergonomic handles
Can be used on all stovetops
Lifetime warranty
Cons
Quite Pricey
Not suitable for induction cooktops
3. Best Budget: GreenPan Mini Healthy Ceramic Nonstick Yellow Pan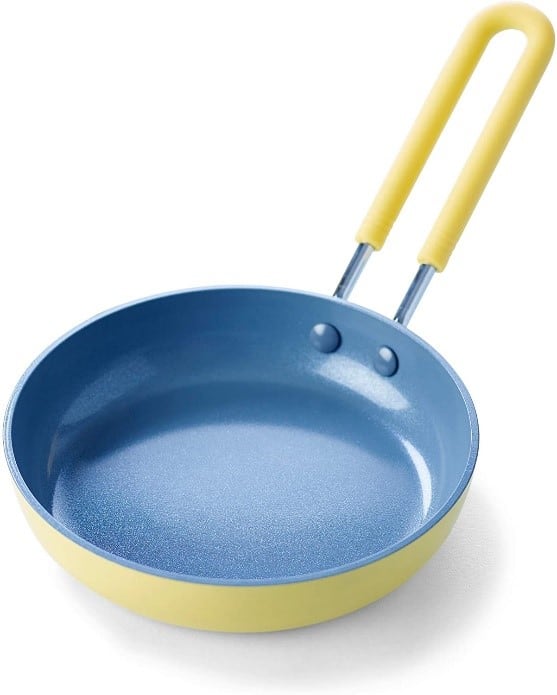 This 5-inch mini pan has all the outstanding characteristics of GreenPan pans. It is blue on the inside with a Thermolon nonstick coating with a yellow exterior and handle.
Its silicone handle is angled for easy handling and flipping. It can be used for various recipes, including cheeseburgers, pancakes, and eggs, among others. It offers fantastic heat distribution. It is oven safe (up to 350ºF) and dishwasher safe.
Pros
Affordable
Offers excellent heat distribution
Silicone handle for a firm grip
Angled handle for easy flipping
Can be used for a wide range of recipes
Oven safe
Dishwasher safe
Has a lifetime warranty
Cons
Made of non-anodized aluminum
What is the GreenPan Company?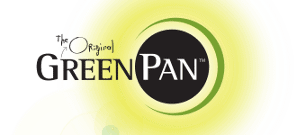 GreenPan has in the last decade established itself as a reputable ceramic, nonstick pans brand across the world. Although it is a Belgian brand, it has grown to be loved across the world.
All GreenPan pans are manufactured in China, and they are PFAS-free, BPA-free, lead, and cadmium free. They are also easy to use and clean.
GreenPan offers a lifetime warranty on their pans and a 2-year warranty on the nonstick coating to back up their products. They have an excellent reputation when it comes to honoring their warranty.
The high GreenPan ratings and numerous positive reviews indicate that GreenPan products are good as they are easy to use, easy to clean, distribute heat evenly and efficiently, and durable.
What Is Unique About GreenPan Pans?
GreenPan pans are beautifully designed while being highly functional. They incorporate the following technology in their design:
A ceramic nonstick coating made of Thermolon
A scratch guard that is scratch resistant and reinforces the durability of the pans
Anodized exterior for maximum strength and durability
Magneto Induction Technology at the base for energy-saving performance on all heat sources
Oven safe handles
Heavy-gauge construction for quick and even heating
Is The GreenPan Company Really Green?
As their brand name suggests, GreenPan aims to produce safe ceramic nonstick products using environmentally friendly approaches. The following are some measures that make the company green:
They use recycled materials whenever possible in making their products
Their manufacturing facilities are solar-powered and utilize in-house filtered wastewater
The factory is ISO certified for meeting Green manufacturing standards.
Production of Thermolon produces 60% less carbon than the production process for traditional nonstick coatings
The Thermolon nonstick coating does not produce toxic fumes even when overheated
All their products are non PFOA free. PFOA is carcinogenic and contaminates soil and groundwater
With that said, there have been concerns regarding the nanoparticles used in the coating process being carcinogenic. Although GreenPan released a paper on their cookware's safety, they did not address the nanoparticles' issue.
Also, there have been questions around whether Thermolon coating's production actually has less carbon blueprint than that of PTFE nonstick coating. Besides, the GreenPan cookware is not recyclable.
The Range of the GreenPan Line of Cookware
GreenPan offers a wide range of pans, either as individual products or in sets. Whether you are looking for a high-end cooking pan or an affordable option, you will indeed find something within the GreenPan line.
The most expensive line is branded "Focus," while the least expensive ones are under the "Rio" product line.
Most of the pans are made of anodized aluminum, while a few are made of clad steel, and most budget option GreenPan pans are made of non-anodized aluminum.
Handle design, color, and angling differ for different pans. For instance, some handles are made of stainless steel while others are wooden, yet others are made of silicone. Also, some handles are plain while others are contoured.
Another difference in the various GreenPan pans is the generation of Thermolon. Over the years, GreenPan endeavors to improve the quality of its ceramic nonstick coating.
The latest 5th generation Thermolon is reinforced with diamond for enhanced durability. GreenPan pans fall under the following categories:
Their handles are angled for easy flipping. The GreenPan range of frying pans can be used for a wide range of recipes, from pancakes to pork chops.
Grill pans: they have a grill surface that can be used for grilling a variety of foods, including vegetables and meats.
GreenPan woks are deep with an angled handle. They can be used for stir-frying, smoking, roasting, and steaming.
Sauté pans: they are deep to offer ample space for one-meal recipes. They also come with a lid.
Deeper than the woks and sauté pans, the GreenPan saucepans can be used for cooking anything, including rice, poaching eggs, and of course, sauces.
They are deep with two handles and a lid. They can be used for stews, soups, stocks, casserole recipes, and pasta.
Roasting pans: they come with a detachable grill rack.
How To Choose Greenpan Pans
Here are some factors to consider when determining which GreenPan pan is best for you:
The purpose for which you will be using the pan. Do you need a pan to make fried eggs, make a sauce, or make stock? The purpose for which you will be using the pan will determine the type of pan to buy.
Set vs. single pans. Consider whether you need a specific pan or a set to meet your cooking needs. Anodized aluminum pans are more durable but pricier, while un-anodized pans are cheaper but wear out fast.
Whether or not you will be using the pan in the oven. If that is the case, go for an oven-safe pan.
Your budget. GreenPan pans are available at different price points. Choose one or a set that is within your budget.
How to Care for Your GreenPan Pans
Below are some tips recommended by the manufacturer for using and caring for your GreenPan pans to ensure durability.
Use a bit of oil or butter on the pan. Avoid greasing your pan with olive oil as it carbonizes quickly.
Use wooden, nylon, or silicone utensils and cooking sticks on the GreenPan pans. Metal tends to scratch the nonstick coating. Do not cut food with a metallic knife while it is still on the pan.
Do not leave an empty pan on the banner.
If the pan is hot, let it cool down completely before dipping it in water for cleaning; otherwise, you may experience thermal shock. Use warm water, gentle detergent, and a soft sponge or cloth to clean the pan. Then, rinse and dry it.
Store the pans in a cool, dry place. If you have a set, put a protective sheet between the pots and pans to avoid banging and scratching.
Conclusion
We can safely say that GreenPan is a reputable brand to consider if you are shopping for cookware. It is most reputed for its industry-revolutionizing Thermolon ceramic nonstick coating technology.
With a wide range of products with different specifications at different prices, you will find a product that meets your needs within your budget. When determining which GreenPan to buy, consider your cooking needs and budget.
Once you find the right pan, use and maintain it as per the manufacturer's guidelines, and it will serve you for a long time. Our pick for the best GreenPan pan is the 10" GreenPan Lima Healthy Ceramic Nonstick pan. It is durable, lightweight, and performs exemplary.