Summer backyard barbeques with friends are one of our favorite activities, but we'd rather skip out on the grill cleaning afterward. Even if you have the best grill brush head, getting the grates shining can take time and effort. Yes, it happens to all types of barbeques, even to the best infrared grills! If you want to avoid this messy problem, you're better off using the best grill cleaner product out there.
Both grease and rust don't stand a chance against the best grill cleaners. Using them is incredibly easy. Apply some on the grill grates, let it soak for a bit, and brush away. The built-up grime will easily wash away. Next time you host a BBQ bash, don't overlook these products—there's nothing better than a fired-up clean grill.
As you probably have guessed, not all grill cleaner products are created equal. Some do wonders for your grill, while others leave much to be desired. To help you find the best grill cleaner for you, we've curated a list with the five best grill cleaners on the market. We've also included a short but definitive buying guide just for you.
1. Best Overall Pick: Goo Gone Grill Cleaner Spray for Grates
If we had to pick just one item, we'd go with the Goo Gone Grill Cleaning spray. It's incredibly effective at cleaning up all kinds of grates. It will easily remove anything from rust to caked on, burned bits of food.
This 24-ounce Goo Gone spray dispenser is one of the easiest grill cleaners to use. It skirts out the cleaning gel, which is supposed to sit on the grates for a few minutes. Since you can just press the lever, there's no need of getting your hands dirty.
Once you've sprayed the gel all over the dirty surfaces, it will lose its white color. When it looks as if it's been completely absorbed, it's time to get out the grill brush and scrub.
Luckily, you don't have to brush very hard. A few light brushes all over the grates will do wonders. When you're done, simply wipe down the surface using a microfiber cloth. That's all it takes for the grates to look brand new.
In a way, this is a multi-purpose BBQ grill cleaner. You can use it on most kitchen and cooking surfaces, since it is non-toxic and of food-grade quality. Got a grimy oven tray needing a revamp? You can use this gel to clean it up. Just make sure to stay away from faux stainless steel and aluminum surfaces!
2. Budget-Friendly Grill Cleaner: Easy-Off Professional Oven and Grill Cleaner 

Another great pick is this can of Easy-Off Cleaning Spray. It does an awesome job at cleaning greasy and rusted surfaces in record time. And the best part? It's one of the most affordable bottles of grill cleaner out there. 
Luckily, you don't have to compromise quality for a budget-friendly cleaning solution with this spray. It is one of the most beloved grate and grill cleaners out there—for good reason. This Easy-Off spray starts acting in just three minutes.
Using it couldn't be easier. Spray the grill cleaner liquid all over the surface you want to use it on and let it sit for only five minutes. Then, you can wipe the grease, grime, rust, and burnt food easily with a paper towel or a cloth. For dirtier surfaces, you may need to lightly brush them with a steel grill brush. But you won't find it very difficult, as the spray does an amazing job at forcing the dirt off the grates.
All the ingredients that go into this spray are harmless to your health. However, it does have a strong chemical smell. You're likely better off cleaning your grill or oven hours before cooking—and letting it air out in a well-ventilated area.
On top of all that, you can use it in a multitude of ways. It's not just recommended for grills. You could apply it to dirty microwaves, ovens, and broilers.
3. Best Heavy-Duty Pick: Carbona 2-in-1 Oven and Grill Cleaner

When you need a deeper clean, the Carbona 2-in-1 Cleaner is the grill cleaner to turn to. It is a slow-acting cleaning gel that gets all the credit for cleaning even the dirtiest and most neglected wire racks and grills.
Before applying the product, you'll have to scrub off any burnt food and rust with a strong wire brush. Then, place the dirty grates in a large plastic bag. Pour in the entire bottle of cleaner, make sure the entire surface is coated in the gel, and tightly close the bag.
Afterward, it's a waiting game. You'll want to leave the grill cleaner liquid to act for eight hours, or overnight. It's worth the wait: the gel will force every bit of dirt stuck to the grill out. Once you've left it alone for long enough, simply rinse it with warm water.
This grill cleaner is perfect for stainless steel grates and oven racks. Despite it taking so long, it gets the job done eventually—even better than many other similar products on the market.
Perhaps the best thing about this grill cleaner is how hands-off it is. The only physical effort you'll have to put in will be to scrub some of the grime off the grates. But other than that, the product pretty much does everything by itself. The greater the mess, the more effective and convenient it is!
4. Ideal for Stainless Steel Grates: Parker & Bailey Cleaning Products for BBQ Grill Cleaner

The Parker & Baily spray is probably the best specialized stainless steel grill cleaner out there. It's not only effective but also incredibly easy to use. On top of all that, it's also versatile and affordable. You can't wish for anything better.
For starters, this is a great grill cleaner to use on stainless steel. It's not at all harsh on these surfaces and keeps them pristine. Other sprays tend to eat away at the shiny finish, leaving them rough-looking. 
Yet, the Parker & Baily tackles grease and grime aggressively. Spray it all over the dirty grates, let it sit for up to ten minutes, and then wipe it down with a cleaning cloth. The grates will look brand-new once more.
Because the formula is so gentle on steel and other shiny surfaces, you can use it on much more than just grates. For example, you could use it to clean the inside of your oven or microwave. Additionally, you could also use it to wipe down dirty kitchen tiles and countertops, so they can be sparkling clean, just like new.
Another amazing thing about this formula is that it doesn't give off an unpleasant chemical smell. Compared to other BBQ grill cleaner products, it's surprisingly mild!
5. Best Grill Cleaner to Tackle Grease: Citrusafe Grill Cleaning Spray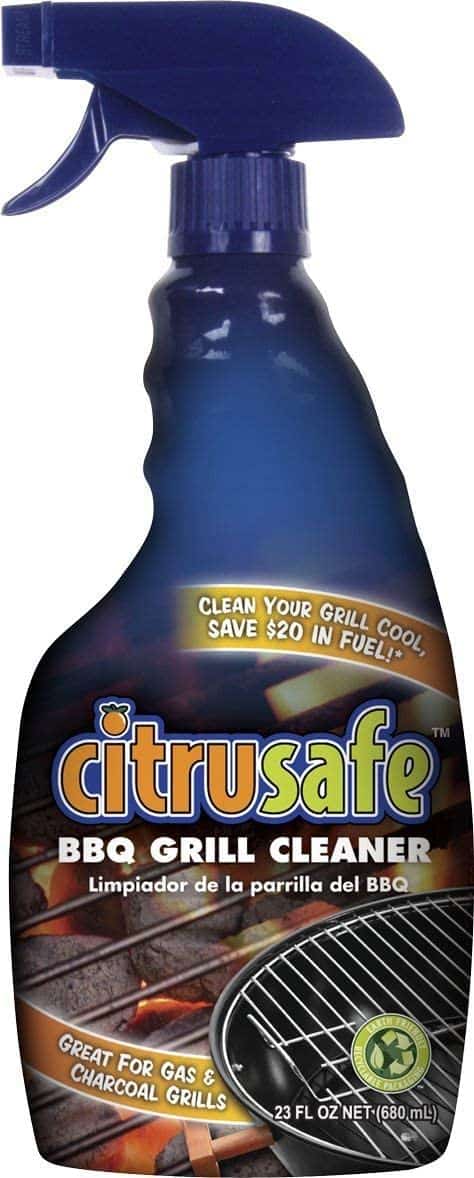 We've all seen greasy BBQ grill grates: they aren't pretty. Who would want to eat anything cooked on such a gross surface? If your grill is in a shameful state, it's time to whip out the Citrusafe Grill Cleaning Spray.
This grill cleaner tackles grease build-ups like no other. While it's not the best product for rusted grates, it does an outstanding job with burned food and fat residue.
This easy-to-use product is incredibly convenient. It's as easy as counting up to sixty. Literally. All you have to do is spray it on the dirty grates, leave it to sit for a minute, and then wipe the surface down with a paper towel, sponge, or cloth. The grease will come out easily, even if it's been on the grill for a while.
One aspect that sets this grill cleaner apart from the competition is its ingredients. It boasts all the perks of a plant-based grill cleaner (being non-toxic, kind on the environment, non-corrosive, and non-flammable) while being as aggressive and effective as a completely synthetic formula.
You don't need to fear the smell of this grill cleaner formula. Since it is a citrus-based spray, it gives off a pleasant lemony and orangey odor!
Why Clean Dirty Grill Grates?
Anyone who uses their barbeque regularly will know just how messy it can get. No, those burned bits don't magically add more flavor. In fact, they can ruin a perfectly good meal. We want the grime away from our delicious grilled chicken skewers, thank you!
High temperatures mixed with fat and other juices from the food you're cooking take their toll on your BBQ grill grates. Add to that the fact that your barbeque is exposed to the elements and you have a recipe for a mess.
As much as no one likes looking at a dirty barbeque, cleaning your grill isn't just for the looks. It's an important part of keeping your appliance running properly—just as important as keeping your stainless steel cookware clean, for example. In fact, skipping out on it could have devastating effects, both on your health and on your grill.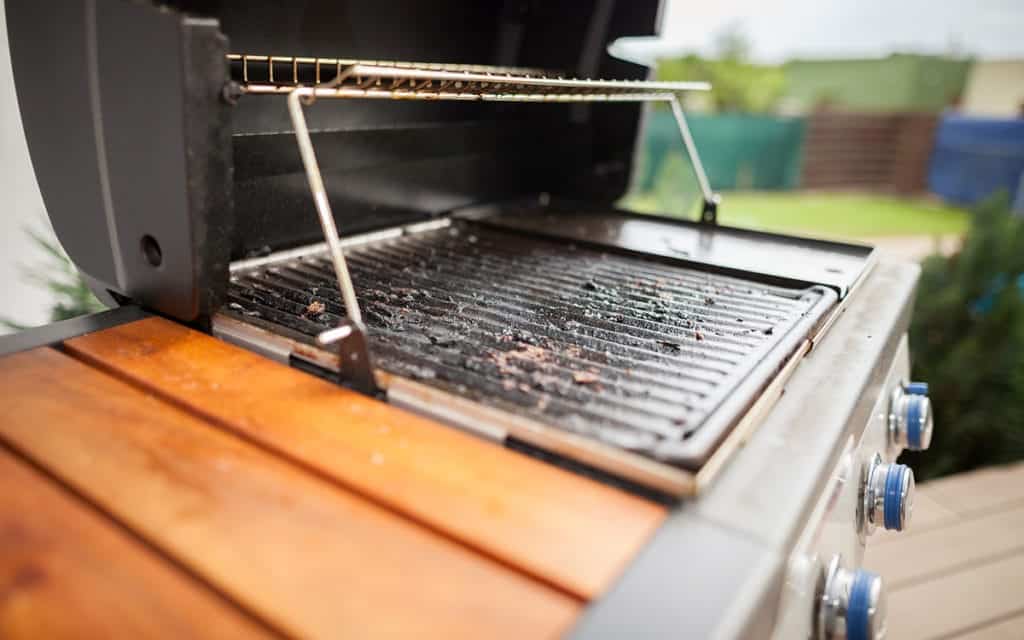 Avoiding Fires
For starters, a dirty grill can cause a fire. When grease that's stuck on the grill grate catches fire, it can be hard to put it out. Ever heard of grease flare-ups? Clean your grill to prevent dangerous accidents and make your barbeque last longer.
For Your Health
Every time you grill over dirty grates you are contaminating your food with burned bits from other meals and rust. Eating that food once in a while won't do you much harm. However, if you ingest rust, grease, and grime enough, you could get sick from it. Thus, if you're planning on serving barbequed foods to friends and family, you need to make sure you're keeping them safe. Clean your grates and that's that.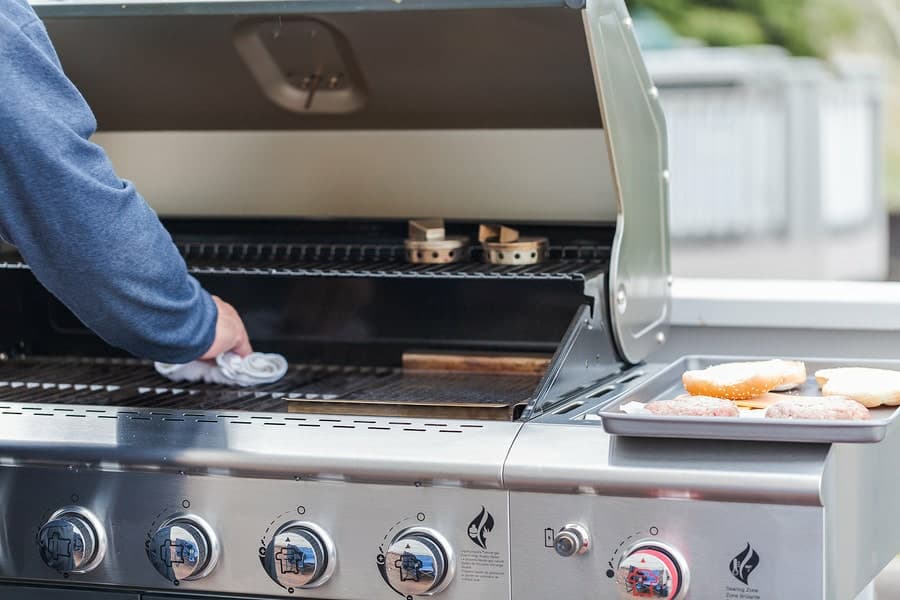 What's the Best Grill Cleaner?: Ultimate Buying Guide
Didn't find the best grill cleaner for your barbeque on this list? Don't fret, there are many other products you can try out on your own. The hard part could be choosing just one!
To help you narrow down the search, keep these aspects in mind. The best grill cleaners will check off all these boxes. That's how you know you've found the perfect grill cleaner to use.
Quality Ingredients
Grill cleaners used to have toxic and harsh chemicals in them. Now we know that those ingredients aren't good for our health or safe to use on cooking appliances. The best grill cleaners know this and only use food-safe ingredients in their make-up.
Look for a bottle of grill grate cleaner that is USDA approved. This will make sure that all ingredients are non-toxic and safe to use. There are even products out there using all-natural ingredients, which are better for the environment.
Moreover, you should also check if the grill cleaner you're thinking of buying is non-flammable. This will further prevent your barbeque from releasing fumes once you turn it on after it's been cleaned.
Easy to Use
Remember how we said not all grill cleaner products are created equal? They really aren't—and you can tell from how they're supposed to be used.
Some grill grate cleaner formulas will need to soak for some minutes while others need hours to get the job done. On top of that, some grill cleaners are so effective that you just need to wipe down your dirty grates with a microfiber cloth to get them squeaky clean. Others need you to be more aggressive and brush the grates with a heavy-duty brush head.
It's up to you to choose what approach you'd prefer. Yet, the easier a grill cleaner bottle is to use, the more likely you'll keep with it and use it all up.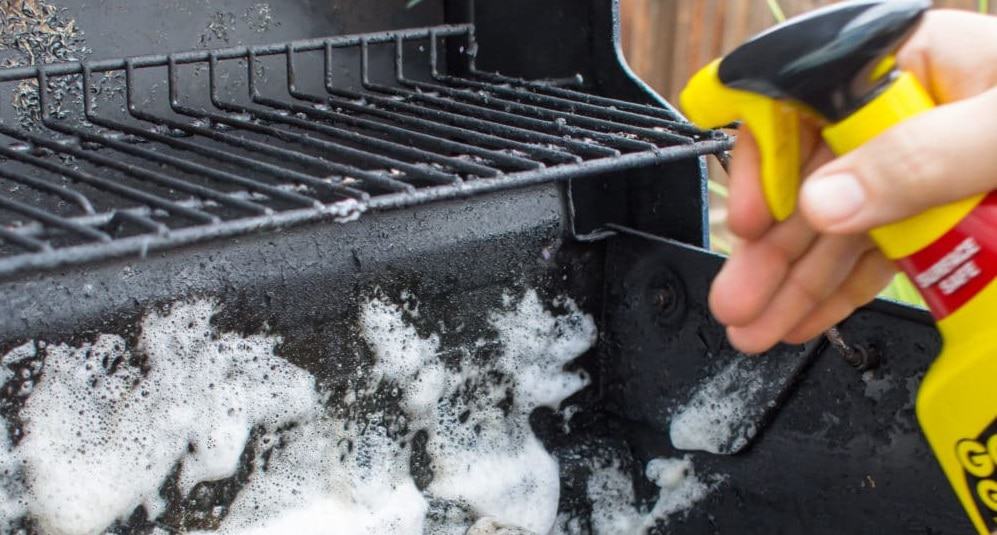 Toughness Level
You need a grill cleaner that will take care of your grease, grime, and rust problem effectively. Too-gentle formulas just won't cut it, no matter how many bottles you use. We recommend picking a heavy-duty and well-reviewed cleaning product to get the most out of your investment.
Best Grill Cleaner Smell
There are no right or wrong smells when it comes to grill cleaners. Any product will clean your grill, regardless of how they smell. However, this could be a deal-breaker for some people.
If you tend to get bothered by strong smells, you would be better off picking a non-scented grill cleaner. Look for customer reviews to give you a clue into what each product smells like.
Versatility
How often will you be using your barbeque? If you don't get it fired up very often, it's a good idea to pick a cleaning product that you can use for other tasks. For instance, some grill cleaners are suitable for wiping down stainless steel exteriors (such as a fridge or oven door exterior and interior).
But keep in mind that not all products work on all types of surfaces! If you're not careful, you could end up permanently damaging your kitchen appliances. Most people think of stainless steel as a very low-maintenance material, but it can get scratched and rough-looking if you use chlorinated formulas on it.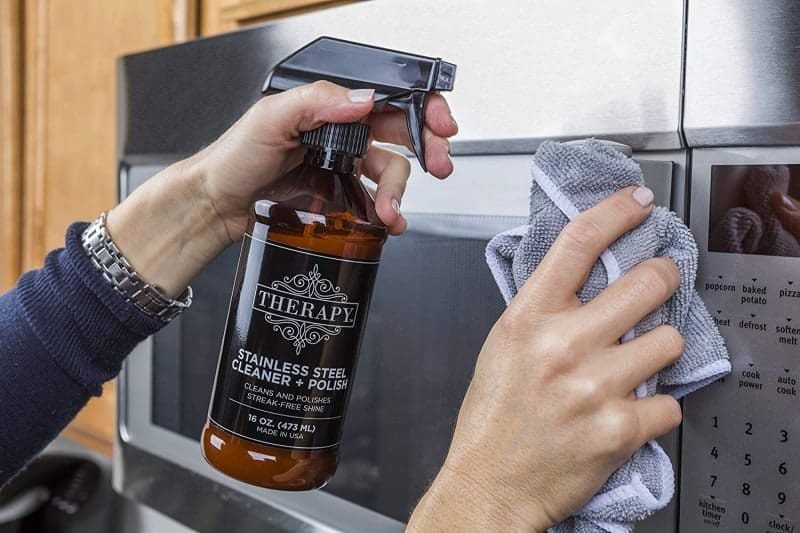 Quick- or Slow-Acting?
Look into how long each grill cleaner product you're considering buying takes to start acting. Heavy-duty formulas tend to need less time, while gentler formulas need to sit for a few hours before they start removing the rust and grease from the grates.
When you're looking for a quick clean-up session, the quick-acting products are best. But if you have the time to wait, you can pick whatever grill cleaner you like best, based on its other features and highlights.