This grilled zucchini salad is one of my favorite zucchini recipes. That's because this salad is one of the freshest things you can eat this summer. Plus, it's veggie-centric, making it vegan, gluten free, and dairy free!
The Best Zucchini Salad Recipe
When it comes to eating in the summer, I love keeping things fresh. Where I live, it seems the temperatures just keep on getting hotter. So, why not counteract the warmth with a perfectly refreshing salad?
So, what veggies do you start with? Well, thankfully zucchini is bountiful in the summer. This squash can be enjoyed raw or cooked. And, zucchini cooks fast, making it an easy and filling addition to any salad.
While prepping for a picnic with friends, I decided to get creative. Rather than make my usual greek salad with crumbled feta cheese, why not make a delicious shaved zucchini salad? I had tons of zucchini from the farmers market to work with so why not?! The freshest ingredients the merrier.
With a vegetable peeler, I shaved thick ribbons of zucchini. Then, I grill them quickly to get a nice char before tossing the zucchini with a mixture of lemon juice, garlic, and olive oil. You can use a grill or even just a pan, as long as the zucchini softens and achieve a nice deep brown color!
The result? The perfect salad! You can also make this a raw zucchini salad by slicing the zucchini extra thin so they are much easier to eat!
Whatever you choose, zucchini salad can be enjoyed anytime anywhere. Make it for a work lunch or for your next big outdoor summer party. Whatever you choose, no one will be disappointed!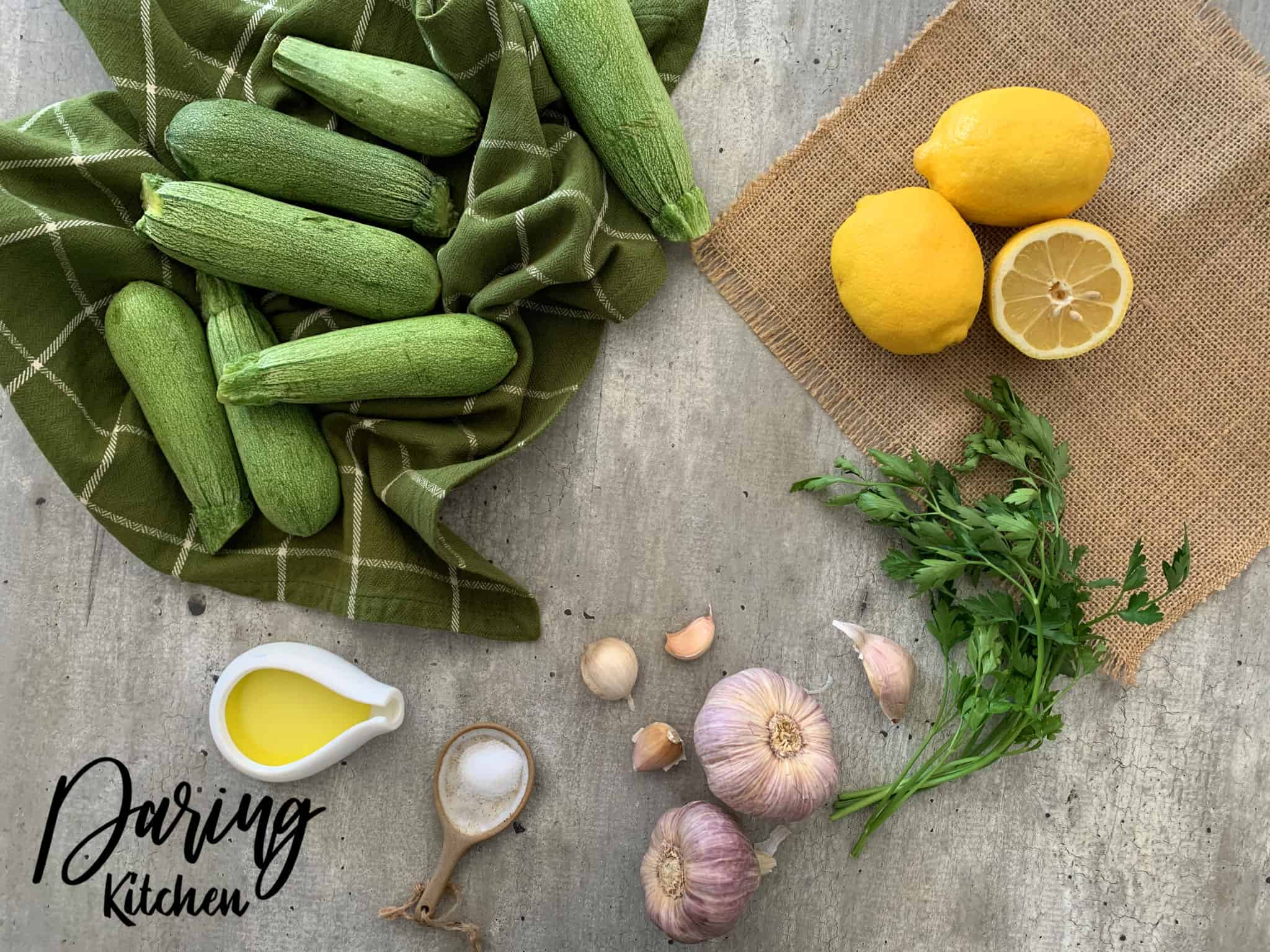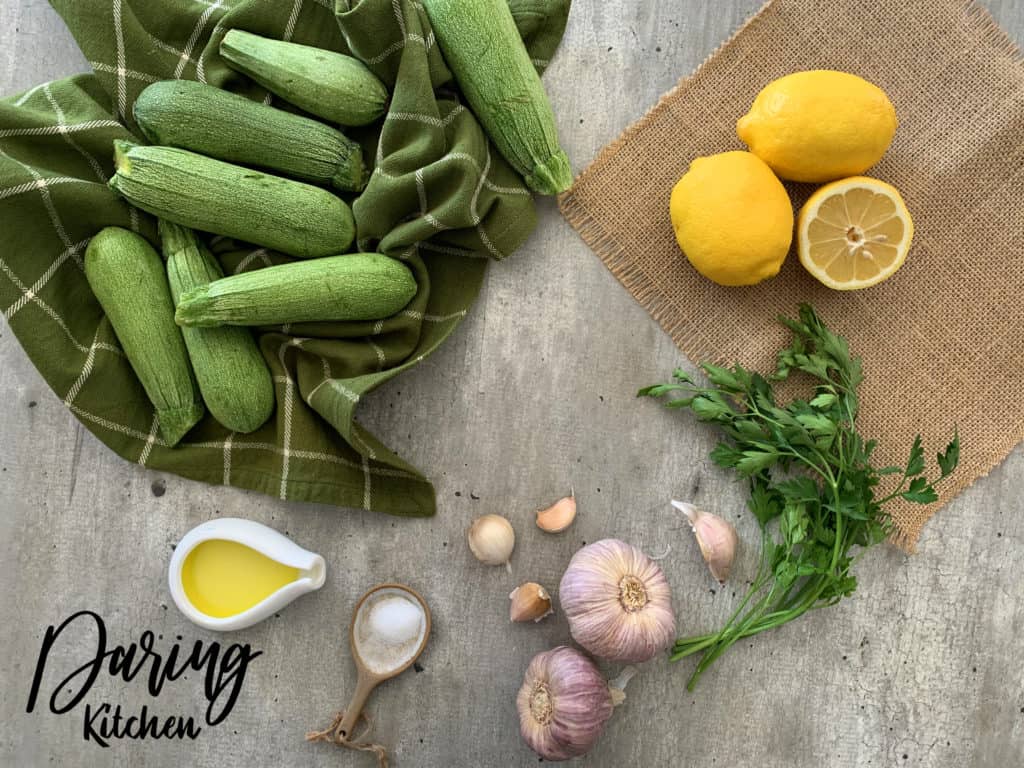 What Is in Zucchini Salad?
This zucchini salad's ingredients are beyond simple. There are 5 ingredients (plus the salt to taste!) All of them are easy to pick up at any supermarket. Or, you may have them all already in your kitchen!
Here are the ingredients in zucchini salad:
Zucchini - You can use standard green zucchini squash or different varieties. Yellow squash also works wonderfully too!
Garlic - this is essential to add a flavorful kick to the zucchini.
Lemon juice - This gives the salad the freshness that makes it so irresistible. You can also use lime, but I feel lemon gives this salad just the right flavor.
Olive oil - Good extra virgin olive oil makes this whole dish. It is more robust in flavor than standard olive oil. You can also use avocado oil if you like. You can also add in some white wine vinegar if you'd like to make a lemon vinaigrette.
Parsley - Fresh herbs add a beautiful flavor to this salad. I like parsley, as it sticks to my mildly Mediterranean theme. You can also use fresh basil, fresh mint, or any other fresh herbs you love.
Salt - a little salad boosts the flavor of this dish. It also extracts a bit of liquid from the zucchini, making them a little easier to eat.
Just fresh ingredients -that's it. Personally, I sometimes add fresh feta cheese or parmesan cheese on top. I may even toss in some pine nuts or cherry tomatoes for more flavor. This just taste is so good with the salad!
As for the kitchen appliances, the only thing you really need is a vegetable peeler or mandolin. You may cut the zucchini by hand. But, to achieve perfectly thin slices, a peeler or mandolin makes it a million times easier.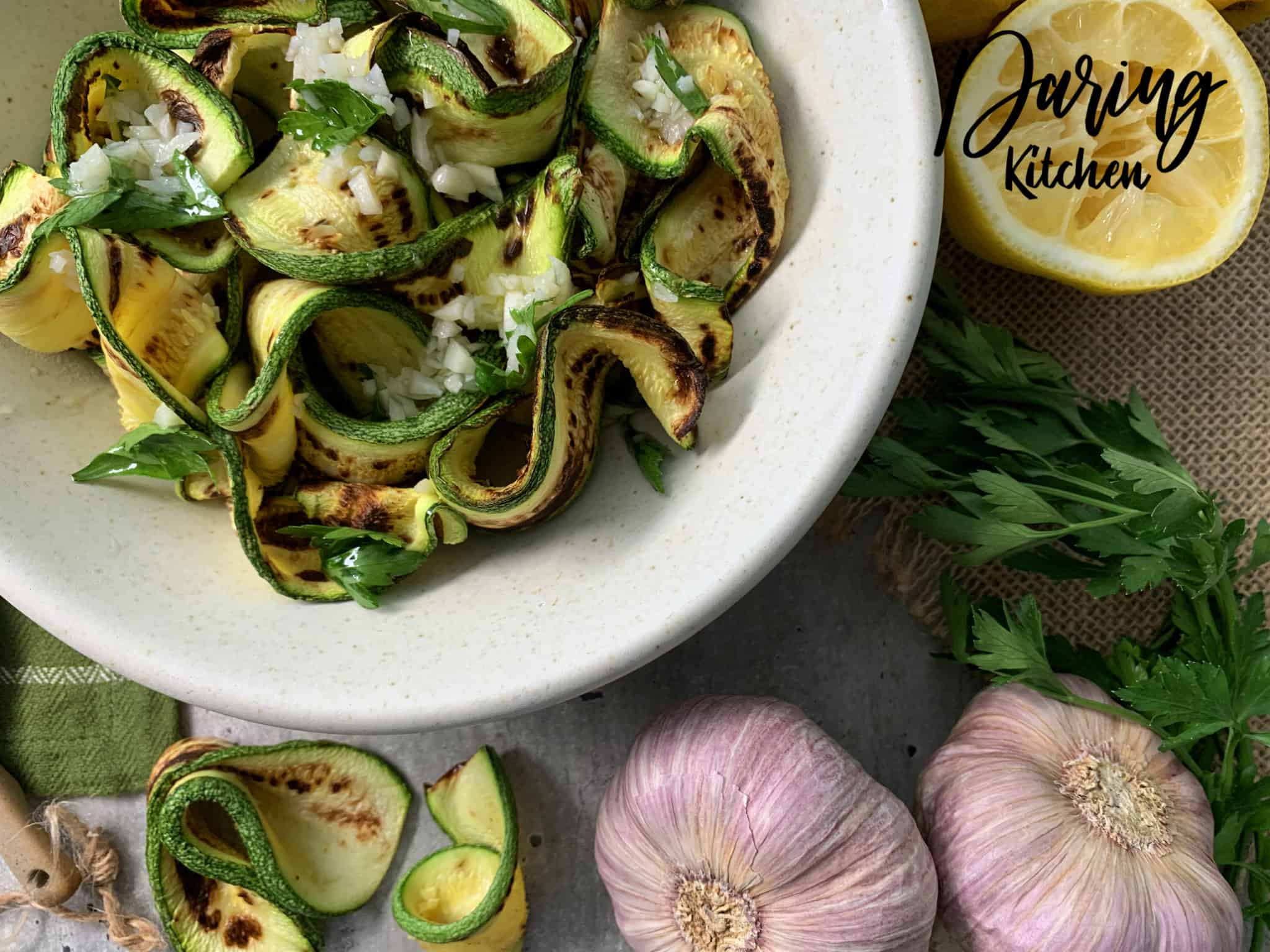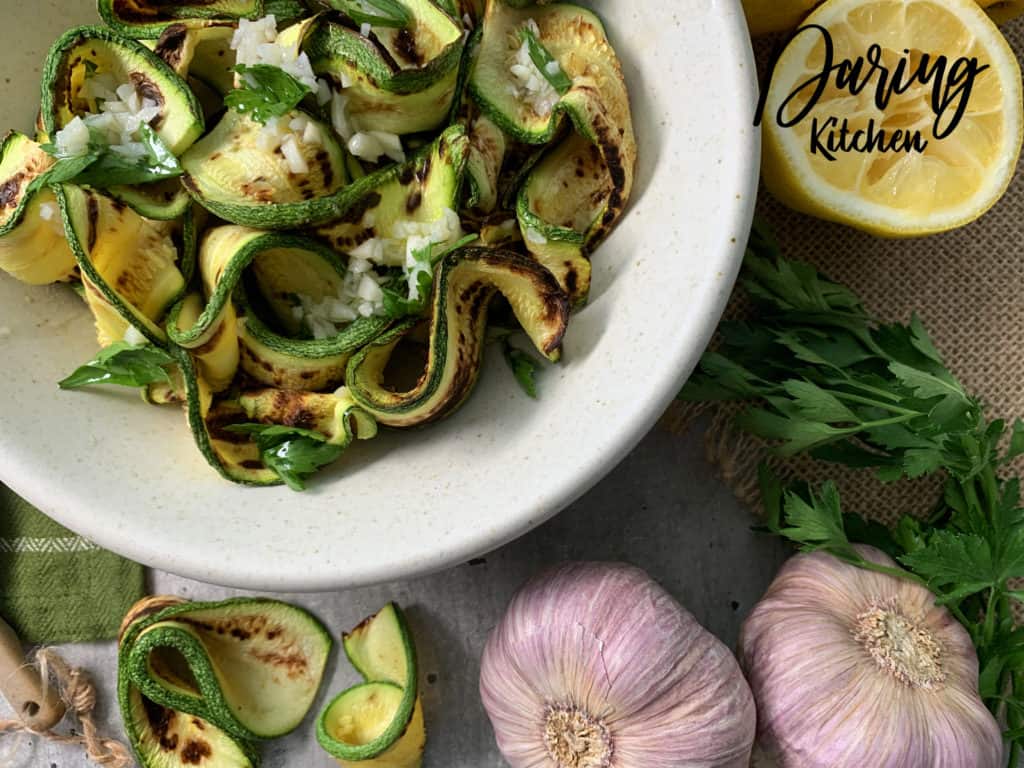 How to Make Zucchini Salad
When it comes to making this zucchini salad, the time is really all in the prep! Once you've gotten that down, your salad will be ready in just minutes.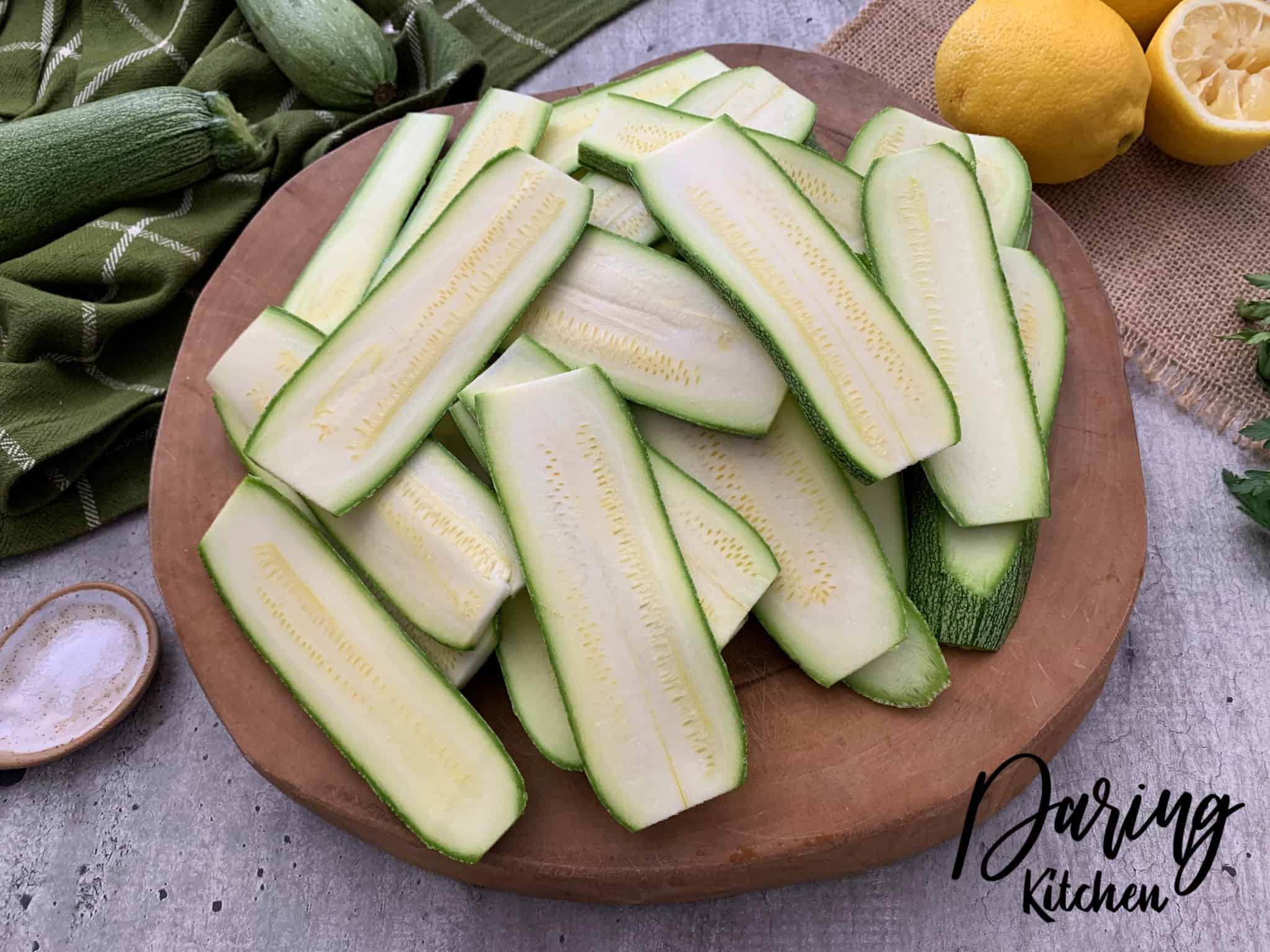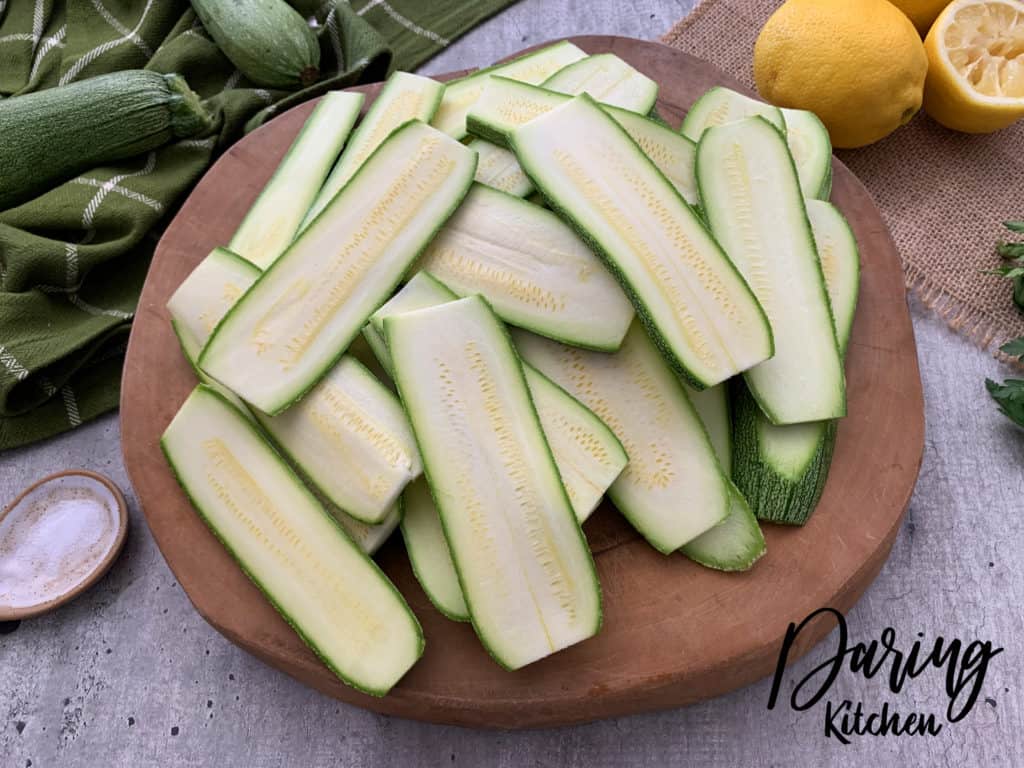 To make your salad, you need to slice your zucchini. Using a mandolin or vegetable peeler is the fastest and easiest way. You will want to shave your zucchini into ribbon-like slices. Not too thin, since you are going to grill them. If using a knife, cut your zucchini length-wise. Go slowly, to ensure you keep each slice the same size.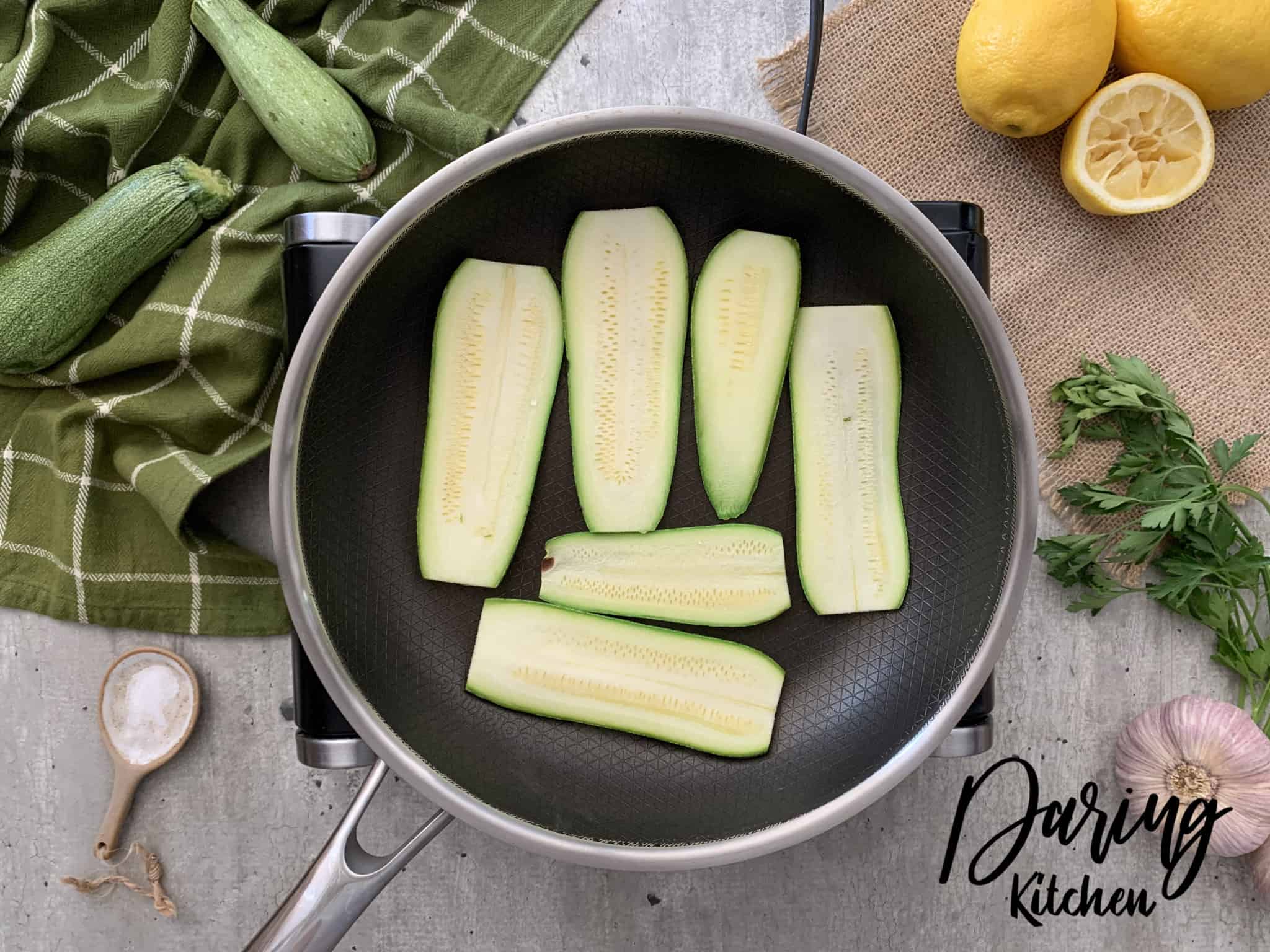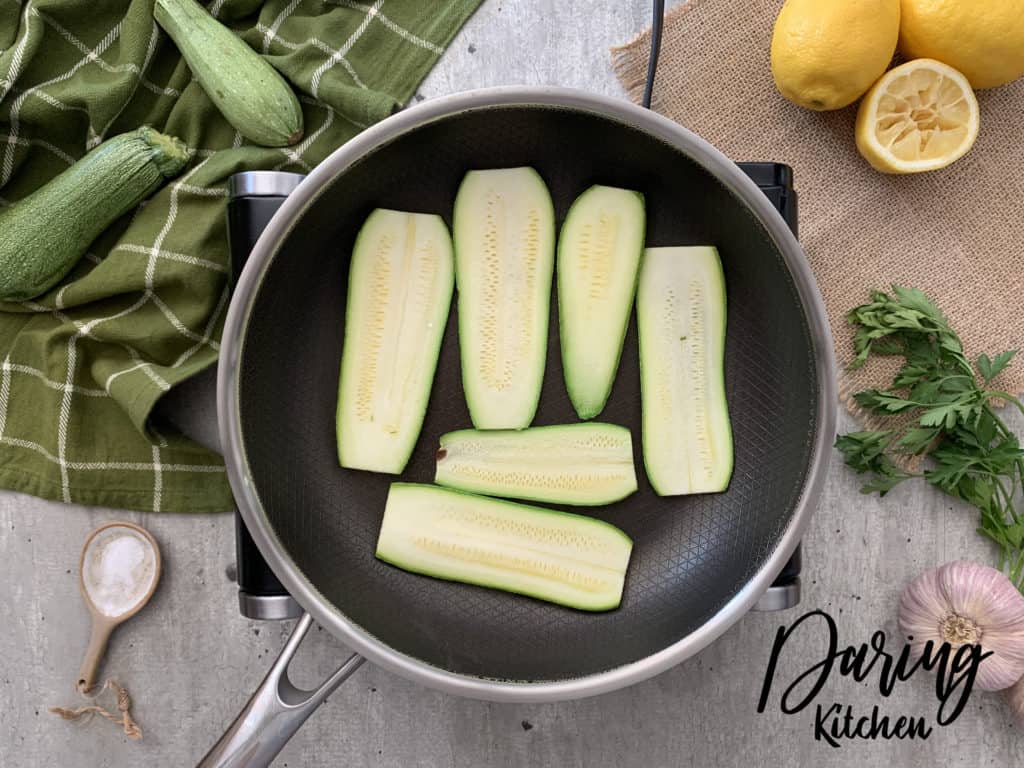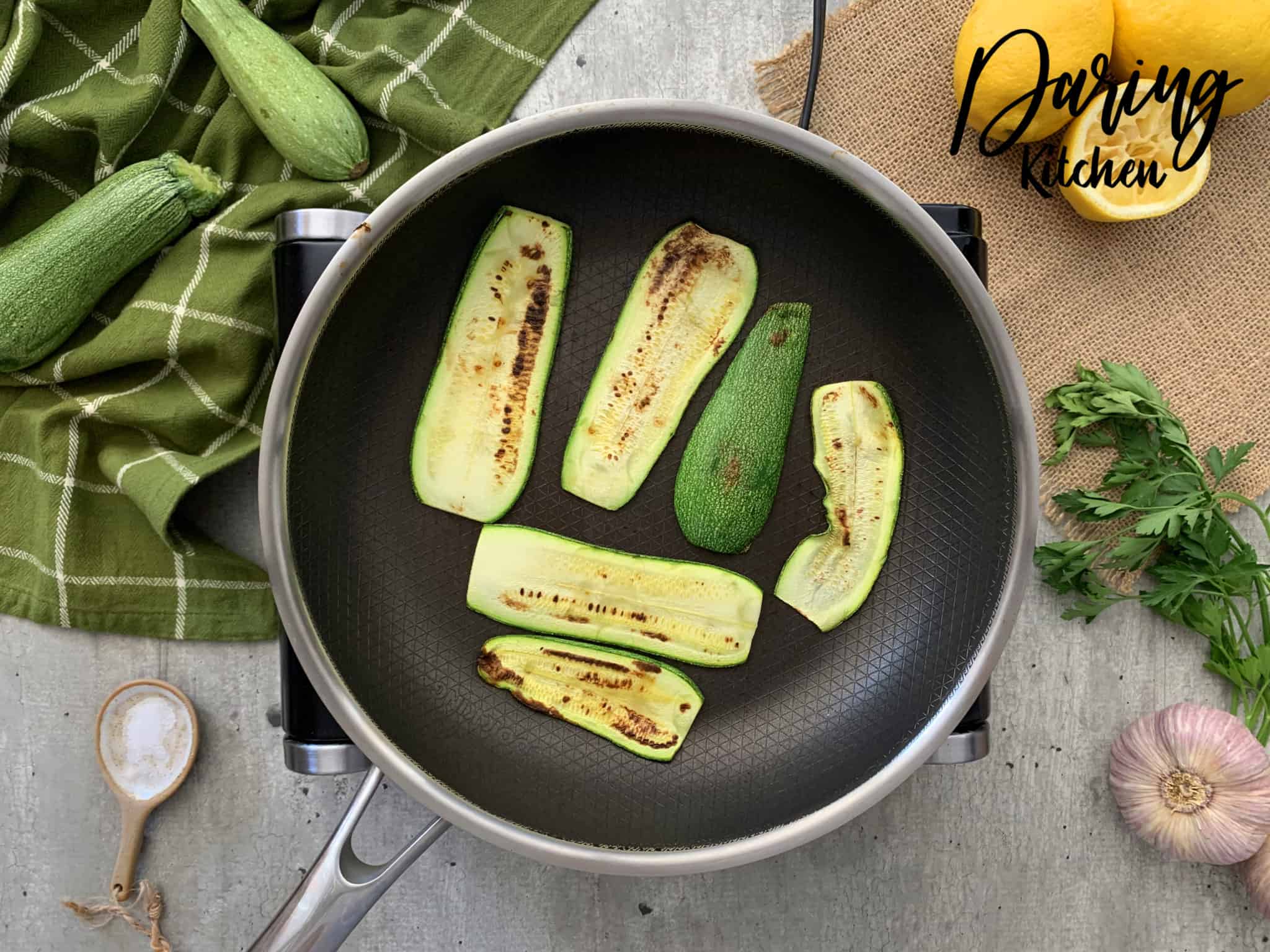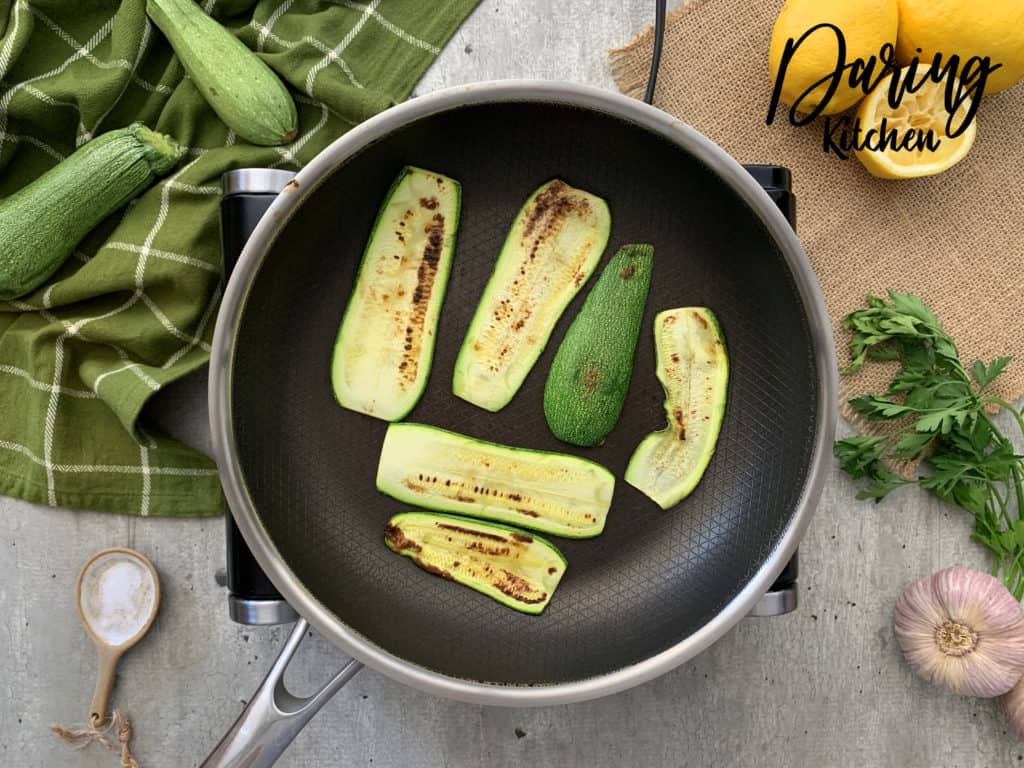 Now, once you have your zucchini prepped, it's time to grill. Using a pan or grill, lay the zucchini down flat on the preheated surface. Always make sure your grill is hot enough as it is the best and quickest way to achieve a perfect char on your zucchini slices. It will only take a couple of minutes on each side.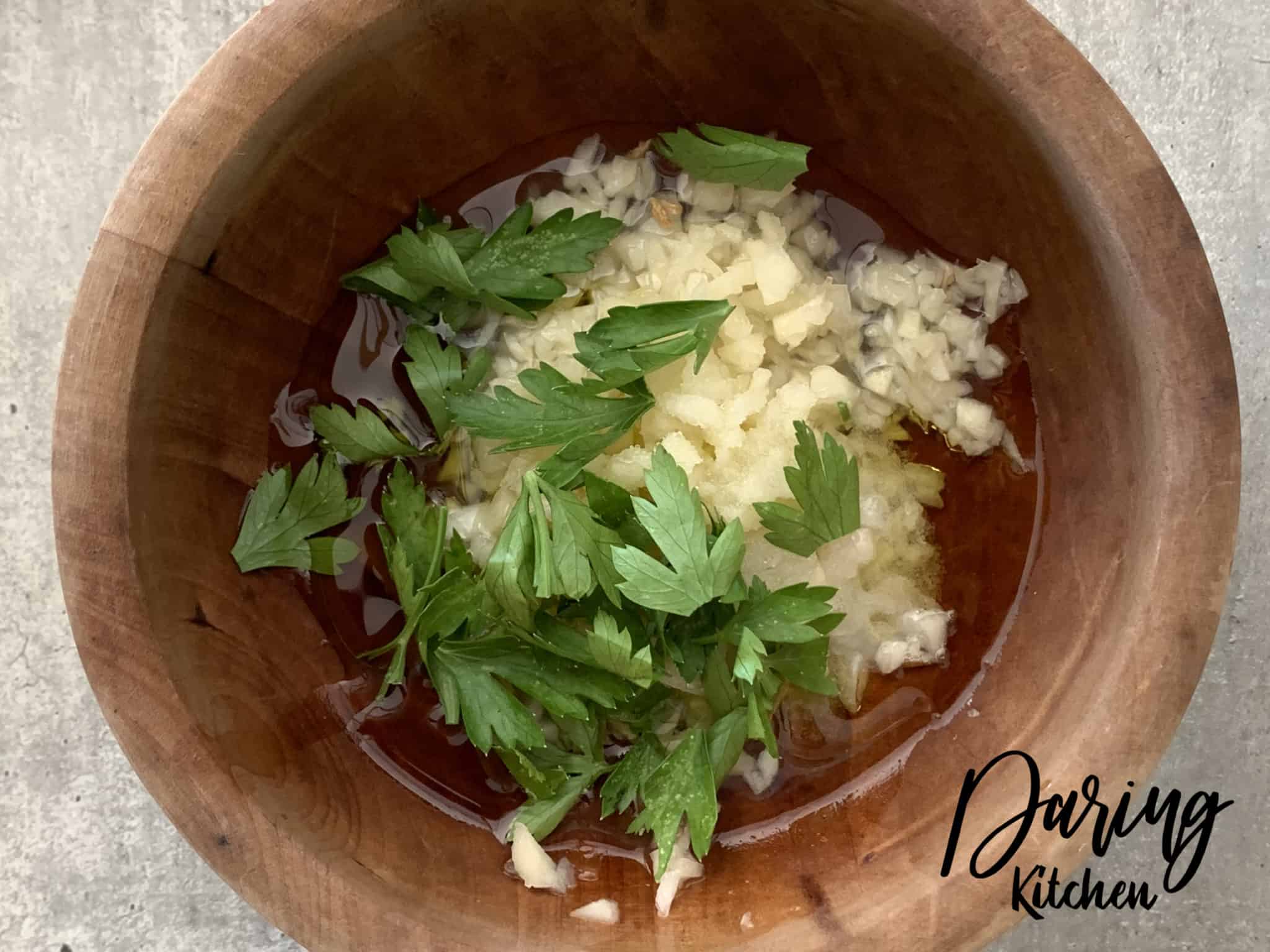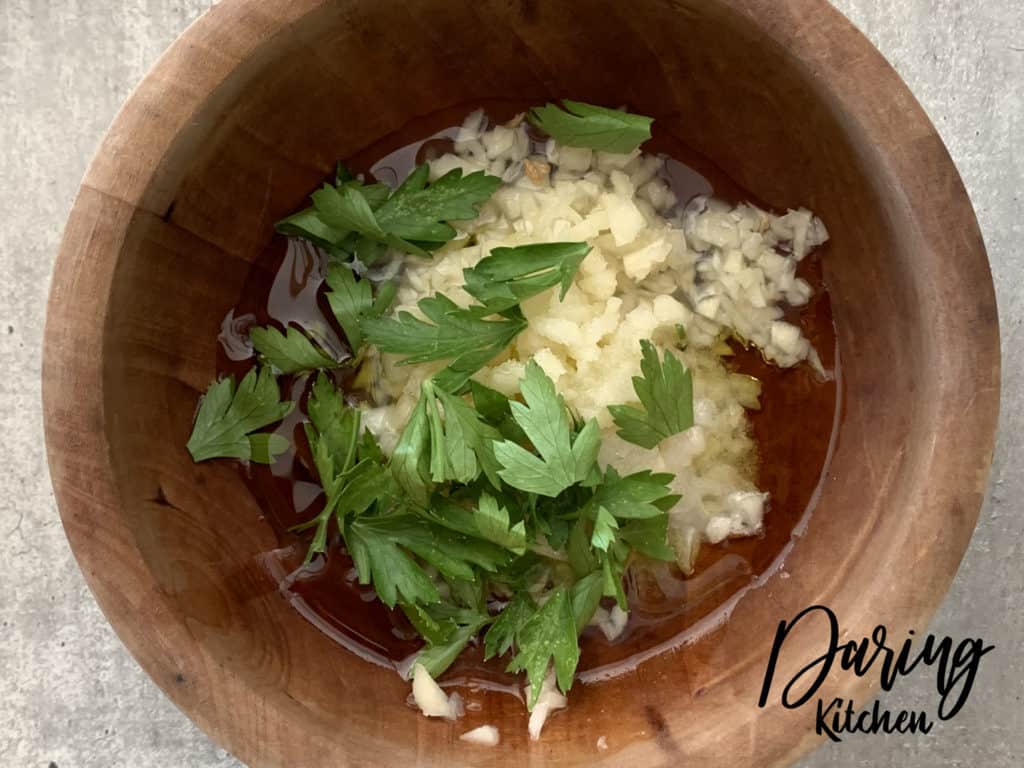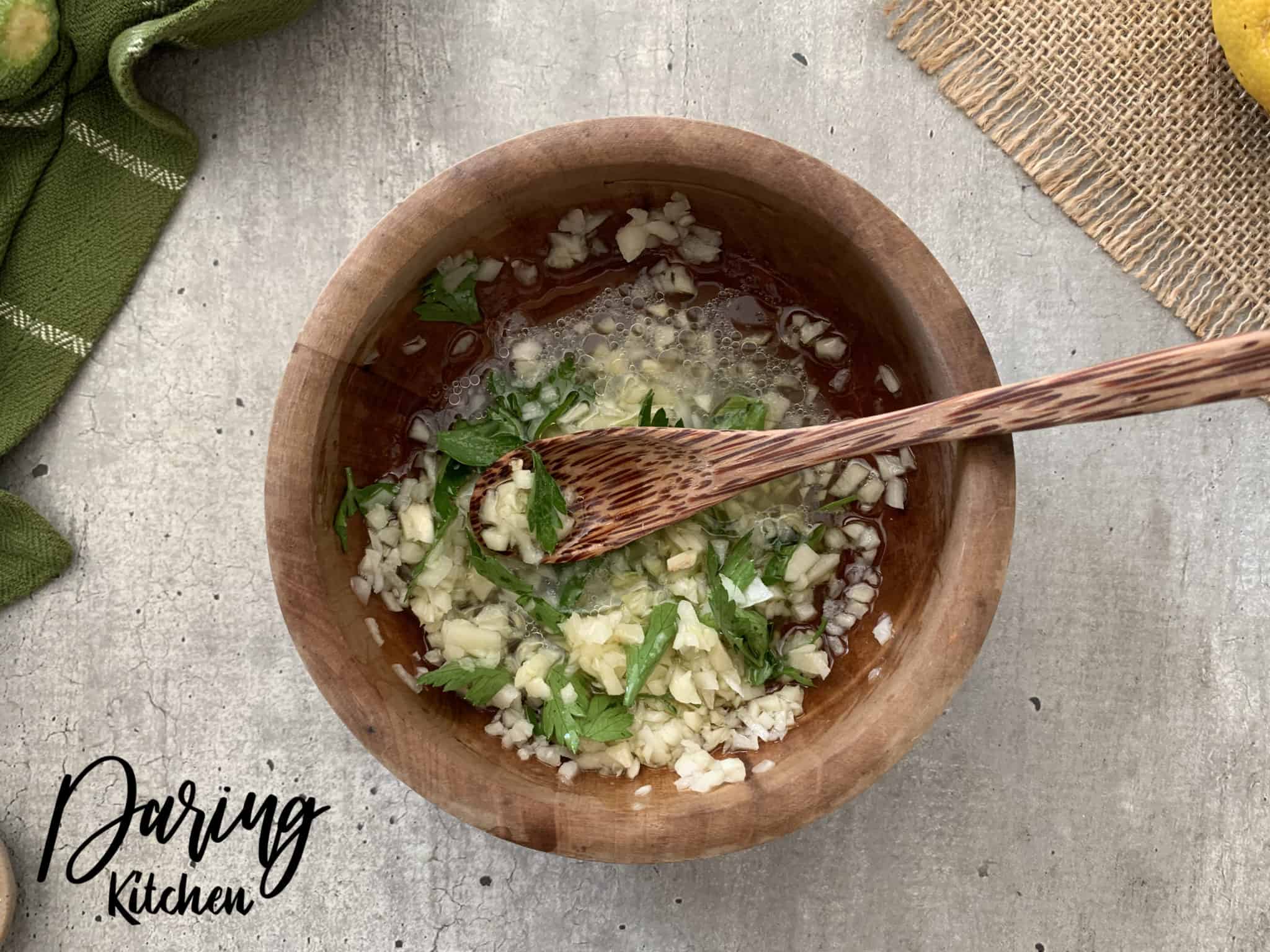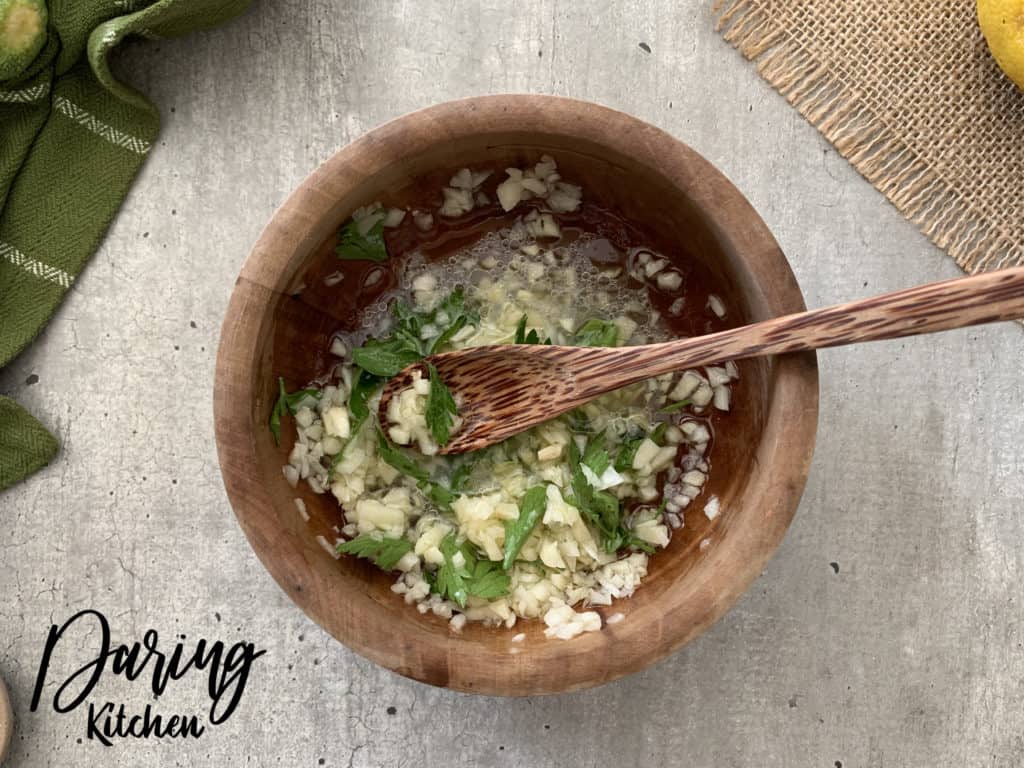 As your zucchini grills, start to make your dressing. Whisk together your chopped garlic, extra virgin olive oil, lemon juice, parsley, and. salt. Make sure everything is evenly mixed together.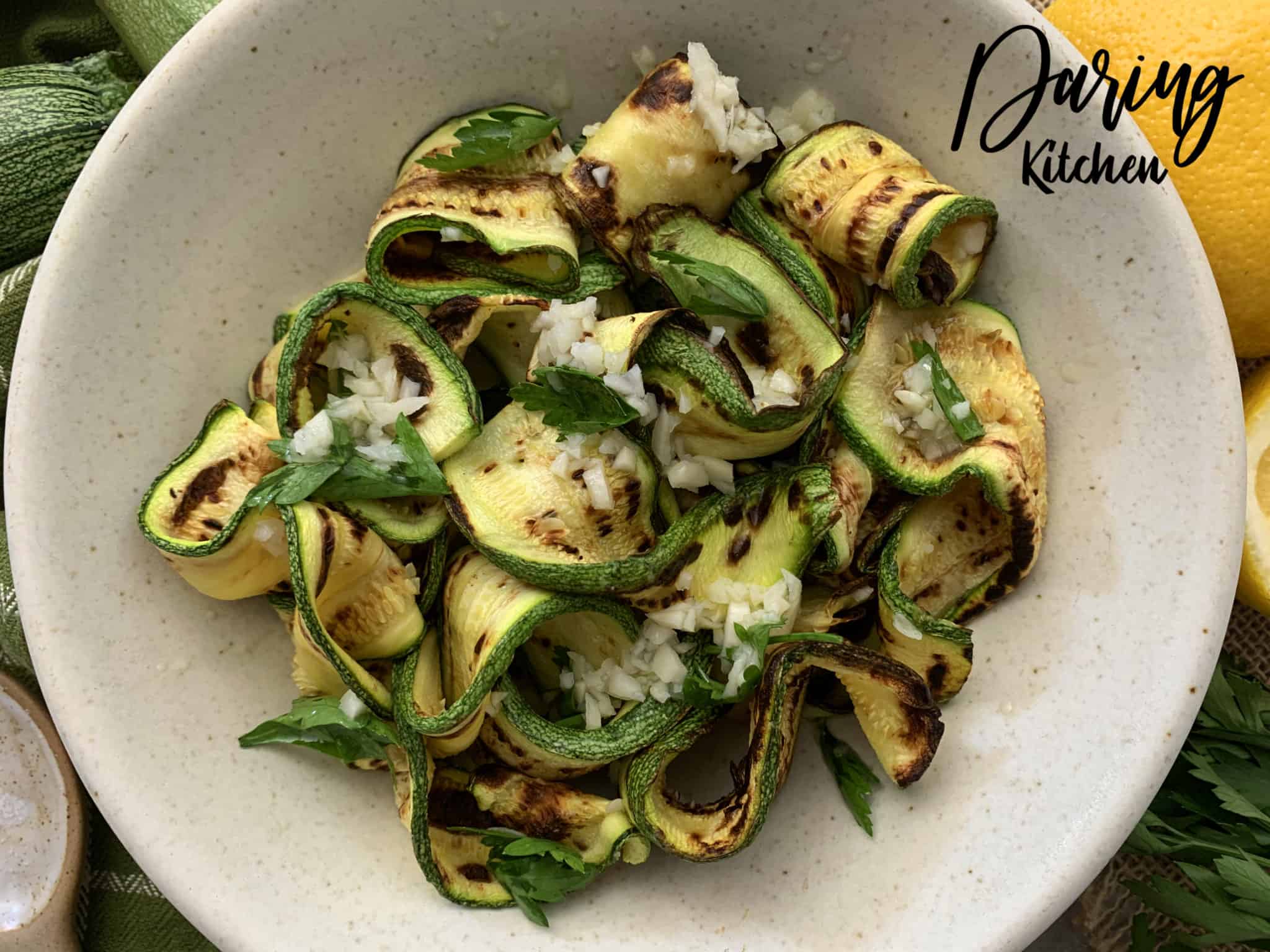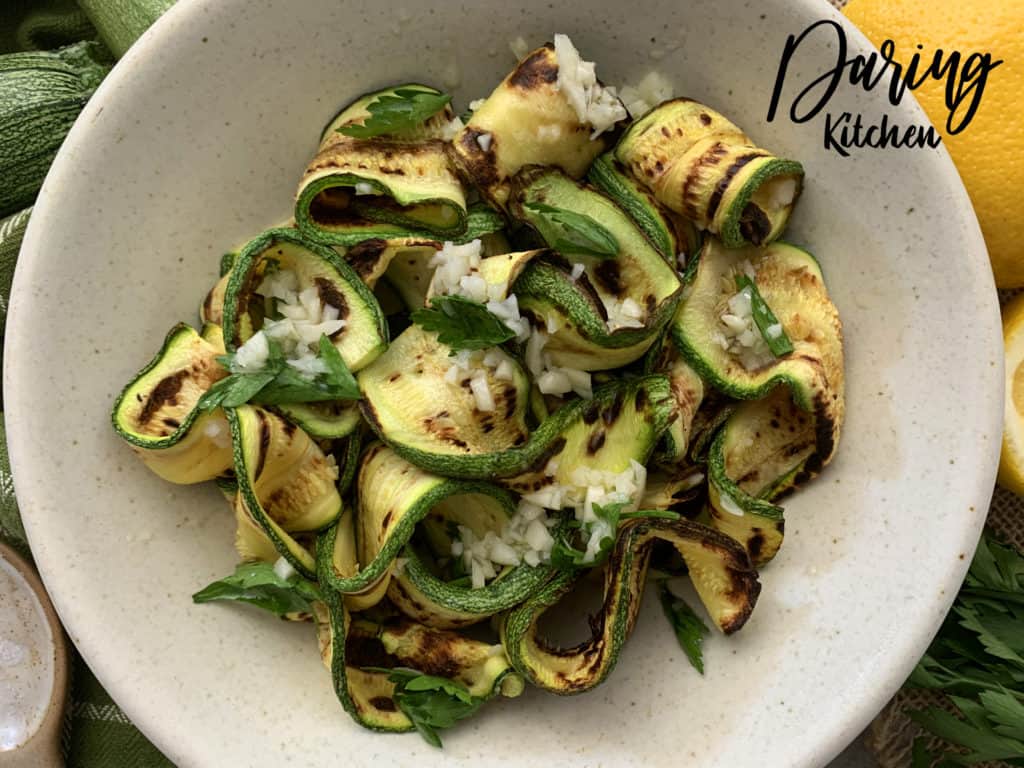 Toss the zucchini with your salad dress so that it coats all the pieces evenly. Serve warm or chilled, with cheese or pine nuts on top if you like!
I hope you loved this grilled zucchini salad! If you're curious about more zucchini recipes, don't hesitate to check out all my summer squash recipes on my blog!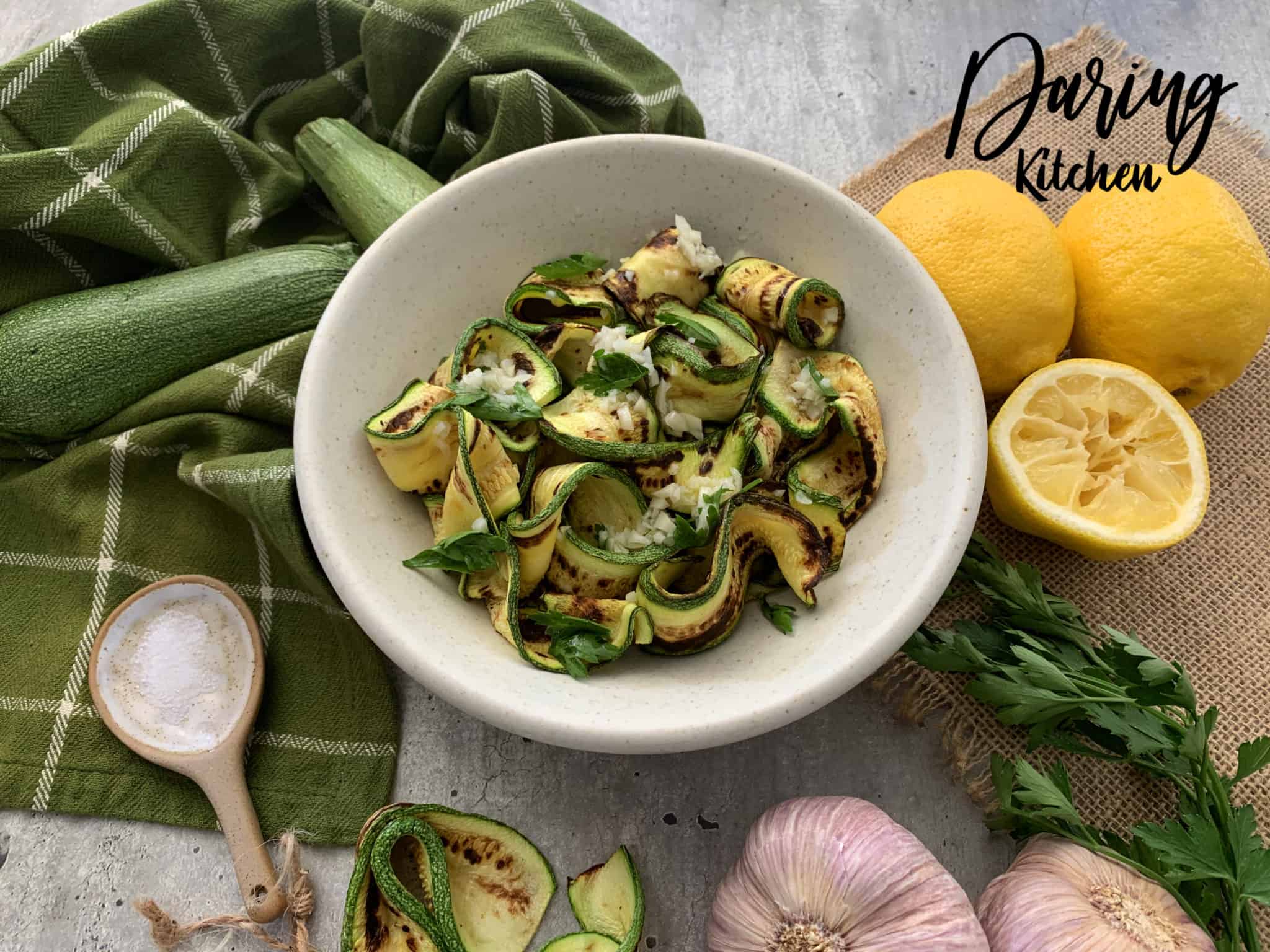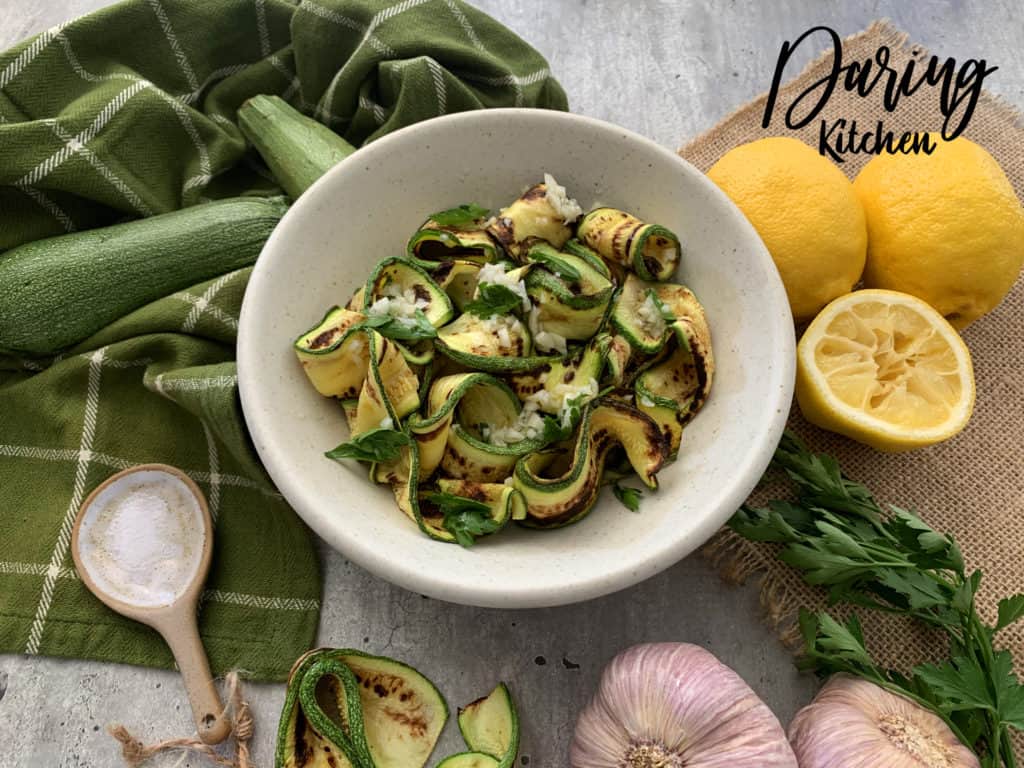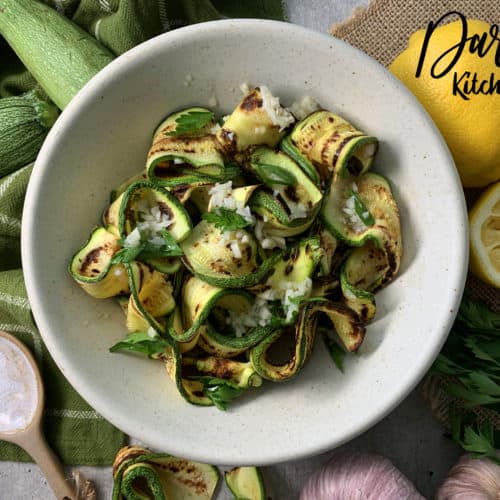 Roasted Zucchini Salad
A fresh lemon dressing and seasonal zucchini salad that everyone will love!
Print
Pin
Rate
Equipment
Skillet

Knife

Chopping Board
Ingredients
2-3

Garlic cloves

2

lb

Fresh zucchini

1

tbsp

Olive oil

Salt

to Taste

Parsley

2

tbsp

Lemon juice
Instructions
Chop the garlic cloves finely.

Add salt, Olive Oil, Lemon juice and Parsley to make the dressing.

Cut the zucchini into thin strips.

Grill the Zucchini with no oil.

Prepare the zucchini by adding the dressing on top and toss.

Garnish with freshly chopped parsley.
Nutrition
Calories:
35
kcal
|
Carbohydrates:
1
g
|
Protein:
1
g
|
Fat:
4
g
|
Saturated Fat:
1
g
|
Polyunsaturated Fat:
1
g
|
Monounsaturated Fat:
3
g
|
Sodium:
1
mg
|
Potassium:
14
mg
|
Fiber:
1
g
|
Sugar:
1
g
|
Vitamin A:
1
IU
|
Vitamin C:
3
mg
|
Calcium:
3
mg
|
Iron:
1
mg