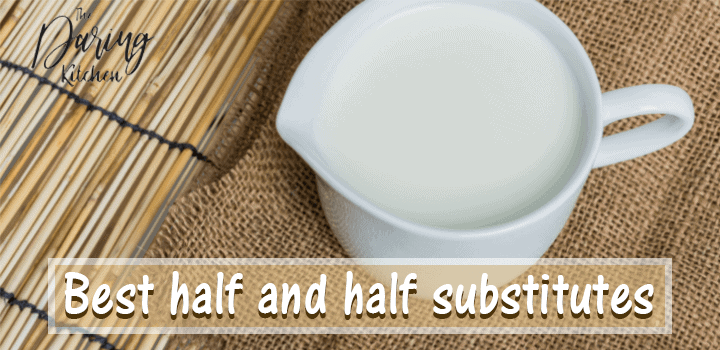 Half-and-half is not an ingredient that is top on my regular shopping list, but, once in a while,a recipe calls for it, and I like to indulge in the convenience of using it as a coffee creamer or in certain recipes like quiche, mashed potatoes, sauces, and ice cream. Don't you, too?
So, what do we do if we don't have any and we want to save ourselves a trip to the store? Make our own half and half, I guess? Simply mixing some easy to find ingredients in anyone's kitchen will give you a half and half substitute in a couple of minutes - it can be even less. Is it that easy? Yes, it is!
Here are the best ways and recipes to create a substitute for half-and-half whether it's dairy or vegan-friendly.
What Is Half-and-Half?
Half-and-half is a premixed dairy liquid product consisting of equal parts of milk and cream. It is what the name indicates: half milk-half cream. In the States, half-and-half must have 10.5-18% milkfat.
It's a versatile ingredient that can be used as a substitute for whole milk or heavy cream but with a little difference in texture and flavor. Half-and half is thicker and tastier than milk, but less rich than cream. As a substitute for milk, it adds richness to your recipe and when it replaces heavy cream, it makes recipes a bit lighter.
There are also fat-free versions of half-and-half, but these often contain additives like stabilizers and sweeteners that completely change the taste. All the more reason to create a DIY half-and-half, don't you think?
Half-and-Half Alternatives
1) Whole milk plus heavy cream
For 1 cup of half-and-half, mix ½ cup of heavy cream with ⅔ of whole milk. This recipe is the closest alternative to the store-bought half-and-half. You can use it in cooking and baking recipes as well as your coffee, but the coffee will taste heavier than half-and-half.
If you don't often use heavy cream, you can buy some and keep it in the freezer so you can use it when needed. You can also use powdered heavy cream although it's more difficult to find.
2) Whole milk mixed with light cream
Light cream, also known as 'coffee cream', contains 20% fat, which is more than half-and-half. This is a good alternative for cooking or if you want more creaminess in your tea or coffee.
Combine half a cup of whole milk with half a cup light cream to get 1 cup of half and half replacement.
3) Low-fat or skim milk plus heavy cream
If you are a fan of low-fat dairy, there may always be some low-fat milk sitting in your fridge. That is good news because in this case, you can use what you already have in your refrigerator and skip that extra trip to the store.
All you have to do is to blend ⅔ cup of low-fat or skimmed milk with ⅓ cup of heavy cream. This substitution contains less milkfat- about 10% - so it will give you a less creamy result, but this will be, in most cases, good enough.
4) Unsalted butter blended with whole milk
This combination works best in baking and cooking rather than as a creamer for coffee unless you like your coffee to taste like butter. For every cup of half-and-half, mix 1 tablespoon of butter with 1 cup of whole milk. Keep in mind to melt the butter before whisking it in the milk.
If you don't have butter, you can use margarine instead.
5) Whipping cream and whole milk
The difference between heavy cream and whipping cream is that the latter contains a little less fat and calories. This lighter version of cream gives more volume and softness to baked goods.
For main dishes and sauces, combine ⅔ of whole milk with ½ cup of whipping cream. For more creaminess and if the recipe calls for it, you can add a teaspoon of butter to the mixture.
For homemade ice cream or mousse, follow the requirements of your recipe. For example, if it calls for one and a half cups of half-and-half, replace it with ½ cup milk and 1 cup whipping cream.
6) Full fat coconut milk combined with oat milk
If you are looking for a vegan half-and-half substitute, a coconut creamer is a good choice. You can use it in baked goods, savory dishes, and even your coffee or tea. It is sold in cartons in the dairy cooler section or you can easily make it at home.
Open a can of full-fat coconut milk and skim off the cream that is floating on the top. To replace 1 cup of half-and-half, blend ½ cup of coconut cream with ½ cup of unsweetened oat milk. If you don't have oat milk, you can use soy or rice milk.
7) Soy Creamer
Another vegan alternative for half and half, soy creamer can be created by blending silken tofu with unsweetened soy milk at equal amounts.
8) Evaporated milk
Our last item on the list is evaporated milk which can replace half and half at 1:1 ratio.