The Hamilton Beach Brew Station is one of the best-selling coffee makers in the market. It stands out for its functionality as an automatic drip brewer but with a unique internal tank design that does not require a carafe.
As such, it keeps the coffee hot for up to 4 hours while preserving the fresh coffee's taste. It is conveniently-priced, and its quality assurance is backed by the longstanding reputation of the Hamilton Beach Company.
This article provides a detailed review of the Hamilton Beach Brew Station Summit, including its features, pros, and cons. We also answer the top Hamilton Beach Brew Station FAQs.
Hamilton Beach Brew Station Review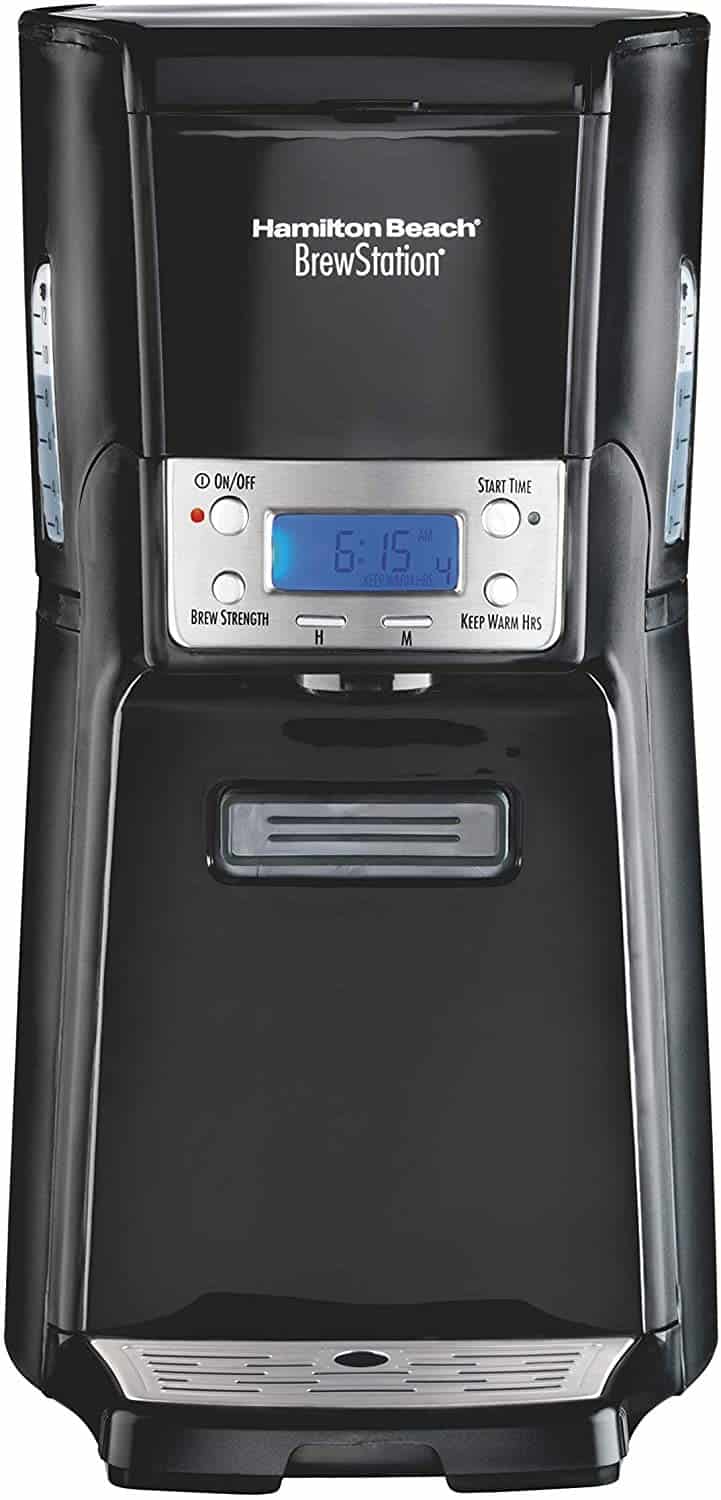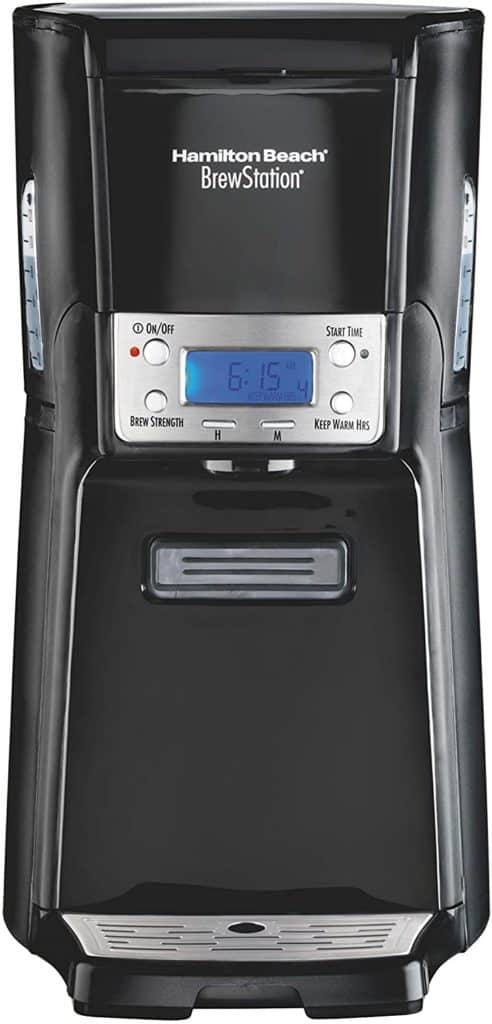 Features
Overall Design
The Hamilton Beach Brew Station has a fairly sleek and modern design. The 12-cup summit model is available in two color options: black and stainless steel and black. Its body is made of plastic, while the base is made of rubber for firm and sturdy support. It has a LED screen that displays time, temperature, and other settings. It weighs 7.3 pounds with dimensions of 9.25X12.50X16.00 Inches.
Programming and Functionalities
This coffee maker offers you brewing control. It has four brewing options including, bold, regular, 1-4 cups, and iced coffee. It also has a keep-hot function that sets the coffee maker to keep the brewed coffee hot for up to 4 hours and provides a 24-hours programming option.
The various programming options can be implemented using the six buttons that sit on the front panel. These programming buttons include a power (ON/OFF) button, start time button, brew-strength button, Keep warm hours button, H button, and M button. To set the brew strength, continuously press the brew strength button until the brew strength you prefer is highlighted.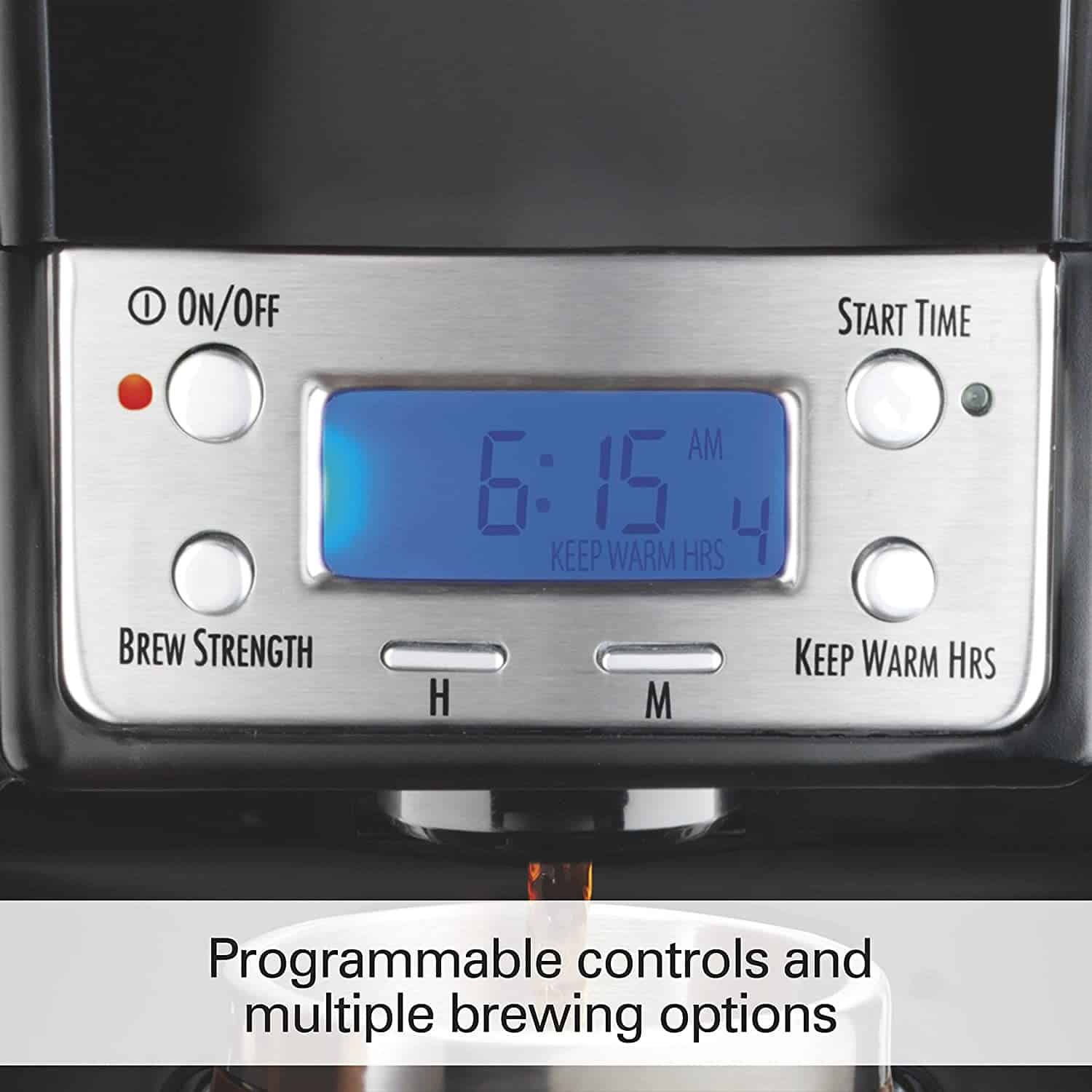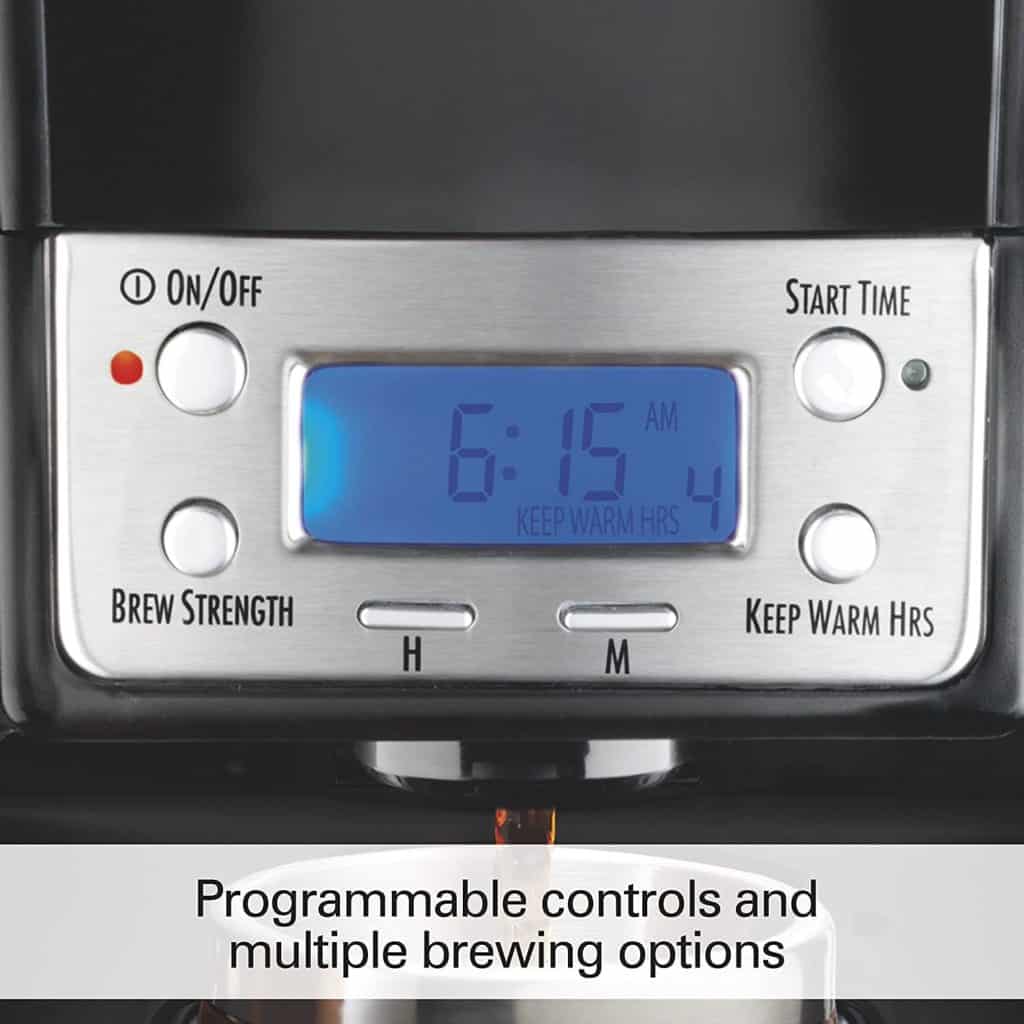 Capacity
The Hamilton Beach Brew Station Summit has a 12-cups capacity. However, you can set it to produce coffee at lower volumes with a capacity for brewing 1-4 cups of coffee.
No Carafe Design
This brew station works like an automatic drip coffee maker. The no-carafe design is what makes this coffee maker stand out from other brewing stations on the market. It has an internal heater instead of a hot plate. It has an insulated internal storage tank that holds the brewed coffee and keeps it hot until you dispense it.
There is consistency in the quality and temperature of coffee brewed from the first cup to the last. Since there is no glass carafe, you do not have to worry about the glass breaking and coffee spilling. It is fitted with paper filters that sieve the brewed coffee. It produces fairly decent tasting coffee and utilizes ground coffee.
Dispensing Mechanism
It dispenses one cup at a time. To dispense, place a cup below the spout and press the dispensing bar. Once one cup is poured out, the dispenser will automatically switch off. The space between the dispensing spout and tray is enough to allow you to collect coffee in a tall travel mug.
Pros
Large capacity. It makes it ideal for offices, small events, and large families
Option to brew smaller quantities of coffee (1-4 cups)
No carafe design ensures consistent flavor and temperature of coffee for up to 12 hours.
Adequate dispensing space for larger cups
Seats sturdily on countertops
Removes water tank for easy cleaning
Minimalistic and fairly sleek design
Easy to use control buttons
4 brewing options
24-hours programming
Fairly priced
Cons
Some people find its overall construction flimsy and of low quality
The manufacturer states that the brew station produces hot coffee. However, most reviews indicate that the coffee it produces is not hot, rather warm
The Verdict
The Hamilton Beach Brew Station's innovative design provides an automatic drip coffee machine's benefits without the disadvantages associated with the traditional carafe design brewers.
It has a programming feature that allows you to customize your brewing strength. It has a large 12-cup capacity making it suitable for large families, small events, small restaurants, and offices. However, you can still buy it for individual use as you can customize the settings to produce 1-4 cups.
This brew station is sold at quite an affordable price. Still, it has been criticized for having a flimsy, low-quality feel, lacking durability, and producing warm coffee instead of hot. If you are keen on the look, feel, durability, and quality of coffee produced by a coffee maker, you might want to look at other higher quality Hamilton Beach coffee maker options.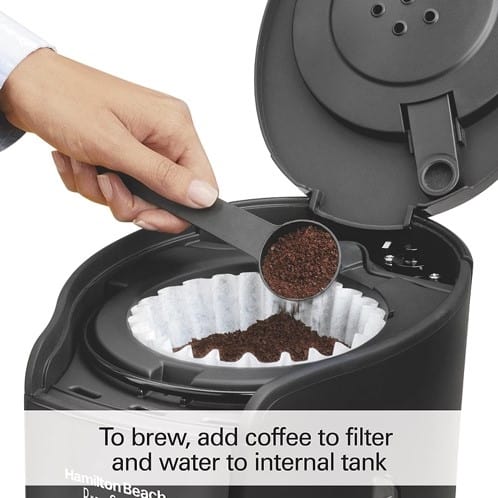 Hamilton Beach Brew Station FAQs
How to use the Hamilton Beach Brew Station
Plugin the machine to a socket and switch it on
Open the lid at the top of the brewing unit.
If there is no paper filter, place one, and add the appropriate amount of ground coffee for the number of cups you want to make on the paper filter.
Add the appropriate amount of water to the removable internal water tank.
Close the lid
Press on the (ON/OFF) button to put on. You may set your brew strength
Once the internal brewing system brews the coffee, it will be stored in the internal tank, ready for dispensing
Press bar to dispense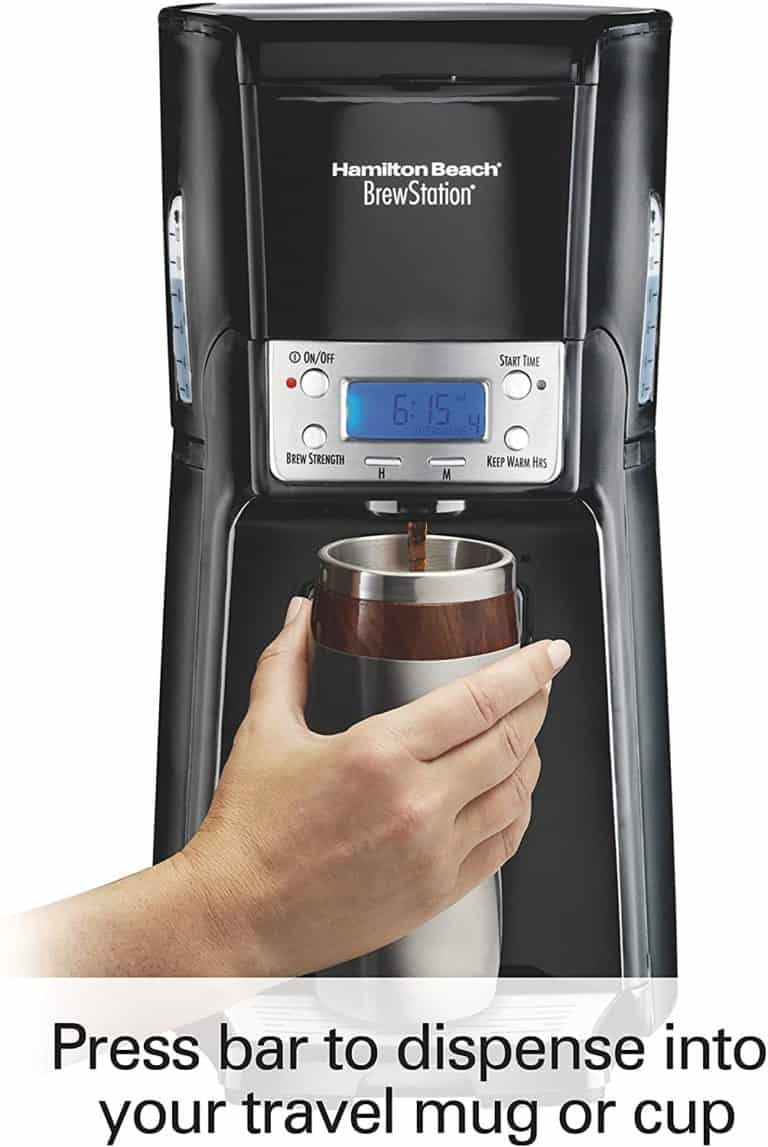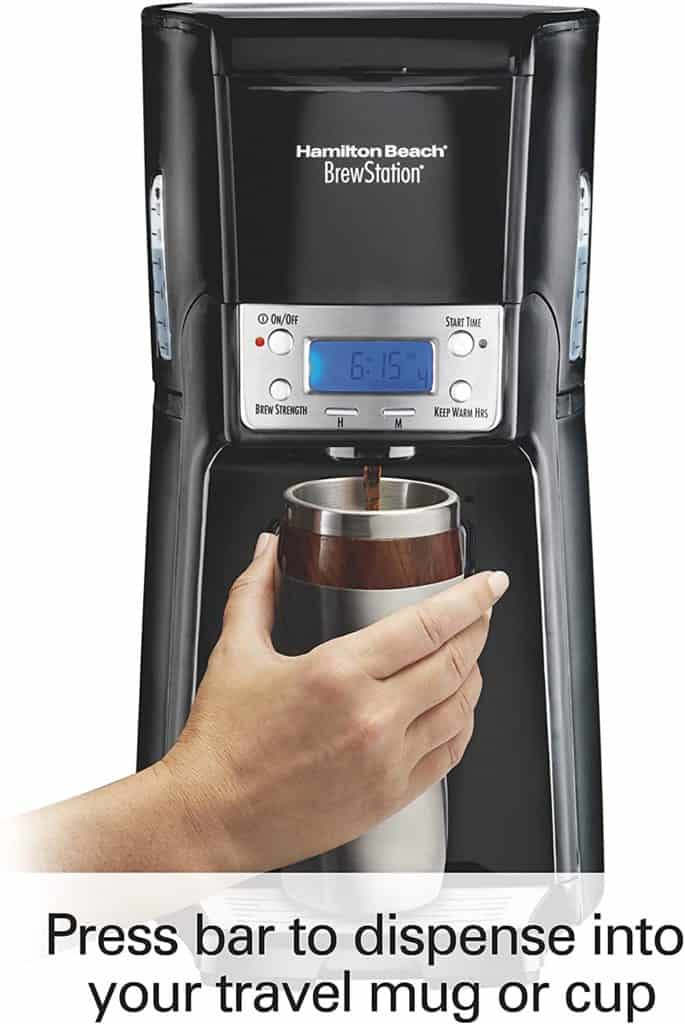 How do you clean and maintain the Hamilton Beach Brew Station?
For the Hamilton Beach Brew Station to keep operating efficiently and to last long, you need to clean and maintain it properly.
Cleaning Procedure
Disconnect the unit's plug from the socket
If you were recently using the brewing station, let it cool off
Remove the coffee reservoir from the main unit. Remove any residue by rinsing with water. Then, clean it with warm water, mild detergent, and a soft cloth or sponge. Note that the reservoir is not dishwasher safe
Wipe the outer part with a damp cloth. Do not dip the main unit or plugin water as you risk damaging it or getting electrocuted, respectively
Dry the main unit and the reservoir and reassemble it. You can store it on your countertop.
Maintenance
The main maintenance requirement for the Hamilton Beach Brew Station is to descale as per the manufacturer's recommended timelines. Typically, you will need to descale every 3-6 months. The descaling process usually takes an hour and involves cleaning the machine with a descaling solution that you can find online or in the top stores.
Run the descaling solution through a brewing cycle. To rinse the system, pour hot water through the system for several brewing cycles. Place a mug or cup beneath the dispensing spout to collect the descaling solution or water.