The best hand mixer will save you so much time in the kitchen. With one, you can whip egg whites with very little effort, cream butter and sugar in no time, and perfectly prepare all kinds of batter for every-day baking. If you love baked goods but don't want too much of a hassle in the kitchen, this is the perfect gadget for you. Try to use it to make a batch of fancy-looking Springerle cookies, snackable cookie dough, or delicious cinnamon coffee cake to go with your afternoon coffee! You won't regret it.
While they're not as heavy-duty as stand mixers, hand mixers most definitely have their perks. For starters, they're lightweight, easy to use, and very practical for day-to-day use. They're also smaller than stand models and easier to store.
Today, we're looking at the top five best hand mixers out there. We've also put together a buying guide to help you find the perfect gadget for your needs.
1) Best Overall Pick: Hamilton Beach 6-Speed Electric Hand Mixer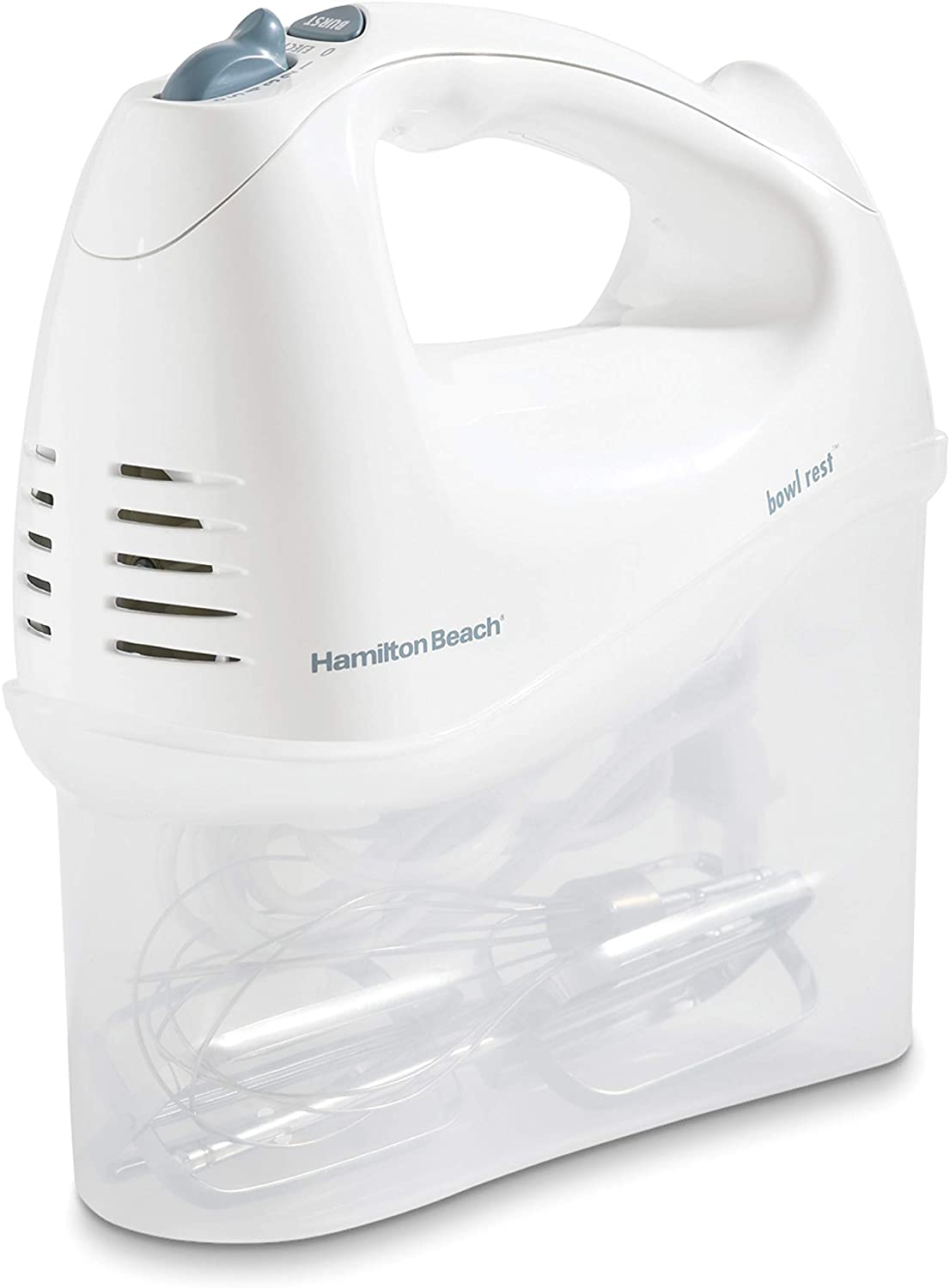 Hamilton Beach is well-known for making great kitchen appliances. From waffle makers to cappuccino makers, they don't disappoint. This unit is one of the best hand mixers on the market and more than lives up to the expectations.
The six speed settings give you full control over your baking. Use the low-speed setting to slowly integrate ingredients and work your way up to the high-speed setting to get everything nicely incorporated.
We also like that this hand mixer boasts 250 watts of motor power. It makes it a very decent motor that is strong enough to knead thicker doughs and still last you a long time.
You'll get two beaters and a whisk. Another cool feature is the built-in groove. It lets you set down the hand mixer when you're not using it and prop it up against the bowl.
Lastly, the Hamilton Beach accessories and electric cord both fit perfectly inside the snap-on storage case. The mixer then locks on top of it, making storage worlds easier.
2) Best Budget Hand Mixer: BLACK+DECKER Lightweight MX1500W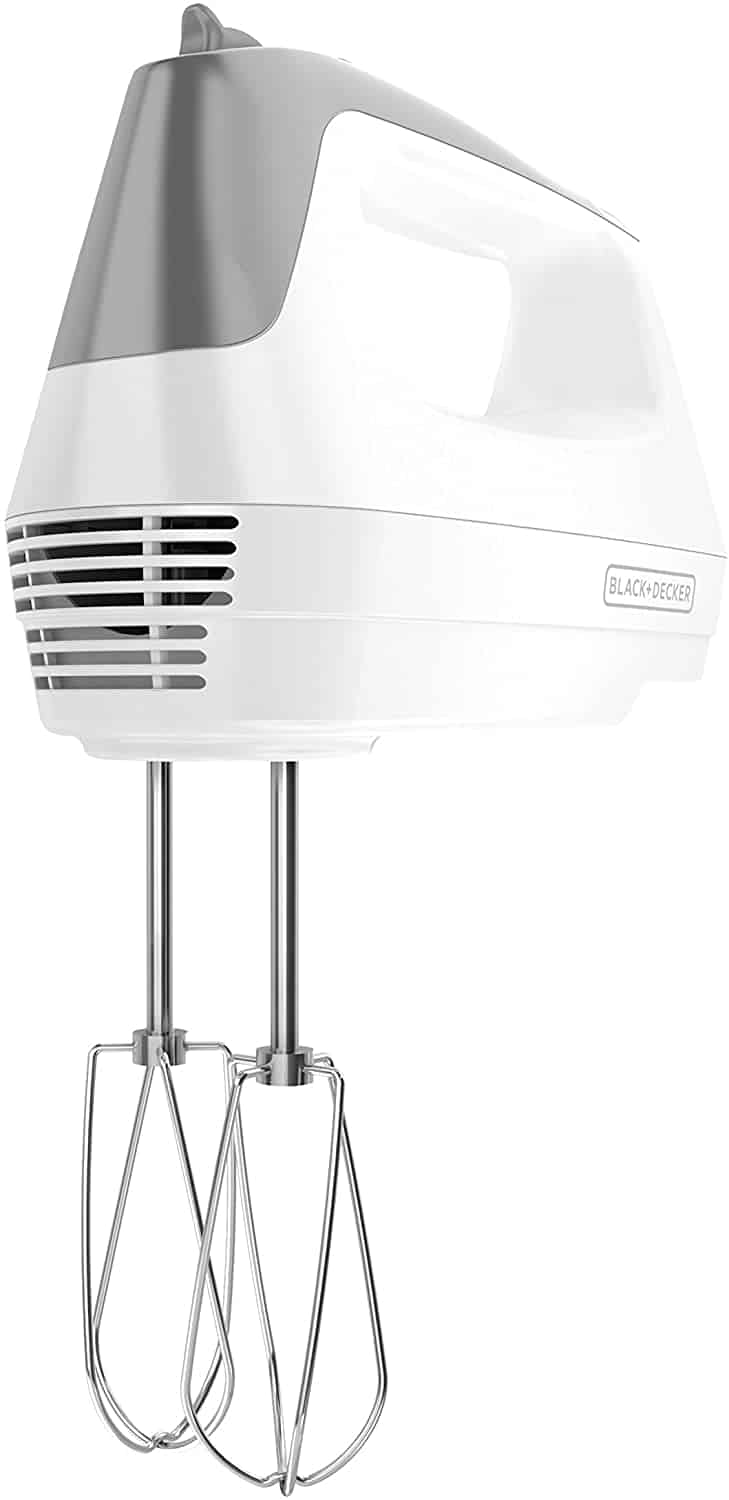 Who says a good hand mixer cost a fortune? This BLACK+DECKER unit is incredibly affordable, performs great, and is a handy mix gadget to have in any baker's kitchen.
The motor has 175 watts of power, which is pretty good given how affordable this unit is. While it won't handle high-hydration doughs, it does an awesome job at whisking egg whites, whipping cream, and batter.
The five speed settings give you the most flexibility in the kitchen. The lower speeds are best for dry ingredients and the higher speeds are perfect for frothing milk. Plus, the turbo setting gives you even more range when baking. It's also easy to switch between speeds thanks to the ergonomic button.
We also really like the heel of this unit. Its vertical design lets you rest the hand mixer upright on the counter. Alternatively, you can also angle it to rest on the mixing bowl.
Another awesome feature is how lightweight the BLACK+DECKER hand mixer is. Creaming sugar can be a time-consuming process, but with this gadget, it becomes much easier and less tiring.
Lastly, we're glad to see that the wire beaters are dishwasher safe, which will save you time at the end of the day.
3) Best Heavy Duty Hand Mixer: Braun MultiMix Hand Mixer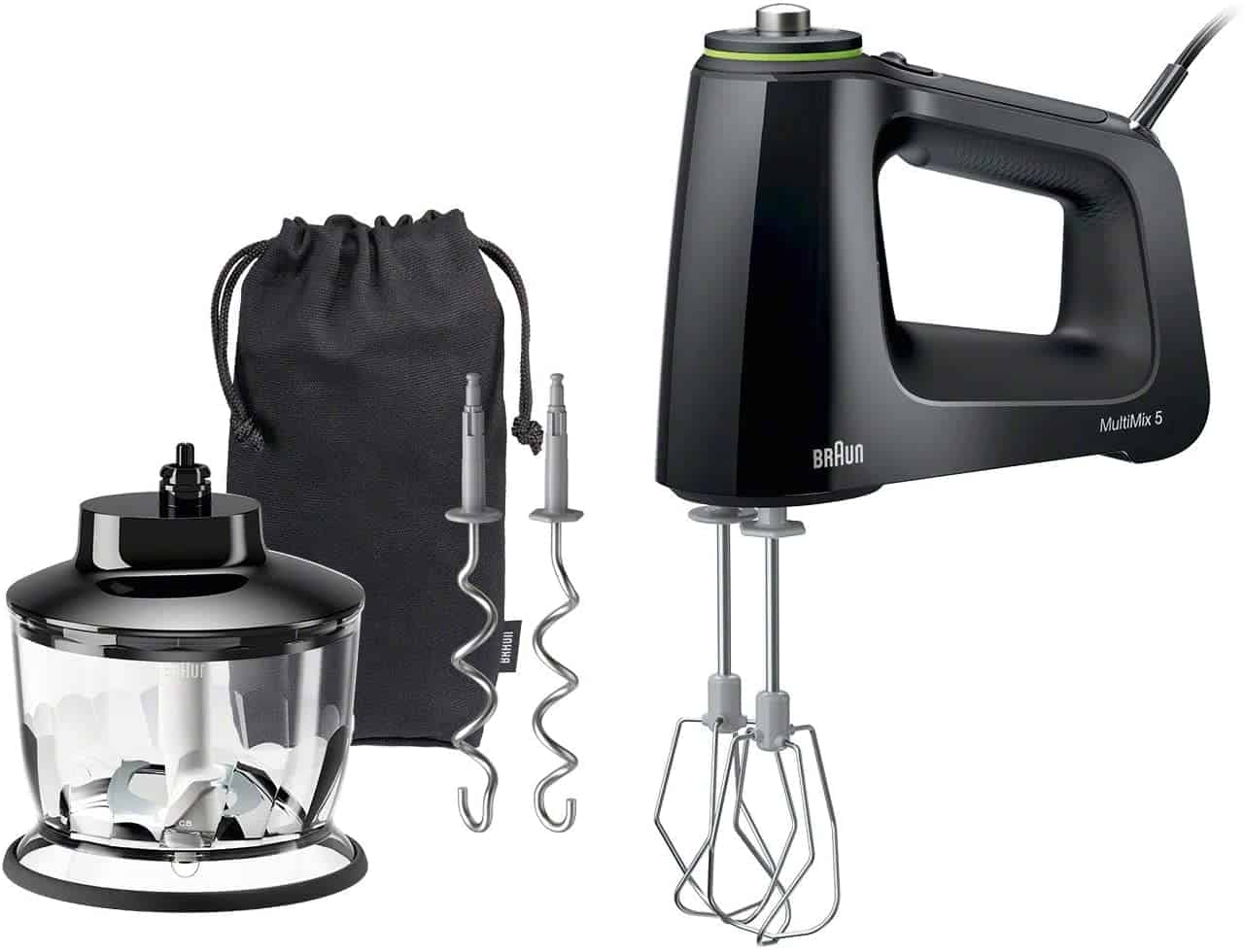 The strongest and sturdiest hand mixer on our list is this Braun model. You can work all kinds of dough with this powerful and reliable gadget engineered in Germany.
The MultiMix's main selling point is its powerful motor. It runs on 350 watts, a number way above similar models on the market. This means the appliance has more torque and can work even the toughest doughs without breaking down. Your investment will be safely protected.
Additionally, it comes with a bunch of different handy mix accessories. Besides coming with two beaters, it also comes with two dough hooks and a two-cup capacity chopper (perfect for breaking up nuts, for instance). It's super versatile.
In total, it boasts nine speed settings and a turbo function. You can control how fast you're mixing the ingredients with the turn of a dial.
When you're done using the unit, simply press a button to remove the two dough hooks and wire beaters. You can put them in the dishwasher to ensure the cleanup is as fast as can be. Since this hand mixer comes with a storage case, you can easily keep track of your hand mixer attachments. Put them inside the pouch and keep it next to the gadget at all times.
Lastly, the MultiMix's ergonomic design makes it very easy to hold the hand mixer for several minutes at a time. Despite being heavier than other models, it's comfortable nonetheless.
4) Best Hand Mixer with Stand: PHONECT 2-in-1 Classic Mixer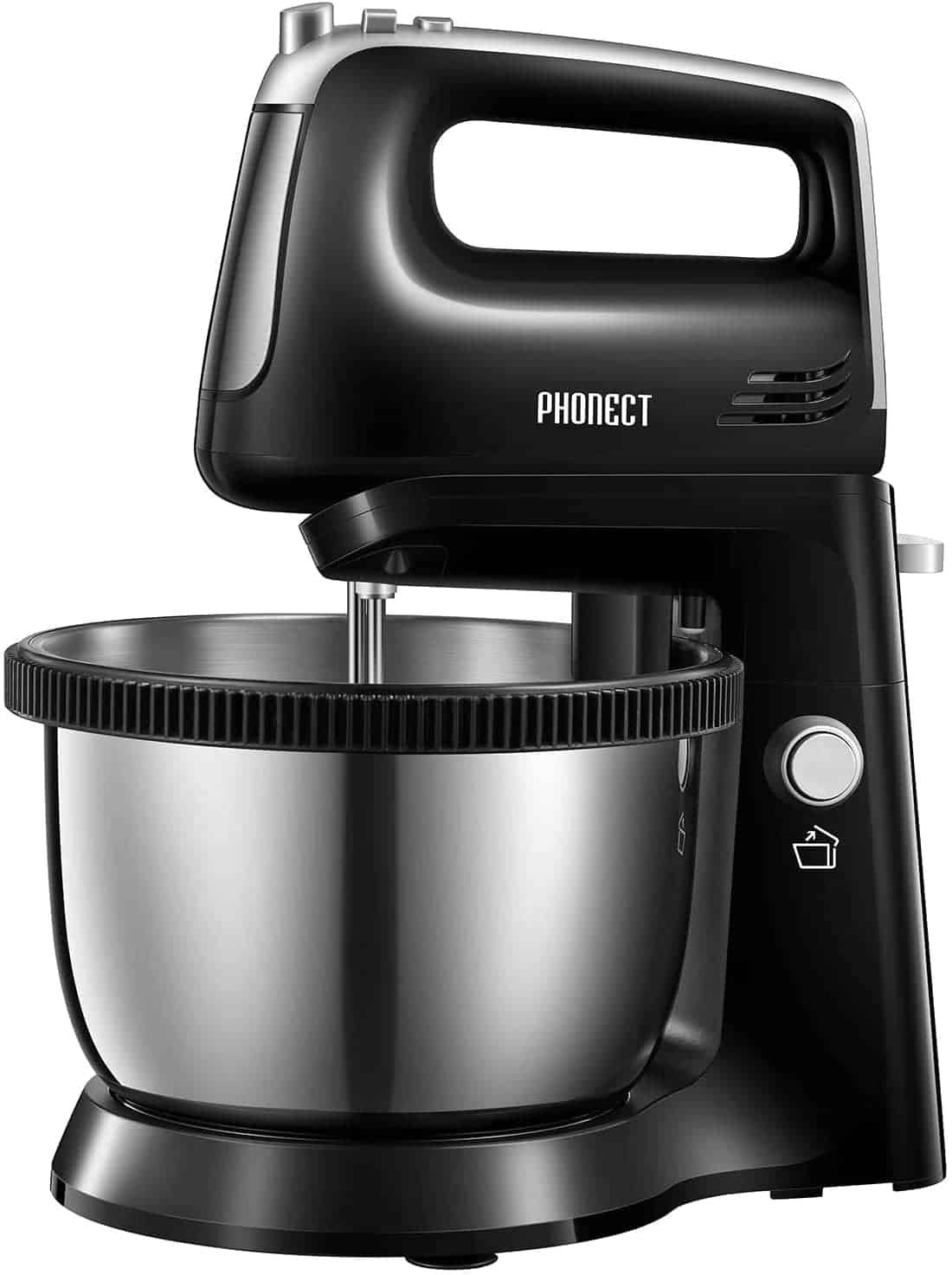 If you're looking for the best of two worlds, you've found it. The PHONECT mixer acts as both a stand mixer and a hand mixer. It combines the perks of both gadgets brilliantly.
As you can see, the PHONECT is first and foremost a hand mixer. It boasts 250 watts of power and can run at five different speeds. It's lightweight, meaning you can hold it without tiring out your arm and shoulder muscles.
But when you need to work dough or batters for longer, you can always switch to the stand mixer position. The product comes with a stand support where you lock the handheld mixer. It's as easy as pressing a button. Then, you run it like you would any other standing mixer!
You'll also get a stainless steel 3.7-quart mixing bowl when you purchase this product. Additionally, you also get a pair of stainless steel beaters and two dough hooks. While this appliance doesn't come with a storage case per se, you can improvise one. Store the attachments in the steel bowl to make sure you never lose them.
Cleaning up after you're done using this appliance is surprisingly easy. Press a button to release the beaters and put them in the dishwasher. Voilà.
5) Best Hand Mixer with Attachments: KitchenAid 9-Speed Silver Architect Handheld Mixer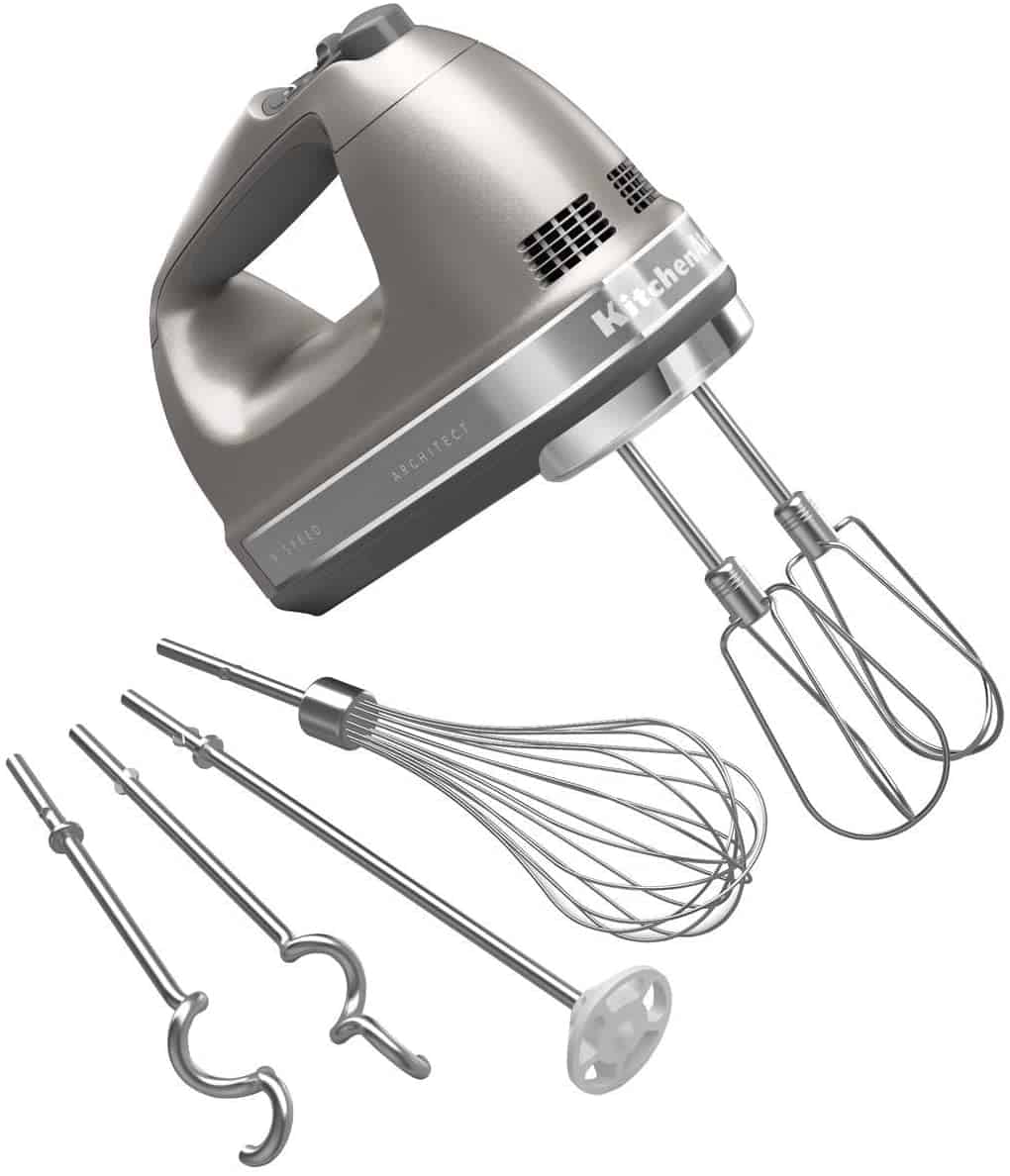 The last item we have for you is a KitchenAid hand mixer. It's incredibly reliable (after all, it's made by one of the most respected kitchen appliance companies), performs beautifully, and gives you the most range out there in the kitchen.
What sets this appliance from competitors is the wide range of accessories the hand mixer comes with. You'll get a set of traditional wire beaters, a pro whisk, two stainless steel dough hooks, and a blending rod. With all these attachments, you can pretty much make anything you can think of, from merengue to creamy dressings.
In total, this KitchenAid hand mixer boasts nine speed settings. You can switch between them all by pressing the "up" or "down" buttons conveniently placed on the handle of the mixer. Moreover, this gadget has a "soft start" feature, meaning it will ease into action when you turn it on.
We also love the ergonomic design of this appliance. It's comfortable to hold and pretty lightweight.
To remove the accessories, you can just press a button and that's it. The beaters will come out so you can wash them in the dishwasher. Unfortunately, this hand mixer doesn't come with an accessory storage case, so pay attention that you don't accidentally lose them!
Stand Mixer or Hand Mixer?
When it comes to hand mixers, there are two kinds: standing and handheld.
Standing mixers are very robust. They're perfect for kneading bread or pizza dough, as well as other thicker, heavier doughs. They also offer many speed options. On top of that, you can leave them to mix ingredients while you do something else. This is especially handy if you need to work your dough for several minutes non-stop. Their main downsides are that they're bulky, take up a lot of counter space, and are pretty pricey.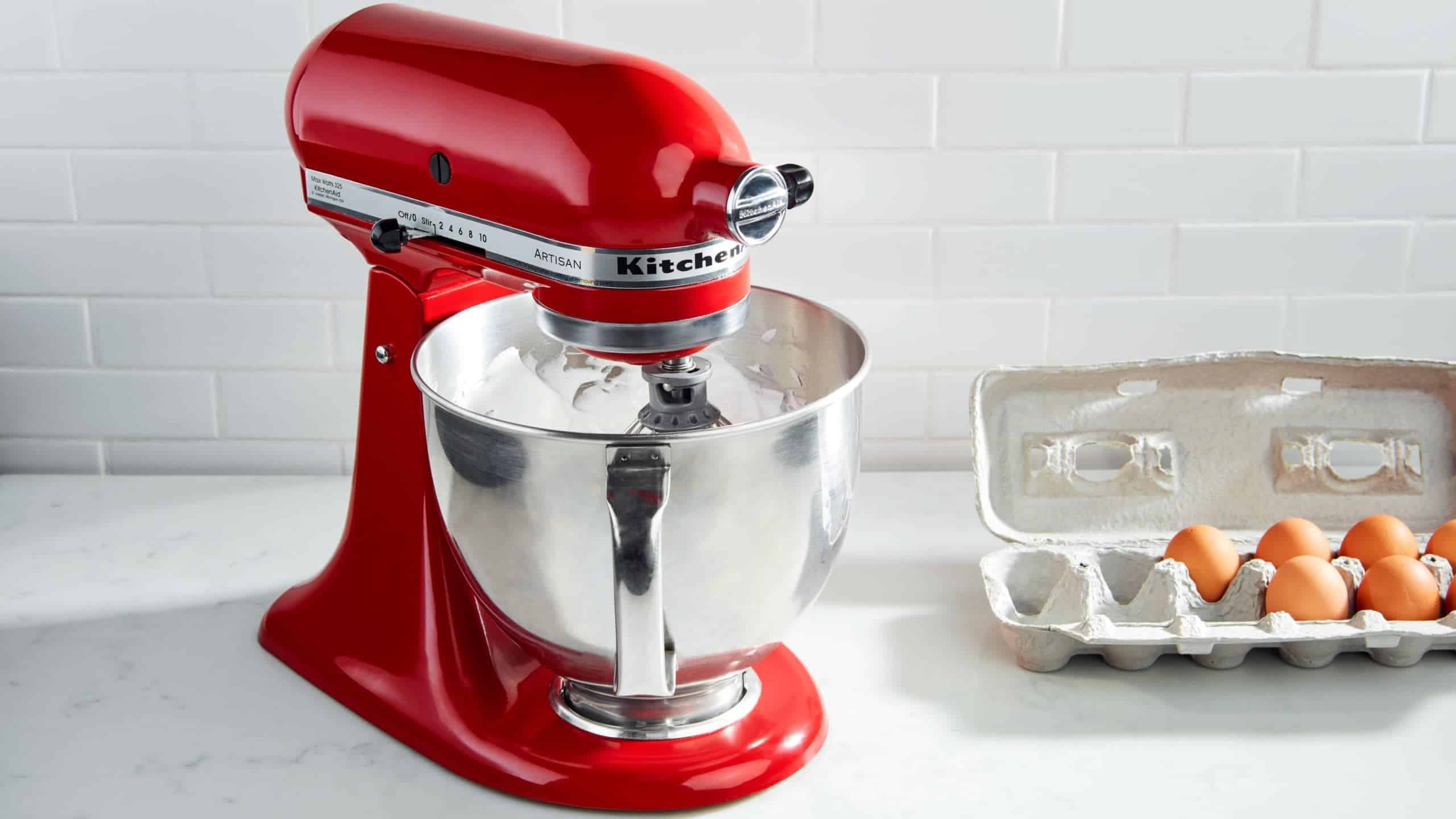 Hand mixers, however, are a lot lighter and more easily portable. They might not be as sturdy as their countertop counterparts, but they get the job done for most baking recipes. Some models can even knead bread or pizza dough. The best hand mixers also boast five or more different speeds and are super easy to clean and store. On the downside, you can't just walk away from your hand mixer and expect it to keep working the dough. That can certainly tire out your arm. But to make up for that there's the fact that they are very affordable and can be found for as little as $20.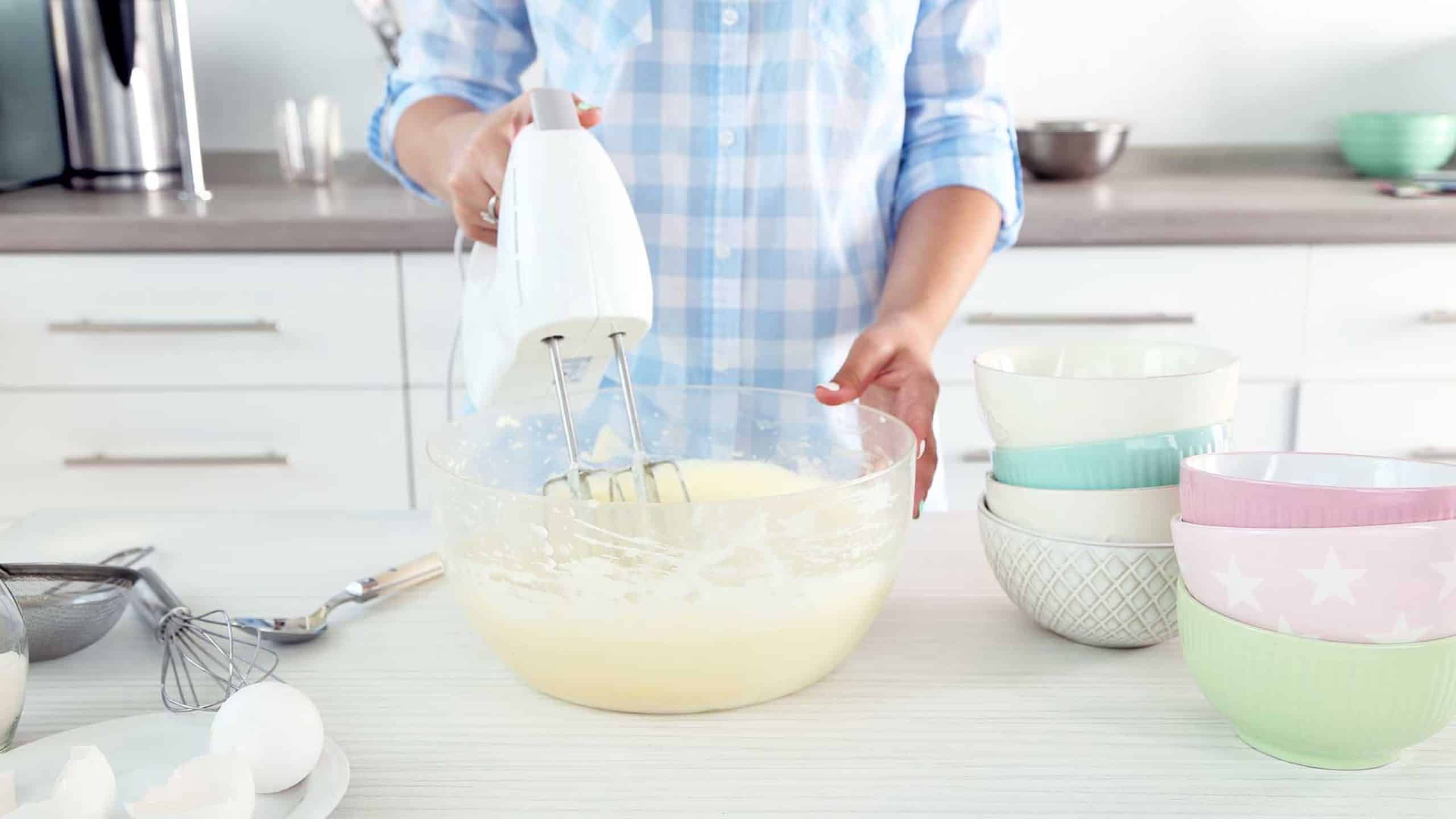 What Is the Best Hand Mixer to Buy?: Buying Guide
Before making a purchase, make sure to run through this list of top features to look for. The best hand mixers will check off most (if not all) of these boxes. It's the most effective way of narrowing it down to a few great models and choosing the one that best fits your needs.
Motor Power
Motor power is incredibly important. If your mixer's motor is weak, it can burn out when working thicker doughs. If that happens, your entire investment will go out the window unless your unit is covered by warranty.
Look for models with more than 175 watts of motor power. These are the units that will last you longer. Moreover, you'll be able to knead harsher doughs with your strong mixer confidently.
Number of Speeds
Picture this: you've creamed your butter and sugar and now comes the time to add the dry ingredients. Only when you add the flour, it all puffs out of the mixing bowl and makes a mess all over the kitchen.
This slapstick scenario is what happens when you can't easily shift between speeds. At some points in a recipe, you'll need to incorporate ingredients very slowly (to add flour, for example), while at others you'll need to amp up the speed to get the best results (to froth milk, for instance).
The best hand mixers will give you the flexibility to easily change between speeds. You need to have the speed of your machine under control if you want to crank out delicious baked goods.
Attachments
Some hand mixers will come with several attachments. They each have their designated purposes. The more attachments you have, the more recipes you'll be able to master.
Traditional beaters are perfect for breaking up chunks of flour and spreading it evenly throughout the batter. Use these for brownies, cookie dough recipes, and cakes.
Dough hooks are the swirly-looking attachments. As you might have guessed, they're used to handle denser doughs (for instance, bread, pizza, and cinnamon roll dough). They can be especially handy if you're making sourdough bread, for example. Recipes like this one use a type of dough which is high-hydration. It can easily stick to your hands and be hard to knead manually.
Whisks are best used to fluff up eggs, whipping cream, and froth milk. They do this by adding lots of air, which you'll want in your batter if you're going for light and fluffy baked goods.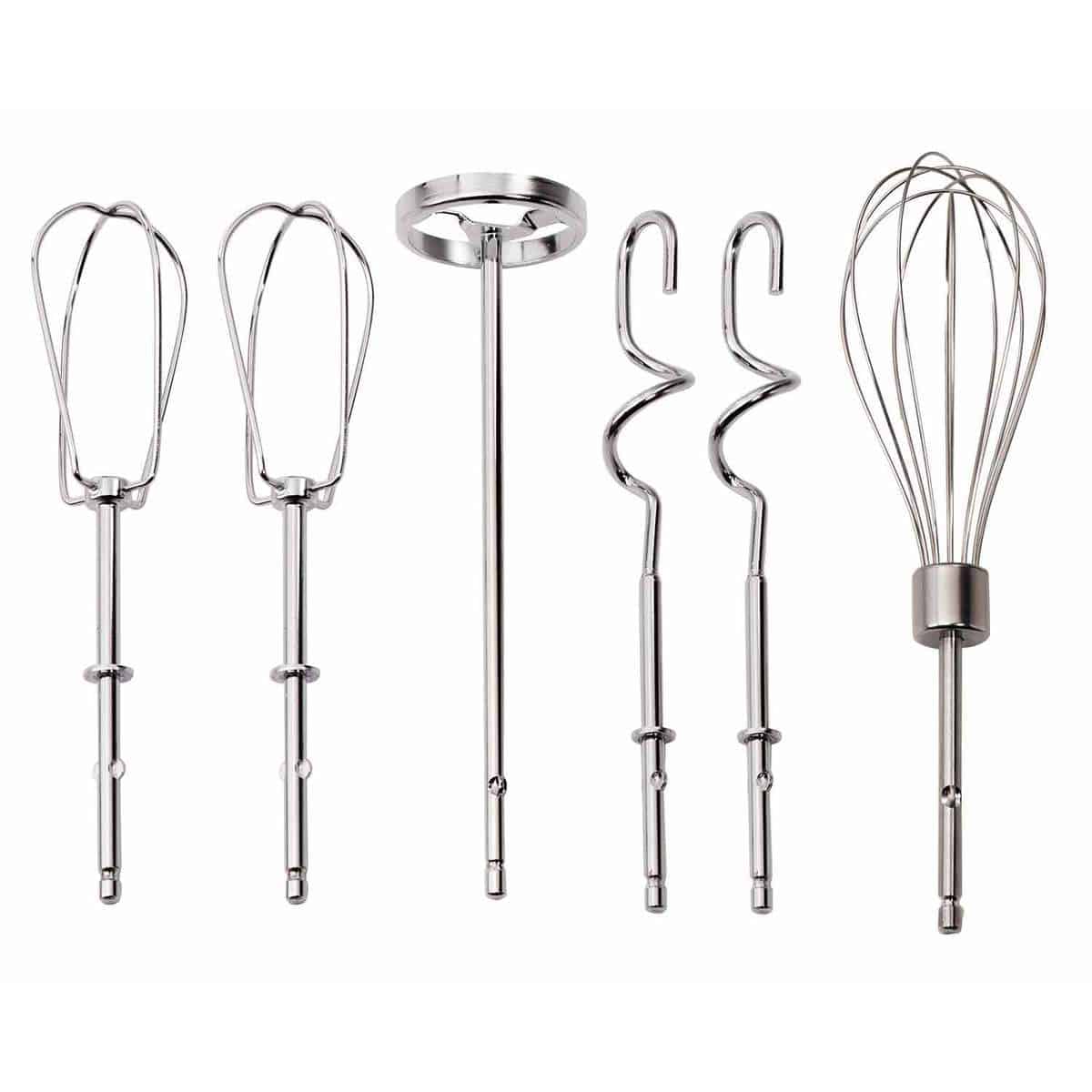 Best Hand Mixer Design
Holding a hand mixer for several minutes at a time can get tiring for your arms, shoulders, and wrists. Since you can't walk away from your mixer while it's working the dough, you'll have to deal with it.
That's why we recommend getting a lightweight hand mixer. That way, the mid-baking arm workout you weren't expecting is more bearable. Additionally, it's also good to choose a model with an ergonomic design. If it's easy to hold, it'll be more comfortable to use for extended periods.
Special Features
If you want to be extra fancy, there are always some bells and whistles you can invest in. Here are some of them:
Groove to rest the mixer on the bowl

Coated whisks

Indicator power light

Comfortable speed-adjusting button

Durable storage case
These small features could help you decide between two very good models.
Ease of Storage
One of the perks of having an electric hand mixer is being able to put it away easily and conveniently. Make sure to pick a compact model. After all, that's this appliance's main advantage against a stand mixer.
On top of that, having a storage case is a big plus. It lets you organize all your mixer attachments and accessories in one place. This way, you don't end up losing anything.
Ease of Cleaning
As always, try to choose a unit that is easy to clean. The beater attachments should come out easily so you can clean them. Moreover, pick a model whose parts are dishwasher safe. This will make your life much easier, as you won't need to worry about handwashing any of the dough hooks and whisks.