Rice is a cereal grain. It is one the most widely consumed staple foods. It is actually the agricultural commodity with the third-highest worldwide production, after sugarcane and maize, according to 2012 FAOSTAT data. Rice plays an important cultural role in many parts of the world, especially in Asia where they have many festivals that are centered around rice harvest time. It is also a symbol of fertility in many cultures.
Despite the fact that rice is a simple grain,the addition of spices, nuts, dried fruits, vegetables or herbs can transform it into an extraordinary meal. Throughout history it has been on royal menus of various cultures as the main dish. From the pilaf of Turkey, polou of Persia, paellas of the Mediterranean to the Biryani of south Asia.
In this challenge we would like to invite you to get creative with rice, cook something outside your comfort zone. Travel to a new country through your dish. Read up on a new culture and cook one of their rice based dish. Or you can share a rice based family recipe from your country and tell us about its history and the occasions it is served in.
I will be sharing 2 Middle Eastern rice based mains.. You can choose one of them or you can cook any other rice based main meal that you fancy.
Recipe Source: Mujadara and maklouba are family recipes.
Download the .pdf here
Notes: All spice is ground all spice berries, also known as Jamaica pepper, pepper, myrtle pepper, pimenta, turkish Yenibahar, English pepper or newspice. You should be able to find it in Middle Eastern stores
Recipe 1:Makloubeh


Servings: 6
Cooking time: 1 hour and 30 minutes
Ingredients
3 cups (600 g) short grain rice
1 head cauliflower
400 grams beef cut into cubes
1 medium onion chopped
1 teaspoon (2.6 g) all spice
1/2 teaspoon (1.3 g) cinnamon
1/2 teaspoon (1.3 g) cardamom
3 teaspoons (17 g) salt
3 tablespoons (45 ml) olive oil
To cook the beef
10 whole all spice berries
10 cardamom pods
1 stick cinnamon
2 liters (2000 ml ) water
Toasted nuts and chopped parsley for decoration (optional)
Directions:
1.Wash the rice and soak it in some warm water for 15-20 minutes then drain it, discard the water.
2.Cut the cauliflower into florets and then fry it until golden brown (You can brush it with oil and grill it if you want a healthier version)
3.In a pot add the beef cubes, onion , whole all spice, cardamom pods and cinnamon stick and then add 2 liters of water to
4.Cook until the meat is done (you can do this in a pressure cooker to save time, if you use a pressure cooker 3-5 minutes after it starts to whistle is more that enough) reserve the water, you will use it to cook the rice in it
To assemble the makloubeh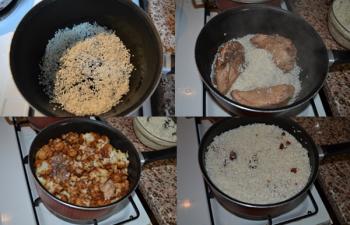 1.In the pot you will cook it in start by adding the olive oil followed by a thin layer of rice.
2.Arrange the beef on top of it and fill the gaps with rice
3.Add a layer of cauliflower,then top with half of the remaining rice then another layer of cauliflower, then the remaining rice
4.Sprinkle the salt, all spice, cinnamon and cardamom on top
5.Add enough of the chicken broth for it to submerge the rice and rise by 1-2 cm (around 6 cups)
6.Cook on very low heat, covered for 30-40 minutes (we are cooking on low heat because we don't want it to boil and bubble because if it does it will spoil the arrangement of the layers)
Note: You can place a small plate on top of the last rice layer to help keep things in place
7.Allow to cool in the pot for 20-40 minutes this will help the layers hold together a little
8.Place your serving dish on top of the pot and flip the pot. You may tap the bottom of the pot gently to help the makloubeh slide off.
9.Decorate with toasted almond and chopped parsley and serve it with yogurt or a simple salad
Recipe 2: Mujadara
You can think of Mujadara as the Middle Eastern ultimate pantry recipe.A main meal based on nothing more than rice, lentils, onions, olive oil and of course, spices. The first recorded recipe for mujaddara appears in Kitab al-Tabikh, a cookbook compiled in 1226 by al-Baghdadi in Iraq. Containing rice, lentils, and meat, it was served this way during celebrations. Without meat, it was a medieval Arab dish commonly consumed by the poor. Slowly the vegetarian "poor" version became the norm and is now one of the staples in the Levantine cuisine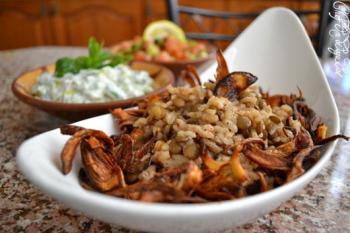 Servings: 4
Preparation time: 10 minutes
Cooking time: 40 minutes
Ingredients
1 1/2 cups (300 grams) short grain rice
1 cup (200 g) brown lentils
4 cups (1000ml) water
1/2 (1.3 grams) teaspoon cumin
1 teaspoon all spice (2.6 grams)
1/2 teaspoon (1.3 g) dried coriander
1/2 teaspoon (1.3 g) cinnamon
1/4 teaspoon (0.5 g)cardamom
1 and 1/2 teaspoons (8.5 g)salt
1 big onion cut into strips
4 tablespoons (60 ml) olive oil
Directions:
1.In a pan saute your onions in olive oil until they are golden brown, drain and reserve the oil.
2.Wash the rice and soak it in water for 10-15 minutes
3.In a pot place your lentils and add 4 cups of water
4.Bring the water to a boil and cook then lower the heat and allow to cook until the lentils are done.
NOTE: Lentils, like all dried beans, vary in their cooking time depending on several factors, including age. Yours may take longer to become tender, but they shouldn't take much more than an hour. Hard water can also affect the cooking time—if your water is hard, use bottled water.
Drain the lentils reserving the water
5.In a pot place the lentils, rice, spices, the oil you reserved from the onions and the salt.
6.Add 2 cups of the water you cooked the lentils in.
Note Some types of lentils absorb most of the cooking liquid, if you don't have enough lentil cooking water left, add regular water
7.Bring to a boil then lower the heat and cover the pot until the rice absorbs all the water
8.Fluff with a fork.
9.Serve topped with the caramelized onions.
Storage & Freezing Instructions/Tips:
Mujadara and makloubeh can be stored in the fridge for up to 3 days. Neither can be frozen
Additional information:
Mujadara video:
https://www.youtube.com/watch?v=Dpx74oZT6-w
Makloubeh video:
https://www.youtube.com/watch?v=DDFYch7b2JA
You can see a picture of allspice here: