2020 proved to be an extremely difficult year for so many people and looking after ourselves has become more important than ever. As we have all become more mindful of our health, here at Daring Kitchen we wanted to discover which states in the country are the healthiest, and in contrast which are the unhealthiest. 
Wishing to do just this we have analysed both publicly available and internal survey data to compile the research and have revealed the top 10 healthiest and unhealthiest states in North America!
Categories ranked to compile the research include regional statistic rates on obesity, alcoholism, smoking, exercise, depression, and overall mental health. Each data category was assigned a score out of seven, the higher the number, the worse the state scored. 
Check out both the healthiest and unhealthiest top 10 states below to see how your home ranks…
The top 10 healthiest states are:
Hawaii 

Colorado 

Arizona 

California

Florida 

Utah

Wyoming

Connecticut

Wisconsin

Nevada
The top 10 unhealthiest states are:
Kentucky 

Alabama 

Mississippi 

North Dakota 

Tennessee 

West Virginia

Delaware

Iowa

Louisiana

Missouri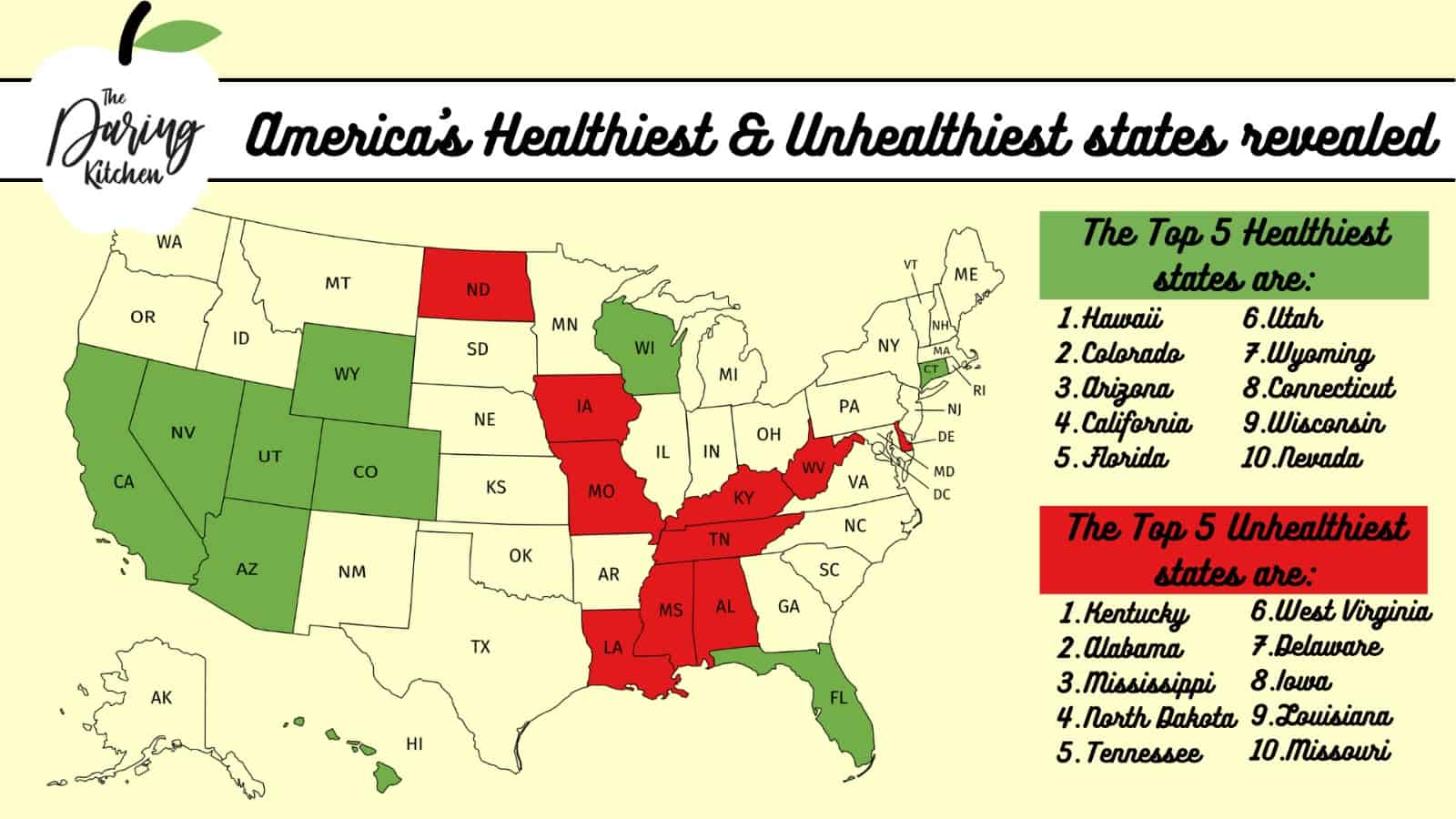 Along with delving into external data we also wanted to find out a little more about American's views on general health and fitness habits and as such surveyed more than 3,500 American adults across the country.
The research found that more than half (57%) of people admitted to not doing any form of 'regular' exercise at all during 2020 and just a fifth (21%) stated they enjoyed exercising. 
Despite this, more than two thirds (71%) of Americans confirmed they wish to be healthier, with only one in ten (12%) surveyed stating that they believe they are at their 'peak health'. Following this four in five (85%) participants confirmed one of their New Year's resolutions is to be healthier in some form, whether that's by eating healthier, doing more exercise or lowering alcohol consumption.
Discussing eating habits in particular we found that three quarters (73%) of people eat take out at least once a month, with a further third of people (29%) admitting to having fast food weekly.
This was unsurprising news as a previous survey of ours found that nearly three-quarters of American's (73%) stated that convenience is a top priority for them when it comes to dinner, and that pizza, hamburgers and chilli are the top 3 convenience meals favoured by families across the country. You can discover more about America's favorite family dinners here: https://thedaringkitchen.com/americas-favorite-family-dinners/
Following what has probably been the most difficult year in many people's lives so far it was no surprise to see that mental health was revealed to currently be a larger worry for most Americans than obesity, with eight in ten (83%) of those surveyed sharing that they have struggled with their mental health in 2020, whereas 44% confirmed they are worried about obesity and being overweight.
We hope our findings prove insightful and the results help motivate anyone looking to improve their health.
*https://worldpopulationreview.com/states
**https://www.americashealthrankings.org/explore/annual?_ga=2.98739098.568121682.1598559914-523484527.1598559914