Hi – I am Jami Sorrento a two year non blogging member of Daring Cooks. What do you think of when you think about Potato Salad? A fat laden high caloric salad that you only indulge in on occasion –and even then you feel guilty? Well this month we are going to challenge you to make the most delicious and healthy Potato Salad. The possibilities of what you can do with a fresh, natural, and versatile vegetable like potatoes are limitless! Did you know that a medium-size (5.3 ounce) potato has 110 calories, no fat, no cholesterol, no sodium and includes nearly half your daily value of vitamin C and has more potassium than a banana?
Potatoes are a nutritional powerhouse and you can keep potato salad healthy by using low-fat and fresh toppings that still taste great.
Download printable file HERE
For example, what other fresh and healthy vegetables or toppings do you like? Asparagus, roasted red peppers, artichoke hearts, olives? Do you have some new salts or a spice you would like to try? How about a different oil or vinegar you have been dying to taste? Here is your chance for TOTAL CREATIVITY!!! You can make your potato salad hot or cold- just come up with a yummy, healthy and fresh potato salad that looks as good as it tastes.
I am so excited about this challenge because first of all I am of Irish decent and love potatoes. Second – I get to see all the delicious creative salads you come up with. I hope we will all expand upon the normal potato salad we make and use some new ingredients or seasonings to make the best, healthy Potato Salad ever.
An added bonus to this challenge – If you chose to accept – Is a contest hosted by the United States Potato Board. They have graciously offered to provide three Visa gift cards to the top three healthy – great tasting – attractive potato salads. First Place $150.00, Second Place $100.00 and Third Place $50.00 (all US Funds) If you choose to accept their challenge –just include your recipe along with your picture. This will let us know you would like to be included in the contest. This will also let us know that it is OK to post your recipe and picture on the United States Potato Board's web site www.potatogoodness.com and on the US Potato Board's Facebook page, www.facebook.com/potatoestatersandspuds. The USPB will be conducting the judging. They will pick 5 salads they find interest them the most. They will prepare those 5 recipes from the recipe you submit and taste test them to determine the top 3 healthy, tasty and creative potato salads.
Recipe Source: The first three recipes I will provide were created in my kitchen – the fourth is a family recipe that I have been making for over 30 years I just substituted turkey bacon for pork bacon.
Blog-checking lines:Jami Sorrento was our June Daring Cooks hostess and she chose to challenge us to celebrate the humble spud by making a delicious and healthy potato salad. The Daring Cooks Potato Salad Challenge was sponsored by the nice people at the United States Potato Board, who awarded prizes to the top 3 most creative and healthy potato salads. A medium-size (5.3 ounce) potato has 110 calories, no fat, no cholesterol, no sodium and includes nearly half your daily value of vitamin C and has more potassium than a banana!
Posting Date: June 14, 2011
Download the printable .pdf file HERE
Notes:
Creamy potato salads- made with a mayonnaise or yogurt based dressing- add dressing and other ingredients when potatoes are cooled – Serve cold
Vinegar Based salads- Add dressing and spices when potatoes are warm- this is when the potatoes absorb flavors more rapidly- serve warm
One medium-size potato (5.3 ounces/150 gm) has just 110 calories/460 kJ and is fat free, sodium free and cholesterol free
A medium-sized potato provides 45% of your daily value of vitamin C
When eaten with the skin, potatoes have more potassium than a banana
On average, a potato costs just 25 cents – now that's nutrition on a budget!
Potatoes are a gluten free food
Mandatory Items:To make any type of potato salad – hot or cold – that is healthy and delicious. We'd love to see all kinds of ethnic and cultural variations! Remember to be eligible for the contest you must supply the complete recipe. By supplying the recipe you give permission to the USPB to use your photo and recipe on their website. It also enters you into the contest.
Preparation time:
Boil potatoes: 25 – 35 minutes. Or get creative, and try grilling or roasting your potatoes for your salad!
For a creamy potato salad that will be served cold, be sure to allow 1 hour cooling time or cool overnight.
Peel and chop vegetables: 10 – 30 minutes.
Equipment required:
1½ quart (1½ liter) sauce pan to boil eggs ( if using) or green beans
3 quart (3 liter) sauce pan to boil potatoes
Knife or peeler to peel potatoes
Knife to chop vegetables
Large spoon to mix salad
Microwave –not imperative
Whisk and bowl or salad dressing shaker
Measuring cups and spoons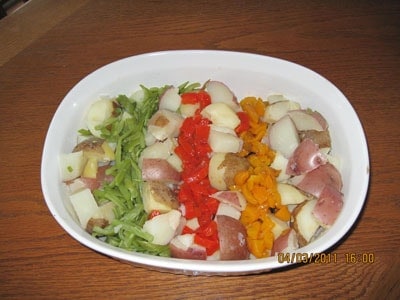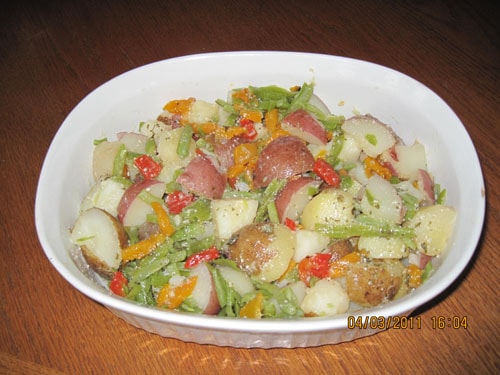 Green Bean Potato Salad
Servings: 8
Ingredients:
1 pound (½ kg) small red potatoes
1 pound (½ kg) russet potatoes
10 oz (300 gm) frozen green beans-( fresh green beans, which are par-boiled is also great)
1 roasted red pepper (capsicum) –diced
1 roasted yellow pepper (capsicum) – diced
Salad Dressing Ingredients:
⅓ cup (80 ml) olive oil
½ cup (120 ml) white balsamic vinegar- can use regular dark balsamic
1 teaspoon (5ml) (7 gm) salt
Pepper to taste
¼ cup (60 ml) grated Romano or Parmesan cheese
Directions:
Scrub potatoes. If the skins are fresh, then leave on. Otherwise peel before cooking or after cooled from cooking. Can be cut in half, if small or cut into bite size pieces.
Boil potatoes till tender but not mushy, around 25-30 minutes.
Microwave or boil green beans according to directions on package.
Dice roasted red and yellow peppers
Shake or whisk all dressing ingredients together
Combine all ingredients: potatoes, green beans, roasted red and yellow peppers and dressing.
Can be eaten hot or cold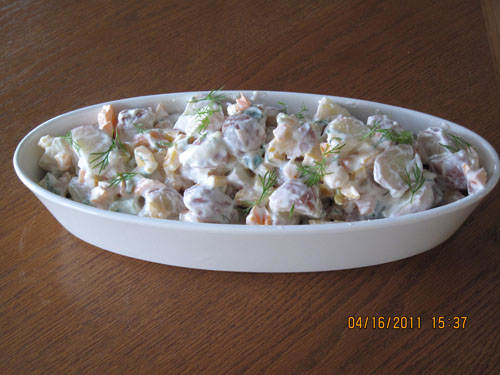 Creamy Yogurt and Dill Potato Salad
Servings: 8
Ingredients:
2 pound (900 gm) small red creamer potatoes or any other baby reds
½ orange bell pepper (capsicum) (Can use other colored peppers – I find yellow and red to be the sweetest)
½ red bell pepper (capsicum)
Dressing Ingredients:
3 tablespoons (45 ml) (10 gm) fresh dill
1 cup (240 ml) (¼ kg) Greek yogurt (natural-set yogurt)
1 teaspoon (5ml) (3 gm) sea salt
Juice of ½ fresh lemon juice
Dill for garnish
Directions:
1.Scrub potatoes and leave on skins
2.Boil potatoes till tender, about 20-25 minutes
3.Drain and cool. Once cooled, cut potatoes in half
4.Wash and dice peppers
5.Mix dressing, then add to cooled potatoes
6.Garnish with dill sprigs and chill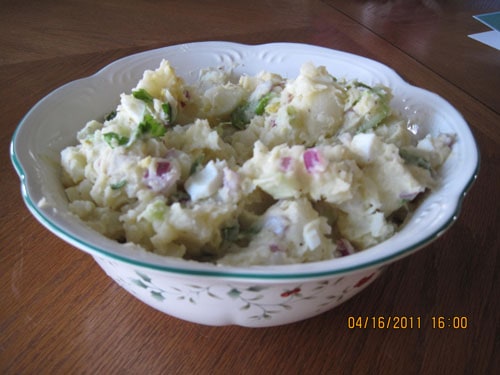 Light American Potato Salad
Servings: 10
Ingredients
3 pound (1⅓ kg) russet potatoes AKA-Idaho potatoes
2 large hard-boiled eggs
3 celery stalks
¼ cup (80 ml) chopped red onion
Dressing Ingredients:
½ cup (120 ml) (100 gm) light miracle whip or light mayonnaise
¼ cup (60 ml) cider vinegar
1 tablespoon (15 ml) (7 gm) Dijon mustard
½ teaspoon (2½ ml) (1½ gm) sea salt
Pepper to taste
Directions:
1.Peel, dice and boil potatoes till tender, about 20 -25 minutes
2.Drain and cool
3.Boil eggs until hard boiled. Start in cold water, boil for 8 minutes then cool
4.Chop celery and red onion into small pieces, add to cooled potatoes
5.Peel and chop the cooled hard boiled eggs, add to cooled potatoes
6.Poor vinegar over potatoes
7.Mix miracle whip or mayo, mustard, sea salt and pepper
8.Add to potatoes, chill
German Potato Salad
Servings: 15
Ingredients
10 medium potatoes (about 3 pounds/1⅓ kg)
10 slices turkey bacon (about 5 oz/150 gm) I have used pork bacon –but substituted turkey bacon to reduce fat and calories
1 cup (240 gm) (100 gm) chopped onions
4 tablespoons (45 ml) (32 gm) sugar
2 tablespoons (30 ml) (35 gm) flour
2 teaspoons (10 ml) (14 gm) salt
½ teaspoon (2½ ml) (2 gm) pepper
1 cup (240 ml) water
½ cup (120 ml) vinegar
Directions:
1.Peel and boil potatoes until fork tender. You want them soft but not mushy.
2.Cut into large bite size pieces
3.Fry bacon until done. Drain. Set aside.
4.Fry onion in a little bacon grease till tender.
5.Add sugar, flour, salt, pepper, water and vinegar to cooked onions.
6.Add to potatoes.
Storage Information:
It is best to store creamy potato salads in glass or plastic bowls- not aluminum-with airtight lid. Refrigerate any leftovers within 2 hours of serving to prevent foodborne illnesses. Leftovers should be consumed within 2-3 days. It is not recommended to freeze potatoes as they become watery upon reheating. The potato is 80% water and when frozen the water separated from the starch and nutrients.
Additional Information:
Quick & Healthy Potato Salad Recipe
The US Potato Board's YouTube Channel Featuring Healthy Potato How-To Videos
Mediterranean Potato Salad
Italian Potato Salad – cute video and the chef is also jazz guitarist! Entertaining!

Caesar Salad with Fingerling Potatoes by Nancy Silverton, created for The US Potato Board
Pesto Potato Salad – Vegan Recipe
Spanish Potato Salad
German Potato Salad – without bacon