Hello! I'm Ruth and I blog at Makey-Cakey. As well as being a very enthusiastic (and sometimes haphazard) cook and baker, I'm also Mum to 2 year old Mini-M who we can all thank / blame for being the inspiration behind this challenge.
This month I am challenging you all to get creative with hidden veggies by baking them into a sweet treat of your choice. I have to confess I started experimenting sneaking unexpected vegetables into my cakes to encourage Mini-M to eat that least popular of toddler foods… spinach! Since then I've baked my way through carrots, beetroot, parsnips, kidney beans, mashed potato, more spinach, kale – the list goes on. But the amazing thing is that the results have tasted fantastic which is why I'm encouraging you, fellow DBers to get creative too.
Download printable file HERE
Recipe Source: Muffins: Anja Schwerin of Anja's Food 4 Thought blog; Brownies and Cake developed by Ruth of Makey-Cakey
Blog-checking lines: Ruth from Makey-Cakey was our March 2013 Daring Bakers' challenge host. She encouraged us all to get experimental in the kitchen and sneak some hidden veggies into our baking, with surprising and delicious results!
Posting Date: March 27, 2013
Whilst I wouldn't go as far as saying the recipes I'm sharing here are conventionally healthy, they do pack a little extra nutritional punch.
One added benefit of using vegetables is that they add moisture and texture, help the finished baked goods keep well, and often take the place of some of the fats or egg within a recipe so can be a useful substitute to bear in mind in a pinch!
I'm sharing three recipes here which are the result of my own kitchen experimentation (good news for those baking with allergies this month – all are dairy free). The internet is a boundless source of recipe inspiration though: any vegetable you can think of, someone somewhere has probably baked with it before. In my web perusing prior to dreaming up this challenge, I came across recipes for chickpea blondies, tomato soup cake, cauliflower muffins, swede halva – the mind boggles!
Mandatory Items: Bake a sweet cake, biscuit or confectionery of your choice with a "hidden" vegetable ingredient. (Remember, if you use another blogger's recipe, then it's only fair to credit them.)
Variations allowed: Limited only by your imagination!
Preparation time: All recipes take about 30 minutes prep time.
Equipment required:
Brownies:
8 inch x 13 inch/20cm x 33cm pan
Scales
Food processor or blender
Spatulas and Spoons
Measuring spoons
Greaseproof paper for lining pan
Sharp knife
Mixing bowls
Muffins:
Regular or mini muffin/cupcake pans
Regular or mini muffin/cupcake paper liners
Scales
Spatulas and spoons
Measuring spoons
Blender, or hand blender
Whisk
Mixing bowls
Cooling rack
Cake:
1 inch x 8 inch (20 cm) round cake pan
Scales
Spatula and spoons
Measuring spoons
Greaseproof paper to line pan
Whisk
Mixer or Stand Mixer
Grater
Mixing bowls
Cashew Kidney Bean Chocolate Brownies
Servings: Makes one 8 inch x 13 inch/20cm x 33cm tray
I tested these on half a dozen people and none could identify kidney beans in the finished taste. Indeed they couldn't hazard a guess at anything weird at all – they just commented that they were good brownies!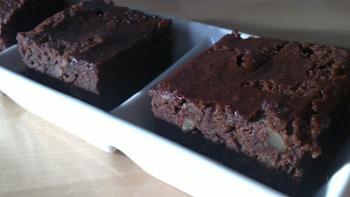 Ingredients
400gm (14 oz) tin of kidney beans (in water, not salted water), drained
1 cup (240 ml) (225 gm) (8 oz) unrefined caster (superfine) sugar (can use regular white granulated sugar)
2 tablespoons (30ml) maple syrup
½ cup (120 ml) (70 gm) (2½ oz) of plain all-purpose flour
1 teaspoon (5 ml) (5 gm) baking powder
½ cup (120 ml) (60 gm) (2 oz) cocoa powder
½ cup (120 ml) flavorless oil like canola or vegetable
4 large eggs
1 teaspoon (5 ml) vanilla extract
½ cup (120 ml) (140 gm) (5 oz) raw cashew nuts (can use roasted cashews, but unsalted is best)
Directions:
Preheat the oven to 350°F/180°C/gas mark 4 and grease and base line your baking tin.
Drain, rinse and puree the kidney beans until smooth – if in doubt, blend it a bit more – bits of unblended kidney bean in the finished brownie spoil the 'hidden' element of surprise!
Combine all the ingredients apart the nuts and beat well until mixed. You could do this in a food processor or mixer if you wanted.
Stir in the nuts.
Pour into the prepared tin, and bake for about 25 minutes until just firm to the touch.
Cool in the tin, then cut, serve, allow people to enjoy, and then surprise them with the secret ingredient!
Banana and Spinach Muffins
Servings: Makes 6 large or 12 small muffins
I used this recipe by Anja's Food 4 Thought as my inspiration, which I then adapted to suit my ingredients. I've made these several times now, and I love them slightly warm for breakfast. They're also wholeheartedly toddler endorsed!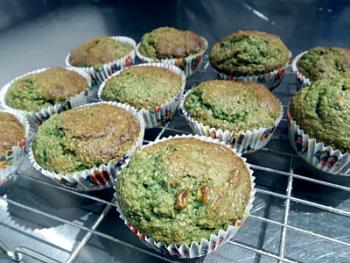 Ingredients
1 cup (240 ml) (140 gm) (5 oz) whole-meal (whole wheat) plain flour (Regular all-purpose flour works as well)
1 teaspoon (5 ml) (5 gm) baking powder
1 pinch of bicarbonate of soda (baking soda)
1 pinch of salt
1 large egg
1/4 cup (60 ml) (125 gm) (4½ oz) unrefined sugar (I used coconut sugar) (Can use regular white granulated sugar)
2 tablespoons (30 ml) olive oil (I used light and mild – regular EVOO would be too strong, use any mild flavored oil if you can't find light and mild olive oil)
1 teaspoons (5 ml) vanilla extract
1 ripe medium banana
4 tablespoons (60 ml) yoghurt (I used soya, but any kind of yoghurt would work)
1 cup (240 ml) (30 gm) (1 oz) of packed spinach (with the tough stalks removed first)
Directions:
Preheat the oven to 350°F/180°C/gas mark 4 (160°C fan) and line your tin with paper cases.
Sieve the flour, baking powder, bicarbonate of soda and salt into a mixing bowl.
In another bowl, whisk together the egg and sugar vigorously, then add the oil, vanilla extract and yogurt.
Mash the banana and stir that into the egg mixture too.
Blitz the spinach leaves to a puree with a hand blender or regular blender, then add them to the egg mix.
Stir the wet ingredients into the flour, and mix well.
Spoon into the prepared cake cases.
Bake for about 15-20 minutes, until firm to the touch, lightly browned on top, and a skewer inserted comes out clean.
Cool on a wire rack, then feed to your unsuspecting children, and feel smug that they think they are eating cake, but you know they are eating spinach!
Parsnip and Caraway Cake
Servings: Makes 1x 8in (20 cm) round cake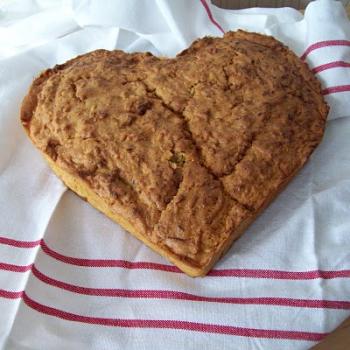 Ingredients:
1 medium parsnip grated (approx 200gm/7 oz)
1-1/4 cup (300 ml) (180gm) (6-1/3 oz) plain all-purpose flour
1 teaspoon (5 ml) baking powder
½ teaspoon (2 ½ ml) bicarbonate of soda (Baking Soda)
6 tablespoons (90 ml) (80gm) (2-3/4 oz) soft brown sugar
Zest and juice of 1 medium sized orange
1 teaspoon (5 ml) (2 gm) caraway seeds
½ cup (120 ml) (120 gm) (4-1/4 oz) margarine (I used dairy free sunflower, but any would work, or indeed softened butter)
2 large eggs
Directions:
Preheat the oven to 350°F/180°C/gas mark 4 (160°C fan) and grease and base line a 20cm (8in) cake tin.
Cream margarine and sugar until fluffy.
Beat in the eggs.
Stir in the flour, orange zest, juice, caraway seeds, baking powder and bicarbonate of soda (baking soda).
Once combined, mix in the grated parsnip.
Pour the mixture into the prepared tin.
Bake for about 25 minutes. Cool in tin for 5 minutes before turning out.
Storage & Freezing Instructions/Tips:
Storage:
Parsnip cake: Best eaten fresh but keeps 2 days in airtight tin.
Muffins: Keeps well – 3-4 days in airtight tin or bag.
Brownies: 3-4 days in an airtight tin.
Freezing:
Parsnip cake: cool completely, wrap well in foil. Freeze for up to 3 months.
Muffins: cool completely the freeze in box or freezer bag for up to 3 months. Individual muffins can quickly be defrosted as required.
Brownies: Freezing untested – it may affect texture because of the beans.
Additional Information: