Homemade spiced cardamom hot chocolate is sure to warm the soul. This rich and creamy hot chocolate is flavored with cardamom, which gives it a delicious warm spice flavor. Not to mention this recipe is made with almond milk making it vegan-friendly and perfect for wintertime gatherings!
There is something to be said about getting cozy with a blanket and a hot drink on a cold winter day. This hot chocolate is the perfect balance between sweet and spice, making it the ultimate comfort drink. Homemade hot chocolate will warm you from the inside out.
If you have been on the hunt for the most delicious vegan-friendly hot chocolate, look no further than this homemade spiced cardamom hot chocolate. It is sure to knock your socks off!
Why You'll Love This/These Cardamom Hot Chocolate
It makes you warm and cozy- getting comfortable and curling up with a cup of hot chocolate makes even the worst days brighter.
Minimal Ingredients- Most you probably already have at home!
Quick to make- This hot chocolate will be ready to enjoy in about 10 minutes
Equipment Needed To Make Hot Cocoa With Almond Milk
Two saucepots

Stirring spoon

Serving glass

Ingredients For Your Spiced Cardamom Hot Chocolate With Almond Milk
Almond milk
Cardamom pods
Chocolate
Vanilla (optional)
Salt (optional)
Whipped coconut cream (optional)
How To Make A Homemade Hot Chocolate
To make this homemade hot chocolate, you'll want to simmer your almond milk and cardamom pods together to really infuse the cardamom into your hot chocolate base. Once infused, strain the almond milk to remove the pods and place the milk back on the stovetop. Add chocolate and vanilla extract if using. Heat until chocolate is melted. Serve immediately add desired toppings.
What to Serve/Pair with Your Cardamom Hot Cocoa
Hot chocolate can be served alone as a warm and cozy drink before bedtime but it's also excellent with pastries and nut flavors.
Cinnamon buns
Almond croissant
Butter croissant
Apple pie
Lemon Bars
Nut Tart

Popular Substitutions & Additions
Peppermint Hot Chocolate: Add ⅛ teaspoon pure peppermint extract when adding the vanilla to make a delicious peppermint cocoa. To make a hard peppermint hot chocolate add a little peppermint schnapps!
Nutella Hot Chocolate: Add a spoonful of your favorite plant-based chocolate hazelnut spread or try my 4-Ingredient Vegan Nutella Spread.
Hot Chocolate Coffee: Brewed espresso can water down hot chocolate and take away the chocolatey flavor, so instead of using brewed espresso, stir in ½ teaspoon of instant coffee for an extra kick to your hot chocolate!
How To Reheat & Store Homemade Spiced Cardamom Hot Chocolate
Best Way To Store Homemade Hot Chocolate Leftovers
If you have leftover hot chocolate, it can be stored in a glass jar with a lid or any other type of airtight container in the refrigerator.
How Long Will Spiced Cardamom Hot Cocoa Last In the Fridge?
If stored properly in an airtight container, homemade hot chocolate will last up to four days in the refrigerator.
Can I Freeze Homemade Hot Chocolate With Almond Milk?
Yes! I suggest freezing hot chocolate in ice cube trays to make individual reheating easier. Once frozen in ice cube trays transfer cubes into an airtight container. If properly stored, homemade spiced hot chocolate will last about 4 months in the freezer.
How To Reheat Cardamom Hot Cocoa
To reheat homemade hot cocoa transfer it to a saucepot and heat slowly over medium heat on the stove. Heat just until hot, making sure not to burn the hot chocolate.

Cardamom Hot Chocolate FAQs
Can I use oak milk for this recipe instead of almond milk?
Of course! Your favorite non-dairy milk will work perfectly for this recipe. Oat milk, vanilla almond milk, or even coconut milk would make delicious alternatives.
All I have on hand is cocoa powder. Can I replace the cacao powder with cocoa powder?
Yes. While cocoa powder does not contain all of the health benefits of cacao powder, regular cocoa powder will work in a pinch.
Will imitation vanilla extract be ok in this recipe?
It will do in a pinch if that is all you have on hand. Pure vanilla extract may be a little more expensive, but it is worth it! The flavor of pure vanilla extract is so much better and goes a lot further than imitation.
Do I have to use the salt in this recipe?
No, it isn't necessary to add salt to this hot chocolate but adding salt to homemade hot chocolate adds texture and enhances the chocolate flavors making it even more delicious!
Can I make this recipe in the microwave?
Yes, you can make this recipe in the microwave. Microwave on high for a minute at a time, stirring in between. Heat and stir until all of the ingredients are combined, and your desired temperature is reached.

Try Some Of These Other Warm And Cozy Vegan-Friendly Recipes You'll Love
Don't Forget To Come Back And Let Me Know How Your Homemade Spiced Cardamom Hot Chocolate Turned Out!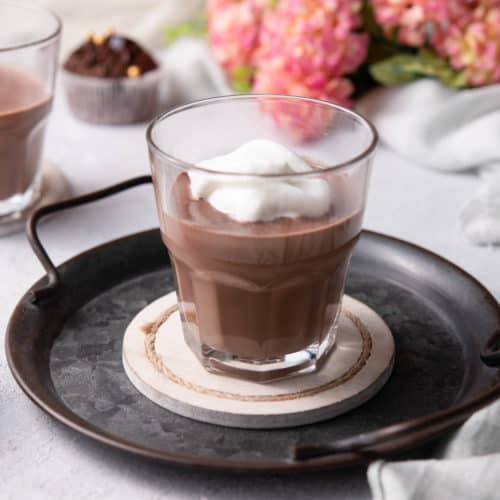 Homemade Spiced Cardamom Hot Chocolate
Homemade almond milk hot chocolate infused with warm cardamon and decadent dark chocolate to create the most satisfying cup of hot chocolate you've ever had!
Print
Pin
Rate
Ingredients
2

cups

almond milk

Or your milk of choice

5

cardamom pods

crushed

½

cup

chopped chocolate

1

tsp

vanilla

optional

1

pinch of salt

optional

Whipped coconut cream for serving
Instructions
In a saucepot, combine almond milk and cardamom pods.

Bring to a simmer. Reduce heat and simmer for 10 minutes. Let the milk infuse for 10minutes more.

Strain the milk into a clean saucepot. Heat the milk again over medium heat.

Stir in the chocolate, and vanilla and salt if using.

Cook until the chocolate is melted.

Pour the hot chocolate into the serving glass and top with whipped coconut cream if desired.
Nutrition
Calories:
278
kcal
|
Carbohydrates:
31
g
|
Protein:
3
g
|
Fat:
18
g
|
Saturated Fat:
9
g
|
Polyunsaturated Fat:
2
g
|
Monounsaturated Fat:
6
g
|
Sodium:
333
mg
|
Potassium:
186
mg
|
Fiber:
5
g
|
Sugar:
23
g
|
Vitamin C:
1
mg
|
Calcium:
330
mg
|
Iron:
2
mg