Nothing beats this silky-smooth vegan strawberry ice cream recipe. With coconut milk, cashews, all-natural sweeteners, and the FRESHEST strawberries - everyone will adore this ice cream. It's the berriest summer treat!
The Best Homemade Strawberry Ice Cream Recipe
When I think summer, I think berries! They are the ripest and juiciest in the summer. This goes especially for strawberries. Their amazing pink color and the zesty flavor are just too darn good.
Growing up, I always adored getting ice cream in the summer. It's the best way to cool off after a dip in the pool or any summer activity. I always loved sweet strawberry ice cream, with fresh chunks of strawberries. But, my stomach can't handle regular old ice cream like it did when I was a kid...
My childhood summer nostalgia channeled this homemade ice cream recipe. I wanted something with all the same fresh strawberry flavor, minus the dairy! With all my plant based cooking experiments, I knew it was possible.
With a little bit of magic, I created an eggless strawberry ice cream that's creamy and delicious. With fresh strawberries, it's the most refreshing dessert to have all summer long. It's seriously one of my favorite recipes this summer.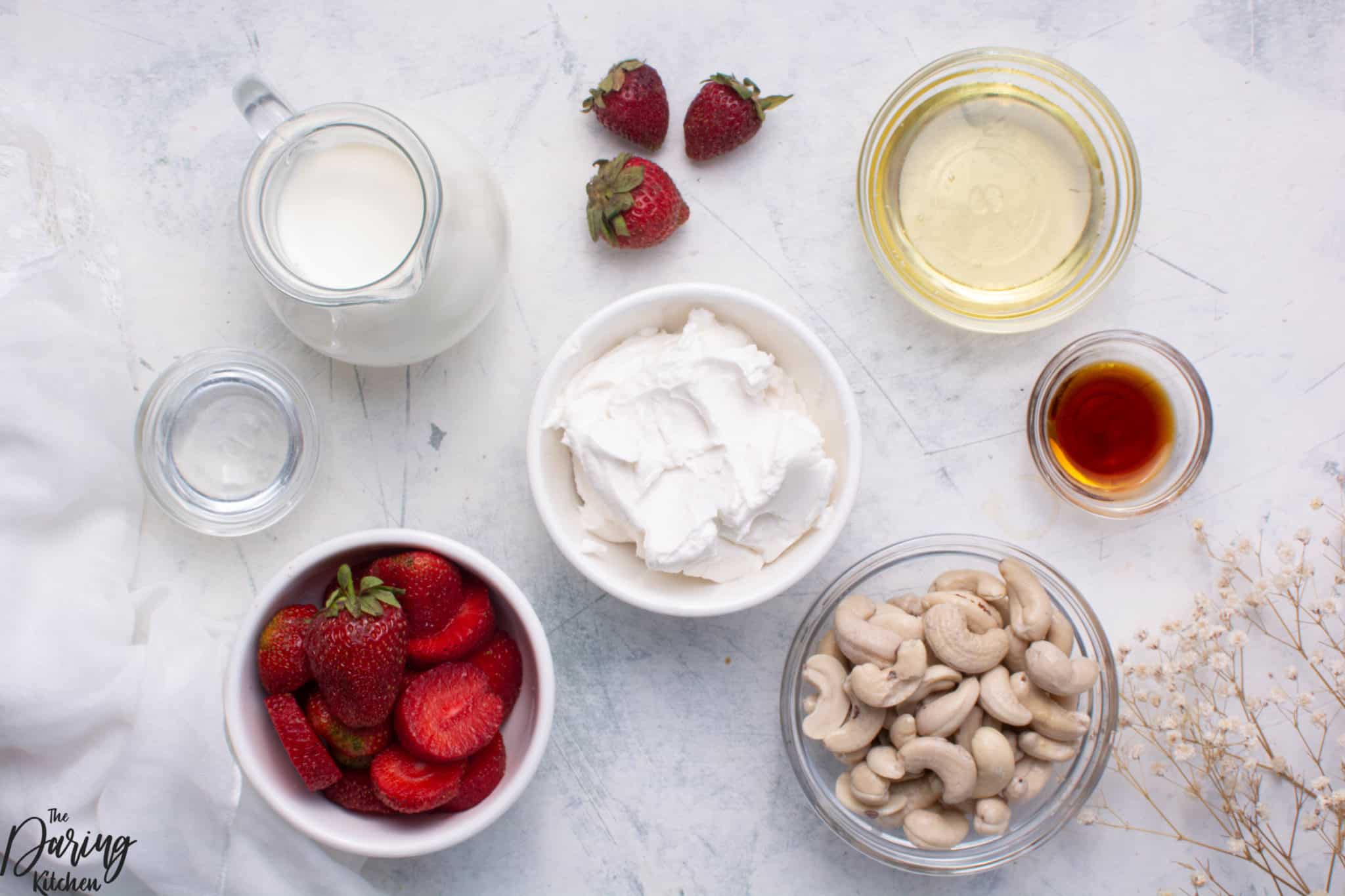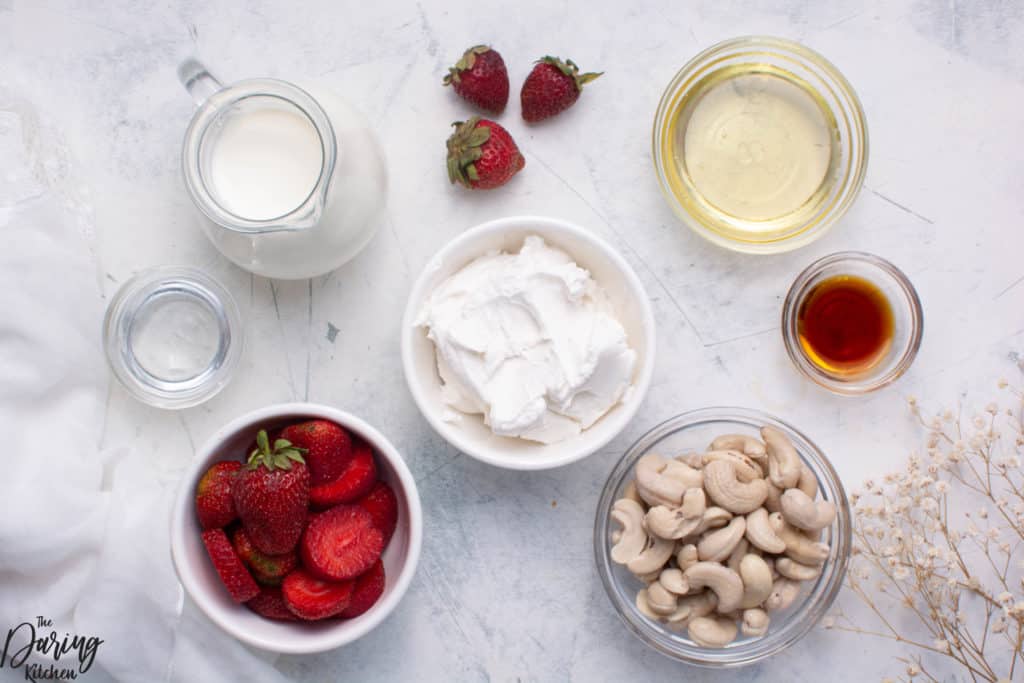 What's in Vegan Strawberry Ice Cream?
This isn't any regular ice cream - it's a 100 percent plant based strawberry ice cream that is free of any refined sugar. There's no red food coloring, white sugar, eggs, or milk at all. This is what makes it the best ice cream! So, I am listing all the ingredients so that you believe it for yourself...
Coconut milk - This is an absolute must for this recipe and is a perfect substitute for whole milk. It gives that rich. creamy ice cream texture we adore. It also gives a hint of coconut flavor that I think pairs super well with fresh strawberries.
Fresh strawberries - Go fresh or go home! (Kidding...) I really prefer using freshly sliced, super-ripe strawbs in this recipe. It adds the right kind of berry flavor. You can also use frozen strawberries if you like.
Cashews - This adds thickness to the ice cream, giving it more of a hard ice cream texture rather than a soft serve ice cream texture.
Coconut cream - You can easily find this in a can at the supermarket. Coconut cream is a must, as it works like heavy cream. It adds that luxurious creaminess to the coconut milk. Without it, your ice cream could turn out too loose.
Agave syrup - This is my way of sweetening this dessert. Agave is an all-natural sweetener I prefer. You can also use honey too. Some love maple syrup, but I find it a little too bold for this recipe.
Coconut oil - So, surprisingly enough, oil in ice cream helps keep the strawberries from oxidizing, making this ice cream as pretty and pink as it can be.
Vanilla extract - A staple flavor, vanilla is my favorite with strawberries. You can use vanilla extract or vanilla bean pod for a bolder flavor. You can also add some citrus too for contrast if you like. Lemon or lime works wonders!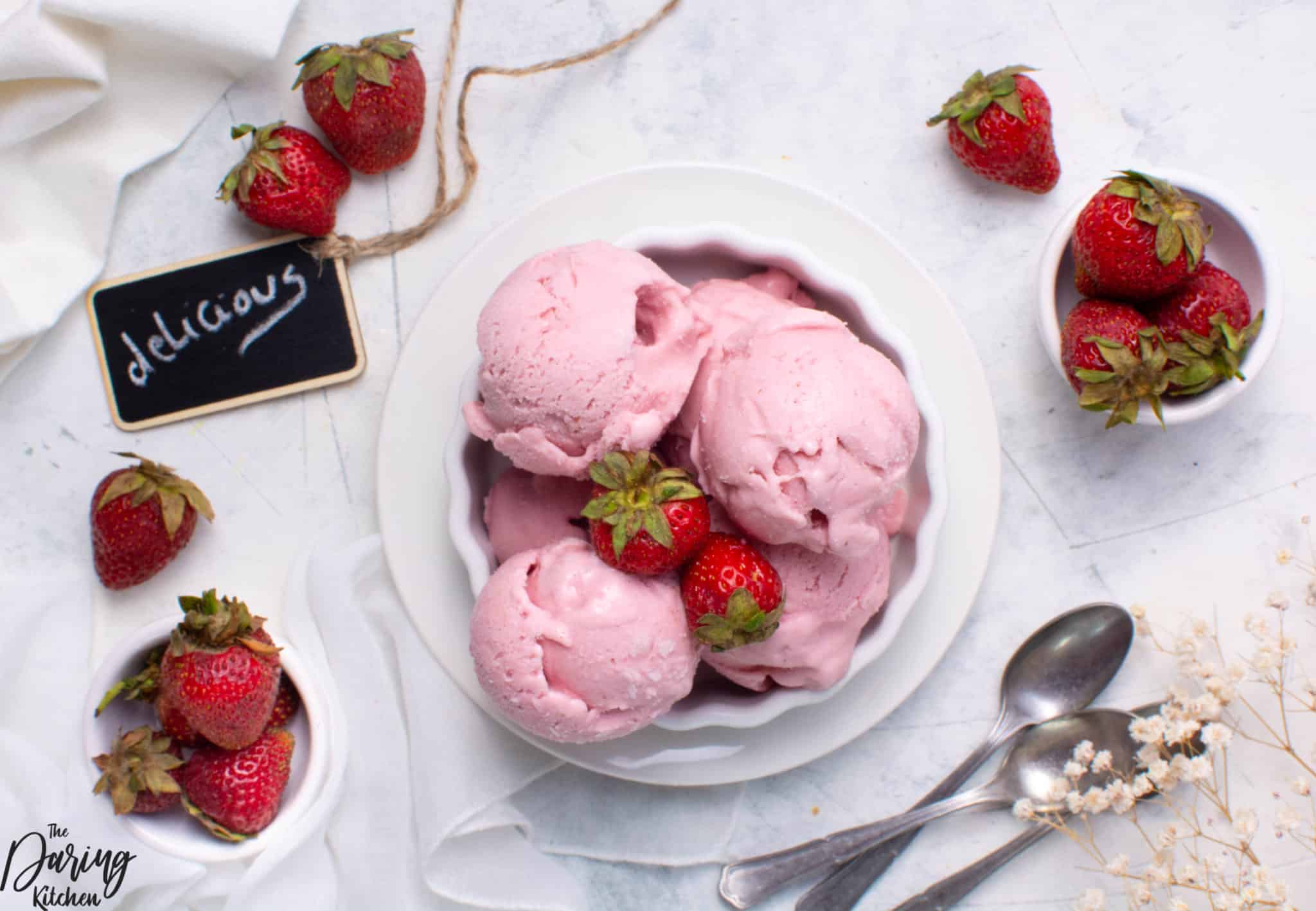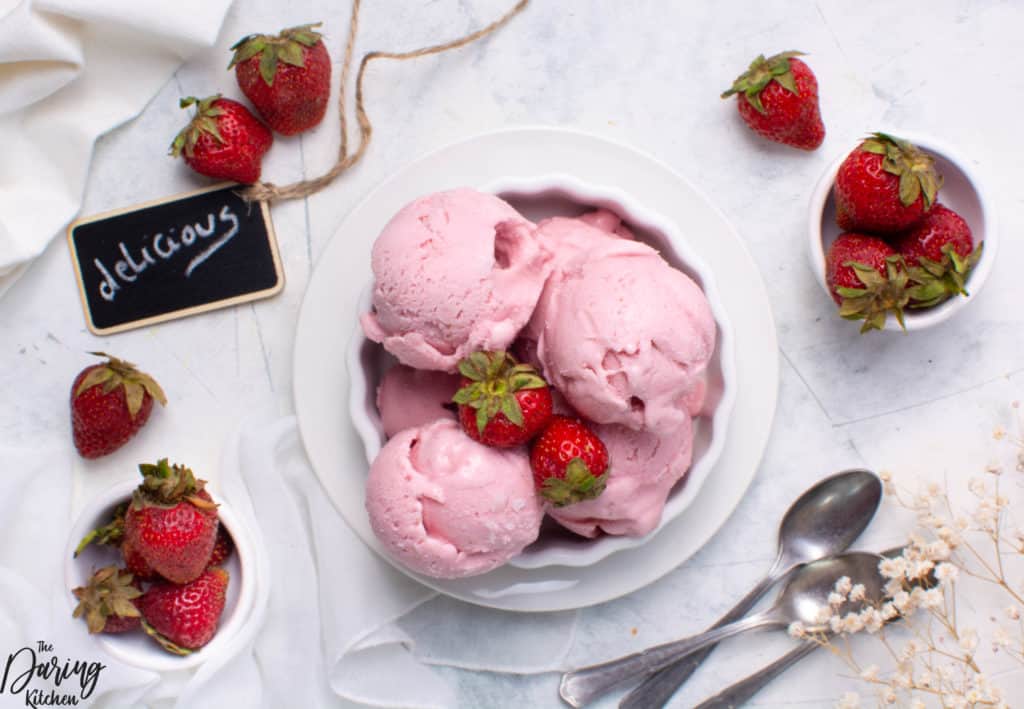 Do I Need an Ice Cream Machine?
Nope! This easy homemade ice cream recipe does not require an ice cream maker. All you need is a blender or food processor as well as a freezer bowl. That's it! If you want to use an ice cream machine, you of course can. I have a Cuisinart ice cream maker at home I swear by.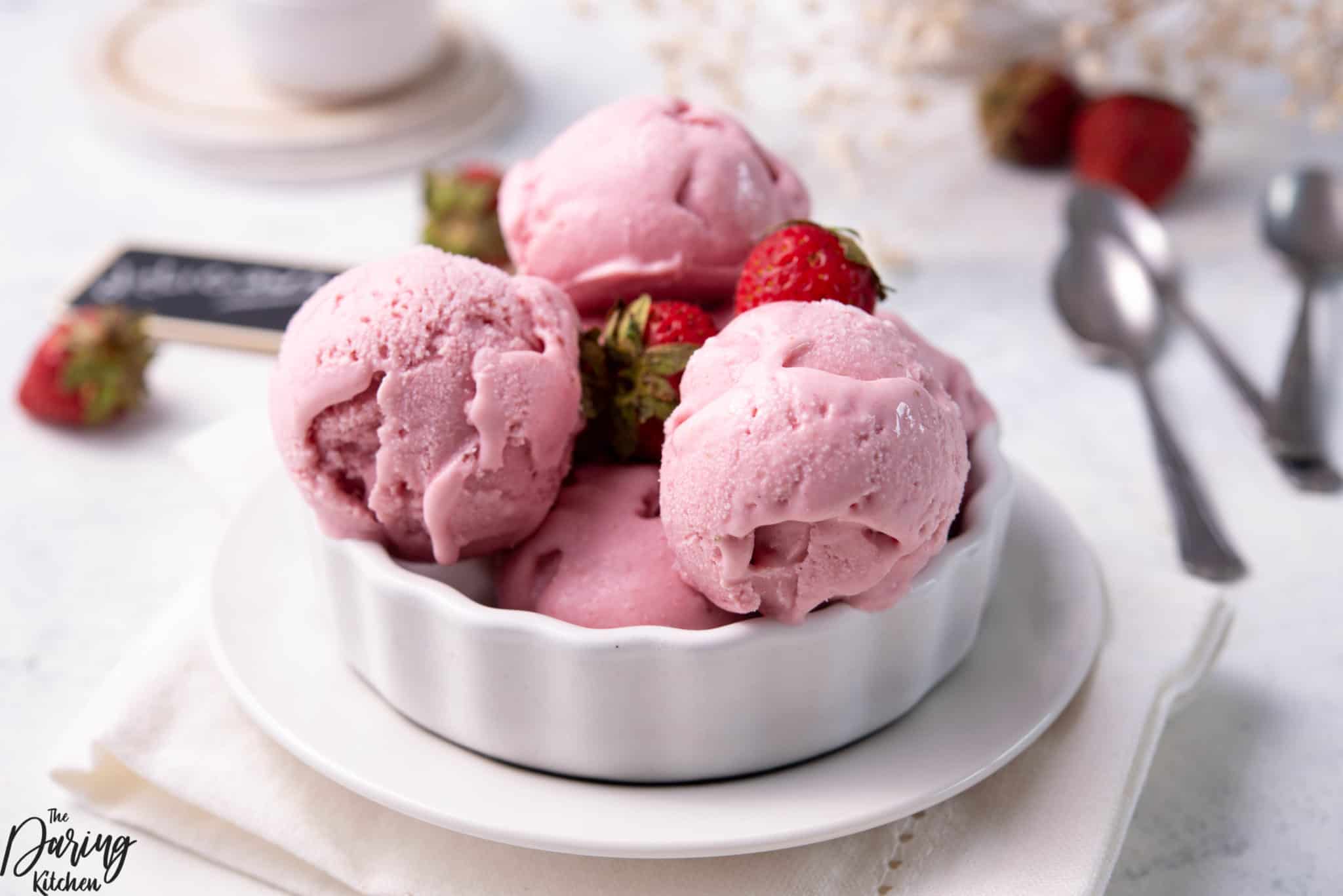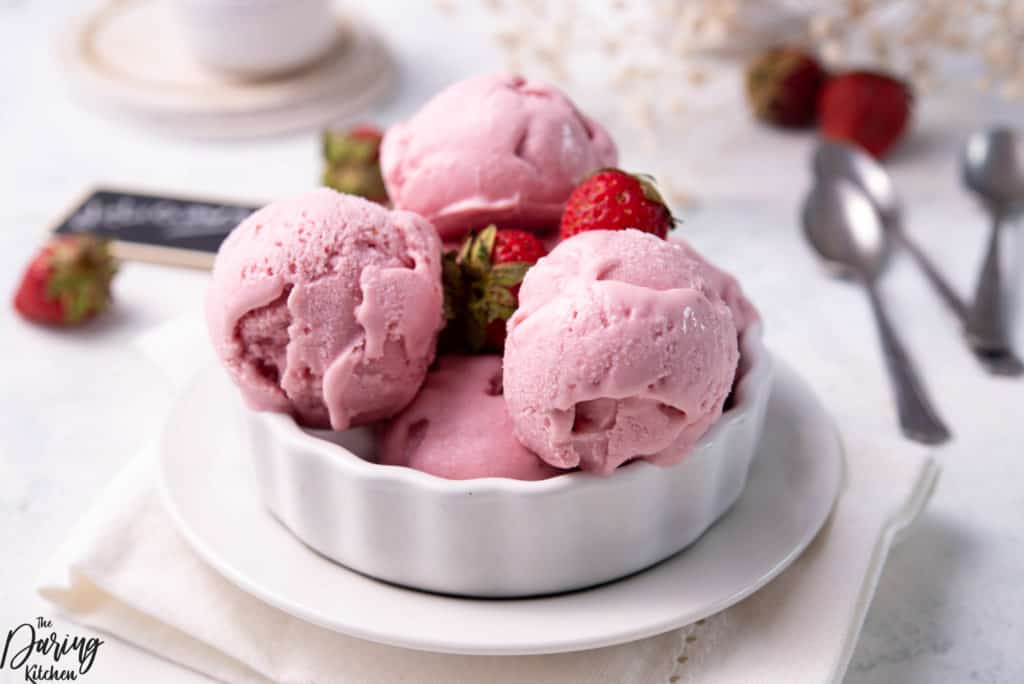 Ideas for Serve Vegan Strawberry Ice Cream
So, as you can imagine, this is pretty homemade ice cream. With all that pink color, you have to pair it perfectly. It makes the best treat and decoration for any summer party.
Minty Strawberry Ice Cream - I love to top my ice cream with coconut whipped cream and fresh mint.
Chocolate Lovers Vegan Sundae - Add two scoops of ice cream on top of a delicious vegan brownie, topping it all off with dark chocolate shavings. Talk about yum!
Strawberry Cookie Sandwich - Add two scoops onto a delicious sugar cookie. Then place another cookie on top, squishing the ice cream slightly. Roll the ice cream edges in candied or diced strawberries.
How to Make Homemade Strawberry Ice Cream
Your sweet tooth is definitely ready to make this delicious strawberry ice cream! Let's get down to the method: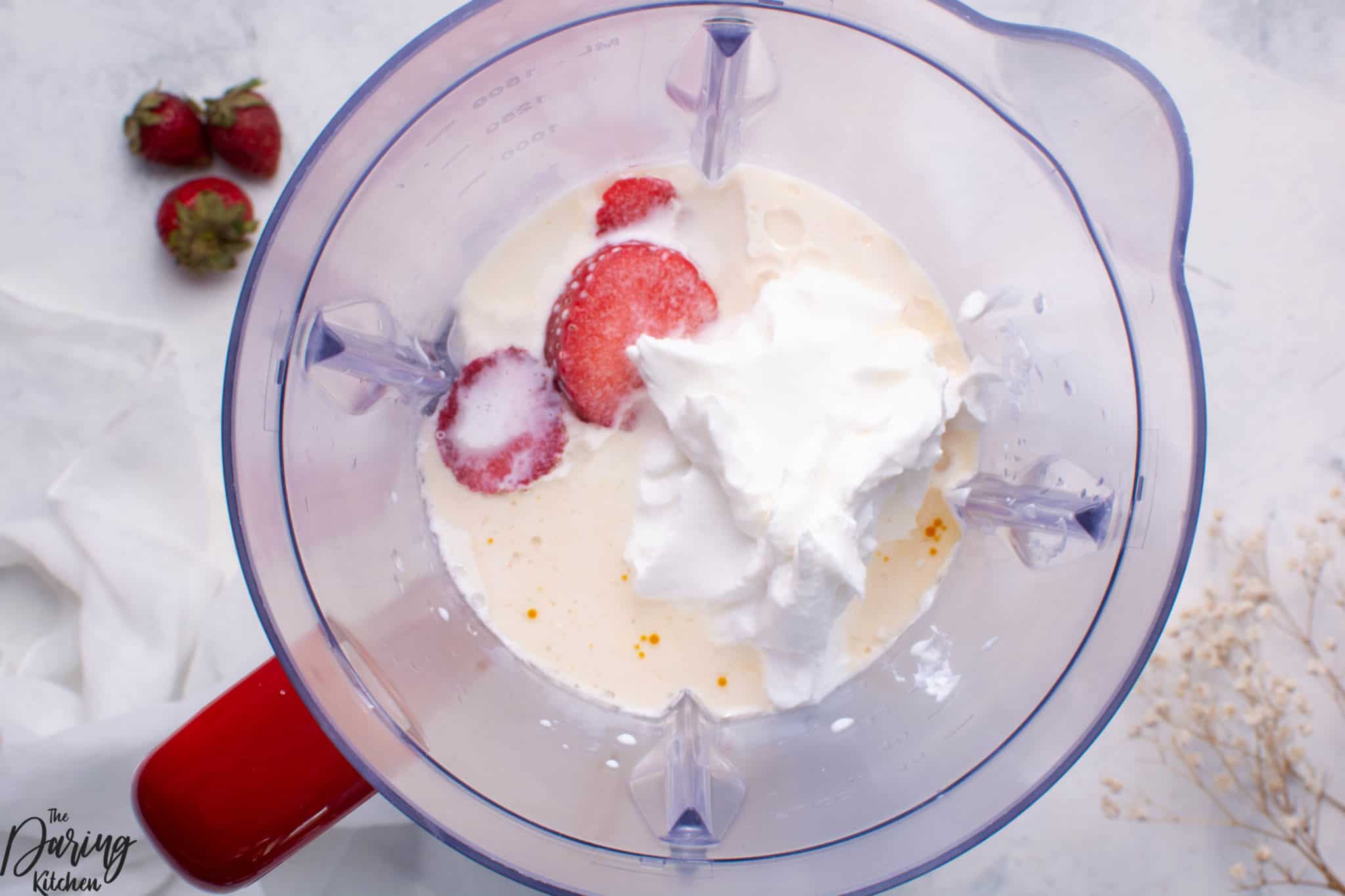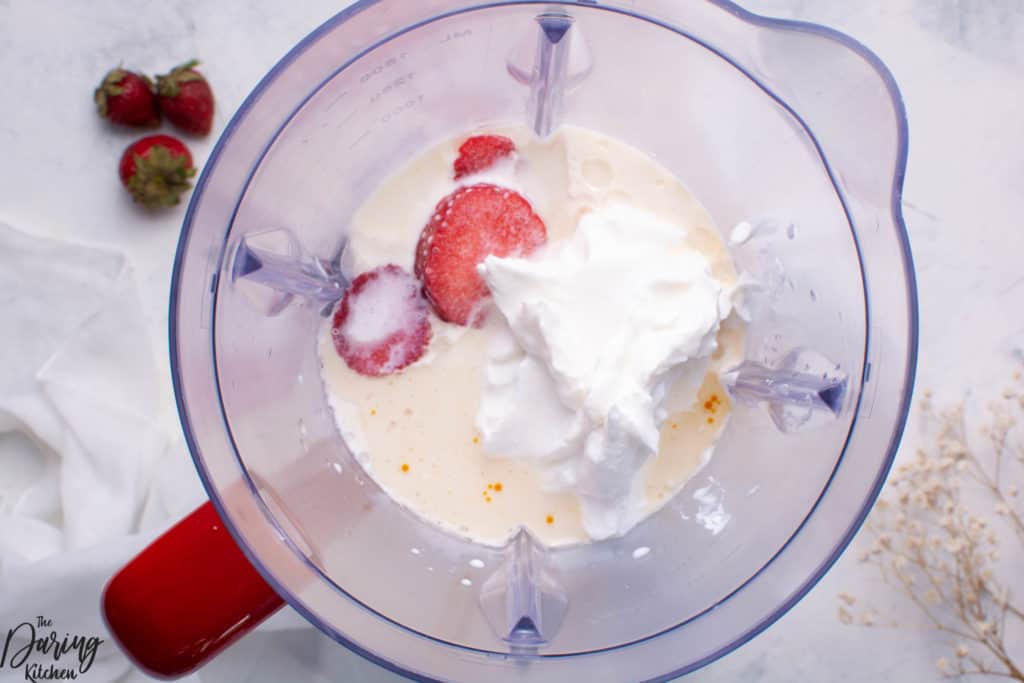 First, slice your fresh strawberries so that they can be blended easily. Then, assemble your blender or food processor. Add in all of your ingredients, from the coconut milk all the way to the vanilla extract. Blend everything until even and smooth.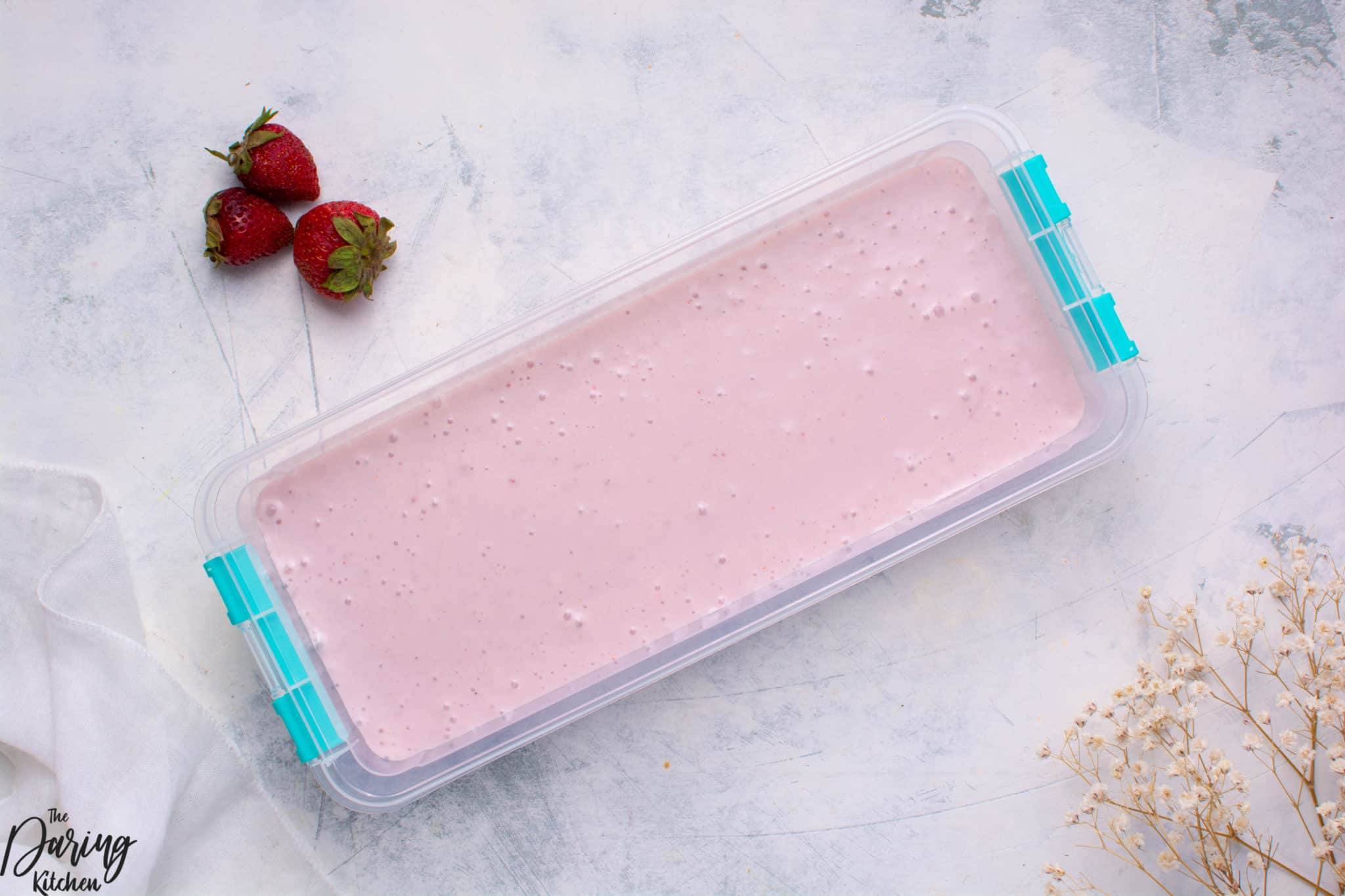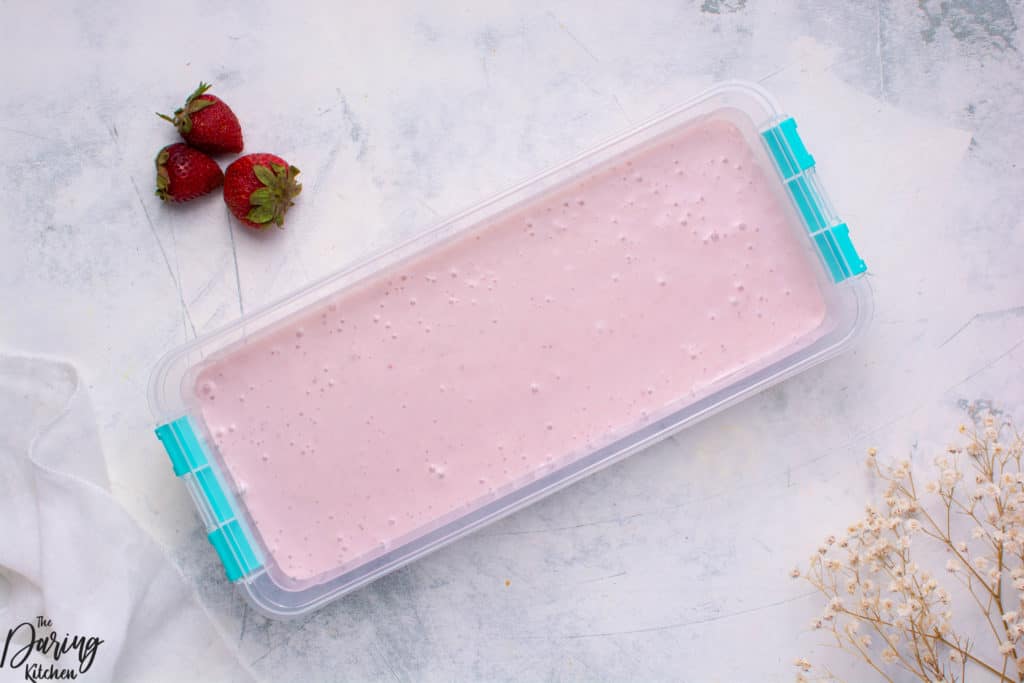 (If using an ice cream maker, you can skip the next steps and follow your machine's instructions!) Pour your ice cream mixture into your freezer container. Place a sheet of parchment paper on top of the mixture. Then, place it in the freezer for 4 hours.
Every hour, check your ice cream, stirring it to ensure that no ice crystals have formed. Once your ice cream is solid, remove it from the freezer. It needs to rest for about 10 minutes prior to serving so that it's easier to scoop.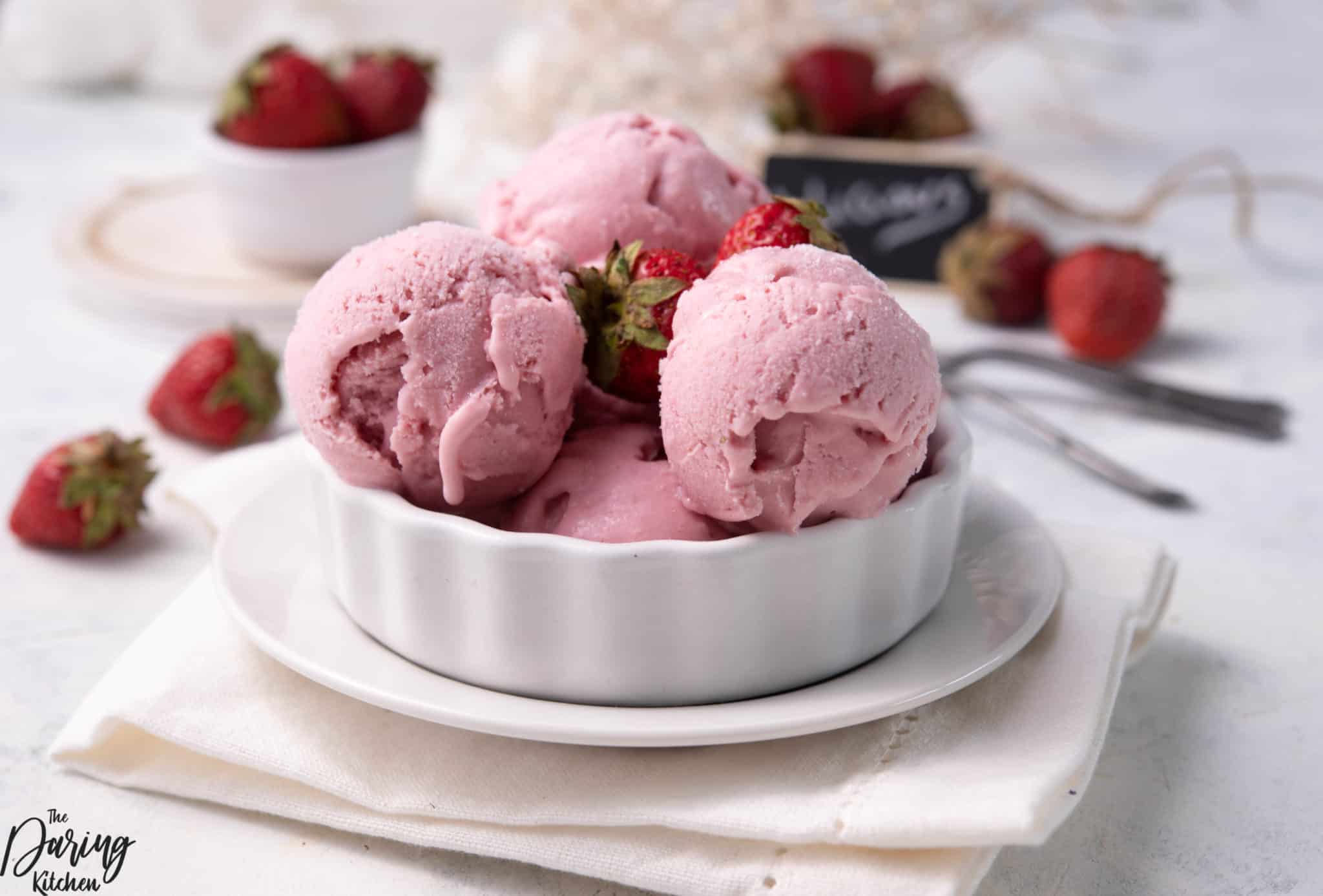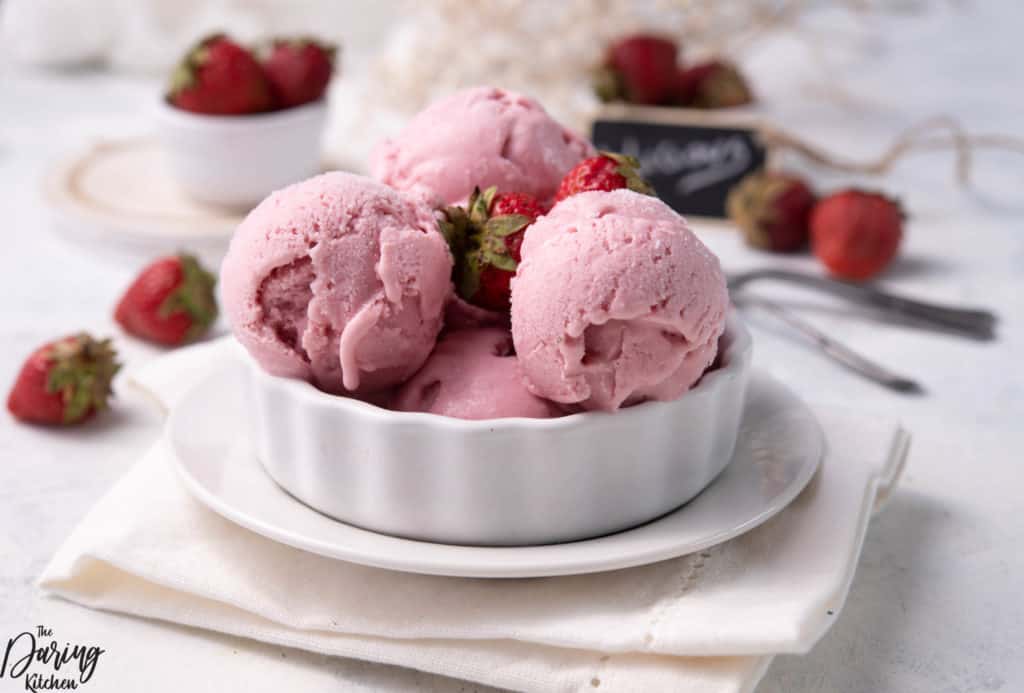 Scoop and serve your ice cream in your favorite ice cream bowl with chopped strawberries or any of your favorite toppings!
Please let me know what you thought of the strawberry recipe! I'd love to hear your thoughts and approach to this recipe.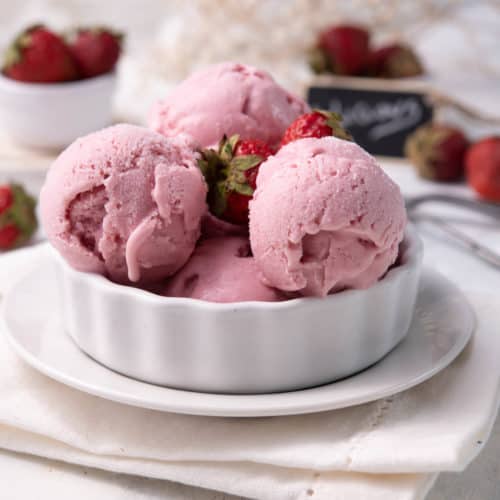 Strawberry Ice Cream
The easiest, homemade strawberry ice cream that is vegan, gluten free, and full of berry flavor!
Print
Pin
Rate
Equipment
food blender or food processor

freezer-friendly container
Ingredients
2

cups

coconut milk

1 ½

cup

sliced strawberries

1

cup

cashews

soaked overnight, rinsed and drained

½

cup

coconut cream

½

cup

agave syrup

1

tbsp

coconut oil

1

tbsp

vanilla
Instructions
In a food blender, combine all ingredients.

Blend on high speed until smooth.

Pour the mixture into a freezer-friendly container.

Freezing method:

-freezer-friendly container, pour the mixture into the container, cover with a piece of parchment paper and freeze for 4 hours. Stir the ice cream every hour to prevent large ice crystals from forming.

-ice cream machine, freeze the ice cream according to manufacturer's directions.

Remove ice cream from the freezer 10 minutes before serving, if using a freezer-friendly container.

Top the ice cream with some freeze dried strawberries or fresh strawberries.
Nutrition
Calories:
416
kcal
|
Carbohydrates:
24
g
|
Protein:
6
g
|
Fat:
35
g
|
Saturated Fat:
24
g
|
Polyunsaturated Fat:
2
g
|
Monounsaturated Fat:
6
g
|
Sodium:
14
mg
|
Potassium:
377
mg
|
Fiber:
1
g
|
Sugar:
14
g
|
Vitamin C:
1
mg
|
Calcium:
24
mg
|
Iron:
4
mg