Just because life is too busy does not mean you can't eat well! With this one-pot honey balsamic chicken, you can get all the nourishment you need without a ton of kitchen hassle.

Delicious Honey Balsamic Chicken
When it comes to a busy week, we just want food to appear right in front of us. We also do not want to clean up a bunch of dishes after we either. That is why I love this dish. It requires minimal effort. Everything cooks all in one pot. That's it. No need to bust out all your pots, pans, and utensils. All you need is a bowl and a baking dish. Both can conveniently be washed in your dishwasher too!
What I love about this dish is its sweet and savory balsamic sauce. Balsamic vinegar has a bright and tangy flavor that just does really well with chicken. By adding a little honey, the balsamic magically glazes the chicken in the oven. 
I know, this chicken dish sounds too good to be true. Trust me, it will be your new lunch or dinner staple for the busiest weeks. Plus, you can always make extra to bring to work the next day. This makes this dish great for supplementing meal prep too.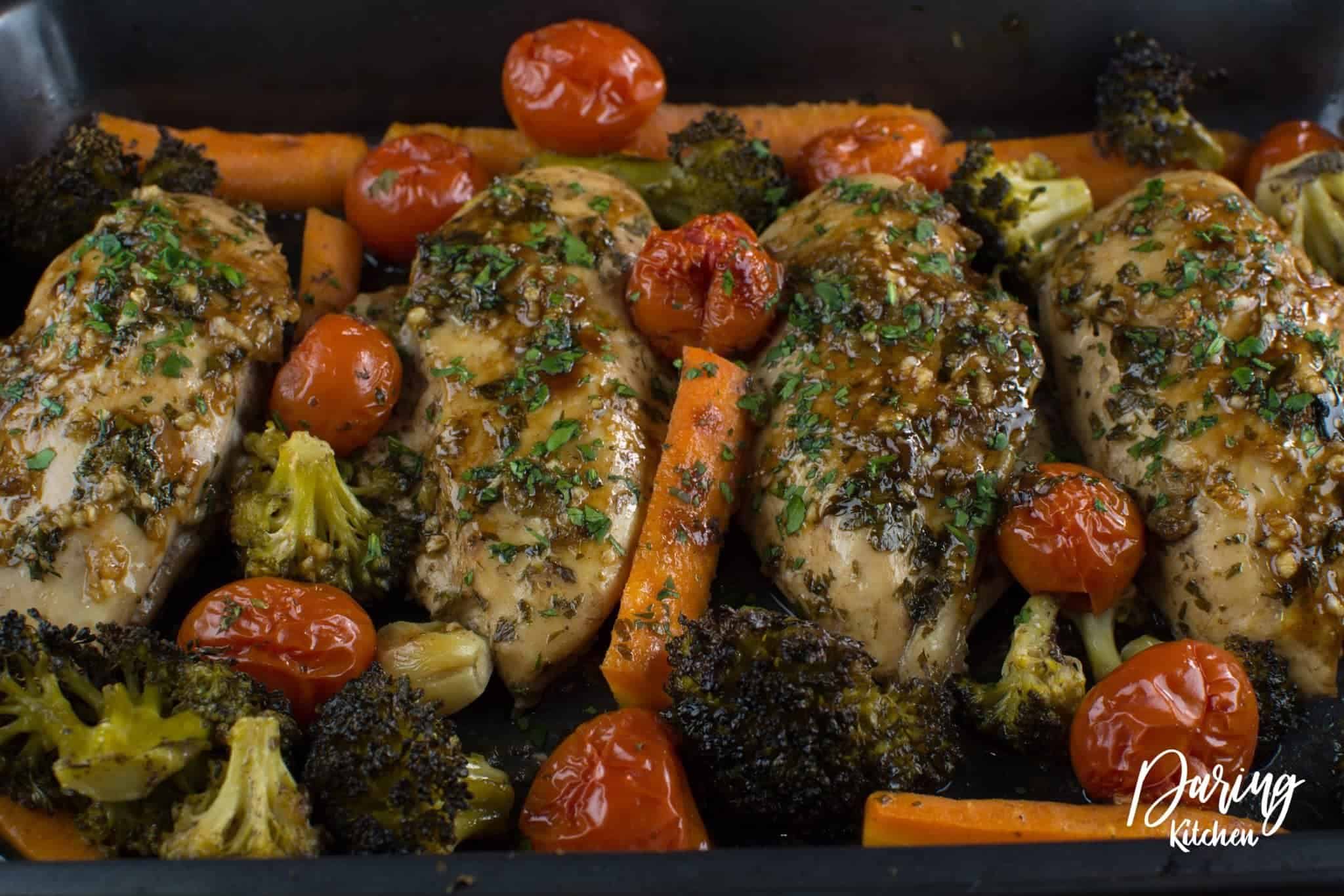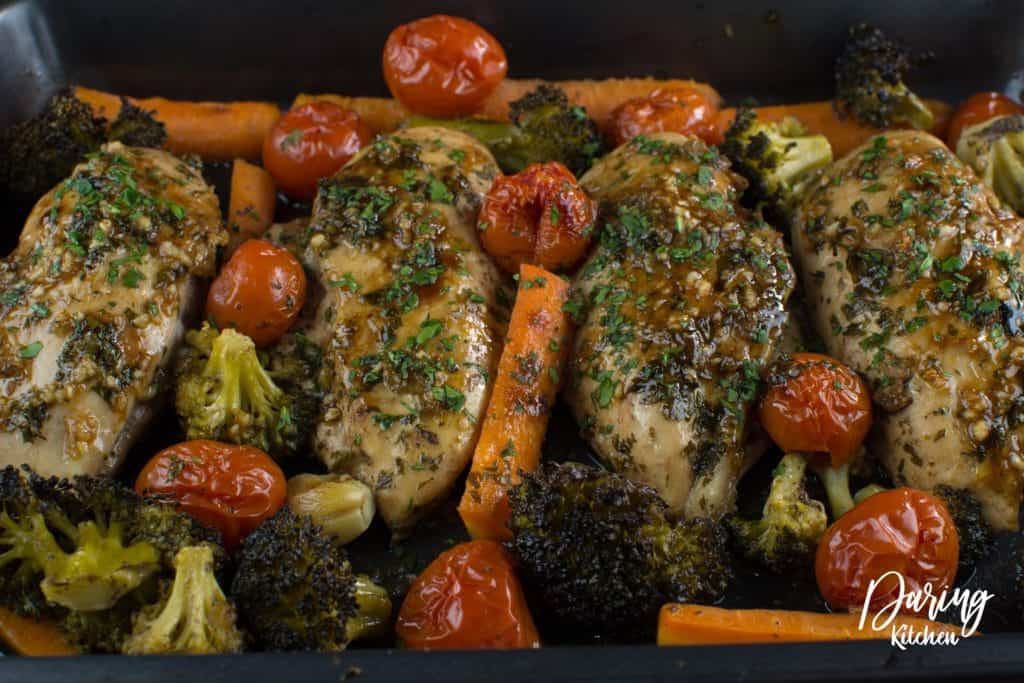 The Magic of Marinating
There is one initial step to take before throwing all the ingredients into your baking sheet.
You need to make your balsamic marinade. This is what will evolve into a wonderful glaze-like sauce in the oven. But, it is really important to let the chicken soak in it for 20 minutes. This allows the chicken to tenderize and absorb all the flavor. This will also help the chicken cook evenly in the oven.  
The best thing is - you can do this ahead of time. Making your marinade in the morning to cook the chicken in the evening is a brilliant idea. As long as the chicken rests for at least 20 minutes in the delicious marinade, you are all good to go.
Play with Your Veggies
This recipe adapts to your kitchen. That means, whatever veggies you have, use them! 
In this recipe, I included carrots, whole cherry tomatoes, and broccoli. Carrots are such a classic pair with chicken. Plus, they become perfectly sweet when oven-roasted with the honey balsamic sauce. Roasted broccoli has a wonderful texture and adds some nutrient-dense greens to this dish. And, as for the tomatoes, I just love them. They burst with zesty balsamic flavor when roasted.
I may love this combination, but you may love other vegetables more. Cauliflower, zucchini squash, or onions are just a few other veggies that would work really well in this dish. Just remember that more dense and starchy options, like certain types of potatoes, may need more time in the oven to cook.
How to Make One-Pot Honey Balsamic Chicken
With this one-pot dish, the directions are simple and efficient. The most detailed step of making this dish is the first one: getting your marinade together.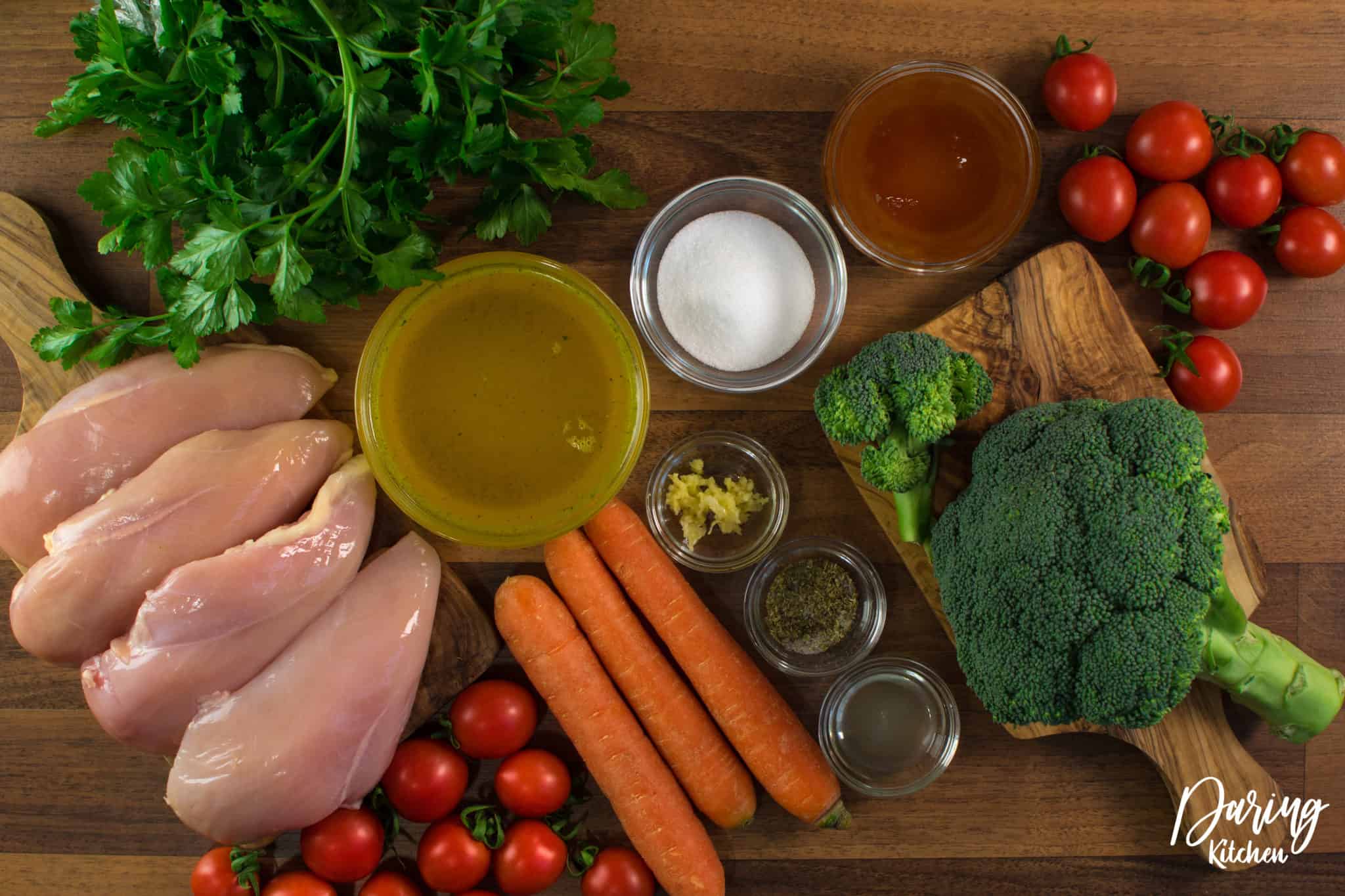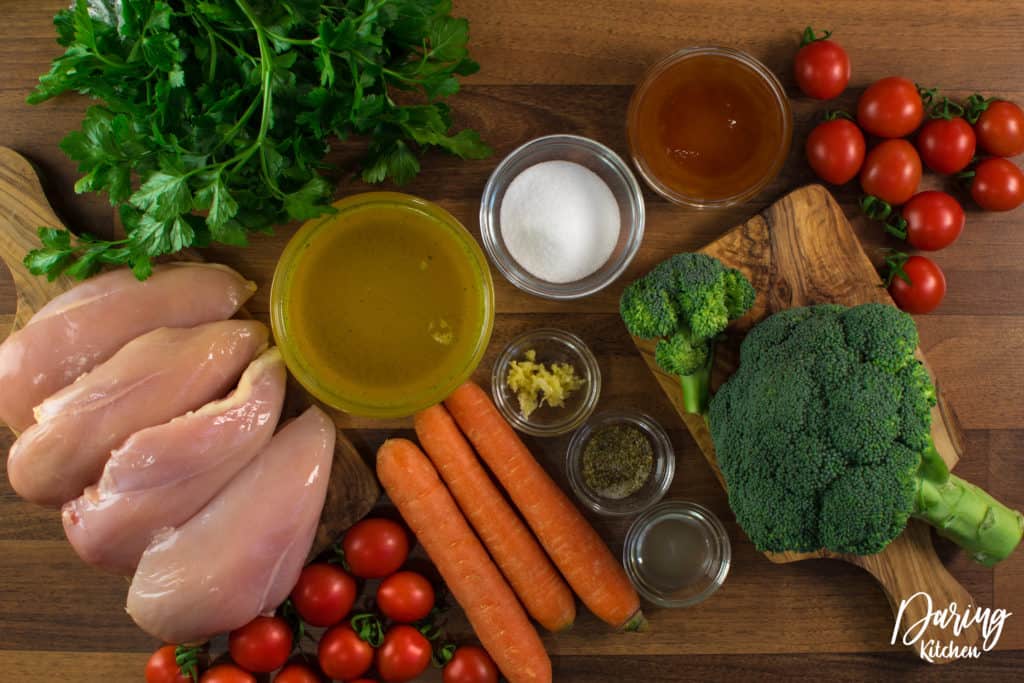 For the marinade, you will need chicken stock, balsamic vinegar, honey, Italian seasoning, minced garlic, and lime juice. You can add the first three to a mixing bowl large enough to hold 4 chicken breasts. You want to mix them together until the honey dissolves and the mixture is consistent. Then, mix in the rest of the ingredients along with freshly chopped parsley. This adds freshness (and a little Italian flair!)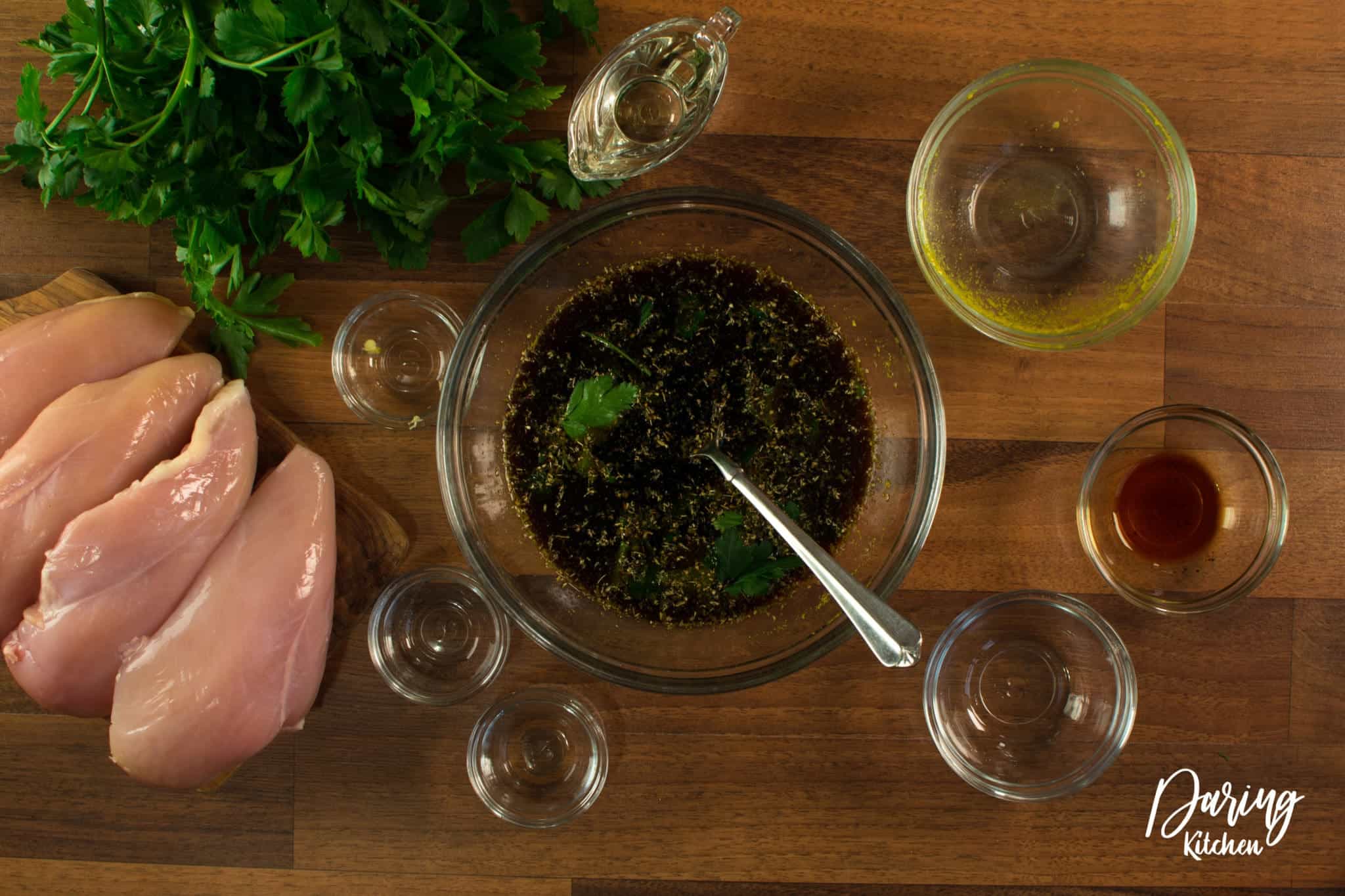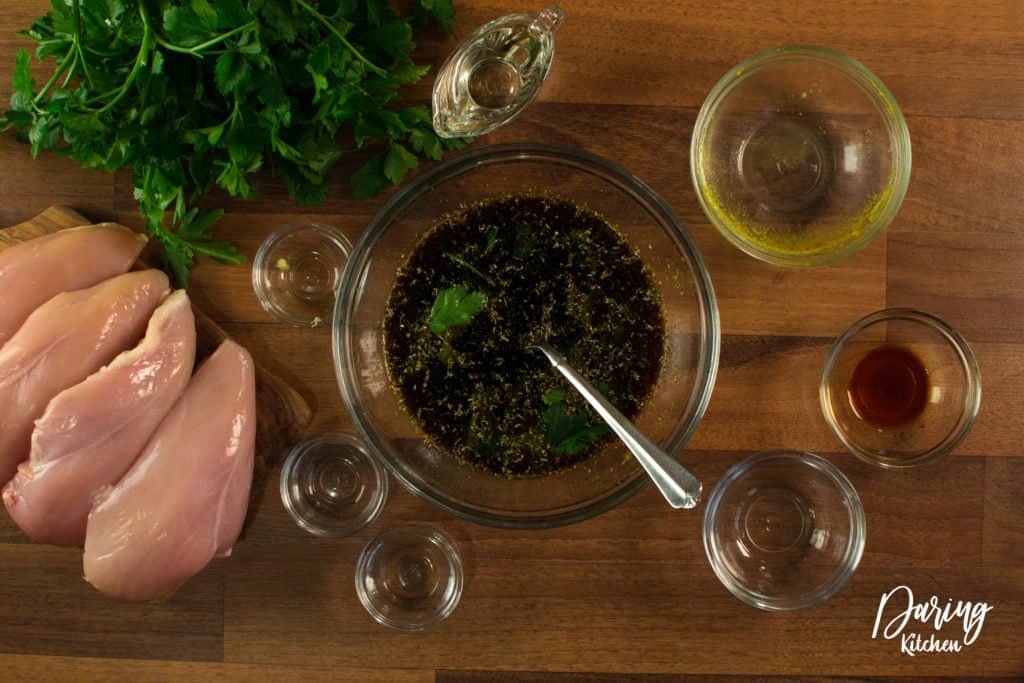 Once that's together, you can place your chicken breasts in the bowl. Make sure the breasts are completely covered. Using plastic wrap, cover the bowl tightly and place in the fridge. It just needs 20 minutes.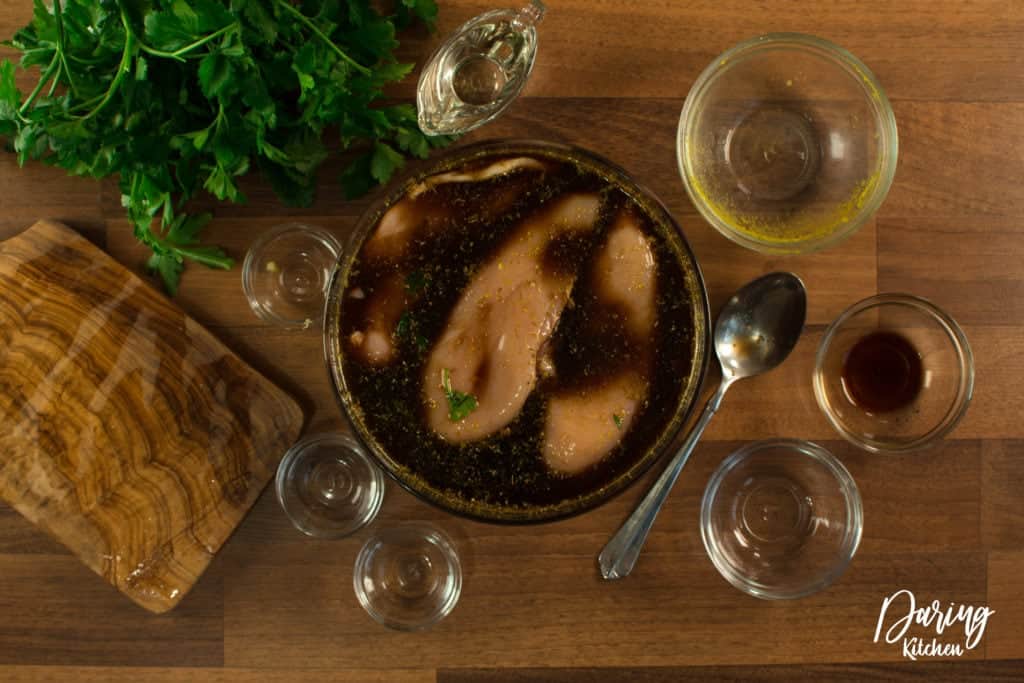 With 20 minutes, you have enough time to preheat your oven and chop your vegetables. Preheat your oven to 350 degrees. Then, start cutting your broccoli and carrots. I like to keep my carrots in larger pieces so that they keep their texture after cooking. I also throw in my tomatoes whole, too.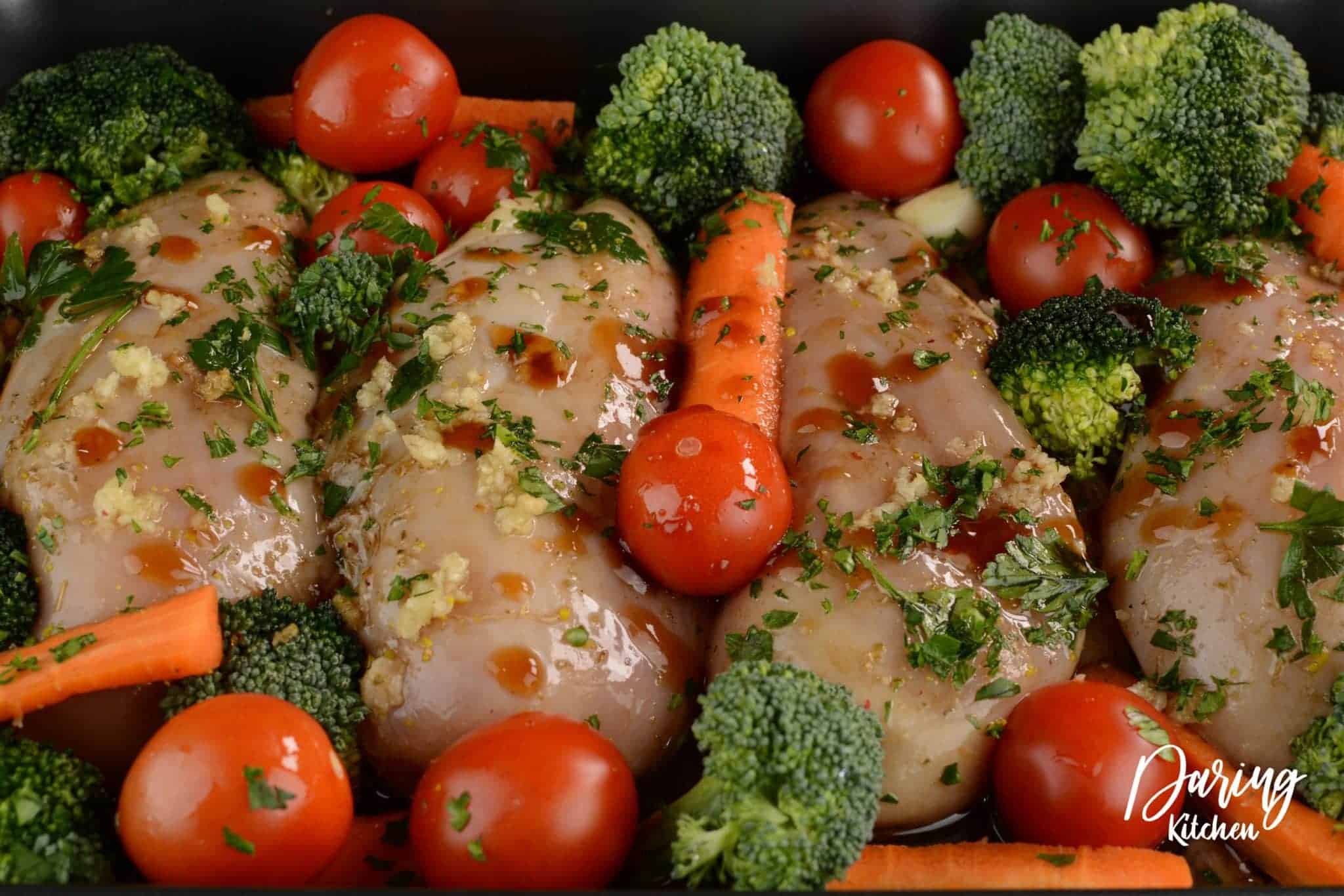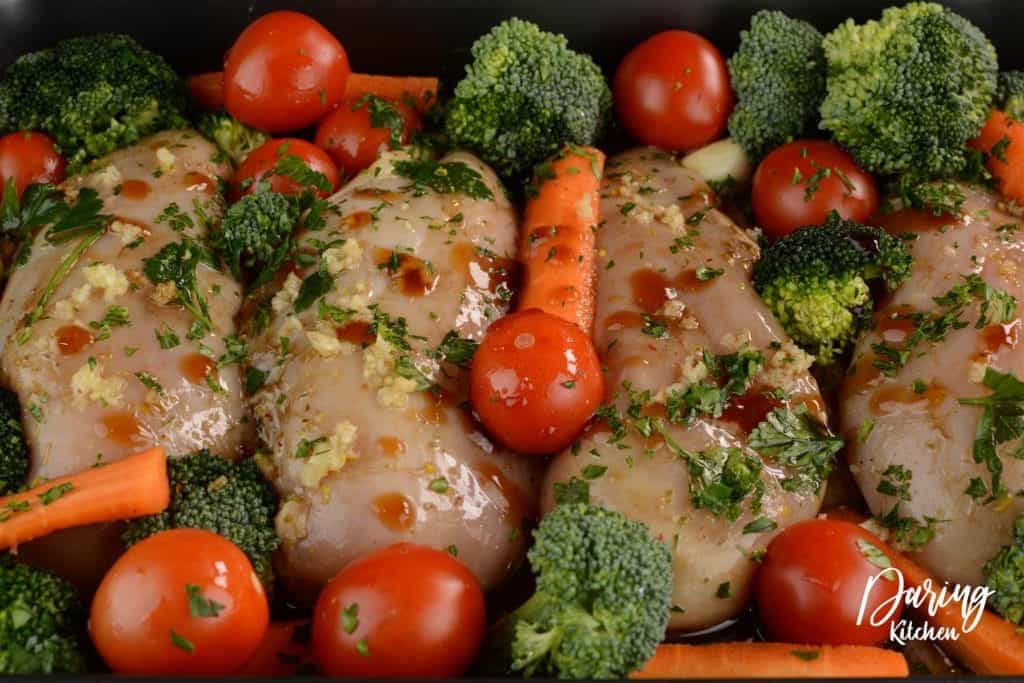 When your chicken is done marinading, you are ready to combine everything. First, take the chicken out of the marinade and place it in your baking dish. Arrange your vegetables alongside the chicken, trying not to layer them on top of each other. Using your leftover marinade, cover your chicken and veggies with it. You do not need to use it all - just enough that all the ingredients are coated. You can garnish it with even more fresh parsley.
Place it in the oven for 45 minutes. When it's done, plate the chicken and veggies however you like. Just don't forget to drizzle some honey balsamic sauce from the baking dish on top. Yum!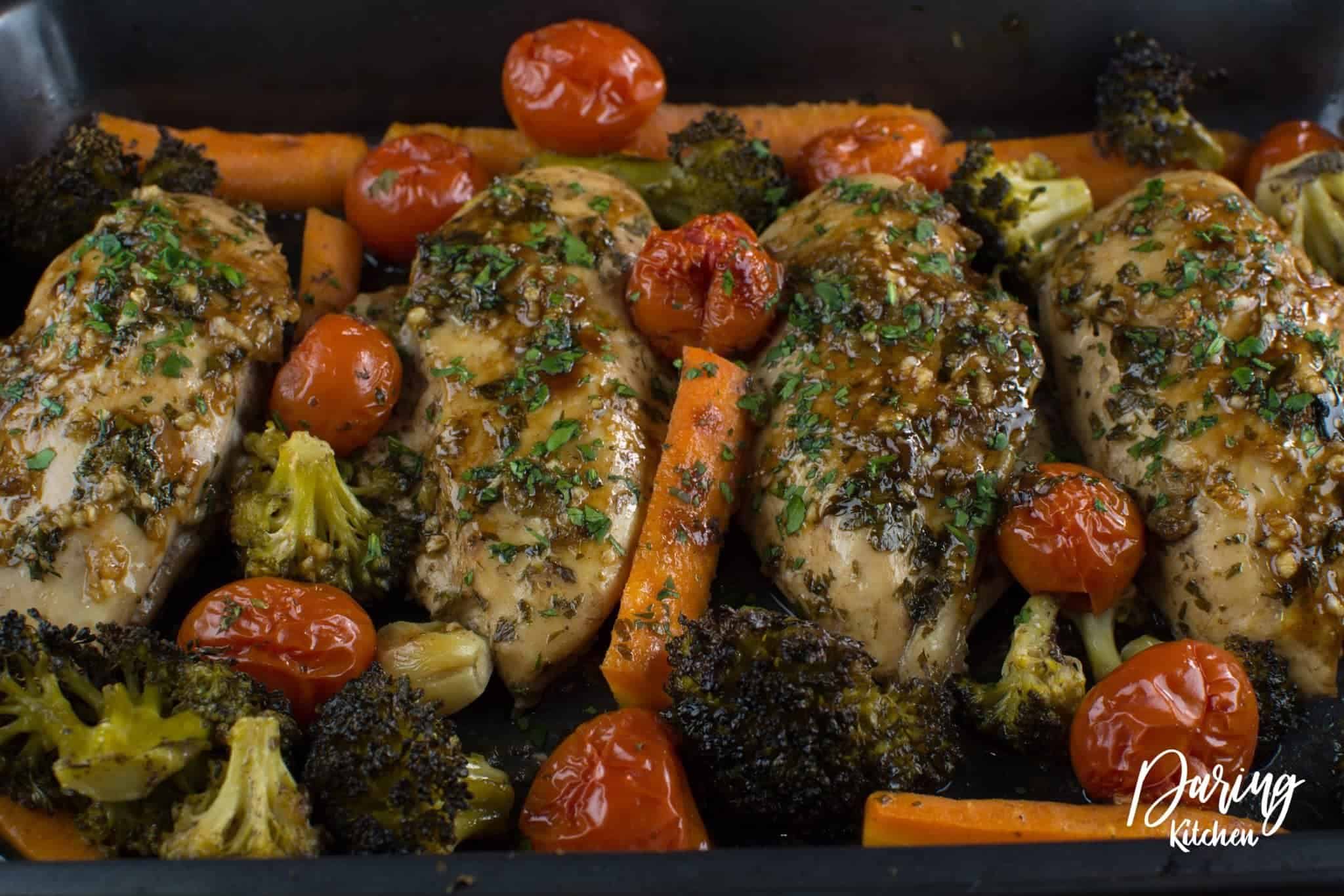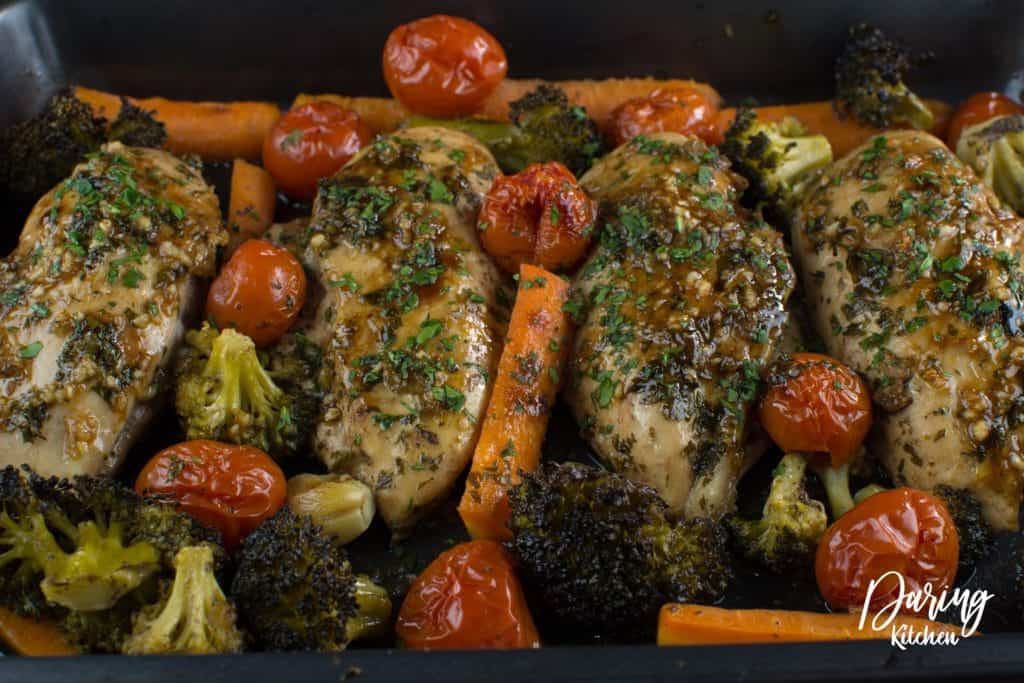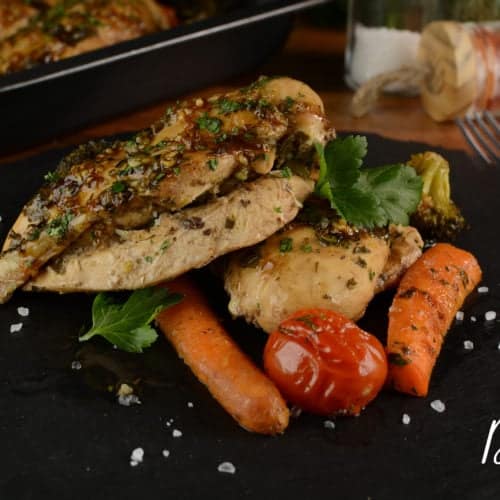 One-Pot Honey Balsamic Chicken Recipe
A one-pot dish that is filling and delicious, without all the clean up hassle.
Print
Pin
Ingredients
1

cup

Chicken Stock

¼

cup

Balsamic Vinegar

3

tbsp

Honey

1

tsp

Italian Seasoning

2

cloves

Garlic

minced

handful

Fresh Parsley

roughly chopped

1

tsp

Lime Juice

4

Chicken Breast

boneless and skinless

Brocoli

cut into florets

Cherry tomatoes

whole

Carrots

slices

Parsley

finely chopped, optionally to taste
Instructions
In a medium bowl, combine together chicken stock, balsamic vinegar, honey, Italian seasoning, minced garlic, lime juice, and a handful of chopped parsley. Mix all well.

Submerge the meat into this mixture and cover with a large piece of plastic wrap. Marinate for 20 minutes.

Meanwhile, preheat the oven to 350°F.

Meanwhile, wash and prepare the vegetables. Remove the chicken breast from the marinade and arrange over a large baking dish. Add vegetables and pour in some of the marinade. Optionally, sprinkle with some more fresh parsley and bake for 45 minutes.

When ready to serve, drizzle with some more sauce from the baking pan and enjoy!
Nutrition
Calories:
345
kcal
|
Carbohydrates:
19
g
|
Protein:
50
g
|
Fat:
7
g
|
Saturated Fat:
1
g
|
Cholesterol:
146
mg
|
Sodium:
353
mg
|
Potassium:
917
mg
|
Fiber:
1
g
|
Sugar:
16
g
|
Vitamin A:
68
IU
|
Vitamin C:
4
mg
|
Calcium:
26
mg
|
Iron:
1
mg