Delicious and nutritious - that's the best way to describe this honey garlic roasted carrots recipe. It's simple and full of irresistible honey garlic butter flavor. Plus, you only need one pan for this recipe -  that's it! Trust me, these roasted carrots bathed in honey butter sauce will be gone in seconds at any dinner table.
Enjoy them as an appetizer or side dish, these carrots will please any crowd. I absolutely love bringing them to any dinner party!
The Easiest Honey Garlic Roasted Carrots Recipe
Vegetables aren't boring to cook. Oftentimes, we get into our habits of cooking veggies fast, simple, and super healthy. But, sometimes you have to change it up a bit!
Carrots are one of my favorite root veggies. They are full of awesome natural sweetness. Its so hard not to eat carrots all the time. They also come in all different varieties. You have purple carrots, yellow carrots, or just your classic orange carrots.
This carrot recipe takes these root veggies to the next level. With a delicious honey garlic butter sauce, these carrots' flavor really comes alive.
Instead of using brown sugar, I opted to use honey to make a nutty brown butter-like sauce. To me, honey is the best brown sugar substitute. This way, you are only getting natural sweetness in this recipe.
The trick to this recipe isn't just tossing the carrots in the oven. These oven-roasted carrots have a quick step that makes all the difference. When you melt butter in a pan beforehand, with a little bit of garlic and honey, you make sure you create a delicious and even sauce for your carrots.
This premade sauce creates tender carrots, evenly coated in honey garlic butter sauce. By throwing them directly into the melted butter sauce, every carrot gets enough sauce. This creates something magical when the carrots go straight into the oven in your pan.
If you do not have an oven-proof pan, don't worry! You can also transfer the carrots into a baking sheet or baking dish.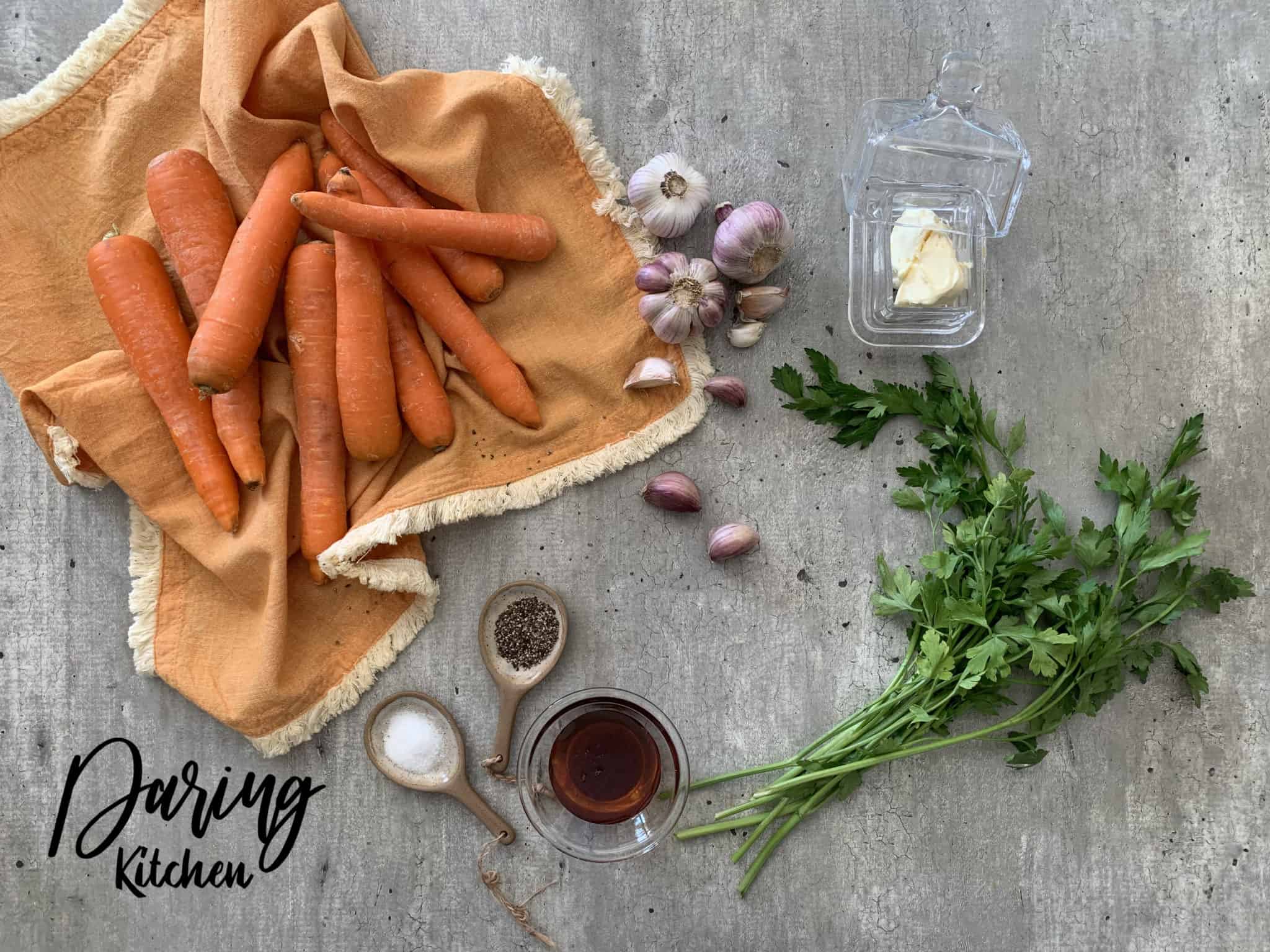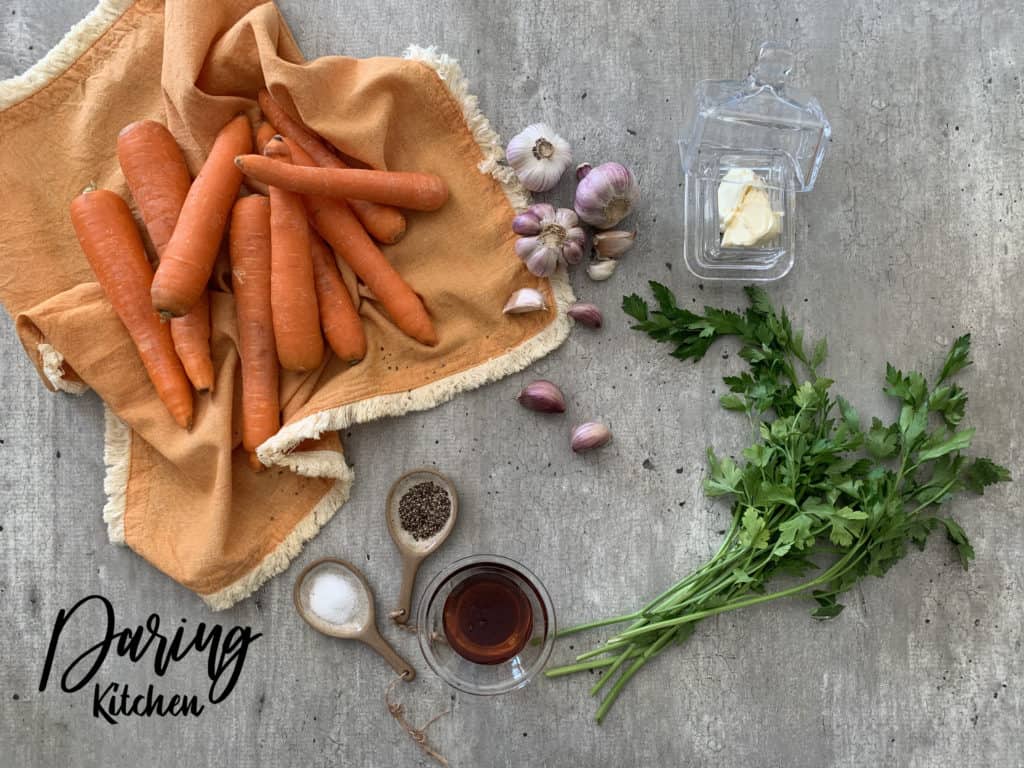 Honey Garlic Butter Roasted Carrots Ingredients
What makes these roasted carrots awesome is their ingredients. Not a single ingredient is complicated or contains any artificial ingredients. Everything can be found in your pantry. Or, after a super quick trip to any grocery store.
So, what's in this delicious roasted carrots recipe?
Carrots - You can use regular orange carrots or any carrots you choose. To speed up the prep process, you can also use baby carrots. That's my little secret hack!
Garlic cloves - This is a necessity, as it adds flavor and zestiness to the butter sauce. You can use garlic powder, but it's best to use fresh cloves.
Butter - This gives delicious flavor to the carrots and helps them achieve that perfect golden color. When you melt butter in a pan, it's the perfect vehicle to extract all of the garlic and honey's delicious flavors. You can also use olive oil, but that will alter the flavor of the recipe a bit.
Honey - This enhances the sweetness of the carrots (and tastes amazing with salty butter!) You can also use brown sugar if you don't have honey on hand.
Fresh parsley - Chopped parsley is the perfect garnish, as it adds a nice freshness to this dish. I suggest using only fresh parsley, as it adds the best flavor.
Salt and pepper - Every recipe needs either a little salt or pepper.
How many ingredients do you already have on hand in your kitchen? I bet most! Plus, you only need a knife and oven-proof pan for this dish. If you don't have the latter, a baking sheet or baking dish works just fine.
How to Make Honey Garlic Roasted Carrots
Let's get down to business. Making honey garlic roasted carrots will take you no more than 45 minutes to make.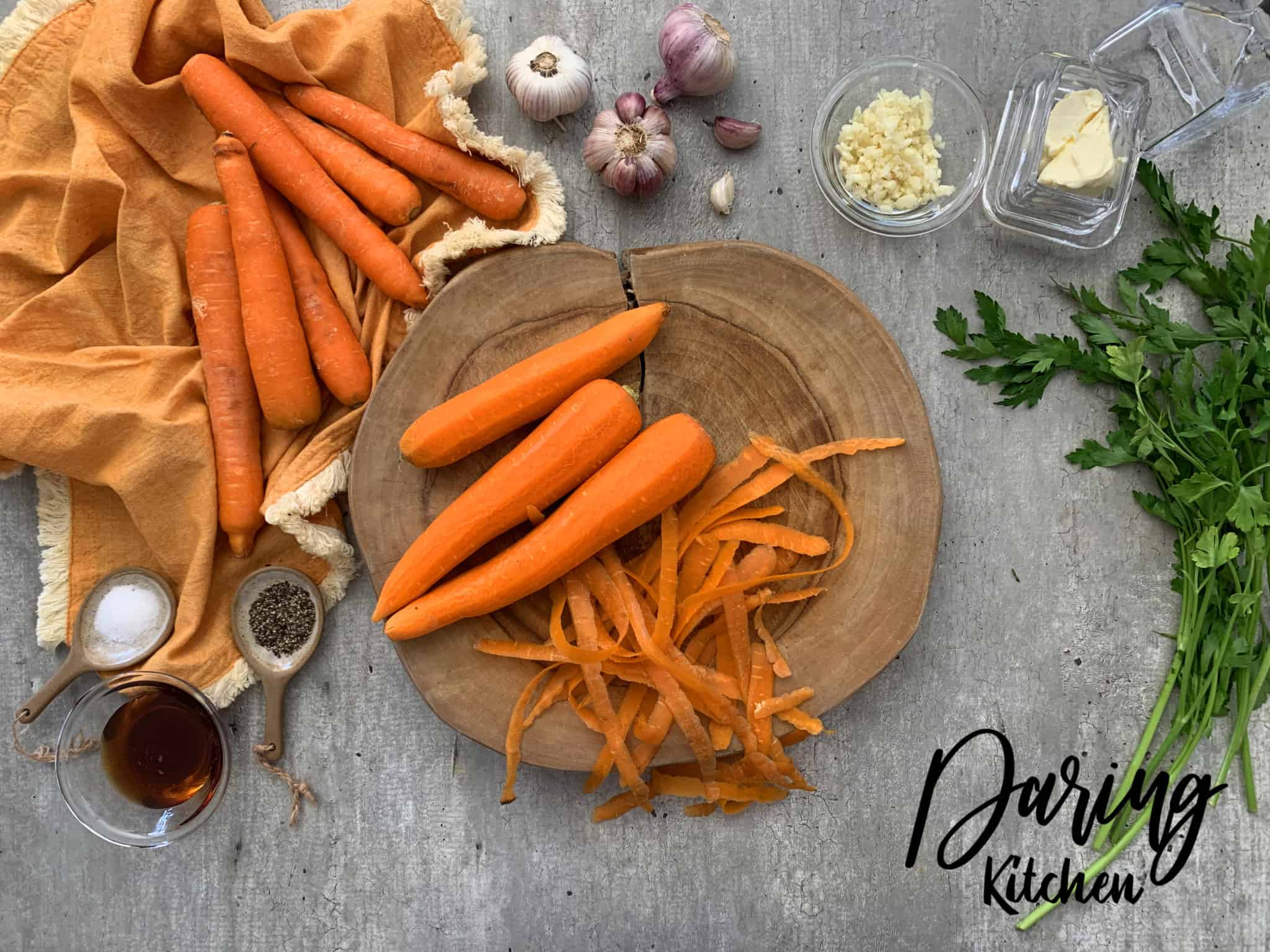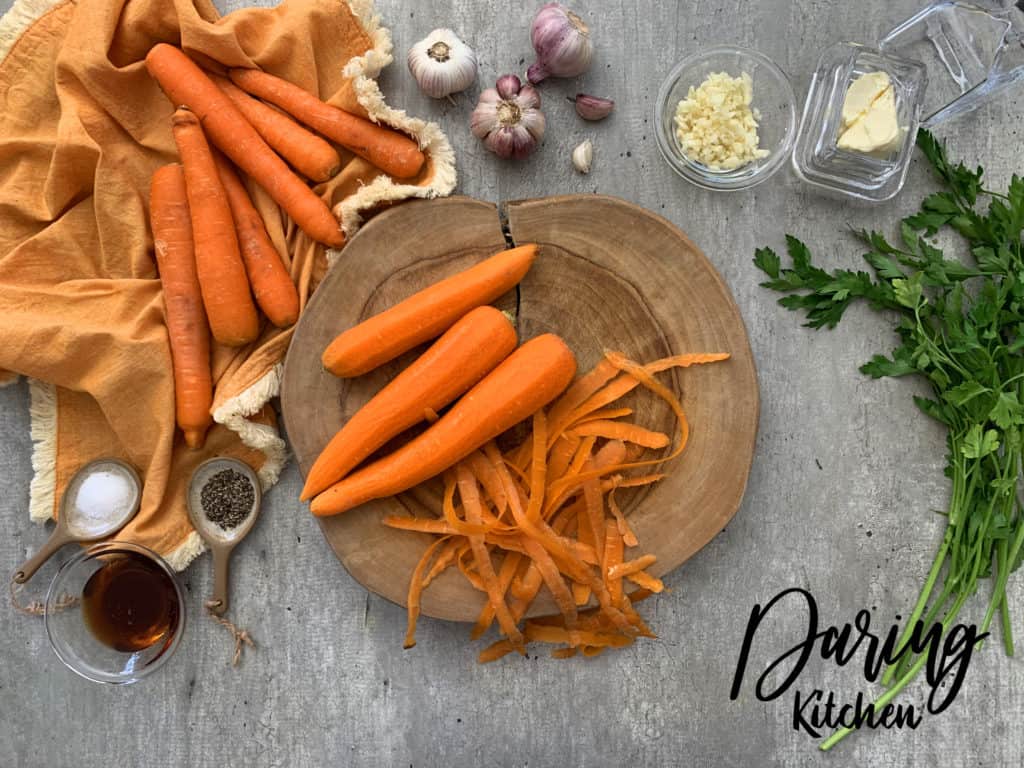 First, preheat oven to 425 degrees Fahrenheit. As you wait for your oven to preheat, wash your carrots. Peel your carrots.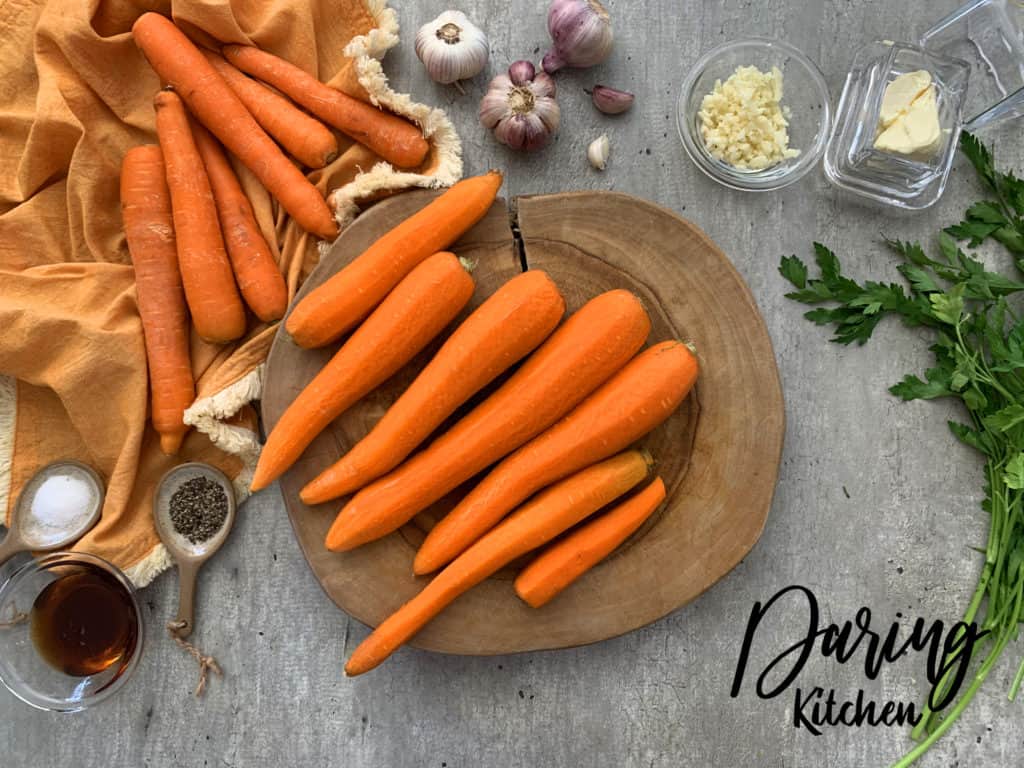 You want to make sure you remove any dirt, but not too remove too much of the carrot skin!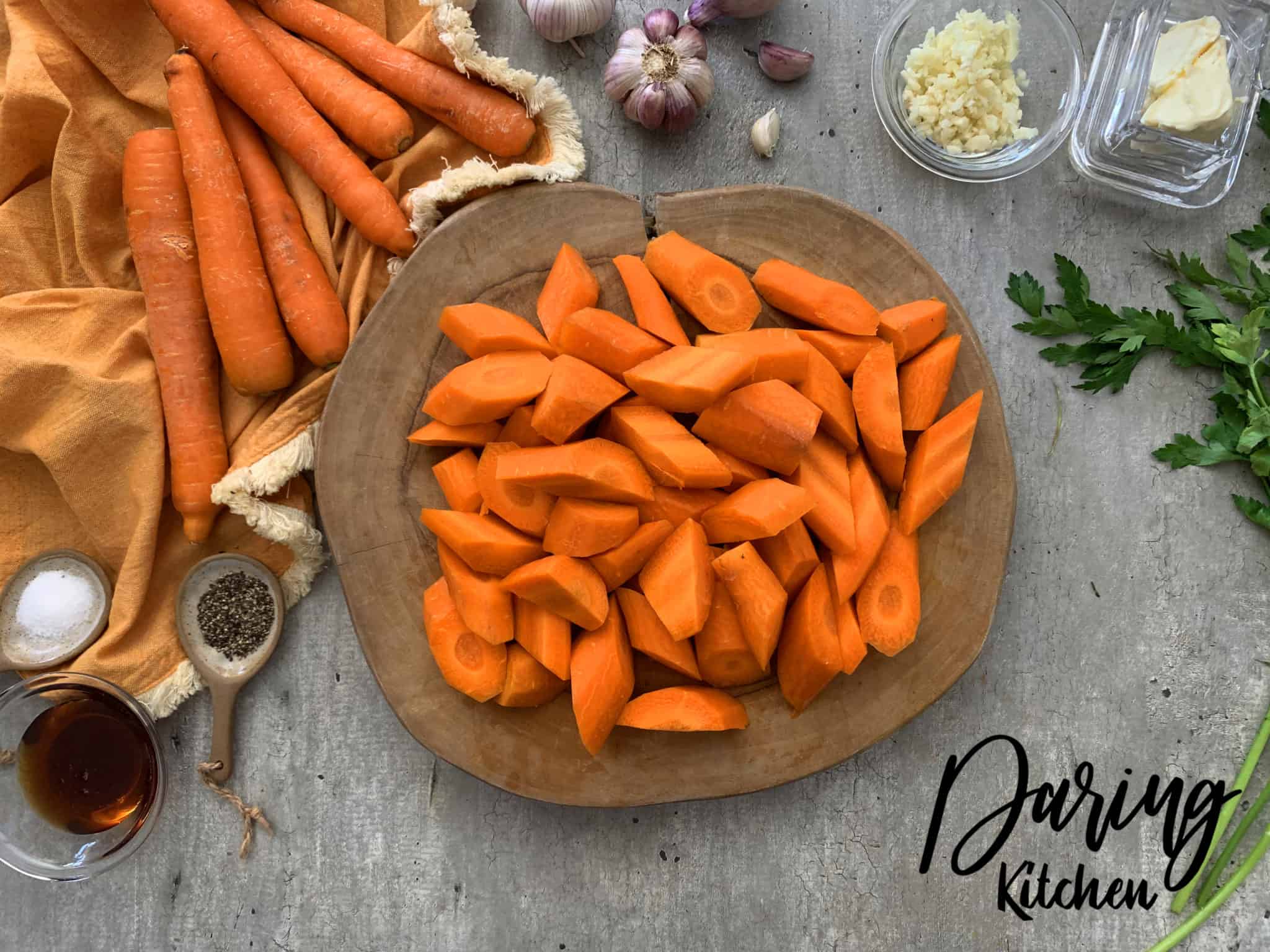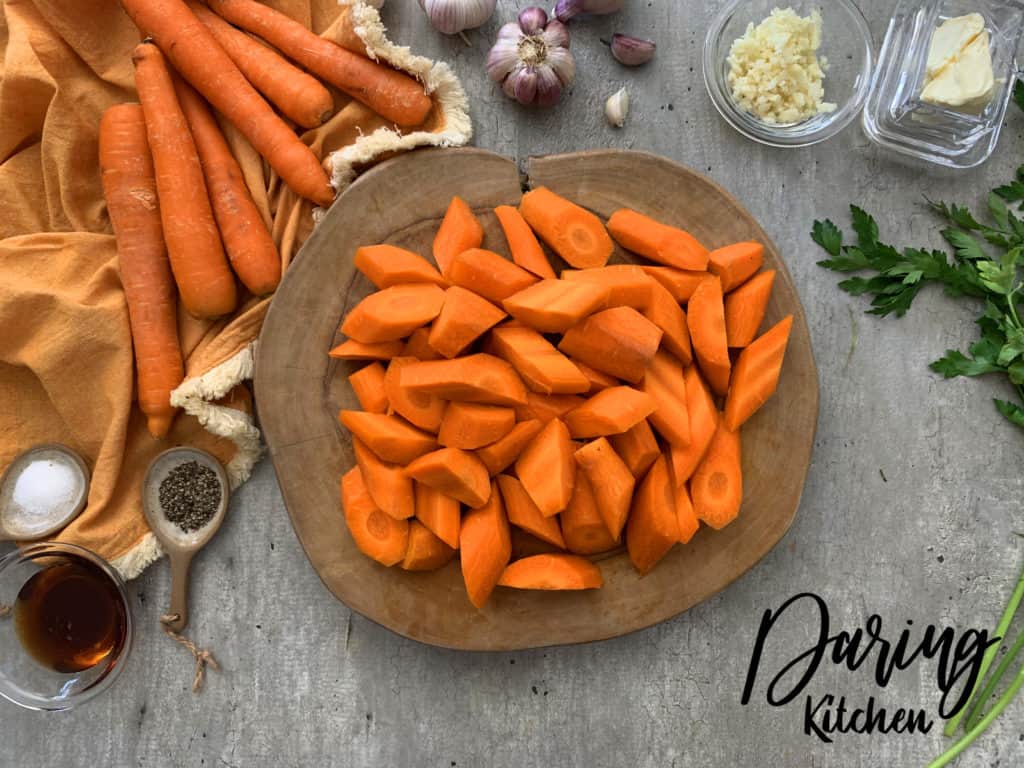 Once your carrots are peeled, chop them. You want to slice them on an angle and then in half to create 2 to 3 inch thick slices.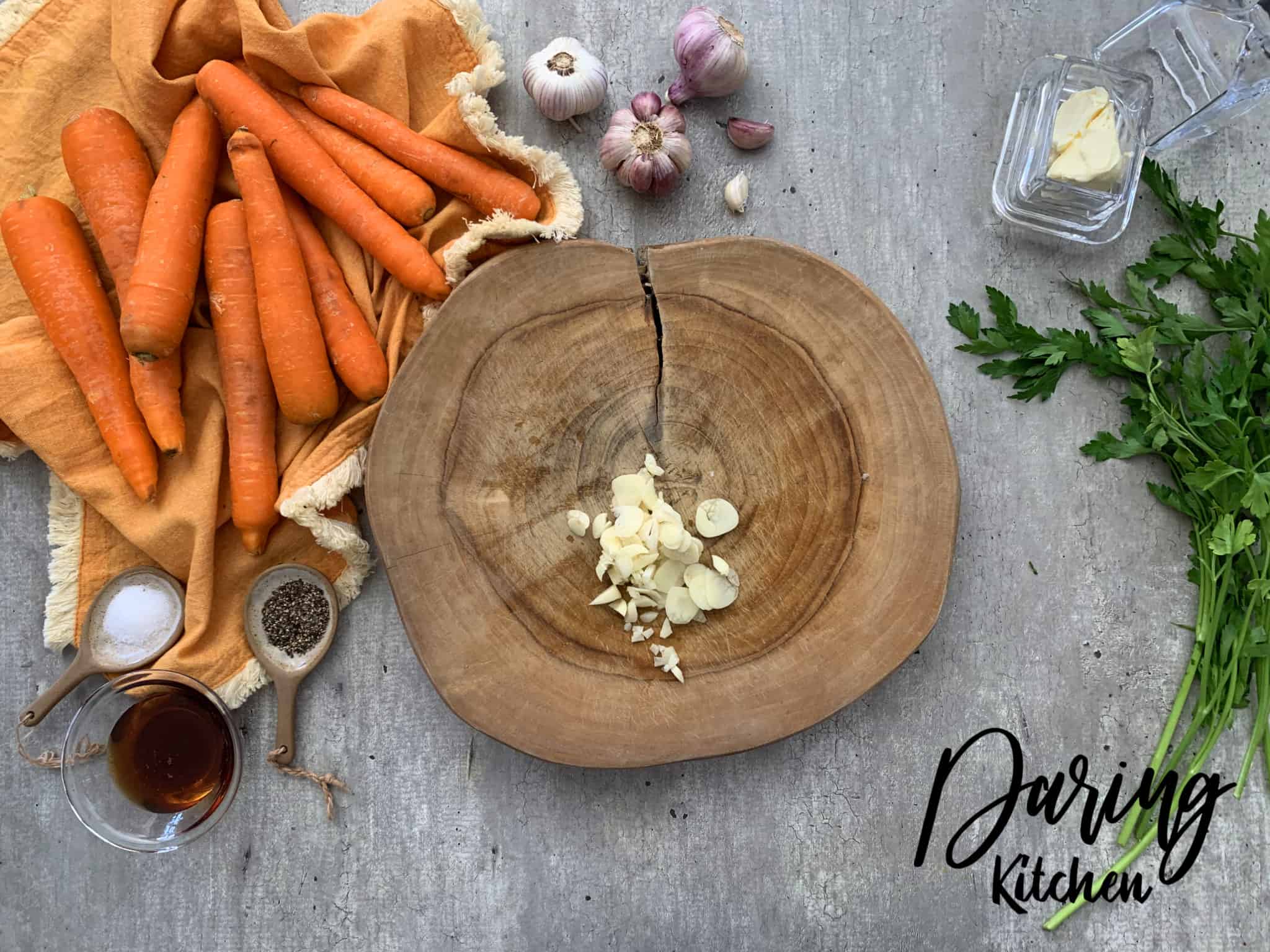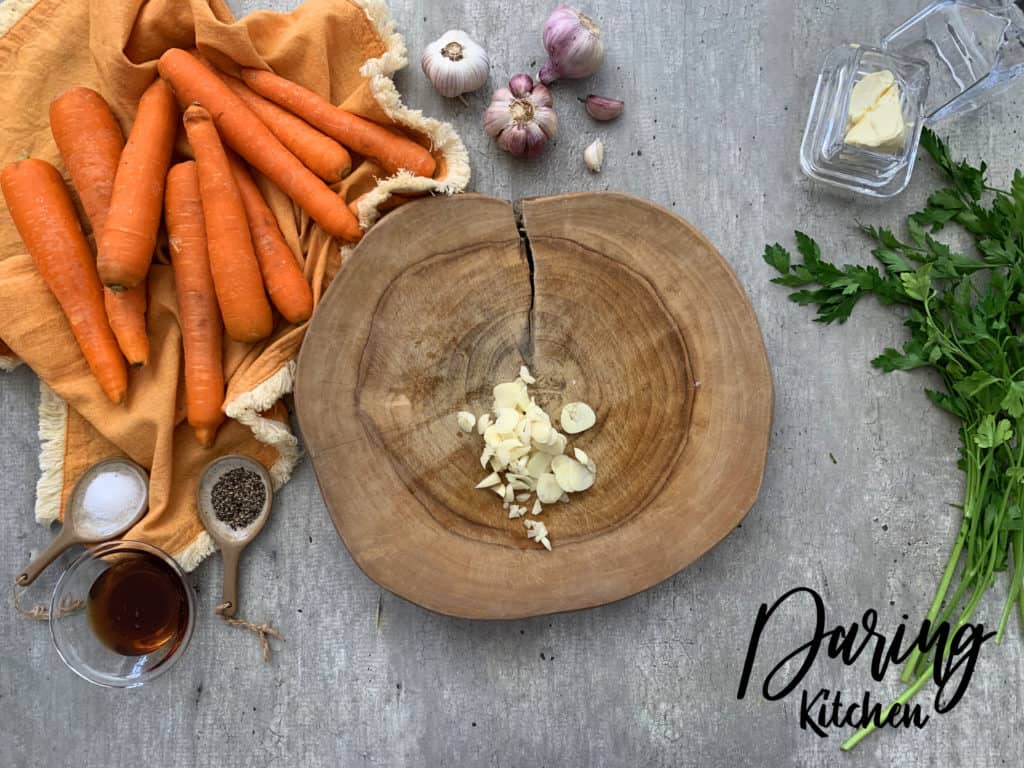 Then, mince your garlic. It doesn't need to be perfect, just small enough to melt into the better.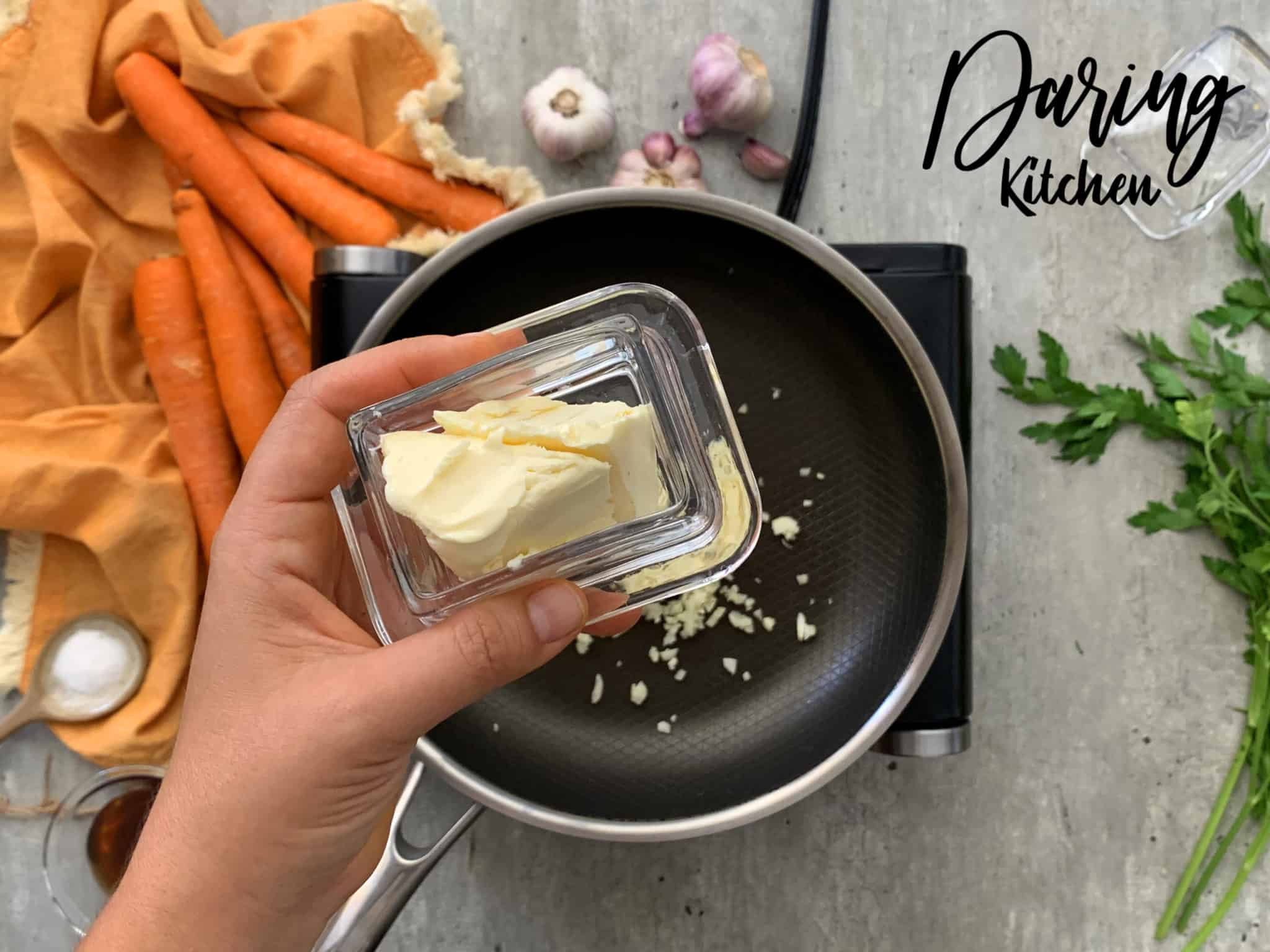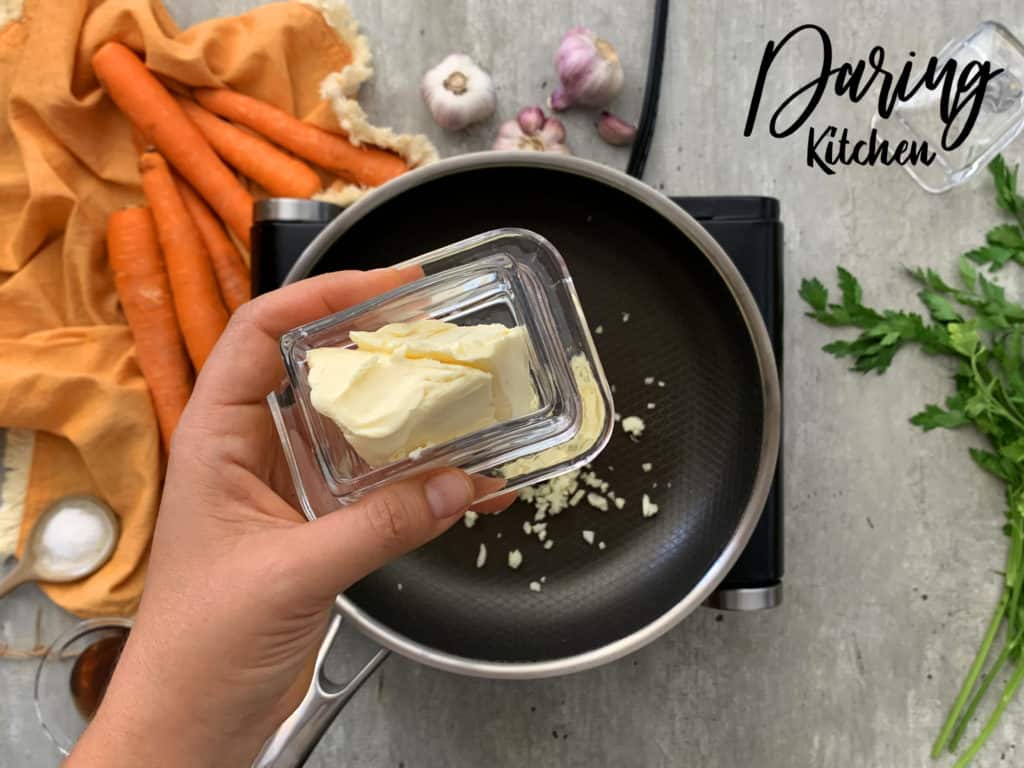 Place a pan over medium heat. Toss in your garlic as well as your butter. Melt your butter slowly, allowing your garlic to become fragrant.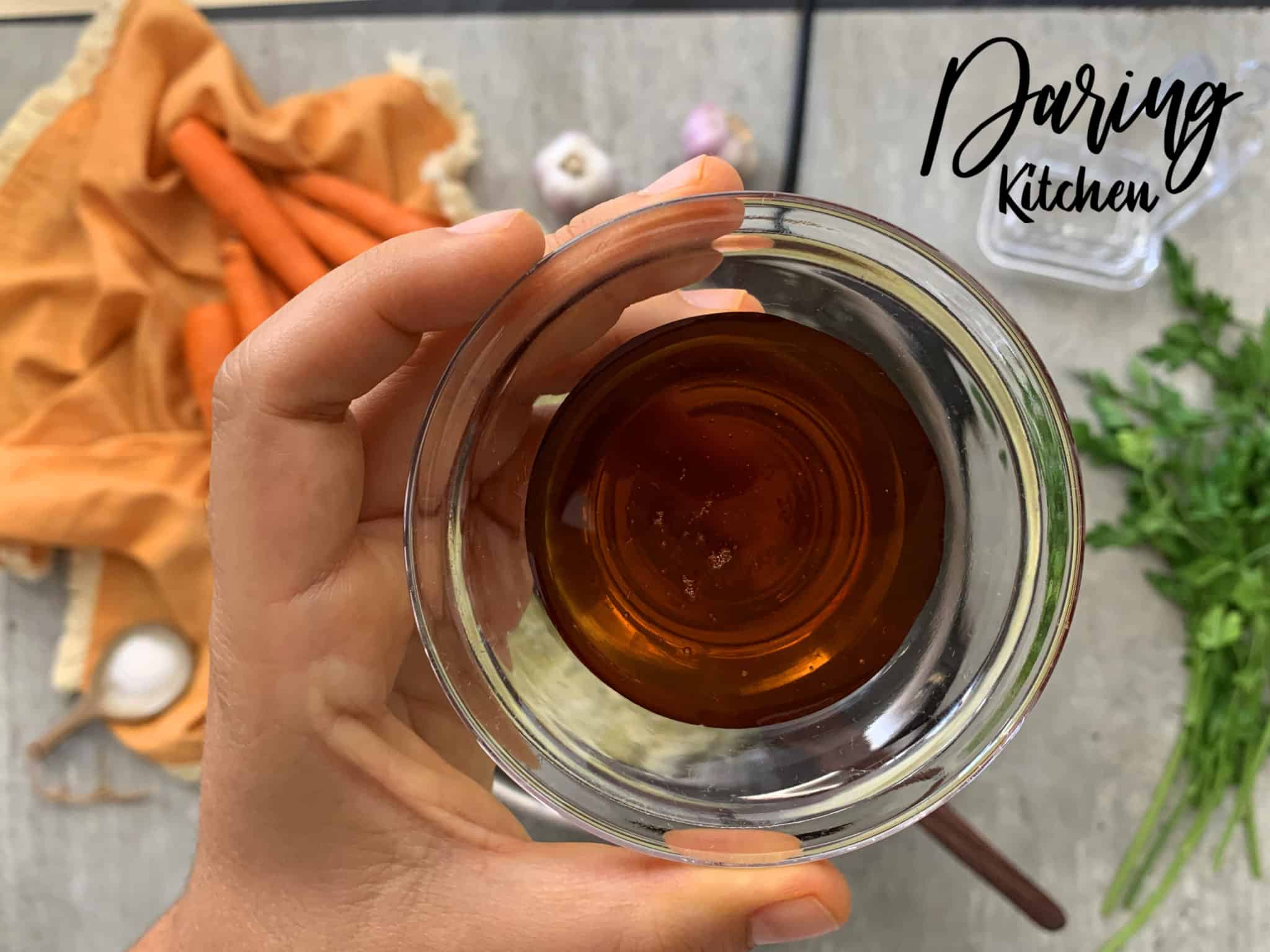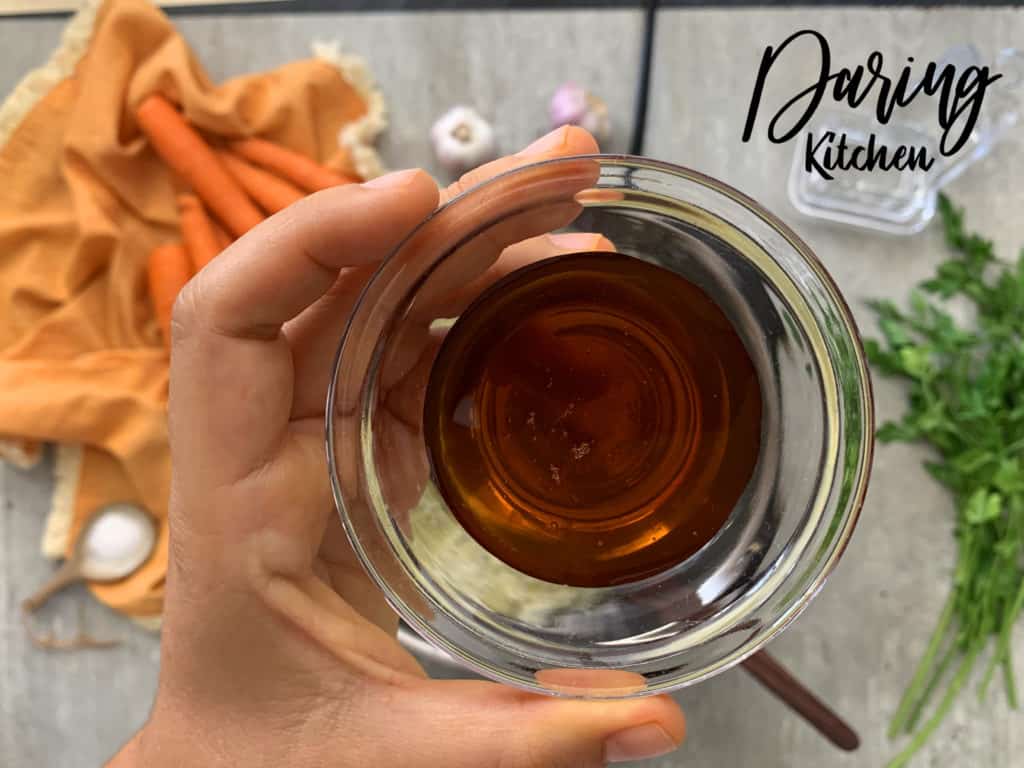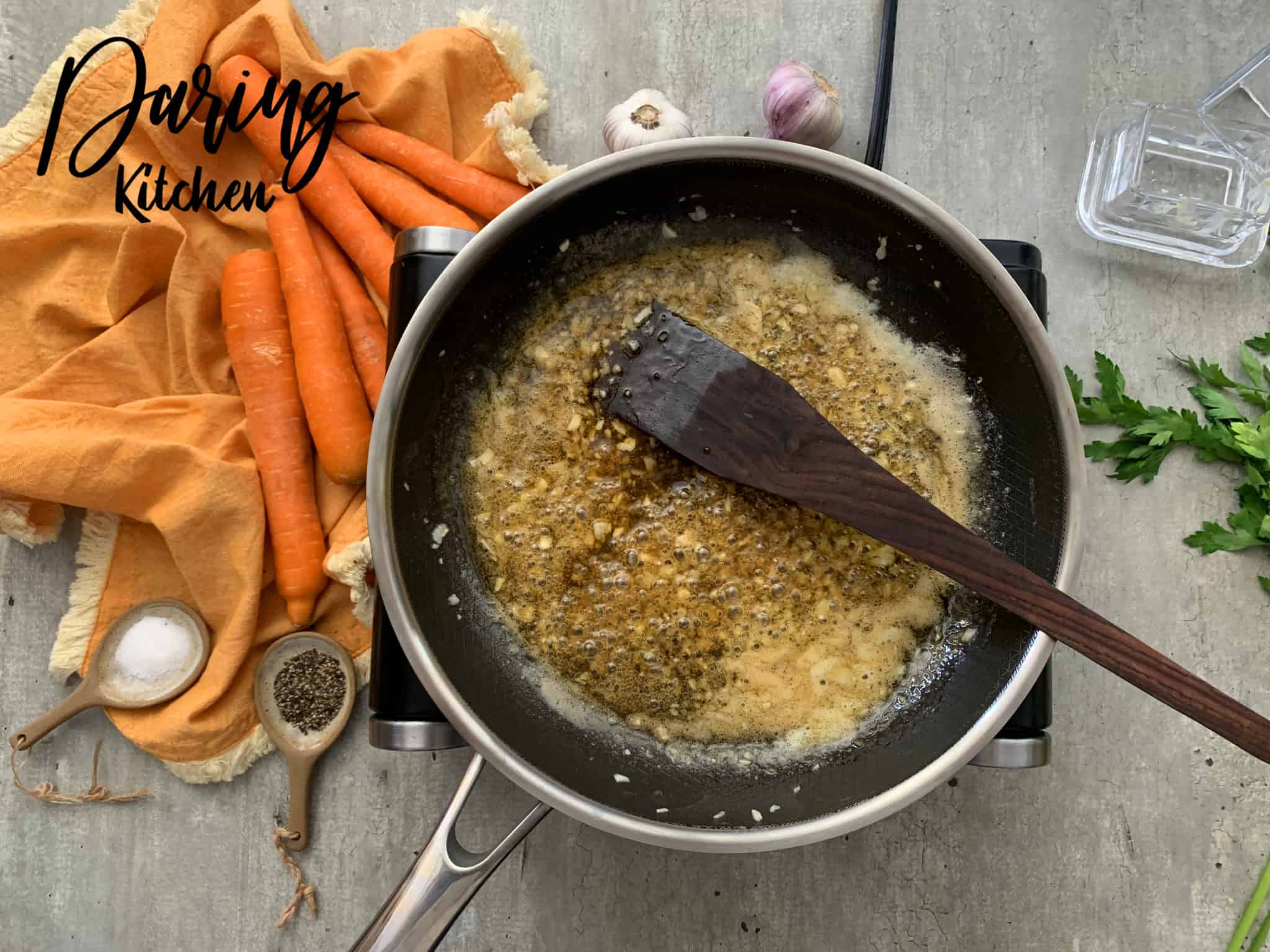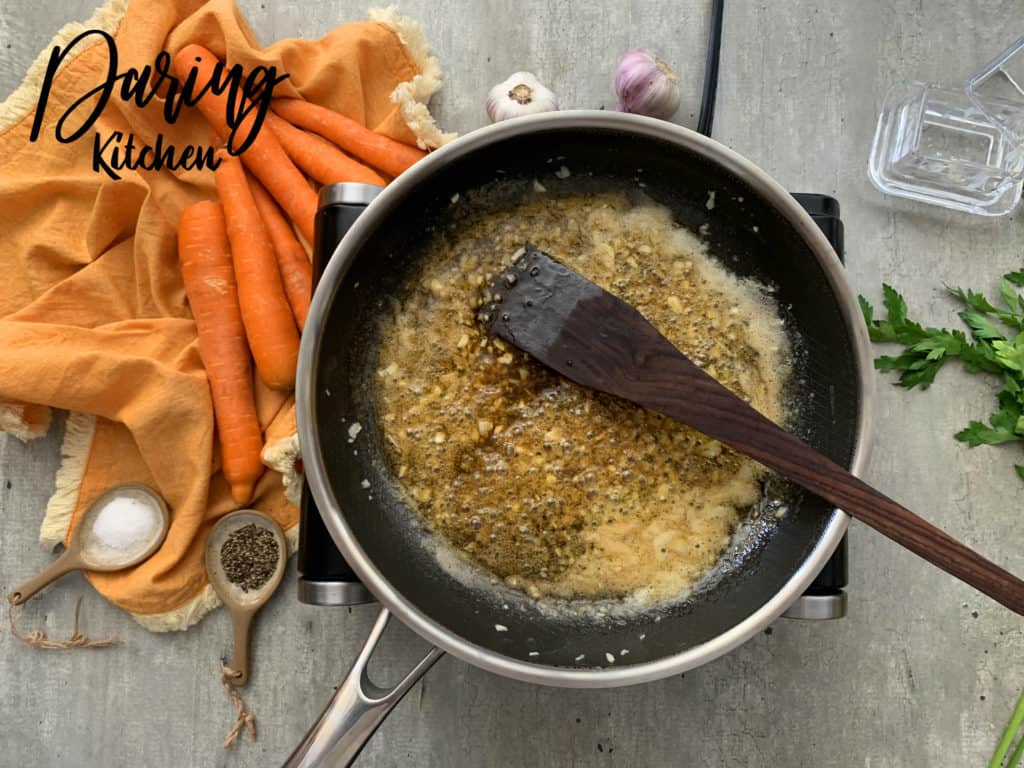 Once your garlic smells delicious, add in your honey. Whisk it or mix it so that it emulsifies with the sauce.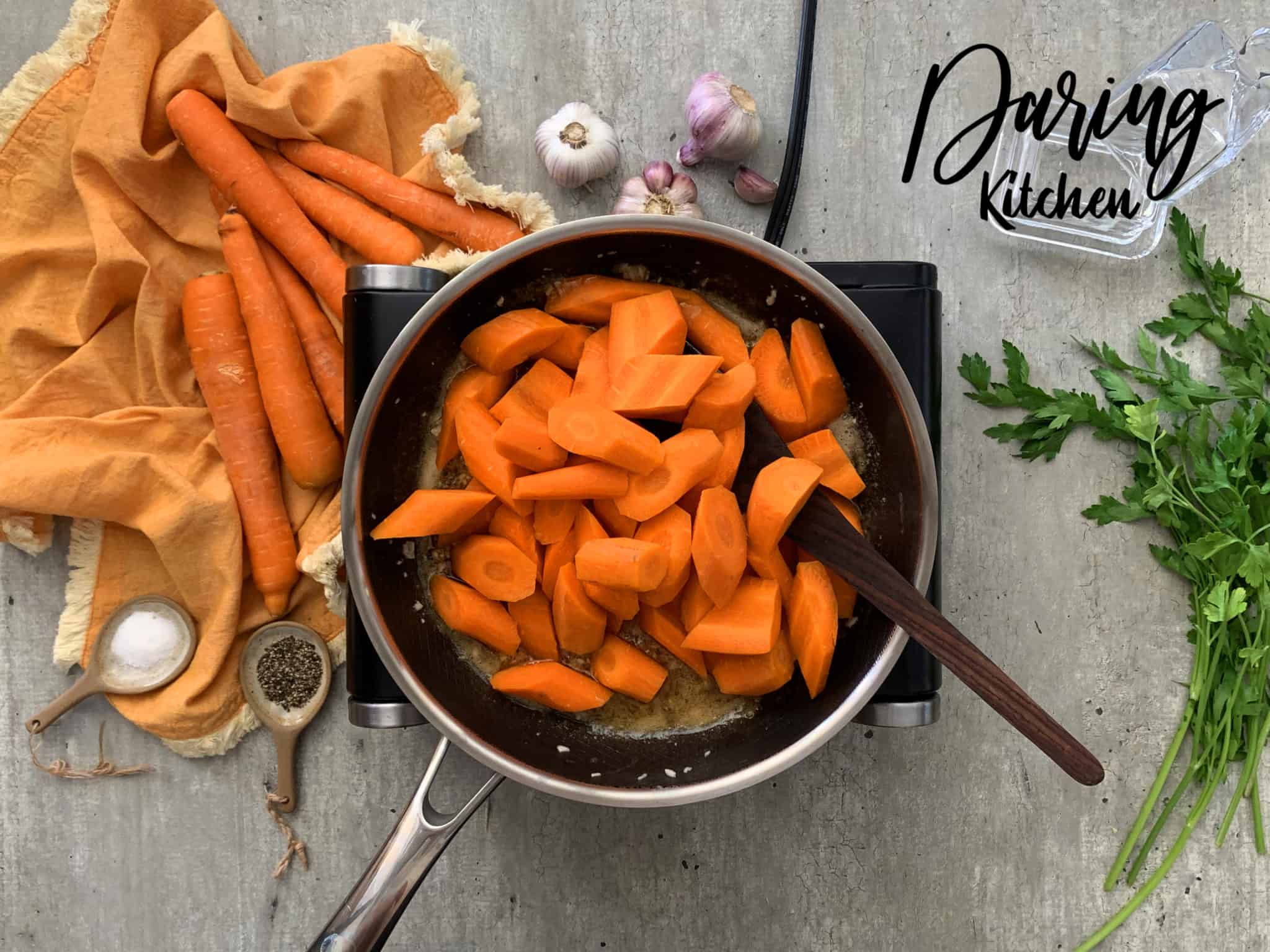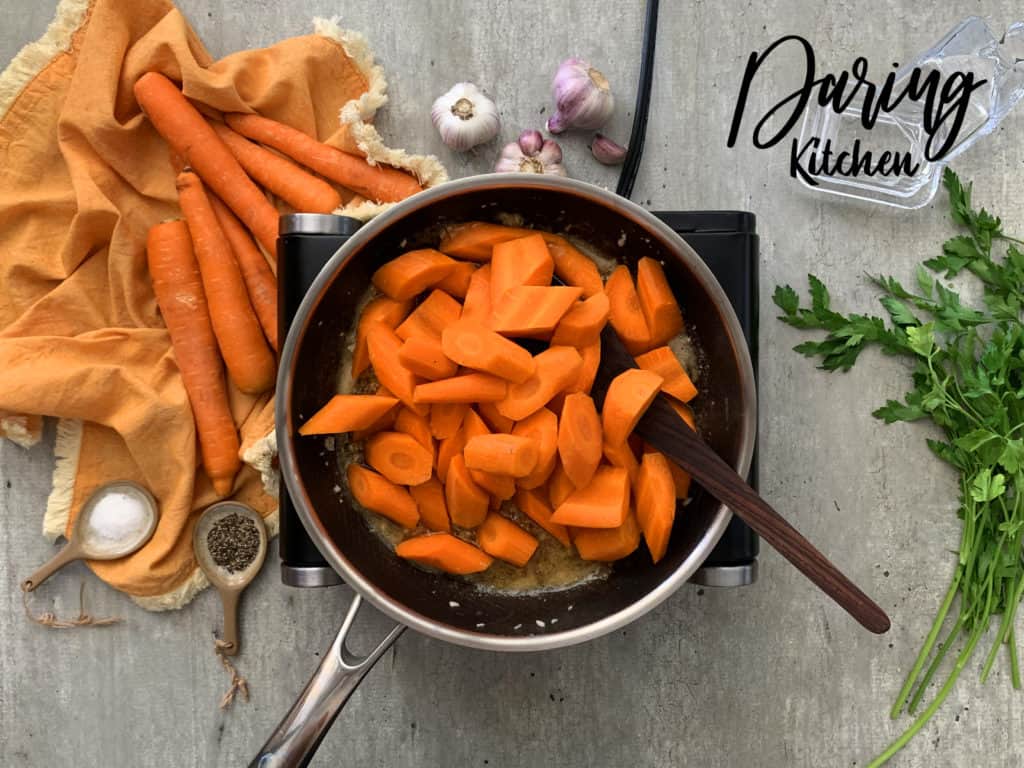 Then, add carrots to the pan. Make sure to coat all the carrot slices with the sauce.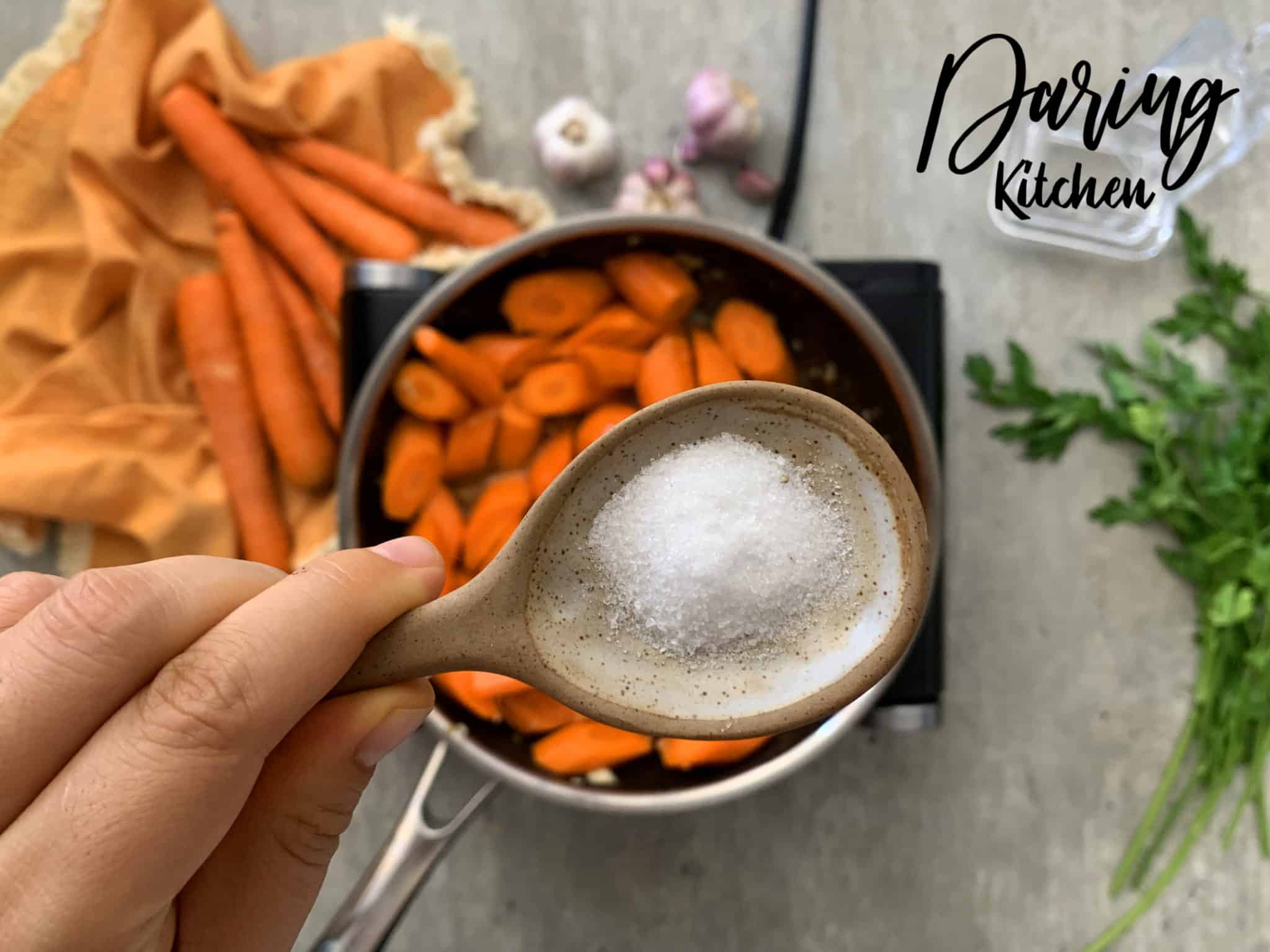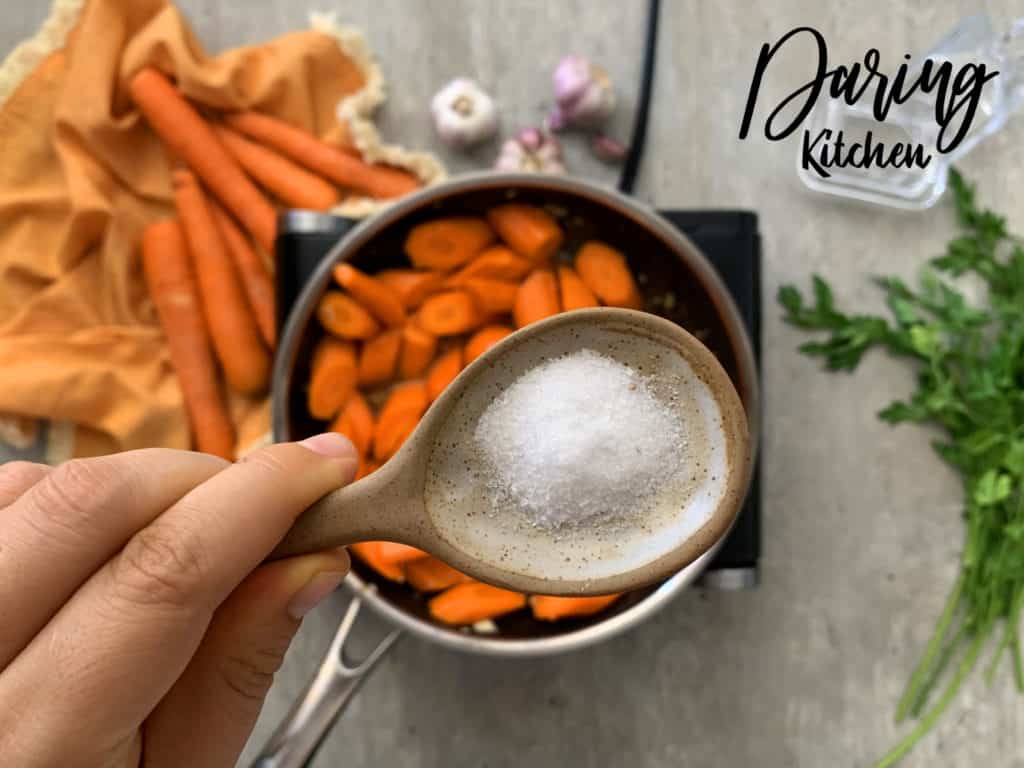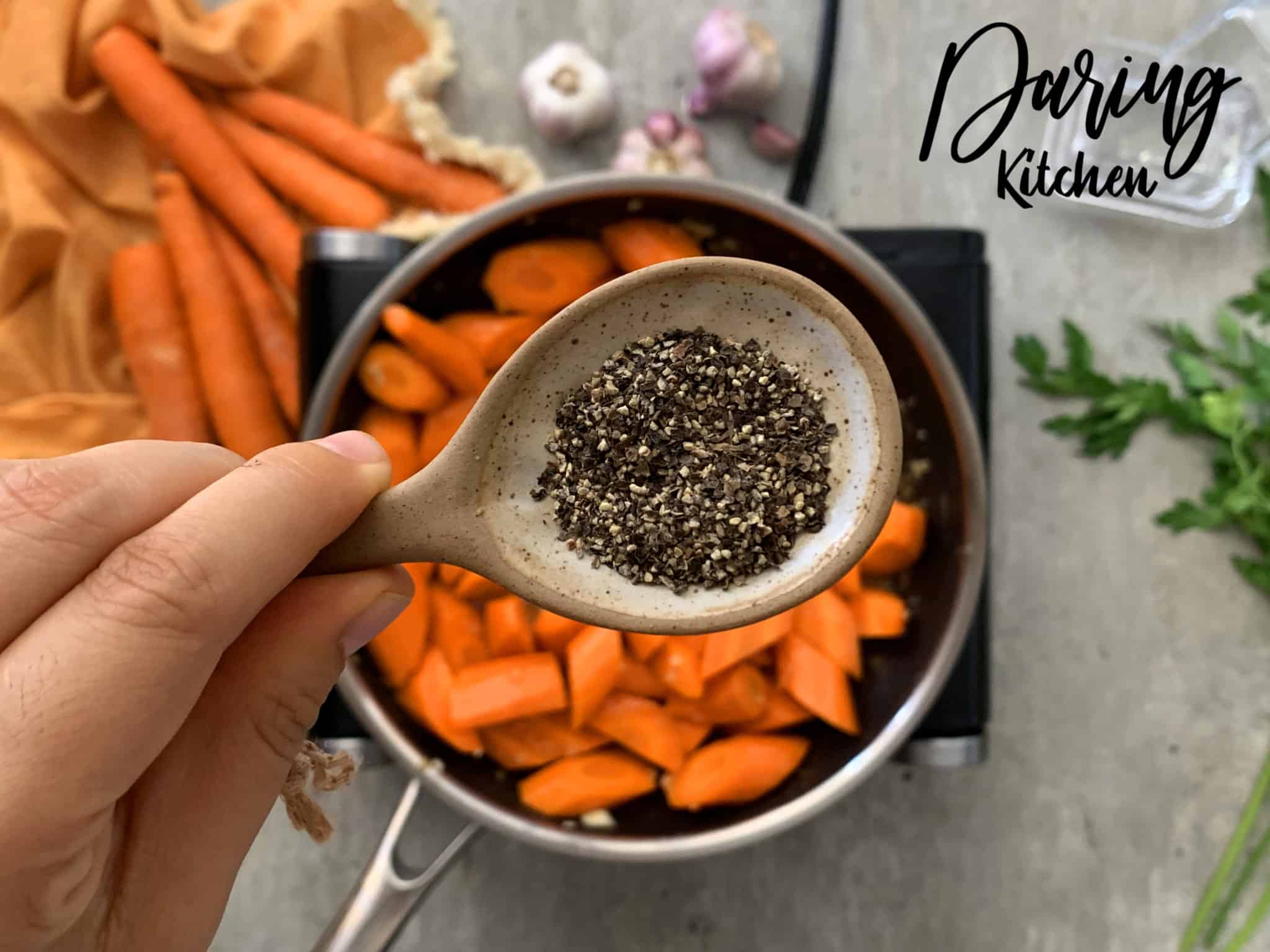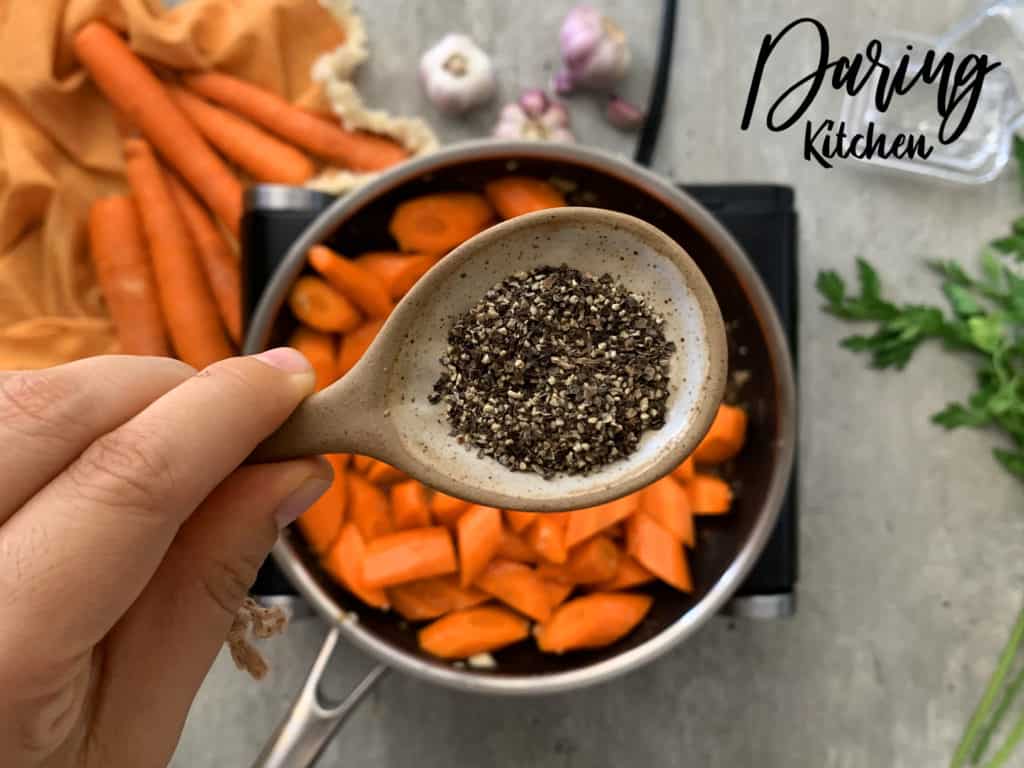 Now, it's time for some salt and pepper. You only need ½ tsp of each for this dish. But, I always suggest doing it to taste -  everyone has their own preference for salt and pepper!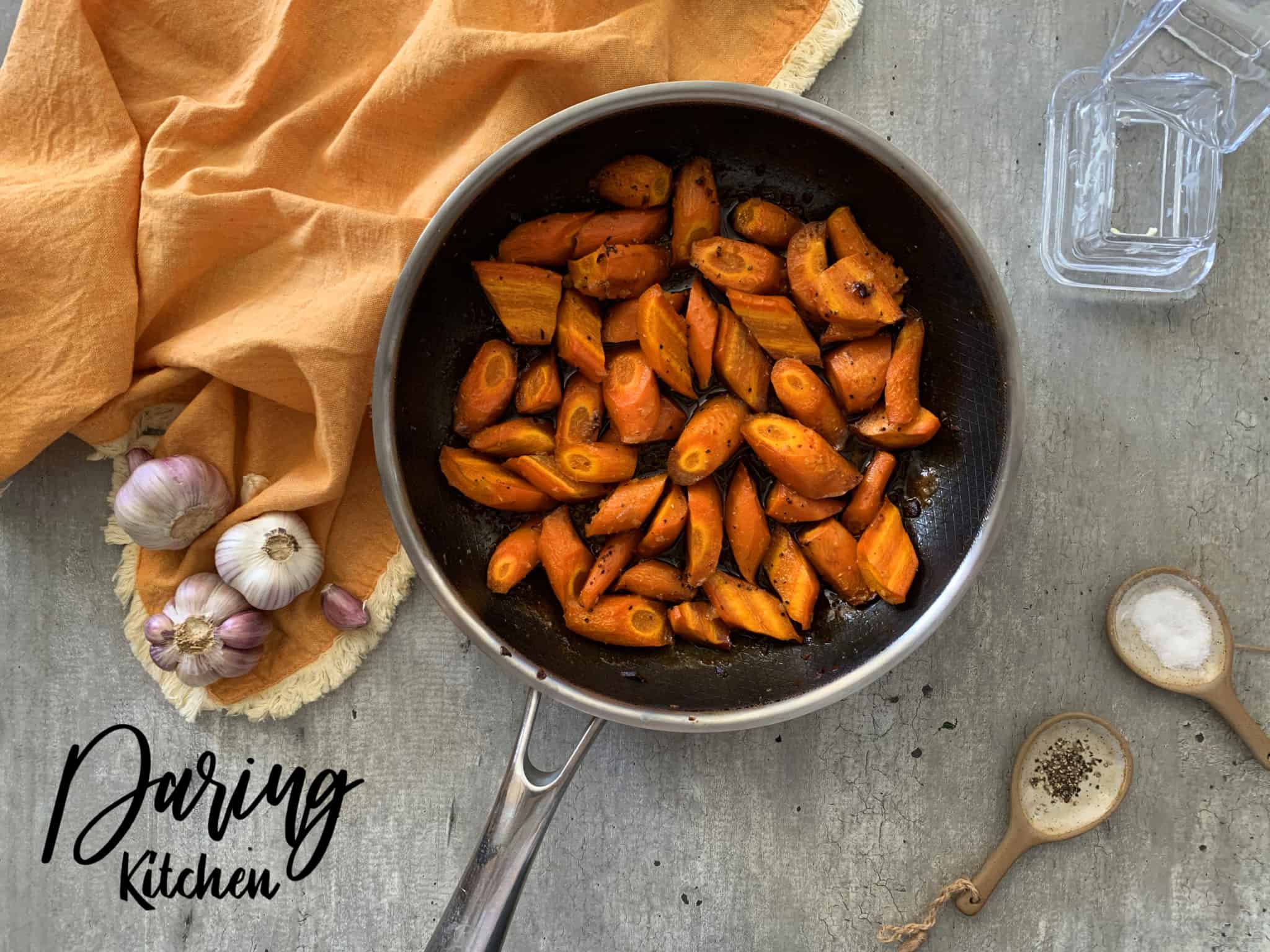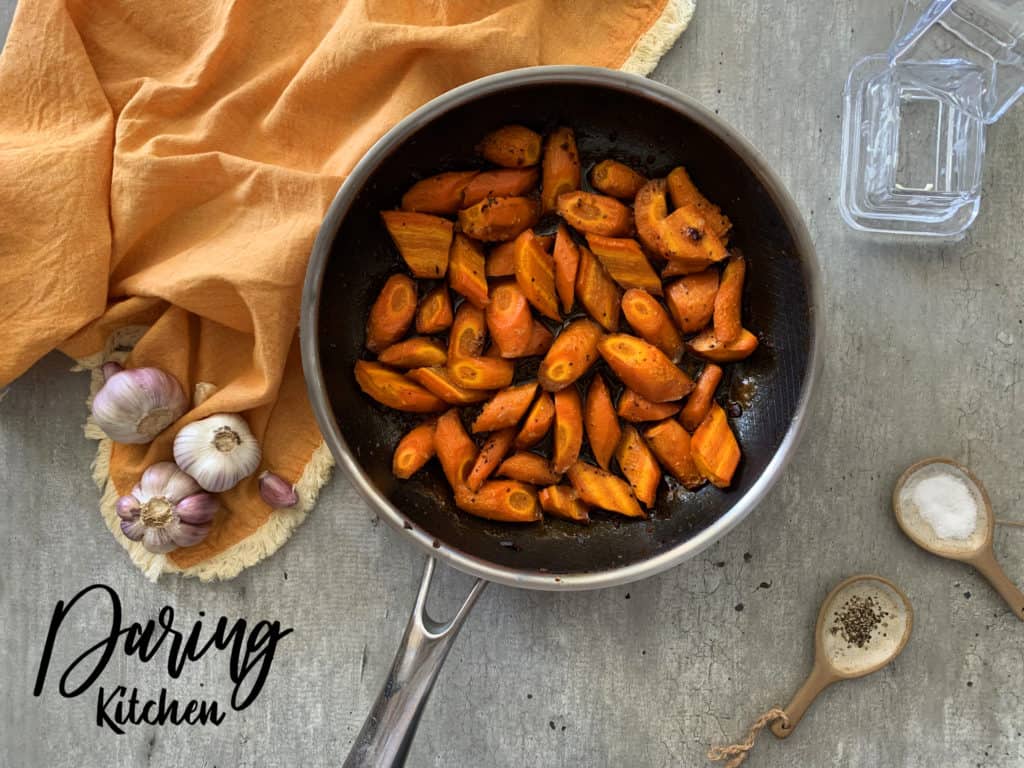 If you are using an oven-proof pan, place it directly into the oven. If not, pour your carrots onto a rimmed baking dish or baking sheet. Allow the carrots to roast for 25 to 30 minutes, or until the carrots are tender and not burning.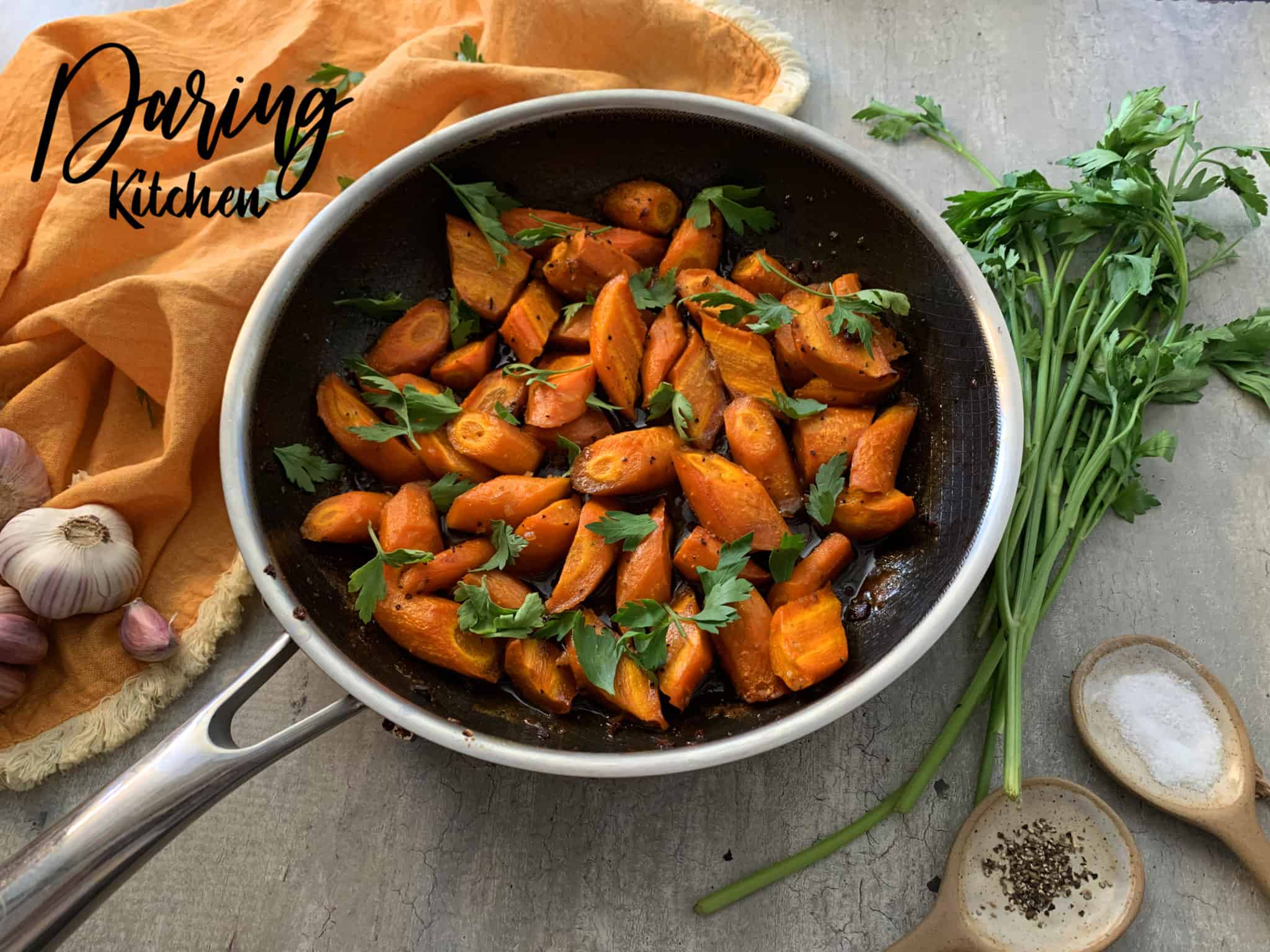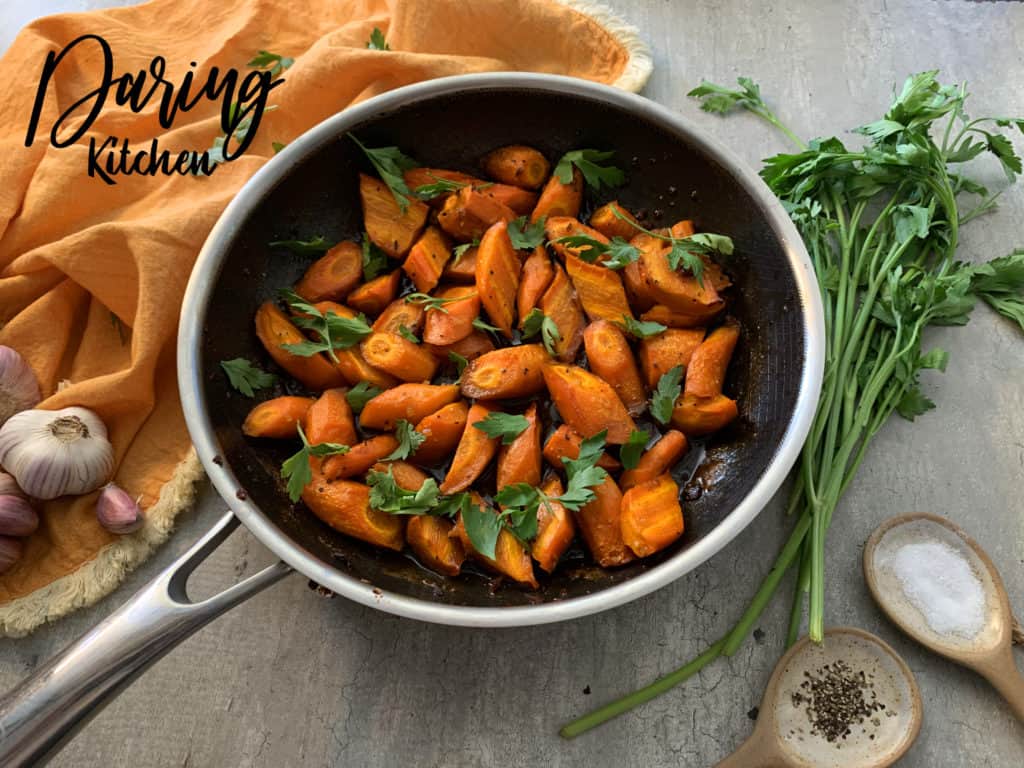 Remove your carrots from the oven. Garnish with tons of fresh chopped parsley. You can serve the carrots in individual bowls as a side dish. Or, on a big and bountiful tray. Either make an eye-catching decoration on a dinner table.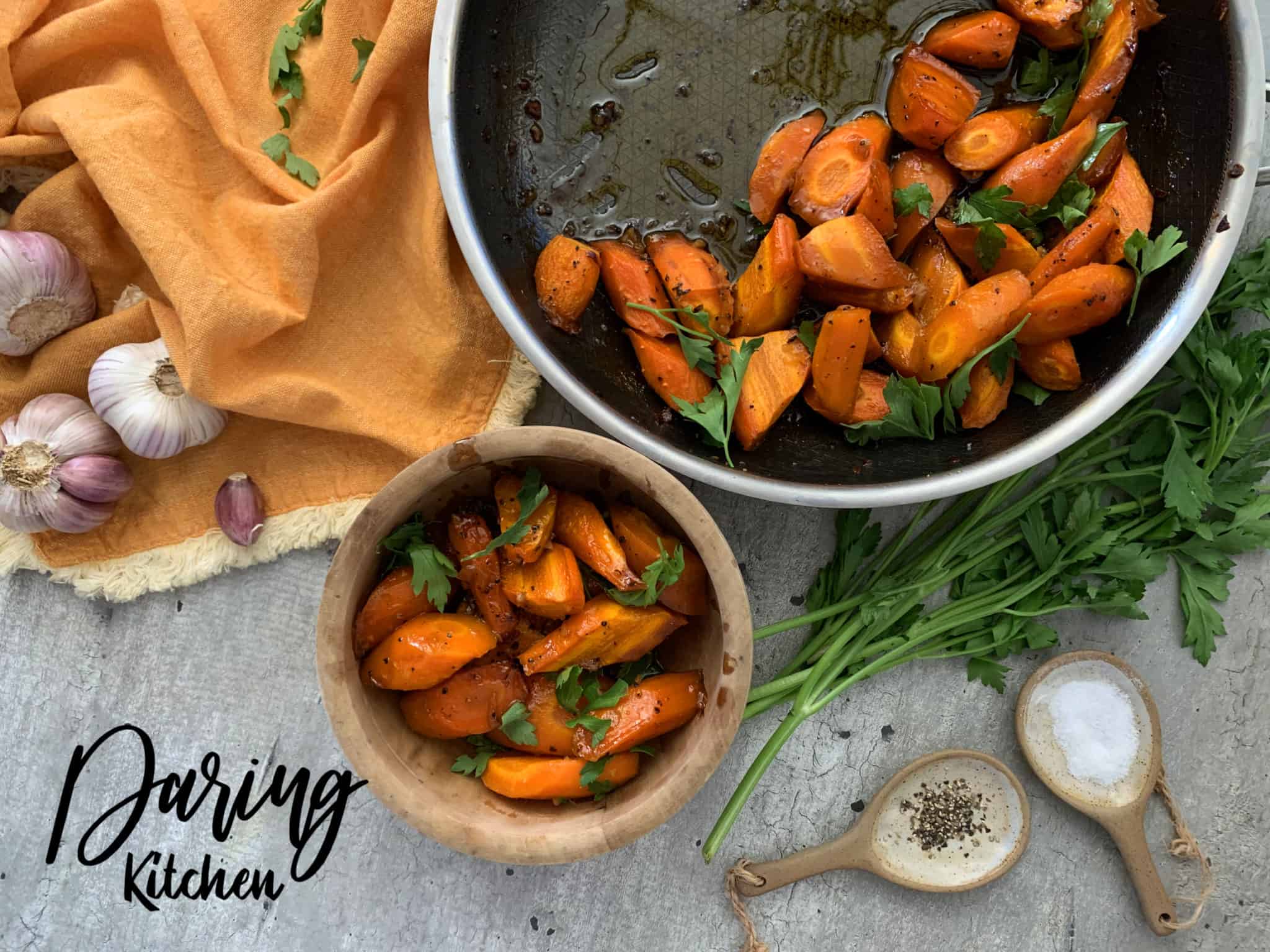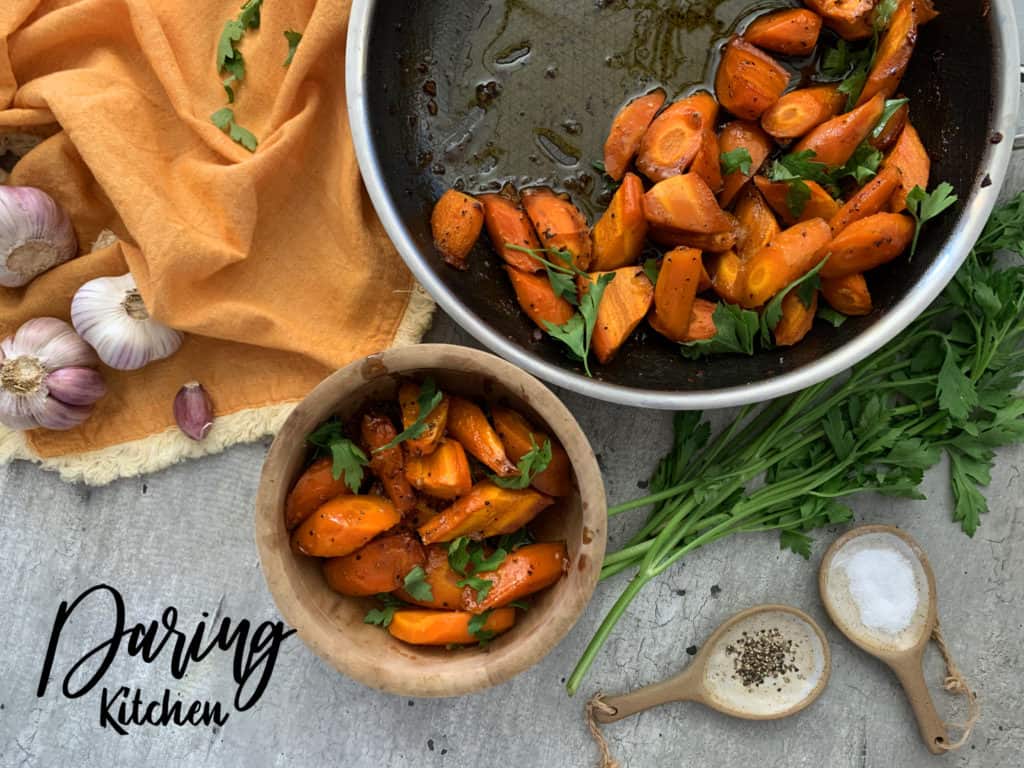 Please let me know what you thought of this honey garlic carrot recipe. It is one of my favorite veggie recipes to make. I mean, who can resist melted butter? And, not just any melted butter - a melted butter honey garlic sauce!
Leave a comment below if you have any questions about these roasted carrots.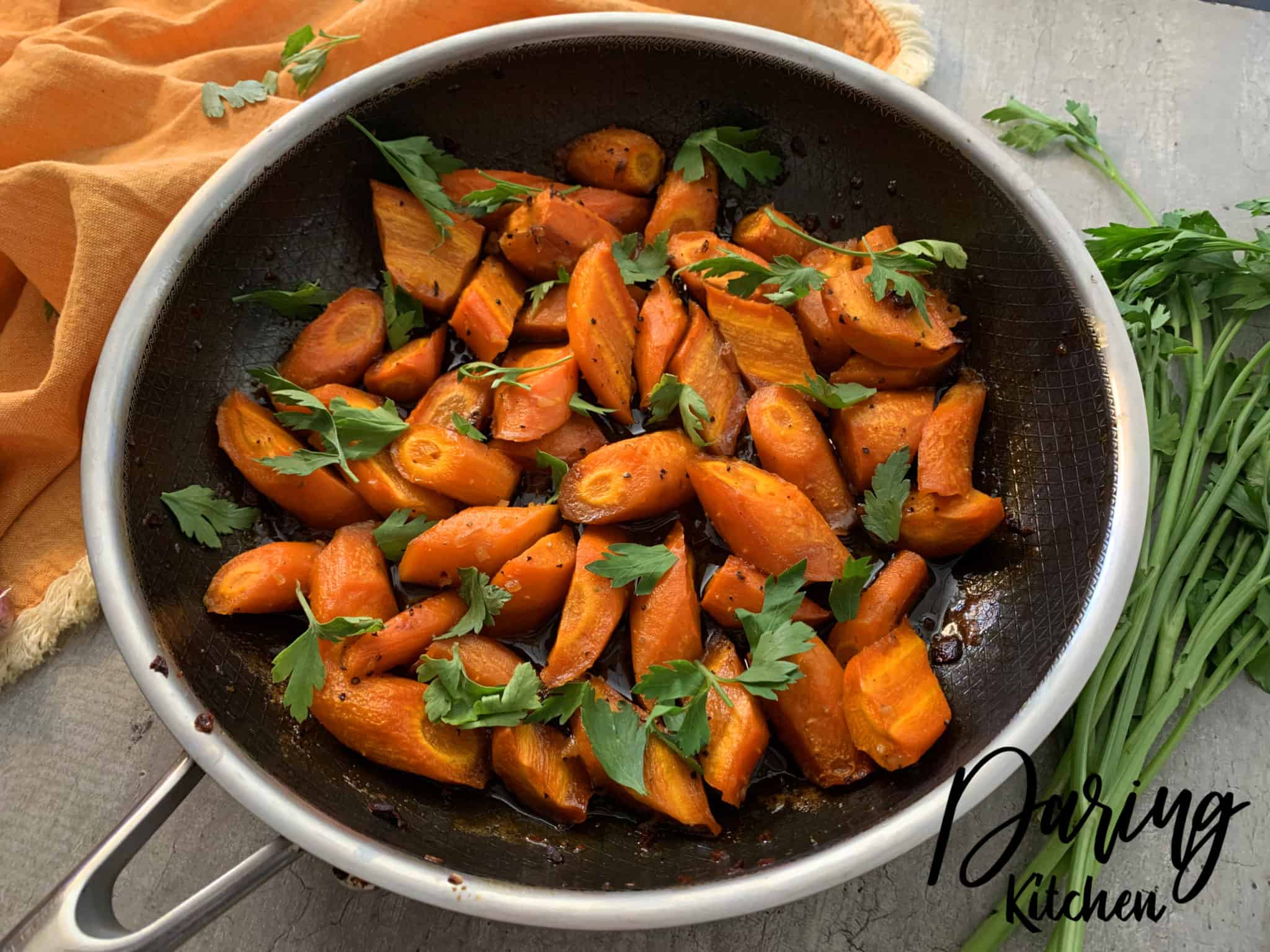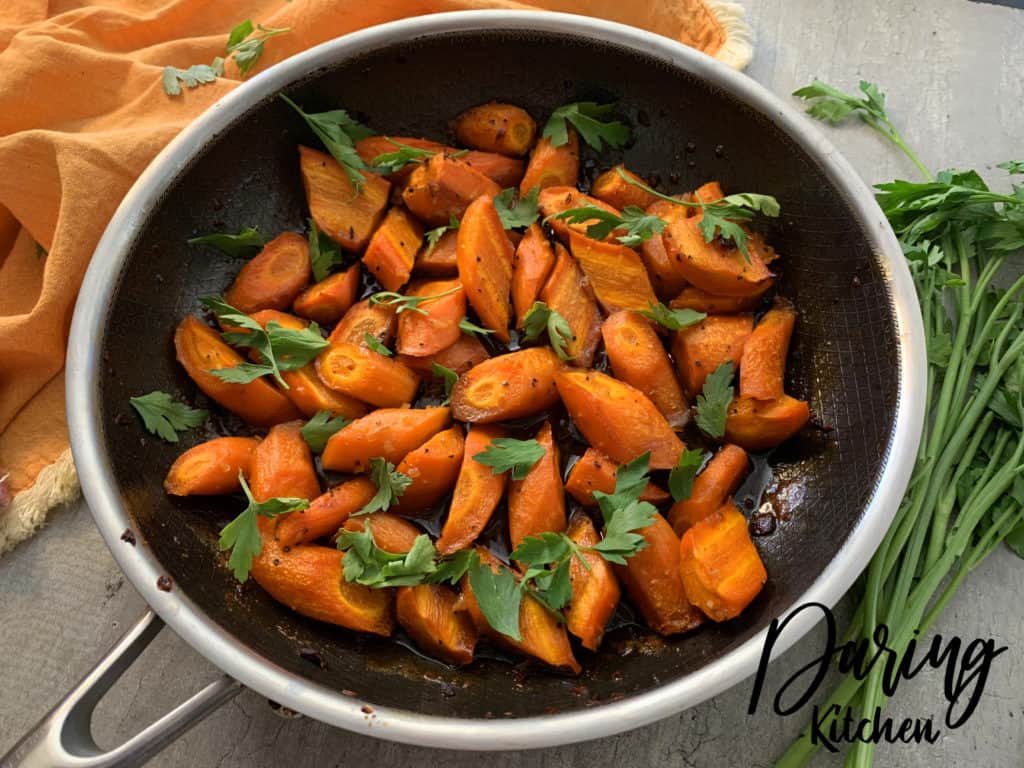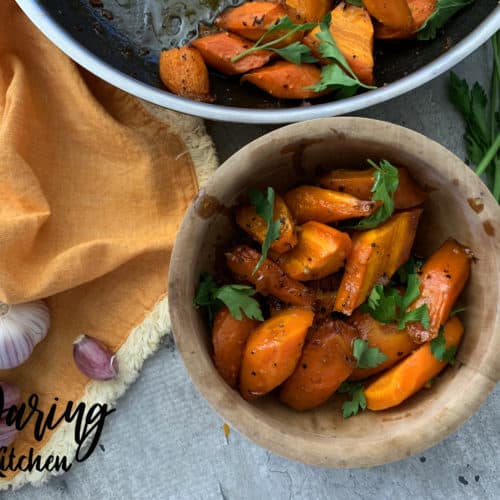 Honey garlic roasted carrots
With a scrumptious honey butter sauce, it's hard to resist eating all of these roasted carrots!
Print
Pin
Rate
Equipment
Oven Proof Skillet

Knife

Chopping Board
Ingredients
4

garlic cloves

2

lb

carrots

½

cup

butter

2

tbsp

honey

½

tsp

salt

¼

tse

black pepper

1

tbsp

fresh chopped parsley
Instructions
Preheat oven to 425 Fahrenheit.

Peel and chop the carrots until they are about 2-3 inch pieces.

Mince the garlic and add it to a skillet together with the butter.

Add the honey and wish until combined.

Add the carrots and toss until coated.

Bake for 25-30 minutes total.

Garnish with freshly chopped parsley.
Nutrition
Calories:
1271
kcal
|
Carbohydrates:
161
g
|
Protein:
35
g
|
Fat:
64
g
|
Saturated Fat:
7
g
|
Sodium:
1796
mg
|
Potassium:
3070
mg
|
Fiber:
26
g
|
Sugar:
78
g
|
Vitamin A:
151624
IU
|
Vitamin C:
61
mg
|
Calcium:
484
mg
|
Iron:
9
mg