Whether you live in a small apartment, a dorm room, or just have a tiny kitchen to maneuver around, investing in multipurpose appliances that are equally small and compact is important. 
Despite their tiny size, hot plates are invaluable tools in your kitchen. They are compact and portable so you can take them with you on the go. Plus, if you're only cooking for yourself, a hot plate is the perfect solution for whipping up a quick dinner.
Not all hot plates are made alike, though. There are all kinds of options to choose from, including induction models, infrared designs, and electric hot plates.  You'll also want to consider features like the size, material, and weight of your new appliance.
It sounds like an overwhelming list of attributes to keep track of, but don't worry. We'll tell you everything you need to know to help you find the best hot plate for your needs.
6 Best Hot Plates to Get Dinner on the Table Fast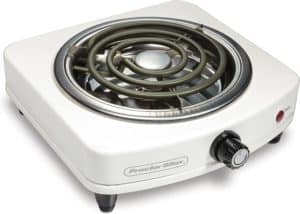 Proctor Silex is a household name when it comes to appliances, and this hot plate, though pretty basic, is no exception. It is compact and powerful, offering everything you need to get a meal on the table – without a lot of unnecessary bells and whistles.
The hot plate offers steady, sustained heat. It has a variable temperature knob that will allow you to change between high and low settings. The burner is portable, too, so it's easy to carry with you on the road. RV camper? This hot plate is a must-have item for your next trip. It even has a light on the front that will indicate whether the unit is powered on and heated up. 

Another great feature of this hot plate is how easy it is to clean. To clean up, all you need to do is lift the coil and wipe down the tray with a cloth. The burner coil lifts up, so you can easily get to the stainless steel drip tray underneath. It's as simple as that! 
What We Liked:
Has a compact design that's perfect for countertops

Easy to clean

Equipped with numerous temperature controls 
What We Didn't Like: 
Does not have an auto shut-off feature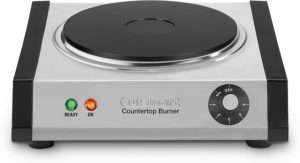 Love how versatile and easy to clean cast iron is? Then you'll love this hot plate! It is solid and durable, equipped with non-slip feet that will enable you to take it wherever you need to go. 
It has indicator lights that will tell you when the hot plate is on and ready. It has six separate thermostat settings, too, so you don't have to worry about the device being hotter than you might want it to be. It can be used to cook a wide variety of foods. 
It's also incredibly easy to clean. It doesn't have a coil, like many other hot plates, so you won't have to worry about food or debris getting stuck in nooks and crannies. It is a surprisingly large capacity hot plate that will allow you to cook food for just yourself, or for a small group of people.
What We Liked:
Comes with a built-in thermostat for easy temperature regulation

Easy to keep clean simply by wiping down

Includes helpful indicator lights 
What We Didn't Like: 
Cannot be used with pressure cookers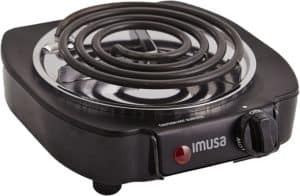 This hot plate by Imusa is one of the best if you are looking for an affordable – yet efficient – electric coil hot plate. You can do everything you could possibly want to with this hot plate, including cooking food, preparing tea, or boiling water. It's a sleek, stylish unit that is easy to store – a must-have feature if you're short on space.
It comes with helpful features that will make cooking much easier, too. It has a power indicator light that will tell you when the plate is on (no accidental burns or injuries!). Plus, when your food is done cooking, it will shut off automatically. It can also be programmed to shut itself down when it reaches a certain temperature. 
This not only helps to save energy, but it also creates a safer machine, too. This hot plate cooks quickly and can be used with large 12-inch pots and pans. It's versatile and an absolute cinch to use! 
What We Liked:
Lightweight and easy to store

Has a power indicator light

Comes with auto shut-off features
What We Didn't Like: 
Somewhat short power cord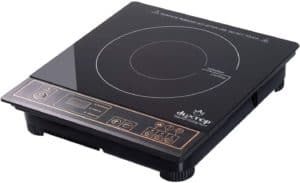 Duxtop sells a wide variety of portable induction cooktops – but without a doubt, this is one of the best hot plates made by this notable manufacturer.
It's not only lightweight and compact, but it has a stylish appearance that will allow it to fit easily into your existing design scheme. Unlike many hot plates that are a complete eyesore to look at, this hot plate is easy on the eyes.
It only uses about 120 volts and 15 amps of electricity while you are cooking. It's remarkably efficient and can be controlled easily with a digital control panel. You'll be able to keep an eye on the digital timer and temperature settings with ease.
There isn't much that you can't do with this handy hot plate. It's compatible with stainless steel cookware along with cast iron. It comes with a built-in detection system that will shut the hot plate off after 60 seconds if there is no cookware on the plate, too. This safety feature is great for forgetful cooks who have a tendency to leave their appliances on! 
What We Liked:
Has self-adjusting burners that can save on energy 

Lightweight, compact, and easy to store

Has ten separate power levels for versatile cooking
What We Didn't Like: 
Not the best for cooking over a long period of time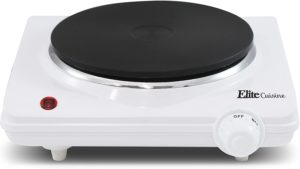 This single-burner hot plate is one of the best if you are looking for a hot plate with adjustable temperature controls. Not only is it compact and easy to take with you on the go, but it comes with controls that allow you to cook at high, medium, and low heat. 
It takes up very little cooking space, designed to be used as a single buffet burner. It has a single cast iron heating element that will conduct even, consistent amounts of heat on all sides of your food.
Since the plate is flat, clean-up is easy. All you have to do is give it a quick swipe with a damp rag. You're good to go! The hot plate has multiple safety features, too, including a stay-cool base that prevents burns and non-skid rubber feet. 
What We Liked:
Has numerous safety features

Comes with a power indicator light

Equipped with multiple energy-saving features and settings
What We Didn't Like: 
Not the most durable hot plate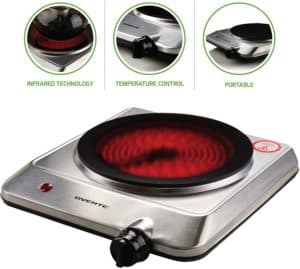 Designed to be used right on your countertop, this infrared hot plate is a great choice for people who want to make a quick homemade meal without having to drag out all the cookware. Ti is lightweight and compact, making it a great choice for taking with you on the go. 
It heats up rapidly, distributing heat consistently across the entire surface. It has a smooth electric range surface and is an infrared burner that works well with all kinds of cookware. You don't have to go out and purchase special cookware just to use your hot plate. 
Cleaning is quick, too. All you have to do is wipe down the unit with a damp cloth. It has a ceramic glass top that makes it easy to clean and safe to take on the road. Plus, its stainless steel housing ensures that it will last you for years to come. 
What We Liked:
Heats up quickly

Has a functional, easy to clean ceramic top

Equipped with non-slip feet 
What We Didn't Like: 
Should not be used with heavy pots and pans
Buying Guide: How to Find the Perfect Hot Plate for your Needs 
Not sure what to look for – and not sure that the options we've given you above will meet your needs? Here are some tips on how to shop for the best hot plate for your home and kitchen.
Safety
Be sure to pay attention to the safety features of your chosen hot plate. Unfortunately, using a hot plate does present a fire hazard. You'll want to invest in a hot plate that has lots of safety features, such as an auto-shutoff feature and non-skid feet (these are helpful to prevent the hot plate from sliding around while you are cooking). 
There are some hot plates that even come with locking features so you can lock in the settings so they can't be bumped and changed by mistake. 
Performance and Extra Features
Performance matters when it comes to choosing a hot plate that will last you for the long haul! You will want to find a hot plate that is capable of performing all the basic tasks you need to get done on a daily basis. Whether you want to cook breakfast, boil water, or just heat up a grilled cheese sandwich, investing in a hot plate that will get the job done is essential.
There are plenty of additional features you should pay attention to as well. Not all of these are imperative when you are shopping for a hot plate, but they can definitely make your cooking experience more affordable. 
For instance, you may want to shop for a hot plate that has features such as digital controls, customized power settings, or built-in timers. This will make cooking a total breeze – and perhaps something you come to enjoy, too! 
Maintenance
How easy will it be for you to clean your hot plate? If you aren't sure, or are skeptical about the ability of your hot plate to be easily cleaned, you might want to move on to another product choice. You're already busy, so don't add more work to your jam-packed schedule!
Instead, look for a hot plate that is easy to clean. Many hot plates can be cleaned just by wiping down the heating surface with a damp sponge dipped in vinegar and warm water. 
Wattage
Pay attention to the wattage of your hot plate. In order to cook a large meal on your hot plate, you are going to need a high wattage hot plate. However, if you invest in a hot plate with too much wattage, it might burn your food, making it difficult to leave your dish unattended for even a second. 
Heating Source 
You'll find multiple kinds of hot plates on your search, including those that use metal and ceramic coils. These tend to be the most popular options, although glass hot plates are becoming more common, too. Just keep in mind that glass hot plates tend to work best with iron cookware only. 
Therefore, you'll want to do some research before you buy to make sure your heating source is compatible with the kind of cookware you already own. 
Temperature Control
How well do you want to be able to fine-tune your temperature settings while you are cooking? Look for a hot plate that won't take forever to heat up – but also look for one that has overheat protection. 
Portability
Plan on traveling a lot with your hot plate? If so, you may not want to buy one of those glass hot plates we mentioned above. That's because glass hot plates are more likely to crack when they are dropped or bumped. Ceramic hot plates will be more durable if you are planning on hitting the road, but they will also be heavier – so keep that in mind. 
Another feature to keep in mind when you're considering portability is how the unit is designed. A double-burner model will take up a lot more room in transit, while a single-coil will be much more compact. 
Why a Good Hot Plate is Essential 
Believe it or not, a good hot plate has more potential uses than you might assume. When you think of hot plates, many people think of college students huddling around a hot plate trying to heat up a single cup of Ramen noodles.
However, the best hot plates of today go way beyond that image. They are incredibly versatile and can be used as a substitute for a full stove – or as a complement to it. 
If you're in the market for a hot plate, consider our top picks above – and our handy buying guide. You'll have all the information you need to make the right choice!