We can't live without water—and, indeed, many people in the United States can't imagine parting with their beloved water filters. Whether it's because they live in an area with poor drinking water quality or because they heard coffee makers make better coffee using filtered water, we have to give it to them: these nifty inventions are everywhere.
But have you ever wondered how do water filters work? Are they actually doing anything to your water or just burning through your hard-earned cash? Today, we're laying down some facts—and dispelling myths.
Water Filters 101: How Do They Work?
Conventional, store-bought water filters are just one of many ways to filter water. But they're by far the most practical and convenient. All in all, they do an amazing job of removing contaminants from your tap, public water.
There are essentially two types of filters: physical and chemical ones. Let's take a dive to see how each of these filters work.
Physical Filtration
This type of filtration system works when water passes through a physical filter. In a way, it's like straining water for tiny, tiny particles you don't want in your drink. The filter traps them, making your water safe.
When you're shopping for a mechanical filter, you'll notice a measurement given in microns. That is the size of the particles that specific filter traps. For example, if the only problem you have with your tap water is that it's brown, you'll be fine with a 5-micron filter, designed to remove sediments. But if you need to remove giardia parasites from your drinking water, you'll need a 0.5-micron filter.
Chemical Filtration
Chemical filtration is another of the two techniques for filtering water. It works when water passes through an activated substance, which will trigger a chemical reaction and remove contaminants from the water stream.
You can use this system to remove pesticides, nitrates, heavy metals, chlorine, and other impurities. If you're trying to improve the taste and odor of your tap water, these water filtration systems are a good choice. 
Different Types of Water Filters
Now that we've gone over the differences in types of water filters, let's get down to business: which type is best? Better yet, which one should you invest in for your home? And how do they all work?
Activated Carbon Filters
By far the most popular choice, activated carbon filters make a great addition to your home. They trap in some of the most commonly found impurities and contaminants in tap water to make it not only safe for you but also tasteless.
You can find activated carbon granules and carbon blocks in just about any major supermarket. Brita filters use it in their water filter pitchers, for example.
The main advantage these filters have is that they remove chlorine and dissolved solids effortlessly, the biggest complaint people usually have against tap water. Plus, these filters are easy to use, affordable, and easy to find.
Unfortunately, they aren't without their downsides. For starters, most activated carbon filters can't remove heavy metals, nitrates, or microbes. Moreover, once you've used them for a few months, they get saturated and can no longer filter anything for you. You'll need to get new filters.
Ion Exchange Filters
This kind of chemical filtration has a complicated sciency explanation behind it, but we'll stick with the basics. Ion exchange filters soften hard water by turning "bad" substances into "good" substances. In other words, they exchange magnesium and calcium with other ions, such as hydrogen.
If you need a water softener, this type of filter will work wonders for you. While it's more expensive than carbon filters, it not only turns hard water into soft water, but it also removes other undesirable substances. After some months of using it, you will also need replacement ion exchange filters.

Reverse Osmosis Filters
Reverse osmosis filters are probably the best way to remove particles you don't want in your water as effectively as possible. By pushing water under pressure through a thin membrane, only high-quality water will come out on the other side. The contaminants stay behind, trapped in the membrane.
These water filtration systems are the most thorough out there. They'll remove anything from sediments to heavy metals and chlorine. Most reverse osmosis filters are designed to be installed under your sink, giving you access to clean, drinking water straight from the tap. There are also whole-house water filters, which are installed at the water supply point, meaning you can get perfectly healthy drinking water from any tap in the house.
Again, you'll have to get replacement filters periodically, once your system works to exhaustion. This can make reverse osmosis filters expensive in the long run, but since they're so effective, they're definitely an option to consider.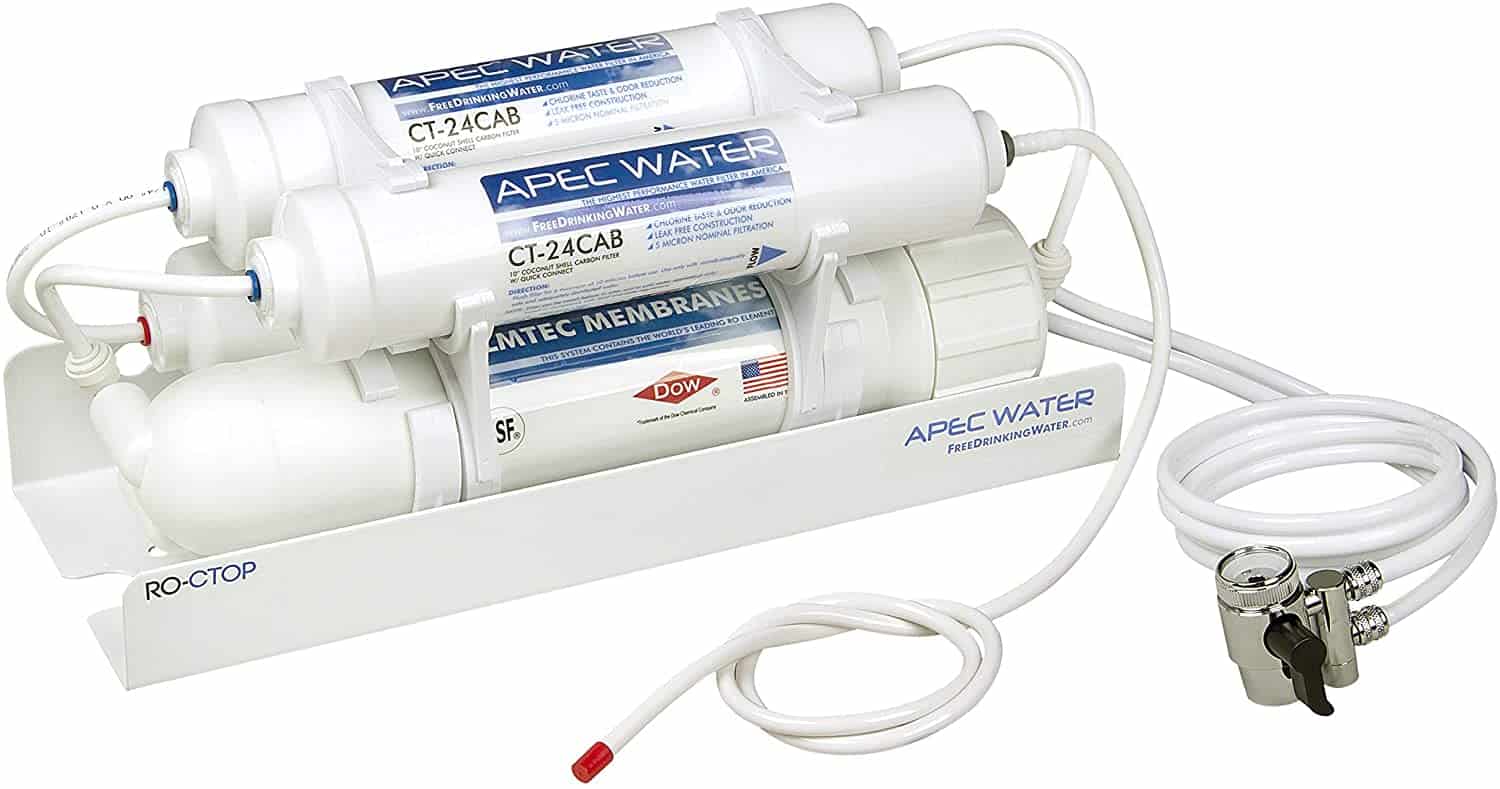 Steam Distillation
You could either buy or DIY a steam distillation system to filter water; either way you'd get healthy and delicious drinking water. They work by boiling water, turning it into vapor, then catching and condensing that vapor into liquid water and letting it drip into a separate container. Think of it as a miniature water cycle as it happens in nature.
This means that once the distillation process is done, you'll have gotten rid of harmful contaminants, such as heavy metals. You will also have killed any bacteria that could have been living in the tap water. However, you can't remove volatile organic compounds from your drinking water (for instance, trihalomethanes) because they have a lower boiling point than water, thus they are carried away and dissolve into the "clean" water.
Do Water Filters Kill Bacteria?
Water filters don't kill bacteria per se. Some mechanical filters do trap in microorganisms (such as bacteria) and don't let them get into your body. However, if you don't change out the filter in time, the bacteria will have no problem flowing right through, putting your health at risk.
The most effective way of killing bacteria is by boiling your water for a few minutes. That's because bacteria can't survive temperatures upward of 212ºF (or 100ºC), or the boiling point of water.
Is My Water Filter Working Properly?
When you bought your water filter did you check to see if it was certified by the National Science Foundation (NSF)? They, along with the American National Standard Institute (ANSI) regularly test water filters to see how effective they are. Would you believe it if we told you some companies advertise their filters as "independently tested" even though they may not work? Put your health first and make sure you only buy ANSI- and NSF-approved water filters.
On top of that, you'll also have to keep replacing the filters periodically. Even the best water filters need replacing once in a while, otherwise, they'll stop filtering water. How long yours will last depends on the manufacturer, so follow their instructions.