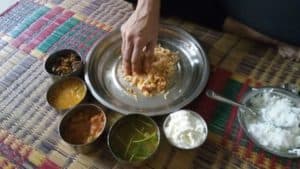 Growing up in India, I have been vegetarian for a big part of my life. Due to my upbringing, following a meat free diet has always been effortless. But when I married my husband, who grew up eating all kinds of meat, and because we settled in Australia, a food culture with lots of meat eating, we had to make a decision on how to raise our kids. Now as a family with kids, we follow a predominantly vegetarian diet by choice. Meat is not there in every meal and we don't miss it!
I am deeply in love with the traditional South Indian meals of my heritage which include a variety of pulses, multitude of grains, wide array of vegetables, abundance of magic spices, served with creamy, tangy curd (traditional Indian pot set yoghurt) and pickles providing a healthful dose of gut bacteria. There are a 100 different ways of cooking a pulse or a vegetable in the South Indian tradition, all dishes fit for a king! I am adventurous with different cuisines, however in our daily meals I try to honour the essence of the traditional South Indian thali which is plant-based. I say this as a modern Aussie Mum with South Indian cultural nostalgia – we don't miss meat!
Meat- free diets have fantastic health benefits as long as they are well balanced. A position paper published by the Academy of Nutrition and Dietetics concluded that a plant-based, vegetarian dietary pattern is completely healthful and nutritionally adequate for people throughout all stages of life and that it has several health advantages, including lower blood cholesterol and pressure levels, and lower risk of heart disease, hypertension, and type 2 diabetes. Similarly, research has shown that non-meat eaters have a 31 per cent lower risk of developing diverticular disease, and that they are less likely to be obese.
According to the World Health Organisation nearly 80 million Indians are heading to be diabetic. During recent visits to my home country, I observed that most South Indian people are on a single-cereal diet which is rice-based or wheat-based. If you look at a South Indian plate today, there is a mountain of rice with a small portion of vegetables on the side. In the past, people saved meat only for the weekend, most meals were home cooked, and they contained pulses. While meat protein and carbs are not the enemy, and gluten is not the villain, these days there is a major shift to a highly refined diet, with less of the traditional "good stuff", which can cause health issues. Now due to affluence, work pressure and time constraints there is an increasing trend of eating packaged processed foods and cooking less at home. Affordability is driving meat consumption. India is now one of the fastest growing markets for chicken in the world! Ironically, more people are abandoning vegetarianism in India, which seems to be contrary to what is happening in many other developed countries where people are turning away from meat!
So what is the key to a meat-free diet? It is pretty obvious: maintaining a balanced diversified diet. As a nutritionist, I observe that we get caught up in the confusing maze of vitamins, carbohydrates, proteins, antioxidants, fats and fads, trying to balance it all out. We need to move away from "nutritionism", and reconnect with our food. Eat whole foods, not simply nutrients, and know the provenance of our food. You don't have to be a puritan, you don't have to avoid meat all the time to make a difference to your health or the environment. A small adjustment can be enough. Try by saving meat for the weekends, or having one meat or one fish meal on alternate days. Experiment with alternative sources of wholesome protein, like pulses. Let our kids associate food with not just nutritional information but also emotional well-being: the joy of eating together at home, mum's cooking, grandma's recipes, preparing, laughing, smelling, and relishing good food.
The global population is expected to hit 9 billion by 2050. To feed ourselves, we need to know our alternative protein sources. Pulses are one of the most perfectly balanced proteins we can consume. In fact, the United Nations declared 2016 as the International Year of the Pulse to raise awareness of these powerful superfoods. For example, how many of us know that the Australian Sweet Lupin (angustifolius), grown predominantly in beautiful clean Western Australia, is an under-utilised pulse with exceptional nutritional properties which can aid the fight against chronic diseases like obesity, diabetes and heart disease? Try Australian Sweet Lupin in rice and dhal, hummus and pitta, wholewheat pasta, chick-pea salad and bean chilli with brown rice. These pairings have the advantage of keeping us full and giving us a healthy gut. There's a quiet revolution going on, pulses are moving to the centre of the plate.
For me, meat-free meals are not about abstaining from meat. They are about including and celebrating alternative types of pulses, vegetables, whole grains, nuts and fruits in our diet. When you practise this, something happens. You start feeling amazing and light. Then you get addicted to that feeling of clarity and wellbeing. And slowly, this "new" way of eating, derived from old South Indian traditions, starts to become a way of life.