Tofu (also known as bean curd) is extremely popular in China and other east Asian countries. But you would be forgiven for not knowing what it is. It wasn't until recently that tofu products truly took off in the United States and North America. Now, you can find tofu and other soy foods (e.g. soy milk) in all kinds of restaurants, particularly those with a vegan or vegetarian menu.
However, there is still a lot of confusion about what is tofu and how is tofu made. Today, I'll go over everything you need to know about this plant-based protein source, including how to make tofu at home for much cheaper than store-bought. Keep reading.
What Even Is Tofu?
Tofu has a long, long history. It originated in China from the soya plant over two-thousand years ago and has been a cuisine staple ever since, most often used because of its high protein content. It was eventually taken to Japan and Korea, where it continues to be a must-have in people's homes.
In the most basic terms, tofu is soy milk that goes through a process somewhat similar to cheese making. It's a great source of amino acids and very poor in saturated fats, which makes it a revered health food.
Nowadays, there are essentially three types of tofu: silken, firm, and extra-firm tofu. We will get into their differences (and best uses!) in a bit.
You won't see tofu manufacturers today making tofu following the exact traditional techniques first employed in China (traditional salts such as calcium sulfate and magnesium chloride included). The Japanese Food Research Institute set out guidelines in the 1960s to standardize the production of tofu, and those methods are still used today.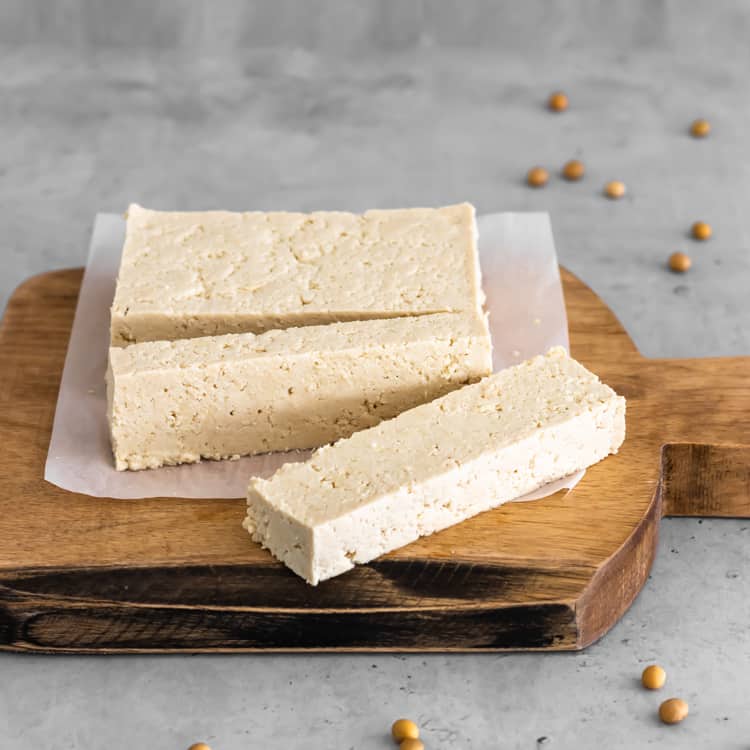 Is Tofu a Healthy Food?
Tofu is one of the healthiest foods out there. Because it is low in saturated fat, has a high protein content, and provides essential amino acids, it's often recommended to those looking to improve their health.
Moreover, several studies done in the United States have shown the health benefits of tofu. For starters, they are believed to lower your risk of heart disease, by keeping blood cholesterol down and improving blood flow. Secondly, tofu provides a boost to your isoflavone intake, which seems to also lower your risk of breast cancer, especially in women.
But the human health benefits don't end there. Tofu is not high in calories, meaning it is a "safe food" for anyone on a weight loss journey. Especially if they are looking for a healthier meat alternative.
Tofu is one of the healthiest food products out there. It is low in saturated fat, a good source of protein, and packed with minerals and vitamins essential to human health.
As a disclaimer, anyone with a soy allergy should stay away from tofu, for obvious reasons.
How Is Tofu Made?
Alright, now that we got that out of the way, let's look at how is tofu made. While the tofu manufacturing process is complex and has changed throughout the centuries, we can still simplify it enough so we can understand this superfood.
First, the soya plant must be grown and matured until it gives beans. This is the same crop cultivated for animal feed, but with slight variations. These beans will later be processed, ground up, boiled, and mixed with a coagulant used to turn the soy milk mixture into tofu curds. Then, they are molded, pressed, and packaged.
Different types of tofu are manufactured slightly differently. Extra-firm tofu, firm tofu, and silken tofu have different textures, after all. The main difference is that the third goes through a water bath at lower temperatures and isn't pressed as hard as the others are.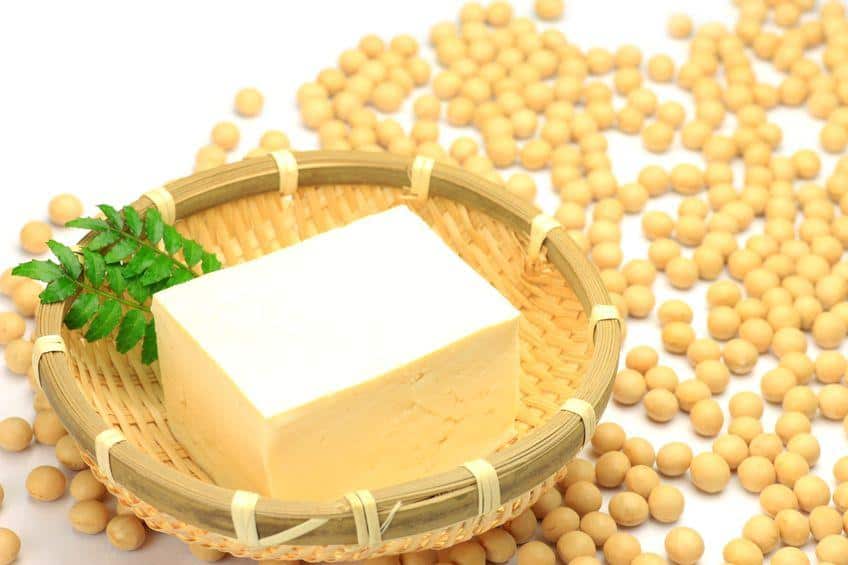 Can You Make Tofu at Home?
That is a very simplified look into how tofu is made industrially, but it gives you a general idea. If you want to save money and make your own at home, you can replicate the tofu manufacturing process, but scaled down.
While tofu may take a while to make, it is definitely worth the effort—both because it's cheaper and because it's more flavorful. Thus, if you're looking to up your soy consumption and say "no" to the often high prices charged by the tofu industry, follow these steps.
Step 1: Soak the Soy Beans
The first step in tofu making is soaking the soya beans for at least eight hours, but preferably twenty-four hours. You can use either genetically modified soy (GMO) or organic. It is all up to you since there doesn't seem to be negative impacts of GMOs on human health.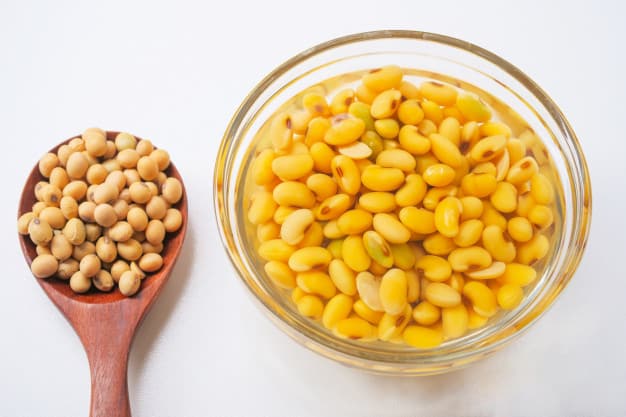 Step 2: Grind the Soy Beans
Then, you will need to blend the soybeans with water to make soy milk. Unfortunately, most soy milk from the store has additives that prevent us from turning it into tofu.
Add three cups of beans and eight cups of filtered water to your blender. Process the two until you get a liquid (soy milk) that is creamy and frothy in texture. If you want, you can double the amount and make it in batches.
Step 3: Boil and Skim the Foam
Pour the soy milk into a large pot and bring to medium heat. Stir every so often but don't let come to a boil. You will want to see steam rising from the pan without any bubbles forming. Use a skimmer spoon to remove the froth and foam that will rise. You won't need it to make your tofu.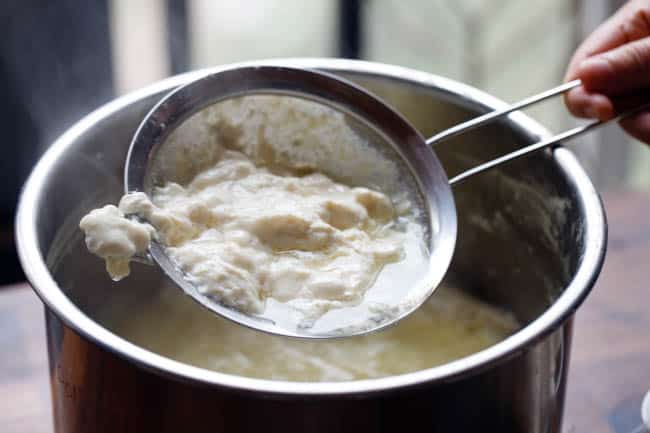 Step 4: Filter Out the Soy Pulp
The next step in tofu production is filtering out the solid bits. The soy protein and other good things are in the soy milk anyway. The solids are a tofu manufacture by-product (also known as okara) and can be used in other recipes.
Line a strainer or bowl with cheesecloth and dump the boiled soy milk into it. Allow for the liquid to cool until you can safely handle it. Once it reaches room temperature, make a ball with your cheesecloth and vigorously strain out the solids from the milk. Be sure to really squeeze out all the liquid you can. You should also boil it a second time, this time allowing the soy milk liquid to come to a simmer or boil for five minutes.
Step 5: Add Your Coagulant
Next, you will need to add a coagulant mixture to curdle the soy milk into soy curds. Do this back in the same pot you used before. The coagulants used industrially vary between tofu makers. Traditionally, salt coagulants (such as magnesium chloride, calcium sulfate, and calcium chloride) were used and you can absolutely use them if they're easy to find in your area.
However, in a pinch, you can add lemon juice. Mix two tablespoons of freshly squeezed lemon juice to half a cup of water. Slowly add this mixture to your pot with soy milk and stir vigorously. Once you add it all, there should be two very easily distinguished layers left in the pot: a white soybean curd-like layer at the bottom (that's your tofu) and a yellowish liquid on top.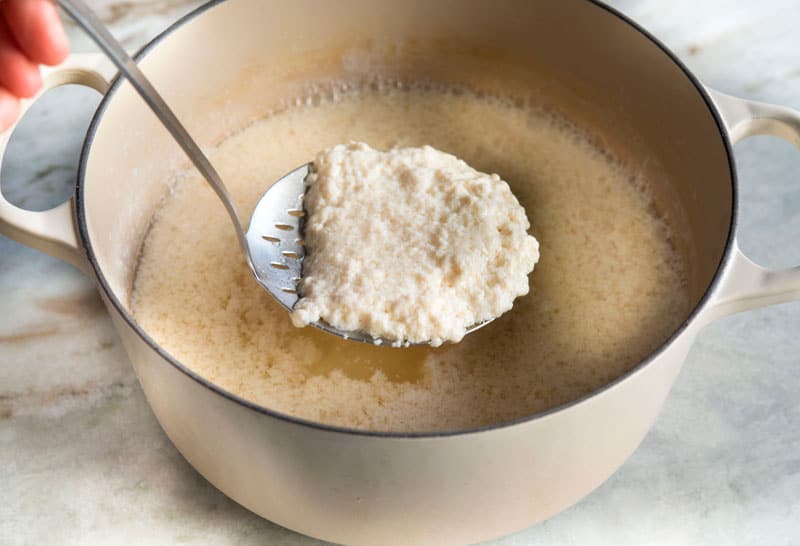 Step 6: Strain and Squeeze Out the Excess Liquid
Get rid of the excess liquid so you're only left with the white solids at the bottom of the pot. Do this using a cheesecloth.
Step 7: Place the Solids Into a Mold
Then, place the soy curd mass into a tofu mold. If you don't have one, a small, empty square- or rectangular-shaped container will also do. You could even use a large bowl. Whatever vessel you use, that will be the shape of your blocks.
Step 8: Apply Pressure and Wait
The final step in making tofu is applying pressure to the white soybean curds so it turns into a cohesive block. There are tofu presses and molds specifically for this, but you can always improvise. Use a cutting board and several big books as weights.
Step 9: Use Up or Store
After about an hour of being under pressure, your tofu blocks are done! They're best eaten right away (keep reading for some tasty suggestions!)
Alternatively, you could store your homemade tofu for later. Simply cover it with cold, filtered water it in an airtight container and stick it in the fridge for up to a week. Remember, homemade tofu has a shorter shelf life (or fridge life) than the store-bought kind.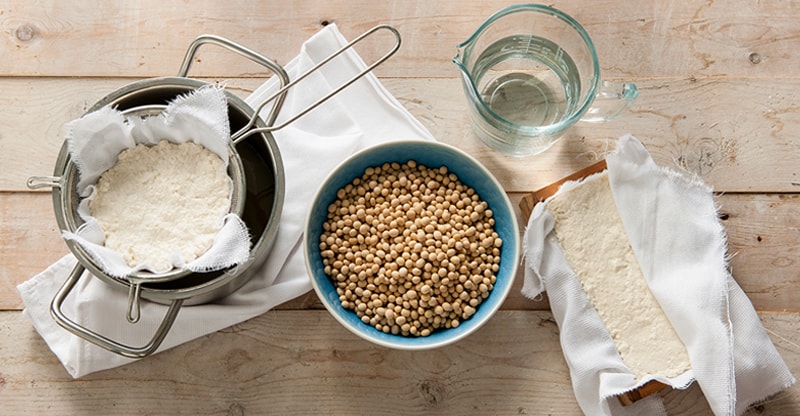 How to Cook and Prepare Tofu?
Because tofu is a very unique food and not everyone has tried it, it's no wonder many ask what does tofu taste like. Simply put, not much. Plain soft, firm, and extra-firm tofu are nothing to write home about (even though I sometimes like eating it plain!). The magic happens when you integrate it into tofu dishes. When done right, tofu can be the star of the show!
Firm and Extra-Firm Varieties
Firm and extra-firm soy products are best enjoyed cooked after being marinated. Start by using a tofu press (screw presses and lever presses are the best) to squeeze out the liquid from the block and add it to your favorite marinade. It will impart a pleasant, intense flavor to the block.
This type of tofu makes for a perfect meat substitute in stir-fries. Whether you want to cut it up into strips or crumble it to mimick ground pork, you will love its consistency. Deep-fried tofu is also a delicious treat.
Moreover, if you want to imitate the texture of chicken, freeze your block of tofu overnight and then thaw it. Its high water content, when frozen, causes it to get a more sponge-like consistency (in the best of ways!) and soak up any sauce and seasoning you give it.
Silken Tofu
Silken tofu is the softest tofu product out there, which is why it's so often used in vegan desserts. It acts as a dairy substitute and adds creaminess to all kinds of dishes. For instance, you can use it to make Vegan Pumpkin Cheesecake, a tofu soft ice cream, a wholesome Vegan Mac and Cheese, all kinds of creamy salad dressings, and even boiled in coconut water for a delicious treat!
All in all, tofu is a healthy and versatile ingredient we should all incorporate into our diets more frequently. There is a whole world of plant-powered recipes you can make using this ancient superfood, especially now that you can make it for cheap at home!