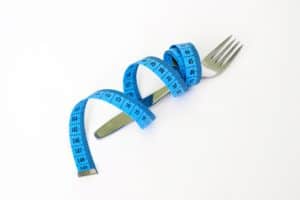 When the Government's Childhood Obesity Plan was launched in August 2016, Jamie Oliver responded with a summary of the plan's failings. One of Jamie's points was that the plan had missed the opportunity to show what parents could do to help and so he called for regular checks for helpful tools for parents.
I was really pleased to see this focus on early prevention and I can suggest a perfect helpful tool for parents that is based on an extensive scientific evidence base. The tool is a simple piece of string. How come?
Moving away from Body Mass Index as the most critical measure of health
The first point to make is that we should forget about height and weight and Body Mass Index (BMI). BMI is a proxy for total body fat but it is not the best predictor of early health risk i.e. of getting diseases such as diabetes, heart disease or having high blood pressure.
Instead, Waist-to-Height Ratio (WHtR), a proxy for central fat rather than total fat, is being discussed globally as a superior measure because it is the central fat which is the most harmful fat. WHtR 0.5 is now being used worldwide as a cut off value for early health risk.
This translates into the simple message: "Keep your waist circumference to less than half your height."  The same WHtR value and message appears suitable for adults and children over 2 years old. For obesity, diabetes and heart disease (in developed and developing countries), prevention should start in childhood and any early screening method should be simple and cheap. Ideally it should involve measurements which can be done reliably by parents.
A simpler, easier measure of your health
Measuring WHtR does not require weighing scales but would normally require a tape measure for height and waist circumference. However, to check if WHtR is more than 0.5 doesn't even need a tape measure. A piece of string will suffice.
The string is used to measure the child's height and then it is folded in half to see whether it fits easily around the child's waist. If it does not, early health risk is indicated and further screening is indicated. Parents or carers can do the string test or they can watch the child to do it themselves. If the string does not fit, then how big is the gap? Maybe two fingers, maybe three? Whatever the gap, parents can work with their child to see if the gap can be made smaller for the next string test. Thus the string acts as a simple, cheap, signposting tool for early health risk.
At long last we have the answer to that age old question: How long is piece of string? The answer is, less than half a child's height if we want to improve public health.