Those brightly colored bites of sushi look innocently tiny when they're neatly tucked into their little takeout box. Crunchy vegetables, fresh fish, a bit of rice, and perhaps some specialty sauce all wrapped up in some light-as-air seaweed. When sushi is on the menu, how full could one possibly get?
Surprisingly, full.
Whether your eyes were bigger than your stomach at the sushi restaurant, or you've made your own sushi at home and have leftovers -- you're left wondering, "How long is sushi good for?"
The simple truth is, sushi will never be better than it is the moment after it is freshly prepared. However, this doesn't necessarily mean that the sushi leftovers should go straight into the bin! There are a number of factors that will affect the shelf life of fresh sushi, and we're about to get into each of them.
Origins of Sushi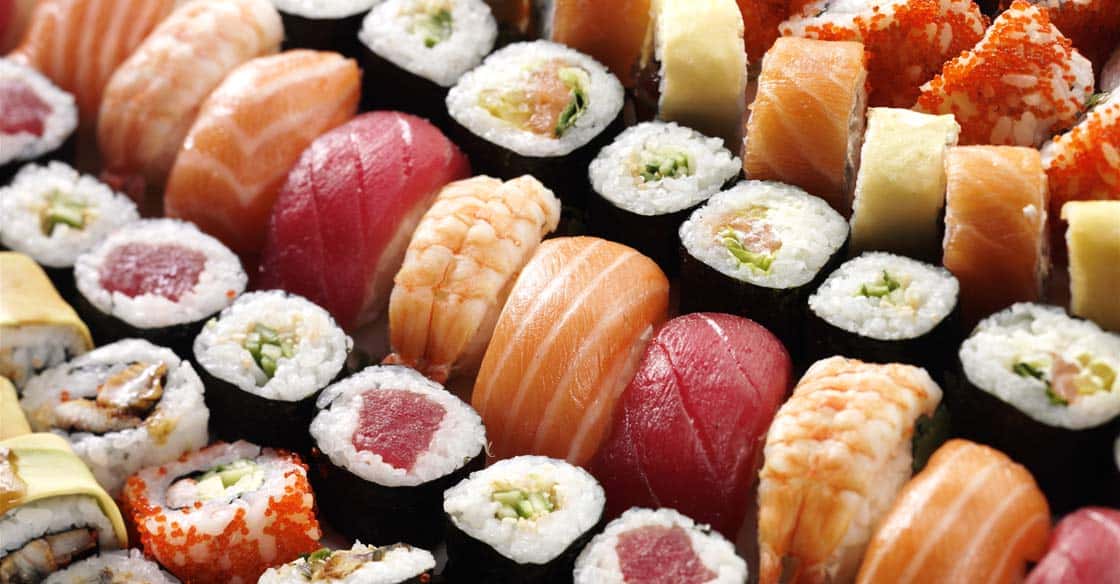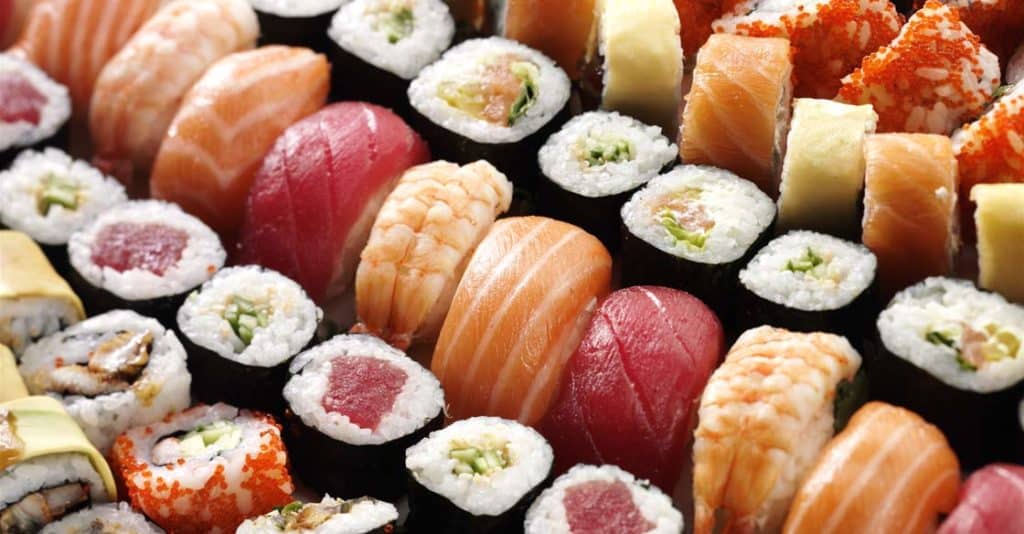 It is believed that sushi actually originated as a means of food preservation. Long before the dawn of refrigeration, it was discovered that by wrapping preserved fish in a coat of fermented rice, the resulting chemical reaction actually helped the fish to last longer. Not only was this a practical decision, but it turned out to be a delicious one as well, and the combination of fish enclosed in rice became a staple of Japanese cuisine.
Over the years, and as food storage technology advanced, no longer was it necessary to preserve fish and ferment rice in order to extend the shelf life of these foods. It became safe, and even tastier, to craft sushi using ocean-fresh fish and newly cooked rice. In order to echo the sweet-sour fermented flavors that were characteristic to original sushi, fresh sushi rice is cooked with specially seasoned vinegar so as to give it a comparable zing.
What's in Sushi?
The list of ingredients you might find in a sushi dish is a lengthy and ever-growing one. As many Japanese restaurants and sushi bars continue developing recipes and inventing new specialty rolls, more and more flavor combinations are brought forth into the world of sushi possibilities. However, there is more or less a standard format that is followed as well as a handful of most commonly used ingredients.
Raw Fish, Cooked Fish, or Other Seafood
Many people tend to think of sushi as raw fish and only raw fish, but the truth is sushi actually contains a wide range of seafoods that can be in either cooked or uncooked form. Raw tuna and raw salmon are common additions, as well as tempura fried shrimp, cooked crab meat, fresh scallops, lightly seared mackerel, or sometimes fish roe.
Sushi Rice
One taste and you'll notice that sushi rice is not just any old rice! Sushi rice is a type of short grain rice which has a high starch content, making it perfect for sticking together and holding other ingredients. Sushi rice is always cooked with a specific type of rice vinegar that has been seasoned with sugar and salt, giving it a perfectly sweet and sour punch of flavor.
Vegetables/Fruits
Sometimes, fresh ingredients are chosen that will complement the type of seafood being used and bring balance to the overall flavor profile of each sushi roll. Typically, these ingredients are raw, but at times they may be cooked or otherwise treated as well. Some common inclusions are: avocado, cucumber, scallion, and asparagus.
Condiments/Sauces
Depending on the other ingredients in each piece of sushi, the sushi chef may opt to include some other flavorings. Common choices are: spicy mayo, wasabi, cream cheese, ponzu sauce, and eel sauce to name just a few!
Seaweed
Most sushi rolls make use of a specific type of dried seaweed called nori, which is shredded and then pressed into sheets of seaweed paper. These sheets are the perfect tool for rolling all of the other sushi ingredients together. Sometimes the nori is on the outside of a sushi roll, while other times it is on the inside, while yet other types of sushi have no nori whatsoever!
Types of Sushi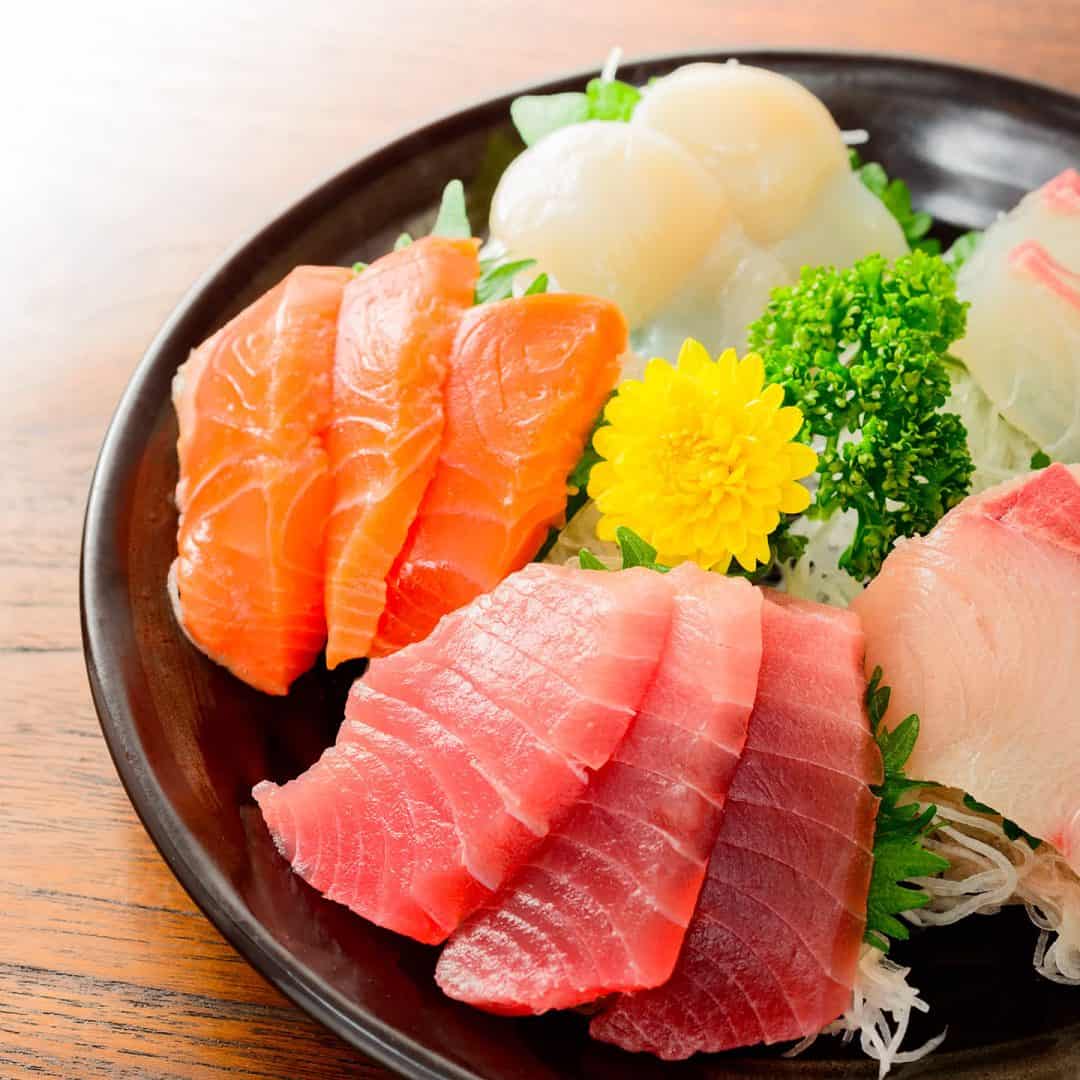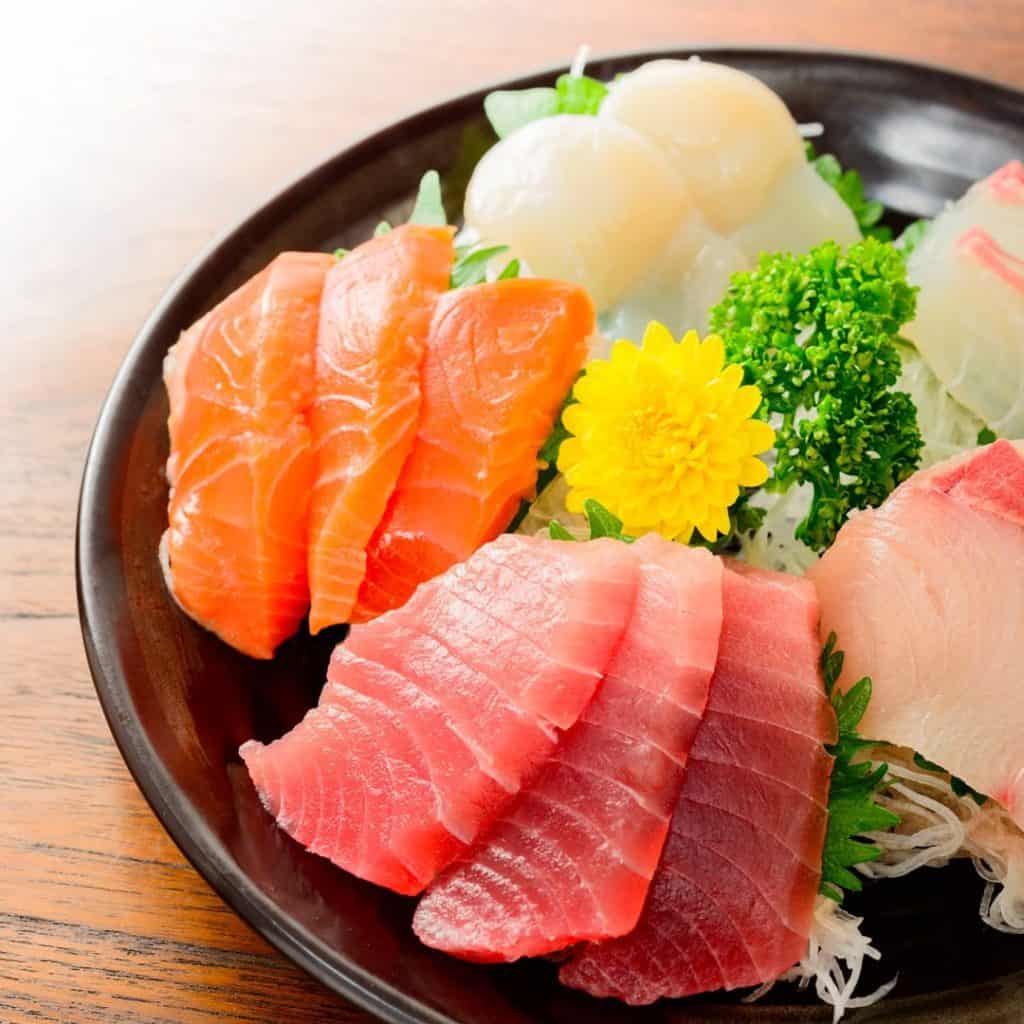 One glance at a sushi menu anywhere will inform you that there are a ton of different types of sushi out there. Let's get to know the most common 3 varieties:
Sashimi
While technically not a type of sushi, sashimi is often included under the umbrella of "sushi" and is therefore worth mentioning here. In order to be considered sushi, a dish must contain vinegared rice, which sashimi does not--it's all about the fish here! The idea of sashimi is to truly appreciate the flavor of the fish itself, therefore sashimi is made with the highest quality fish and is served without rice or other accompaniments.
Nigiri
At first glance, nigiri might look just like sashimi, but surprise! There are small pats of rice tucked underneath the pieces of fish. Popular choices of fish for nigiri are yellowtail, salmon, scallops, and shrimp. Sometimes the chef may opt to add a bit of wasabi between the fish and the rice, but other than that, nigiri contains no other ingredients or sauces. Although, it may be served with condiments such as soy sauce and pickled ginger.
Sushi Rolls
Finally, we get to the type of sushi that most people imagine upon hearing the word. Sushi rolls are those perfectly round bites, filled with all kinds of delicious fish and flavorful goodies, carefully wrapped in sheets of nori. There are 2 main types, and they are categorized depending on the manner in which the nori is used.
Maki rolls have a center of seafood and/or vegetables, wrapped in rice, then wrapped in a nori sheet. Many times, these rolls feature only a single central ingredient rather than a combination. Examples of maki rolls include tuna rolls and cucumber rolls.
Uramaki rolls, or "inside out" rolls, contain the same center of seafood and/or vegetables, followed by a sheet of nori, and then wrapped in sushi rice on the outside. These types of rolls tend to be featured in restaurants as special rolls such as: rainbow rolls, dragon rolls, and spicy tuna rolls.
How Long Does Sushi Last?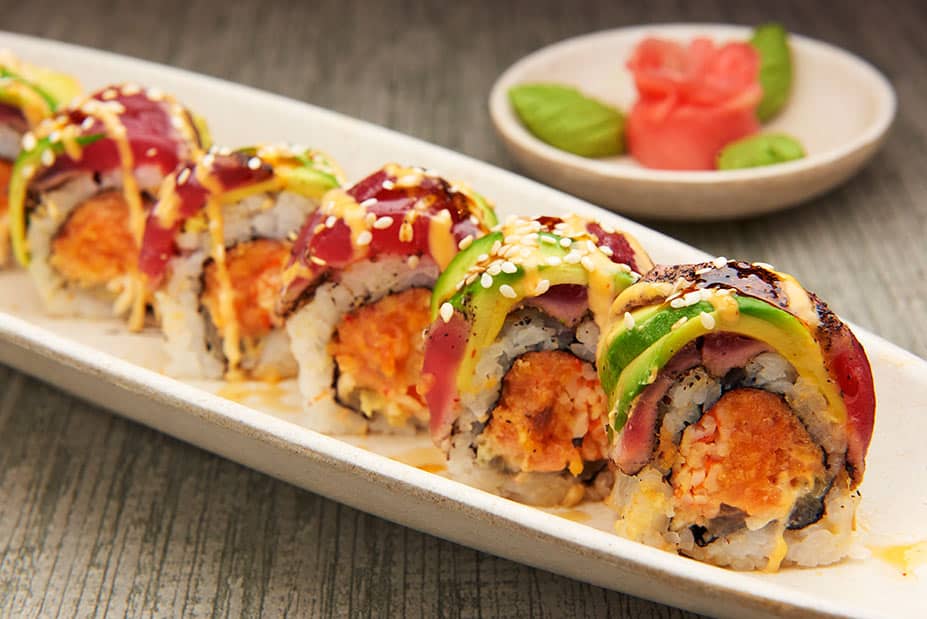 The USDA states that any leftovers, no matter what they are, are considered unsafe to consume after being left at room temperature for 2 hours or longer. This rule is the same whether your sushi contains raw fish, no fish, or consists entirely of cooked ingredients. So, take care to get any leftover sushi into refrigeration as soon as possible and never eat sushi that has been out for 2 or more hours.
One your sushi is safely refrigerated, however, the answer to the question "how long does sushi last?" proves to be a rather elusive one. The shelf life of sushi will be completely dependent on what ingredients are actually in each particular piece.
Sushi that Contains Raw Fish:
Up to 24 Hours
It's no secret that raw fish poses a huge risk when it comes to foodborne illness. Just the same as with any raw meats or poultry, fish has the potential to contain harmful organisms and must be handled with care. Fish that is earmarked for use in sushi is required to be frozen to sub-zero temperatures, at which point most of these harmful organisms die off. However, dangers resurface in bacterial form once the fish begins defrosting and is handled.
Therefore, it's generally recommended that you consume any sushi that contains raw fish within 24 hours. But you must also take into careful consideration how long the sushi may have been out of refrigeration, whether it's on the drive home from a restaurant or just time spent sitting on the dinner table, and adjust your shelf life expectations accordingly.
Sushi That Contains Cooked Fish and/or Other Ingredients:
3-4 Days
Raw fish is of course the main concern when it comes to the shelf stability of sushi. But there are other ingredients that are especially prone to spoilage as well, such as cooked fish, cooked vegetables, mayonnaise, or any dairy ingredients like cream cheese. Since cooked ingredients have already been through a process of warming/cooling, this immediately reduces their shelf stability. Nevertheless, sushi that contains cooked ingredients, sauces, or dairy will likely last for 3-4 days in refrigeration.
Sushi That Contains Only Fresh Ingredients
Up to 5 Days
Some sushi rolls, such as cucumber rolls, contain no cooked ingredients whatsoever aside from the rice of course! These types of sushi pieces pose far less risk than those that contain raw fish, sauces, or cooked vegetables. You can safely store sushi that contains only fresh vegetables or fruits in the refrigerator for up to 5 days. Just keep an extra close eye on your sushi if it contains fresh mango or other fruit, as this will likely spoil sooner than any vegetables due to its high sugar content.
How Can You Tell if Sushi is Bad?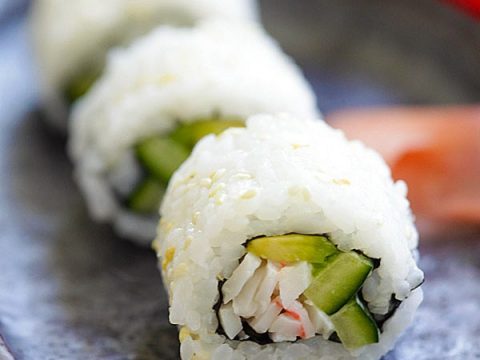 No matter what ingredients the sushi specifically contains, it's worth noting that the quality of the sushi will decline rather rapidly, as the carefully defined textures and flavors within each well-composed bite of sushi begin to morph and meld. The sushi may develop unpleasant characteristics such as soggy rice that no longer sticks together, mushy vegetables, or limp seaweed paper.
Aside from just being all around unpleasant to consume, sushi that is past its prime can pose a major risk of food poisoning as well. Here are several key signs to check for before consuming any sushi leftovers:
Odor
First things first, trust your nose! If you notice any odd smells upon opening your package of leftover sushi, especially any fishy smells, it's an immediate no-go, even if the sushi is still within it's expected shelf life range.
Appearance
Be sure to make note of any signs of mold (certain vegetable and fruit ingredients are sometimes the first to go) or a pale, dull appearance of the fish or seafood. Both of these are sure signs that you should not be eating it.
Texture
Check if the surface of the rice or the fish has any sort of odd texture, such as a slimy coating or feels mushy to the touch. Once again, if any of the components in the sushi don't feel quite right, it's best to toss everything into the trash.
How to Store Leftover Sushi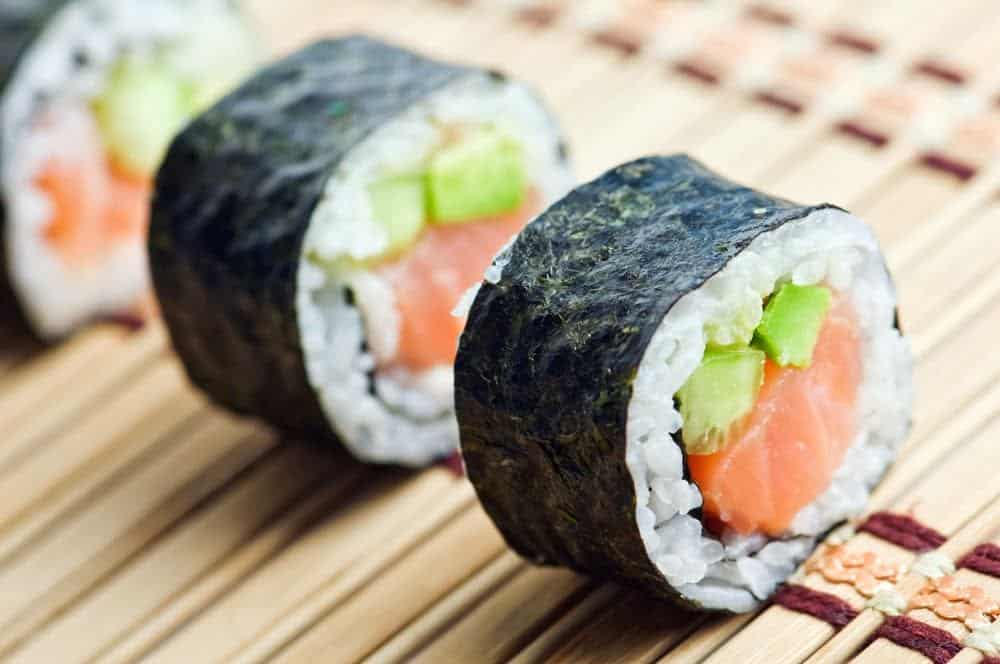 In order to keep your sushi leftovers safe and extend their shelf life for as long as possible, it's important to store sushi properly. Doing so is not only vital to the prevention of bacterial growth but it will also help to keep any odors from escaping into your fridge! When it comes to sushi, this is of extra concern as it typically has some pretty pungent ingredients like wasabi, pickled ginger, and spicy sauces.
Your best bet is to wrap the sushi tightly in plastic wrap, pressing the plastic onto the surface of the fish and/or rice, so as to eliminate as much air exposure as possible. Place the wrapped sushi in an airtight container (such as the plastic takeout container it arrived in!) and place it into the fridge. If you need a reminder of when the sushi clock started ticking, you may want to write the date and time, and place the container into the refrigerator.
Can You Freeze Sushi?
We wish we could tell you otherwise, but unfortunately, it's extremely ill-advised to attempt to freeze store bought sushi, restaurant sushi, homemade sushi, or ANY sushi. Not only will the textures of all the different ingredients become highly deteriorated during the freezing process, but it is also not a prudent food safety choice.
Since fish that is used for sushi has already been frozen once, refreezing is simply not good practice. In addition, with all of those different ingredients at play, there is a lot that can go awry during the defrosting process. Freezing sushi is not tasty and it's definitely not worth the risk.
How Long is Sushi Good For? Final Thoughts
Due to the complexity within each and every piece of sushi, being able to determine exactly how long sushi will last is a fool's errand! What you can do however, is think carefully about the ingredients in the specific type of sushi that is in question and use some general guidelines to make your decision.
If you are considering the shelf life of raw sushi, you should not plan to have it last any longer than 1 day as the raw seafood ingredients simply pose too high of a risk. If the sushi has some cooked components or sauces, then you can expect it to last a bit longer--about 3-4 days. And for sushi that is all rice and fresh fruits or vegetables? Up to 5 days!
No matter what type of sushi you have, you should definitely not be eating sushi that is exhibiting any signs of spoilage. When it comes to sushi, the old adage, "when in doubt, throw it out" has never been more right!