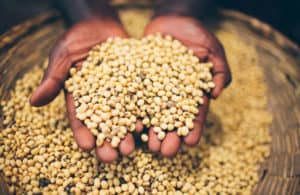 Hunger is one of the biggest challenges that we face in the world today. With nearly 800 million people struggling with hunger and malnutrition, it seems like an impossible challenge as global governments struggle to find an aid response that works.
Except that it isn't impossible. At this point in time we have better access to tools, knowledge, resources and solutions than at any other time in history, so why are people around the world still hungry? One key reason is data, and who owns it.
How does data affect hunger?
Data is one of the dominant influences on the world today. The impact of data can be found on every level of modern society across the globe. We live in an age where many of us take the information at our fingertips for granted. We are able to access data on everything from obesity levels around the world to the most popular baby names in the U.K. We live in an age where there is a large amount of data that can help a huge amount of people, but is only available to a select few.
Global organisations ranging from multinational corporations to scientific bodies collectively hold crucial data on our world. An example of this is data on environmental factors and agricultural conditions, something which is vital to farmers in some developing countries. Be it through private interests, a lack of communication, or simply a lack of will, this data is staying locked away from those who desperately need it. As a result, one in nine people worldwide unnecessarily continue to suffer from hunger, and global food security goes unfulfilled.
Who is going to change the world?
The good news is that not everyone believes this should be the case, and there is a growing movement of campaigners, charities, start–ups and governments in support of opening up data. This growing support for open data led to the formation of the Global Open Data on Agriculture and Nutrition (GODAN) initiative in 2013. With the support of founding members, the USA and UK governments, and over 350 partner organisations, GODAN has already advanced the agenda for open data in agriculture and nutrition.
This September, everyone from open data advocates to researchers to high level government ministers will be making their way to New York City for the annual GODAN Summit 2016 on September 15-16. With representatives from the Kenyan and UK governments, ONE Campaign, various scientific agencies and more in attendance, this promises to be the largest summit of its kind.
Through making data open, GODAN believes it can help to achieve Goal 2 of the Global Goals- Zero Hunger. But in case you were in any doubt, here are five ways open data can help end world hunger:
1. Open data makes a farmer's life a lot easier
Farmers face struggles in several countries around the world. Many do not have access to basic agricultural data which could mean the difference between a successful harvest and going hungry. But with open agricultural data opened up to them, they would know the best time to plant, when to harvest and which environmental factors to look out for –all of which make a successful yield more likely.
2. It gives Farmers the tools to create self-sustaining communities
Opening up data to farmers can also have a hugely positive effect on communities. Rather than relying on external aid, data can not only give famers access to technologies but also to knowledge that they can share with other farmers. As shown by several start-ups including Esoko and VOTO in Ghana, mobile phones are an incredibly effective medium of transmitting this data, whilst other companies like BROSDI enable farmers to design their own platforms. As a result multiple farmers are able to access, use and reuse the data. This allows for self-sustaining farming communities that can produce their own solutions to the problems they face.
3. Open data helps to increase food production
The increase in successful yields and greater knowledge as a result of open data has a direct impact on food production. Open data gives farmers the tools to create the optimum conditions for their crops, which allows food production to increase, benefiting everyone.
4. It means more money for communities
Open agricultural and nutritional data has an impact on more than just farms and food –it actively helps economies. As a result of the more successful yields that they are able to produce, farmers are able to make more money. They can also gain data on market prices, allowing them to price their produce right and make the best profit.
5. It helps to solve world hunger in a healthier way
One of the biggest benefits open data will have in developing countries will be its role in solving world hunger in a healthier way. With the availability of unhealthy junk food increasing in developing countries, the availability of agricultural and nutrition data means that people will be able to eat more natural and local food from farmers, and also make informed healthy food choices due to the information available. This will revolutionise the way people in countries affected most by hunger eat. It will help not only help to eradicate hunger but also to improve diets worldwide.
Join the Open Data Revolution
In short, GODAN's mission to make agricultural and nutritional data free to help end world hunger is achievable –but we need your help. We have the support of government figures, advocates, activists, scientists & farmers, and now we need you to add your name to the growing petition to make agricultural and nutritional data open. The petition will be presented before the world's leaders at the United Nations, which is why it more important than ever to make your voice heard.