If you already have a meat grinder in your cupboard, chances are you know all the benefits of grinding your meat at home. But if you've landed on this page, we're willing to bet you're not completely sure how to clean a meat grinder. Don't worry: just like how using a meat grinder seems intimidating, the cleaning process for this kitchen appliance is also easier than it seems.
Let's go over the seven key steps of how to clean a meat grinder easily and quickly. We have also compiled five tips at the bottom of this article to help you keep your beloved food grinder in perfect shape.
Step 1: Clean Meat Grinder Immediately
You should always, always clean your meat grinder immediately after using it. If you don't, meat residue will solidify and stick to the grinder's parts, making your job of cleaning them all the more complicated. It may seem tedious, but Future You will be grateful.
Step 2: Run Bread Through the Grinder
The first step in the cleaning process is running two or three slices of bread through the meat grinder. It may sound odd, but the slices of bread will soak up any grease and oil left by the meat you just minced. Think of it as a first-line-of-defense sponge.
Step 3: Disassemble the Grinder
Once that's done, you'll want to take apart your meat grinder. Start at the top with the meat tray, feed tube, and hopper. Then, remove the internal screw, blade, and cutting plates. Finally, unscrew the metal cover through which the ground meat comes out.
It's important to wash all the metal components, even if you don't think they're dirty. If you don't properly clean them, they can quickly become a breeding ground for bacteria.
Step 4: Soak the Parts in Soapy Water
The fourth step is to soak the metal parts (meat tray, feed tube, blade, and so on) in soapy water to remove bits of meat. Fill a glass or plastic container with warm water and add a few drops of dish detergent. You can also add a teaspoon of baking soda instead of the detergent if you would prefer.
Let the parts sit in the clean water for a up to fifteen minutes. This will help get any pieces of raw meat unstuck from the parts. It will also help to remove food stains that could discolor the steel.
Step 5: Handwash Every Grinder Part
You will then handwash every grinder part individually. Yes, that means washing the feeding tube, blades, plates, etc. Use a sponge to scrub the metal parts so no pieces of raw meat get left behind. Be careful when handling the blade so you don't cut yourself.
Also, be careful of how much pressure you're applying, as you could see some lower-quality grinding parts start to lose their coating. Spend as much time as needed in this step because it is one of the most crucial.
Step 6: Clean the Inside and Outside of Grinder
You will also need to clean up the inside of the grinder. Use a bottle brush to make sure no traces of meat are left stuck inside. Make sure to reach every nook and cranny to the best of your abilities.
Of course, you shouldn't wet the motorized parts of your electric meat grinder. Otherwise, you could cause a short-circuit.
Don't forget to clean the outside of your meat grinder. Use a damp kitchen cloth to wipe down the sides of the grinder.
Step 7: Dry Everything with a Cloth
Whatever you do, you should never reassemble and put away your grinder if it's still wet. You can let the grinding parts (feeding tube, etc.) on a wire rack to air-dry or dry them yourself using a dishtowel. Don't forget to also pat dry the inside of the grinder before putting it back together. If you accidentally wet the motorized parts of your electric grinder, immediately pat them dry.
Most meat grinders don't like moisture because it quickly leads to rust. Standing water can also oxidize your expensive appliance.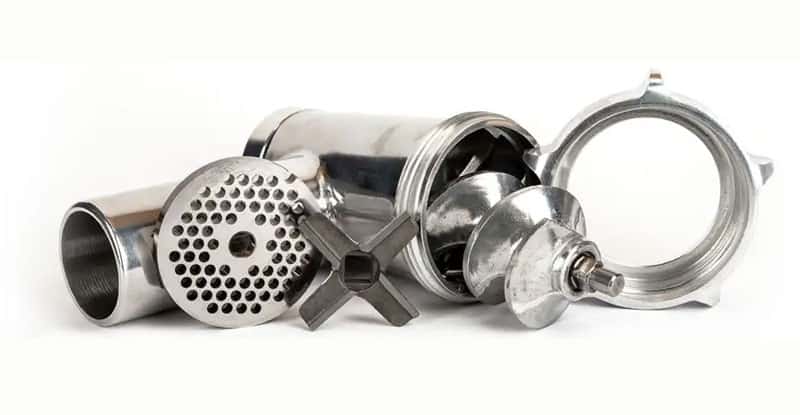 5 Tips for Keeping Your Meat Grinder in Perfect Shape
Caring for this appliance goes well beyond just cleaning a meat grinder after each use. If you look after it properly, it could last you many years to come.
1) Cold Meat Only
It's best to keep the grinder's parts and meat cold while you grind your meat. Put them in a baking tray in the freezer for up to two hours. That's because warm meat shouldn't go through the grinder.
Room-temperature meat loses its shape more easily in the grinder than semi-frozen meat. That means your ground meat won't be as well-defined and will leave a mess behind that will be tough to clean.
2) Avoid Grinding Sinew
Sinew (or tendons) shouldn't make their way into a minced meat recipe. For starters, they're too fibrous to cook properly and be delicious. Secondly, they'll likely get caught in the grinder's blade and grinding plates, making a big mess.
You can save these bits of meat for a slow cooker/crock pot recipe. Because this appliance is easy to use and cooks the meat at a lower temperature for many hours, the tendons soften up and make a delicious meal.
3) Keep the Blade Sharp
Another way of keeping your meat grinder running properly is to sharpen it once in a while. Instead of cutting through meat, dull blades smear the meat on the other metal components of the grinder. Either get your grinder blade sharpened by a professional or do it yourself using a sanding stone—but be careful!
4) Prevent Rust
If you want to maximize your investment you will need to prevent rust from forming on the grinder parts and inside your machine.
You can do this by putting food-grade mineral oil in a spray bottle. Spritz it on the screw, grinding plates, blade, and cover. Leave to sit and absorb.
After a while, sterilize all the oiled parts before putting your meat grinder back together. Use a spray bottle to mist a diluted bleach mixture (1 tablespoon of unscented bleach per gallon of water) over the parts. Finally, rinse them with warm water thoroughly to get rid of any traces of bleach. They'll then be ready to be used next time.
Do these two steps every month for the best results.
If you're very worried about rust, you can store the individual parts in a plastic bag or airtight container with rice. This will help absorb the moisture, thus preventing rust.
5) Keep Parts Out of the Dishwasher
Lastly, always keep your meat grinder parts out of the dishwasher. Even if the manufacturer claims the parts are dishwasher-safe, you can never be too careful. Dishwasher soap is too abrasive for metal parts and the prolonged exposure to hot water can lead to rusting and oxidization.