Electric skillets are notorious for being incredibly convenient. Not only do they make grilling and cooking foods easy, but the cleaning process is also incredibly easy—if you know how to do it.
Today, we're bringing you the definitive guide on how to clean an electric skillet. Use these handy tricks the next time you decide to cook with yours and you'll end up loving it even more.
How to Clean an Electric Skillet in 6 Steps
Cleaning an electric skillet is as simple as applying these six steps. There are no mysteries or hidden tricks. In reality, if you have cast-iron frying pans and skillets, you're probably already used to following these steps.
1. Let the Skillet Cool
Wait for your electric griddle to get to room temperature before tackling it. You won't damage your sponge or burn yourself this way. Moreover, more often than not, you don't need heat to clean the skillet anyways.
2. Remove the Power Cord
Then, unplug the connector cord that has the heat control panel. Make sure to store it away immediately so it doesn't come into contact with water. If it is dirty, you can clean the connector cord by wiping it with a slightly damp cloth or paper towel.
3. Drain the Grease
By the time you are done cooking, your electric frying pan will likely be coated in a layer of grease. Drain it into a disposable container so you can throw it out safely (pro tip: never pour grease down the drain, as it can clog your pipes).
Some of the most recent electric skillets come with built-in slide-out grease trays, where the leftover oil collects. If yours doesn't, all you have to do is carefully tilt your electric griddle so the grease all flows out.
4. Wipe Away Food Particles
Once you've removed the excess grease, you should wipe away any food residue left behind. If you used your electric frying pan recently, this shouldn't be too hard. 
You can use an old, worn-out scrub brush to unstick those food bits from the plates. Alternatively, you can use a wooden or soft silicone spatula to dislodge them. Just make sure to not be too harsh on the plates, as that will end up removing the non-stick coating and ruing your griddle.
If you can't get all the food pieces out, don't force it. We'll get into how to deep-clean the electric griddle plates shortly.
5. Wash the Skillet with Soapy Water
Next, you should get a soft kitchen sponge, a gentle dish soap, and some warm water. Scrub the electric skillet plates with the soapy water mixture in a circular motion. This will help remove whatever grease you couldn't drain, as well as soften and remove stuck-on food bits. Then, make sure to rinse the plates with water to remove the soap residue.
6. Let Air Dry
Lastly, you need to let your electric frying pan air dry. Either set the plates of a dish rack or just let the electric griddle sit on the counter until it's bone dry. Air drying is the best way of avoiding rust. Alternatively, you could use the manual towel-drying method with a cloth or paper towels to speed up the process.
Removing Tough Stains and Stuck-On Bits
You should never let your electric griddle go for too long without getting a good clean. Every time you use it, you should at least wipe it down with paper towels to remove grease and burnt food. However, if you find that your electric griddle plates are too dirty, there are two cleaning solutions you should try.
Use Boiling Water to Soak
Resist your urge to plunge the electric griddle plates in the kitchen sink with water to soak. That could make them rusty in no time. Instead, don't take apart your electric griddle and simply pour water on the cooking surface. Let the heating elements raise the temperature until the water starts bubbling. Once it does, turn off the griddle and let it sit. After thirty minutes or so, the hot water will have dislodged all the stubborn stuck-on bits of food. Then, wash the skillet with soapy water and rinse it all off.
Do a Baking Soda Cleanse
After some months of use, even if you diligently wash your skillet, the plates will show some staining. That's completely normal and easy to solve, too. A baking soda wash will take care of it.
Sprinkle a generous amount of baking soda powder all over the plates. Make sure they cover all the stained areas. Then, pour some hot water on top. Not too much: you're aiming to make it into a sort of paste. A few tablespoons will do the trick. Let the mixture sit for about 30 minutes and then scrub gently with a soft-bristled brush. Rinse the plates with hot water and wait for them to air dry. If the stains are still there, repeat this process.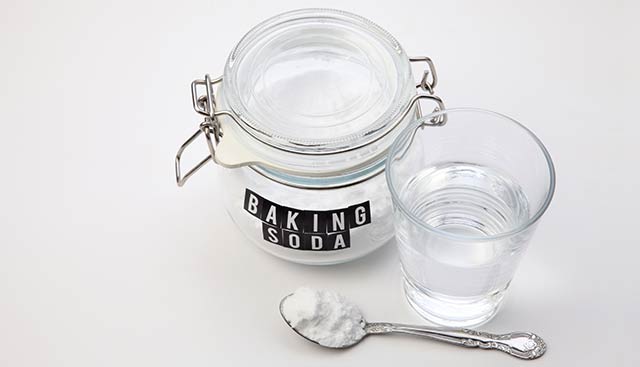 What NOT to Do When Cleaning an Electric Skillet
For a simple appliance, there are quite a few rules you should never, ever break when cleaning it. Knowing what they are will help you avoid these common costly mistakes that can seriously damage your appliance. In turn, your electric griddle will be in great shape for many years to come, thus maximizing your investment.
Don't Use Abrasive Tools
Abrasive tools (such as a coarse cleaning pad or a steel wool sponge) will damage the non-stick finish on your electric skillet. If you scrape the plates hard enough, the coating will come off and it will be virtually impossible to reapply it. Your food will stick to the plates and you'll have a way harder time cleaning your appliance.
Play it safe and opt for a soft cleaning pad or a gentle brush. It's also best to use wood and plastic utensils with your electric skillet, but that's a matter for a whole other article—how to use an electric skillet properly.
Don't Wait Too Long Before Cleaning It
The more you wait before cleaning your electric skillet, the harder it will be to get the burnt bits of food off the plates. Bite the bullet and clean it soon after you use it—future you will thank you.
Don't Use Cleaning Products
Cleaning products are often too harsh for the electric skillet plates. Soapy water, hot water, and baking soda are all the products you will ever need to clean a frying pan. Plus, they're cheap and easy to come by, so there's no need to invest in expensive powdered cleanser products!
Don't Put It in the Dishwasher (Without Checking)
The vast majority of electric skillets are not dishwasher-safe. Even models that come with removable plates tend to not be suited dishwasher-safe either because the dishwasher rack could chip away the non-stick coat. Unless you are absolutely sure that the manufacturer intended the electric skillet plates to be washed in the dishwasher, clean yours by hand.
Don't Submerge It (Without Checking)
You should never, ever, ever submerge electric skillets. The heating elements will short-circuit if they come in contact with water. What's more, the non-stick finish on the plates may also come off if submerged for long periods of time, not to mention that the grill plates themselves might rust if they are made from cast iron.
Don't Store While Still Humid
Lastly, you should always wait for your electric skillet to dry before storing it. This prevents rusting and discoloration on the plates. If you are in a hurry to put the skillet away, grab a dishcloth or a paper towel and pat the plates dry.