Cooked Peas - They are tiny, but they are mighty! Fresh peas, simply simmered in water, and a hint of salt are all it takes for these tasty little green beauties to pack a punch. Cooked peas are the ultimate side dish. They are light, delicious, and nutritious! Use a variety of herbs and spices to customize these peas to fit any meal for a side dish that will have everyone coming back for more.
Have you ever wondered why your parents always made you eat all of those pesky peas off your dinner plate? Those little green guys are loaded with nutrients and offer up some serious health benefits while being downright delicious! It turns out our parents were on to something after all.
These little gems are so delicious, tender, and are versatile enough to go with just about any meal. They're inexpensive, simple to prepare, and a fantastic way to add some colorful veggies to your diet. Cooked peas are one of the most underrated vegetables out there. They're sweet and have a delicate flavor that's hard to beat. Trust me - once you've tried this cooked pea recipe, you'll be hooked!
Why You'll Love This Cooked Pea Recipe
Customizable-

While there are only three ingredients required for this recipe, the possibilities for adjusting the flavors to fit any meal are endless. 

Simple-

No special equipment is needed, and they're easy to prepare. Anyone can make these delicious cooked peas!

Budget-Friendly-

Peas, whether fresh or frozen, are a nutritious and inexpensive side dish to serve with any meal.

Quick to Prepare-

With minimal prep work, these delectable peas will be ready to enjoy in no time at all. 
Equipment Needed To Make Cooked Peas

Ingredients For Your Cooked Peas
How To Make Pulled Cooked Peas
Cooked peas are a delicious and easy side dish to serve with any meal. Simply bring a pot of water to a boil, then add salt and peas. Reduce heat and simmer the peas for a few minutes. Remove the pot from the heat and drain off the water. After draining them, submerge them in ice-cold water and drain one more time before serving as desired. 
What to Serve/Pair with Cooked Peas
Because cooked peas are so versatile, they can be paired with almost any main dish. So whether you're serving peas with pasta such as; Sun-Dried Tomato Pasta or Vegan Mac And Cheese, as part of a larger vegetable dish, or even on their own, cooked peas are a tasty addition to any meal!

Popular Substitutions & Additions
Broth- When cooking peas, use your favorite broth rather than water to enhance their flavor.
Mint- I know it sounds odd to put mint into peas, but mint helps bring out peas' natural sweetness without leaving a minty flavor.
In addition to salt, broth, and mint, cooked peas may also be seasoned in various ways to make them adaptable to any meal. Peas go well with a wide range of herbs and spices, so play around to discover what flavor combinations you enjoy the most. Here are some popular options:
Pepper

Garlic

Shallots

Onion

Butter

Sugar

Italian Seasoning

Basil

Parsley

Sage

Paprika

Thyme

Vinegar

Lemon Juice

Olive Oil

How To Reheat & Store Cooked Peas
What Is The Best Way To Store Peas?
Store cooked peas in either a shallow airtight container or resealable plastic bags in the refrigerator to maximize freshness.
How Long Will Cooked Peas Last In the Fridge?
If stored correctly in an airtight container or resealable plastic bags, cooked peas will last up to 5 days in the refrigerator. 
Can I Freeze Cooked Peas?
Yes! Frozen peas are a great way to have a nutritious side dish on hand but are short on time. Cooked peas can be frozen in resealable freezer bags or an airtight container. They will keep for up to 12 months if properly stored. Peas thawed from frozen keep for three additional days if kept in the refrigerator.
How To Reheat Peas?
When reheating cooked peas from the refrigerator, it takes only about a minute in the microwave. If you're heating from frozen, use the stove or microwave to reheat until the peas have achieved the desired temperature.

Cooked Peas FAQs           
Can I overcook peas?
Yes, just as with pasta, pizza, or potatoes, peas can be overcooked. It only takes a few minutes to cook peas, so keep an eye on them at all times. Peas that are overcooked become mushy and pale in color. Cooked peas are bright green and delicate without being mushy if cooked correctly.
Does it matter if I use fresh or frozen peas?
No. Fresh, canned or frozen peas can be used for this recipe. Unless you grow your own peas, it's difficult to determine how fresh peas from the grocery store or farmers' market are. I prefer frozen peas for this dish since they have been flash-frozen at their peak of freshness to preserve as many natural vitamins and minerals as possible. I personally prefer fresh or frozen over canned peas.
Will canned peas work in this recipe?
Yes. Canned peas can be used for this recipe; however, fresh or frozen peas are a much more delightful option. Peas that are canned are stored in metal with a lot of preservatives and other chemicals. Because of this, they will generally have a different texture and flavor, resulting in a less flavorful dish. If you choose to use canned peas, check the expiration date on the can and drain them before adding them to the recipe.
Do I thaw frozen peas before cooking them?
No. The general rule of thumb is that you don't need to thaw frozen peas before cooking them. They'll cook just fine straight from the freezer. In fact, they might even retain more of their nutrients this way.
Can this recipe be made in the oven?
Yes. Frozen peas are the best option for making cooked peas in the oven. Season peas with olive oil, salt, pepper, and any other seasonings you like, then bake at 350 degrees Fahrenheit for about 20 minutes. Stir halfway through to ensure even cooking throughout the dish.

Other Simple Side Dishes You'll Love
Don't Forget To Come Back And Let Me Know How Your Cooked Peas Turned Out!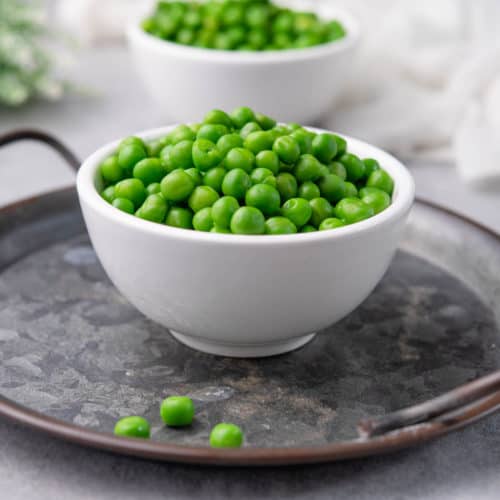 How To Cook Peas
These tasty little gems are bursting with flavor. They are small, but pack a punch! Light, delicious, and nutritious, cooked peas are the ultimate side dish.
Print
Pin
Rate
Instructions
Bring a medium-size saucepot filled with water to a boil.

Add salt and peas (fresh or frozen).

Reduce heat and simmer the peas, for 3 minutes (fresh) or 2-4 minutes (frozen).

Drain the peas and submerge them in ice-cold water to stop the peas from overcooking.

Drain the peas and serve as desired.
Nutrition
Calories:
59
kcal
|
Carbohydrates:
10
g
|
Protein:
4
g
|
Fat:
1
g
|
Saturated Fat:
1
g
|
Polyunsaturated Fat:
1
g
|
Monounsaturated Fat:
1
g
|
Sodium:
585
mg
|
Potassium:
177
mg
|
Fiber:
4
g
|
Sugar:
4
g
|
Vitamin A:
555
IU
|
Vitamin C:
29
mg
|
Calcium:
18
mg
|
Iron:
1
mg