There's no debating it, watermelon season is an exciting time! When sliced open, this sweet melon family member yields an incredibly juicy, red flesh which is all too easy to eat until you're stuffed to the brim.
How exactly do you get the sweet stuff out of there though? We don't blame you if you feel that cutting a watermelon seems like a daunting task. You have this slippery, round, ridiculously heavy fruit which you somehow need to slice and dice into manageable portions. Where to begin!
Thankfully, it takes just a few simple knife cuts to be well on your way to enjoying that fresh watermelon. We're taking you through our step-by-step guide to cutting a watermelon properly. Once you see just how easy it is to break down this dinosaur sized-fruit, you'll be slicing watermelon like a pro in no time!
Watermelon Basics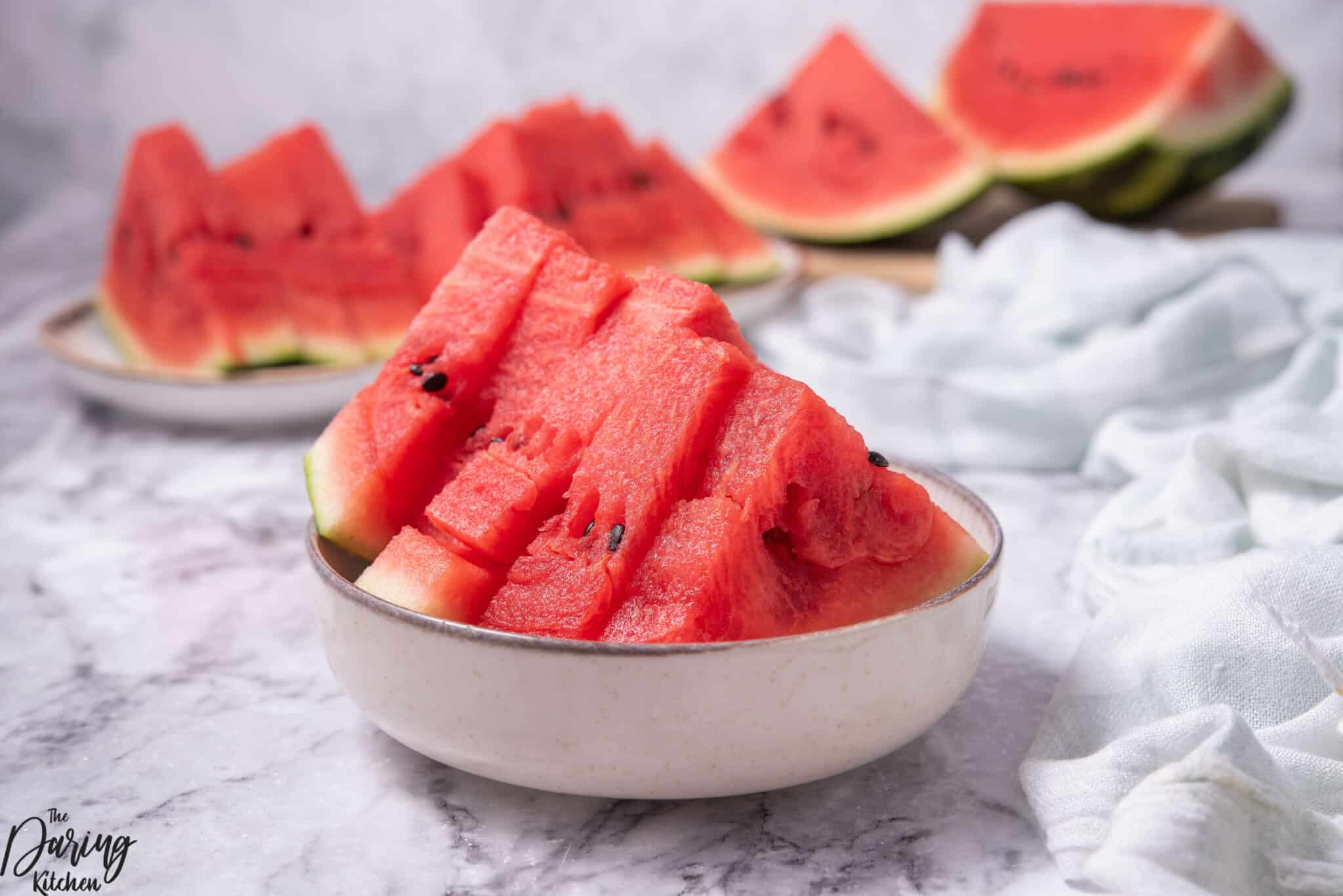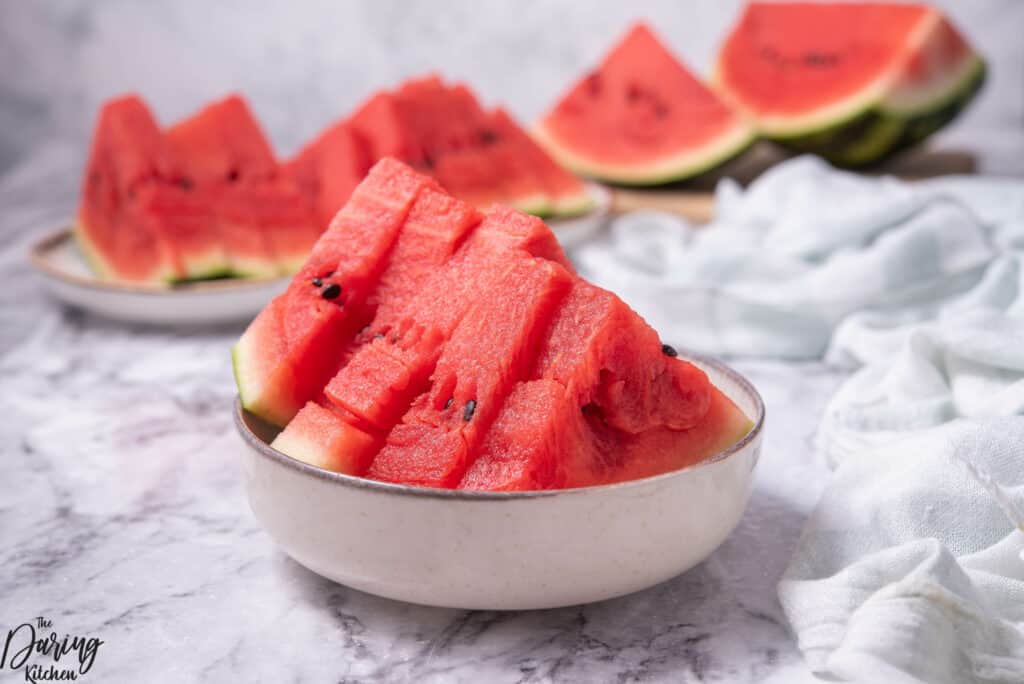 A fresh watermelon is perhaps one of the most recognizable fruits out there, but you may be surprised by how little you actually know about it! The watermelon is just one of many different types of melons in the Cucurbitaceae family. If you are suspecting that this family also includes cucumbers, you'd be correct! Watermelon and cucumbers are indeed cousins, along with squash, gourds, and pumpkins.
There are many different individual varieties of watermelon which range in size, coloring, and seed content. Thankfully, they all slice up the same way so no matter which type of watermelon you have on your hands, our guide here will teach you what you need to know.
Deciding How to Cut a Watermelon
Before you pick up that knife, you must first decide how you want your watermelon cut as there are many different ways to break down a watermelon. You can use a melon baller to produce perfectly rounded watermelon balls, make watermelon cubes, or even cut watermelon sticks!
Though there are many options, in this particular guide, we're focusing on how to cut a watermelon into those classic triangle-shaped slices. Watermelon slices are the one of the best ways to serve watermelon as they come with a built-in handle--the rind itself--meaning there are no utensils required!
Equipment Needed
For cutting a watermelon into perfect slices, you need just a few everyday kitchen items--in addition to the watermelon itself of course!
A Large, Sharp Knife
It goes without saying, this is not the time or place for a paring knife! You want to use a hefty, easy-to-grip, sharp chef's knife to cut watermelon. A smooth blade works better than a serrated knife here, as a serrated edge is bound to tear some of the fruit rather than slicing it clean through.
If you love watermelon as much as we do, you already know that cutting it is a juicy job. Therefore, you want to be sure that the handle of your knife is easy to hang on to in the presence of moisture. You may even opt to wear rubber or latex kitchen gloves to help you maintain that firm grasp on your knife.
A Large Cutting Board
For this task, you can use any type of cutting board you like! A wooden board works well for this job and if you have a cutting board that has a trough around the edges, all the better for collecting those watermelon juices. The most important factor here is size, as you want to make sure to choose a cutting board that is at least a bit larger than the watermelon itself, providing ample flat surface for you to work on.
It's also worth considering what you may have used your cutting board for in the past before designating it for this task. The subtle, sweet taste of watermelon can be easily altered by strong flavors such as garlic or onion, so be sure to give your cutting board a sniff or an extra scrub if it has had prior contact with strongly aromatic ingredients.
Paper Towels or Clean Kitchen Towels
As mentioned above, cutting watermelon is a juicy task. Though much of the moisture stays with the cut fruit pieces themselves, the act of slicing such a large fruit will likely yield more juice than you're expecting. Protecting your kitchen counter with paper towels around and under your cutting board is not a bad idea, and it will even serve to help keep your cutting board more stable in the presence of all of that moisture as well.
If you opt to use washable kitchen towels or have reusable paper towels, we salute your environmentalism! Just be sure to use towels that you don't mind a bit of staining, as the beautiful pink coloring of the melon may not always wash out.
How to Cut a Watermelon
Now that you have your equipment and work surface prepared, let's get to work! We'll take things one step at a time and by the end, you'll have an entire perfectly cut watermelon.
Step 1: Setup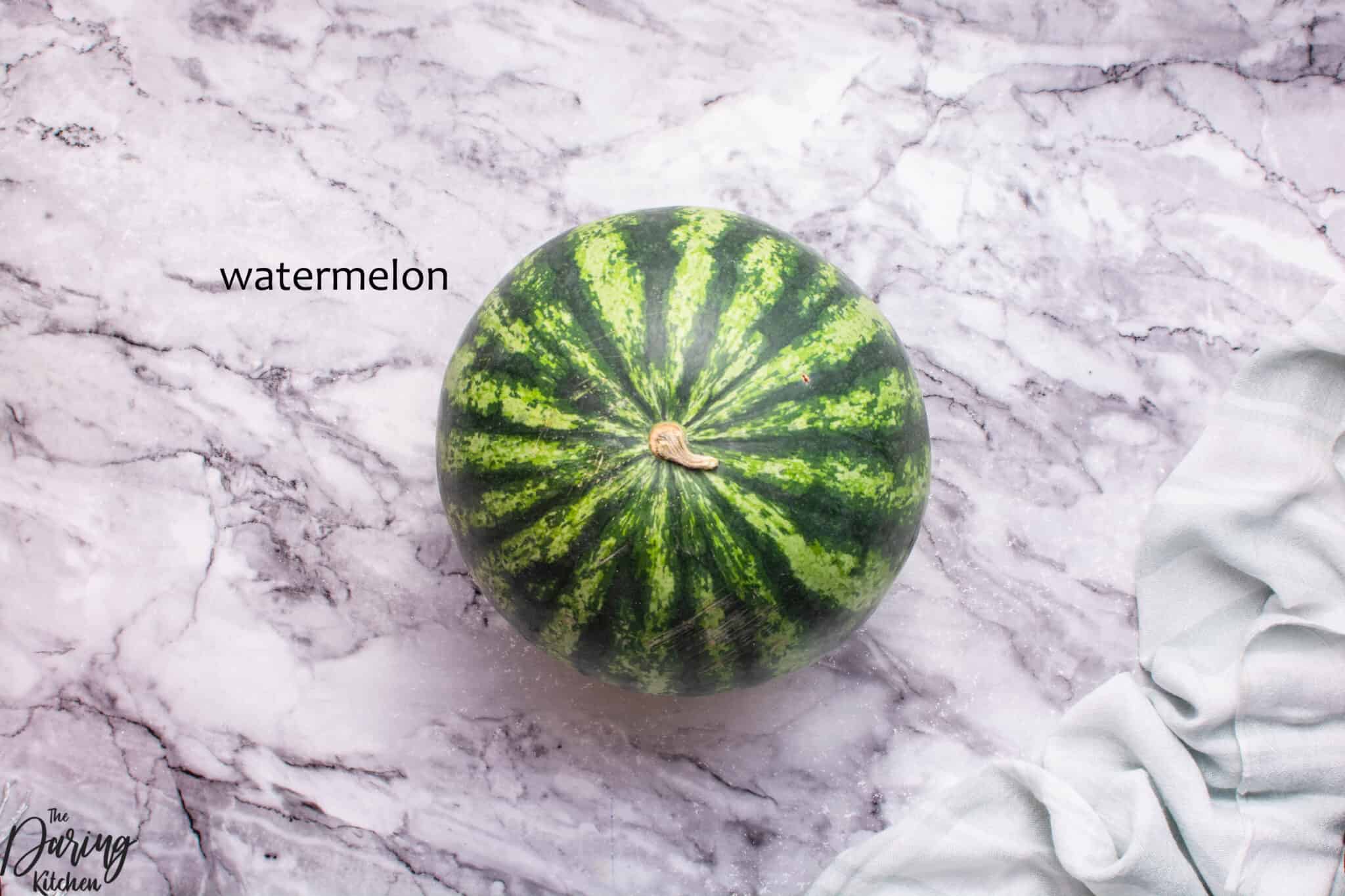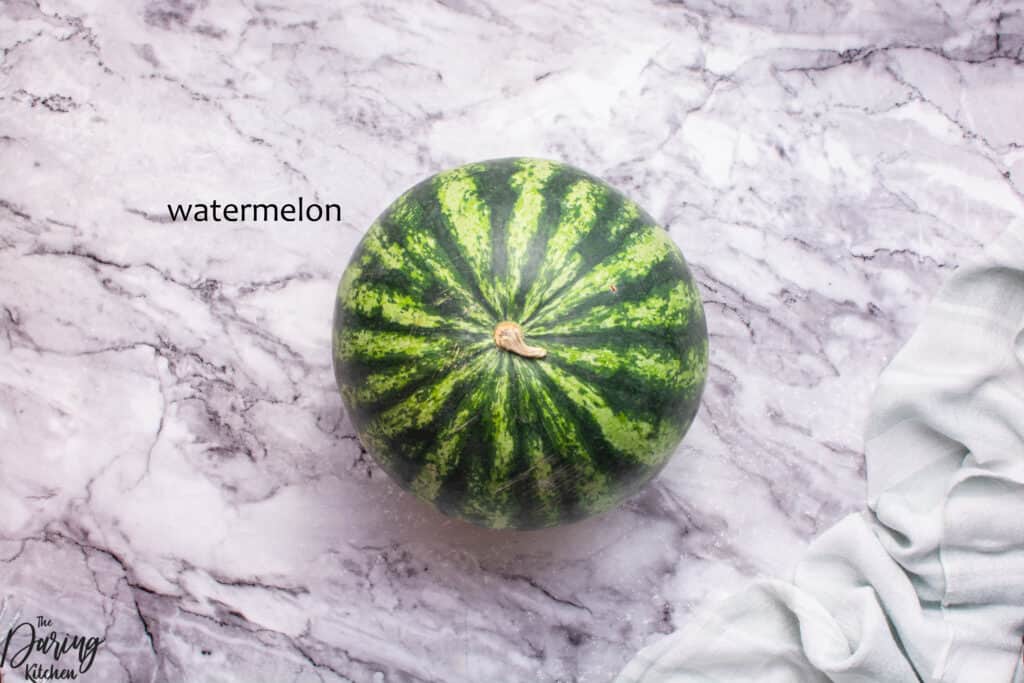 Once your work area is established, place your whole watermelon on your cutting board in front of you.
Step 2: Trim the Watermelon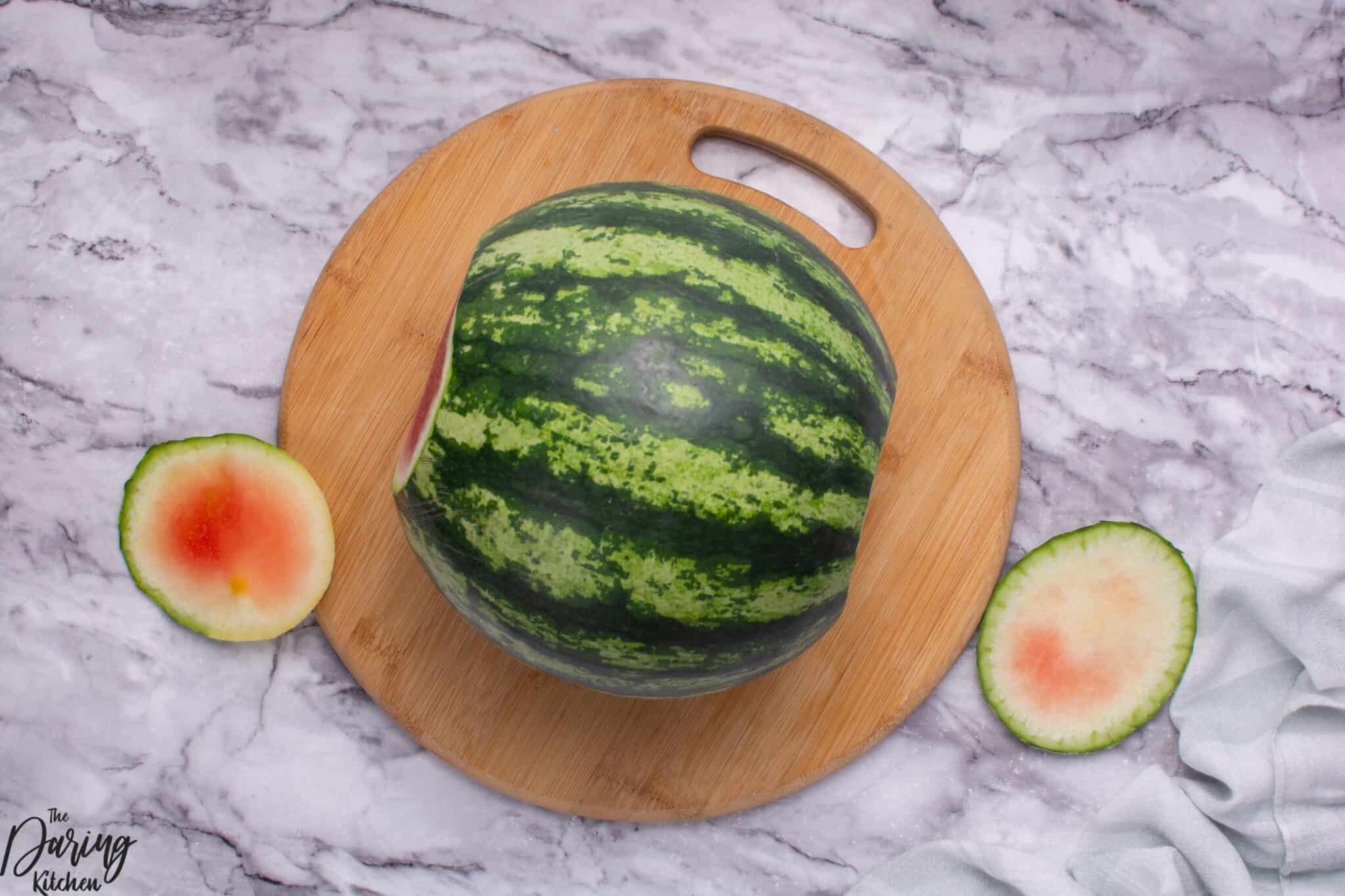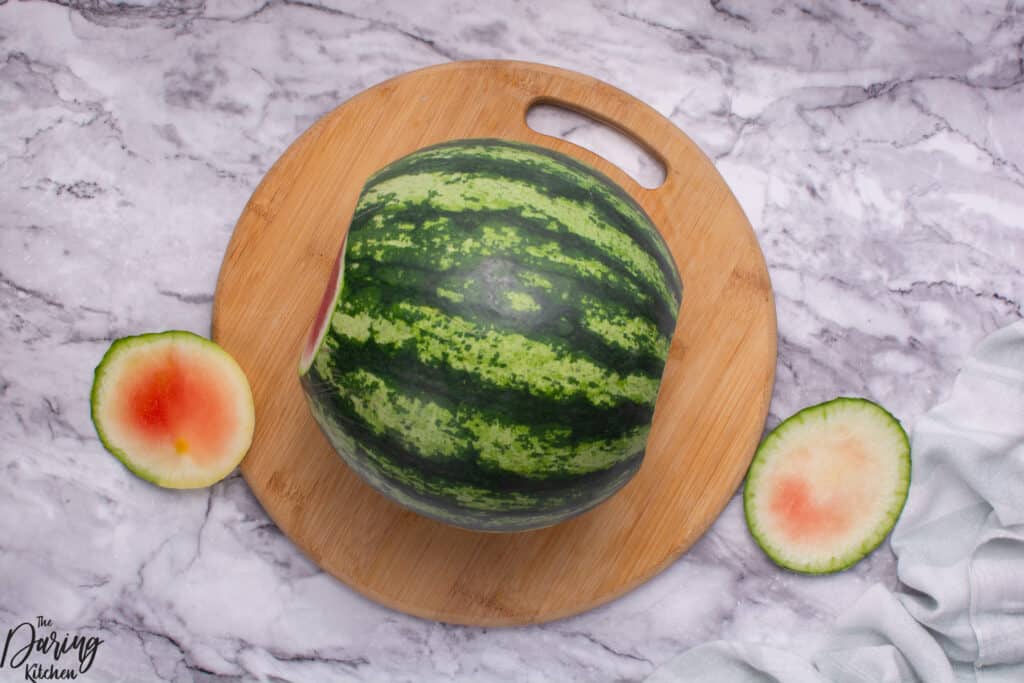 We're going to start by trimming each end off of the watermelon, just enough to remove the outer rind and reveal the pink flesh below. Trimming the ends will help you to create two flat sides which will in turn ease your cutting
Step 3: Halve the Watermelon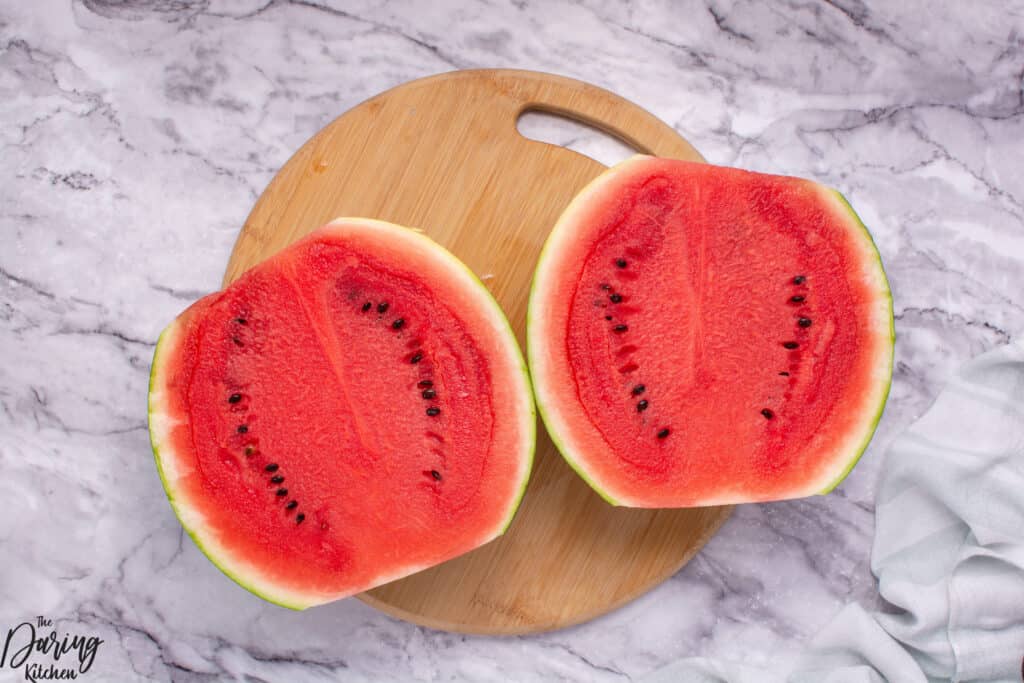 Rotate the watermelon so that it is resting on one of the flat sides--either top or stem end is just fine. From here, take your knife and slice the entire watermelon in half lengthwise from top to bottom. This should produce two watermelon halves of roughly equal sizes.
Step 4: Halve the Halves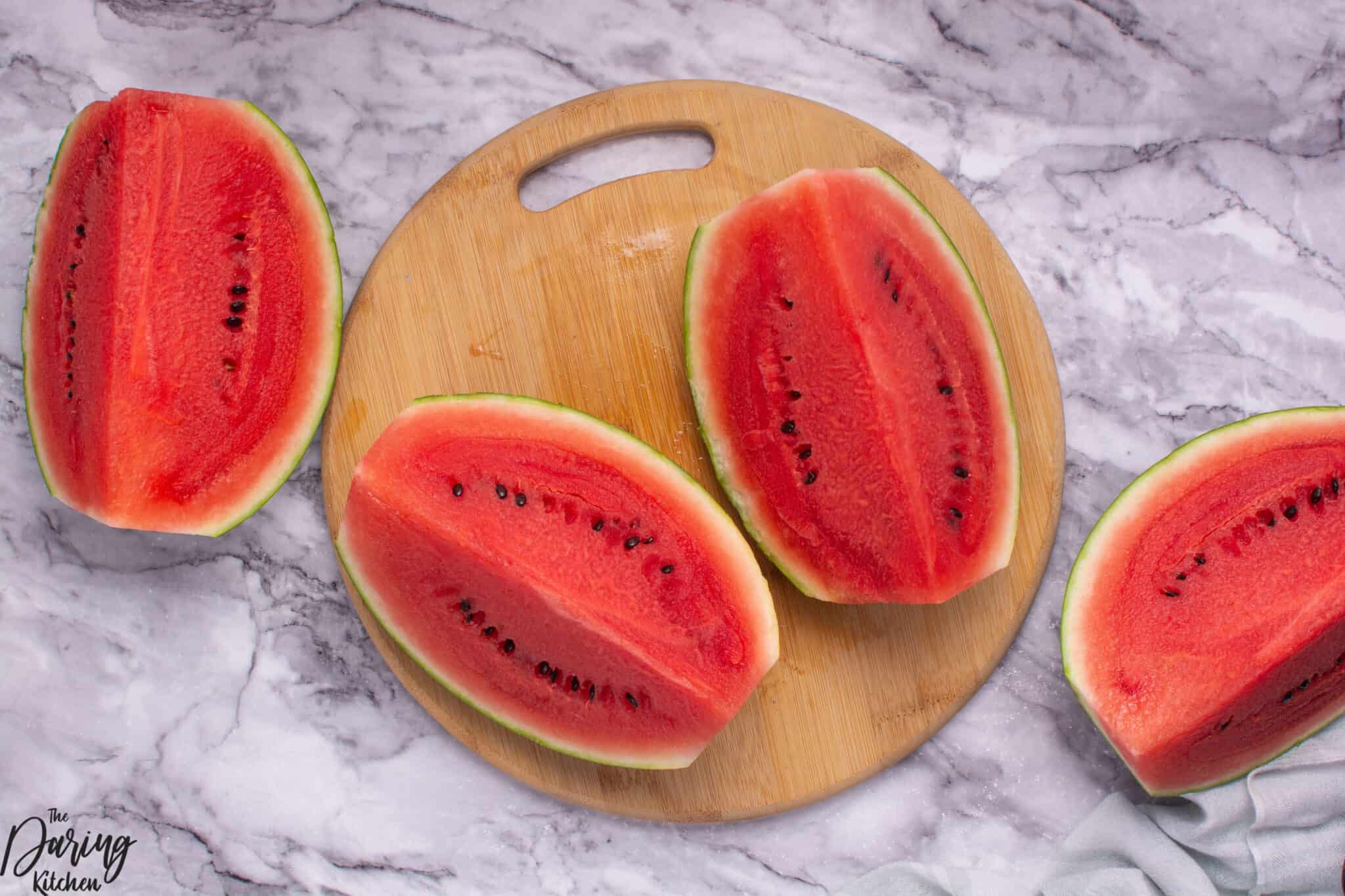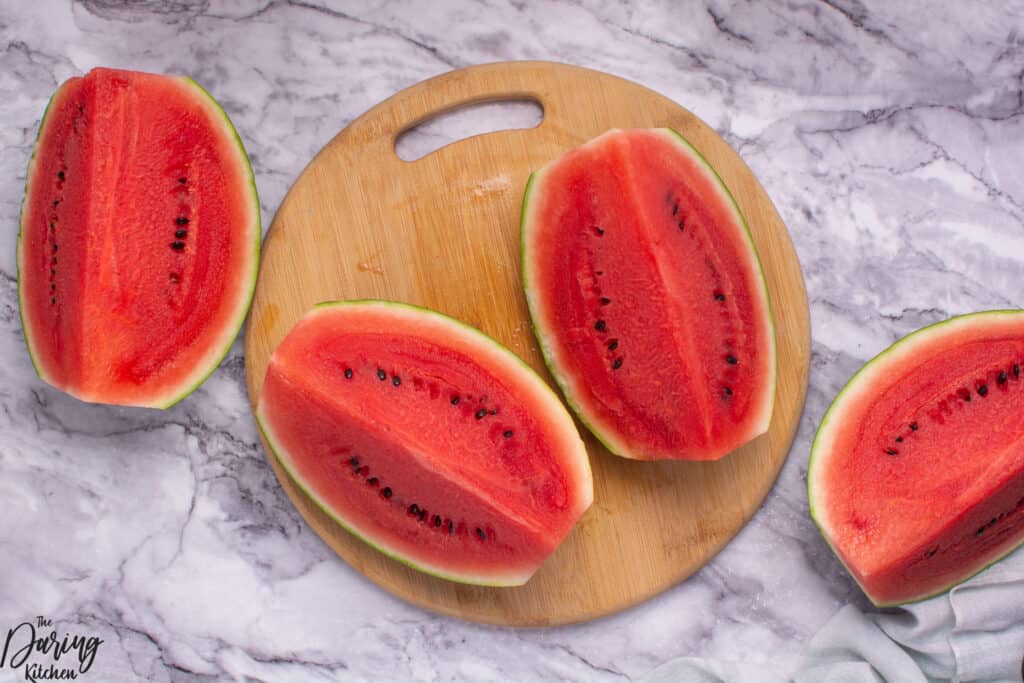 Place one watermelon half off to the side and place the other half on your cutting board, cut side down. Once again, slice this section in half lengthwise, from end to end. Repeat this step with the other watermelon half. Your watermelon should now be in 4 equally-sized quarters.
Step 5: Cut the Watermelon Slices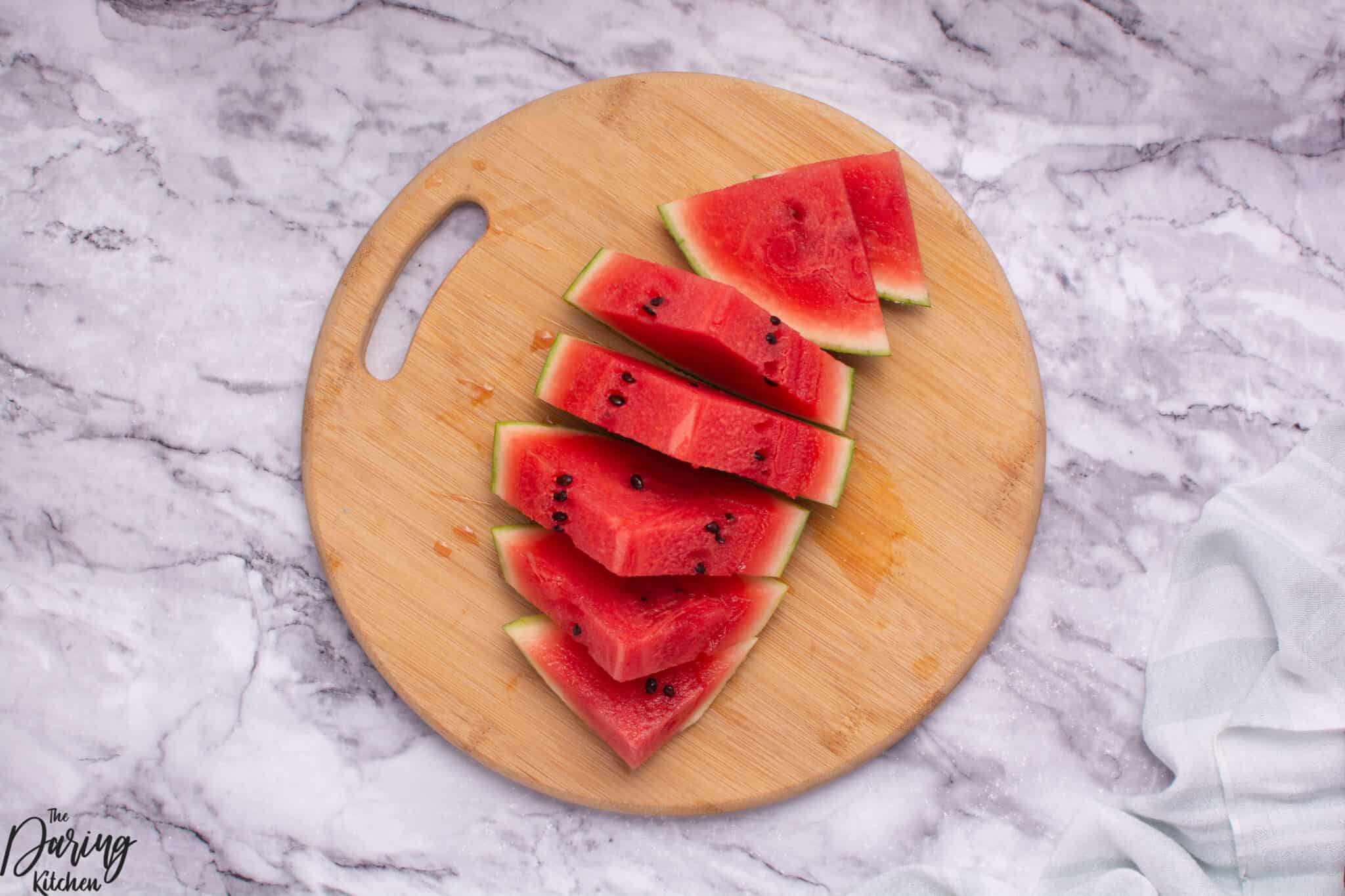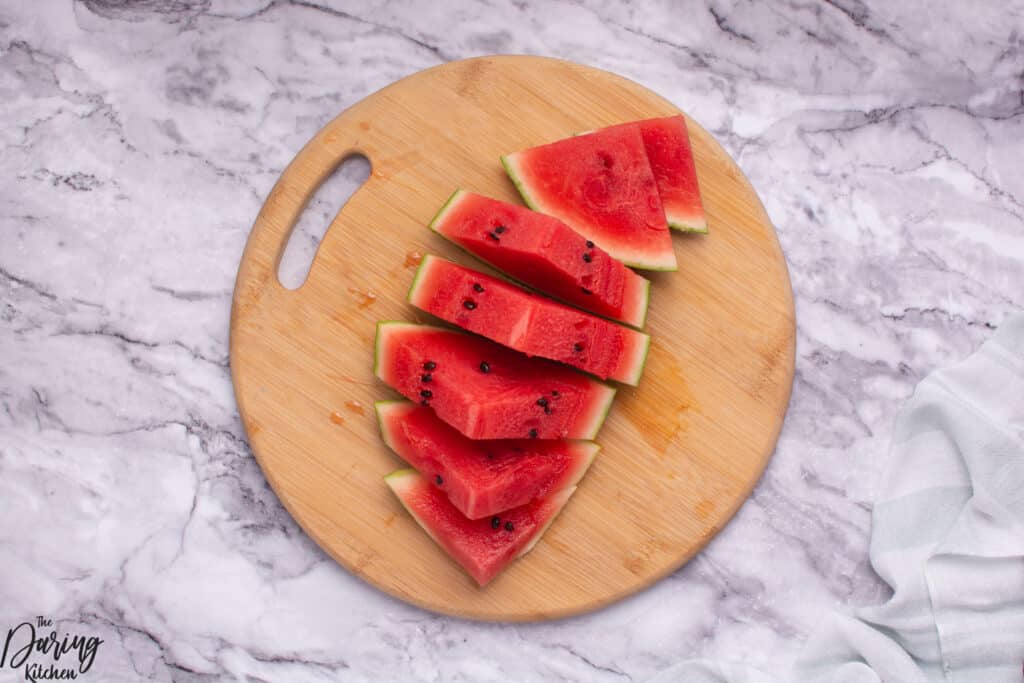 Place one of the watermelon quarters on your cutting board and carefully slice it crosswise. You want to aim for slices that are about 1-inch thick. As you slice each portion of watermelon, transfer the slices to another place or board so that you can repeat the process with the remaining 3 melon quarters.
Step 6: Portion the Slices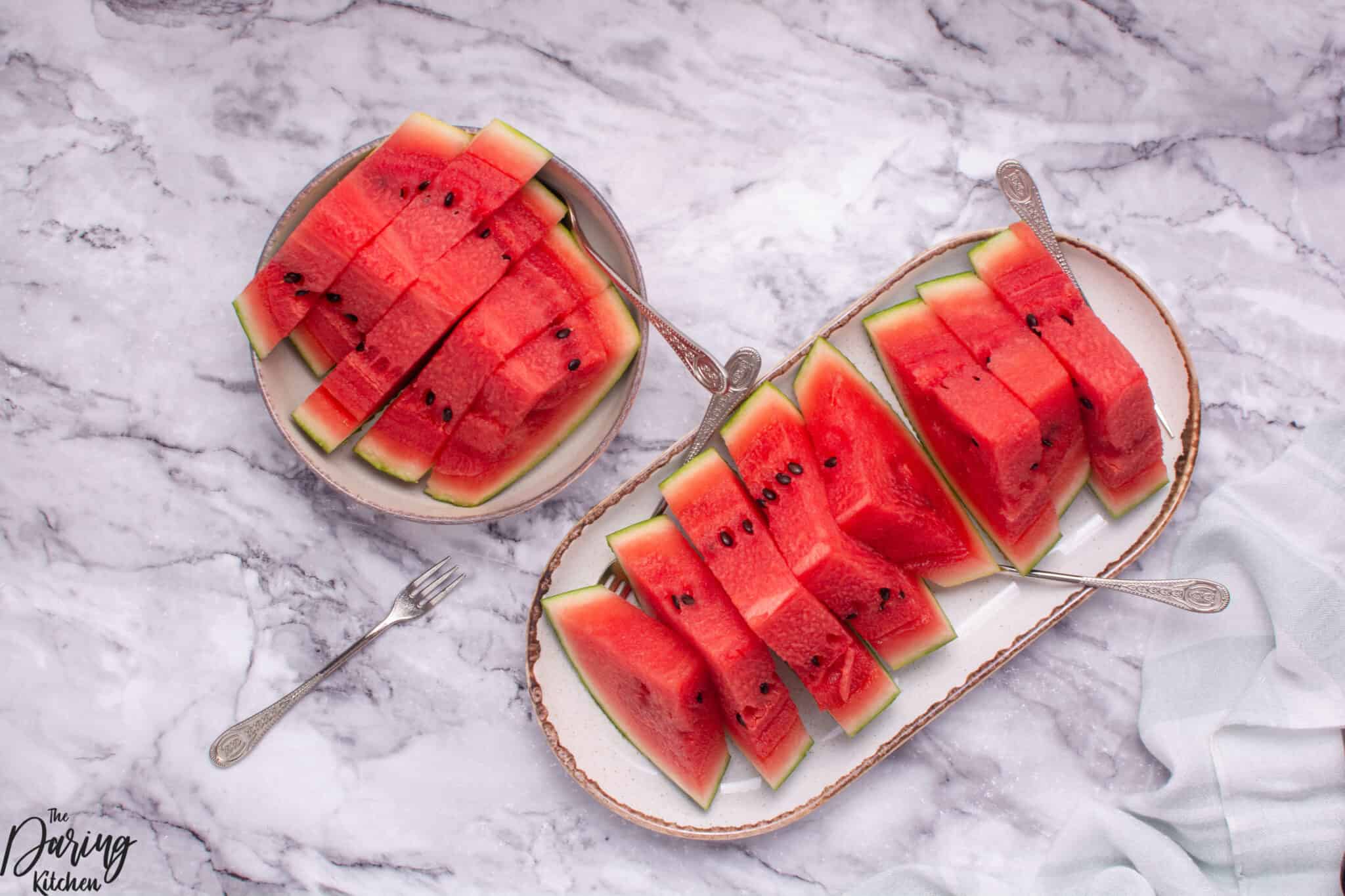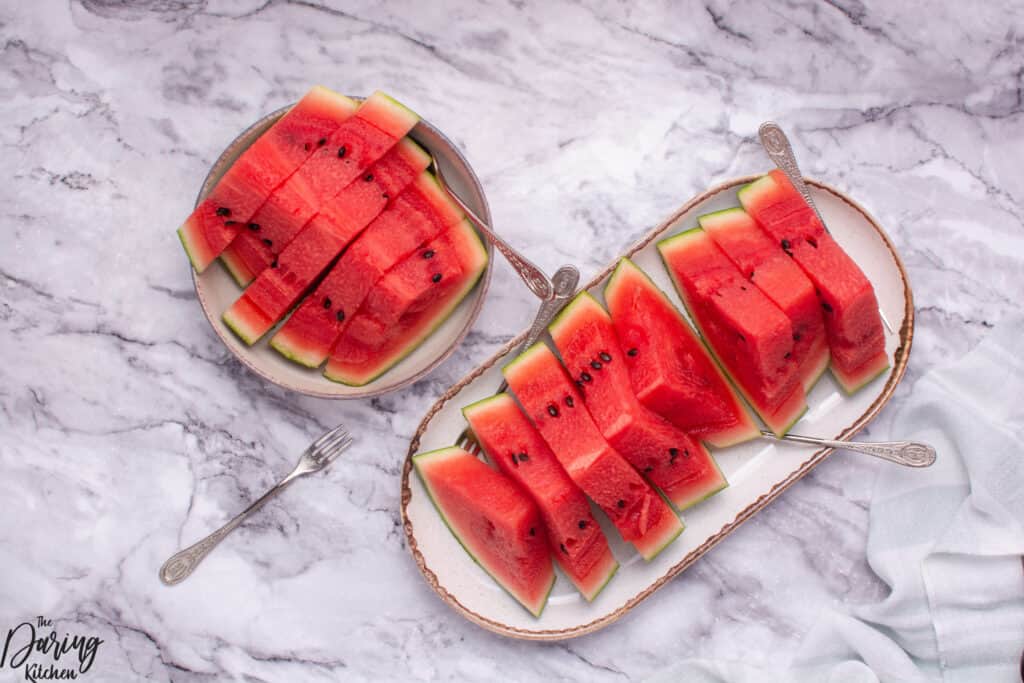 Depending on the overall size of your whole watermelon, you may opt to divide each watermelon slice into smaller wedges, or you can simply leave them whole!
Step 7: Serve!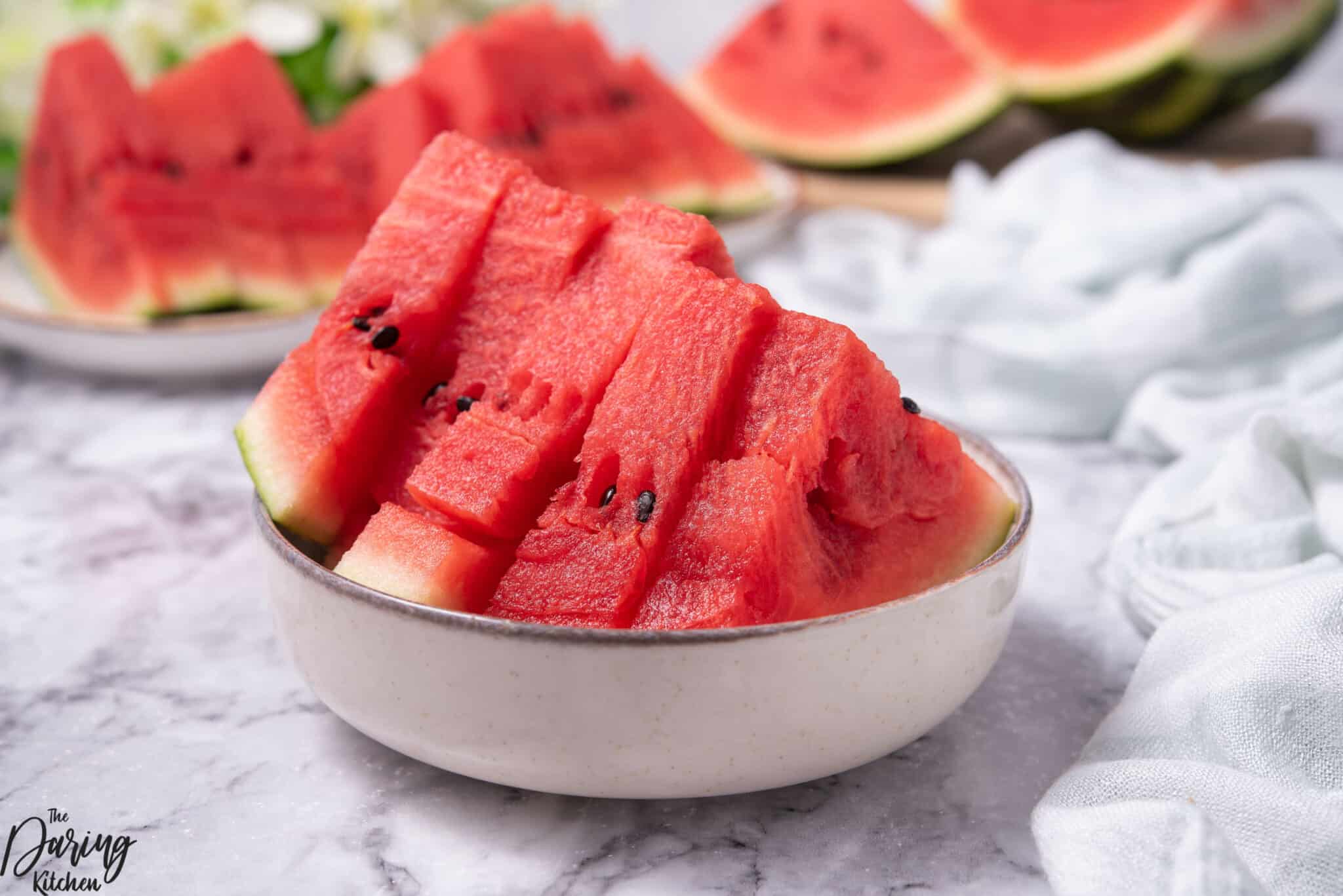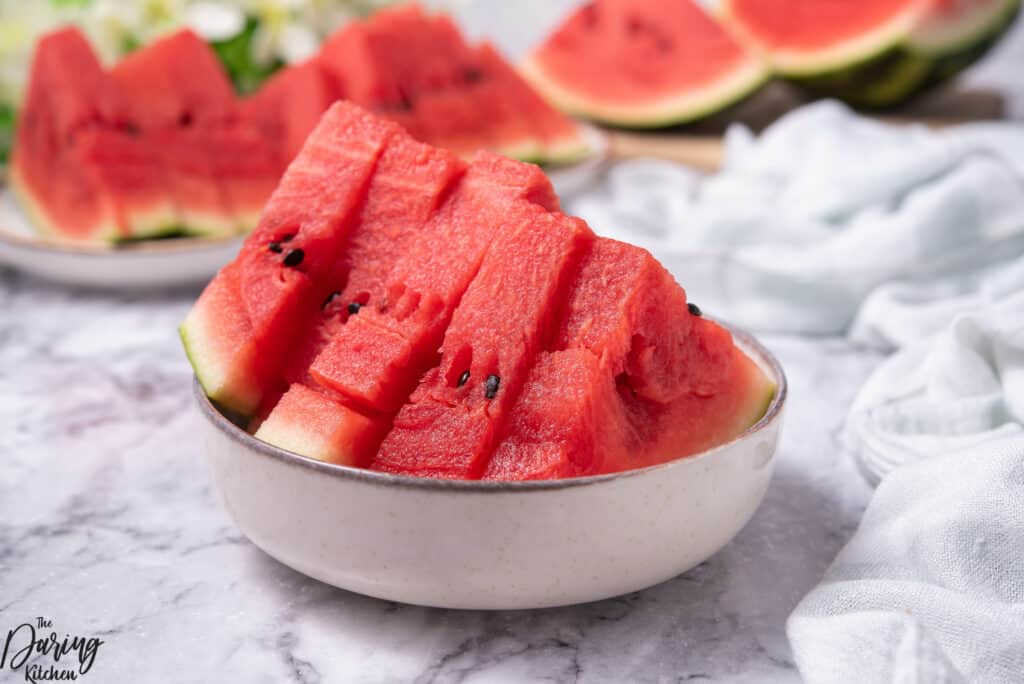 All that's left to do now is serve and enjoy the fruits of your labor! These watermelon slices make a great side dish for picnic lunch or backyard barbecue, not to mention one of the best healthy snacks in town.
How to Serve Sliced Watermelon
Here are a few ideas for serving your perfect watermelon slices:
Once you have the watermelon in 1-inch thick slices (Step 5), you can use a cookie cutter to cut fun shapes out! This is a great way to get the kids involved in the project too.
For an extra refreshing snack in the summer heat, freeze the watermelon wedges in a single layer for about 1 hour--or longer, depending on how frosty you like things! Just be sure to enjoy the watermelon while it is still frozen, as once it defrosts completely, it will take on a mushier texture.
Serve your watermelon pieces with a sprinkle of sugar, a pinch of flaky sea salt, or even chili powder for an extra kick.
Top the watermelon with complementary chopped fresh herbs such as mint or basil, a shower of lime zest, or crumbled feta cheese.
Cut a watermelon slice into a few smaller triangles, then make a small slit in each. These mini watermelon wedges are perfect for decorating the edge of cocktail or mocktail glass!
Best Tips for Cutting Watermelon
Safety First
When using a sharp knife to cut a large and roly-poly item such as a whole melon, it pays to be extra safety-oriented. Flat surfaces are key here, so be sure to give yourself plenty of room to work and choose a stable work surface such as your kitchen counter or a large table.
Do not at any point force your knife or use a great deal of pressure. It will take some work to cut watermelon, but let the sharp blade of your knife do the work rather than your muscle power. Slow and steady wins the race!
Ripe Melons are the Best Melons
For maximum enjoyment, you want to pick a ripe watermelon! A good watermelon will feature a golden yellow spot on the bottom, feel heavy for its size (thanks to all of that juice hidden inside!), and make a hollow-sound when tapped. For full watermelon selecting guidance, check our complete guide on How to Pick a Watermelon!
Save the Juices!
While cutting your watermelon--especially in the case of a juicy, ripe melon--do your best to reserve any juices! Pour them off of your cutting board and drink them straight up, or add them to a glass of iced sparkling water for a real treat.
Cutting Watermelon FAQs and Answers
Here are a few commonly asked questions you might have in regard to slicing up your wonderful summertime snack.
Do You Need to Wash the Watermelon?
Even if you don't plan on eating it, or are removing it entirely, it's still prudent to wash the exterior of your watermelon before handling and cutting it. Though they don't experience a great deal of pesticide exposure--those thick rinds are thankfully quite protective after all!--unless you buy organic, there often is still some chemical residue on the outsides of most fruits and vegetables.
In addition, fresh fruits and vegetables often pass through many pairs of hands and a range of environments before making their way to your kitchen table, meaning they can pick up harmful contaminants at any point in time. No need for fancy fruit wash here though, a simple scrub under cold running water will do the trick.
Can You Do Anything with the Watermelon Rind?
Absolutely! You may already be familiar with watermelon rind pickles, but you can also use the watermelon rind as a crunchy component in stir fries, salads, and soups. The white rind has a crisp, juicy texture much like the flesh of the fruit itself, but is crunchier and has a flavor more in line with that of cucumbers.
Not sure you can make enough stir fries to use up all the rind? You can also toss it into your juicer as it will add a bright and slightly tart flavor to your next fresh beverage!
How Do You Store Cut Watermelon?
The average watermelon will likely yield more fruit than you can feasibly use at any given time therefore it's important to know how to store the fresh melon properly!
Depending on the size of your slices, you may either want to wrap them in foil, plastic wrap, or place them in a resealable plastic bag. If your slices are on the smaller side, you may be able to pile them into an airtight container. The fresh watermelon should be kept in the fridge and consumed within three days.
Hoping to store your watermelon even longer? See our full guide on How to Freeze Watermelon for instructions on that and other watermelon storage tips!
How to Cut a Watermelon: The Bottom Line
As you can see, cutting watermelon is really no big deal! Just be sure to use a sharp chef's knife to get through the tough outer rind with ease. Set up a solid and stable work area with plenty of towels to keep those juices at bay.
With a few easy cuts, you'll have a platter of picture-perfect watermelon triangles to serve on their own, or in one of the ways we suggested above. What's your favorite way to cut and serve watermelon? Drop us a line in the comments to let us know. Happy watermelon season!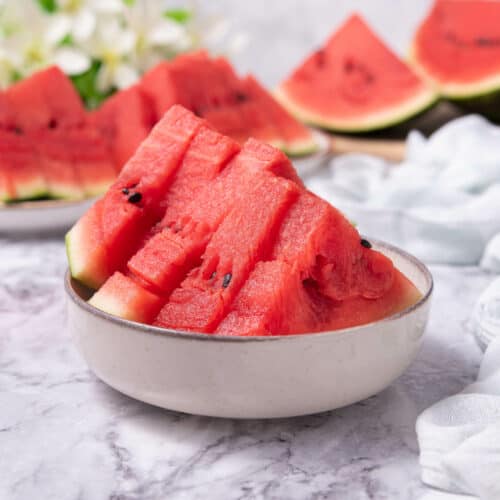 Instructions
Place your watermelon in front of you.

Trim the ends as this will help you to have a flat surface that will ease your cutting.

Place the watermelon, flat side down, and cut in half by length, from top to bottom.

Place a watermelon cut-side down and cut into 1-inch slices.

Repeat the process with another half.

Cut the slices into quarters or smaller wedges.
Notes
Cutting a watermelon is a messy job, due to watermelon juices. Make sure you protect your kitchen counter with paper towels.
The watermelon rind is edible and tastes like cucumbers. Some pickle the rinds while others use it for stir-fries. 
To store fresh watermelon in a fridge I suggest you wrap it with plastic foil wrap or store it in an airtight container. The fresh watermelon should be consumed within three days.