Fried tofu is a staple in many Asian cuisines. Its delicious crispy tofu texture pairs with so many different dishes. It works as an appetizer, side dish, or added to your favorite stir fry. Whatever you choose, fried tofu will taste great!
Oftentimes, people think frying tofu must be difficult. So, it's only enjoyed at a restaurant or when ordering takeout. Newsflash: fried tofu actually incredibly easy to make!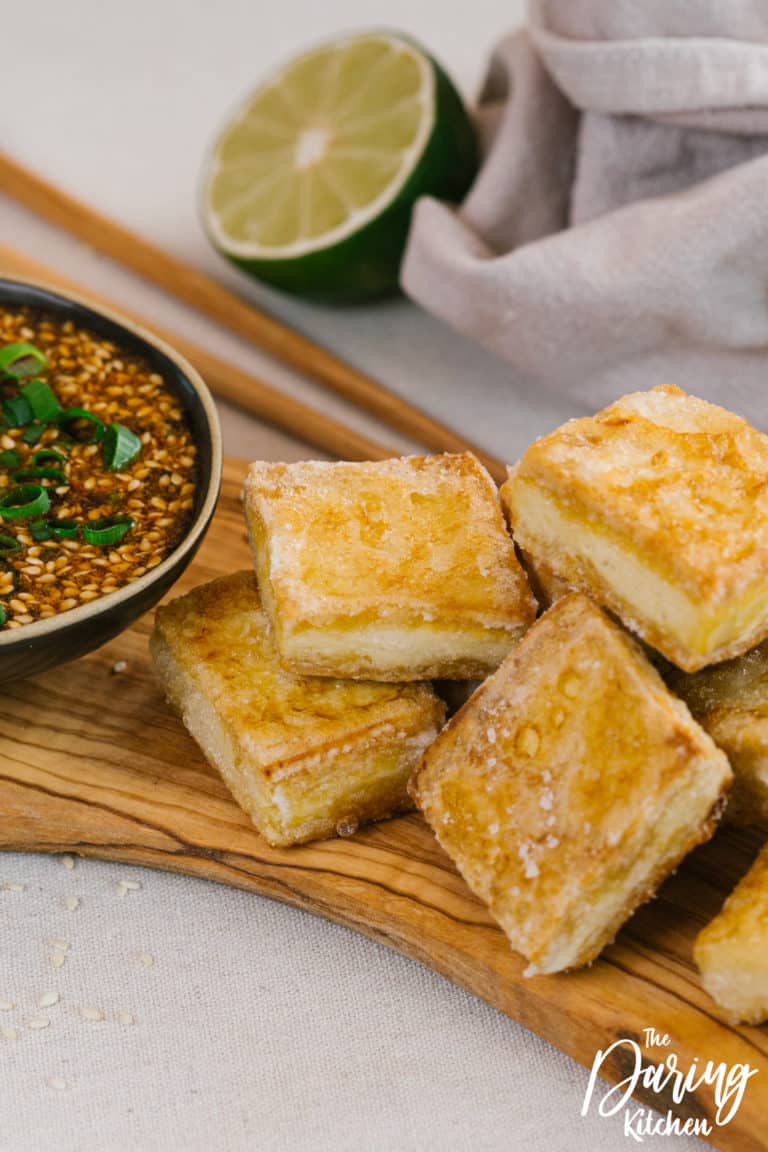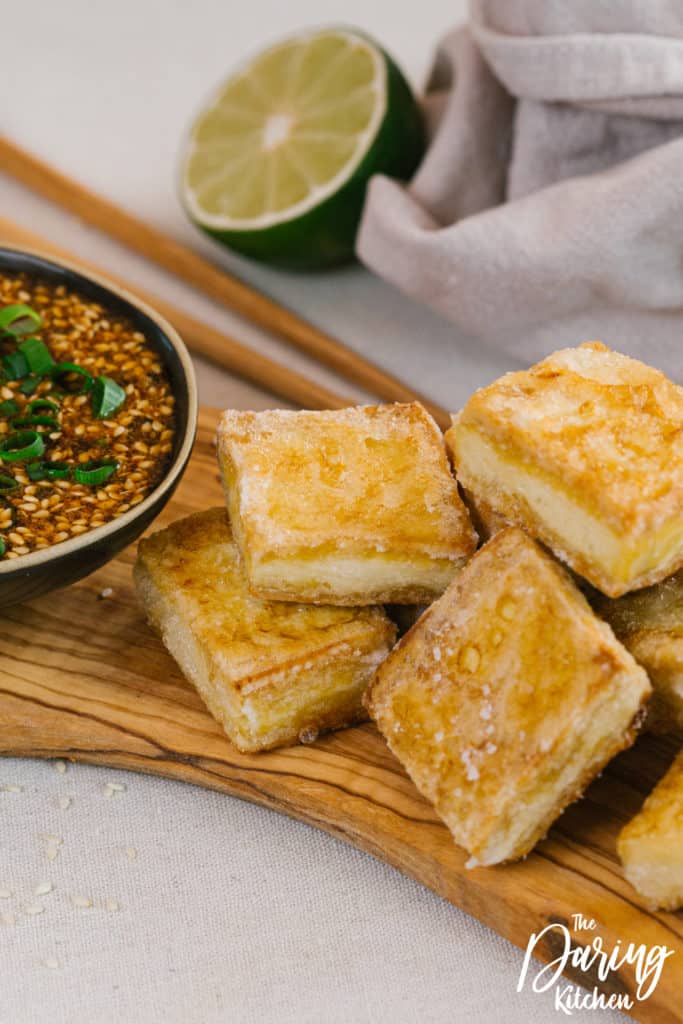 For me, when it comes to making an epic vegetarian feast, fried tofu is always a great idea! I am a huge tofu fan. It pleases everyone, no matter if they're vegan or meat-eaters. Also, it requires only 3 ingredients (if you don't count a tasty dipping sauce!)
This is not a recipe for deep fried tofu. In fact, it is a pan fried tofu recipe! This method yields just as crispy tofu, without all the unhealthy deep-frying.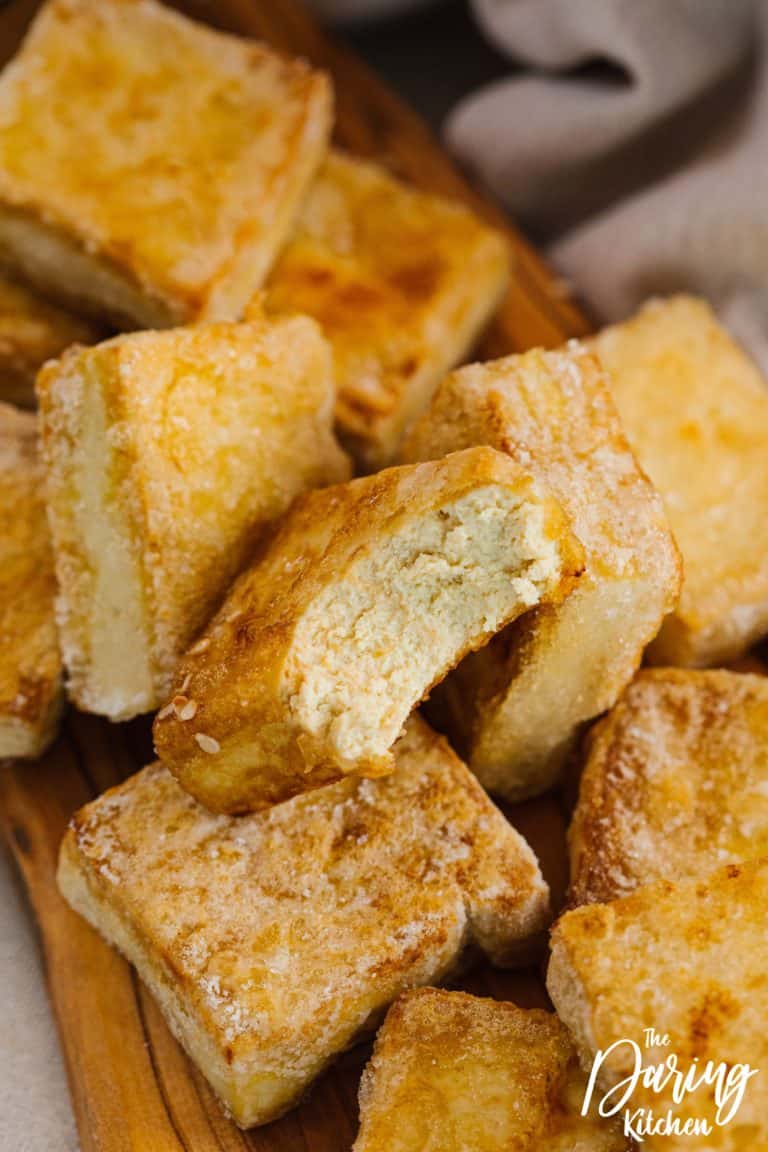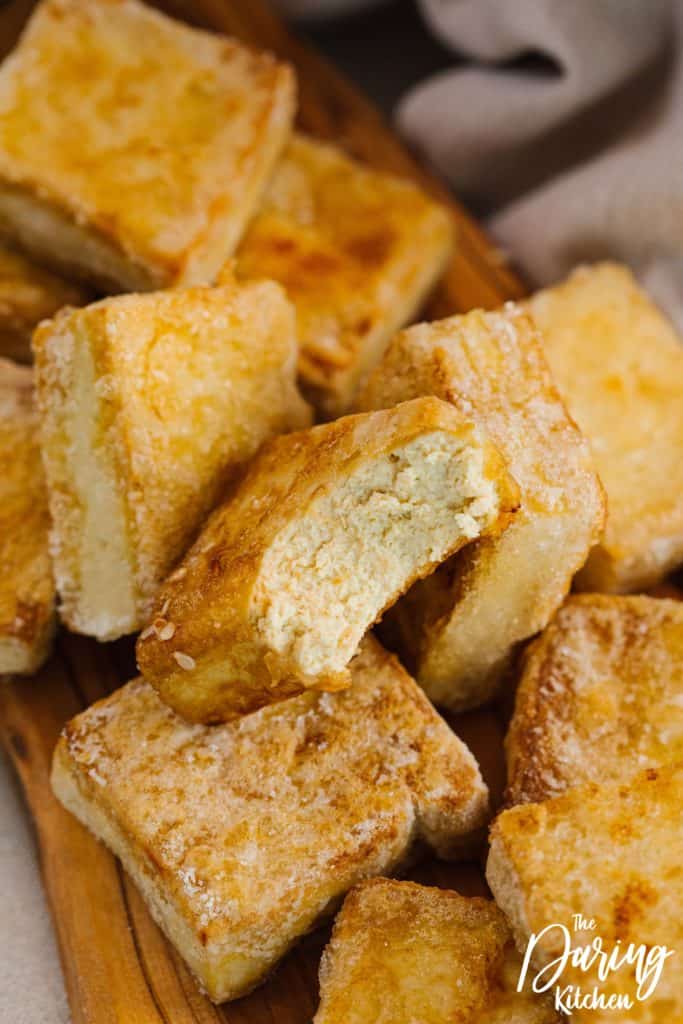 Once you understand the simple method of making fried tofu, you are golden. That's why I put together a bulletproof fried tofu recipe that will show you how to fry tofu so that you make crispy tofu every single time. Plus, I included my favorite peanut dipping sauce that makes your fried tofu taste even greater!
Step 1: Gather your Ingredients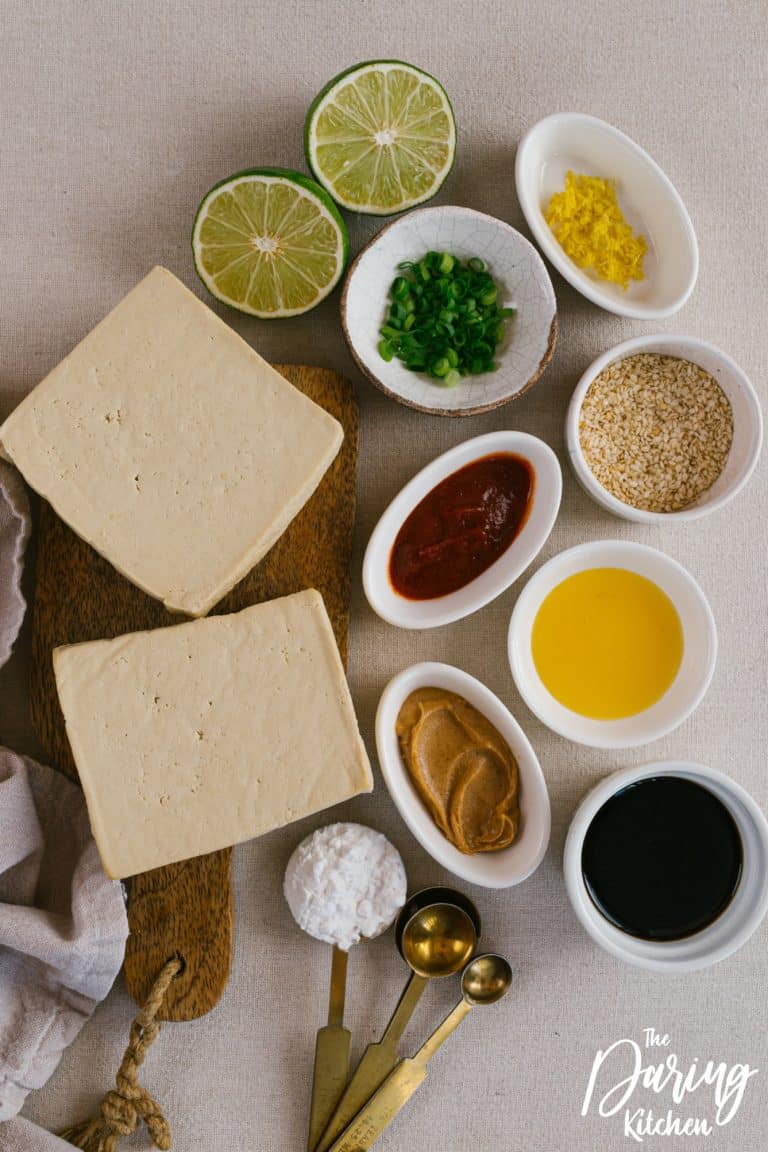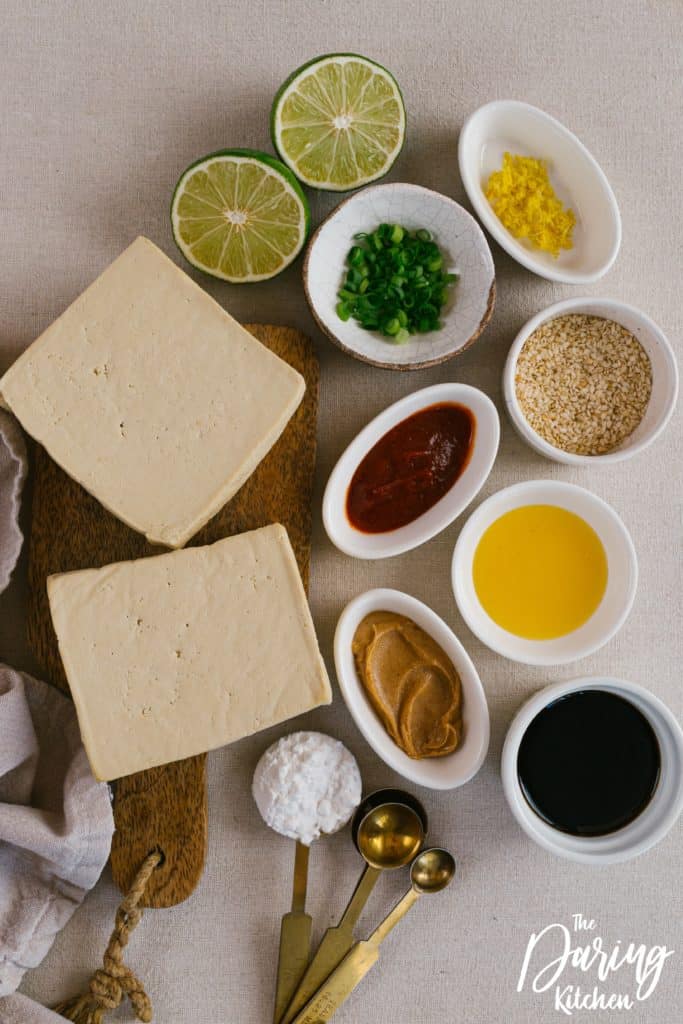 No matter the recipe, it's always important to have all your ingredients together and ready for action. For this recipe, you will need 3 ingredients to make your pan fried tofu. The sauce requires a few more ingredients. But, putting them all together only takes a few minutes!
Also, you will need a handy cast iron skillet or reliable shallow pan for frying. That's it!
Ingredients You Will Need for Fried Tofu
For the tofu:
2 blocks of firm tofu or extra firm tofu
½ cup cornstarch (or potato starch)
 Canola or avocado oil (or any oil of your choice that has a high smoke point)
For the sauce:
¼ cup soy sauce
1 tbsp sriracha
1//2 tsp fresh ginger
1 tbsp sliced scallions
1 tsp honey
1 tbsp peanut butter
1 tbsp lime juice
3 tbsp water
1 tsp sesame seeds
Step 2: Prep your Tofu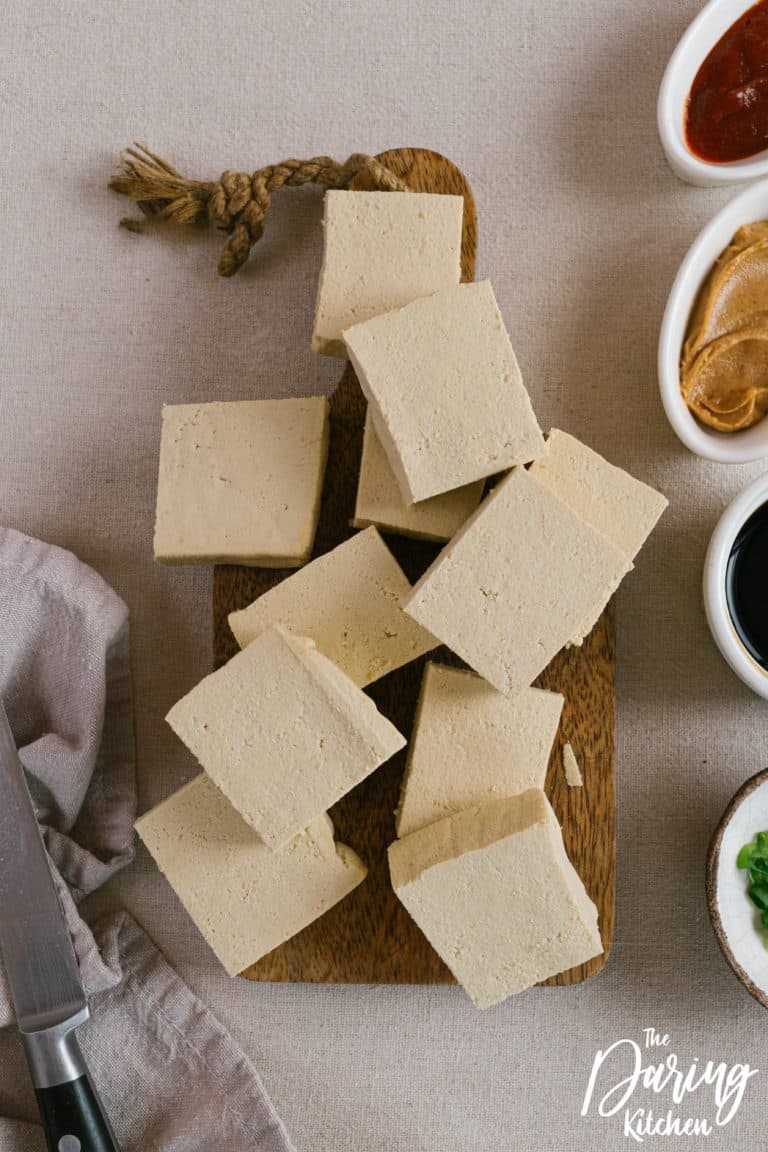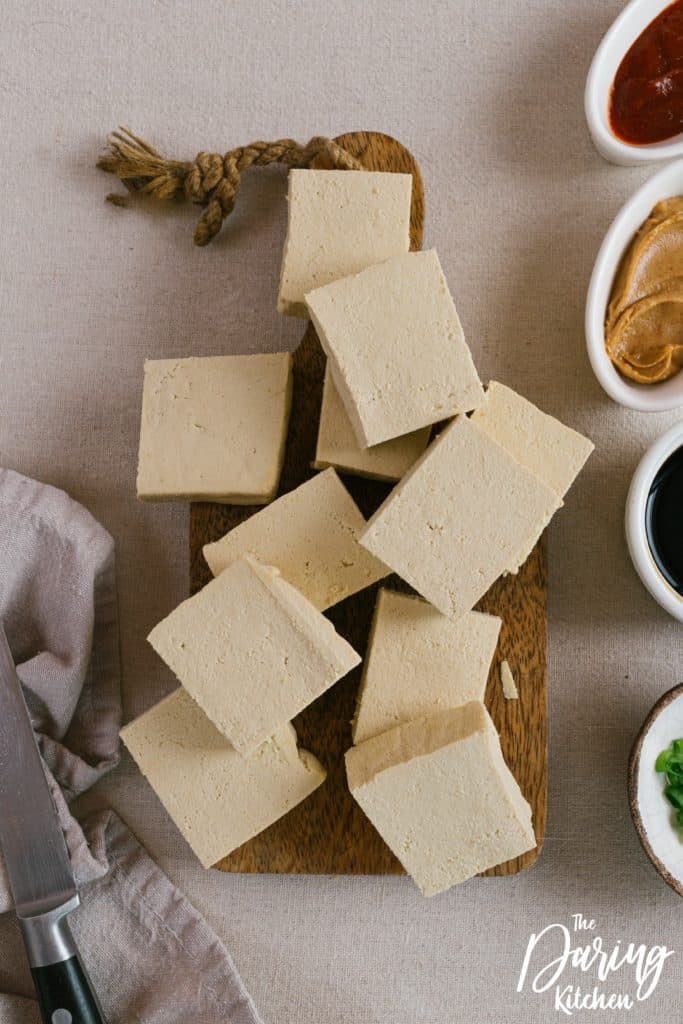 The first step is making sure your tofu is ready for frying. You cannot immediately cut tofu and fry it. Tofu holds a ton of moisture. The more firm the tofu is the less moisture. That's why this recipe calls for firm tofu or extra firm tofu.
The tofu needs to be patted dry prior to being cut into cubes. If you are using extra firm tofu, the drying time will be a little quicker. You do not need to press the tofu for this recipe, as fried tofu needs a little extra moisture. A little excess water makes the tofu more juicy in each bite!
Once, you pat the tofu dry, it's time to cut it into tofu cubes. My method is to cut the tofu into thirds. Then, cut each piece into tofu cubes from there. Or you can get a little more creative and cut your tofu into triangles. The choice is up to you!
Step 3: Make your Sauce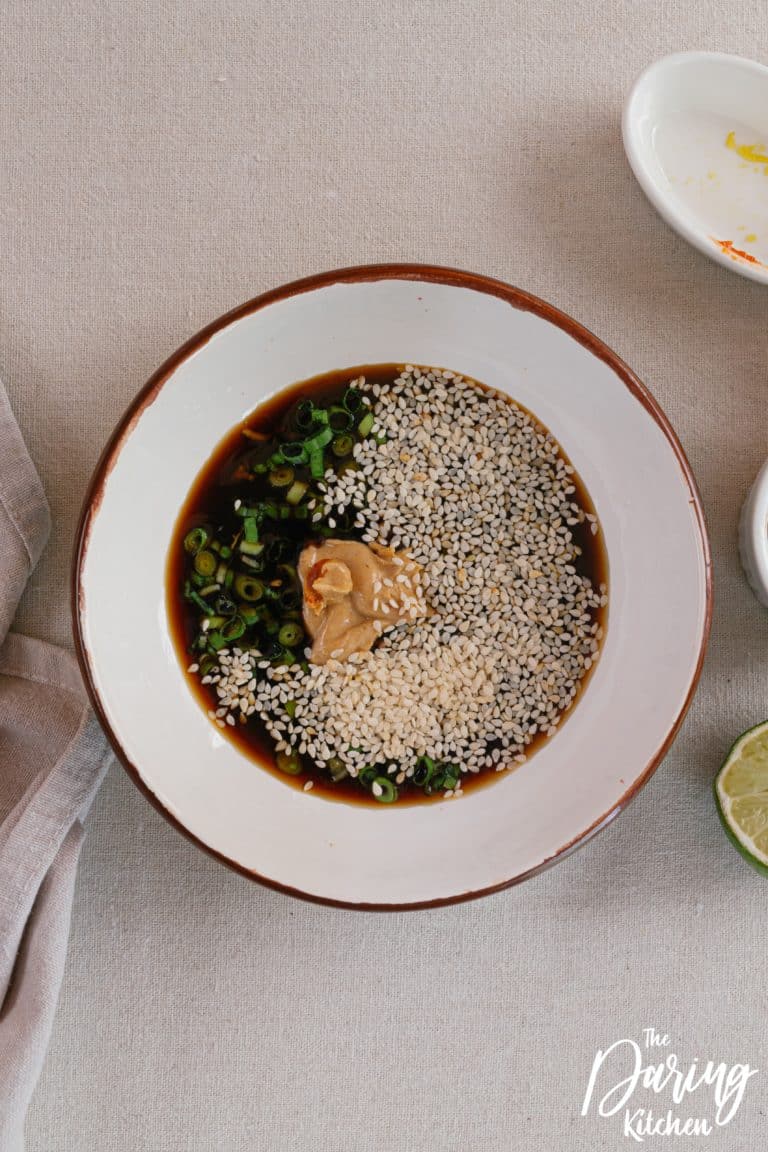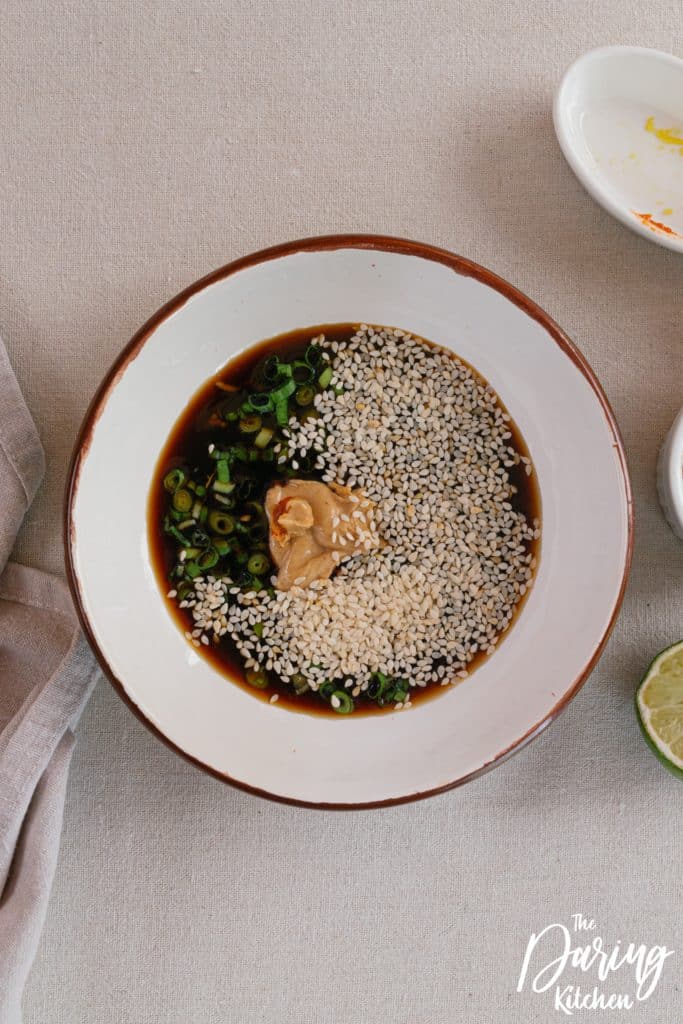 Before starting your tofu, you need to have your sauce ready. It's a quintessential part of a perfect pan fried tofu recipe. This way, you can enjoy your crispy tofu when they're still hot!
I prefer to make homemade sauce. It has much better flavor because it's made with fresh ingredients only. All the ingredients in this sauce recipe are easy to find in a grocery store.
To make the sauce, add your peanut butter, soy sauce, and lime juice to a bowl. Whisk together until the peanut butter is thinned out. Then, add in the rest of the ingredients. Mix thoroughly until everything is well combined.
The last, but most important step, is to do a taste test. You want to make sure your sauce is just how you like it. I always end up adding a little more soy sauce and even a little bit of chilies for some heat!
Step 4: Dredge the Tofu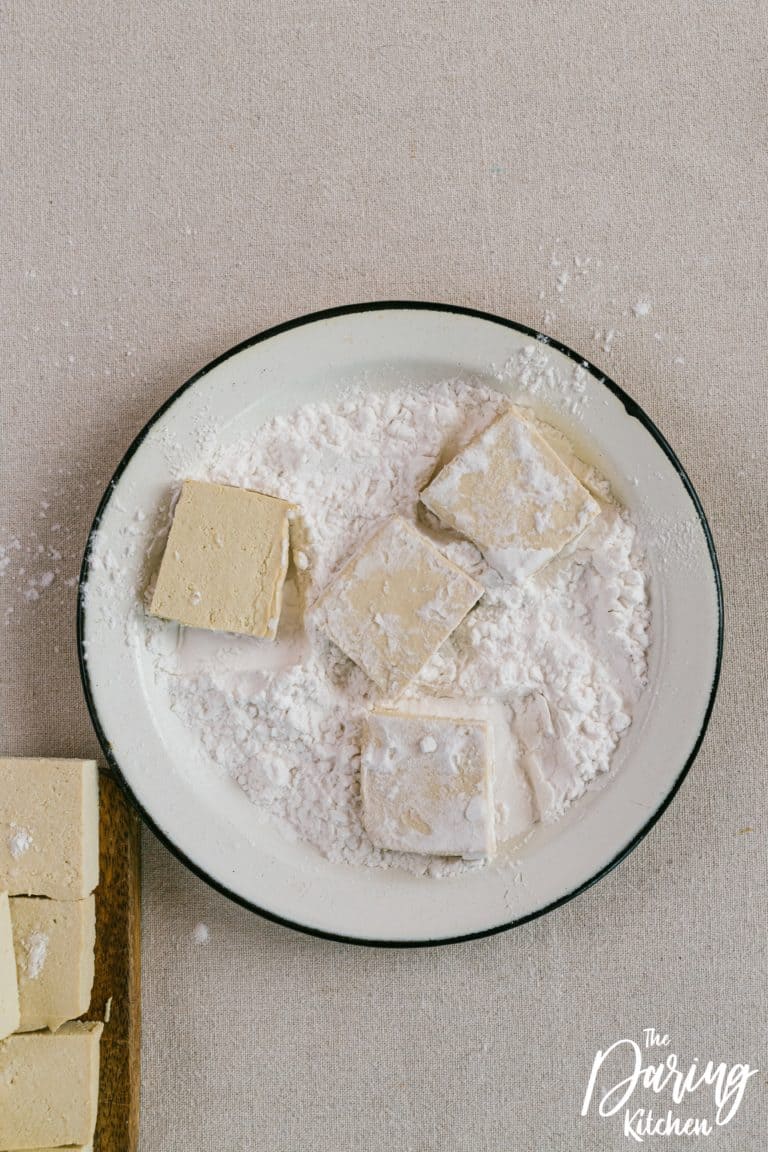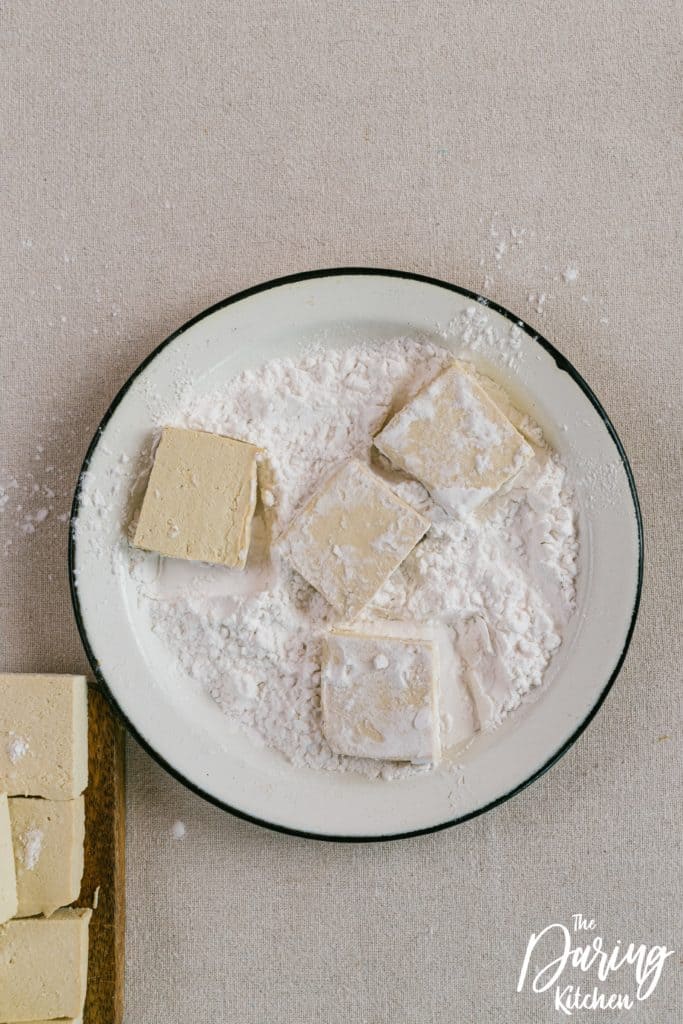 This part is essential to give your fried tofu its golden brown color. Coating each tofu piece in cornstarch (or potato starch) allows for an awesome crispy crust to form.
To keep your kitchen clean, I suggest pouring the cornstarch into a wide bowl, with a paper towel underneath. Then, add in your tofu in batches, coating each piece generously. It is important to dust off excess cornstarch from each piece of tofu. Too much starch can lead to an unpleasant texture when fried.
Step 5: Fry your Tofu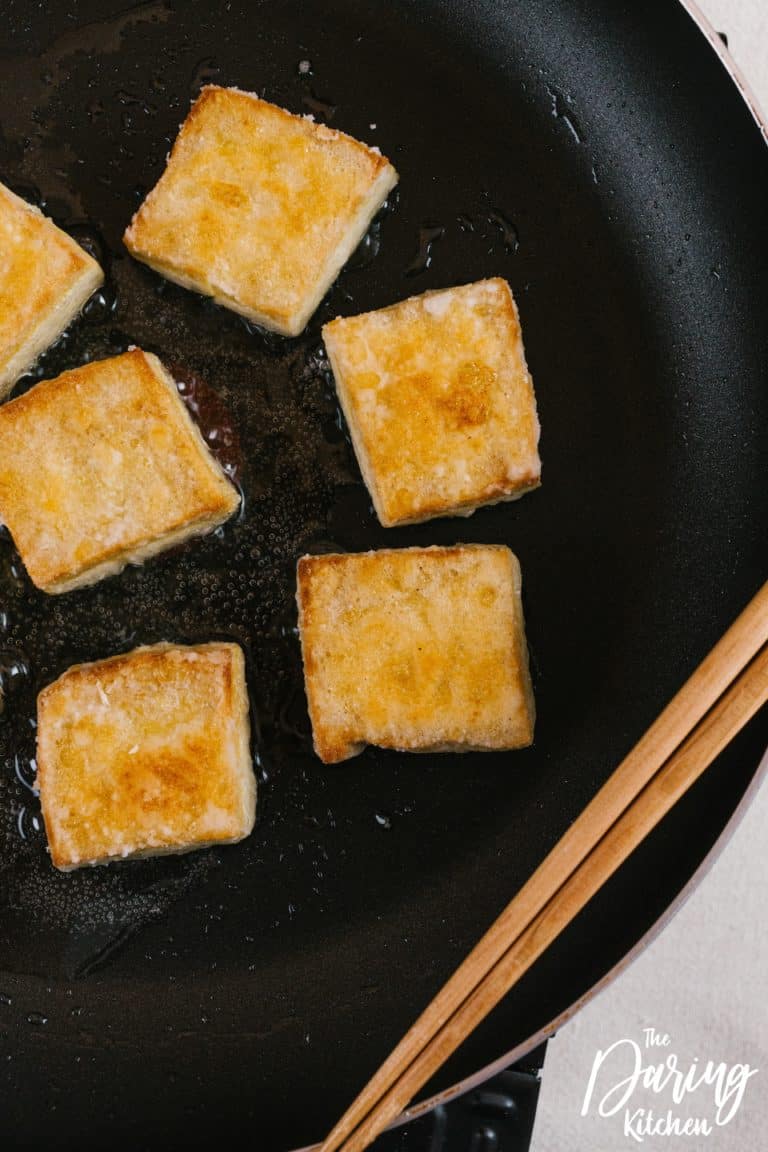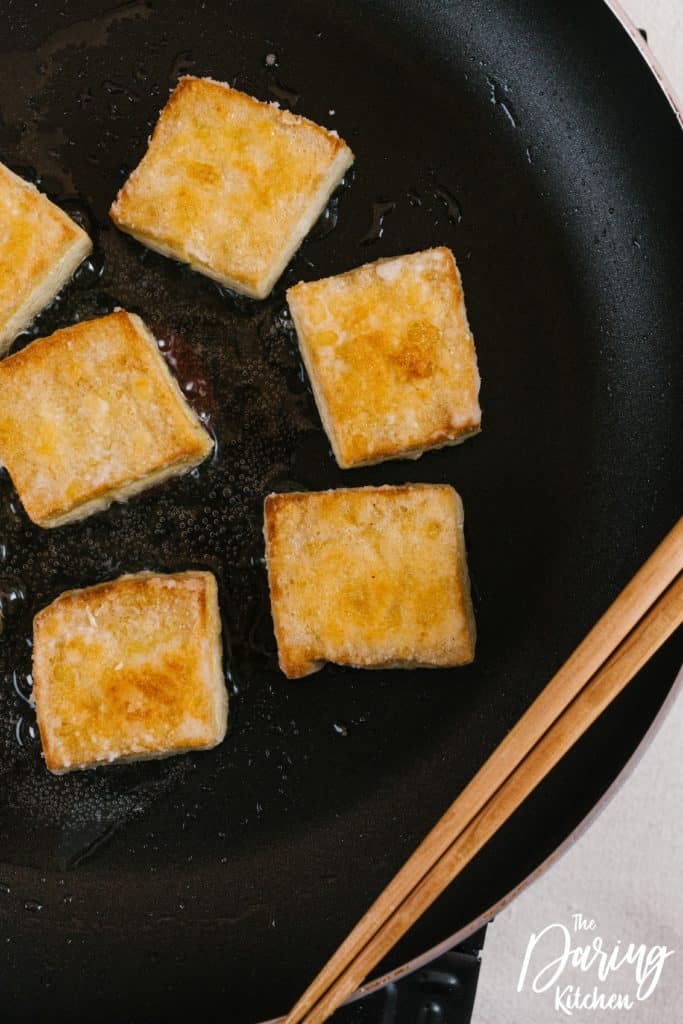 To make your delicious crispy tofu, heat oil in a cast-iron skillet or pan. You can use any oil with a high smoke point. Olive oil, for example, is not an option. Olive oil has a low smoking point, meaning it will burn a lot faster than canola or avocado oil. No one wants to eat burnt food. More importantly, grease fires are super dangerous!
Anyways, once your oil is hot (over medium heat,) gently place your dredged tofu in the pan. Do not over crowd the pieces! Allow each piece to cook 2-3 minutes per side, or until both sides are golden brown and crispy.
When your crispy tofu is done, transfer it to a plate with paper towels. Season them with salt, but not too much. Your sauce will have plenty of salt from the soy sauce.
Step 6: Enjoy your Tofu!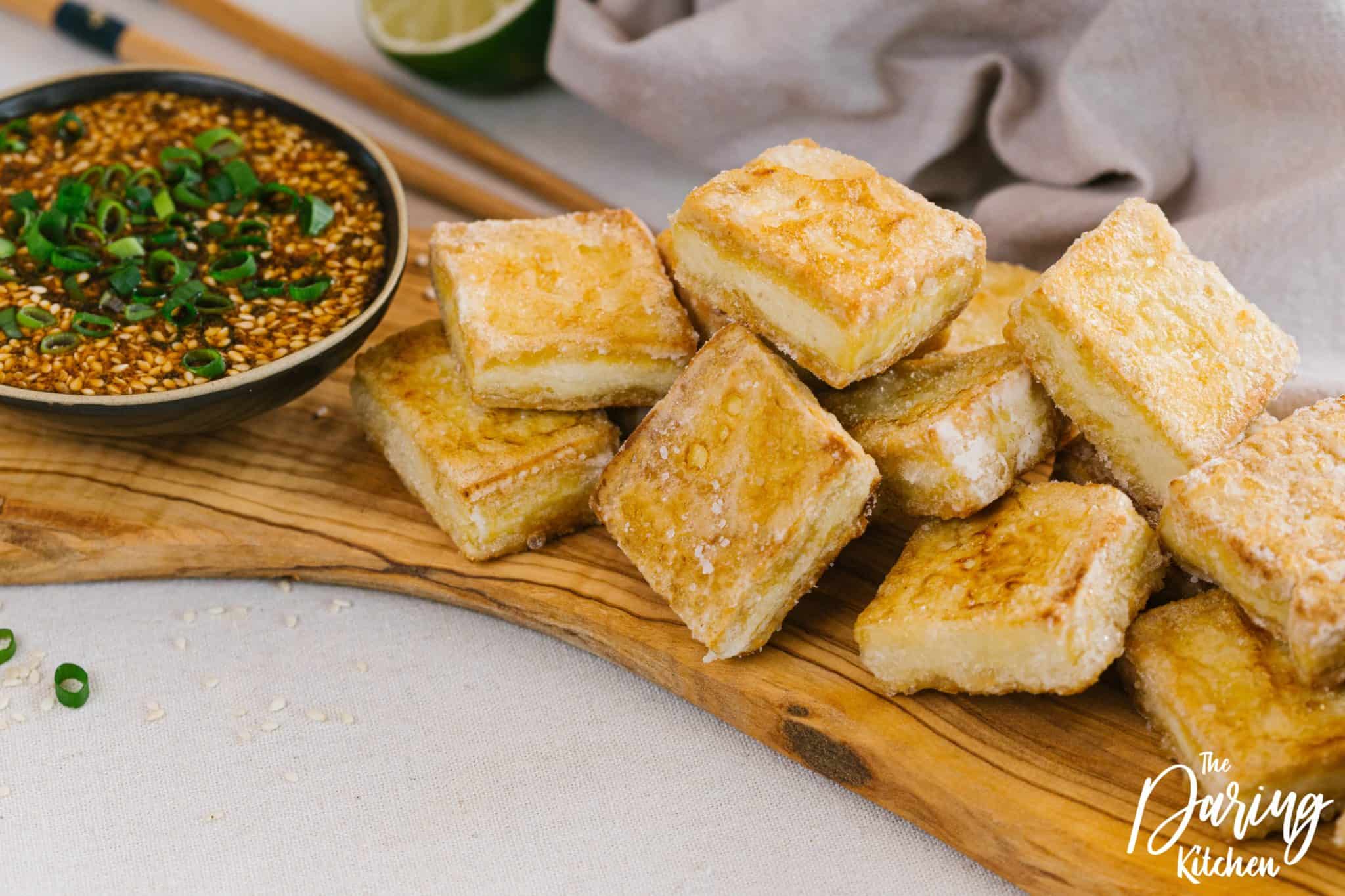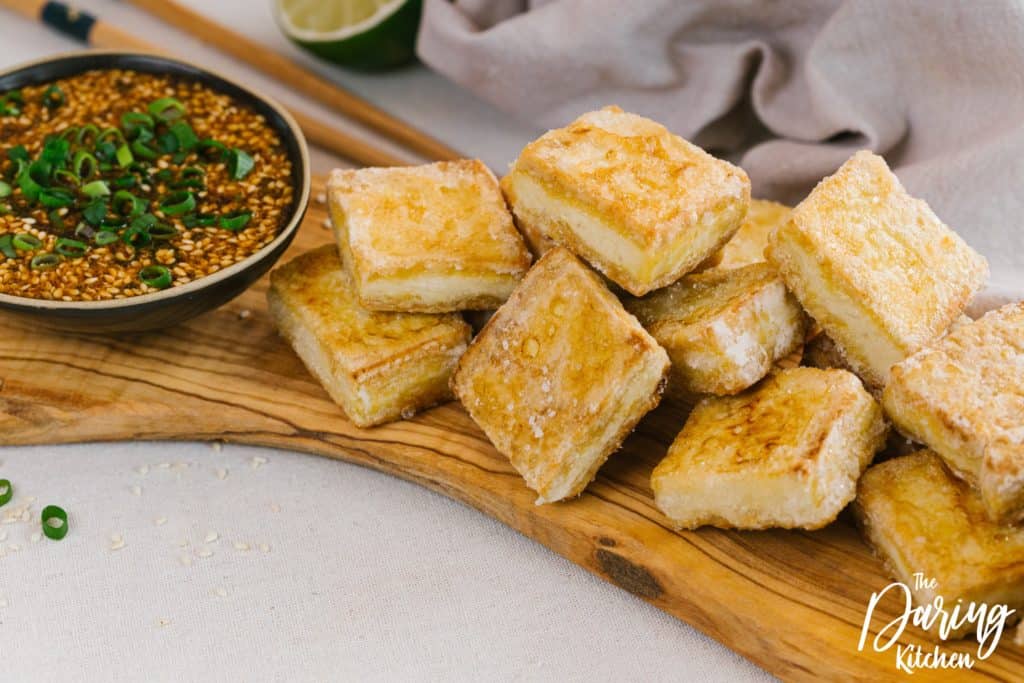 Now, for the grand finale - plating and serving your pan fried tofu! At this point, I don't blame you if you already munched on a few pieces of fried tofu in the meantime.
For me, presentation is everything. I love to layer my tofu pieces on a super pretty plate! Then, I pour my sauce into an elegant bowl next to it.
Trust me, going out of your way to give your pan fried tofu restaurant-level presentation will impress guests and even yourself!
Make sure to serve your fried tofu immediately after plating. Crispy tofu is best enjoyed hot, as it loses its crispiness when cold.
I am so glad I can share one of my favorite tofu recipes with you! Please share all your thoughts on this recipe in the comments below.