You've probably heard all about the wonders of grinding your own meat at home. It tastes better, it's cheaper, and you'll know exactly what's in the mince. But unless you have a good meat grinder in your kitchen already, chances are you think you'll have to stick to store-bought ground meats from the grocery store or butcher shop.
Not so fast, there's a way around that. Today, we're here to teach you how to grind meat without a grinder in two different ways. And the best part? You probably already have all the tools you'll need.
Grinding Meat with a Food Processor
The first method is using a food processor to make ground meat. This nifty kitchen appliance is incredibly easy to use and lets you make dozens of tasks (from chopping and slicing to grating) with it. Let's take a look at how.
Step 1: Assemble Your Food Processor
Start by setting your processor on a stable kitchen counter. You will only need the standard S-shaped blade, so there's no need to assemble the cutting disks. Make sure the food processor blade is clean and well-sharpened.
Step 2: Get Chopping
Now, chop the meat into small cubed pieces. This will help the appliance grind meat more efficiently and quickly. If you don't chop the meat, there's a good chance the processor blade will break or the engine will break down.
Step 3: Freeze the Chopped Meat
Once you have your cubed meat, place it on a parchment-lined baking sheet. You'll put the tray in the freezer for thirty-or-so minutes. Freezing the pieces will harden them, which will prevent the end product from being too mushy. You'll get better-defined grounds that are loose from each other.
Step 4: Put the Meat in the Food Processor
After those thirty minutes, you can go ahead and place the chopped frozen meat in the meat processor bowl. If you're grinding a lot of meat at once, you'll probably need to do this in several batches. Never overfill the bowl, or else your appliance will have a hard time getting the job done.
Step 5: Pulse, Pulse, Pulse
Put on the lid and use the "pulse" function. This is the setting that best plays the role of a meat grinding machine. After about ten pulses, you should have perfectly freshly ground meat.
If you want finer grinds, you can go ahead and pulse the raw cubed meat for longer. If you'd rather have a coarser grind, you can stop after just five or six pulses. Keep an eye on the meat and adjust the method as needed.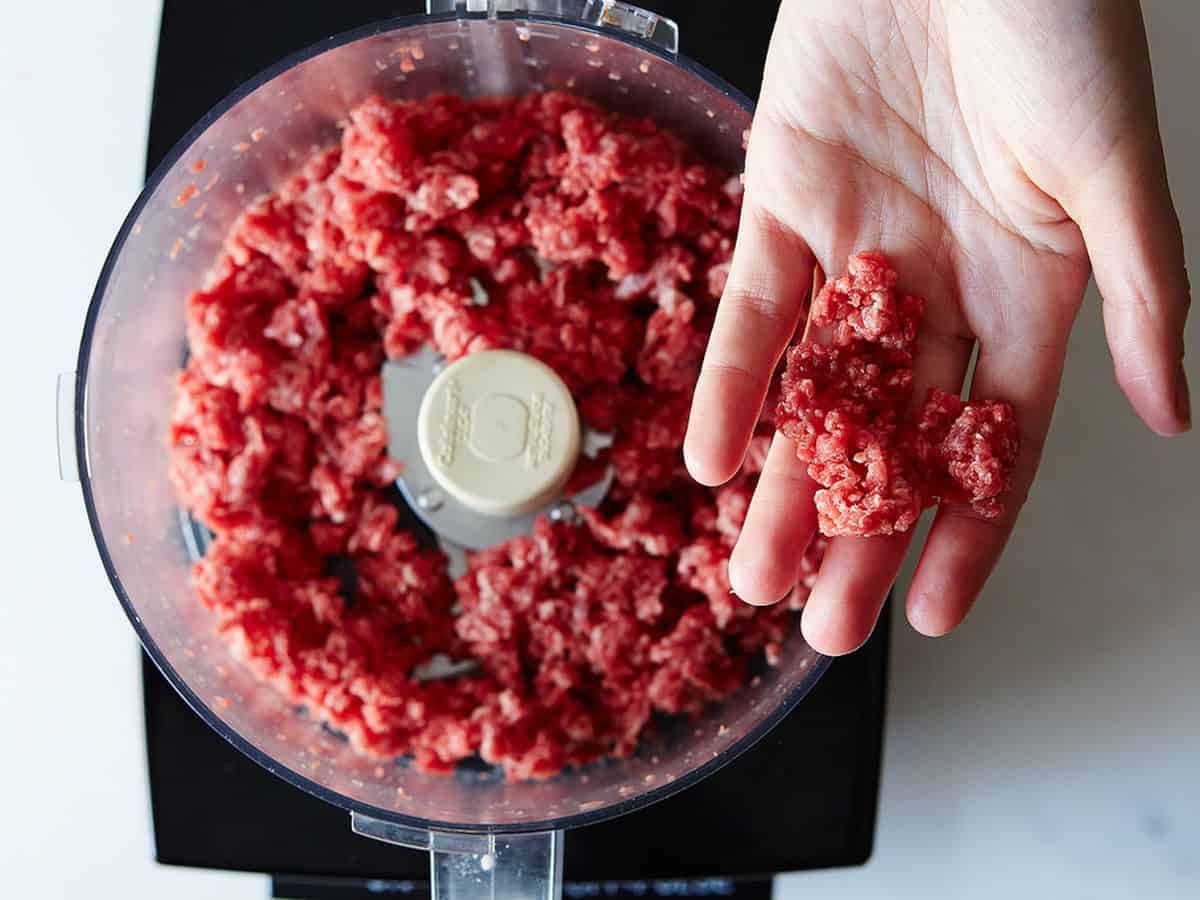 Grinding Meat by Hand with a Knife
If you don't have a food processor, that's okay. The knife method takes a little more effort and time, but you'll still end up with perfect ground chicken or ground beef for your shepherd's pie or classic Italian-style meatballs, for example.
For this method, you'll need to get a sharp knife—we recommend using either a butcher or chef knife (and don't forget the knife sharpener!). Additionally, you'll need a clean cutting board.
Step 1: Make the First Cuts
Start by making cuts on your chunk of meat at a 45-degree angle. Be careful, as you don't want to cut the meat all the way through. Aim for cutting it 75% of the way through.
Step 2: Flip and Repeat
Then, you'll want to take the piece of meat and flip it over. You'll repeat what you did in step one—cutting 75% of the way through at a 45-degree angle.
Step 3: Again, Flip and Repeat
Flip it over one more time and make cuts, but this time, they should be at a 90-degree angle.
Step 4: Once More, Flip and Repeat
Lastly, you will need to flip the piece of meat one more time and once again make cuts at a 90-degree angle.
By now, the meat should be freshly ground and the perfect consistency for whatever recipe you're making. If you want finer grounds, repeat the flipping and cutting once or twice more.
At the end, you shouldn't forget to thoroughly clean your cutting board. Raw meat can leave bacteria in the pores of your chopping board, which could lead to some health problems.
Keep This in Mind When Grinding Meat
As you've seen, knowing how to grind meat without a grinder isn't too complicated. We're sure you'll get along with one of the two methods we showed you today. But before we let you go, there are a few things you should keep in mind before you start to grind your own meat at home.
Don't Neglect Food Safety
You should always handle raw meat carefully. That includes not leaving it out of the fridge or freezer for more than two hours before cooking it. Otherwise, it can start to grow bacteria. If you need to grind frozen meat (that isn't cubed yet), leave it overnight on a plate in the fridge.
You Can Choose How Coarse You Want the Grounds
The best thing about freshly ground beef, made at home, is that you get to choose how coarse you want the grounds to be. Thus, when you're using either of the methods, you should eyeball the progress and either omit or repeat a step.