The curly fry - it's a hamburger's best friend.
Whether you prefer regular curly fries or sweet potato curly fries, there's nothing quite like the decadent, salty flavor of a fresh batch of curly fries. Even though the ingredients are the same, they're somehow way more fun to eat than regular French fries!
If you have a spiralizer, you're in luck - you can easily make your own curly fries at home. However, even if you don't, you can still whip up a flavorful batch.
Here are some tips and recipes on how to make curly fries - both with and without a spiralizer. 
Recipe: How to Make Curly Fries With a Spiralizer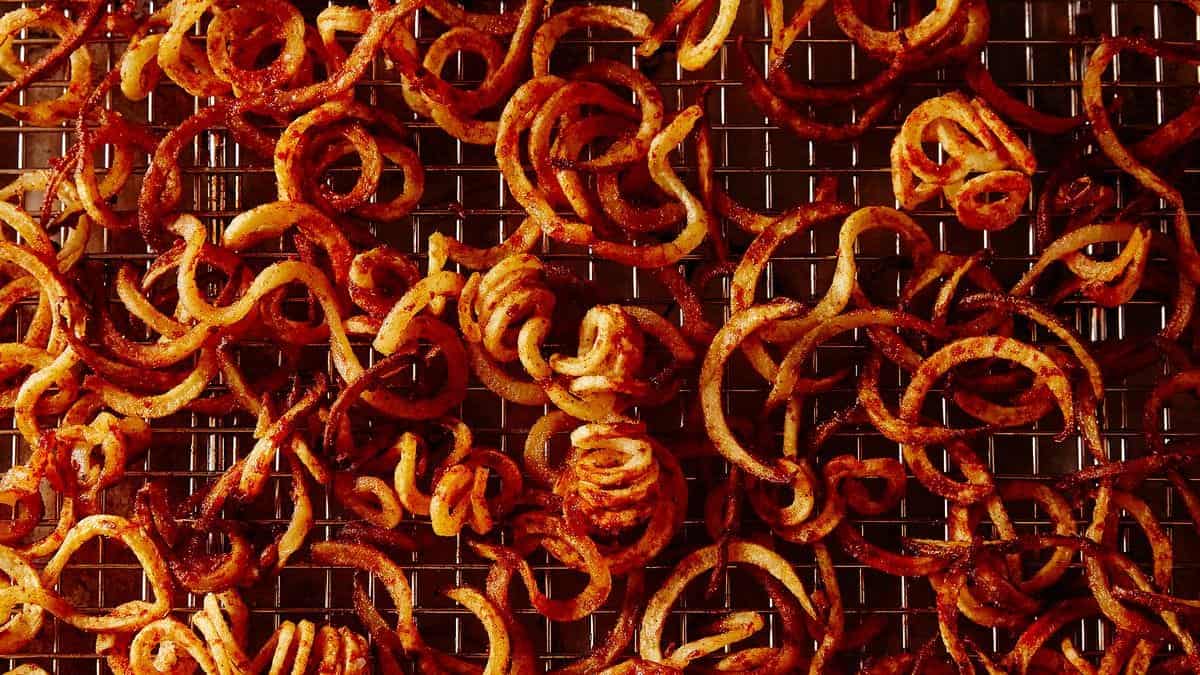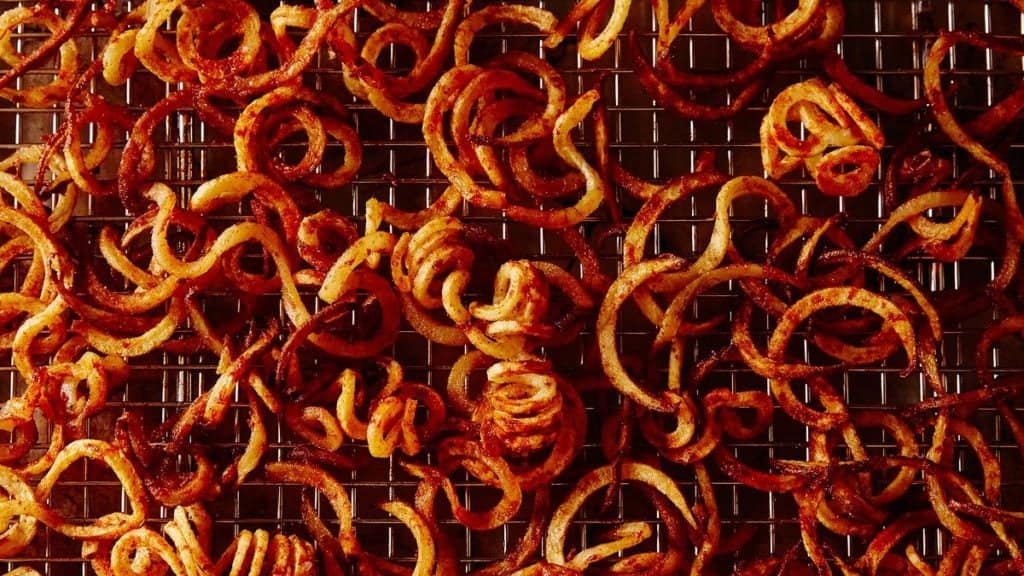 Have a spiralizer on hand? Awesome! Making curly fries won't take you very long at all. Here are the steps you'll need to follow.
Pick Your Potato
The first thing to do is to select your favorite variety of potato to use for your curly fry recipe. You can use sweet potatoes or white potatoes - the choice is yours. Large white potatoes, like Russet potatoes, tend to work well for curly fries, since you'll get longer strands out of Russet potatoes than you will other kinds.
Whatever the case may be, just make sure you allow the skin to remain on the potatoes. You don't need to peel them first - just make sure they are nice and clean! One large potato will yield you anywhere between two and four servings of curly fries, depending on the potato and your appetite. 
Prep Your Potato
Trim just the ends of the potato so that they are flat. You may also need to cut out some bad spots, if you happen to notice any.
Time to Spiralize
Now you can insert your potato into the spiralizer. Depending on the make and model of spiralizer you have,the steps on how to do this might differ a bit. Usually, you'll just need to put the potato into the machines and give it a quick twirl. With a handheld spiralizer, you'll have to power your device, while a mchc nail one will generally allow you to insert the potato and let it do its own thing.
Read all instructions carefully before you start using your spiralizer! It's easy to mess up a recipe by not following the instructions.
Soak the Potatoes
Another step - and one that many people tend to neglect - is to soak the twisted potato pieces. Put them in a large bowl and cover them with cold water for about half an hour. This will prevent discoloration and get them ready for frying.
Warm Your Oil
Next, you will need to heat your oil for frying. You can use any kind of oil to make your curly fries, including olive oil and vegetable oil. Whatever you choose, make sure you warm it to about 350 degrees before you get started (if you decide that oven-baked curly fries are what you have in mind, you will also want to preheat the oven at this time to the same temperature). You may find that you need to reheat the oil between batches of potatoes, too, depending on how many you decide to whip up.
Before you transfer the potatoes from the large bowl to your frying pan, you will want to move them to a kitchen towel and get them as dry as you can. You don't want too much water on the potatoes when you put them in the hot grease, as this can cause the pan to overflow, presenting the risk of a burn or a fire. 
Fry Your Potatoes
Next, you'll need to start frying your potatoes. Most cooks recommended frying your potatoes in small batches. If you don't, the temperature may drop too much and this will affect the flavor and texture of your fries, making them soggy.
How long you need to fry your potatoes will depend on how much the oil temperature drops when you add your fries. In general, it will take between 5 minutes and 10 minutes to fry your potatoes to a crispy, tasty texture. You'll know your fries are done when they start to turn a rich brown in color. 
You will continue removing and adding fries when each separate batches of fries finish up. Repeat the steps above for all of your potatoes and remember to work at small batches so you don't cool your oil too much.
If you're working with sweet potatoes, you'll follow all the same steps you did before-  however, just note that it can be tough to tell when your curly fries are done because the potatoes are already a naturally darker color. You might need to pull a few to sample them in order to be sure!
Drain and Serve
Next, you can remove your fries with a set of tongs or a simple strainer. Move them to a plate lined with paper towels and season the fries with some salt. 
Recipe: How to Make Curly Fries Without a Spiralizer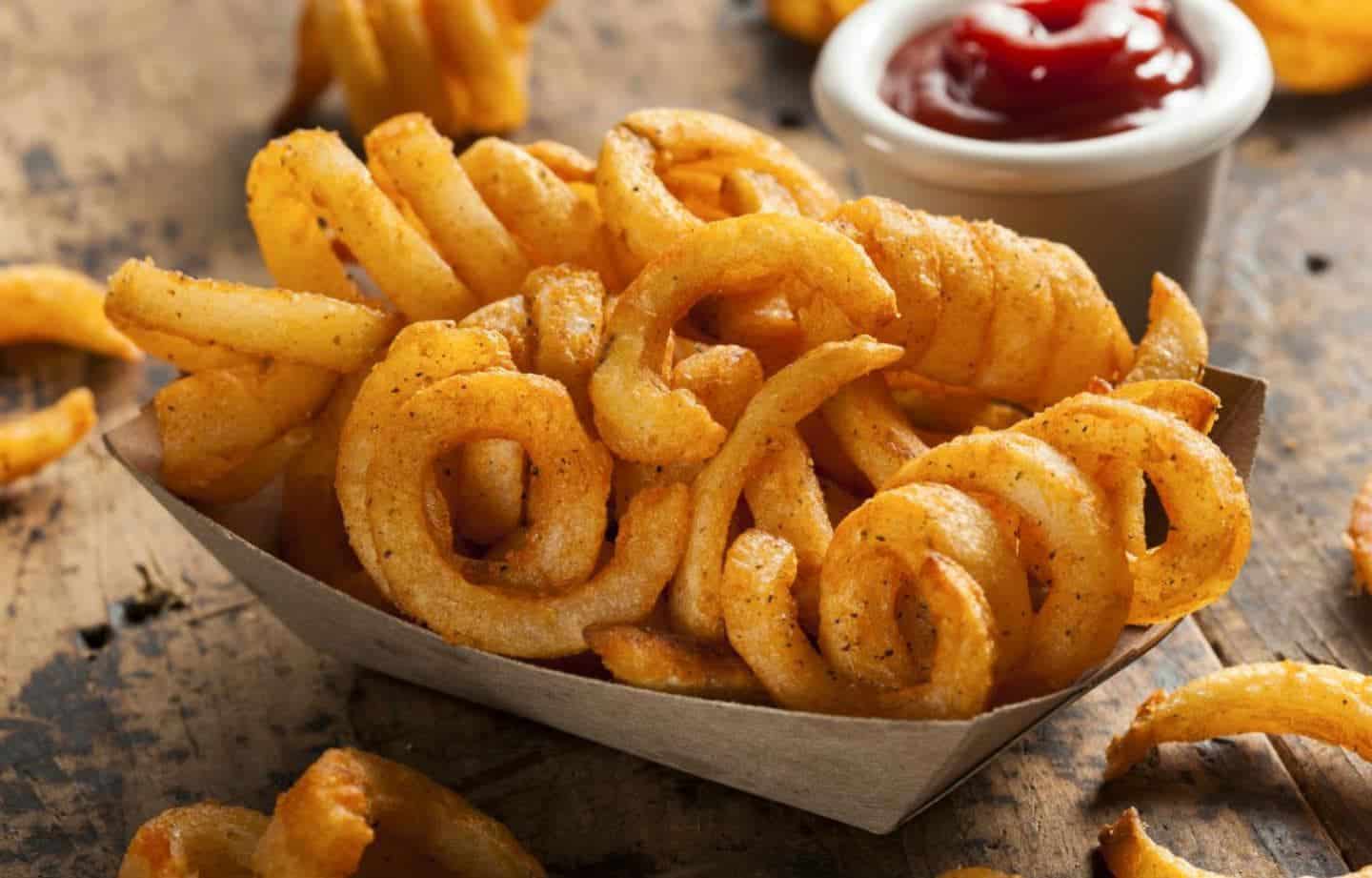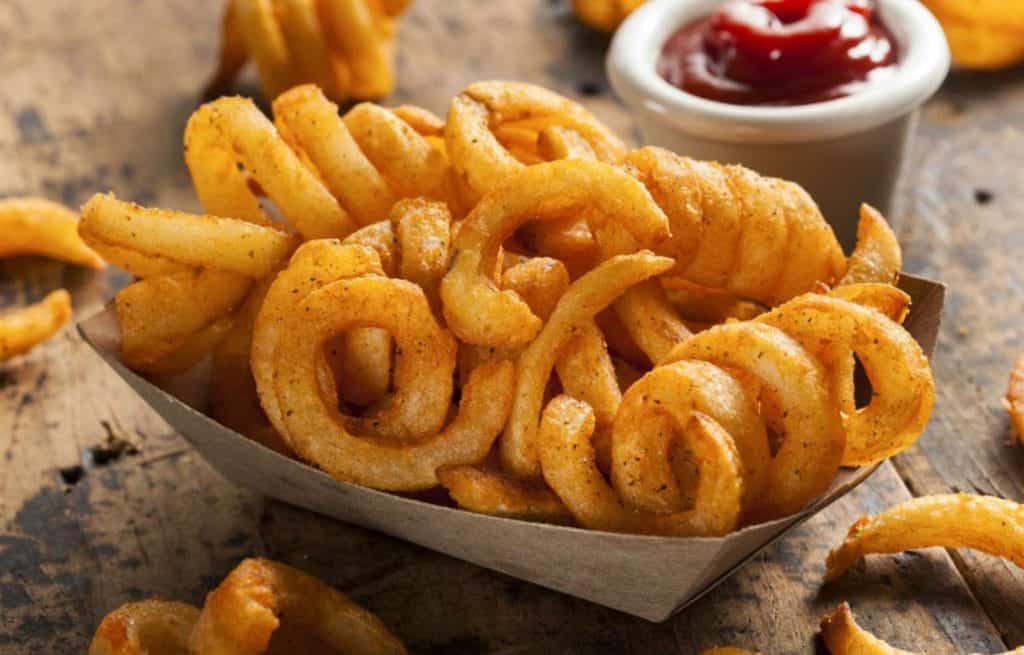 No spiralizer? No problem! You can still get delicious curly fries at home - you just need to be a bit more creative. 
You will need to cut the potatoes by hand. The Easiest way to do this is to start with a medium-sized potato and thread it gently onto a skewer. Then, use a knife to slice the potato into small spirals, rotating the potato slowly as you work. The spirals should each be roughly the same size so that they look good when they're stretched out. 
Spread the potato on the skewer, placing it on an oven tray. You can drizzle some olive oil, garlic powder, onion powder, salt, and other spices over it, too. Bake your spiralized potatoes in the oven at 350 degrees for about half an hour (the time will vary depending on the size of your potato and your potato slices). 
If you want to fry your potatoes in the method mentioned above, you may still be able to do this without having a spiralizer - you will just need to remove the spiral from the skewer. Be careful doing this, as they may want to stick to the skewer as you slide the fries off. 
Other Variations and Recipes For Making Curly Fries
There are plenty of other ways you can make curly fries, too. For example, if you have an air fryer, you can easily use one of these machines to whip up a tasty batch of curly fries. There are lots of air fryer recipes online. 
You can also use a deep fryer or simply bake the fries in your oven. If you choose to bake  your curly fries, they may not end up being quite as crispy tasting, but they'll be a lot healthier than if you fry them! Feel free to add other spices as you cook, too - garlic powder and onion powder are delicious, but what about cumin? Cayenne pepper?
If you don't want to fry your curly fries in canola oil or olive oil, you can even oven bake them. It's best to drizzle the baked curly fries with a bit of oil before laying them on some parchment paper on a clean baking sheet. Follow a recipe for oven-baked curly fries, as baked curly fries can be hard to get perfectly right (they tend to get greasy). Make sure you preheat oven settings to at least 350 degrees Fahrenheit at least 5 minutes or so before you plan to cook the oven baked fries, too.
Whatever you choose, curly fries are a delicious substitute for French fries. They can be either fried or oven baked curly fries- whatever your preferences might be - and regardless of whether you have a spiralizer - you can easily make these crispy, savory fries at home.