How To Make Homemade Dark Chocolate - Chocolate is without a doubt one of the most delicious things on our planet. The majority of chocolate available, however, isn't vegan friendly. But don't worry, because we've got a homemade chocolate recipe that rivals anything you can get in a store!
This delectable dark chocolate contains only four primary components, all of which can be found in any supermarket or your pantry. It's vegan and gluten-free, so it's perfect for everyone to enjoy. You'll be astonished at how luxurious, velvety, and creamy homemade dark chocolate can be!
The recipe is simple to follow and only requires a few minutes of prep time. It's perfect for Valentine's Day, birthdays, or just because you're craving chocolatey goodness. So gather your ingredients and get ready to enjoy some seriously delicious chocolate.
Why You'll Love This Homemade Dark Chocolate Recipe
Only requires 4 ingredients- Few ingredients mean you can make multiple batches of this vegan homemade dark chocolate for less than the cost of store-bought chocolate bars.
Versatile – You can customize this chocolate however you want by adding different ingredients to your tastebuds.
Crowd pleaser – This homemade dark chocolate is sure to be loved by everyone because who doesn't love chocolate?
Equipment Needed To Make Dark Chocolate with 4 Ingredients
Double Boiler
Saucepot
Heatproof bowl
Stirring spoon
Silicone molds
Measuring cups and spoons

Ingredients For Your Homemade Dark Chocolate
Cacao butter
Cacao powder
Agave or maple syrup
Vanilla extract (optional)
How To Make A Homemade Dark Chocolate With 4 Ingredients
To make this homemade dark chocolate recipe, you'll want to start with a double boiler. Melt the cacao butter thoroughly, then add in the cacao powder, incorporating it well. Add in your sweetener and vanilla extra, stir to combine. Transfer into molds and viola! You have homemade dark chocolate at your disposal!
What to Serve/Pair with Your Homemade Dark Chocolate
When you have homemade chocolate at home, you can do so many things with it. You can enjoy it as is to curb a sweet craving, but it can also be used in other recipes as well. Vegan Mint Chocolate Chip Ice Cream, Chocolate Chip Cookie Dough Bites, and Sweet Potato Brownies are always delicious favorites that use homemade vegan dark chocolate.
Popular Substitutions & Additions
When it comes to making chocolate at home, the possibilities are endless. Toasted coconut, dried fruit, or even toasted nuts may be used to enhance homemade chocolate. It's a great starting point for mixing in all sorts of add-ins.

How To Reheat & Store Homemade Dark Chocolate
Best Way To Store Homemade Chocolate Leftovers
The best way to store leftover homemade dark chocolate is in an airtight container. It can be stored at room temperature, in the refrigerator, or in the freezer.
How Long Will Homemade Dark Chocolate Last In the Fridge?
If stored in an airtight container, homemade chocolate will last for up to a week in the refrigerator. If left out at room temperature, it will also last about a week.
Can I Freeze Dark Chocolate?
Yes! Leftover homemade chocolates may be kept in the freezer. They will last up to a month if kept in an airtight and freezer-safe container.
How To Reheat Homemade Chocolate
If you want to reheat your homemade chocolate, simply add it to a saucepan on the stove and heat it until it melts. The microwave may also be used to melt the chocolate. If utilizing a microwave, place the chocolate in a microwave-safe bowl and cook on high for 30 seconds at a time, stirring after each addition.

Homemade Chocolate With Cocoa Butter FAQs
Can I substitute coconut oil for the cacao butter in this recipe?
Yes, coconut oil can be used in place of cacao butter. Coconut oil, however, tends to melt a lot more quickly when touched than cacao butter. When eating homemade chocolate prepared with coconut oil can become quite messy!
Will cocoa powder work the same as cacao powder?
Yes! If a cocoa powder is all you have on hand, that will work just as well. I personally like the flavor of the cacao powder over the cocoa powder.
I don't have any vanilla extract, if I leave it out will I be able to tell a difference?
No, it won't make that much of a difference. You may leave it out entirely or just add a bit more agave or maple syrup to achieve the same result.
Can I still make this homemade dark chocolate if I don't have a double boiler?
Of course! A makeshift double boiler is simple to make using a pot and a heat-safe glass bowl
Will organic cane sugar be used in place of maple syrup or agave?
Yes. In this case, organic cane sugar can be used. Because cane sugar is different from a syrup in terms of volume, you'll have to add it and adjust its quantity to your liking.

Other Dessert Recipes You'll Love
Don't Forget To Come Back And Let Me Know How Your Homemade Dark Chocolate Turned Out!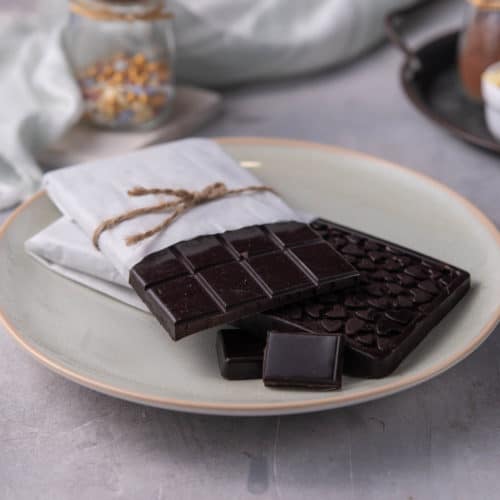 Homemade Dark Chocolate
Make your own homemade dark chocolate from scratch with 4 simple ingredients! Cacao butter and powder, & agave! You'll never go back to store-bought chocolate!
Print
Pin
Rate
Ingredients
½

cup

cacao butter

½

cup

cacao powder

3

tbsp

agave syrup or maple syrup

1

tsp

vanilla extract

optional
Instructions
Set the double boiler by pouring 1 ½-inch of water in a saucepot.

Once the water starts to simmer place a heatproof bowl on top of the saucepot. Make sure the bowl does not touch the water.

Add cacao butter into the bowl. Once melted, add cacao powder and stir until smooth

Add agave syrup and vanilla, if using.

Remove the mixture from the heat and pour into silicone molds.

Place the chocolate in a freezer until firm.

Unmold and serve or use as desired.
Nutrition
Calories:
543
kcal
|
Carbohydrates:
33
g
|
Protein:
5
g
|
Fat:
49
g
|
Saturated Fat:
31
g
|
Polyunsaturated Fat:
2
g
|
Monounsaturated Fat:
13
g
|
Trans Fat:
2
g
|
Cholesterol:
122
mg
|
Sodium:
413
mg
|
Potassium:
412
mg
|
Fiber:
7
g
|
Sugar:
19
g
|
Vitamin A:
1418
IU
|
Calcium:
74
mg
|
Iron:
3
mg