Tofu is a fabulous protein-powered ingredient. Also known as bean curd, this plant based food comes from curdled soybeans that are turned into blocks. This method originated thousands of years ago. From there, tofu evolved into multiple styles. Today, it is used in a plethora of delicious tofu recipes. Whether it's crispy fried or added into a spicy stew, tofu tastes pretty delicious.
The kind of tofu you use in recipes does matter. You've probably heard of them before. They range from silken tofu (which is very soft) to extra firm tofu. 
When it comes to those that need you to maintain tofu's shape (like fried tofu,) you need a firm and extra firm varieties. Yet, these types of tofu still have a ton of excess moisture inside. This moisture can quickly turn your firm tofu into crumbles when cooking. That is why it is absolutely crucial that you press tofu. 
Typically, you can use a tofu press. This is a handy kitchen tool that does simplify the whole process.  But, a tofu press is definitely not a common kitchen appliance, especially if you do not make tofu that often. But, if you do, a tofu press can be a wise investment. Be sure to view our picks for best tofu presses.
Luckily, you can press tofu without an actual press. I mean, people have been pressing tofu by hand for centuries! And, it is really not all that difficult. This inspired my bulletproof guide on how to press tofu without a press. With these easy steps, you can create your own tofu press at home, without having to spend a dime on a new appliance. Plus, it will make cooking tofu a lot easier!
To press tofu, you will need a few supplies:
Firm or extra firm tofu

Knife

Paper towel (dishcloth or tea towel works as well)

Frying pan (or another flat and heavy object)
All these tools you may already have or can find conveniently at the grocery store. Once you have them all, you are ready to press tofu for many recipes to come. The whole process takes a little over an hour. Once your block of tofu is pressed, you can use it immediately. Alternatively,  you can store it in your fridge where it will last up to 5 days. 
My Tofu Pressing Guide: How to Press Tofu Step by Step
Step 1
Cut open your firm or extra firm tofu package over the sink. Drain all the excess liquid from the package. Toss the wrapper and move your block of tofu to a dry cutting board.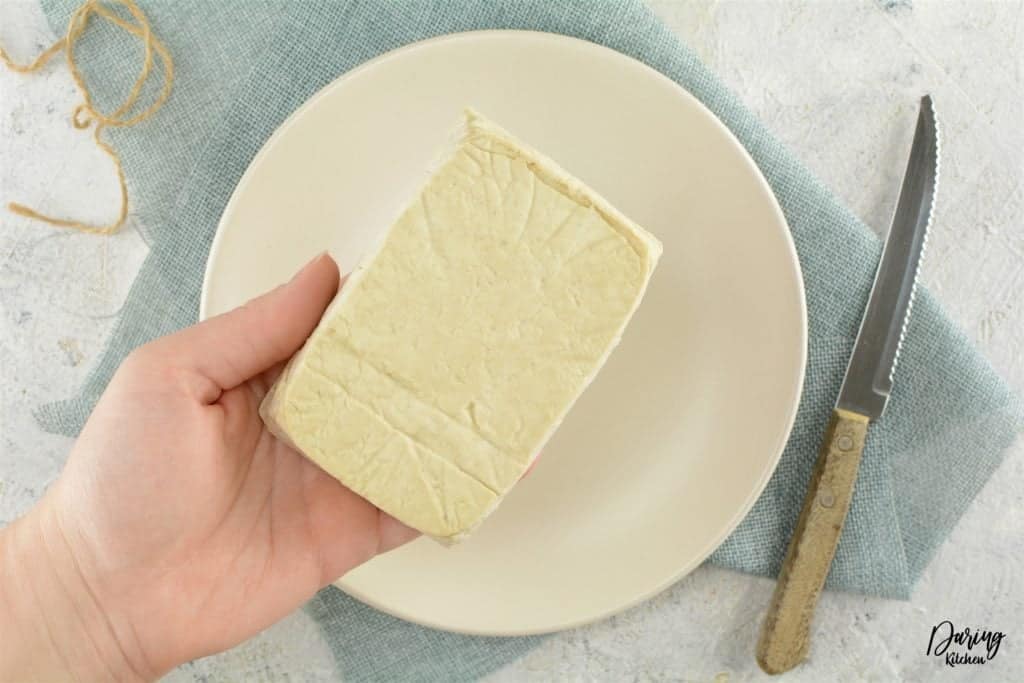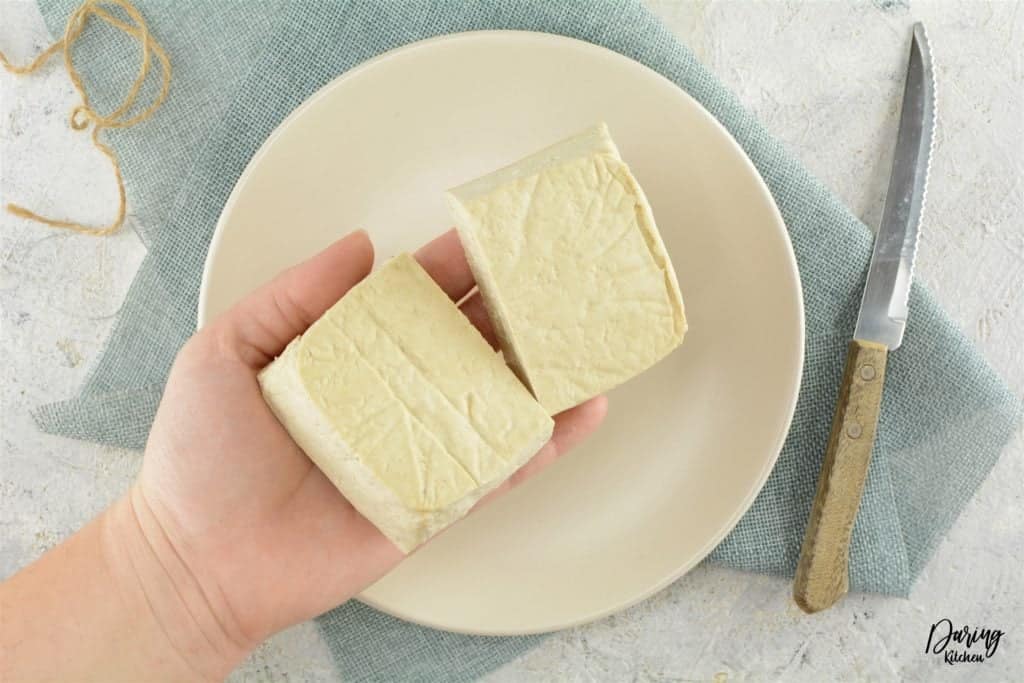 Step 2
With a sharp nice, cut your block of tofu in half. Working with two smaller pieces of tofu is a lot easier in the pressing process.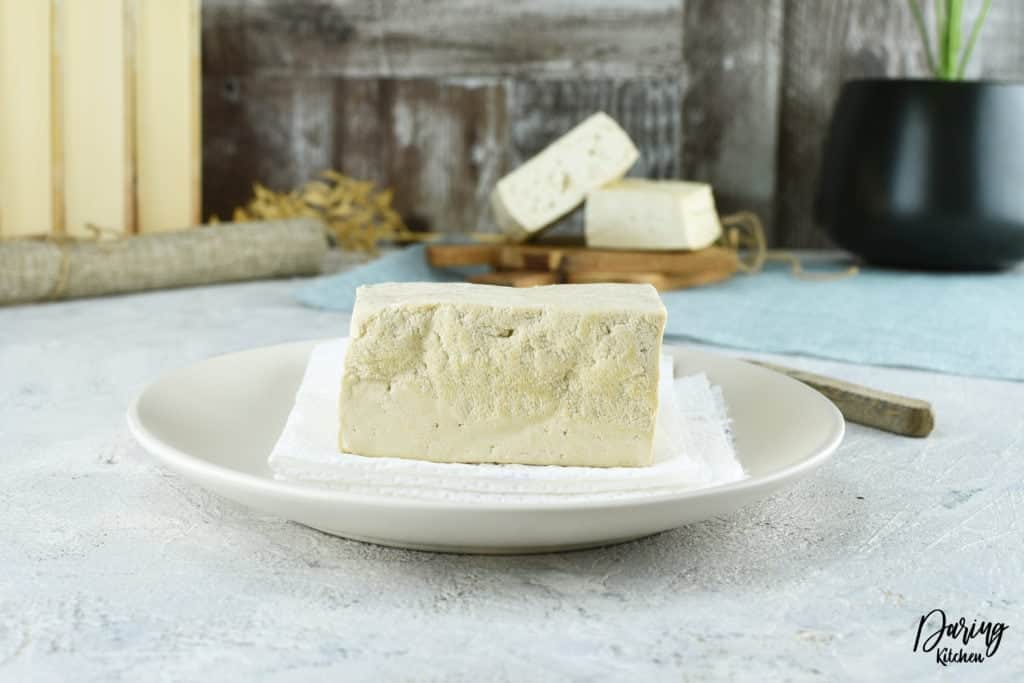 Step 3
Now it's time to create your tofu press. Fold a paper towel into a square. You may need a few towels, depending on how thick your paper towel is. Layer them on top of each other on a dry dinner place. Then, place the tofu on top of the paper towels. You can also use a thick dish towel for this step as well. Just make sure it is folded evenly.
Step 4
With an equal amount of folded paper towels, cover the tofu. (If using a dish towel, add another folded one on top.) Grab your cutting board and place it on top of the covered tofu. Make sure it is balanced.
Step 5
Find a heavy frying pan (or a few large books.) Place it on top of the cutting board, ensuring that it stays in place. The weight of the pan will press the tofu and release all the excess liquid. Leave the frying pan on top for around an hour. If you notice the paper towels are overly soaked, you can change them out. 
Step 6
When an hour is up, remove the pan, cutting board, and paper towels from the pressed tofu. Place the tofu back on the cutting board.
Step 7
Cut your pressed tofu up into cubes or strips, as desired for your recipe. At this point, it should be very easy to cut the tofu without breaking or crumbling. If you do not need to promptly cook your tofu, you can place it in a zip lock bag and refrigerate for up to 5 days. Or, you can freeze them.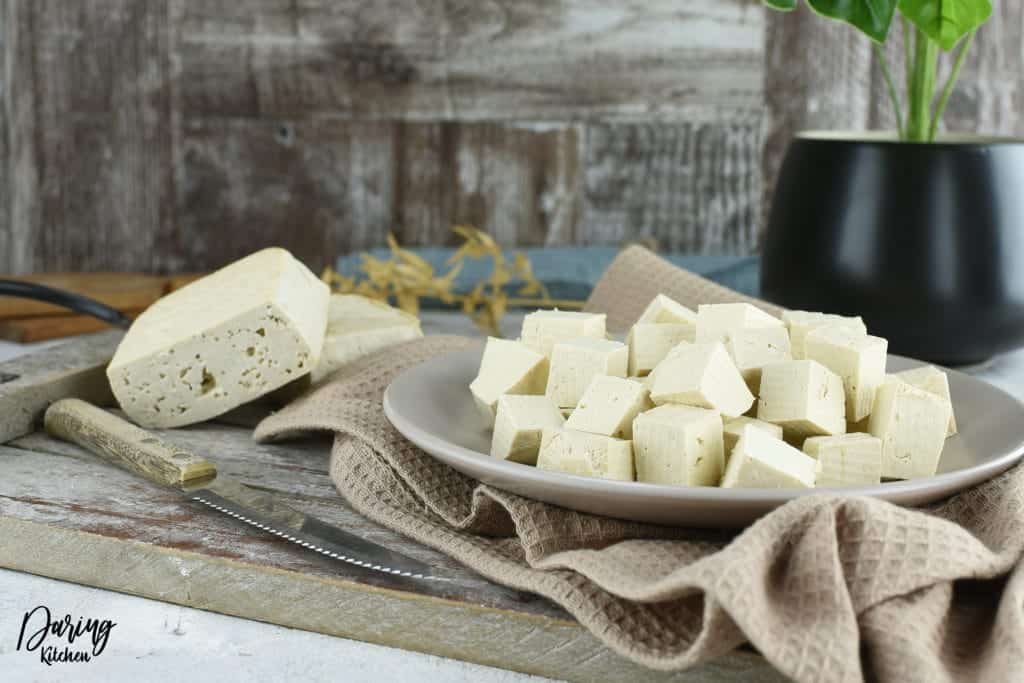 And, here are our top tofu picks for your tofu recipe!
Was our guide on how to press tofu without a press helpful? Let us know in the comments below - we would love for you to leave a reply!