Does anything shout "SUMMERTIME!" quite like a sunny yellow pile of juicy corn on the cob? Whether boiled, roasted, steamed, or grilled, fresh corn on the cob is that quintessential hot weather snack or side dish.
Since the season for fresh corn is a fleeting one in most regions, you'd be wise to stock up, cook plenty of it, and set yourself up with leftovers. Not sure how to reheat corn on the cob though? Don't worry! We're about to walk through all of the different, yet equally simple, methods to reheat corn on the cob.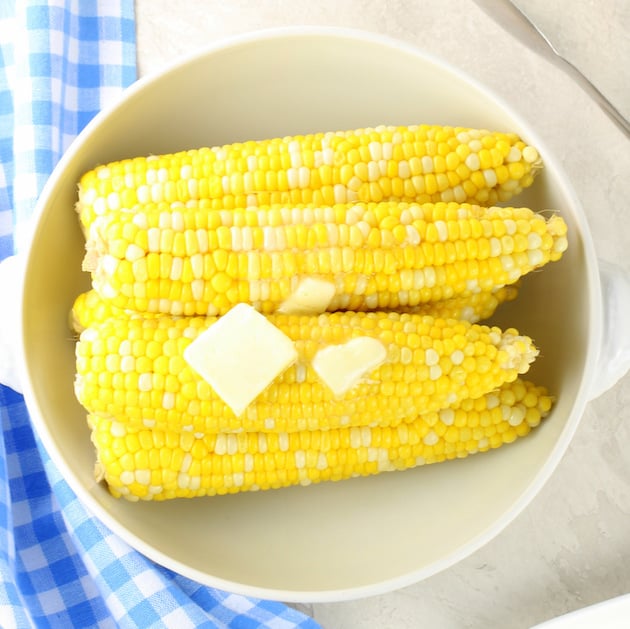 How to Store Cooked Corn on the Cob
Let's start at square one. Long before you'll need to reheat your corn on the cob, you first need to know how to properly store leftover corn so that it makes it to your next meal in the first place.
Storing Leftover Corn in the Refrigerator
Remember, air exposure is the enemy, so it's important to store corn carefully so as to avoid too much air contact. Wrap the ears of corn tightly in plastic wrap, being sure all ends are covered. Or, place the ears into a ziploc bag and squeeze out any excess air. From here, you can place the wrapped corn on the cob straight into your refrigerator where it should stay fresh for up to 5 days
Storing Leftover Corn in the Freezer
Did you know you can also freeze corn on the cob? That's right! After wrapping the ears of corn in plastic, it's best to place them into a separate airtight container such as a tupperware, as this will protect those juicy corn kernels from being squashed during storage. Cooked corn on the cob should last in the freezer for up to a year, just be sure to check on it from time to time, and if you see any ice crystals forming, go ahead and eat it up!
How to Reheat Corn on the Cob
Simply put, when it comes to reheating cooked corn on the cob, you've got options! The methods outlined below will work wonderfully for refrigerated corn on the cob, but if you're looking to reheat corn on the cob that is frozen, instructions will follow.
For any of the following methods, we recommend that you remove the corn ears from refrigeration about 15 minutes before reheating and allow them to hang out at room temperature. This will help the ears to reheat more evenly, thus avoiding a situation in which some parts of your corn are at risk of overcooking while other parts remain chilly.
Once you select your favorite reheating method from below, all that's left to do is get out the melted butter and seasonings and enjoy!
How to Reheat Corn on the Cob: Oven Method
The oven method is an excellent choice as it provides even heating and gives you the opportunity to reheat many cobs at the same time. The risk associated with reheating corn on the cob in the oven is that it runs the risk of drying out the corn.
Solution? Aluminum foil! Aluminum foil serves to trap water and corn juices, so that the corn will steam in its own little sauna rather than bake in the dry heat of the oven.
There's 2 ways you can go about this. Both require that you first preheat the oven to 350℉.
Option 1
Wrap the corn ears individually in aluminum foil sheets, adding a splash (about a teaspoon) of water in with each corn cob before sealing. You want to be sure the foil is tight and free of any holes, as this will capture the steam and keep the corn moist. Place the wrapped ears on a baking sheet lined with parchment paper, then transfer to the preheated oven and roast for about 5 minutes. After 5 minutes, carefully open up one of the corn packets to check the temperature. Not quite hot yet? Wrap it back up and return the baking sheet to the oven for 2 more minutes, checking again as needed until each corn ear is piping hot!
Option 2
Place the corn ears in an oven safe baking dish or pan. Sprinkle with water (again, about 1 teaspoon per ear) and you can even add butter if you like! Cover the dish tightly with aluminum foil and transfer it to the oven. Roast for 5 minutes, then peel back the foil and check the temperature of the cobs. If they need longer, replace the foil lid, and return to the oven for 2 more minutes until heated through.
How to Reheat Corn on the Cob: Stovetop Method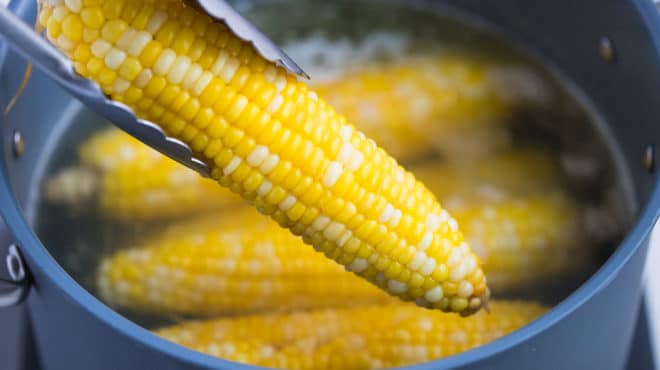 The stovetop method is a great way to reheat corn on the cob that has already been cooked as it is fairly quick. The downside to this option is that if your leftover corn has any seasoning left from its first round of cooking, the boiling water will wash all of that away.
Hey, who doesn't like a fresh start though? Take this chance to re-slather those corn ears with freshly melted butter and any other seasoning you like!
Step 1
Begin with a large pot of boiling water over high heat. Be sure to choose a deep pot, so as to fit all of your ears of corn without any ends poking out.
Step 2
With the water boiling, use tongs to gently place the ears of corn into the water, being careful not to drop them in as this will create a splash hazard. Splashes at the water park? So fun! Splashes of boiling water in your own kitchen? A little less fun.
Step 3
Turn down the heat to medium-high and simmer the corn for 2 minutes. At this point, use those trusty tongs to pull out an ear and check its temperature. If it needs a little longer, return it to the pot for another minute or two, then immediately remove the ears (again, carefully!) and pat lightly on a clean kitchen towel to remove excess water. Serve right away!
How to Reheat Corn on the Cob: Microwave Method
This method of reheating cooked corn on the cob in the microwave is extremely fast and convenient, just like most microwave cooking. The main problem you run into with microwave reheating however, is that overcooking is always a risk. We all know how things tend to go from zero to molten in the blink of an eye!
Your best bet is to just go ahead and give that corn on the cob in the microwave the attention it deserves. After all, it only takes a few minutes to quickly reheat the corn this way, so your babysitting duties will be brief!
Step 1
Start off by placing the corn in a microwave-safe plate or dish and sprinkle a few spoonfuls of water over the top of the corn ears. Then cover the microwave-safe dish with a damp towel. Either paper towels or a clean kitchen towel will do the trick here.
Step 2
Transfer the covered microwave-safe dish to the microwave and cook on full power for 30 seconds.
Step 3
After 30 seconds, lift the damp towel and rotate the ears (careful they might be hot in some spots already!) and reheat the corn on the cob in the microwave for another 30 seconds. Continue heating and rotating the corn cobs in 30 second intervals until the ears are evenly hot and ready for their closeup with butter and other seasonings.
How to Reheat Corn on the Cob: Grill Method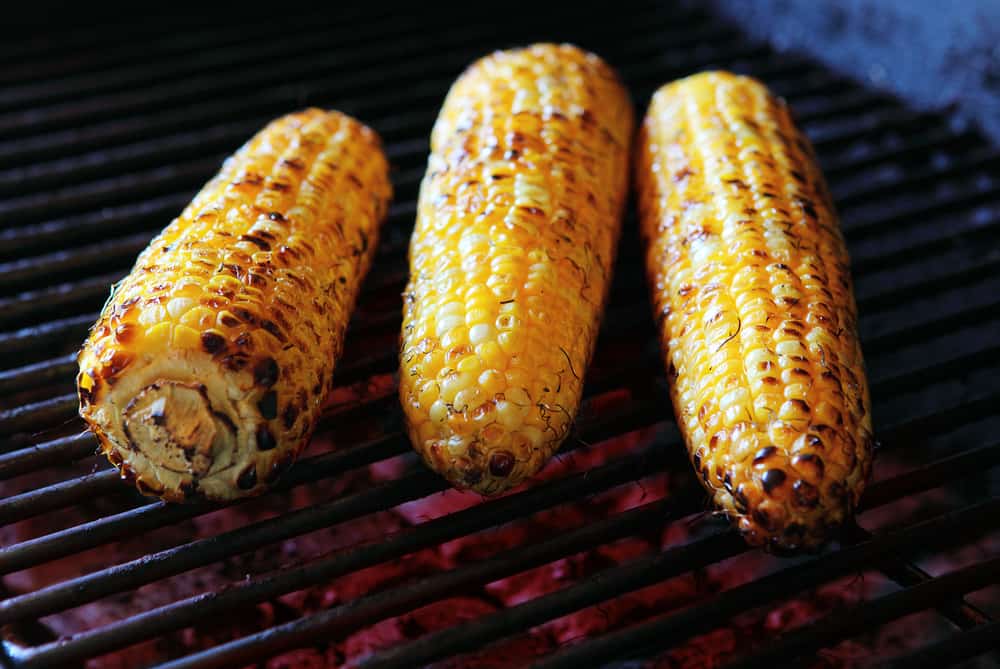 The best part about the grilling method is F. L. A. V. O. R! Reheating corn on the grill is guaranteed to make it uber-delicious, especially if your task at hand is to reheat grilled corn. This option for reheating grilled corn on the cob will be sure to preserve that smoky flavor it acquired on its first cook.
You can probably already guess the downside of using the grill to reheat corn on the cob: getting that grill going! A bit of a time commitment and extra effort, yes, but we say your efforts will be rewarded.
Step 1
First things first, preheat an outdoor or indoor grill and brush the grates.
Step 2
Use a pastry brush to lightly brush the corn ears with oil (or butter, for extra deliciousness!) and place them on the hot grill, perpendicular to the grates.
Step 3
Grill the ears for 1-2 minutes, rotating frequently and relocating the ears as needed to accommodate any hot spots--all grills have them! It's important to keep a very close eye on your corn as it's reheating on the grill because the grill is a dry heat, and nobody wants dry corn kernels.
Once the corn cobs are evenly hot, remove them from the grill. Arrange the cobs on a serving platter and use that pastry brush once again to douse them in butter. Dinner is served!
Corn on the Cob: Other Easy and Practical Tips
How to Reheat Frozen Corn on the Cob
When it comes to previously cooked corn that has been stored in the freezer, it's a good idea to thaw it before attempting to reheat. Just leave the corn on the cob in the fridge overnight, no need to even unwrap the plastic wrap or remove from the airtight container! It should be well thawed by the next day and ready for reheating by way of one of the above methods.
Forgot to take that frozen corn out of the freezer last night and simply must have it for dinner tonight? Not to worry! You can still reheat it using the stovetop method, with one major change.
Rather than starting with boiling water, you'll want to put the corn in cold water, enough to cover all of the ears. Bring it to a boil over high heat, then cover the pot and reduce the heat to medium-low. Simmer the corn for 5-10 minutes (the cooking time will depend on how many ears you have in there!) until the ears of corn are hot.
Corn on the Cob: A Word on Toppings!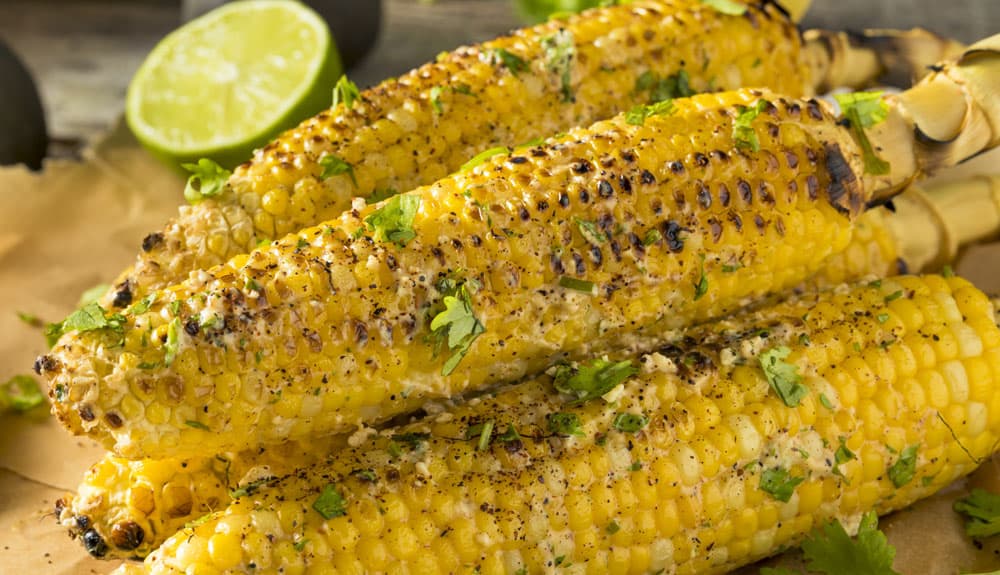 Corn is delicious all on its own, we all know this. But those toppings? Oh-so delicious as well. Think of yourself as an artist and those ears of corn are your canvases waiting for you to work your magic.
Melted butter and salt? A classically unbeatable combo. Fresh herbs? Oh yes. Spices, dry rubs, or any other seasonings? Give it a shot! The fact is, corn on the cob has a mellow flavor profile that can pair well with just about anything.
Boiling Corn: To Salt or Not to Salt?
You might think it's smart to be adding salt to the water when boiling corn. We don't blame you, in most cases, salting any type of cooking water is the way to go!
In the case of corn however, adding salt is actually detrimental to your precious little kernels. The salty water will actually pull moisture out of kernels, making them drier, less juicy, and overall a little tough. So, save that salt for when you're ready to serve!
Reheating Corn on the Cob: The Takeaway
As you can see, there are many different paths you can take when deciding how to reheat corn on the cob. There is no right or wrong way to reheat corn, it's all about what works best for you.
If you have a load of corn to reheat, go for the oven method! Worried about your corn drying out? Try the stovetop method. Looking to reheat just a couple ears really quickly? The microwave option is for you. And if flavor is your goal and you have a bit of extra time on your hands, well then crank up that grill!
Whichever method you choose, next time you're cooking corn on the cob, cook a ton of it. Store it properly, reheat it using one of these easy methods, and you'll have backyard barbecue vibes no matter the time of day or year!