Who doesn't love a good quiche? The perfect mix of savory tastes that complement each other so well, all in a delicious and convenient pastry crust. And a quiche is so great for left overs.
But to get the most of your leftovers experience, you'll need to know how to properly reheat the food. In this article, we're showing you all the different ways you can reheat quiche without sacrificing on flavor!
 How Do I Reheat Quiche?
Luckily, quiche is a food that lends itself to reheating quite well. That being said, there are a few ways to do so.
Your main concern with reheating quiche is to be sure you pick a method that maintains as much of the moisture as possible. Your quiche was baked with a delicious, soft, and airy custard, and you don't want to dry that out when you reheat the quiche.
But before you get around to reheating the quiche, there is one crucially important step to mention – proper storage.
How to Store Quiche?
Reheating leftovers necessitates proper storage of those leftovers. You need to keep them fresh until they are reheated. Quiche contains eggs and meats that can go bad in a matter of hours if not properly refrigerated.
Perhaps the most important part of storing quiche is waiting for it to cool before covering and storing it. If you don't wait for it to cool, moisture evaporates off the quiche and is trapped underneath the plastic wrap, which can cause parts of the quiche to become soggy.
Wait for your quiche to cool, and then cover with a layer of plastic wrap, ensuring no breaks in the seal. Add a layer of aluminum foil on top. Then, place your quiche in the freezer, where it will last a very long time. Or, if you want to eat it within a day, you can place it in middle of your fridge.
Reheating a Quiche in the Oven
The oven is generally considered the ideal method to reheat quiche, because it doesn't have the same amount of moisture-loss that might occur in the microwave. It also preserves the "flakiness" of the crust.
Set your oven to 350 degrees Fahrenheit. The quiche is already cooked, so you are setting it at a low temperature to heat it up, rather than cooking it some more.
An important distinction at this stage is whether you are reheating quiche you took out of the freezer or the fridge. Obviously, the two will require different cooking times.
For Frozen Quiche in the Oven
Preheat oven to 350 degrees Fahrenheit.
Place your quiche on a baking sheet and cover with a layer of aluminum foil.
Bake for 30-35 minutes until an internal temperature of 160 degrees Fahrenheit.
Allow to cool for 15 minutes with foil on.
For Refrigerated Quiche in the Oven:
Preheat oven to 350 degrees Fahrenheit.
Allow quiche to cool to room temperature on counter before cooking.
Place quiche on a baking sheet.
Cover with aluminum foil.
Put quiche in oven for roughly 15-20 minutes, until internal temperature of 160 degrees Fahrenheit.
Take out of oven and allow to cool with foil on.
How to Reheat Quiche in the Microwave?
Can you reheat quiche in the microwave? Yes. Should you reheat quiche in the microwave? Maybe not.
The microwave is definitely the inferior method of reheating quiche. If your goal is to maintain the texture of your quiche, you might be disappointed. Microwaves are known to zap moisture out of a dish. For a quiche, the crust might dry and the egg might have a "rubbery" texture.
That being said, it's the fastest option available! And if you don't mind the texture, here are some tips to reheat a quiche in the microwave the right way:
How to Reheat In Microwave
Take quiche out of fridge and let it cool to room temperature on the counter.
Set microwave to medium This allows it to take its time and heat the food, rather than cook it further (or at least to minimize that as much as possible).
Place quiche in microwave for roughly 3 minutes (or less, depending on the strength of your microwave).
Check quiche for internal temperature of 160. Cook in additional 30-second blocks if necessary.
And there you have it! We aren't promising the best reheated quiche, but it will be the fastest.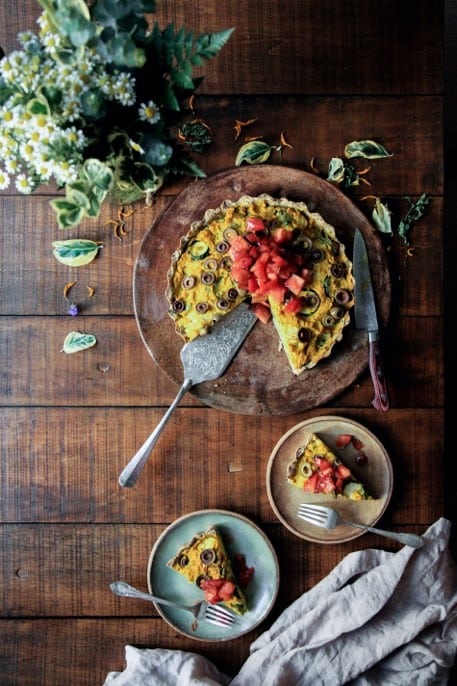 Can I Reheat Quiche in the Toaster Oven?
Yes, you can! The toaster oven is another efficient way to reheat quiche (and a much better option compared to a microwave). It achieves a similar result to reheating the quiche in the oven, with the obvious limitation of less storage space within the toaster. Unless you have a behemoth toaster oven, you won't be able reheat an entire quiche.
Here's How to Reheat a Quiche in the Toaster Oven
Set your toaster oven to 350 degrees Fahrenheit.
Take some slices of quiche (depending how much you can fit), cover with foil on a plate, and put in toaster oven.
Toaster ovens are quite variable in terms of effectiveness. Generally, you'll cook for 20-40 minutes. Once quiche is at internal temperature of 160, it is done.
Remove and let cool before eating.
The BEST Method
As you can see, there are many options available to reheat quiche. The most effective method is definitely the oven. While it does take slightly longer than microwave, the difference in result is unquestionable.
The oven reheats the quiche while maintaining the most moisture in the custard, as well as the flakiness of the crust. Compared to the microwave, the difference is extremely noticeable. Compared to a toaster oven, the oven offers a much more consistent level of power, and also more room to fit the quiche!
So, if you're looking to reheat quiche, take the extra few minutes and do it right! You'll be glad you did.
Conclusion
Thanks so much for checking out our article all about quiche! We love quiche as a meal, and we think it works great for leftovers. We hope this article has helped you with this common question, and also helped you to understand why it's so important to reheat food the right way!
FAQs
For more information, let's check out some commonly asked questions about quiche.
What is a Quiche?
You've probably had quiche before, but you might not know exactly how it was made. A quiche is a truly versatile baking dish, and many chefs have been known to put their own spin on the traditional quiche.
Generally speaking, a quiche is baked in a pie crust which has been filled with unsweetened, savoury "custard" (made with eggs and cream), and contains pieces of various cheeses, meats, and vegetables.
What is a Quiche Lorraine?
A quiche Lorraine is a popular French variant of quiche that usually includes lardon and bacon.