Seasoning a ceramic frying pan isn't as hard as the self-proclaimed experts online claim to be. If it were, who would want to own one? But you can't just wing the cookware seasoning process either.
This easy-to-follow step-by-step guide shows you how to season ceramic cookware at home in just under an hour. We have tried and tested every step of this method and made it as accessible as possible for home cooks of all levels.
Once you do what we show here to your ceramic pan, you will notice the cooking experience shoots up drastically.
How to Season Ceramic Cookware: Step-By-Step Breakdown
When you season a ceramic frying pan, you are burning a thin layer of oil to form a coating with nonstick properties. The ceramic coating, believe it or not, isn't nonstick on its own.
A new ceramic pan doesn't come with this non-stick coating, and old ceramic pans lose theirs. That is why you need to reapply it every once in a while if you want the pan's surface to stay completely nonstick.
Step 1: Wash Your Ceramic Frying Pan
First, you need to wash your ceramic pan. This applies to both brand new pans and used pans.
You want the ceramic surface of the pan to be completely spotless. There can be no food or burnt oil clogging up the pan's inconsistencies and small pores. Those are what the non-stick coating will cling to in order to stay in place.
We go into detail about how you should clean your ceramic pan later in this article.
Step 2: Add Oil to the Surface of the Pan
Next, you should add oil to the surface of the pan. Oils with a high smoking point work best:
Avocado oil
Sunflower oil
Peanut oil
Grapeseed oil
Canola oil
Cooking oil (and cooking oil sprays)
Vegetable oil
Avoid oils that have a low smoking point. Moreover, you should also avoid olive oil, coconut oil, flavored cooking sprays, and butter because they leave an unpleasant smell and flavor behind when they're used to season a ceramic frying pan.
Once you have your oil of choice, add one tablespoon of oil at first and spread it around evenly. Then, if needed, add more oil until the cooking surface is completely coated. You can use a brush, a clean paper towel, or a soft cloth to ensure you've got a well-oiled pan.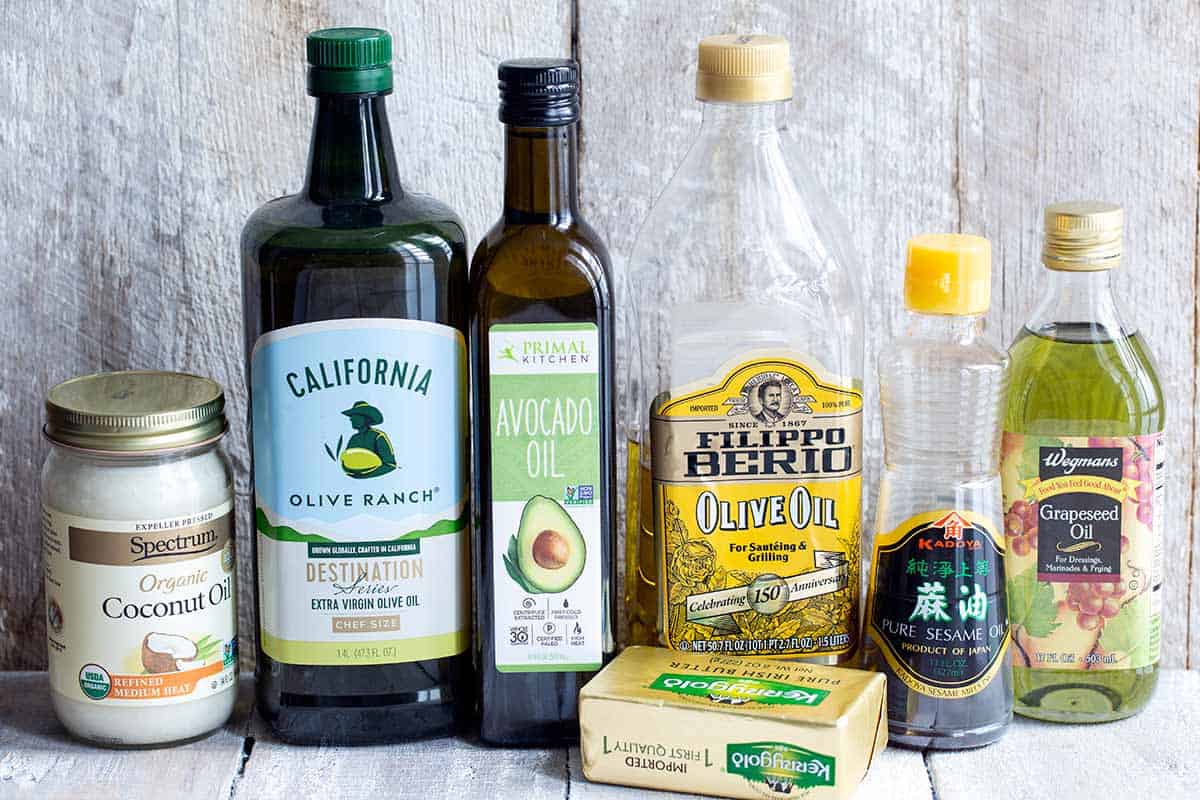 Step 3: Heat Up the Pan
To season a ceramic pan you need to let the oil heat slowly. You can do this in one of two ways: on the stove or in the oven.
They both apply the non-stick surface equally as effective, so which of the two methods you follow is up to you.
Stovetop Method
Place your ceramic pan on the stovetop burner on medium heat, so the oil heats slowly. Don't rush the process by putting it on high heat or it won't work.
Once you notice smoke coming out of the pan, you can turn off the heat. This may take up to thirty minutes, so be patient.
Oven Method
Alternatively, if you have an oven-safe ceramic pan, you can season it in the oven. Turn on both the top and bottom heating elements and set the temperature to 300ºF (or 150ºC) or whatever "medium heat" setting your oven has. Then, place the ceramic pan on the middle rack.
Keep in mind that this method only works for conventional and convection ovens. If you have a steamer oven, a microwave oven, or a toaster oven, you likely have to season your ceramic pan on the stovetop.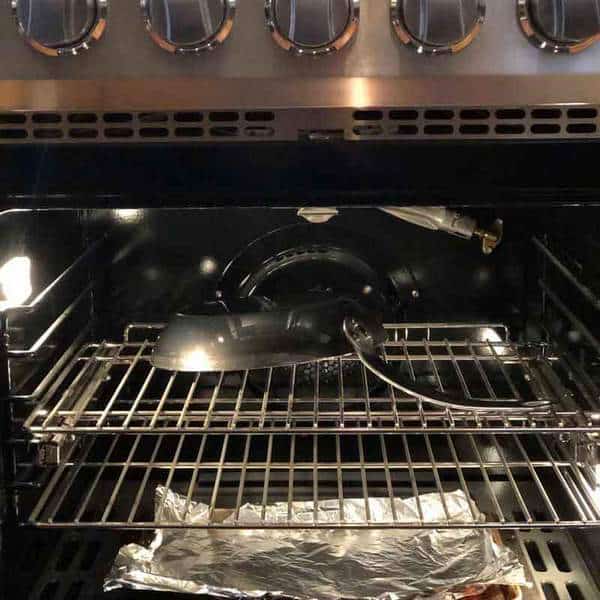 Step 4: Let It Cool Completely
You then need to let the ceramic pan cool completely. For starters, because a hot pan with a hot handle isn't easy to handle. Secondly, because you need the pan soak the nonstick coating and that takes time.
Don't rush the cooling process by putting the non-stick pan in the fridge or pouring cold water on it.
Step 5: Wipe Away Excess Oil
Once the ceramic frying pan has cooled, get a clean paper towel or a soft cloth and wipe away the excess oil.
You can repeat the process to season a ceramic frying pan if you missed some spots with the oil. But if you followed every step correctly, you shouldn't have to.
How Often Should You Season Your Non-stick Ceramic Pan?
Ceramic frying pans need to be reseasoned every once in a while. How often you do it depends on how often you use the pan (and how well you care for it, which we will get into in a bit).
When you notice food sticking to the ceramic non-stick surface of the pan, that is a good indication your pan needs another regular seasoning session.
Another easy tell is to see if your non-stick cookware still has a smooth surface. If it isn't glossy and shiny (in other words, it looks rugged and uneven), it might be time to reapply the non-stick oil layer.
Of course, you can always season a ceramic pan periodically, after every use. Some chefs do to keep it in pristine shape at all times. It's all up to you.
3 Tips to Make Your Seasoned Ceramic Pans Last Longer
A well-seasoned ceramic nonstick pan is the best. As long as you keep the nonstick coating intact, you can use less oil when cooking and have an easier time cleaning the pan.
While seasoning a ceramic pan isn't hard, there are a few tricks you can use to turn the no-stick coating into a more permanent layer.
1. Wash Your Ceramic Pans Properly
The first secret to reseasoning your ceramic pans less often is washing them properly. We wrote a whole in-depth article on how to clean ceramic cookware that can help you.
In short, use a soft sponge instead of an abrasive sponge or steel wool pad; use baking soda and hot water to get rid of stubborn food residue; and wash your pan with a gentle-dish-soap-and-warm-water mixture.
Spending a few minutes following the right warm soapy water cleaning routine will save your non-stick coating from unnecessary wear.
2. Don't Use Metal Utensils
Metal utensils have rough or sharp edges that chip away at the nonstick and ceramic coating of your pan. They make your pan lose its non-stick properties rather quickly.
Instead, opt for silicone or wooden utensils, which are gentle on ceramic coatings.
Keep in mind that this advice still applies to pans marketed as "scratch-resistant." Even if the ceramic surface of the pan doesn't crack, the no-stick coating surely will.
3. Don't Stack Ceramic Nonstick Cookware
It's best if you don't stack your ceramic nonstick pans. The friction between the pan's surface and the bottom of the other pan can eat away at the no-stick coating. Instead, you can hang your pans from a pan rack.
Alternatively, if you are strapped for space in your kitchen, you can stack non-stick pans as long as you place a clean paper towel, dishcloth, paper bag, or paper napkin between them. This will protect the entire pan surface of the pans from wearing out.