If you're a home cook who wants to improve their skills in the kitchen, you likely know how important it is to have a sharp chef knife. After all, you can't have good knife skills with a dull knife. Fortunately, you can keep the edge of your chef knife in tip-top shape at home. Plus, it is nowhere near as complicated as you may think. Today, we're walking you through the top three ways of how to sharpen a chef knife at home.
Why You Should Spend Time Sharpening Your Chef Knife
Dull knives aren't just hard to cut with, they actually cause a lot of cutting injuries too. That's because you need to apply a lot more pressure on the knife to cut through food when it's dull. So, if the knife happens to slip (which is likely), it will probably land on one of your fingers. Not fun.
If a very sharp knife happens to slip, you won't get badly injured. Because you're not putting as much weight and pressure on the knife blade, you'll probably only get nicked. Not as big of a deal.
Why Not Get It Professionally Sharpened?
Sometimes, really, really old knives need expert help. Professional knife sharpeners have the tools in their workshops to get the job done. They can restore a 20-year-old knife to its former glory better than you or I ever could.
Yet, when it comes to knives that are used regularly, you can most likely do it yourself at home. This will save you money. Plus, since the knife sharpening process doesn't take more than 20 minutes, you'll be able to use your recently sharpened knife pretty soon. It beats having to wait several days for your knives to come back from their professional sharpening.
When to Sharpen a Knife?
So far so good. But how can you tell if your knife really needs to be sharpened? Is it something you're able to tell with the naked eye? It's actually pretty simple.
When you first get your knife, the edge will look like a V. That means it's as sharp as can be. And while you can't see this shape without the help of a microscope, you can feel how sharp it is when you cut through anything.
With time, that V turns into a U. It means the edge is now dull and you'll have a harder time making fine incisions into ingredients and food. Some kitchen tasks will even become impossible. For example, you can't slice fresh, raw salmon into sashimi strips. You'd end up with a mangled slice of fish.
The Tomato Test
One of the easiest ways of knowing if your chef knife needs sharpening is to do the tomato test. Grab a fresh tomato and your chef knife. Place it on a chopping board stem-side down. Then, cut a slice.
Did you have to squish and bruise the tomato to even make an incision? If so, your chef knife needs some care. It should effortlessly cut through the tomato without ruining the skin.
The Paper Test
If you don't have a tomato at hand, you can always give the paper test a try. This one is even easier. Take a piece of paper and run your chef knife through it.
How did that go? A blunt knife will crunch up the sheet of paper and won't even cut through it. A sharp knife, on the other hand, will easily and effortlessly cut through the paper. You won't even have to apply much pressure or force.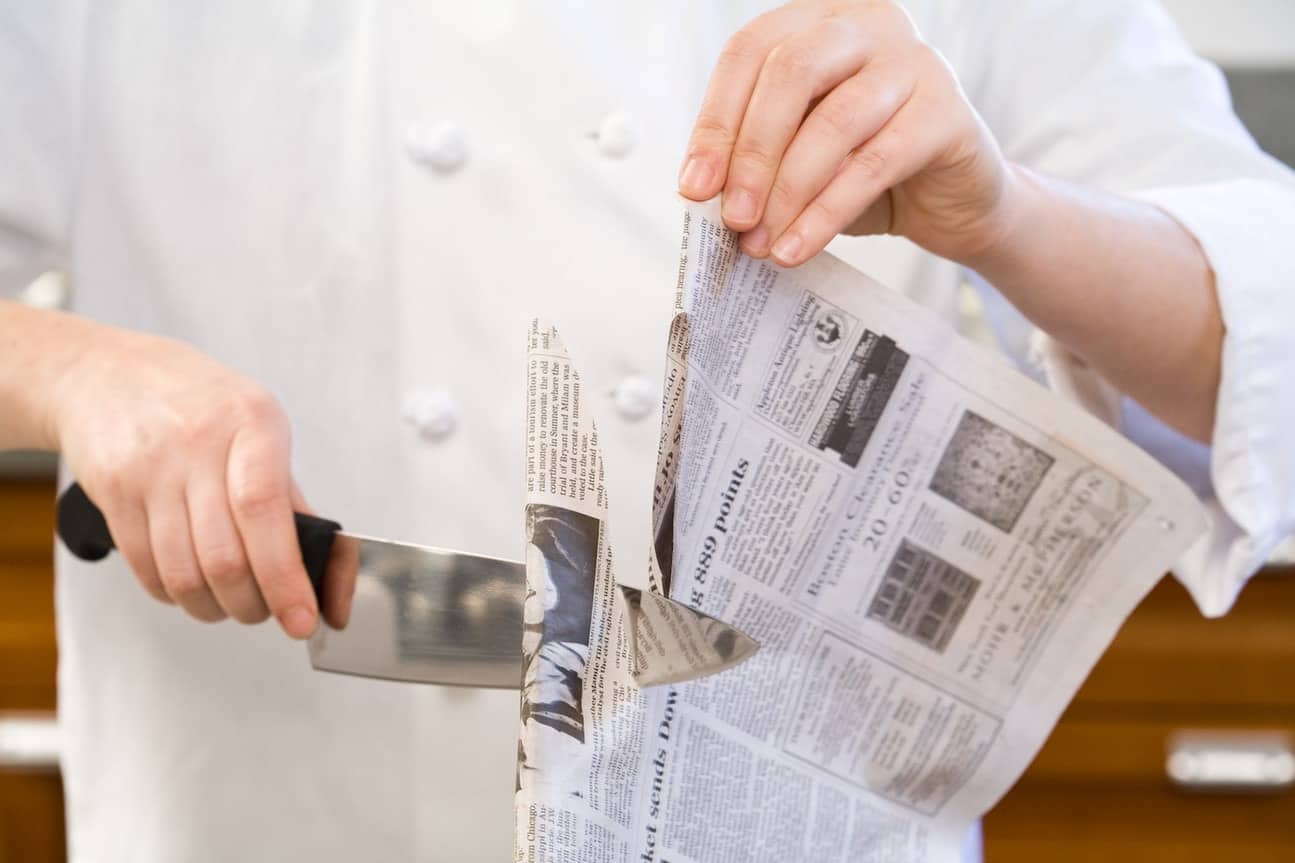 How to Sharpen a Chef Knife
Now that you've figured out that your chef knife needs some TLC, it's time to get to work. Let's look at our tried-and-true knife sharpening techniques. All you need is your knife and a small sharpening tool.
Use a Manual Knife Sharpener
First up, we have the manual knife sharpener. Many people call these rods "honing steel" because they don't technically sharpen knives. Rather, they're honing the cutting edge (in other words, realigning it). However, they are exactly what most home cooks need when their knives aren't cutting through ingredients like they used to.
These ceramic steel or diamond steel rods are pretty easy to use. Hold them vertically with the handle side up. The bottom of the rod should sit firmly on your cutting board. Putting a wet cloth towel under the cutting board will prevent it from slipping. Then, hold your dull chef knife with the other hand. Slide it downward, against the rod, always on 20- or 15-degree blade angles. Make sure to repeat this knife sharpening motion evenly for the two sides of the blade.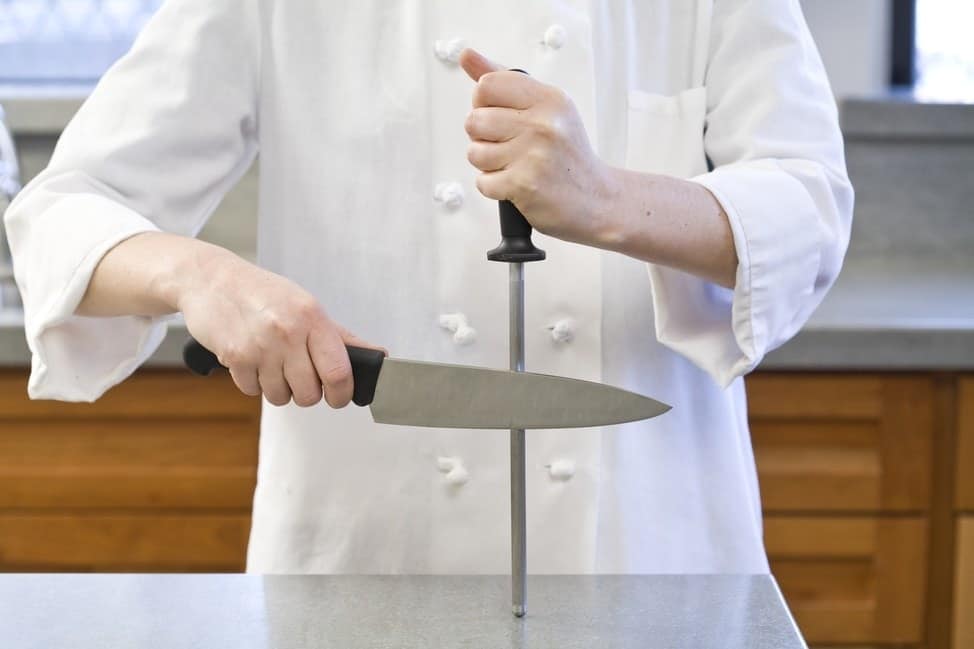 Use an Electric Knife Sharpener
If you want to try a more rigorous method, it's a good idea to get yourself a high-quality electric knife sharpener. While a little pricey, these kitchen appliances will certainly come in handy a few times a year—and it pays off to use them.
Each manufacturer devises its own instructions for home chefs to follow. It's important you read the user's manual. Otherwise, your chef knife could end up damaged instead of sharp.
Generally speaking, though, electric sharpeners are easy to use. You start by plugging in the appliance and turning it on. Then, you'll hold your kitchen knife and insert the blade (bolster-side first) in the slot. Slide the rest of the knife blade through the slot. Repeat this process for the other side of the blade, until you have a sharp cutting edge.
See how easy that was? The best thing about an electric sharpener is that it works on other types of knives. For instance, you could sharpen your carbon steel serrated knife and your favorite kitchen knives using this technique. Unfortunately, this type of sharpener may not work as well on full-bolster knives.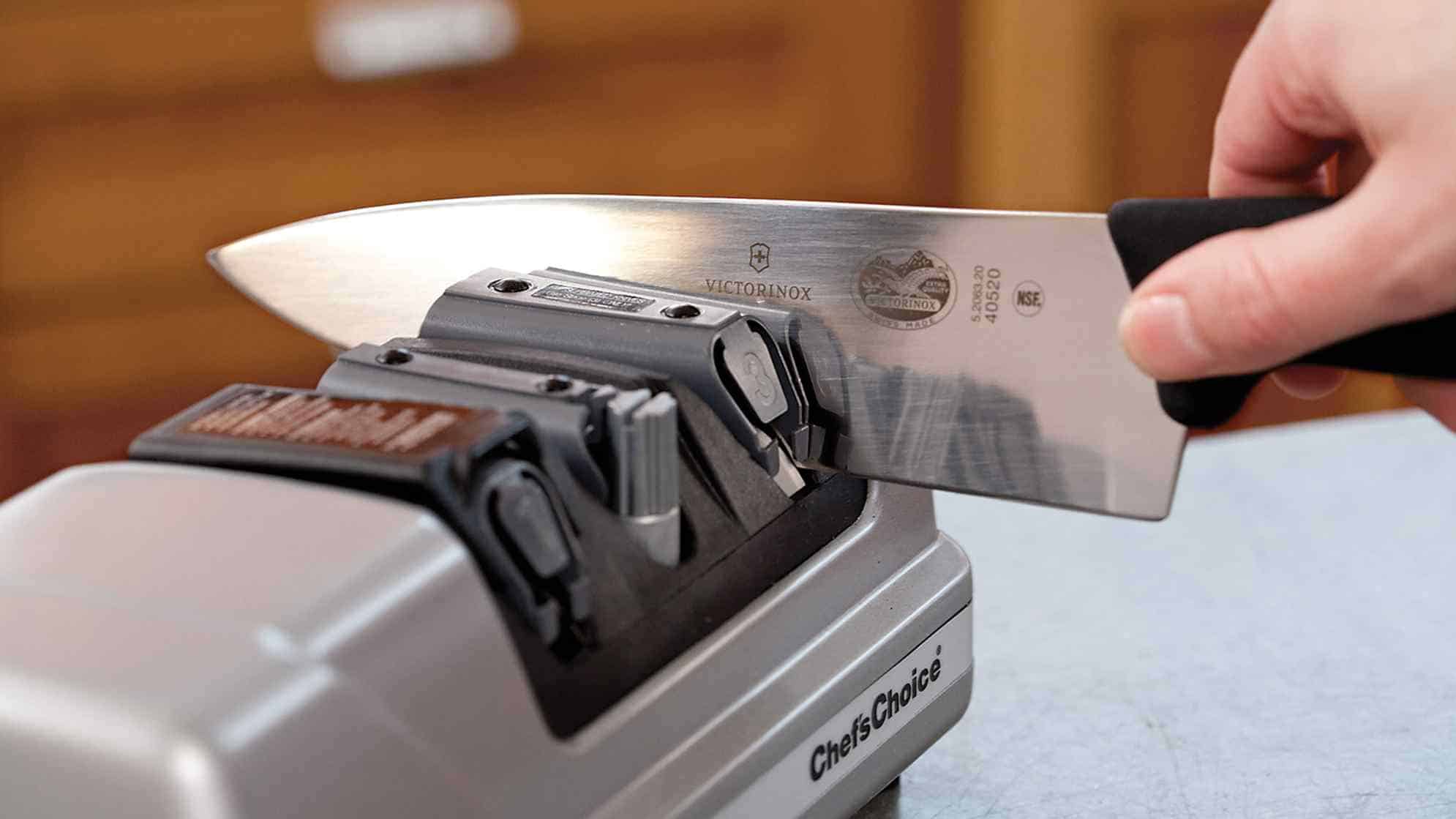 Use a Whetstone
Pros will tell you to only sharpen knives is using a whetstone. And they're right: whetstones do wonders for all sorts of kitchen knives, including both Western- and Japanese-style. Whetstones are gentler on the steel and even let you perfectly sharpen full-bolster knives. However, they're much harder to get used to and are not as beginner-friendly. 
Start by placing a whetstone on your counter, rough side up. If you're worried about it slipping, place a damp dishcloth underneath. This will help fix it in place and reduce the risk of accidents. Then, holding the knife by the handle with the cutting side away from you place the fingers of your other hand on the blade. Carefully slide the blade across the whetstone at a 20-degree angle (or 15-degree angle, for Japanese knives). Keep making this knife sharpening motion until each side of the blade has been sharpened completely, from the bolster to the tip.
Once you're happy with how sharp the blade is, turn over the whetstone. You'll be working on the smooth side now. Make the exact same notions a few times on each side of the blade.
When you get the hang of it, your dull knives won't stand a chance. We love whetstones because they're so useful, easy to store, and effective. If you're willing to learn an impressive skill to revitalize all your kitchen knives, give whetstones a try.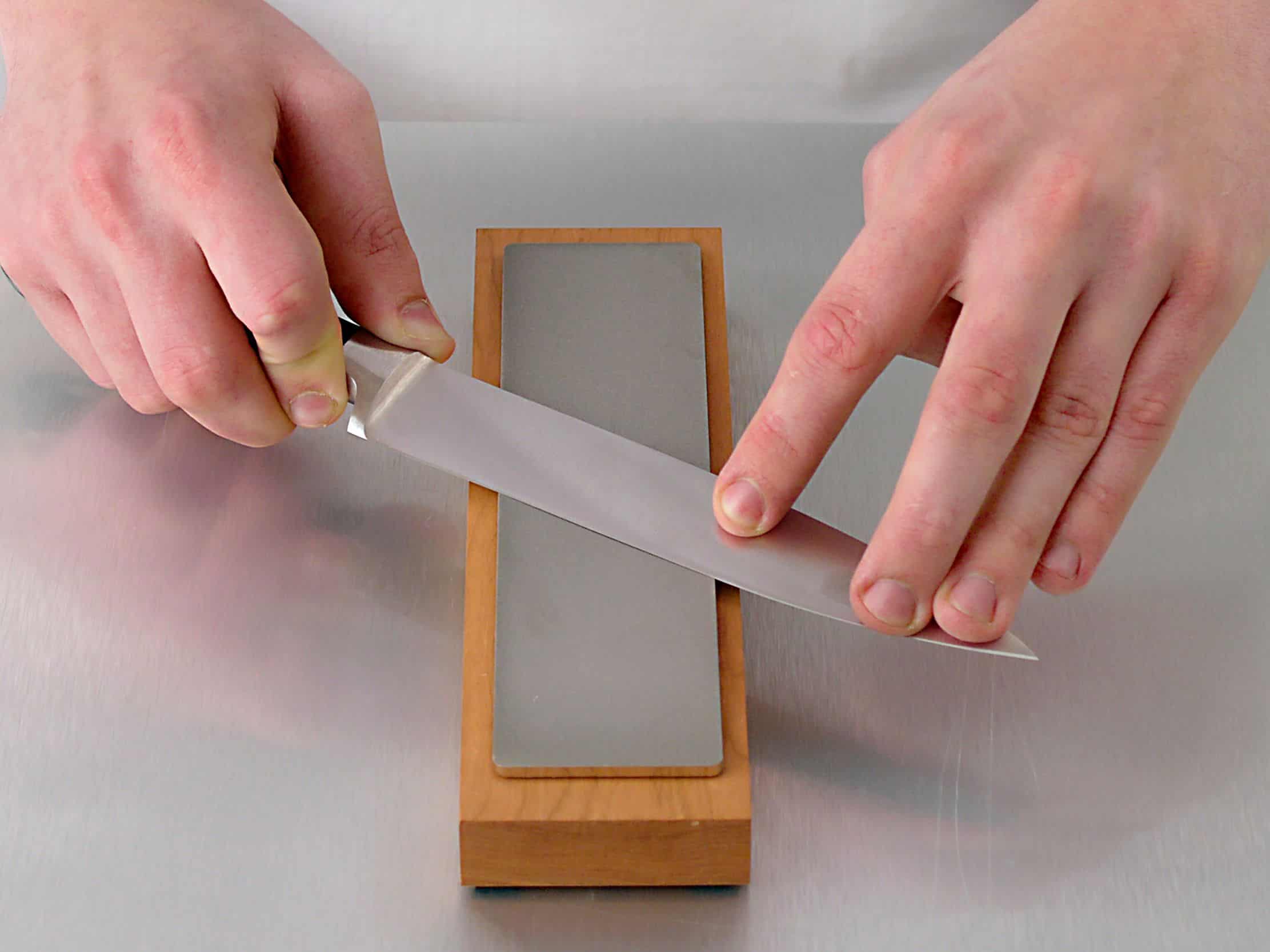 How Often Should I Sharpen My Chef Knife?
This is the million-dollar question and there's no specific answer. Once you feel your chef knives getting dull and having a hard time slicing through food, it's time to sharpen them. This will happen a few times a year. Do the paper or tomato test, as we showed you, to keep track of the dullness of your kitchen blades.
The Secret to Keeping Chef Knives Sharp for Long
After you went through all the trouble of sharpening your knives comes the time to store them correctly. This seemingly minor step can be the difference between a frustratingly dull knife and a satisfyingly sharp knife.
Store Knives Upward
Knife blocks aren't just sleek kitchen decoration. They also shield your knife's blade from the elements, thus protecting it for longer. The slots should be as vertical as possible, to shelter the sharp edge from the friction with the wood.
Alternatively, you could secure your chef knives on a magnetic knife strip. Fasten it on the wall and you'll have a gorgeous visual addition to your kitchen and a way of keeping your knives safe.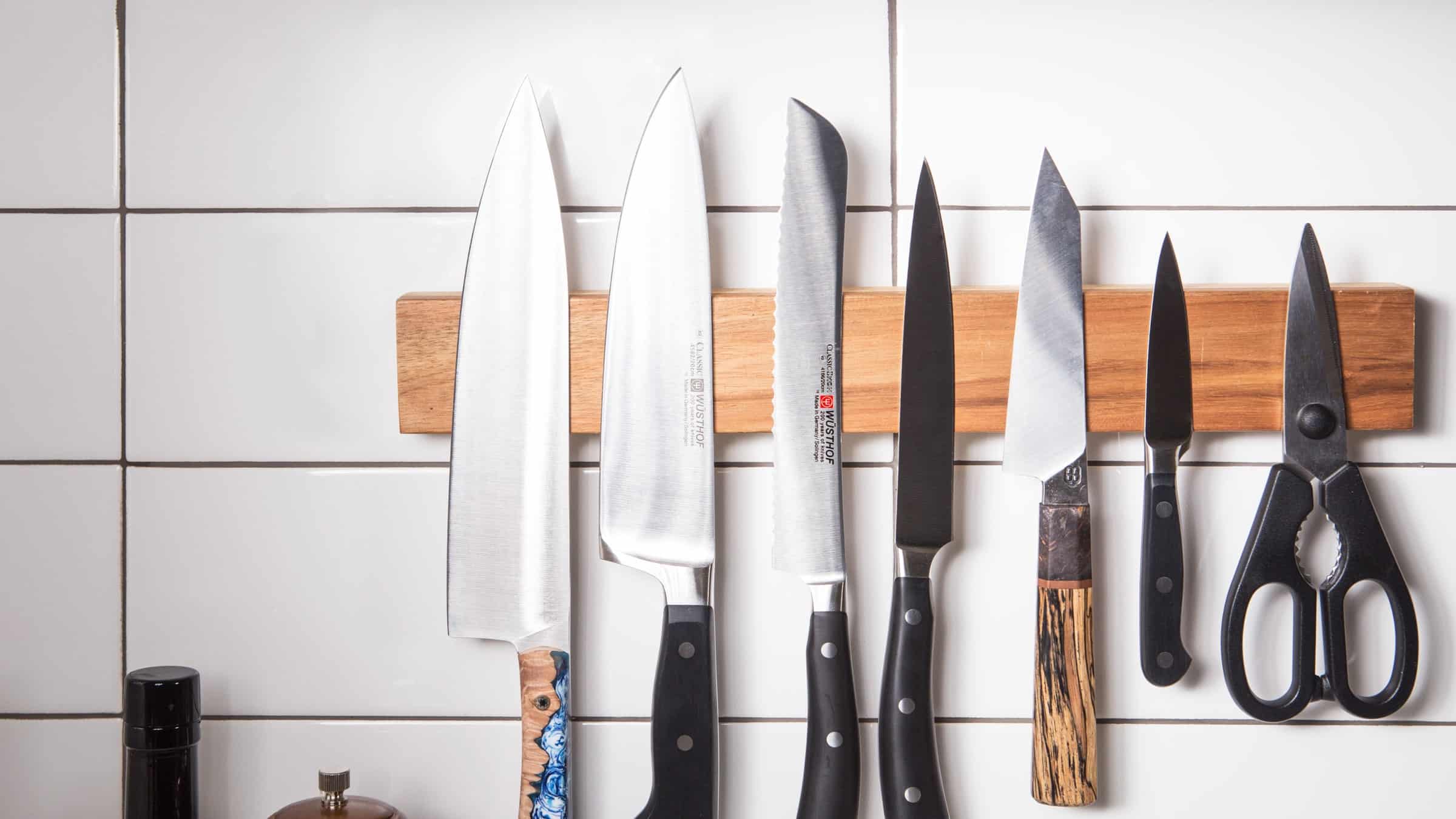 Or in a Drawer, But Protected
While you might be tempted to shove your chef knives into a kitchen drawer, don't. They'll just bang against other utensils, thus losing their sharp edge. But this doesn't mean you can't store them in a drawer. You can, as long as you protect their edge with a knife guard. These are relatively inexpensive and sometimes even come with brand-new knives.