Crisp refreshing spinach. Is there anything better than a fresh bunch of this bright green stuff? If only it stayed this way. But sadly, we all know, after having to toss bag after bag and bunch after bunch into the trash bin, that spinach is one food which is quick to deteriorate. This loss is further compounded by the fact that spinach is such a versatile vegetable, you may oftentimes find yourself purchasing more spinach than you can feasibly use up in time!
No more. We're aiming to change all of this by getting deep into why lettuces and leafy greens, especially those pre-washed and packaged varieties from the grocery store, always seem to go bad in just a couple of days. Then we'll discuss all the best methods for storing spinach and offer up all of our best tips for keeping your spinach bright and fresh for as long as possible!
How to Select the Best Quality Spinach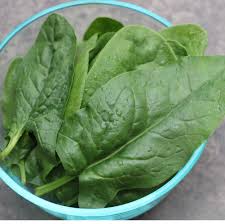 First things first: choose good quality greens in the first place. One of the best ways to ensure that your spinach has a lengthy shelf life is to select healthy spinach to start with! Here are several ways you can evaluate your spinach before buying, so as to make sure that you're picking up a bunch of the good stuff.
Look for spinach leaves that have a firm texture and are not wilted or flopping over on top of themselves. Spinach is a fairly hardy green and, especially when fresh, should have some substance to it.
The leaves should be bright green and uniform. Any very dark spots on the leaves, while not necessarily bad themselves, may indicate where moisture is beginning to take hold and should be avoided. You should also avoid any packages which have yellow or brown leaves mixed in.
Any spinach which is being sold prepackaged should appear fairly dry inside. This can be tough to find, as spinach is often sold in plastic packaging which readily accumulates moisture, but it's truly worth taking a moment to inspect them and find one that has a minimal amount of moisture buildup!
Types of Spinach You May Want to Store
How to store spinach will of course depend on what type of spinach you are looking to store! More than likely you'll be looking to store fresh spinach, either regular or baby varieties. But in any case, we'll also discuss storage techniques for leftover cooked spinach, frozen spinach which has been defrosted, or canned spinach which has already been opened.
How to Store Fresh Spinach
Let's first get into how to store fresh spinach leaves. The following process will be the same whether you are storing regular spinach (either whole leaves or chopped) or baby spinach. We don't recommend attempting to store chopped baby spinach, as this is the most fragile, tender spinach of all and once chopped, it's best used right away.
In any of these cases, the key to storing spinach well and best way to ensure its freshness for as long as possible is to keep it dry. Spinach leaves naturally contain a great deal of moisture on the inside, which you certainly want them to retain. However, spinach leaves are extremely sensitive to external moisture, such as condensation on the inside of a bag. This is the main reason why bagged spinach and salad mixes seem to spoil so quickly! Don't worry though, we'll tell you just how to help your fresh spinach avoid this fate.
Step 1: Sort the Spinach
First and foremost, remove any icky leaves! The old saying "one bad apple will spoil the whole bunch" is applicable to your leafy greens as well. The presence of a rotting leaf or two in your bunch of spinach can quickly signal to other leaves that it is time to decay as well, so it's best to remove any questionable looking leaves before storing your spinach.
Step 2: Dry the Spinach
Use paper towels or a clean kitchen towel to gently pat dry the leaves, removing as much surface water as possible. Spinach which has been in a plastic bag or one of those large plastic clamshell-style boxes will certainly be wet from spending time in such a sealed container, but even loose spinach bunches are often kept in the areas of the produce market which receive regular misting and therefore are likely to be pretty wet as well.
Bottom line: more often than not, the surface of your fresh spinach will be wet, and since dry spinach is the key to a long shelf life, take the time now to remove as much moisture as possible!
Step 3: Package the Spinach
Next, wrap the dry spinach leaves in a second paper towel or another dry kitchen towel. Once again, the emphasis here is on the word dry, because even though all of the moisture on the surface of the spinach may have been removed, the spinach will continue to naturally release moisture over time. If the towel is already wet when you start it on its storage journey, it will be unable to absorb this additional liquid and will put the spinach at a huge risk of spoilage.
After wrapping in towels, place the spinach in resealable freezer bags, being sure to squeeze out all the excess air. You can also use another airtight container instead, such as a hard sided plastic container.
Step 4: Refrigerate the Spinach
The best place to store spinach to keep it fresh is in the crisper drawer of your refrigerator. While some crisper drawers are essentially just drawers, others have settings in the form of a toggle switch you can adjust to increase or decrease the humidity level within.
Since we've spent so much time up until this point discussing the dangers of wet spinach, you might be tempted to store fresh spinach in the low-humidity drawer. Wrong! In this case you actually want to keep it in the high-humidity drawer, as this is a completely sealed environment which shields your sensitive leaves from ethylene-producing fruits and vegetables that may be in your fridge.
How to Store Leftover Cooked, Frozen, or Canned Spinach
In stark contrast to how finicky fresh spinach leaves are in the storage department, the storage guidelines for cooked, frozen, or canned spinach are all the same and relatively straightforward.
Step 1: Cool the Spinach
Depending on how much cooked spinach you have, you may opt to cool it in the pan you cooked it in or transfer it into storage containers first. Either way, it's important to allow heated spinach to cool before storing it, as packing up lukewarm spinach could risk foodborne illness and/or cause the spinach to spoil more quickly.
This step is only necessary if you are looking to store cooked spinach. If you are storing the remaining spinach from a can or a frozen package which has not yet been cooked, you can skip this step.
Step 2: Drain Excess Liquid
Cooked spinach which has cooled off is likely to have released a lot of liquid, so it's a good idea to drain this excess moisture before storing the spinach. In a similar fashion, frozen spinach which has been defrosted and even canned spinach will most likely seep some extra moisture, so go ahead and drain it away.
Step 3: Package the Spinach
Transfer the cooled and drained spinach to a container of your choice. You can opt for a hard-sided plastic container, or any other airtight storage container such as a freezer bag. Simple as that--now just seal it up and place your package of tasty spinach in any area of your refrigerator!
How Long Does Spinach Last?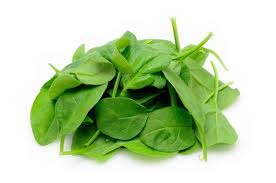 If you properly store spinach, it can last surprisingly long! When kept dry and tightly sealed, fresh spinach stays fresh for more than a week--up to 10 days in fact!
Leftover cooked or canned spinach has a shorter shelf life, lasting for just about 3-5 days.
And finally, thawed frozen spinach has the shortest shelf life of all, as you should discard it after 2 days if you end up not using it. This is due to the risk of bacteria which may be present in frozen spinach, as not all spinach is cooked before freezing.
If none of these time frames are quite long enough to meet your storage needs, you can definitely freeze spinach to make it last longer--just check out our guide on freezing spinach which covers everything from how to freeze fresh spinach to how to freeze puréed spinach!
Signs That Spinach is Spoiled
So how to know for sure when your spinach is past the point of no return? There are a few telltale signs to look, feel, smell, and taste for.
Appearance
If spinach leaves are going bad, they surely will be experiencing changes in appearance. Fresh leaves may turn yellow, brown, or even black, or have spots of extremely deep green mixed throughout each leaf. Fresh spinach leaves which have been wet for too long may experience mold growth, as may leftover cooked, canned, or frozen spinach which has been kept for too long.
Texture
In terms of texture, aging spinach could go in one of two directions. Depending on environmental conditions, the once crisp leaves may take on a dry, weathered texture or they may turn mushy and slimy. Leftover cooked, frozen, or canned spinach is inherently mushy to start with, so textural differences are a bit more difficult to detect in these cases.
Smell and Taste
As with any other spoiled produce, expired spinach will develop a bad smell over time. Fresh spinach should smell grassy and vegetal, not at all sour or funky. Cooked or otherwise processed spinach may smell a bit more metallic than the fresh stuff and that's fine, but other than that, it should smell bright and clean.
If there is any question, don't taste your spinach "just to be sure" it's bad, but as always, if you take a bite and it tastes bad for whatever reason, throw it out!
Other Tips for Keeping Spinach Fresh
Remember that ethylene we mentioned earlier? Here's why it's important to keep your precious spinach as far away from it as possible! As some fruits and vegetables ripen (which is truthfully just the early stages of decay), they emit ethylene, and exposure to this gas encourages other nearby produce to decay as well. Some common fruits and vegetables that produce high amounts of ethylene are bananas, avocados, peaches, and tomatoes, but there are plenty more out there!
Don't pack up your fresh spinach leaves and then expect them to still be in perfect shape 10 days later. Their lifespan needs some TLC along the way! When storing spinach, check on it periodically to remove any leaves which are looking worse for wear as this will help the remaining spinach to last longer. Also, keep tabs on the towel that you have wrapped your spinach in. If it becomes damp, go ahead and replace it with dry paper towels in order to keep it fresh longer.
Take care not to leave your carefully wrapped package of storage out of refrigeration for extended periods of time or allow it to become exposed to heat. After grabbing the handful you need for dinner, it's all too easy to toss the open bag off to the side and forget about it but trust us, take the extra second and put it away, right away. This will greatly extend its shelf life!
Other Spinach Storage FAQs
Let's answer a few more common questions that pertain to all things spinach storage!
Should You Wash Spinach Before Storing It?
This is honestly up to you! The downside to washing spinach before storing is that it introduces extra moisture and therefore stands a chance of reducing the overall shelf life. But on the other hand, we get it! Washing veggies can be a hassle and is not always conducive to getting dinner to the table on a busy night.
The good news is that in most cases, those bags and boxes you pick up from the grocery store already do contain pre-washed spinach. These packages often say, "triple washed", and if this is the case, then it's a moot point! However, if you have a whole spinach bunch or have shopped at a local farm stand or farmer's market, the spinach will likely not have been cleaned ahead of time and you will need to wash it before storing it or eating it.
How to Wash Spinach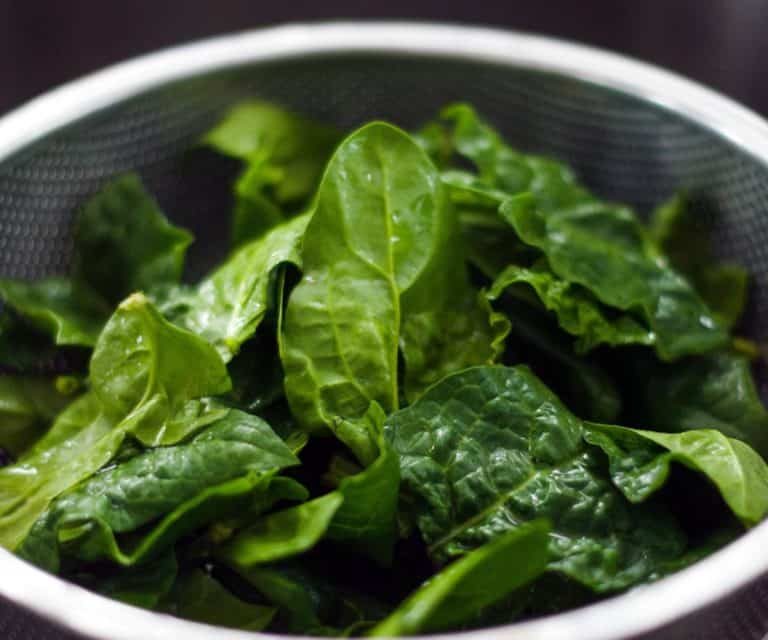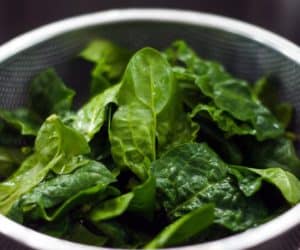 Whether you opt to wash your spinach before storing it or right before you are ready to eat it, it's quite simple!
Just place the spinach in a colander or a fine mesh strainer and rinse it under running, cold water from the tap. Agitate the leaves gently, turning them over to ensure that all of the spinach gets evenly rinsed. Alternatively, you can place all of the spinach leaves into a large ice bath, once again softly agitating so that all leaves get clean.
If you opt to wash your spinach before storing it, you must now be sure to dry it thoroughly.
After rinsing, we recommend using a salad spinner to spin the spinach dry (say that three times fast!) and then spread the leaves on several sheets of dry paper towels or a clean (and absorbent!) kitchen towel to finish drying them the rest of the way.
At this point, your spinach is ready for storing or for eating!
Can You Store Spinach in the Original Container?
Yes definitely! Whether the spinach you purchased came in a bag or a plastic bin, either of these will make a perfectly suitable storage vessel for keeping spinach fresh.
However, you should still work through the proper storage steps as outlined above, removing the spinach, inspecting it, drying it, and making sure that the container is clean and dry before returning the towel-wrapped greens.
Does Baby Spinach Spoil More Quickly?
While there are no official studies which state this as fact, it does seem that baby spinach is much more sensitive than regular spinach. Perhaps due to the fact that the leaves are much smaller and overall thinner as compared to those robustly structured, fully-grown leaves.
This difference may make baby spinach more susceptible to moisture damage, therefore it's wise to take extra care when storing baby spinach and aim to use it as quickly as possible!
How to Store Spinach: The Takeaway
If you only take one thing away from our guide on how to store spinach, take this: moisture is the enemy! When it comes to sensitive greens such as spinach, excess moisture can easily cause rot and mold growth, and it's vital to keep your fresh spinach as dry as possible for the duration of its storage.
If you are storing leftover cooked, canned, or frozen spinach, thankfully, its storage needs are slightly less demanding. Just make sure that the green stuff is sealed airtight and plan to eat it up within a few days.
Looking for some inspiration on how to use up that perfectly stored package of spinach? Try using fresh spinach in pasta dishes such as our recipe for Vegan Spinach Pesto Pasta!