Oh, tomato season. Whether you have homegrown tomatoes taking over your garden or patio, have a big haul from the farmers market, or took home a pile of supermarket tomatoes that just looked too good to resist--you now must cope with your decision of abundance.
Perhaps your goal is loading up on as many BLT sandwiches (Vegan BLT anyone?) as possible, or hoarding tomatoes to whip up a big batch of your famous tomato sauce or marinara sauce. In either case, proper tomato storage is the first key to success!
We're walking through everything you need to know about how to store tomatoes, beginning with an answer to the looming question: should tomatoes be refrigerated?
Should You Refrigerate Tomatoes?
Unfortunately, the answer is not so clear cut: yes and no, depending on the situation. It's true that refrigerating tomatoes will make them last longer, but doing so will greatly affect their taste and texture in a less than positive way.
Let's explore when it is best to leave tomatoes at room temperature or when you should opt to store them in the refrigerator
How to Store Tomatoes
First things first: how to store whole tomatoes. As you might expect, the recommendation will differ between ripe and unripe tomatoes and vary depending on how you plan to use the tomatoes.
Storing Whole, Unripe Tomatoes at Room Temperature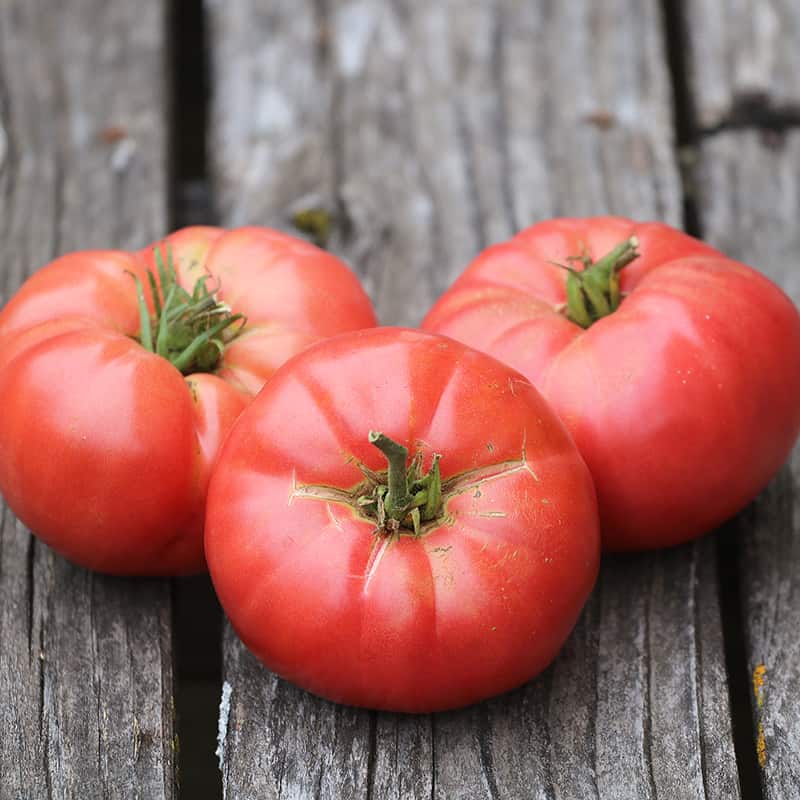 When to use this storage method: when you have uncut and unblemished whole tomatoes that are unripe. The chilly temps of a refrigerator halt the natural ripening process of tomatoes--and other fruits, for that matter--so if you want them to ripen and achieve their full, delicious potential, it is best to leave them out at room temp.
How to Store Whole, Unripe Tomatoes at Room Temperature
We recommend leaving them on the kitchen counter or table, so long as they are safe from direct sunlight. It's best if you keep your fresh tomatoes flat and in a single layer--no piling into the fruit bowl or platter!
Adequate air flow is key to helping the tomatoes ripen evenly all the way around, as well as preventing any bruising or damage. Depending on their starting point, underripe tomatoes may take about 2-5 days to ripen.
How Long Do Whole, Unripe Tomatoes Last at Room Temperature?
It depends on how ripe the tomatoes are. Whole tomatoes that are approaching full ripeness may only last a few days when stored at room temperature, while less ripe tomatoes could last up to a week!
Storing Whole, Ripe Tomatoes at Room Temperature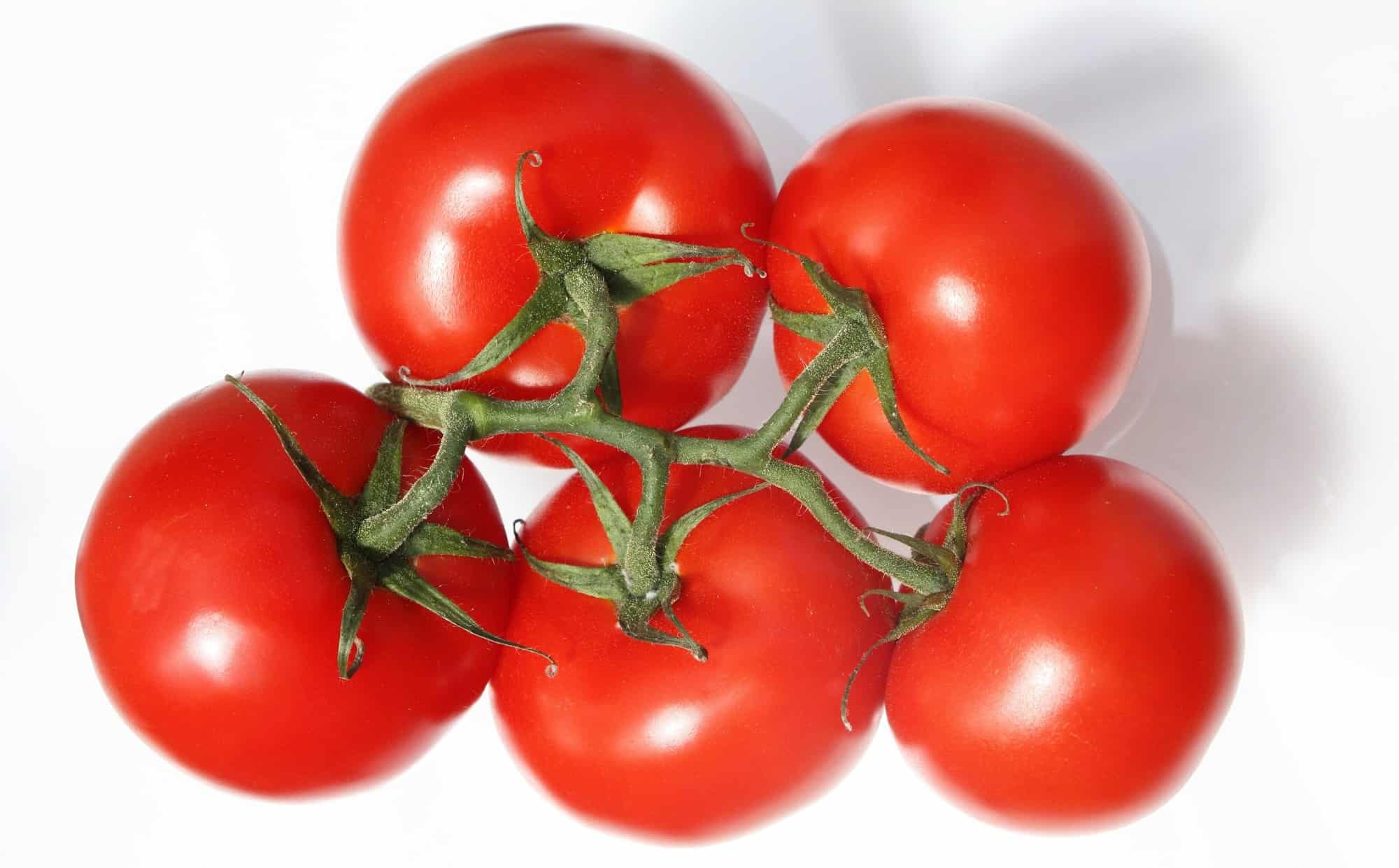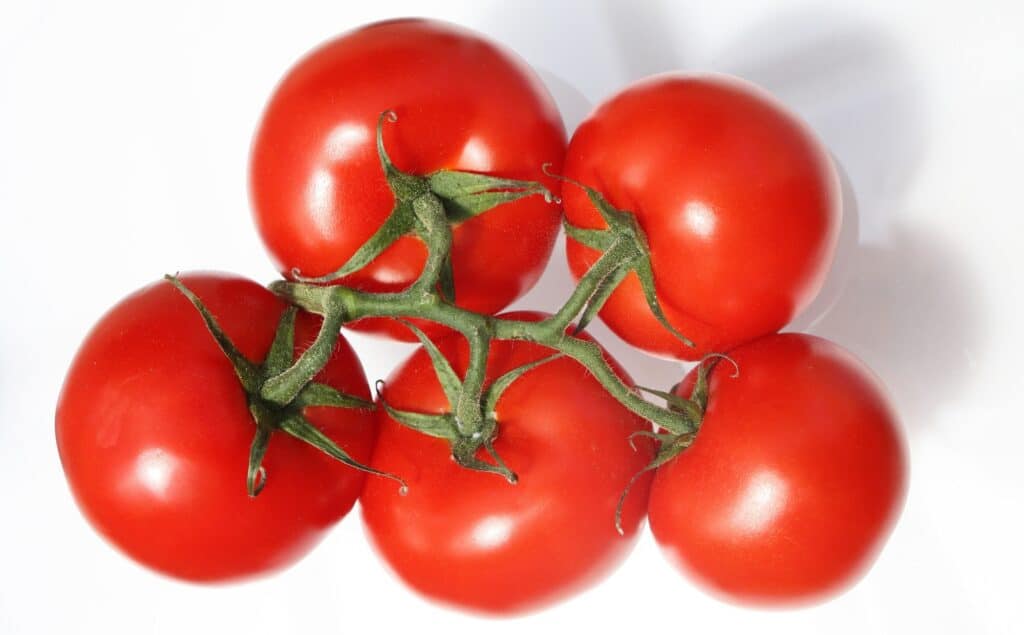 When to use this storage method: when your tomatoes are at peak ripeness and you plan to consume them as soon as possible. Fresh tomatoes lose a lot of their best taste and texture characteristics when chilled, so the room temperature method is best for perfectly ripe tomatoes that you plan to enjoy raw.
How to Store Whole, Ripe Tomatoes at Room Temperature
Follow the same storage principles as for unripe tomatoes, just with even more care! Be sure to keep your ripe tomatoes a safe distance away from each other and any other ethylene producing fruits and vegetables (more on those in a moment). The more ripe your tomatoes get, the more fragile they get as well.
How Long Do Whole, Ripe Tomatoes Last at Room Temperature?
Don't count on ripe tomatoes lasting much more than a day or two at room temperature, depending on their size as well as the ambient climate.
Storing Whole, Ripe Tomatoes in the Refrigerator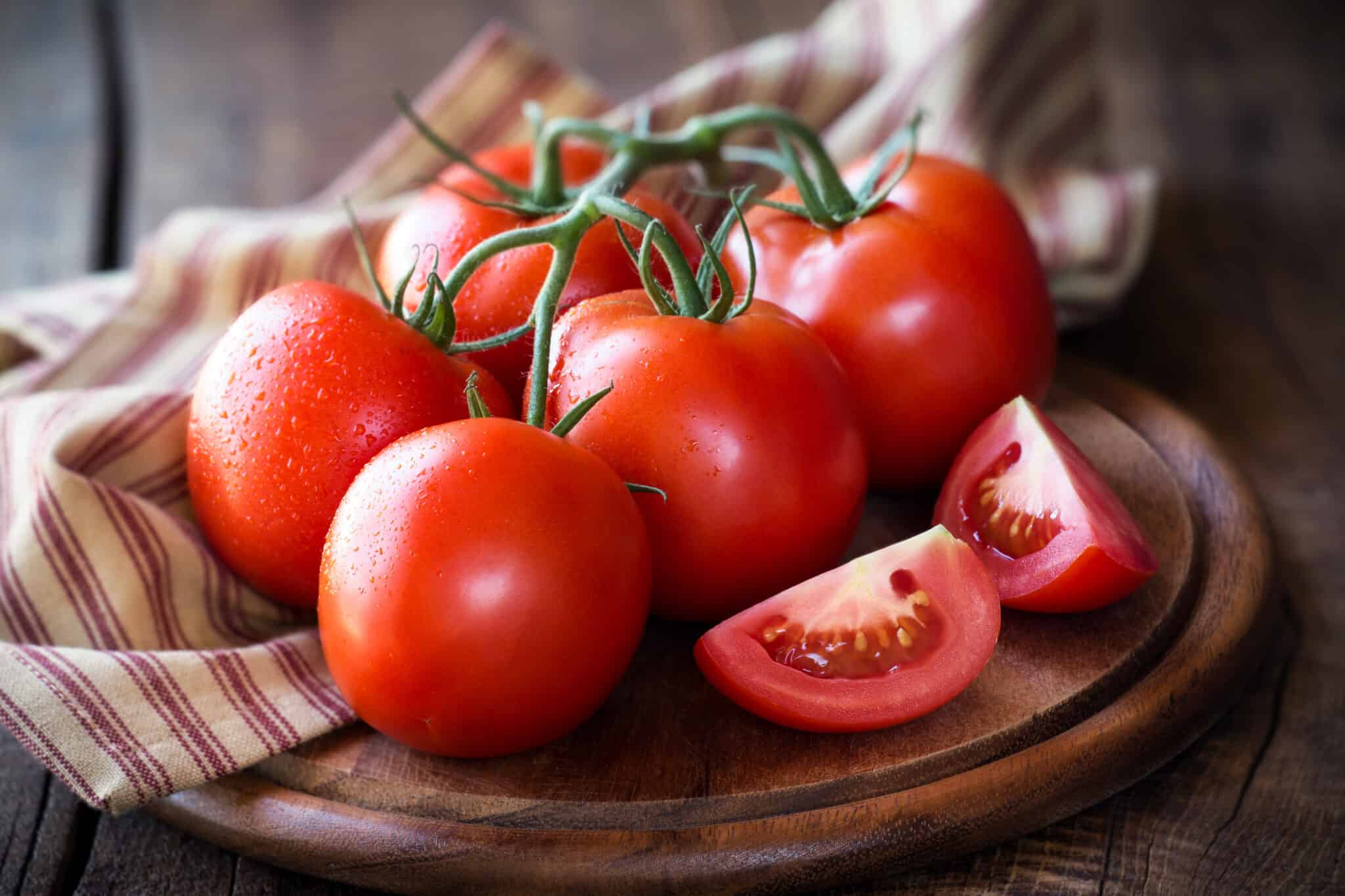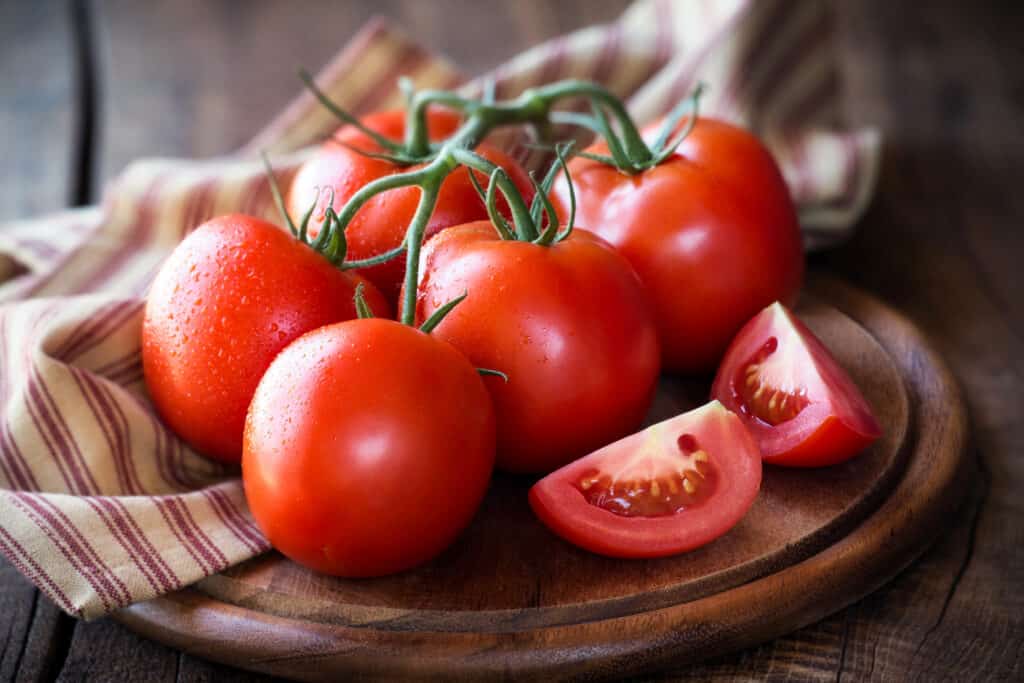 When to use this storage method: if you need those tomatoes to last a while longer or are planning on cooking with them, then now is the time to stick them in the fridge! The decay process of refrigerated tomatoes is dramatically slowed, meaning this is a great way to preserve fully ripened tomatoes as well as tomatoes that have become a little too ripe.
How to Store Whole, Ripe Tomatoes in the Refrigerator
When refrigerating whole tomatoes, there is no need to place them in a resealable plastic bag or airtight container--air flow is good for them! We recommend storing the tomatoes in the crisper drawer or on the top shelf of the fridge, so long as they are relatively out of the way and won't get bumped or bruised.
When you go to use your refrigerator tomatoes, it's best to leave them at room temperature for a bit before eating, as a return to warmer temps will dramatically improve the taste and texture as compared to cold tomatoes. If you are cooking with them, this warm-up period isn't as necessary.
How Long Do Whole, Ripe Tomatoes Last in the Fridge?
If conditions are right, whole tomatoes stand to last up to two weeks in refrigeration. Tomatoes that are a bit overripe or blemished will experience a slightly shorter shelf life.
Storing Sliced or Cut Tomatoes in the Refrigerator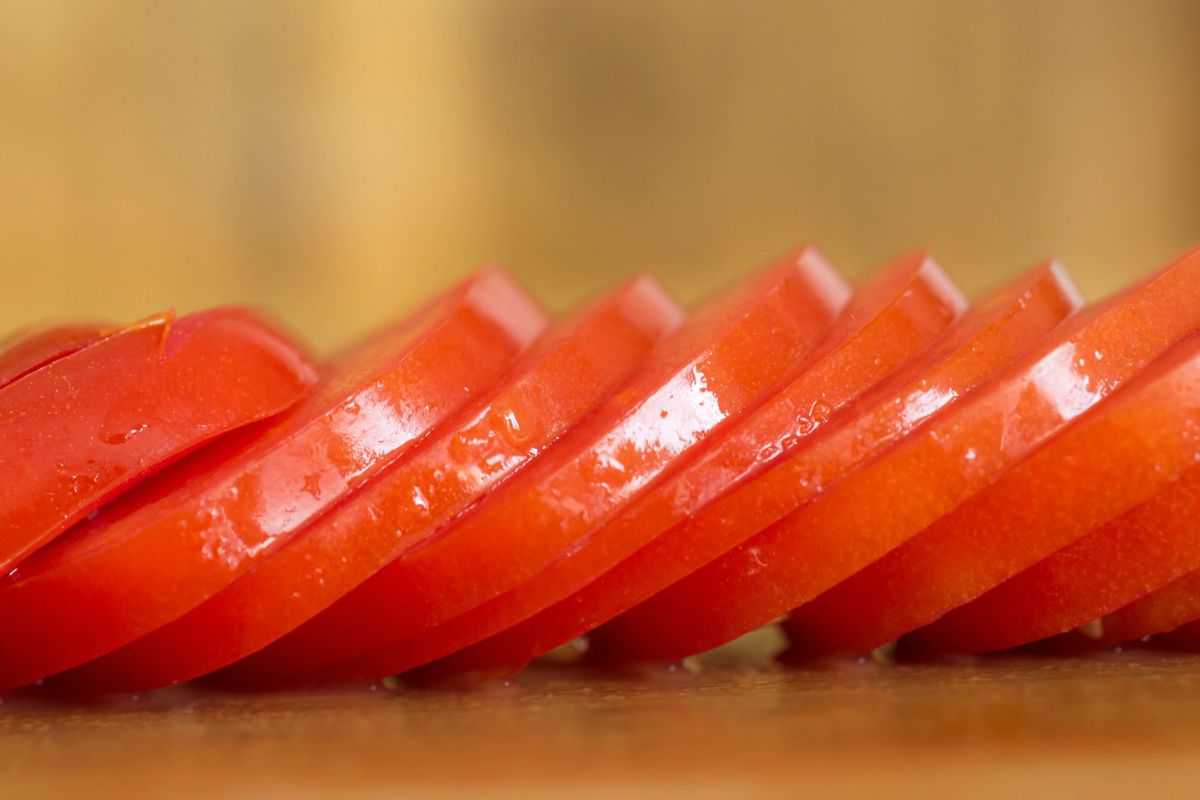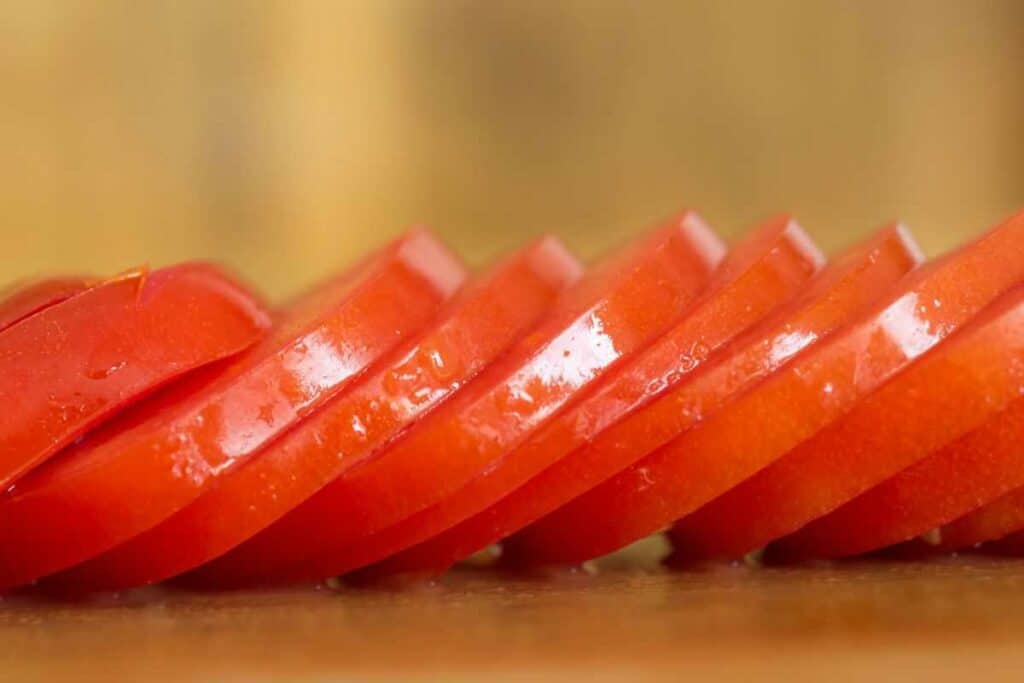 When to use this storage method: in the case of any tomatoes that are cut or sliced, you should refrigerate them always. As soon as the tomatoes are cut, their natural moisture + sugar content is the perfect environment for bacteria and mold to take hold. Thankfully, keeping your tomatoes in cold temperatures greatly reduces the activity of these microorganisms.
How to Store Sliced or Cut Tomatoes in the Refrigerator
If you have a whole tomato that only has only a single cut side, simply press plastic wrap against the cut side to prevent moisture loss and place the tomato in the fridge. For tomato chunks, wedges, or slices, transfer them into an airtight container such as a plastic or glass tupperware or a resealable plastic bag.
How Long Do Sliced or Cut Tomatoes Last in the Fridge?
Sliced or cut tomatoes will be at their best for about 3 days and should be discarded after 5 days.
How to Use Up Those Perfectly Ripe Tomatoes, Stat!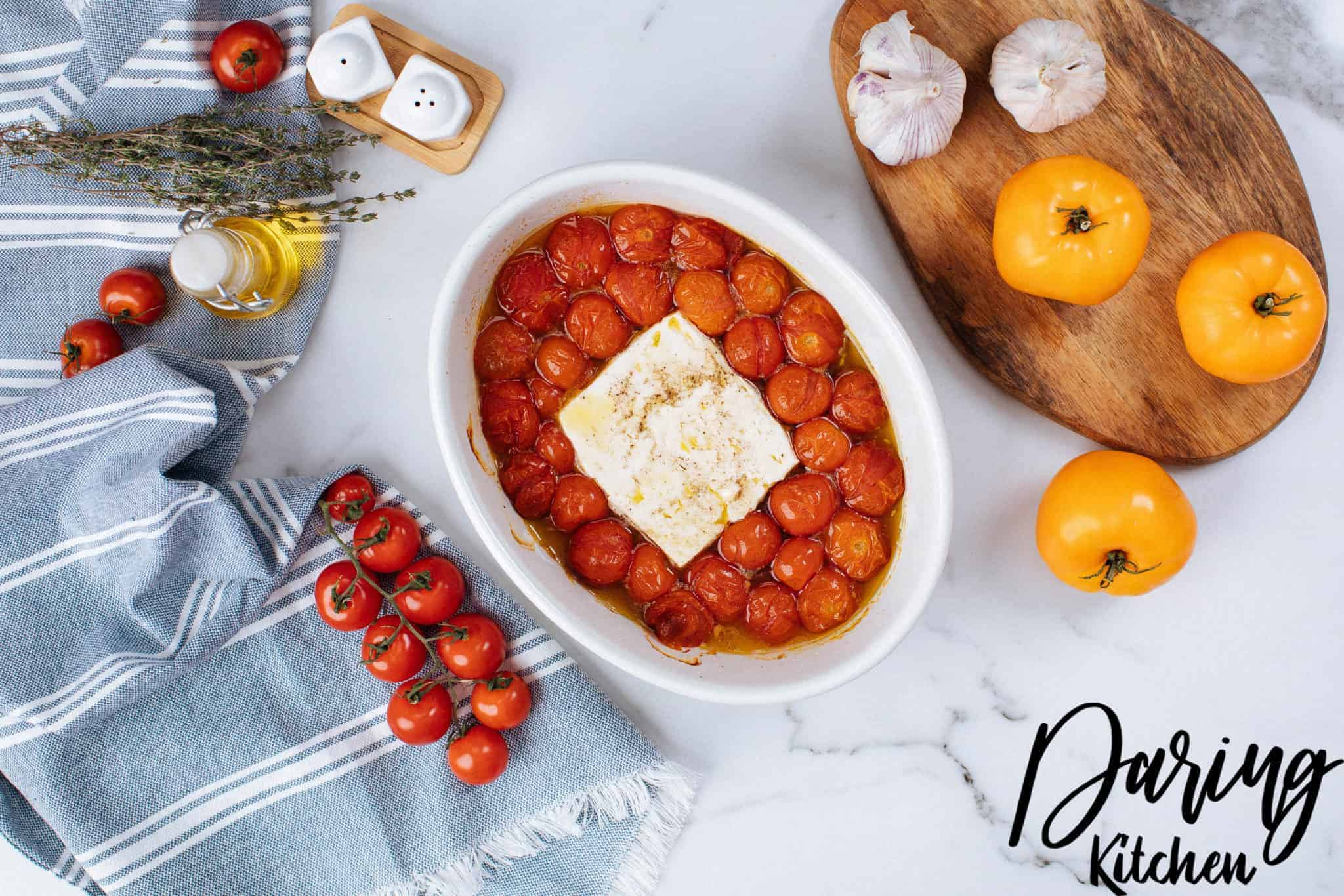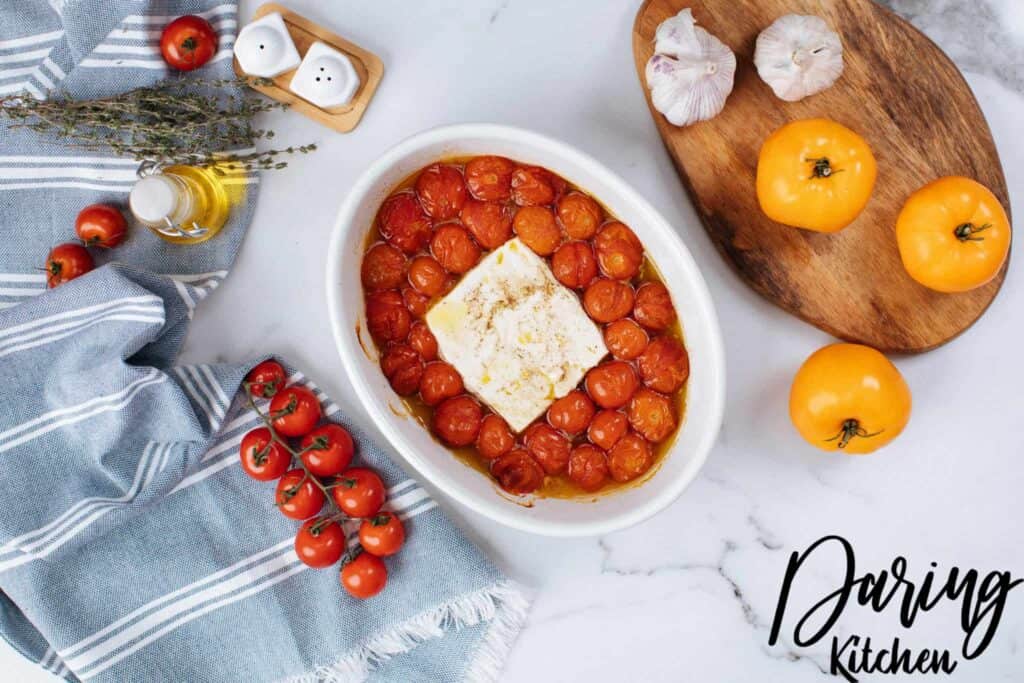 Here are a few recipe ideas and cooking tips for making use of those perfect summer tomatoes while you have them!
Got a pile of cherry tomatoes? We've got 3 words for you: Baked Feta Pasta. Our version of this social media sensation is insanely good as it is easy and uses up a ton of tomatoes!
Top a toasted slice of your favorite bread with sliced fresh tomatoes and sprinkle with parmesan cheese, then broil for 1 to 2 mins until melty and crispy!
Ripe tomatoes are perfect in our Vegetarian Tacos with Quinoa. Our recipe calls for cherry tomatoes, but feel free to substitute with chopped tomatoes of any type, whether you have heirloom or plum tomatoes.
When you have a large, perfectly ripe summer tomato on your hands, it doesn't need a whole lot of fussing to become the best thing you've ever eaten. Just cut it into thick slices, season with salt and freshly cracked black pepper, and drizzle with olive oil. Splash with balsamic if you're feeling fancy!
Though our recipe for Quick N' Tasty Greek Omelette calls for cherry tomatoes, you could easily use grape tomatoes or chopped large tomatoes instead! Either way, the fresh tomato flavor will shine through.
Tomato Storage FAQs
Should You Wash Tomatoes Before Storing Them?
Not so fast! As with many other types of produce, it's actually best to wash tomatoes just before you plan to use them. Their skin contains a naturally protective layer, which once rinsed off, puts the fruit at an even greater risk of spoilage.
Also, washing tomatoes before storage introduces added moisture which can pose some risk as well. Too much moisture is like an open invitation for microorganism growth, therefore it's best to hold off on the rinsing.
Can You Quickly Ripen Unripe Tomatoes?
Yes! The best way to hasten the ripening process of your unripe tomatoes is to place them in a loosely sealed container such as an open cardboard box or a folded over paper bag. This will serve to trap that ethylene gas we mentioned earlier, which many fruits and vegetables produce as they ripen, and that encourages ripening in those around it.
To boost the ripening even further, add an ethylene powerhouse such as a ripe banana or an apple to the mix. This will greatly increase the amount of gases the tomatoes are exposed to and thereby speed up their ripening.
How to Tell When Tomatoes are Ripe
Thankfully, it's quite easy to distinguish a ripe tomato from an unripe one! Ripe tomatoes of any color will be vibrant (i.e., deep red or brilliant yellow) and uniform in coloring. They will emit a sweet, vegetal aroma from the stem end which is reminiscent of the tomato vines themselves. And, the tomato should be firm to the touch and yield to a gentle squeeze. The fruit should not feel extremely hard nor have a sensation of a water balloon--taut on the outside and liquidy on the inside.
How to Tell When Tomatoes Are Going Bad
How do you know when things start to take a turn from perfectly ripe to spoiled? One of the first signs will be soft spots on the surface of the tomato, often starting near the stem end. Over time, these soft spots will give way to mold growth and you may notice the smell of the fruit change from sweet and inviting to a bit off-putting.
Also, rotting tomatoes are notorious for attracting fruit flies, so if you see a few insects appear in the air after moving your tomato, this is a sure sign it's at the end of its life.
Why Do Tomatoes Get Mealy?
Many folks mistake mealy tomatoes as being old or spoiled, but in actuality, they are perfectly safe to eat! The mealiness is caused by a conversion of the naturally occurring sugar particles into starch particles, giving the fruit a gritty texture as opposed to a juicy one.
It is believed that this occurs due to inadequate (or excess) watering, inconsistent temperatures, or other factors that put a lot of strain upon the plant as the tomatoes are developing. The best way to make use of mealy tomatoes is to set them aside (or freeze them!) for your next batch of tomato sauce, as once they are cooked, the textural unpleasantries are undetectable.
Best Tips for Storing Tomatoes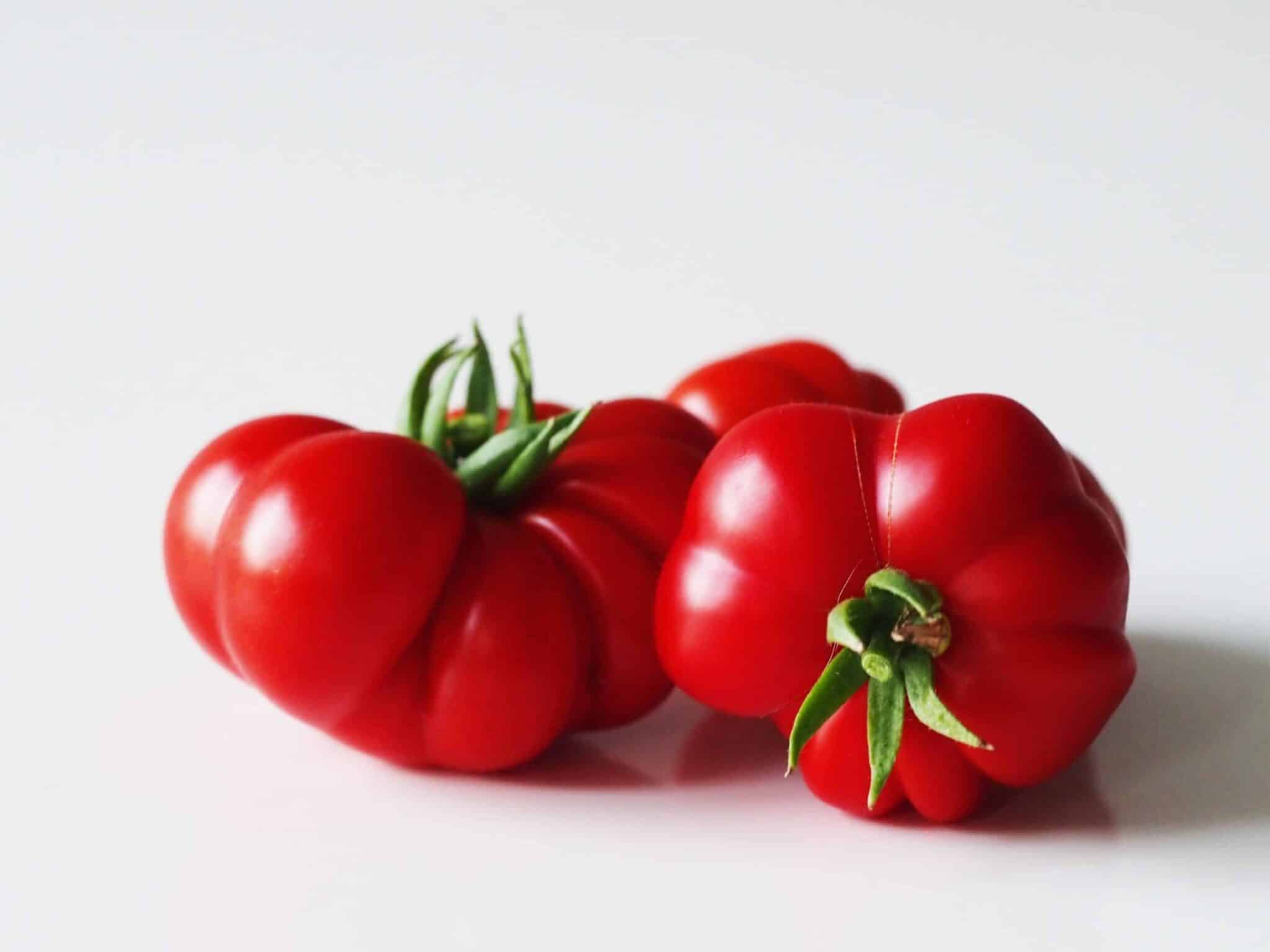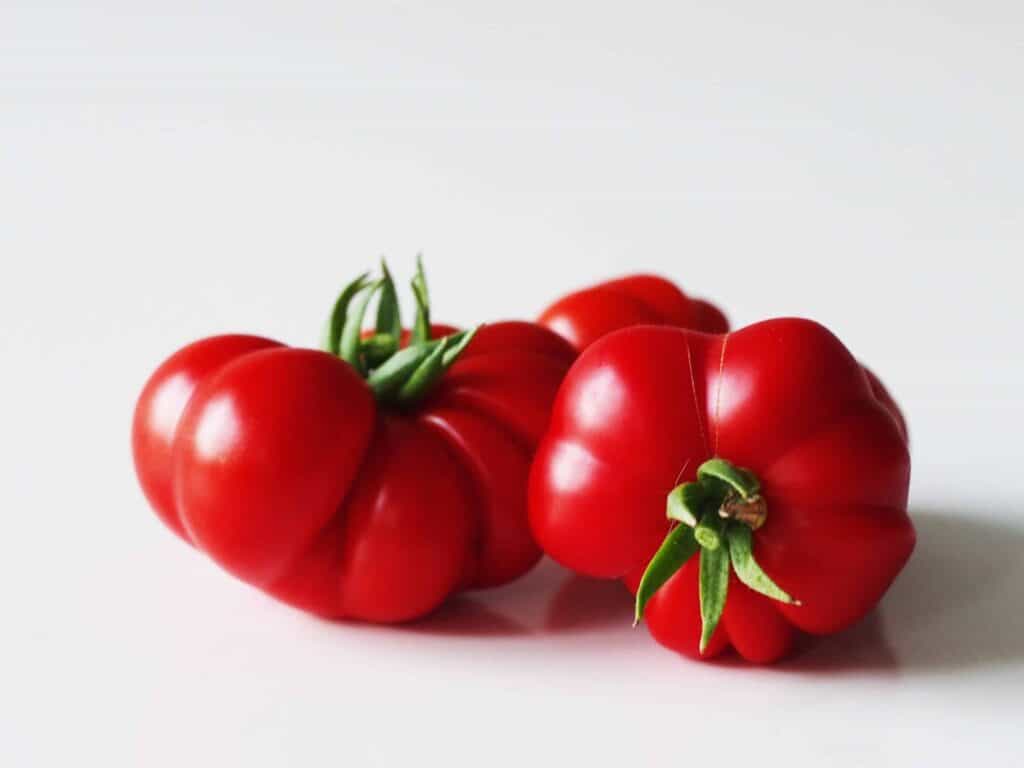 We have just a few final tips and tricks for you to make all of your tomato storage dreams come true!
If you can catch the early warning signs soon enough, you can help prevent mold from taking hold of your tomatoes. The best way to avoid this is to cut off any blemishes, bruises, or soft spots as soon as they occur. Once cut, move your tomatoes into refrigeration and use them up ASAP.
Avoid refrigerating unripe tomatoes at all costs! Once refrigerated, the tomatoes will have an extremely difficult time completing their ripening process, so it is best to allow the tomatoes to fully ripen at room temperature whenever possible.
There is one exception to the above tip, however. In the case of store bought tomatoes that were in the refrigerated section of your supermarket, you should always return them to refrigeration upon arrival at home. Even if they don't seem fully ripe, for food safety reasons, tomatoes that have been previously refrigerated should not be allowed to come back to room temperature until you are ready to eat them.
If you have a ton of fresh tomatoes that are destined for sauce-making, get a head start by blending them up in your food processor or immersion blender! The tomato puree can then be packed into resealable plastic bags or tupperware containers and refrigerated or frozen until you are ready to make your sauce.
How to Store Tomatoes: The Bottom Line
When it comes to storing tomatoes, the best first step is to take careful stock of several key factors. First things first, you want to evaluate the condition the tomatoes are in. Any cut tomatoes or overripe tomatoes should always be refrigerated, as well as tomatoes that have been previously refrigerated.
Plan to store unripe tomatoes at room temperature until they achieve ideal ripeness, then use them up right away or transfer them into the refrigerator. Be extra careful with ripe tomatoes as they are extremely sensitive to bruising and damage. Take care of your tomatoes so that you ensure you get to eat as many of them as possible, allowing their numerous health benefits to take care of you in return!