Take a glance around your kitchen. How many ingredients do you see on your pantry shelves and in the fridge that are actually alive? Chances are, not too many! Yeast is one of those ingredients that most people have in their kitchens yet might not even realize is a living organism. This means it can require a bit of extra TLC as compared to other baking staples like sugar and flour.
Maybe you've just made a batch of homemade bread and are looking for the best method to store leftovers until next time a baking urge strikes you. Or perhaps you have been storing yeast for some time and are trying to determine if it is still viable. Either way, we're here to address all of these concerns and help you give your bubbly little friends exactly what they need to stay alive and well for as long as possible!
What is Yeast?
Yeasts are a group of single-celled organisms which are a part of the kingdom, Fungi, meaning yes, these microscopic little critters are indeed related to mushrooms! There are actually hundreds and hundreds of different species of yeast, however there is only one which is of any culinary importance to us: saccharomyces cerevisiae. This Latin name, which translates to "sugar fungus", gives a direct indication on what food this yeast likes most–sugar!
All typical yeasts that are found in grocery stores and markets are versions of this one particular species. The differences between them lie in moisture content and processing, making each of them most useful for particular culinary applications as opposed to others. Some yeasts are perfect for use in a bread machine while others are more ideal for loaves of long-rise sourdough.
How Does Yeast Work?
As a living thing, yeast must do what all living things do: eat, grow, and reproduce. In order for it to do so, yeast requires the presence of three things: warmth, moisture, and food (in the form of fermentable sugar). As the yeast chows down on those tasty sugars, it releases the byproducts of carbon dioxide and alcohol, both of which are incredibly useful in different culinary applications. This process is known as fermentation and it has been utilized by humans for thousands of years.
What is Yeast Used For?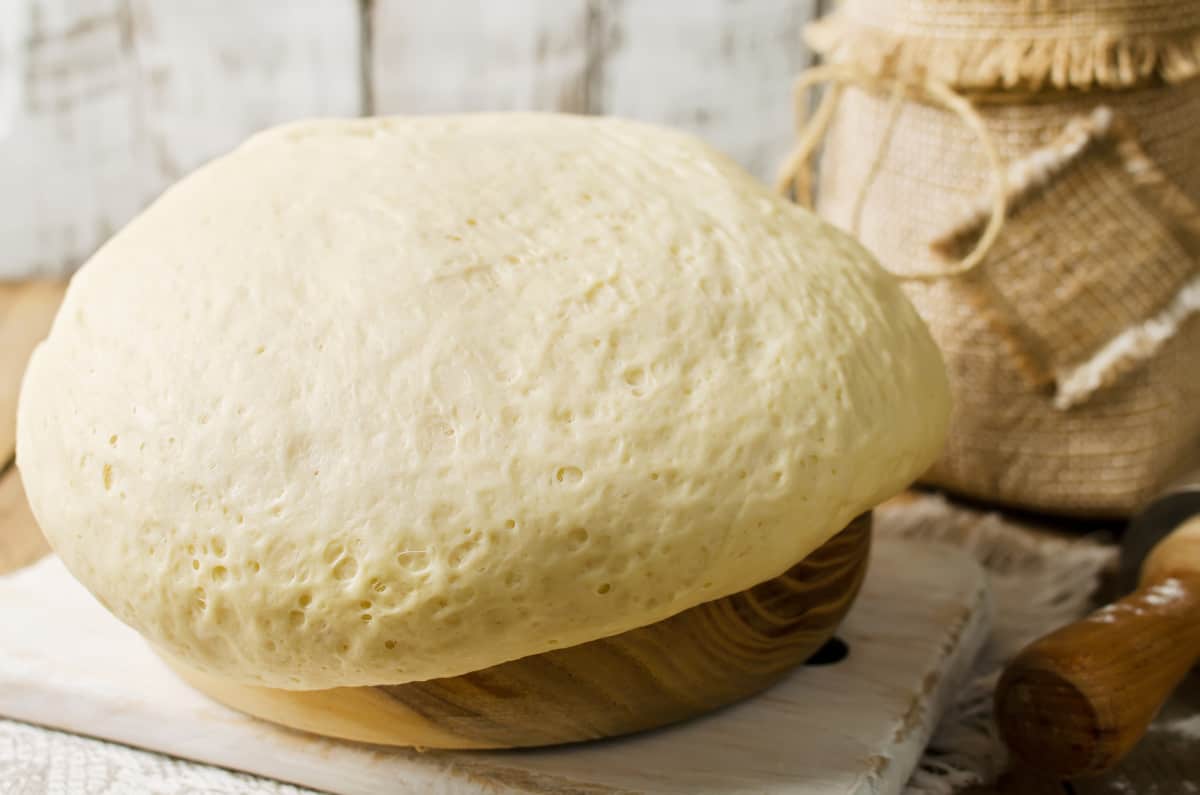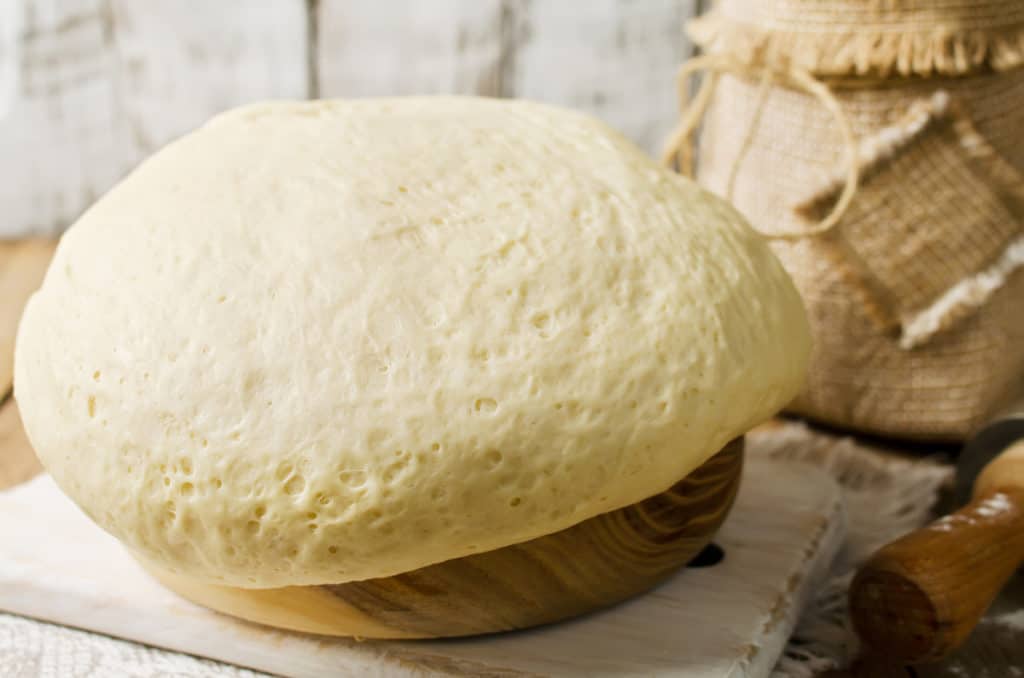 The process by which yeast creates carbon dioxide and alcohol is key to the production of various foods and beverages. Even in recipes where yeast is not specifically added, fermentation will occur due to the fact that yeast is present in and on all things, including the air. Yeast fermentation is used in many different manners when it comes to food and drink:
Yeast can act as a leavening agent in breads, baked goods, and even homemade pizza crust! As the yeast consumes sugars that are present in the dough, the carbon dioxide that is produced adds lift to the dough as it bakes. See for yourself with this Vegan Pumpkin Pizza recipe!
Yeast is necessary in order to make alcoholic beverages such as beer, wine, and spirits.
Fermented products such as soy sauce, vinegar, kimchi, sauerkraut, and miso all rely on yeast in order to be produced.
Different Types of Yeast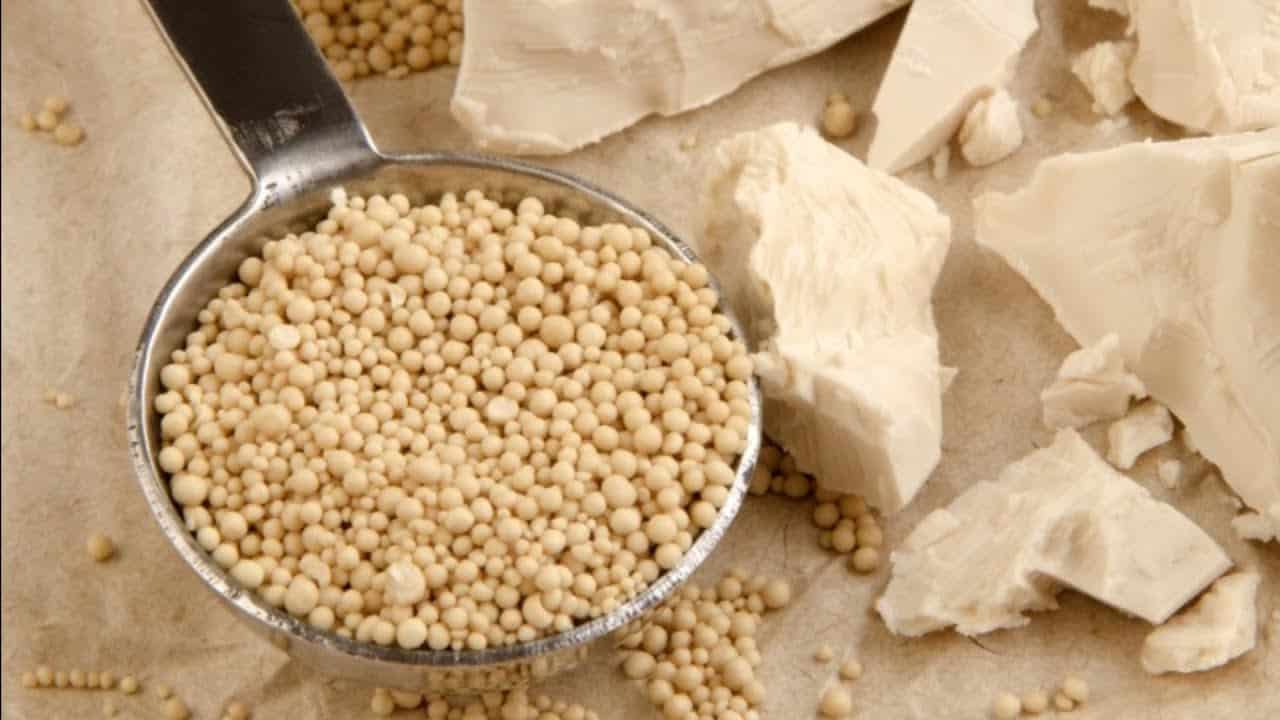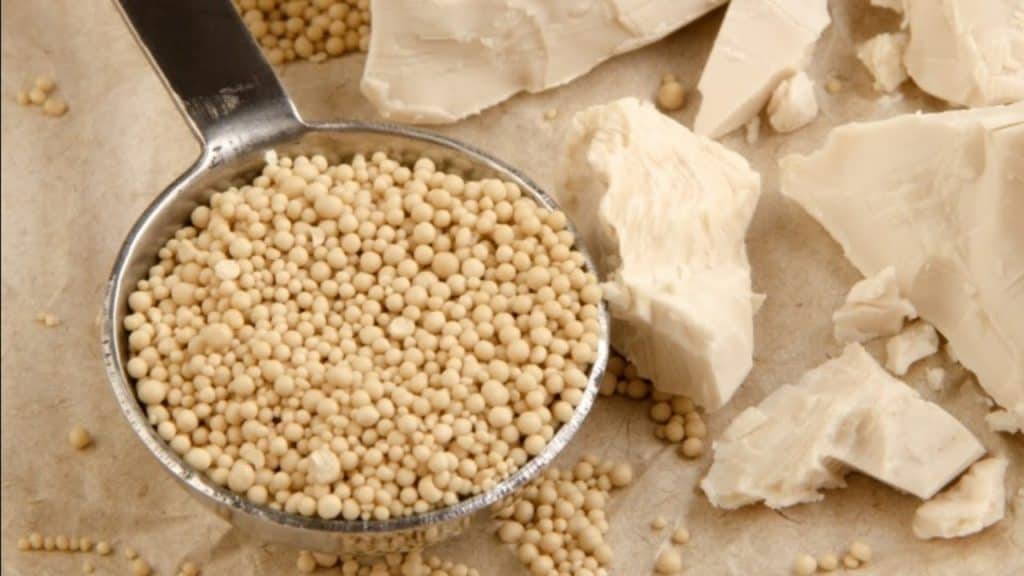 In order to get to how to store yeast, we must first understand the differences between the main varieties of yeast, as each of these will require some different storage conditions.
Though each variety stems from the same yeast species, there is a wide range of different yeast products out there. Some of these are optimized for cooking and baking, while others have been tweaked to suit the specific needs of different beverage-making processes: baker's yeast, brewer's yeast, and distiller's yeast to name a few.
Since the varieties of baker's yeast are the ones most readily available and used in home kitchens, we'll cover those below. Most of these are dry yeast (sold in small packets or larger jars) but fresh yeast is another variety you may be familiar with, and if not, should definitely get to know!
Active Dry Yeast
Active dry yeast is the type of yeast that most people tend to use most often. This type of dry yeast is widely available in small packets which are majorly convenient for freshness, but dry active yeast may also be easily purchased in larger bags or jars. Active dry yeast consists of dormant yeast cells in a granular form and must be activated by the addition of warm water (and sometimes sugar) before being ready for incorporation into a recipe.
Instant Yeast
Instant yeast is another type of dry yeast which is readily available in small packets or larger quantities, just like active dry yeast. There are several instant yeast options, each of which are ideal for different uses such as bread machine yeast or rapid-rise yeast. Instant yeast consists of dehydrated yeast granules, just like active dry yeast, however instant yeast granules are much smaller, allowing them to easily and quickly dissolve into a recipe without prior activation.
Fresh Yeast
Also known as cake yeast or compressed yeast, fresh yeast is not dried, rather it is yeast which has been moistened and then subsequently had some of the moisture removed. This results in partially wet yeast which is able to be formed into the shape of a small block or cake. Fresh yeast is gray to light brown in color, and is crumbly yet creamy, much like a block of feta cheese. Though more perishable than any variety of dry yeast, compressed yeast is known for adding much more flavor to recipes. Prior to incorporation into a recipe, fresh yeast must be crumbled and dissolved in warm water to make it accessible to the other ingredients.
How to Store Yeast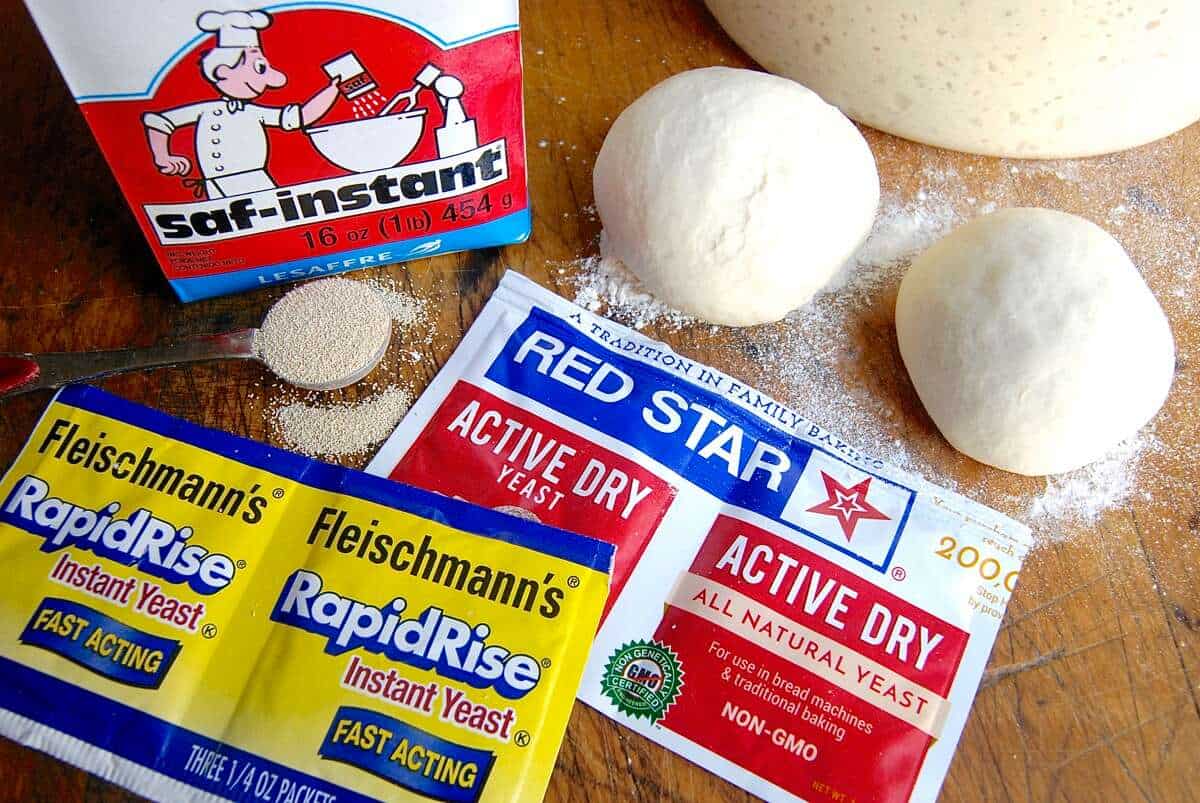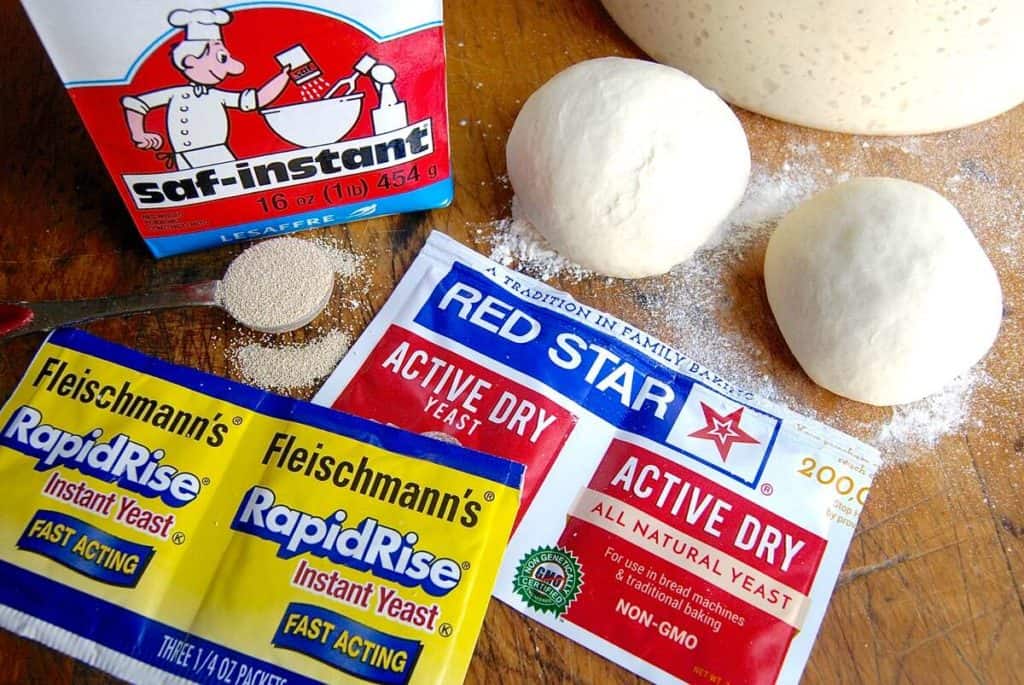 The fact that yeast is alive means it is extra susceptible to the surrounding environment, as it thrives in some conditions and perishes under others. Most store-bought yeast packets, jars, and bags are designed with longevity in mind, giving the yeast cells what they need in order to stay safe for plenty of time. However, when it comes to living things, the shelf life is inherently unpredictable.
The best practices for yeast storage are different for each type of yeast on the market. Which of the storage methods you choose will also depend on how often you use yeast, as well as your specific climate and the general temperature of your kitchen.
Important note: if you opt to refrigerate or freeze either dry or fresh yeast, it's important that the yeast be warmed or brought to room temperature before using in a recipe. This can be done by leaving it out at room temperature for about 30 minutes prior to cooking.
How to Store Dry Yeast (Either Active Dry or Instant)
You may store dry yeast (whether active dry, instant, or one of the sub-types) in any of several environments, ranging from room temperature all the way to the freezer. However, your method of active dry yeast storage will depend on one key factor: whether or not your yeast is unopened!
One other important note: some types of instant yeast have ascorbic acid added in order to facilitate a more rapid reaction, thus helping with their "instant-ness". This addition of acid can help to preserve the viability of these types of yeast, thereby making them last a bit longer than those varieties which do not have the acid, so be sure to check the ingredients label on your package of yeast!
Storing Unopened Dry Yeast
If your dry yeast remains unopened in its original airtight container (whether in a packet, bag, or jar), it is best to store the yeast as is without opening it or transferring to another container. When storing dry yeast that is unopened, you may keep it in a cool, dark place at room temperature for up to two years. However, be aware that its life expectancy may vary depending on ambient temperature and humidity conditions. It would be prudent to just go ahead and toss the yeast in your fridge or freezer to eliminate the temperature fluctuation factor, but it is by no means necessary.
Storing Opened Dry Yeast
If, on the other hand, your dry yeast is already opened, storing it at room temperature is no longer an option. Place the opened container (or containers) of yeast in an airtight container such as freezer bags or other tightly sealed containers with excess air removed. If you have purchased yeast in bulk, you may opt to break it down into several tightly sealed containers, making it easier for you to pull out one at a time and use what you need without having to deal with a large quantity.
You may then place the sealed container in the fridge, where the dry yeast will keep fresh for up to four months, or into the freezer where it will remain viable for up to six months. When storing yeast in the freezer, be sure to check it periodically to ensure there has been no rupturing of the container, which could lead to the introduction of moisture or freezer burn.
How to Store Fresh Yeast
Due to the fact that this type of yeast is not completely dehydrated like the dry varieties, fresh yeast is the most perishable of all. Fresh yeast will most likely only remain viable for about 2-3 weeks after production, and must be kept chilled, regardless of whether or not it remains unopened.
Storing Fresh Yeast in the Refrigerator
If you are planning to be doing a lot of baking, go ahead and store your yeast in the fridge! In order to get as many weeks as possible out of your fresh yeast, it's important to ensure that it is properly stored. If your package of yeast is not yet open, you can go right ahead and refrigerate it as is. If you have already opened though, be sure to place the yeast in a freezer bag or other airtight container before refrigerating. Place the sealed package into the most temperature stable part of your refrigerator, away from the door or areas where warm items may be placed.
How to Freeze Fresh Yeast
If you'd like to store yeast long term, the freezer is your friend! Start by cutting the block of fresh yeast into smaller portions, this way you don't have to remove and defrost the entire block each time you just need a bit for a recipe. Wrap each portion tightly in plastic wrap, then wrap again in a layer of aluminum foil. Place all of the wrapped fresh yeast into a freezer bag, squeezing out any excess air as you go. Then label your package and choose a spot in the freezer where it won't be disturbed or squashed by other items. Fresh yeast will keep in the freezer for around 4 months, and most likely longer!
How to Defrost Frozen Fresh Yeast
If you have opted to keep your yeast alive as long as possible by freezing it, well done! Now you need to know how to defrost it and make it ready to cook with once again. The best way to accomplish this is to let yeast thaw in the fridge overnight, or at least 8-12 hours. This timeframe will depend on how large or thick your portions are, but most pieces of fresh yeast will defrost in this amount of time.
How Can You Tell if Yeast is Bad?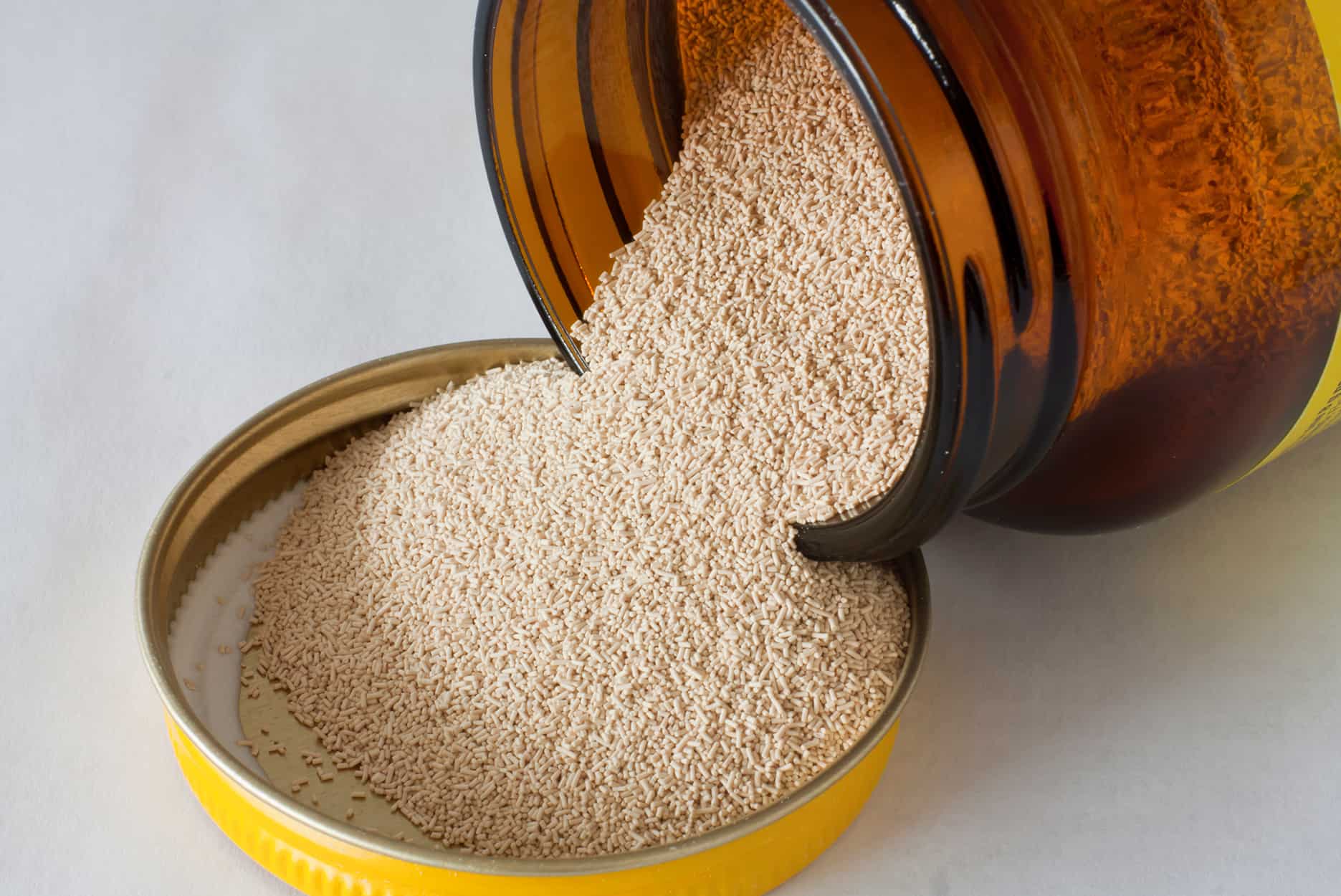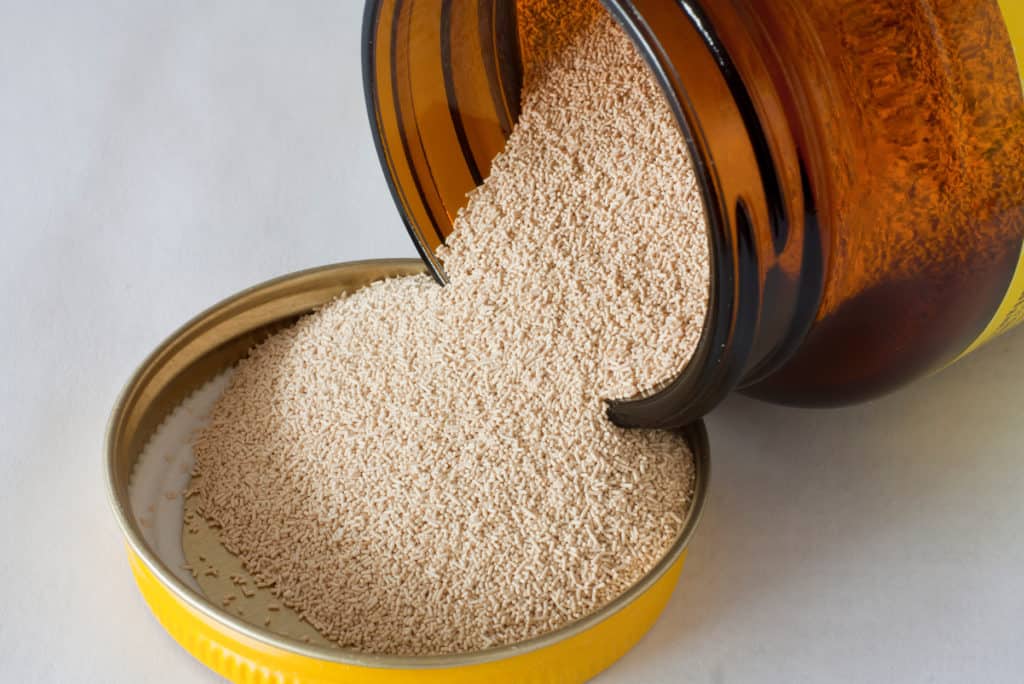 Whether your yeast is within its freshness window, past its expiration date, refrigerated, or frozen, it's a good idea to check your yeast for viability before you commit to mixing it with all of your other recipe ingredients.
First things first, examine the yeast for any visible signs of spoilage. Mold growth is more commonly seen on blocks of cake yeast, but it isn't entirely impossible that it may occur within packages of dry yeast as well. If you notice any unusual clumping in dry yeast or areas where the granules have clustered together, this is a likely sign that the yeast has been exposed to moisture, at which point it should be tossed out.
If your yeast looks good to the eye, you can easily determine if it is still active by doing a process called proofing. Before attempting to proof the yeast, be sure that it is at room temperature. If the yeast is cold (or if your kitchen is extremely cold), it may not be able to become warm enough to activate, giving the appearance it is no longer alive when in fact it might just be chilly!
How to Proof Yeast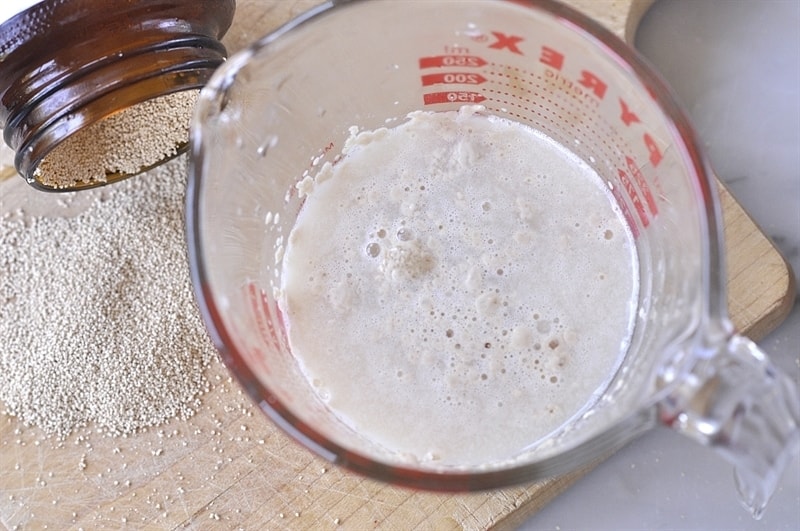 Step 1
Fill a small bowl with about ½ cup of warm water (about 100-110℉) and add a teaspoon of sugar.
Step 2
Sprinkle the amount of dry yeast called for in your recipe into the warm water and stir to combine. If you are proofing cake yeast, crumble the amount called for into the warm water mixture and mash gently.
Step 3
Let the mixture sit for 10 minutes, then check for signs of life! If the mixture is bubbling and giving off a yeasty aroma, this is a sure sign that the yeast is alive and well and has been consuming the sugar snack you provided. At this point, you can go ahead and use the proofed yeast in your recipe. If on the other hand the yeast is lacking any action whatsoever, it is likely past the point of viability and will not have the desired effect upon your recipe.
Yeast FAQ's
What is Nutritional Yeast?
While made from the same species of yeast as that which makes up all varieties of baker's yeast, the yeast cells in nutritional yeast are deactivated, meaning that no fermentation will occur! The benefits of nutritional yeast are twofold. Not only does a sprinkling of nutritional yeast add a rich, umami-like flavor to foods such as Vegan Mac and Cheese, but it also adds plenty of health benefits as well! It is high in protein, vitamins, minerals, and fiber. Its inherently savory flavor (without the use of animal products) makes nutritional yeast a key ingredient in vegan and vegetarian cooking.
Is Yeast Gluten Free?
Good news! All types of baker's yeast (active dry, instant, and cake) are indeed gluten free! Be careful if you begin experimenting with brewer's yeast, distiller's yeast, or other types of yeast products however. These products could potentially contain gluten or may have been exposed to gluten during their processing.
Are the Different Types of Yeast Interchangeable?
When baking yeast based breads or doughs, you might find yourself in a situation where you have one type, but not the type that the recipe calls for! No worries there. Any of the varieties of baker's yeast are highly interchangeable with one another. You can easily swap active dry yeast in for a recipe that calls for instant yeast, and vice versa.
In the unlikely event that you have compressed yeast on hand when your recipe calls for dry yeast, that will do the trick just as well too! You may need to actually double the amount called for, so use 2 parts compressed yeast for every 1 part dry.
How to Store Yeast: Final Tips
The task of storing yeast is unfortunately a quite complex one! Aside from being a living organism, which must be kept alive during storage in order to be of any use to your cooking and baking, the range of yeast products and their individual storage needs only serve to complicate the issue further.
Generally speaking though, you can effectively store unopened dry yeast at room temperature for a surprisingly long time--up to a couple of years in fact! Opened packages of dry yeast and any type of fresh yeast should always be refrigerated. You can even freeze yeast to extend its life span that much further!
There's no need to discard compressed yeast if it doesn't smell as fragrant as the day you bought it or to toss instant yeast the second it hits the expiration date. Yeast may last long beyond its originally anticipated shelf life. Therefore, the only way to truly determine if your yeast is still alive is to proof it and see if it activates. Remember that old saying about baking being a science? We bet it's never felt more accurate than it does right about now!