Every home-cooked meal starts with two things: a cutting board and a good-quality chef knife. But you can't hone your skills unless you know how to use a chef knife. Today, we're going over that.
Because a chef's knife is so important, we've decided to dedicate an entire article to it. From what you can use it with and tasks to avoid, we're giving you everything you need to know about a home cook's best friend.
What Are Chef Knives Used For?
Chef knives are your best friend in the kitchen because they're so versatile. They're designed to slice, chop, mince, and julienne just about all fruits and vegetables. Depending on how sturdy your knife is, you may even be able to cut through hard foods like winter squash and butternut squash.
Although there are specialized knives for proteins (for example, steak knives and fillet knives), you can always use a chef's knife to cube meat and fish. You could even use your chef's knife to cut bread! At the end of the day, the question is "What can't a chef's knife do?"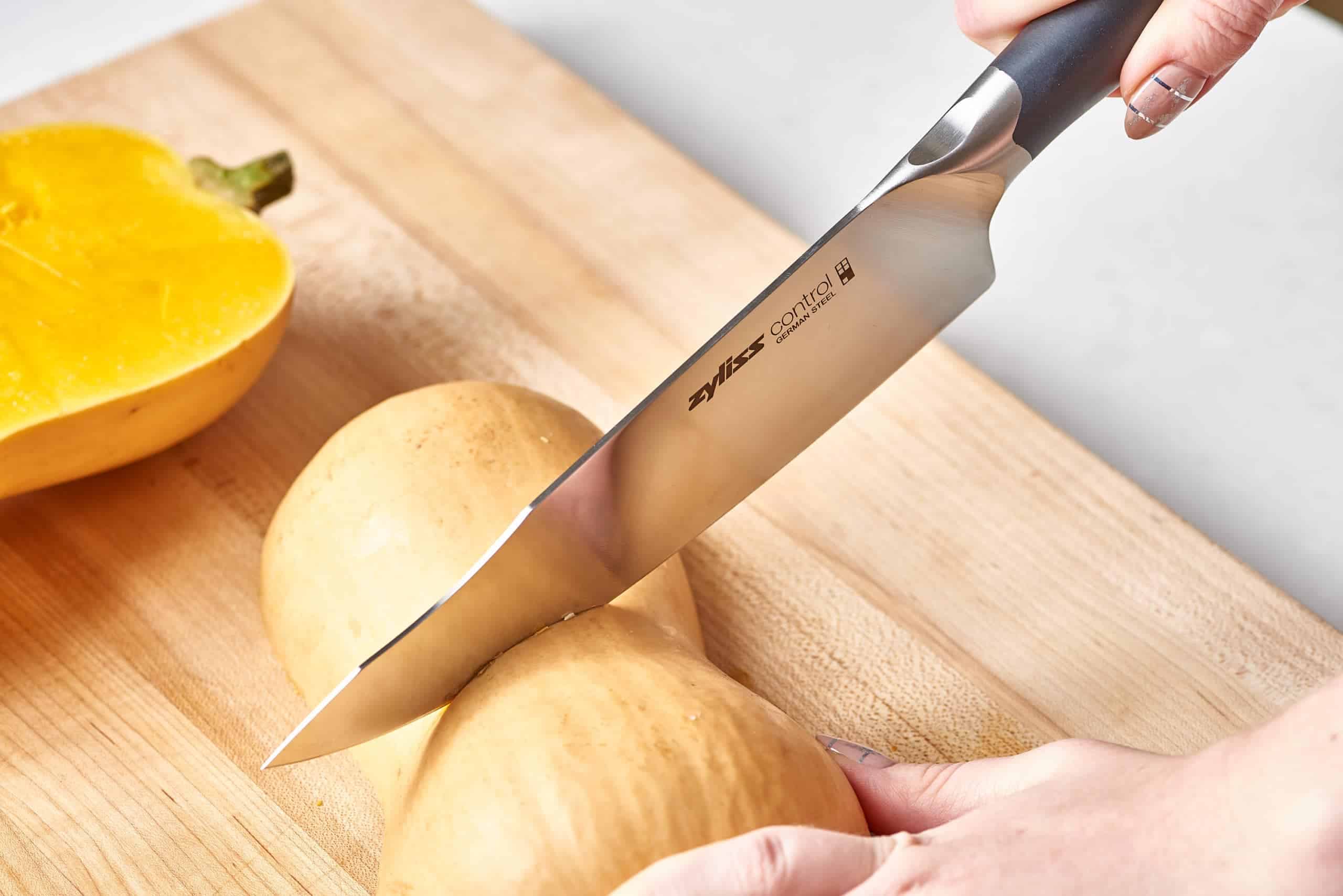 Chef Knives 101: Breaking Them Down
We're trying to keep things as simple as possible, but a few words you may not know will make their way into our article. Heel, spine, what is that all about? Chef knives are pretty complex once you look at their anatomy, so let's break it down.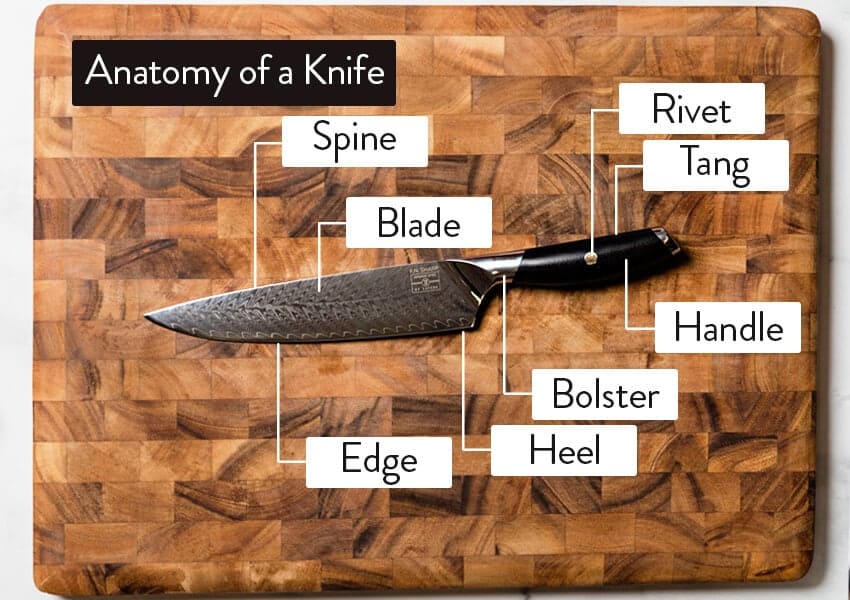 Starting with the handle, it can be made out of a lot of different materials, such as wood, acrylic, and stainless steel.
Inside the handle, you will sometimes find a metal strip. It can be visible on the upper part of the handle. Knives built like this are called "full-tang" and they're the sturdiest. Lower-quality knives only have a half- or partial-tang and don't hold up as well.
Then, you have the bolster, which makes knives more stable and robust.
The heel is one of the most important points of a chef's knife. It's where the handle meets the blade. It forms a close-to-90-degree angle and is incredibly sturdy. That's why you can use it to cut through tougher foods, such as nuts and bones.
Finally, moving from the heel to the tip of the chef's knife there is the blade. The sharp part is called the cutting edge, while the flat and dull part above is called the spine.
Now that we've covered all that, let's take a look at the best way to use it.
Lesson 1: Holding a Chef Knife Properly
Now that you know what to call what, it's time to learn how to hold a chef knife the right way. You may not guess it, but there are specific ways to handle this knife properly. We've already covered the best techniques for holding a chef's knife, so we won't repeat ourselves. But, in short, developing a firm grip that still gives you plenty of freedom of movement is key.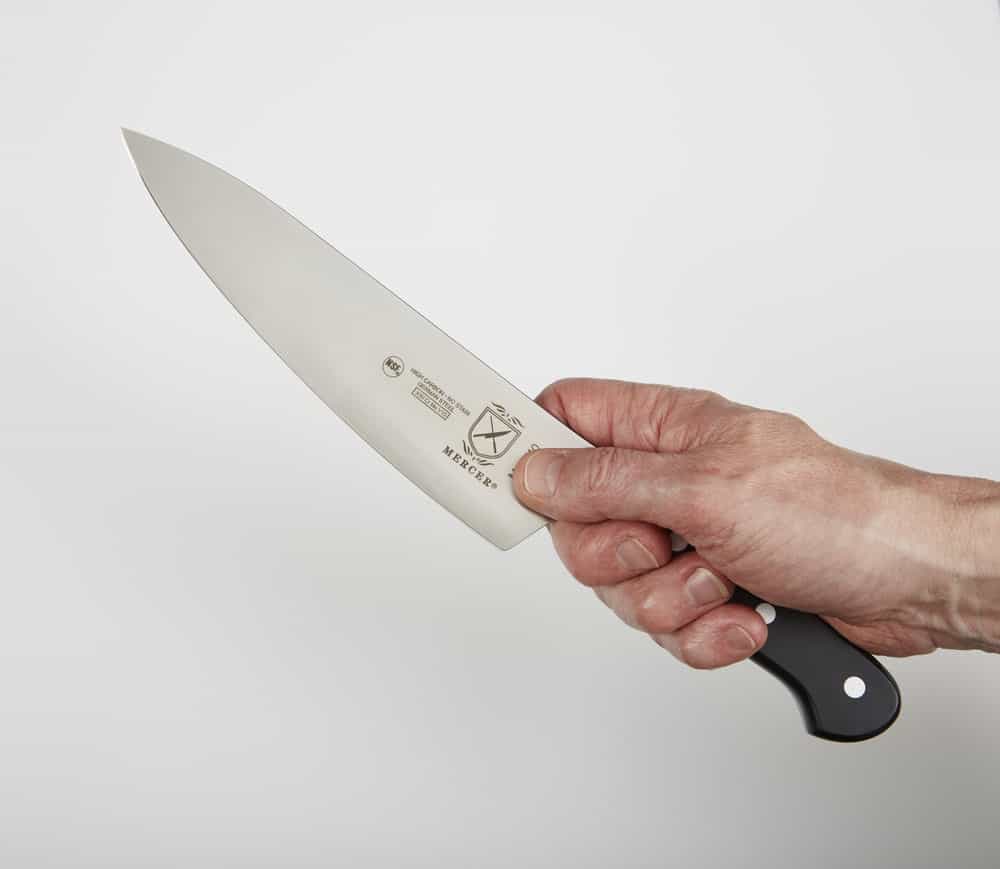 Lesson 2: Slicing with a Chef's Knife
You have probably sliced hundreds of tomatoes, onions, carrots, and so on. But because slicing is such an important task, you need to know the best way to use your knife to do it. Remember, better knife skills equals better results in the kitchen!
First, you need to stabilize the fruits and vegetables you're slicing. If it's rounded, cut it in half and place it flat-side down on the cutting board. This will not only prevent injuries from a knife that slips but also ensure you get more even slices.
Then, holding the knife properly, lay the tip of the blade on the cutting board. It should be ahead of your ingredients. Then, in a downward motion, bring down the blade of the knife. If your knife is sharp, it will cut through like butter.
Your non-dominant hand should guide the food you're slicing toward the blade. Make sure your fingers are tucked in, in the claw-grip hand position. This will keep your fingertips away from the knife, thus keeping you safe from the sharp blade.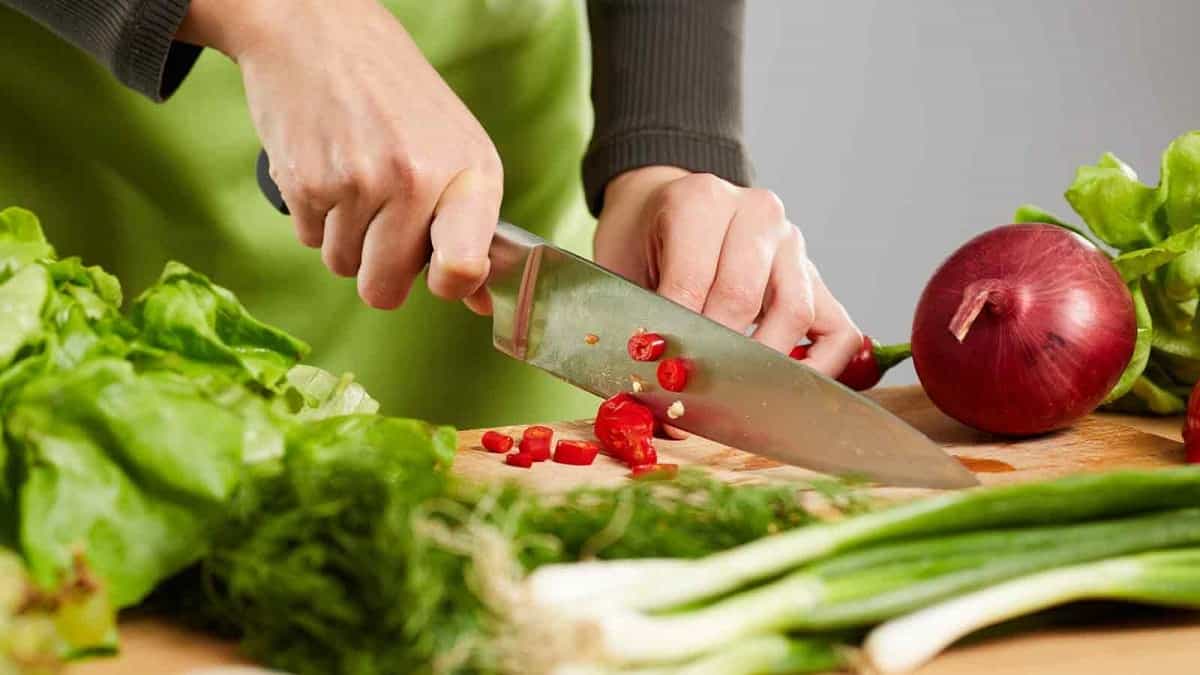 Lesson 3: Dicing with a Chef Knife
Dicing things like onion and garlic cloves into small pieces can be time-consuming. That is unless you learn a precious knife skill that will speed up the whole process, while still delivering fine, consistent results.
First, start by stabilizing the ingredient you want to cut if it's odd-shaped. For example, if you want to dice an onion, cut it in half (but don't cut off the butt of the onion!).
Then, you'll want to make parallel cuts along its length. Make sure to only make the cuts about 75% of the way through. This will leave you a small portion to hold on to.  Repeat this process for vertical cuts. They'll make a 90-degree angle with the first cuts you made. Finally, rotate your knife another 90 degrees and cut through.
You'll end up with small square-shaped bits perfect for sautéeing, throwing into salads, making sauces with, and so much more.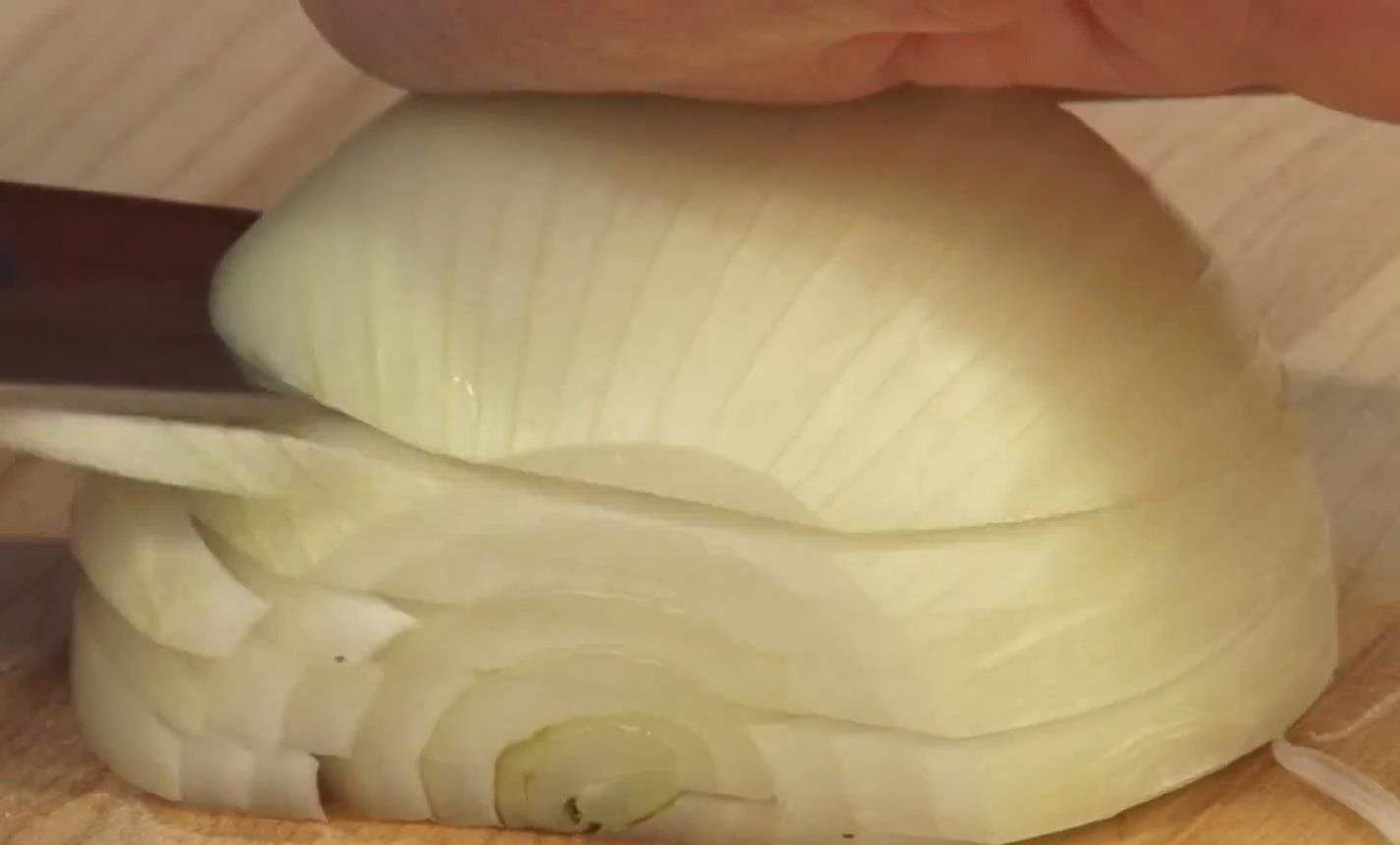 Lesson 4: Mincing with a Chef's Knife
The last really important knife skill we have to teach you is how to mince like a professional. Gather the ingredients you want to mince (herbs, cloves of garlic, and so on) into a bunch on your cutting board. Then, touch the cutting board with the tip of your knife. You'll keep it in this position for the entire time you're mincing. It will act as a pivot point for the whole blade.
Rock your blade back and forth, as well as to the right and left. Make sure to occasionally gather any scattered pieces of food on both sides of the blade—but not with your hand! Use a chef's knife heel or spine instead.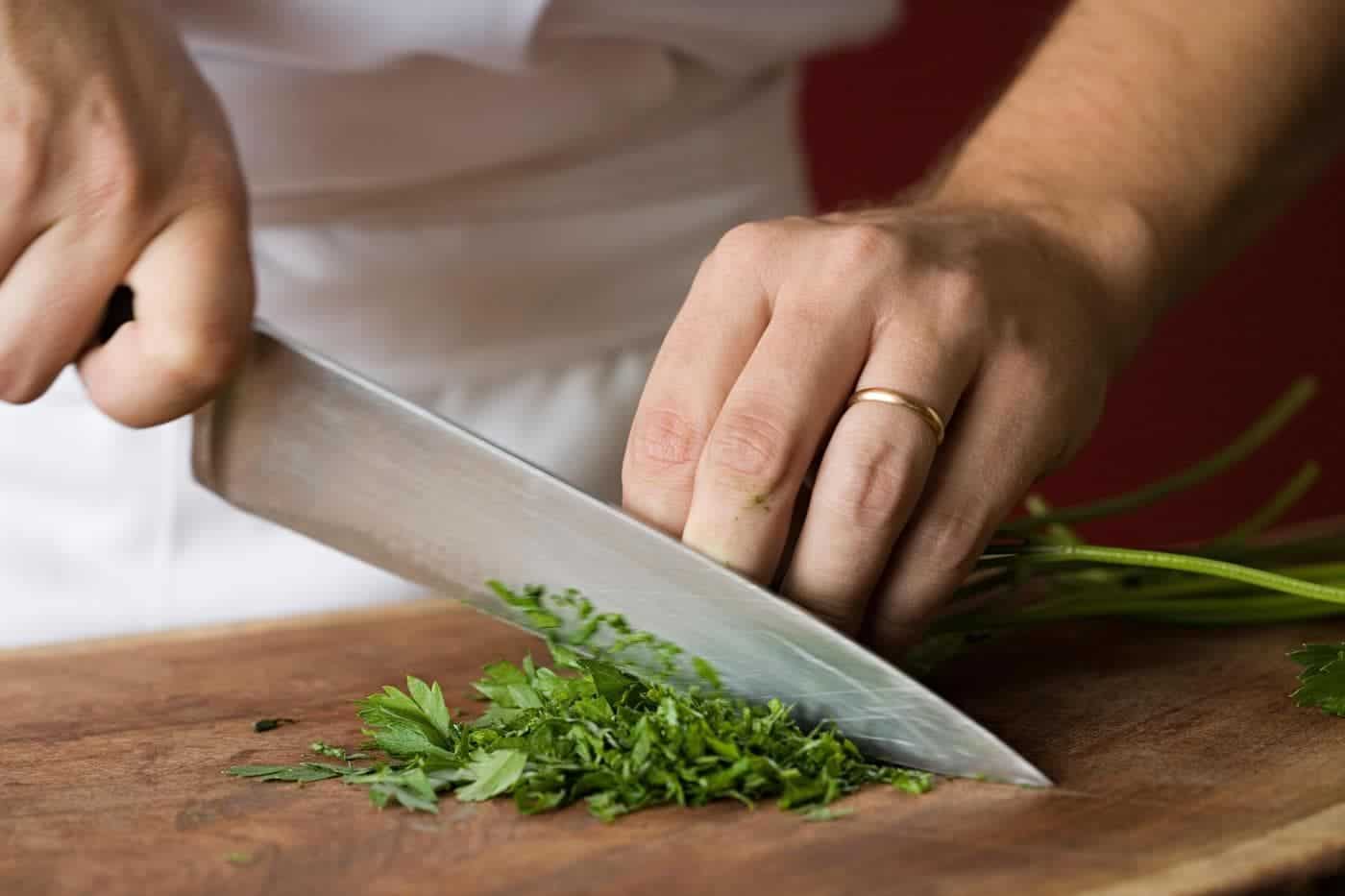 Lesson 5: How to Clean a Chef Knife
The easiest and most convenient way of cleaning chef knives is in the dishwasher. And while you can do this with some chef knives every once in a while (for instance, the ones with an acrylic knife handle), others not so much. Knives with wood handles should never go in the dishwasher.
In short, your chef knives will keep for longer if you hand-wash them after every use. Get some warm water, a gentle soap, and a soft sponge and you're set. Then, let it dry on a drying rack.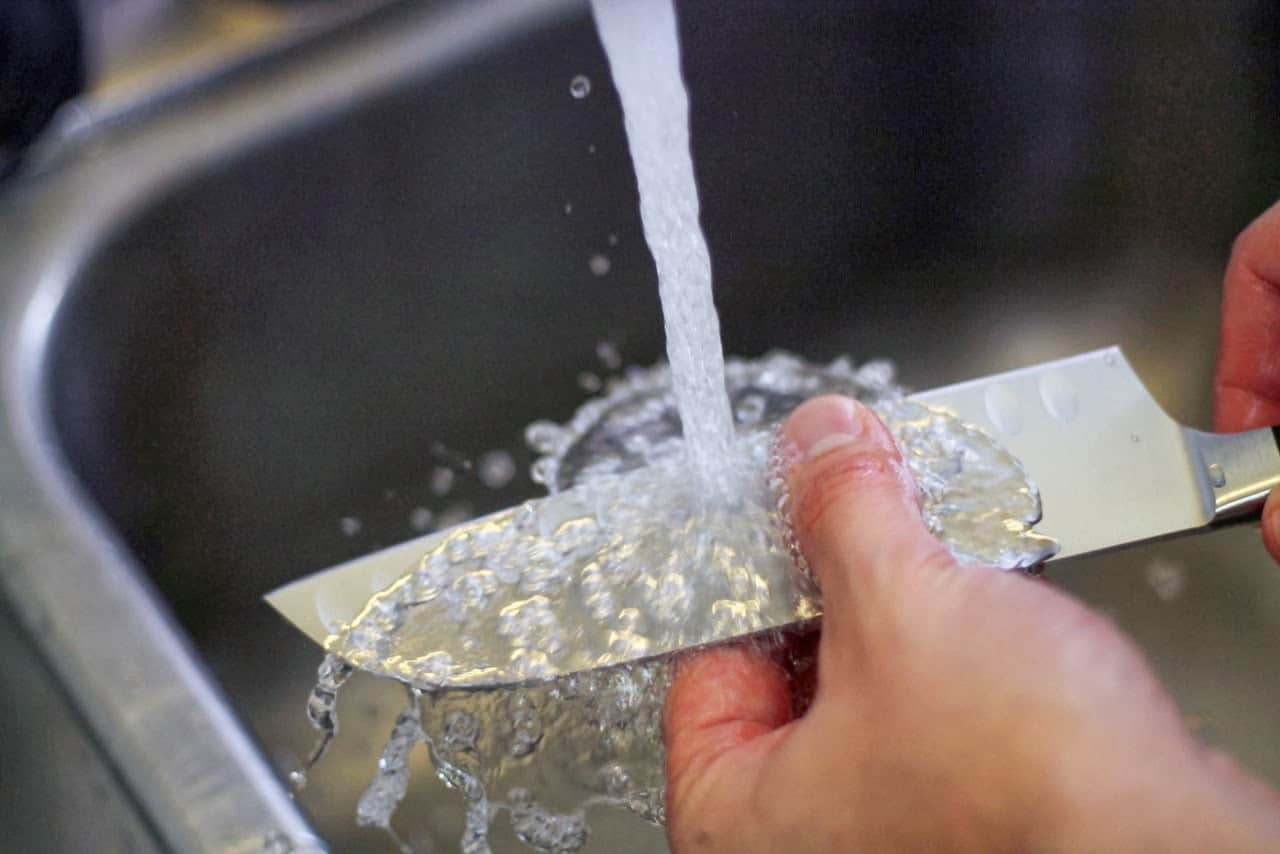 Lesson 6: How to Sharpen a Chef's Knife
Your knife skills will never be great if you're using a chef knife that's dull. Fortunately for you, sharpening a chef knife at home isn't too complicated. You'll only need one or two tools around.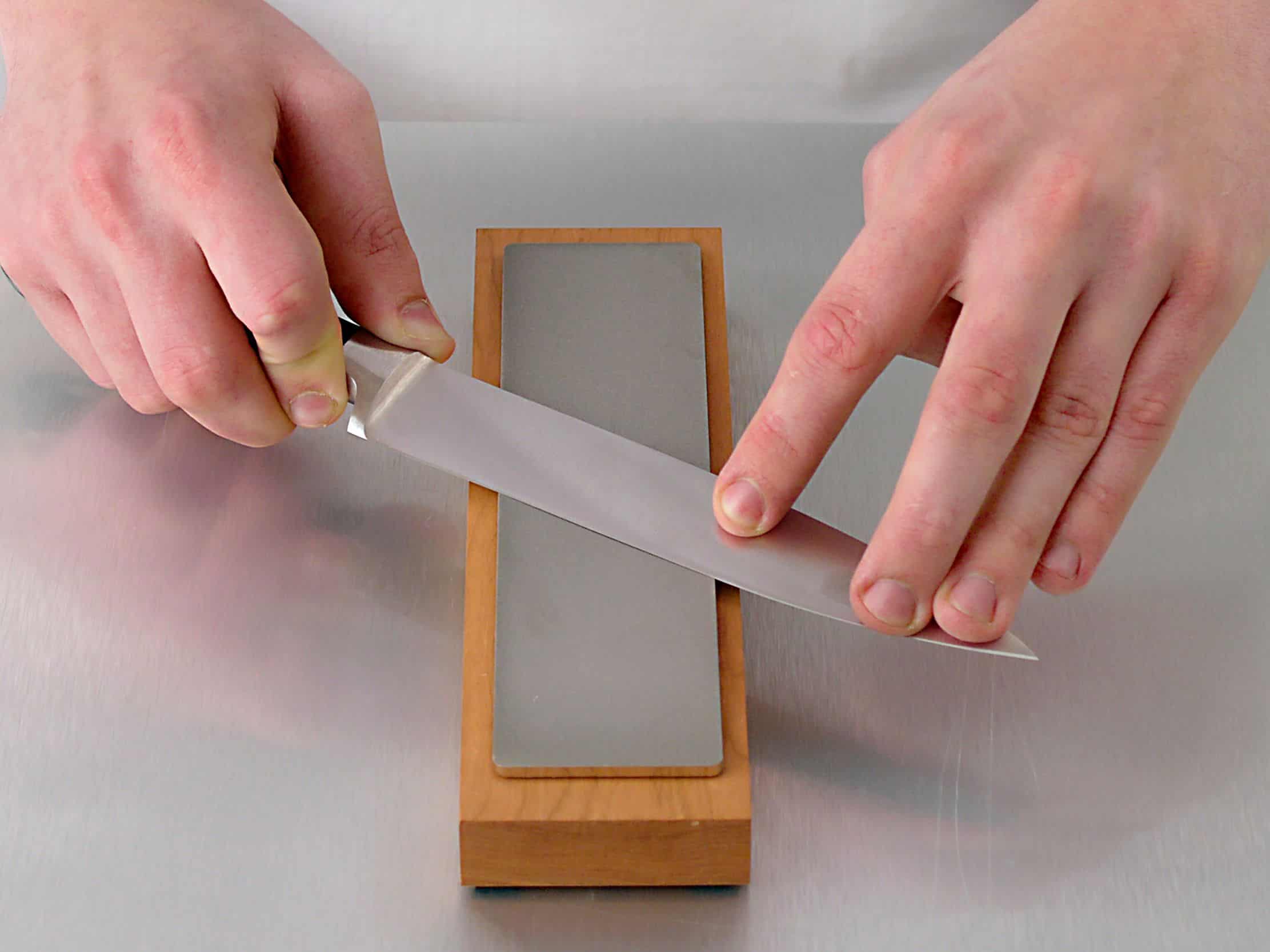 Lesson 7: How to Store a Chef Knife
Lastly, you'll want to store your chef's knife properly after you use it each time. This will help retain the edge of the blade, keeping it sharp for longer. You have three options: buy a knife block, get a magnetic kitchen knives strip, or buy knife guards to keep the blades protected when you store the knives in the kitchen drawer.